7 Ways Your Wait in Line at Disney World is About to Change
I'm working on the first printing of the 2022 Unofficial Guide to Walt Disney World, which goes to print in October and should be in your hands in December, 2021.  Two of the book's chapters deal with time and money, and as part of those discussions we explain how waiting in line works at Walt Disney World.  Obviously, Disney's not going to tell us in advance something they're not ready to tell the public.  Instead, we have to do a little detective work to figure out where Disney's headed.  The speculation you're about to read – and it's mostly educated guesses – comes entirely from publicly available information such as fan websites, the US Patent and Trademark Office, and looking inside the My Disney Experience app code.  The theme for all of them is the same: make guests pay to wait less in line.  As a reminder, I could be wrong on all of this.
Here are the 7 ways I think you'll wait in line at Walt Disney World, and how they'll be different from today.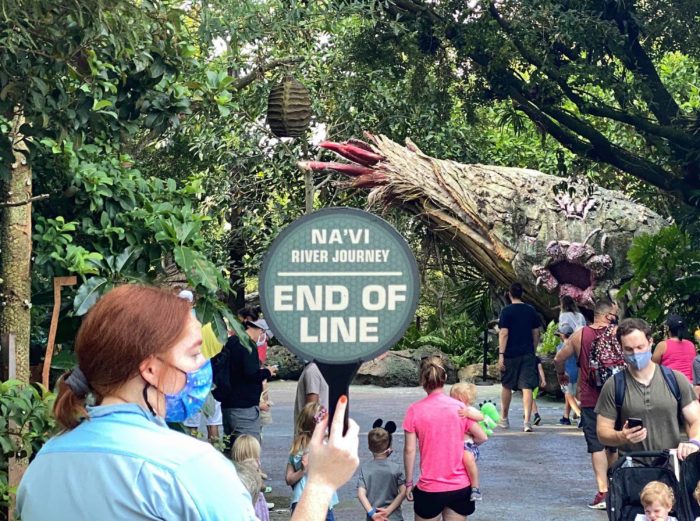 #1 – Standby Lines (Status: Will Change)
This is what most people are familiar with: You get in a line, such as for Magic Carpets of Aladdin, and you wait some number of minutes until you ride.  It doesn't cost anything, and you know from the wait-time sign in front of the attraction some estimate of how long you're going to wait.
The big change coming with Standby Lines is that at some point during the day – either at a specific time of day, or when the wait gets too long – Disney will stop letting guests get in the standby line.  So even if you're perfectly willing to get in a 210-minute wait for Flight of Passage, Disney won't let you.
We saw this happen at Slinky Dog Dash at Hollywood Studios when social distancing was in effect: Once the line stretched from Toy Story Land, past One Man's Dream, and to Voyage of the Little Mermaid (a wait of around 100 to 120 minutes), Disney stopped letting people get in line.  Of course, that was because they were running out of room to put people.
The net effect of this will be to nudge guests into visiting second- and third-tier attractions, which often have unused ride capacity.  Or – and I'm sure Disney's hoping for this – you can buy shorter waits in line.  More on that below.
Cost: I'm confident this will be free with park admission.
Timeline: I think this will happen in 2021, possibly by October 1.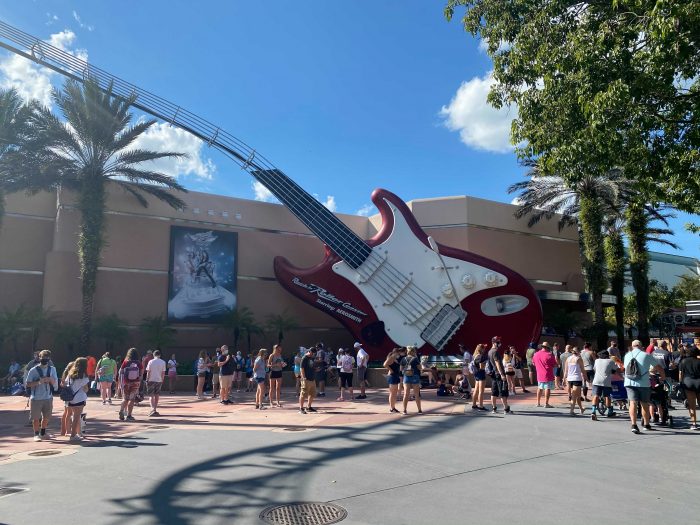 #2 – Standby Pass (New)
Think of Standby Pass as a virtual line to get in a real line.  Once the Standby Line gets too long, Disney will require guests to obtain a Standby Pass to enter the Standby Line.  For example, let's say Big Thunder Mountain switches to Standby Pass at 10:00 a.m., and Disney knows that there's around 65 minutes' worth of people in the standby line already.  When you request a Standby Pass, you'll be given a return window that starts at the next available time, say, 11:05 AM.  Like the old FastPass system, you'll have a window of time to return to ride, which I think will be 30 minutes.  So you'll need to show up between 11:05 a.m. and 11:35 a.m. to redeem your Standby Pass.
When you return to ride, you'll be able to enter the Standby Line for your 65-minute wait to ride. In Disneyland Paris, you're able to hold one Standby Pass at a time.  And I don't think you're able to cancel a Standby Pass once you make it (probably because that would throw off the ride capacity allocations).  So the big challenge, then, will be in choosing which Standby Pass to get, and when.  We're planning to model these to suggest which Standby Passes to get, and when.
One of the operational side-effects that Disney's counting on for these changes to Standby Lines and Standby Pass is that it'll force guests into experiencing less popular rides. For example, if you're in the Magic Kingdom and Space Mountain, Big Thunder, Splash Mountain, and Seven Dwarfs Mine Train have all switched over to Standby Passes, the only things that might still have Standby Lines are secondary attractions.  From a park operations perspective, this is a nice bit of automatic crowd-leveling: more people will take in a show at Country Bear Jamboree or Hall of Presidents, because they can't get on anything they want to ride more.  I wonder how this will affect overall park satisfaction, though.
Cost: I think Standby Pass will be free with park admission.
Timeline: I think this will happen in 2021, possibly by October 1.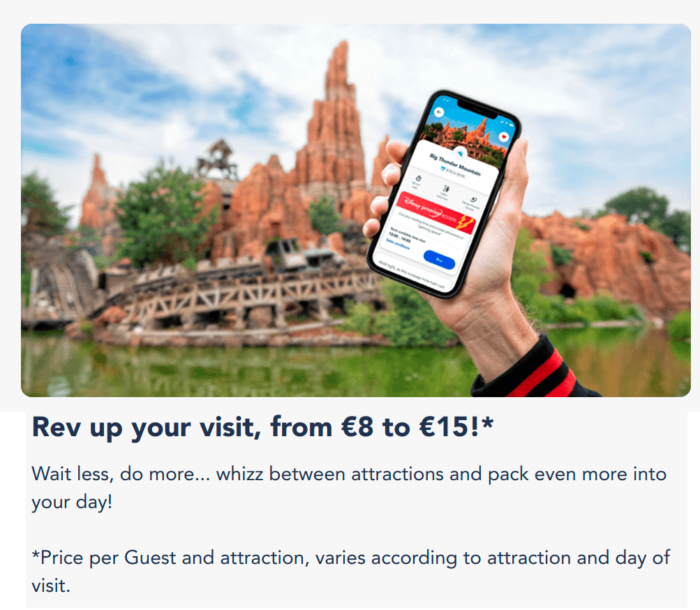 #3 – Boarding Groups (Will Expand)
A Boarding Group is a virtual line, like Standby Pass, but without a specific return time.  Boarding Groups are already implemented at Rise of the Resistance at Disney's Hollywood Studios.  It's possible that Disney will implement boarding groups for Remy's Ratatouille Adventure when it opens at EPCOT on October 1.  Here's how it works: You'll need to make a park reservation for the ride that you want to ride.  At exactly 7:00 a.m. on the day of your visit, you'll use My Disney Experience to request a boarding group.  If you're successful, you'll get a boarding group number (like "57"), and a rough estimate of how long you have to wait until your boarding group is called ("250 minutes").
You'll need to be fast and lucky: Boarding Groups for Rise of the Resistance are typically allocated for the entire day within 10 seconds, or 7:00:10 a.m.  So many people are trying to get a boarding group that it's essentially a lottery as to who gets in. And if anything goes wrong your chances are almost certainly shot.
If the ride is running smoothly, boarding groups start getting called within 30 minutes of park opening, starting with Boarding Group 1.  The MDE app will display the current range of boarding groups that are able to ride now.  When your boarding group is called, the MDE app will alert you so you can return.
Why does Disney use boarding groups?  Because Rise of the Resistance breaks down often, Disney isn't confident that it can give guests a specific time to return and ride.  For example, suppose Disney gave you a specific time to return and ride Rise of the Resistance: 1:00 to 2:00 p.m.  If Rise of the Resistance breaks down between 1:00 and 2:00 p.m., then at 2:00 p.m., the ride has to accommodate everyone who didn't get to ride between 1 and 2 and everyone who was scheduled to ride between 2:00 and 3:00 p.m.  There's not enough ride capacity to do that (and I don't think you'd want to run the ride at half capacity to anticipate for it anyway).  Boarding Groups solve this problem by not attaching a specific return time to your virtual wait.
One issue I can see with this is that you won't be able to ride Rise of the Resistance or Remy's Ratatouille Adventure unless your first park of the day is the Studios or EPCOT.
Cost: I think Boarding Groups will remain free with park admission and reservations.
Timeline: I think this will happen in 2021, possibly by October 1.
#4 – Lightning Lane, a.k.a., "Paid FastPass" (New)
Shout out to Mickey Views on YouTube for finding this name.  We all know that a pay-to-use version of Disney's former FastPass system is coming – it's already implemented in Shanghai Disneyland and Disneyland Paris, and Walt Disney World has more guests with more money than either of those resorts. It's called Premier Access in Disneyland Paris. "Lightning Lane" might be a working title for it in Walt Disney World, and from a marketing standpoint, Lightning McQueen would be a great spokescar for this new service. ("Speed. I am speed.")
Lightning Lane should work like Disney's recently closed FastPass+ system: Disney offers a set of return times for you to choose, such as "1 PM to 2 PM", "1:15 PM to 2:15 PM", and so on.  You'll pick the one that works best for your day.  When you return to ride, you'll use a special "Lightning Lane" – a separate, shorter line than the Standby Line.  And like the old FastPass+ system, guests in the Lightning Lane will be given priority to board the ride.  I also expect character greetings (when they return) to offer Lightning Lane.  In fact, I expect almost all of the attractions that offered FastPass+ to offer Lightning Lane.
In the old, free FastPass+ system, Disney would normally allocate 75 to 80% of a ride's hourly capacity to FastPass+ riders.  In practice, that meant that Disney put 3 or 4 people from the FastPass+ line on the ride for every 1 person it took from the Standby Line. But even with a separate line for FastPass+ riders, people often waited 30 minutes or more in the FastPass line once they returned.  I'm told that because Lightning Lane will cost real money, Disney wants to set some sort of upper limit on how long people will wait when they purchase a Lightning Lane pass: for example, something like 25% to 35% of the posted wait for the Standby Line.  The problem with that is that the line for Flight of Passage has hit 210 minutes recently, so 25% to 35% of that is still 53 to 74 minutes.  Are people really going to be happy paying $20 each to wait an hour to ride Flight of Passage?  That's a great question.
I don't think Lighting Lane will work with Boarding Groups, so you won't be able to pay to get a return window for Rise of the Resistance or Remy's Ratatouille Adventure.  For those, you'll need Lightning Lane+ (see below).
Also, I think Lightning Lane passes will only be offered on the day of your visit. That's different than FastPass+, where you could make a ride reservation up to 60 days in advance of your visit.
To avoid cannibalizing VIP Tours, which accommodate up to 10 people at a cost of up to $850 per hour, with a minimum 7-hour commitment, Disney will probably limit the number of Lightning Lane passes you can purchase in a given day.  My guess is that number will be far fewer than 10 (roughly the average number of rides a guest experiences in the Magic Kingdom, according to Disney), possibly around 5 or so. I also expect there to be "packages" of Lightning Lane passes available, possibly targeted to parents with small children, such as for Peter Pan's Flight, Many Adventures of Winnie the Pooh, and Seven Dwarfs Mine Train.  I think the big thrill rides will remain a la carte, because they target teens and adults.
Cost: Disneyland Paris costs are around $10 to $18 per person per ride.  The cost varies depending on the ride and the time of day.  That means you would expect to pay far, far more for a Flight of Passage pass on New Year's Eve than for a Magic Carpets of Aladdin pass in the middle of September.
I'd be surprised if any Lightning Lane pass costs less than $9 in the US.  I'd be surprised, too, if the most expensive Lightning Lane pass is less than $25.
It's also possible that you'll need to pay a small fee, say $15 per family, to enable the Lightning Lane feature on the app, sort of like how MaxPass worked at Disneyland. I don't think a final decision has been made on this part.
Timeline: I think this will happen in 2021, but possibly after October 1.
#5 – Lightning Lane+, a.k.a, "Paid instant ride access" (New)
Again, I'm not sure this is the name that Disney will go with.  But the idea here is that you'll pay a lot of money to get on a ride right now.  If you didn't get a boarding group for Rise of the Resistance and you still want to ride, Disney might offer you the chance to get on the ride instantly for, say, $50 per person.  Don't want to get a Standby Pass for Slinky Dog Dash just so you can wait another hour to ride?  For $35 per person, Disney might be able to solve that problem for you.
Obviously, Disney will not be able to sell very many of these per attraction per hour – the idea is that you're getting on the ride instantly.  So there might be only 50 to 100 of these sold per hour.  It's possible there'll be a third line at these rides, too, just for Lightning Lane+, to guarantee that immediate access.
I expect all of the headliner attractions that offer Lightning Lane will also offer Lightning Lane+.  You might not see it at Triceratop Spin, but it'll be available at Kilimanjaro Safaris.
I think Lightning Lane+ passes will only be offered on the day of your visit.
Cost: The market for kidneys and spleens is hot right now, so I'd guess at least $25 to $50 per person, per ride.
Timeline: I think this will happen in 2021, but possibly after October 1.
#6 – Disney Genie, a.k.a, "Surprise FastPass" (New)
Disney announced the Genie itinerary-planning app back at the D23 convention in 2019, and has been pretty quiet about it since then.  Originally, the Genie app looked a lot like our computer-optimized touring plans: you tell Genie what rides you want to ride, and Genie told you the order in which you should ride those rides to minimize your wait in line.  Sounds familiar, right?
However, based on this recent Disney patent, I don't think that's what Genie is going to do – I think that's Genie+ (or whatever they're going to call it).  Rather, I think the base version of Genie is going to work like this:
You'll select a set of "favorite" attractions for each park in My Disney Experience.  For example, Buzz Lightyear Space Ranger Spin and Jungle Cruise in the Magic Kingdom.  Obviously, many thousands of people can also select those attractions as favorites.  So you won't be alone.
Throughout the day, Disney will monitor the standby and Lightning Lane wait times for those rides.
If the standby or Lightning Lane waits gets low enough at one of those rides, Disney will select a subset of guests who "favorited" them, and send them an alert to get in the appropriate line.
In many ways, this works like a "Surprise Fastpass" – you're randomly chosen to take advantage of the shorter line.  I expect this will work in conjunction  (somehow) with Standby Pass and/or Boarding Groups, because the patent mentions guests already being in a virtual line as a condition of getting access to a second attraction.
The random, "surprise" element of Genie is an interesting bit of psychological manipulation on Disney's part. Unpredictable rewards on things like slot machines are part of what makes gambling addictive.  Clearly, what Disney's trying to do here is get everyone to use Genie.
I think Genie will be integrated into My Disney Experience, somehow.  Credit to Mike over at WDWNT for figuring out how this Disney patent might work.
Cost: I think the basic version of Genie will be free.
Timeline: I'm not sure if this will be in 2021 or 2022.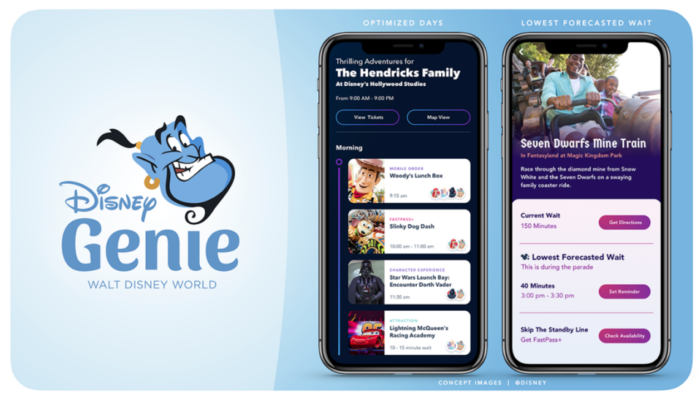 #7 – Disney Genie+, a.k.a., TouringPlans.com (New)
I think Genie+ will be the product that mimics our touring plans – given a set of attractions, meals, and breaks, arrange those things into an itinerary that minimizes your overall wait in line.
I think Disney's looking at Genie+ as a way to sell Lightning Lane access: they'll be able to tell guests something along the lines of "Hey, we did the best we could in avoiding lines, but there's no way around this 120-minute wait at Tower of Terror.  Want to buy an $18 Lightning Lane pass for it instead?"  And the reason I think that is that Disney's job posting for the Director of eCommerce role for Genie specifically mentioned revenue and "app monetization" as job functions.
There are a number of technical challenges to creating optimal touring plans, especially at the scale Disney's going to attempt.  I've spoken to a number of now-departed people who've worked on Genie, and some of those big challenges were not solved at the time we had those discussions. And for at least one major problem, the person I spoke to wasn't aware that the problem even existed, let alone how to solve it.  So that was interesting.
Cost: Disney has said this part of Genie will be "priced competitively".  I'm not sure whether that means $18 per year (which is what we charge), or much, much more.  Given the amount of development that goes into something like this, Disney's costs for that, and the relatively small size of the market for this sort of thing, it's going to be interesting to see what it's priced at.  My guess is $15 per family.
Timeline: I'd be moderately surprised if this rolled out before 2022.  I could be wrong.
As always, these aren't written in stone, and a lot can change. (If we learned nothing from 2020, I know we all learned that!)
What are your thoughts about these predictions? What would you be willing to pay for, and how much? Let us know your thoughts in the comments.