Around the Universe – Discounts and News for June 2022
June is almost here and summer is right around the corner. In this week's Around the Universe, we cover a new ticket deal, attraction closures, the latest construction updates from the resort, and more!
Universal Monsters Legends Collide & HHN Express Pass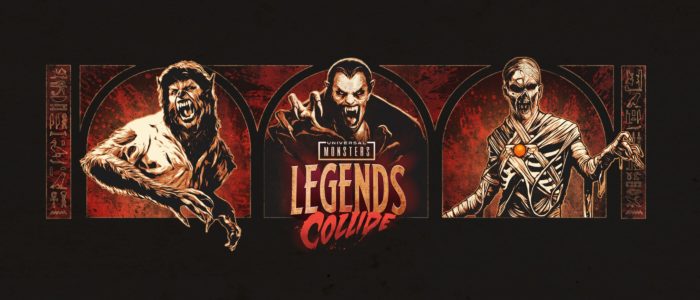 One cursed amulet, three horrific creatures. Come face-to-face with The Wolfman, Dracula, and The Mummy as they fight to lift their monstrous curses in a totally brand new house for Halloween Horror Nights 31. Want the scares to come from the actors and not the lines? Express Pass for Halloween Horror Nights, which allows expedited access to all houses and attractions once per night, is now available. Prices start at $89.99 per person plus tax, Express Pass does not include event admission.
Halloween Horror Nights 31 runs September 2 through October 31, 2022. Express Pass and event tickets are available now online or through travel agents.
Restaurant & Parade Closure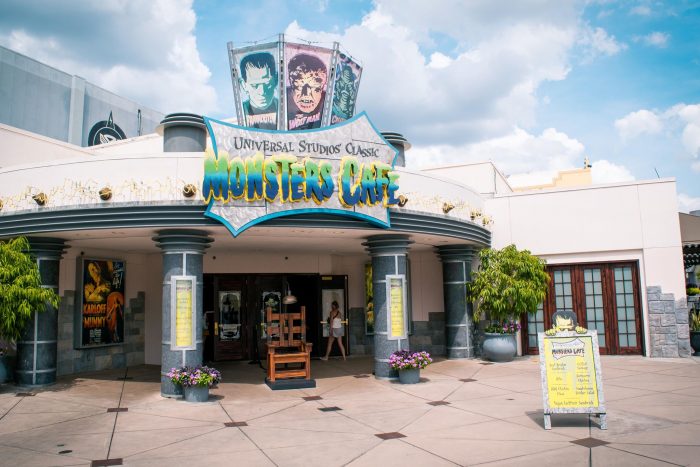 Monster's Cafe has permanently closed. The horror-themed restaurant opened in 1998 with burgers, pizza, and chicken tenders. Recently the restaurant recently refreshed its menu with BBQ items to much praise. Despite its prime location, the darkened windows and theme kept guests away. While the restaurant is closed the Shrek meet & greet will temporarily transfer to Dreamworks Destination in KidZone. Universal has not announced a replacement, but we expect a reconfigured Despicable Me restaurant to open in 2023.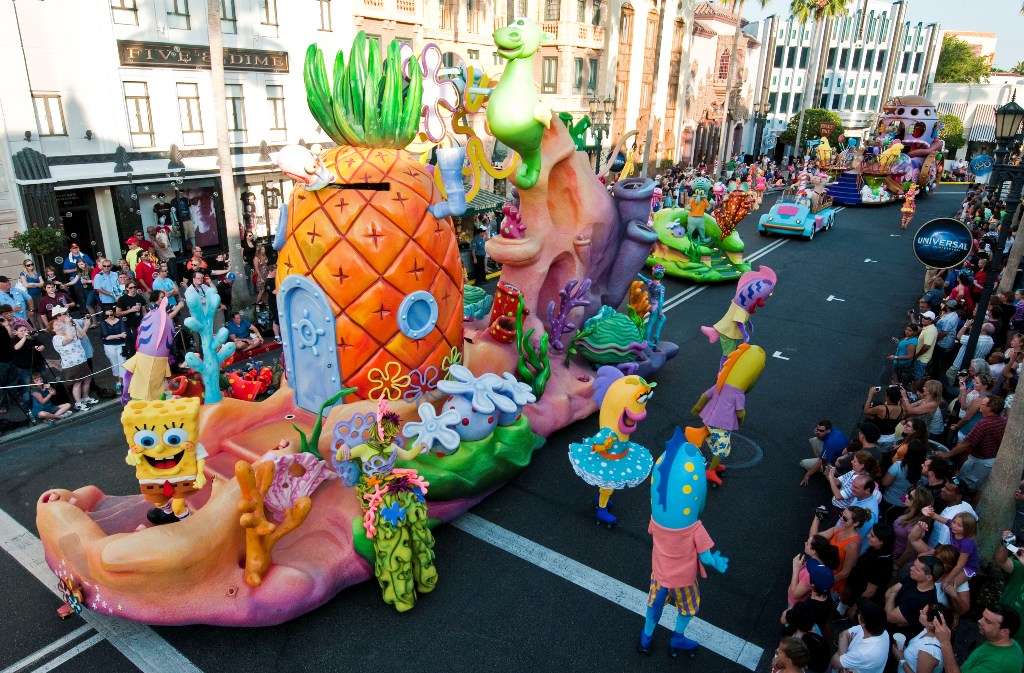 Universal's Superstar Parade's final performance is June 4, 2022. The high-energy parade featured characters from Despicable Me, Spongebob Squarepants, Secret Life of Pets, Dora the Explorer, and more. Character meet and greets in front of the Horror Make-Up Show will continue at designated times. The Mardi Gras and Christmas parades remain unaffected.
Construction Updates
Scrim has come down around Caro-Seuss-El showing off the newly-refurbished roof. Ride is still closed with no reopening date announced. @UniversalORL pic.twitter.com/cd6oKRzx3n

— Inside Universal (@insideuniversal) May 23, 2022
The extensive refurbishment of the Caro-Suess-el shows signs of finishing up as the scrims and scaffolding around the attraction have come down. We expect the carousel's reopening is imminent.
New for Summer! The All Hallows' Tiki Boutique, featuring Monsters getting into the summer spirit. We live here now. @UniversalORL pic.twitter.com/4jphFDgZjI

— Inside Universal (@insideuniversal) May 13, 2022
Over in Islands of Adventure, the year-round All Hollow's Boutique has gone tropical with kitschy retro surf and tiki decorations.
Back in Universal Studios Florida, the new summer Tribute Store is now open. Tribute Stores are unique, themed retail experience combines an elaborate walkthrough with the merchandise. This year's theme is Tribute Theater, where summer blockbusters of yore come to life. Inside you will find rooms dedicated to Back to the Future, ET, and Jaws. The summer Tribute Store is open now till mid-August.
Construction walls at Revenge of The Mummy have been pushed back to the entrance. No reopening date has been announced yet. @UniversalORL pic.twitter.com/HgxmZdhhX0

— ThrillGeek (@thrillgeek) May 13, 2022
Revenge of the Mummy's comprehensive refurbishment continues as outside the walls blocking the courtyard are pushed back. Inside, the attraction is in "test and adjust" mode with guests reportedly hearing lapbar restraints closing. Universal has not provided a re-opening date besides "late summer", but watch for the temporary Universal Monsters store's closure prior to the attraction's reopening.
Epic Update
Meanwhile down International Drive, vertical construction on Epic Universe has spread to the new Wizarding World land. But first, let us get an overview from the friend to all of us: Bioreconstruct!
Aerial photo of Epic Universe
1 About at park entrance
2 About at park center
3 Recent excavation and also fence at offices
4 Art shows carousel here, at a pond
5 Classic Monsters land
6 Possibly circular fountain basin excavation
7 Dragon land pic.twitter.com/MLGOW8IFnX

— bioreconstruct (@bioreconstruct) May 13, 2022
Aerial photo of Epic Universe:
1 steel frame at Ministry of Magic
2 carousel over water
3 Super Nintendo World
4 construction staging
5 Classic Monsters land
6 service road underpass, hotel guest road above
7 in-park hotel site pic.twitter.com/uCCLgLRLD6

— bioreconstruct (@bioreconstruct) May 13, 2022
Here is a full site overview with markings for where lands and attractions will be located.
Aerial look at Super Nintendo World area of Epic Universe.
1 Yoshi's Adventure
2 Mario Kart
3 Donkey Kong
4 Kirkman Rd extension
5 Access road for UEU parking
6 Recently added construction offices. pic.twitter.com/6xZz0AndYc

— bioreconstruct (@bioreconstruct) May 13, 2022
This is the overview of Super Nintendo World, which is already open in Universal Studios Japan. Our land will closely resemble Japan's version with larger guest areas.
Aerial look at Donkey Kong, where much utility conduit is being placed in lower right.
In Super Nintendo World at Epic Universe. pic.twitter.com/k9Jeh7TeA0

— bioreconstruct (@bioreconstruct) May 13, 2022
Epic Universe's and Universal Studios Japan's Donkey Kong rollercoasters are both under construction at the same time. The large sliver of a building will be for show scenes the launch.
Aerial look at steel frame rising at Ministry of Magic in Universal's Epic Universe. pic.twitter.com/DCnrzqDQIv

— bioreconstruct (@bioreconstruct) May 13, 2022
The Wizarding World in Epic Universe is vertical! So far the first building going up will be the Ministry of Magic show building, which will house the interior of the government building plus a new battle for the Ministry attraction.
Aerial look at construction of Ministry of Magic in Universal's Epic Universe. Note the steel frame rising top right. A large boom crane is also being assembled nearby. pic.twitter.com/ZrnVs3Ck36

— bioreconstruct (@bioreconstruct) May 13, 2022
Also in the land expect more wand stations, a theater show based on Fantastic Beasts, and maybe a virtual reality attraction.
Aerial overview of How to Train Your Dragon land in Universal's Epic Universe. pic.twitter.com/lgQwvEscwr

— bioreconstruct (@bioreconstruct) May 13, 2022
How to Train Your Dragon land's groundwork continues with no vertical construction yet. This land will feature a family coaster, flat rides, an interactive splash boat ride, a theatrical show, and restaurants.
Epic Universe is scheduled to officially open in summer 2025.
Discounts
For more deals, including discounts on vacation packages, visit the Universal Orlando website or book your Universal vacation with the TouringPlans Travel Agency.
Refurbishments and Closures
The following attractions are closed for refurbishment:
For the most up-to-date listing of refurbishments refer to the Universal Orlando website.
Contact the travel agents at TouringPlans Travel Agency who can book you a Universal Orlando, Walt Disney World, Disneyland, or Disney Cruise Line vacation. All quotes are free, and if you decide to purchase through us, you will get a free year subscription to the TouringPlans Line app for Universal Orlando.