Best Food for Cold Weather at the EPCOT International Festival of the Holidays
If you're dreaming of a White Christmas, you'll certainly not get one at Walt Disney World. But, today cold weather has moved into Central Florida, making it a rare treat to enjoy some cozy food to warm yourself up. With it being the EPCOT International Festival of the Holidays its a great time to enjoy some hearty, satisfying festive food perfect for winter weather. Here's our top picks for best festival food for cold weather.
Duck Confit and Dumplings – Festival Favorites Holiday Kitchen
Blackened Bass – Festival Favorites Holiday Kitchen
Slow-roasted Turkey – American Table Holiday Kitchen
New Year Celebration Soba- Shi Wasu Holiday Kitchen
Sacchetti alla Boscaiola – Tuscany Holiday Kitchen
Curry Chicken Rice Bowl – Shanghai Holiday Kitchen
Red-stewed Beef Rice Bowl – Shanghai Holiday Kitchen
Pork Schnitzel – Bavaria Holiday Kitchen
Cheese Fondue in a Bread Bowl – Bavaria Holiday Kitchen
Dulce De Leche Churros – Las Posadas Holiday Kitchen
If you need a break from the chilly weather, head inside World Showplace – we've fallen in love with this special pavilion this year thanks to its décor and entertainment. There you can enjoy the Duck Confit and Dumplings and the Blackened Bass from the Festival Favorites Holiday Kitchen. The Duck Confit is perfect for this kind of weather with Roasted Brussels Sprouts and Fig Reduction. At $8.00 it is a little pricey, but if you love duck this is a must-do. The Blackened Bass is a great choice because of the spice on the fish that is then cut by the creamy, cheesy grits. The okra and tomato stew add a richness, and Southern flare. At $7.00 it is a good value.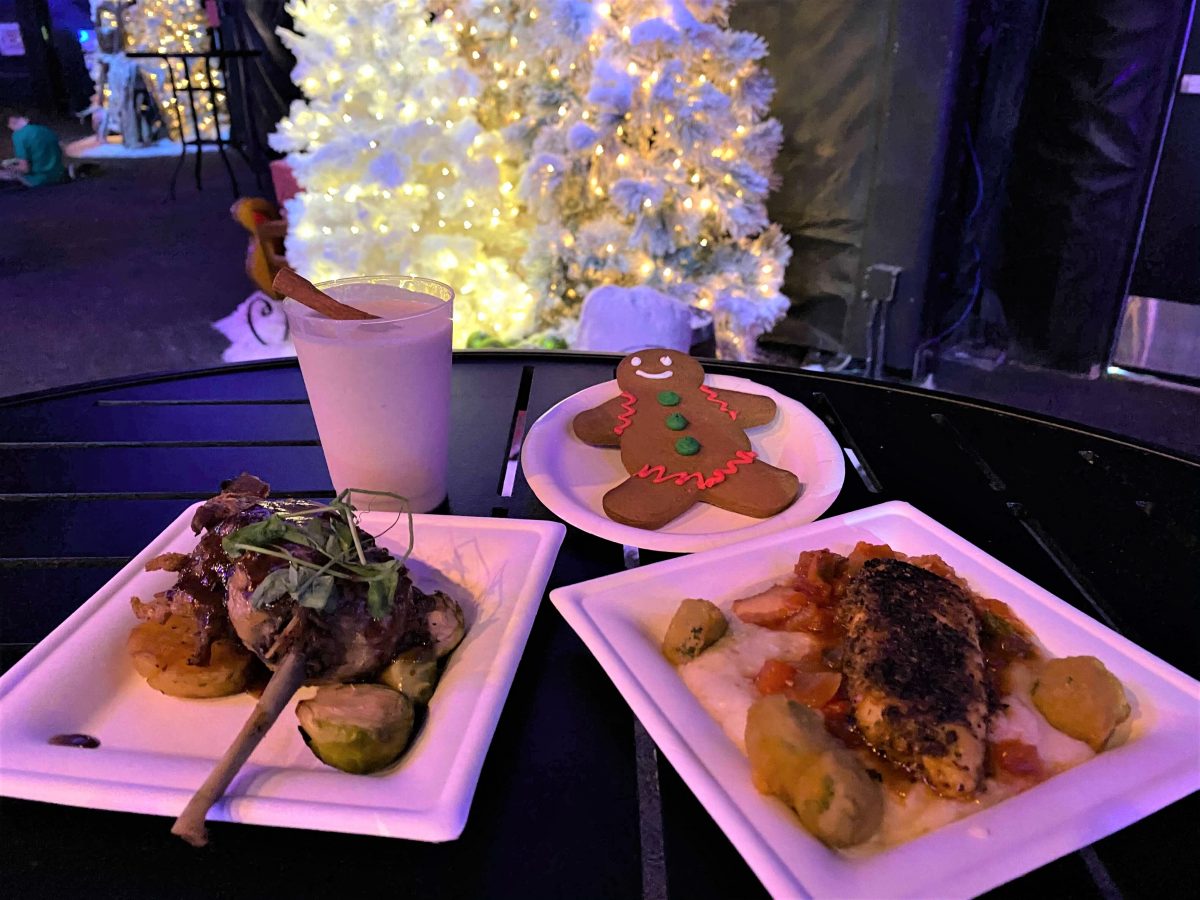 For many folks the holidays aren't the holidays without some turkey. The Slow-roasted Turkey with Stuffing, Mashed Potatoes, Green Beans, and Cranberry Sauce is the perfect representation of a classic American holiday meal. At $5.75 it is a good value, too.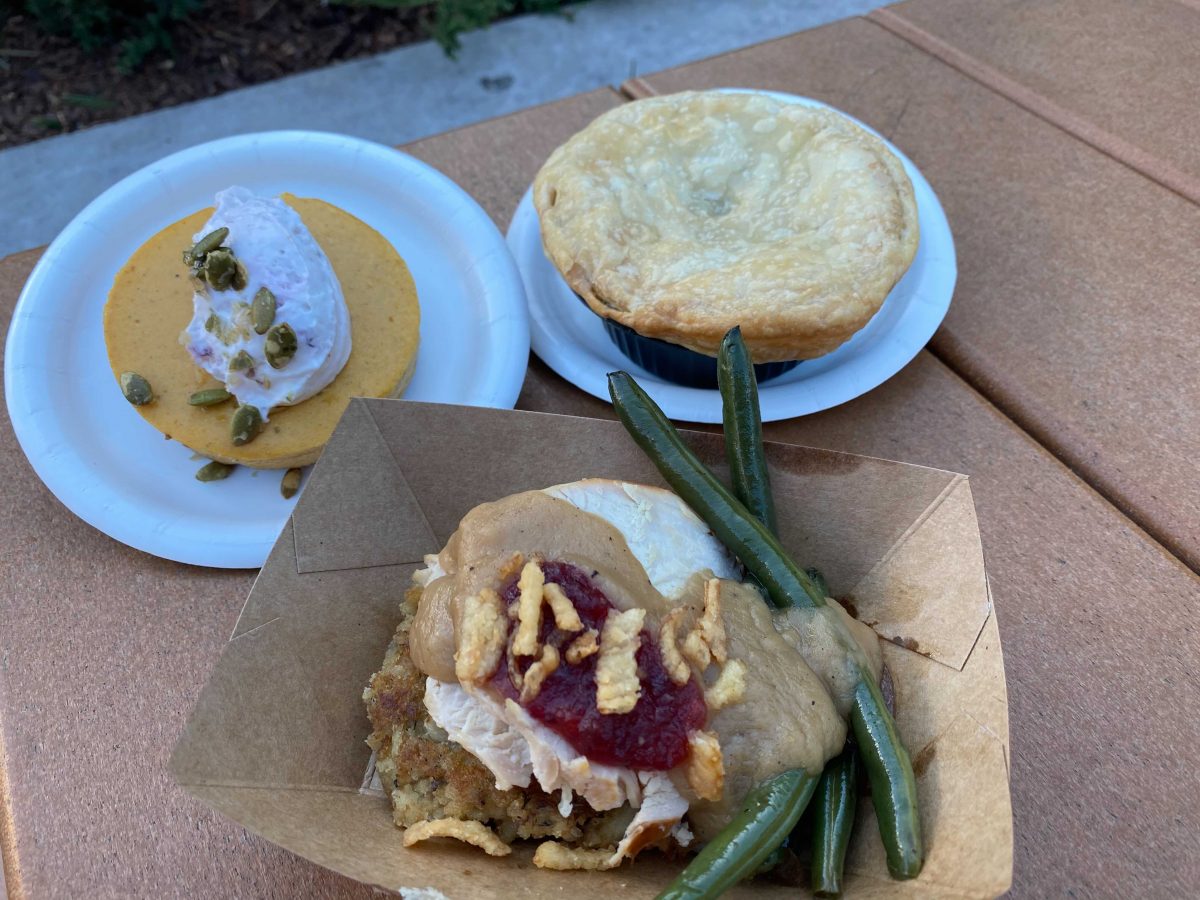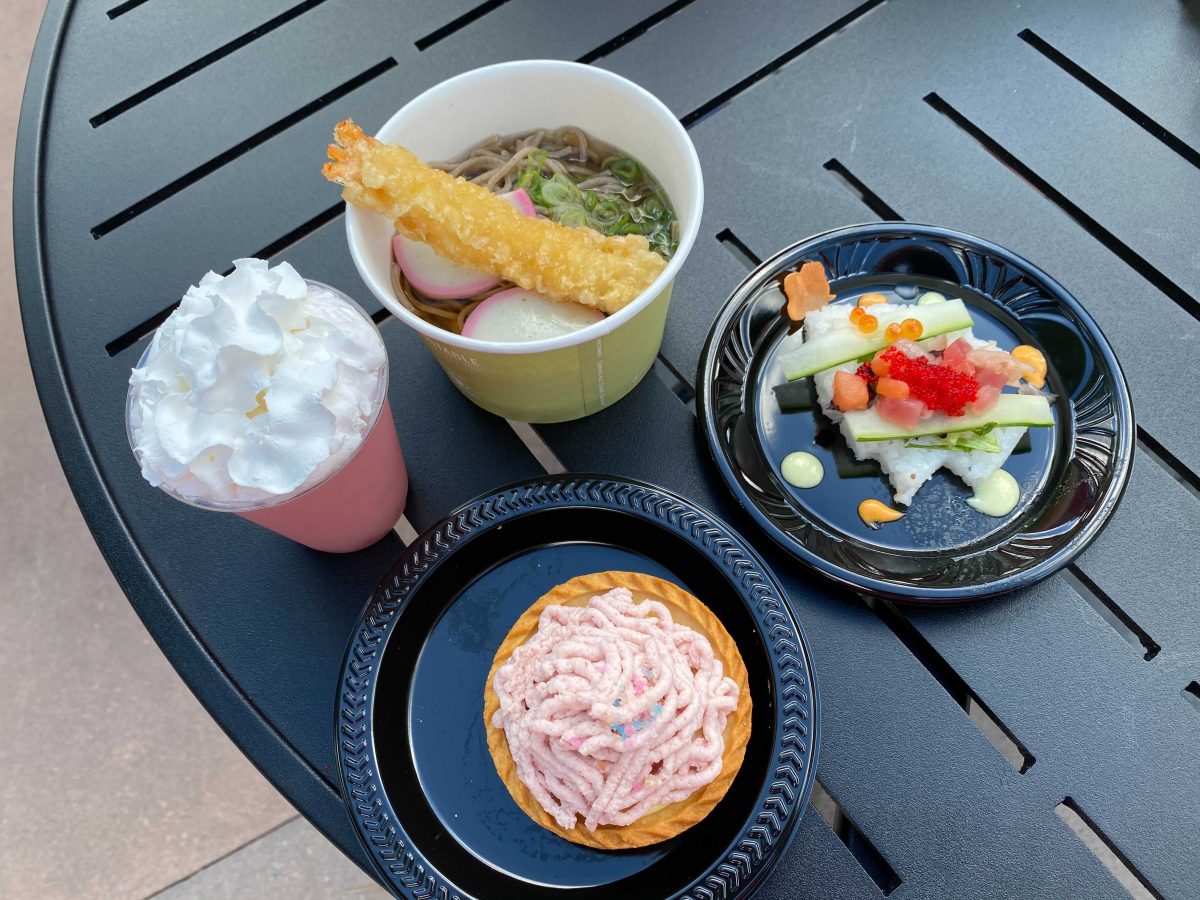 Most everyone seems ready for a new year so the New Year Celebration Soba is a good way to bring on some good will for the new year. Buckwheat Soba Noodles in Hot Dashi Soup with Shrimp Tempura, Fish Cake, and Chopped Green Onion; there is a lot of wonderful, but light flavor in this bowl. At $7.50 it is still a decent value thanks to the serving size.
Over at the Shanghai Kitchen, both the Curry Chicken Rice Bowl and the Red-stewed Beef Rice Bowl are two savory and rich dishes that will warm you right up on a chilly day. The Red-stewed Beef Rice Bowl disappointed us a little as the flavor was not rich or all that different than regular beef stew, and not worth the $9.50, The Curry Chicken Rice Bowl is our preference with its warm, sweet spice and $8.00 price tag.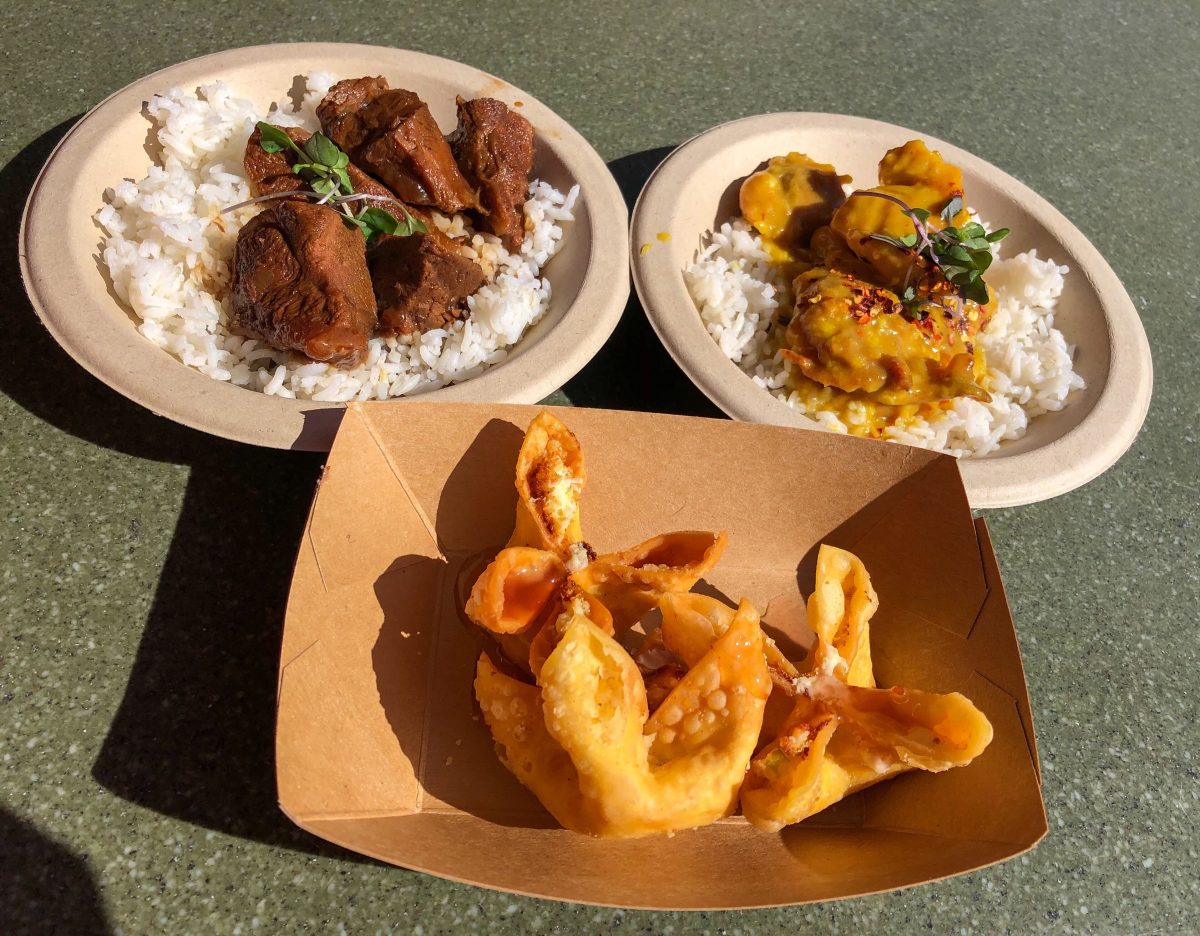 The Bavaria Holiday Kitchen is a popular stop as the rich flavors offered here are very familiar for many guests. The Pork Schnitzel is hearty and flavorful with Mushroom Sauce, Spätzle, and Braised Red Cabbage. The pork on our serving was cooked perfectly, crispy on the outside, but tender and juicy inside. At $6.25 it is a good value and a good portion.
It's hard to resist gooey cheese and carbs. The Cheese Fondue in a Bread Bowl is comfort food at its best. The fondue itself was served nice and warm with crisp veggies, but the bread bowl and accompanying bread won out as our favorite thing to pair with the cheese fondue. At $8.25 it is pricey, but the portion size is pretty generous.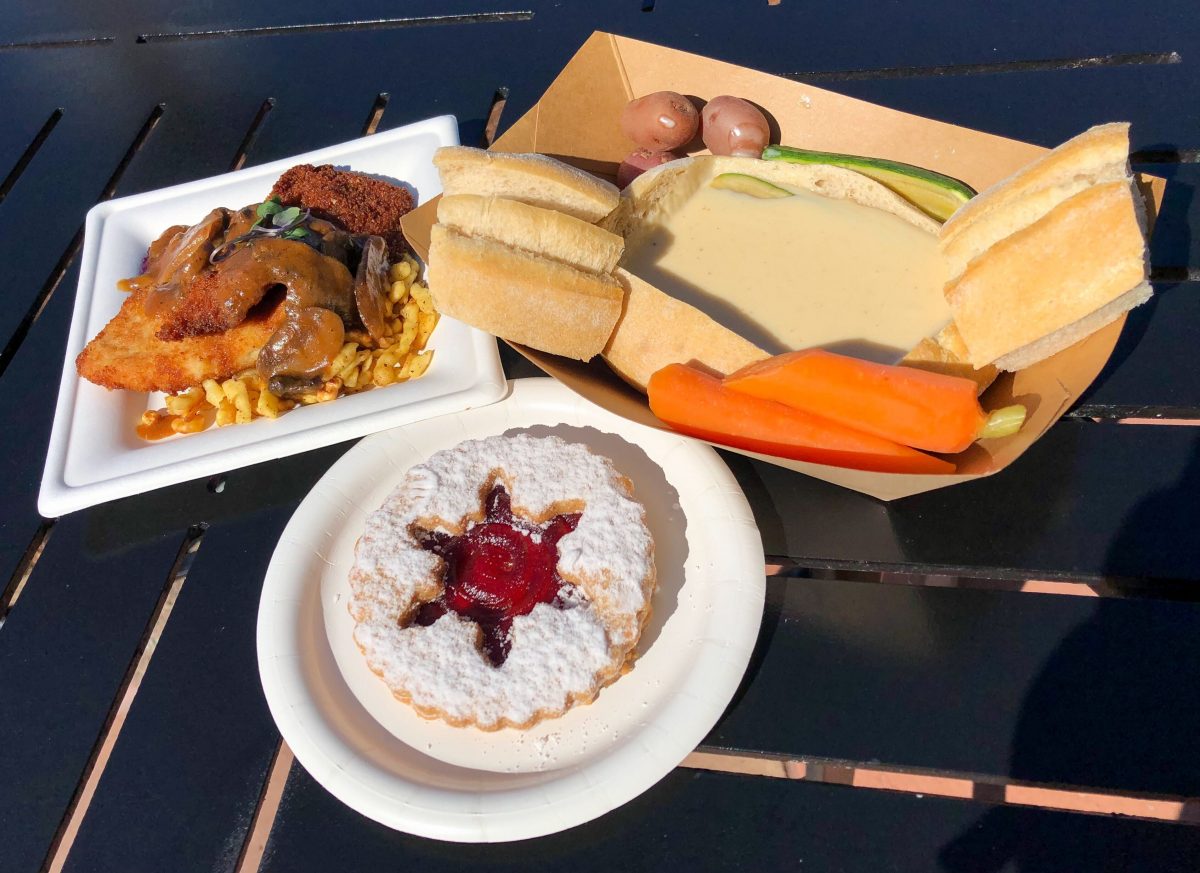 Time and time again the booth from the Italy Pavilion disappoints us. It seems no matter the festival, no matter the year, we just struggle with the quality and the price here. The Sacchetti alla Boscaiola is comforting, good, but not impressive. The cheese inside the pasta is gooey and has a nice flavor, and the pancetta on top added some saltiness. We didn't get much of the sweet sausage and caramelized onion in our serving. This could be a good option for kids. You could easily trick them into thinking this is mac and cheese. At $9.50 it is overpriced.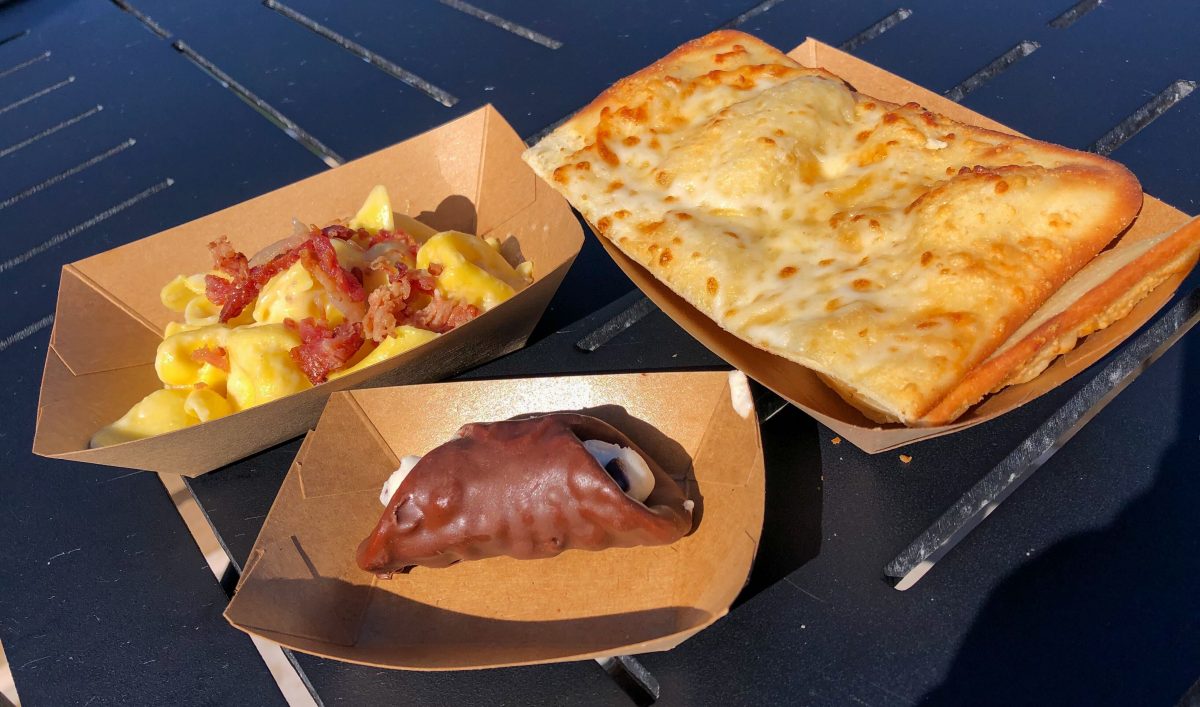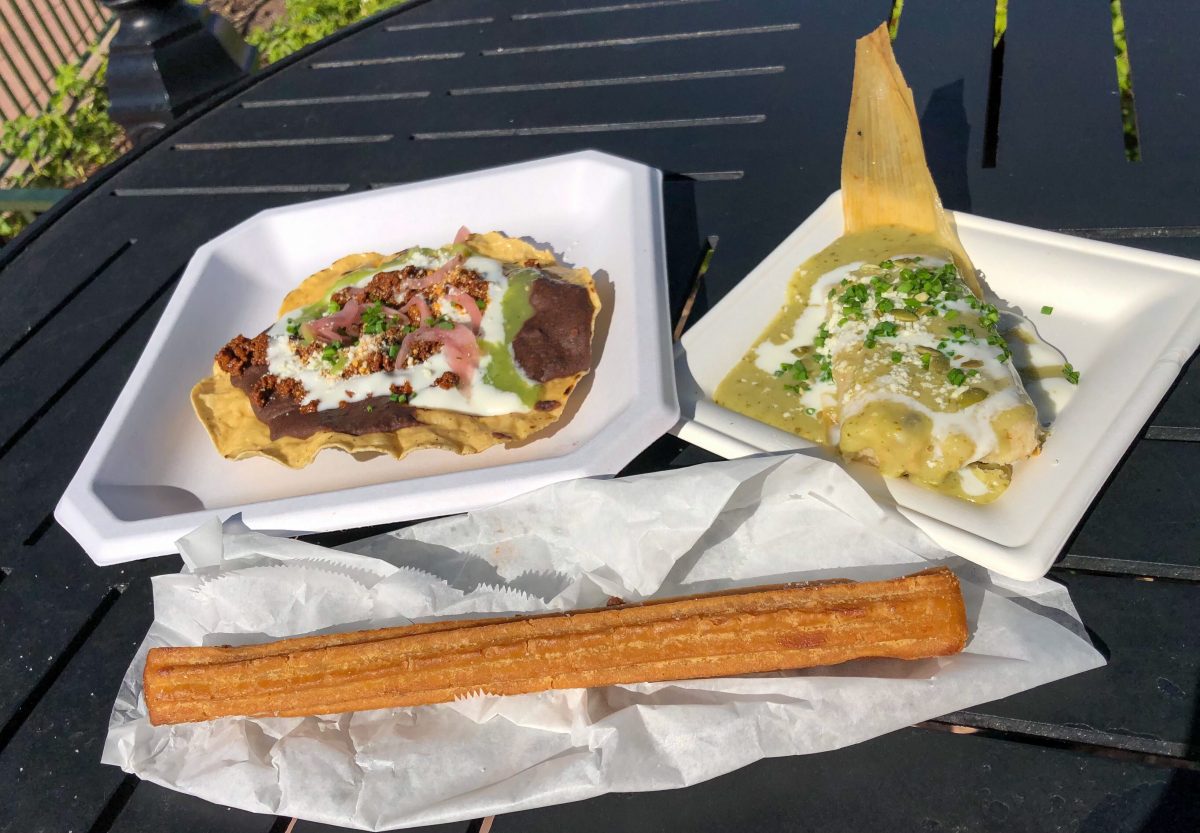 A warm, sweet treat at Las Posadas Holiday Kitchen, the Dulce De Leche Churros are more than just your average churro. Filled with sweet, buttery Dulce De Leche, these churros are a nice holiday treat and they're only $0.25 more than a plain churro at a regular snack cart.
There are over 35 different festival foods to try so we'll have more coverage of other must-eats, and some to potentially avoid. So stay tuned! If you're visiting Walt Disney World this holiday season, make sure you have holiday magic at your fingertips. Become a TouringPlans Subscriber and gain access to our Lines app. Our Lines app users save 2-3 hours on average per day in the parks, so you'll have more time to savor the magic of this festive season.
Have you attended the EPCOT International Festival of the Holidays before? Which of these foods sound best to you?