Best Themed Restaurants at Disney World
The level of detail that Disney Imagineers put into the theming of the parks is astonishing. If I can be perfectly content just sitting in an area and soaking in all the details, then that to me is a wonderfully themed area of a Disney park. The same goes for Disney dining. Obviously, food quality comes first but with the premium that you're going to pay at Disney, I always try to eat at restaurants that are immersive and give me that feeling that I've actually entered the setting that the Imagineers were trying to convey. If you have that same desire to be transported away during your next Disney dining experience then you're in the right place. Below, you'll find a list of my personal five best themed restaurants at Disney World. Each of these restaurants has excellent theming that will surely enhance your meal. Luckily, the food happens to be great at each of them as well.
5. Flame Tree Barbecue
Starting off our list is the only quick service entry and the only outdoor entry on our list. Located in Animal Kingdom, Flame Tree Barbecue is my favorite place to eat a meal outdoors in the parks. Animal Kingdom is already a beautiful park so it's no surprise that Flame Tree lives up to its park's reputation. There are both covered seating areas and more sunny areas that are overlooking the water with Everest in the distance. There's also a beautiful pond/pool towards the back of the seating area as well. Along with the great views, the covered areas I mentioned before are cool looking and come complete with a surprisingly "real" Circle of Life theme. Each patio features a predator eating its prey, which shows that Disney can take the kid gloves off every once in a while without going over the top. When it comes down to it, Flame Tree has arguably the best counter service food and best outdoor seating areas in the parks, which make it my fifth most atmospheric restaurant at Disney World. Note: Flame Tree is currently closed during Rivers of Light construction at Animal Kingdom, though some of its seating is open and you can find your smoked meats other places in the park.
4. Crystal Palace
At number four is our first restaurant that offers character dining. Crystal Palace is a "must-do" for many guests on their Disney vacation. I'd go so far to say that it's the best character dining experience in Disney World but even without Pooh and his friends, Crystal Palace would still be an excellent place to enjoy a meal thanks to its beautiful architecture and natural lighting. The hanging lights throughout the interior of the restaurant are also a nice touch. And if you decide to eat dinner there after dark, Crystal Palace offers a different atmospheric experience thanks to the outdoor lighting, which illuminates the entire building and makes for a great photo opportunity. For your next trip, I'd suggest making breakfast reservations for a time before park opening so you can have the rare opportunity to stroll down an empty Main Street, U.S.A. and enjoy a meal inside one of the most beautiful buildings in Disney.
3. Tusker House
Our second Animal Kingdom entry on the list is Tusker House. Another great character meal, the real draw of the ambiance of Tusker House is its main room where the buffet is located. Themed to resemble an African market, there are almost too many details to take in during one meal. Tusker House is also an excellent example of how a theme doesn't have to be pristine to be perfect. With fake cracks and bumps along the façade of the fake building interiors, you'll appreciate the lengths Disney goes to in order to enhance the atmosphere and ambiance of an area. There's even a second story balcony in the main room, which is always a Disney classic. Somebody should write a book about the lives of the unseen people that live in the second story of Disney buildings throughout the parks. Look at that. You came for a top 5 list and left with a genius million dollar book idea. What's better than that?
2. San Angel Inn Restaurante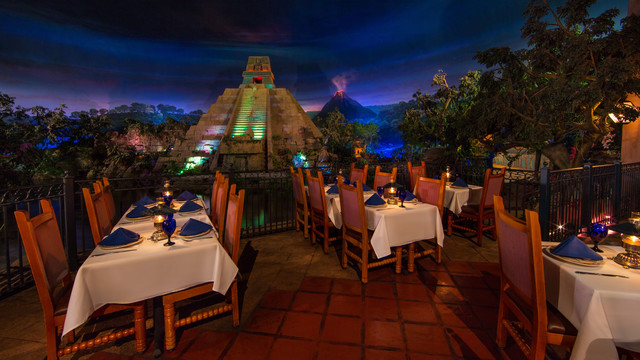 You could probably make an argument for almost every restaurant in World Showcase to be on this list. The whole area is impeccably themed. But this is my list, so I'm going with San Angel Inn at the Mexico pavilion in Epcot. Located inside a Mayan temple, the restaurant's atmosphere gives guests the feeling of eating under a starry night sky looking over an active volcano and Mayan temple. A Mayan temple inside a Mayan temple is pretty much the World Showcase version of Inception and that's awesome. San Angel Inn is also the closest Disney World guests who can't make the trip to Disneyland will get to eating at Blue Bayou thanks to the river boats from the Gran Fiesta Tour that pass right by diners.
1. Be Our Guest
Be Our Guest is not only my personal pick for best themed restaurant at Disney World, it's also one of the best themed areas in all of Disney regardless of category. Disney Imagineers really outdid themselves here with the atmosphere and ambiance of Beast's Castle. If you want to feel like you're actually inside a Disney animated film, eat at Be Our Guest. There are three dining rooms that each mirrors an area of the Beast's Castle from the film (West Wing, Rose Gallery and the centerpiece, the Ballroom). If you can manage it, request a specific room that you want even if you have to wait a little longer.  Personally, I'd say the Ballroom is the most well-themed room. The room uses forced perspective, which Disney loves, to great effect. Also, if you take a closer look outside the faux windows, you'll see snow falling in the forest, which made me feel like I was in a remote castle somewhere in France even if it was really August and 80 degrees outside. One of my favorite touches of the entire restaurant is the suits of armor that line the entry way to meet Beast. The suits of armor will chat with one another but quickly shush the others and fall silent if they suspect a guest is nearby. Again, it all makes sense within the theme considering the castle is supposed to be occupied by its former human residents who are now random inanimate objects. It shouldn't be surprising that Be Our Guest is such a well-themed and atmospheric restaurant considering there's an entire musical number dedicated to dining within the film but even with such high expectations, Disney really nailed it. It might be the hardest restaurant to reserve a table at in all of Disney World (even with quick-service lunch offered) but it's absolutely worth the wait, and will be serving breakfast soon (you can make reservations starting February 25, 2015).
As always, I want to hear your choices though. What are your choices for most atmospheric/best themed restaurants in Disney World? Leave a comment below and thanks for reading!