Which Crescent Lake Resort Should You Pick?
When many people think about staying at Walt Disney World, they envision the Magic Kingdom area, with the monorail whisking guests from their resorts to the park. Veterans know that Crescent Lake, between Epcot's International Gateway and Hollywood Studios, is home to the Epcot resorts. All of the hotels in this area provide easy access to both Epcot and Hollywood Studios, as well as a wide variety of dining. Each has unique qualities, so read on to find the best Epcot resort for your next trip!
Epcot Resorts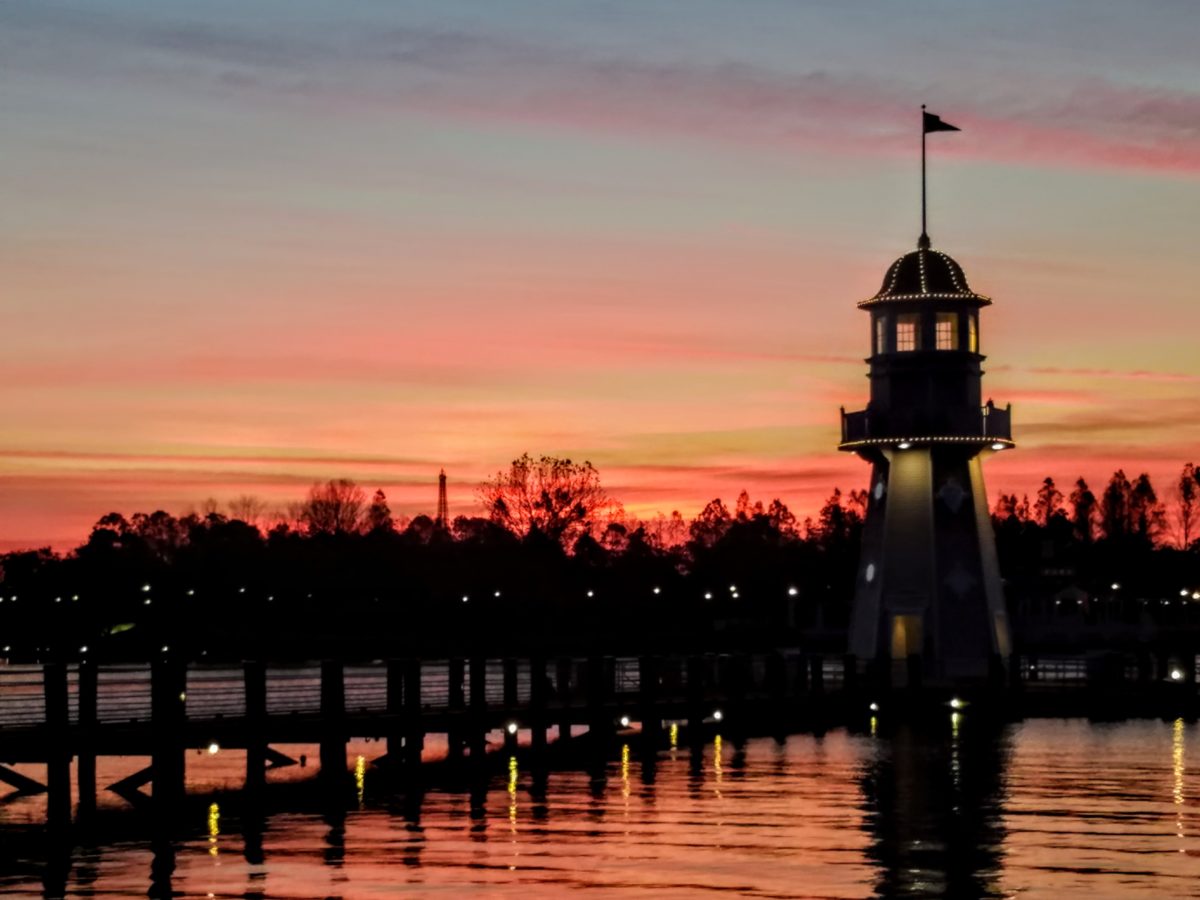 Let's start with some basics: the Epcot resorts include
Disney's Beach Club Resort
Disney's Yacht Club Resort
Disney's BoardWalk Inn
Walt Disney World Dolphin
Walt Disney World Swan
Walt Disney World Swan Reserve.
Note that while the Yacht & Beach Clubs are technically two separate hotels, they share amenities with one another, are physically connected, and are functionally the same resort. While they're not physically connected, the same is true of the Swan & Dolphin (including the Swan Reserve), so much so that they are commonly referred to collectively as the Swolphin.
For purposes of comparison, we're going to treat these related properties like they are one resort complex. There's no point in pretending that the Beach Club doesn't have a fitness center, for example, when the one that is intended for guests of both resorts happens to be 10 yards on one side of an arbitrary line. To the extent that there are differences between the experience of staying at one resort compared to the other, they will be be discussed below.
The Swan Reserve is a relatively recent addition to the Swan and Dolphin resort complex. It is a boutique property that is much smaller than the Swan or Dolphin, with only 349 rooms.  Nearly 45% of those rooms are suites, however, and the property as a whole has a more upscale feel that caters to business travelers and conventioneers.
At Beach Club and Boardwalk, guests have the option of staying in Disney Vacation Club rooms. These range from a studio all the way up to a two-bedroom unit, or a three-bedroom grand villa at Boardwalk. Non-members can book these rooms by renting DVC points, which is a budget-friendly alternative to paying on the hotel side.
Transportation
One of the primary benefits of all the Epcot resorts is that two theme parks are close enough to walk. Of course, some are slightly closer than others. These are the approximate distances from the lobby of each resort to the turnstiles at Epcot and the Studios.
Distance to EPCOT's International Gateway:
Yacht & Beach Club – .36 miles
Swan & Dolphin – .7 miles
Boardwalk – .4 miles
Distance to Hollywood Studios
Yacht & Beach Club – 1.1 miles
Swan & Dolphin – 1 mile
Boardwalk – .75 miles
Again, these are from the lobbies; depending upon what room you get, you could be quite a bit closer or further away from something. Additionally, the Swan Reserve is behind the Swan and across the street, making it a bit further still. It should still give you a decent sense of where things are with respect to each other.
For those at the Swan and Dolphin complex, I had long wondered whether it was faster to get to Epcot by walking along the Boardwalk or in front of Yacht and Beach Club. By virtue of researching this article, I now know that it's generally faster to take the Boardwalk route, but just barely — about .03 miles less walking.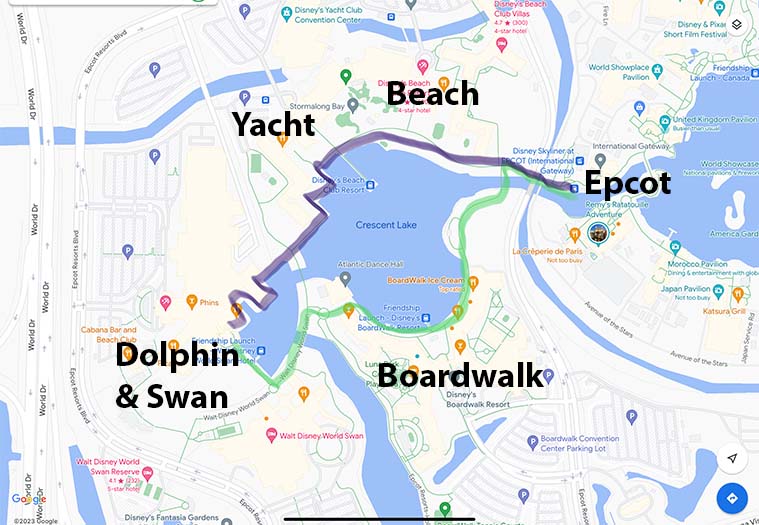 In addition to walking, there are Friendship Boats that travel between the parks and all the resorts. Starting at Epcot's International Gateway, the water shuttle will take you to Boardwalk, Yacht & Beach Club, the Swolphin, then Hollywood Studios. Pro-tip: the boat docks for Boardwalk and Swan & Dolphin are very close to one another, so if you don't mind walking a little bit, you can shave some time off of your ride by getting off early and walking when returning from Hollywood Studios to Boardwalk.
You can walk or boat to Epcot and Hollywood Studios, but you'll be relying upon Disney's bus service for free transportation to Magic Kingdom and Animal Kingdom. (The Swolphin currently has its own bus service and does not use Disney's.) And finally, these resorts have the Skyliner available, with access at the International Gateway entrance to Epcot.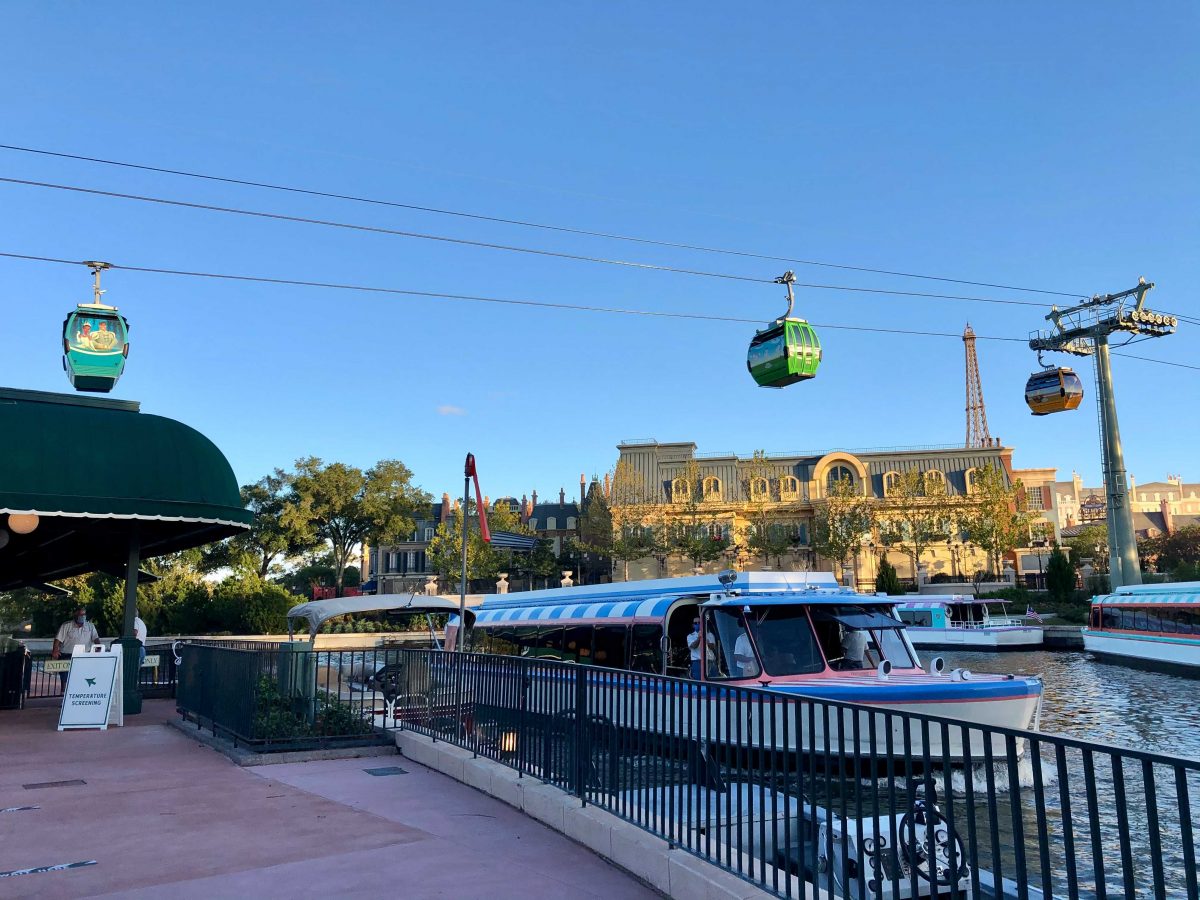 Resort Highlights
Here's the good news: all of these resort complexes are highly rated. Here's how they rank according to our readers, along with some basic information about each:
Disney's Beach & Yacht Club Resorts

Rating:
Theme: Late 1800's New England
Typical Nightly Price Range: $568-$776
Pools: 4
Table Service Restaurants: 4
Rooms: 583 (Beach)/630 (Yacht)

Disney's BoardWalk Inn

Rating:
Theme: Early 1900's Boardwalk
Typical Nightly Price Range: $610-817
Pools: 3
Table Service Restaurants: 4
Rooms: 378

Swan & Dolphin Resort Complex

Ratings

Dolphin at Walt Disney World
Swan at Walt Disney World
Walt Disney World Swan Reserve

Theme: Modern
Typical Nightly Price Range: $265-$370 (Swan & Dolphin)/$370-$427 (Swan Reserve)
Pools: 3
Table Service Restaurants: 10
Rooms: 758 (Swan)/1509 (Dolphin)/349 (Reserve)
When it comes to ratings, we're really splitting hairs here, though — all six resorts get a four-star ranking overall and vary only slightly in reader ratings of individual features. Additionally, all have several table service options, multiple pools, and the usual amenities you would expect, like fitness centers and sundry shops. With that being the case, I wouldn't hesitate to recommend any of them, and your decision is probably going to be driven by personal preference, availability and cost as much as anything.
Moreover, they are all physically close enough to each other that you can take advantage of many of the benefits of these resorts regardless of which one you choose. For example, if you're staying at Boardwalk but want to do a spa treatment, it's very easy to book an appointment at Dolphin and walk or boat over.  If you're staying at the Swan but want to rent a surrey bike or play some midway games, just walk over to Boardwalk and do it. The exception is the pools, which are for guests of the specific resort only.
That said, there are a few reasons to consider one over another:
Yacht & Beach Clubs — Stormalong Bay
For many kids visiting Disney (and even some adults), the time spent hanging out at the pool is as important as anything they do at the parks. If pool time is the main attraction, the Yacht & Beach Clubs are going to hold a lot of appeal for you. It is generally recognized that the main pool complex shared by these resorts, known as Stormalong Bay, is the best pool on Disney property. It features a lazy river, a large pirate ship slide, a zero-entry pool with a sand bottom, grotto whirlpools, and a fantastic design.
Does it matter which resort you pick? Personally, I find the experience is similar enough that I tend to favor whichever one happens to be cheaper. In my personal experience, that tends to be the Yacht Club, but that's not a given. In a vacuum, I tend to gravitate to the Beach Club, because I like that it's a bit closer to Epcot. Ultimately, however, I don't find there to be a big enough difference to strongly recommend one over the other — they are both among the best resorts on Disney property.
One other notable difference: the Yacht Club is dog friendly, the Beach Club is not, so if you're bringing your dog, it's going to have to be the Yacht Club (and you're going to need to pay the extra $50/night pet cleaning fee). As a matter of fact, the Yacht Club is the only one of the Epcot resorts that permits pets.
Boardwalk Inn — Great Entertainment
More than any other Crescent Lake resort, the Boardwalk Inn has an energy that really takes off at night. There are midway-style carnival games, street performers, surrey bikes (which is sort of like a little four-person buggy that you power by pedaling), and more to make the area feel very lively.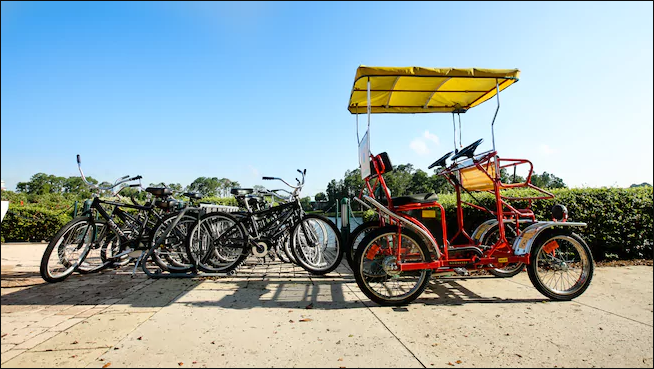 There are several restaurants lining your walk down the wooden boardwalk that gives the resort its name. This includes everything from fine dining at Flying Fish Cafe, to some of the better Italian at Trattoria al Forno, and more casual options like Big River Grille and Brewing Works.
The Boardwalk area also provides the best nightlife of the area resorts — in addition to craft cocktails at AbracadaBAR, you can find dueling piano fun at Jellyrolls, and get your dance on at the Atlantic Dance Hall.  If you're looking to be out and about after hours, your best options in the Crescent Lake area are at Boardwalk.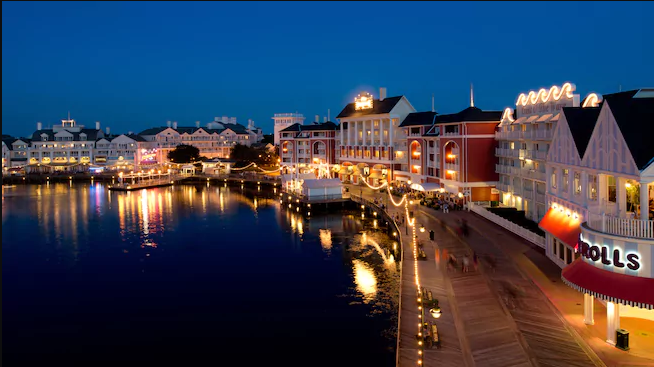 The Boardwalk also provides the best location from the standpoint of getting to the parks. While the Beach Club is marginally closer to Epcot, the difference is negligible, but it is MUCH closer to the Studios.
Swan & Dolphin Resorts — Great Value
By any objective standard, considering the amenities and the level of finish, the Swan, Dolphin, and Swan Reserve make up a very nice resort complex. The modern decor and the lack of "Disney-fication" at the resort is a popular source of debate, with can be either a positive or negative thing depending upon one's perspective. But it is beyond serious dispute that the Swan and Dolphin properties deliver deluxe-level amenities, accommodations, and location for less – occasionally FAR less – than other Deluxe properties.
By way of example, I checked for the room rates for a random weekend in the latter part of the summer (August 11-13), a time that's not traditionally too terribly busy.  All prices noted below exclude tax, but DO include the $40 resort fee that is charged per night at the Swan & Dolphin properties. Here's what I found for the Epcot Resorts:
Swan – $343
Dolphin – $312
Reserve – $454
Boardwalk – $545
Yacht – $537
Beach – $537
So here's the deal, would I prefer to stay at the Boardwalk over the Dolphin? For me, probably so. Is it worth $233/night more? That's a tougher call. I can stay at a resort in the same area, at a Deluxe level resort, and I have access to virtually all of the same amenities as if I stayed at Boardwalk. For over $450 savings over the course of a weekend, it's not a bad trade-off.
It's not just about the cost, however. Stormalong Bay may be the best pool complex on property, but the pool at the Swolphin is top notch — we rate the pool there ahead of every single pool on the monorail loop, and most other pools on property. It has a great slide, a grotto with a large waterfall, several different pools for young and old and drink servers that are a lot more forgiving about you sitting on the side of the pool with your drink than the servers at Disney hotels.  It also has several exceptional restaurants, such as Todd English's bluezoo and sushi at Kimonos.
Which resort should you choose? Technically, of the two primary properties, the Swan is a higher tier of hotel (it is considered a Westin, whereas the Dolphin is considered a Sheraton. Still, I personally prefer the Dolphin. The primary reason is that while they share amenities, most of the stuff that will matter to the average guest is on the Dolphin side of the property. The pool, the fitness center, the two best options to quickly grab food (the Swan doesn't really have a real quick service option)—all of that is at the Dolphin. The lobby there is much larger and more "grand" than that at the Swan, and features a great bar and live music in the evenings.
With that said, the Swan is quite nice and has the benefit of being a lot more compact than the Dolphin, so again my practice is simply to go with whichever one is cheaper. Worth mentioning, while both resorts offer King beds, when you are getting a room with two beds, the Swan uses Queen beds and the Dolphin uses Double Beds.  The rooms with Kings at the Dolphin do have sofa beds, so that could be a way of maintaining a larger bed for the adults if you don't mind pulling that out.
The Swan Reserve is part of Marriott's Autograph Collection and is considered a more upscale property than the Swan or Dolphin. With its plethora of suites, it's a good target for travelers who prefer that experience.  Despite it being a higher "tier" of hotel and more expensive, that hasn't come through in the (admittedly limited) ratings we've received so far. Also worth noting is that it is behind the Swan, and is thus a bit further from the parks than the other two.  However, it's a very nice property and worthy of consideration if it aligns with what you're wanting.
For more detail on the Swan Reserve, check out Swan Reserve: A Peaceful Getaway in the Heart of it All.
It should be noted, the Swan & Dolphin properties are not Disney-owned resort and there are a couple of unique aspects to staying there that you might care about. Most notably, you do not have the ability to charge things around Walt Disney World property back to your room the same way you could if you were staying at a Disney resort. Finally, there is a resort charge of $40 per night that is charged to your room, even if you're staying there on points. It can still be significantly cheaper to stay there even including that charge, but make sure you're accounting for it when budgeting your trip.
So, when you are visiting Crescent Lake, which Epcot resort do you prefer? Any favorites or tips? Let us know in the comments!