How the Pandemic Changed Walt Disney World
As we embark on the fourth calendar year that includes consideration of COVID-19, we're here to take a look at the myriad ways in which the pandemic impacted operations at Walt Disney World. What were the early reactions, how did things morph along the way, and what artifacts have remained as now standard practice at the parks?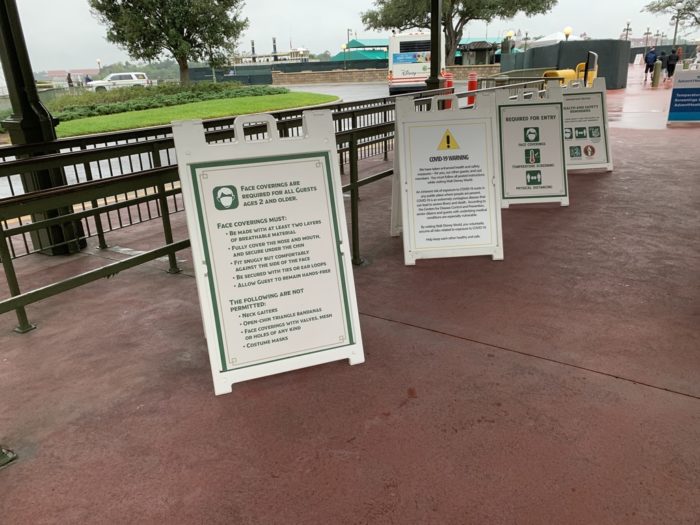 The Closing and Reopening
On March 12, 2020, Disney World announced that it would close beginning on March 15 "through the end of the month." Disney World had previously experienced minor shutdowns of a day or two due to hurricanes and the aftermath of 9/11, but the announcement of a closure of two to three weeks was unprecedented and shocking.
Disney continued to pay cast members for five weeks and then, with the closure continuing to stretch on, they began to furlough thousands of employees, many of whom were forced to move out of the area in search of alternate sources of income.
Phased reopening of the Disney World theme parks began on July 11, 2020, with all four WDW theme parks reopened by July 15, 2020.
Early Precautions
When the parks reopened during summer 2020, the list of precautions was near endless, with both major and minor modifications impacting nearly every aspect of park operations. Just some of the changes included:
Face coverings required for all guests at all times (indoors and outdoors) except when sitting in one place to eat or drink.
Not all hotels open.
Not all restaurants open.
Not all attractions open.
Dining Plans are discontinued.
The Tables in Wonderland restaurant discount is discontinued.
Six foot distancing required at all park locations including attraction queues.
Temperature screening required to enter the theme parks and Disney Springs.
Characters appeared only at a distance – no meet and greet opportunities available.
Characters meals were discontinued.
Parades were replaced by small, intermittent cavalcades.
Hand wash and sanitizing stations were added throughout the parks.
Attractions were loaded with only one party per vehicle.
Show-style attractions had rows and sections blocked from use.
Limited numbers of guests were allowed on park-to-park transportation such as buses and the Skyliner.
Mobile order became mandatory at most quick service food locations.
Spaces were left between cars in the theme park lots.
Parking lot trams were discontinued.
Park hopping was discontinued.
Park reservations became mandatory.
Annual pass sales were discontinued.
Epcot's Kidcot Fun Stops were discontinued.
Most in-park entertainment (Streetmosphere, shows, etc.) was discontinued. Remaining entertainment was drastically modified.
Finger scans were discontinued at park entry.
After hours events were discontinued or heavily modified.
Fireworks were discontinued.
Trash can flaps were tied open so that no contact was necessary to dispose of items.
Table service restaurants largely switched to QR codes rather than paper menus.
Epcot World Showcase countries were staffed mostly by Americans rather than by the locals of the represented countries.
Masks were required to be worn during all photos. Guests who removed masks during rides would have the photos taken on those ride deleted.
Cast members were prohibited from handling guest items such as cameras.
All tours and backstage experiences were discontinued.
Attractions were periodically stopped to wipe down or spray disinfectant onto vehicles.
Resort spas, the Bibbidi Bobbidi Boutiques, and the Harmony Barbershop were closed.
Pin trading was modified.
Some transportation modes were suspended (boat routes).
Park security screening changed from hand searches of bags to walk-through electronic screening.
Park hours were modified. Epcot didn't open until 11:00 a.m. on most days.
Virtual queues became common.
FastPasses were discontinued.
Resort playgrounds were closed.
Airline luggage check-in at the resorts was discontinued.
Chairs in pool areas were removed to keep guests socially distant.
Buffets and other self-service food situations were discontinued or heavily modified.
Hotel housekeeping was reduced.
Dining reservations were discontinued.
Resort package delivery was discontinued.
… and on … and on … and on.
Most of these precautions lasted throughout 2020 and into the first quarter of 2021.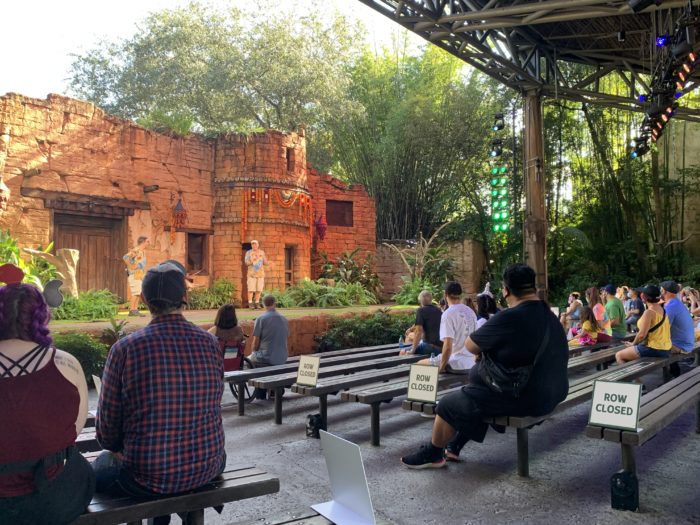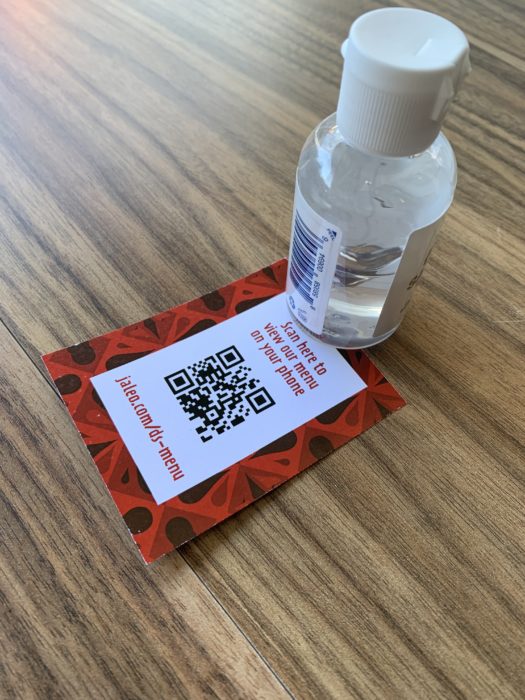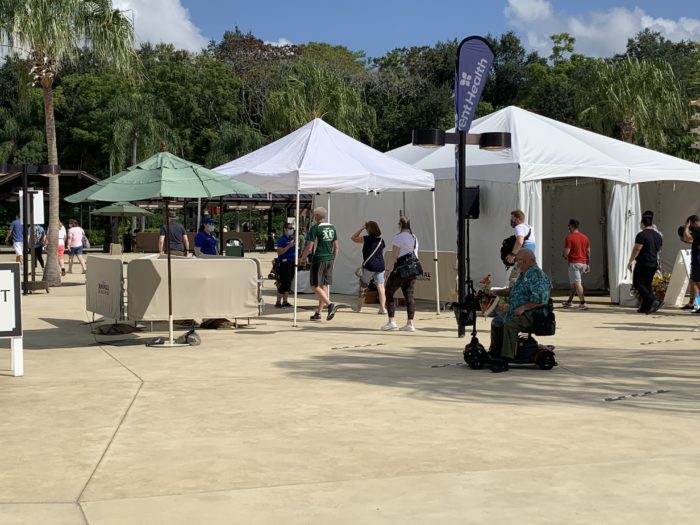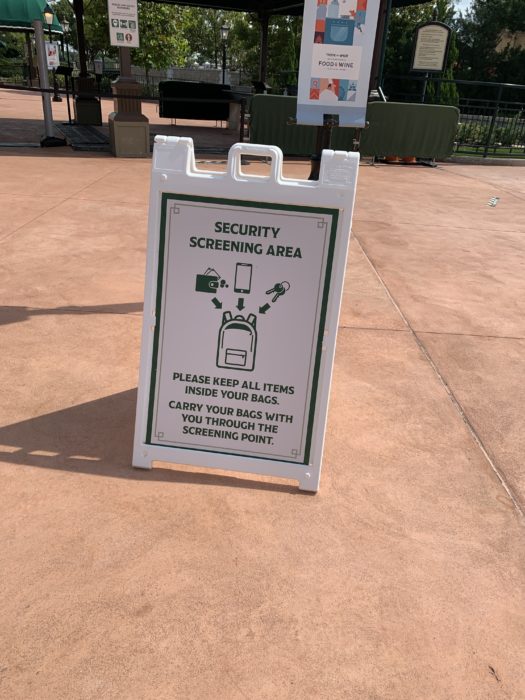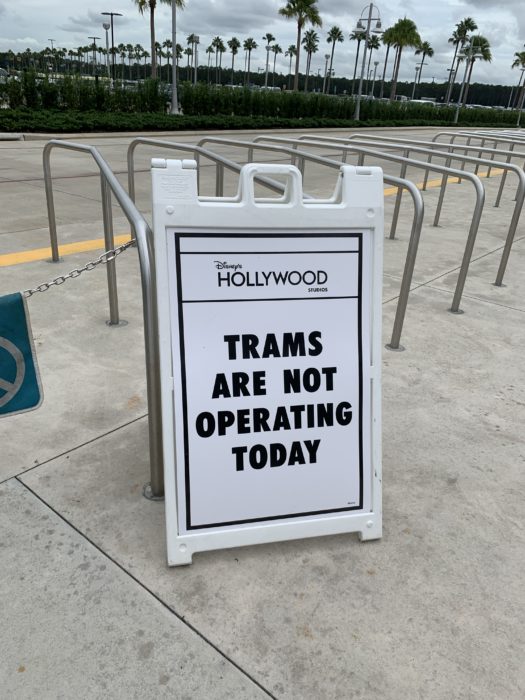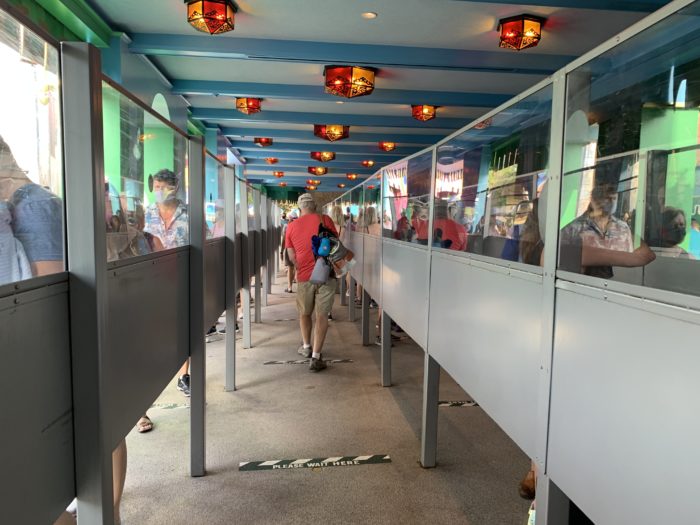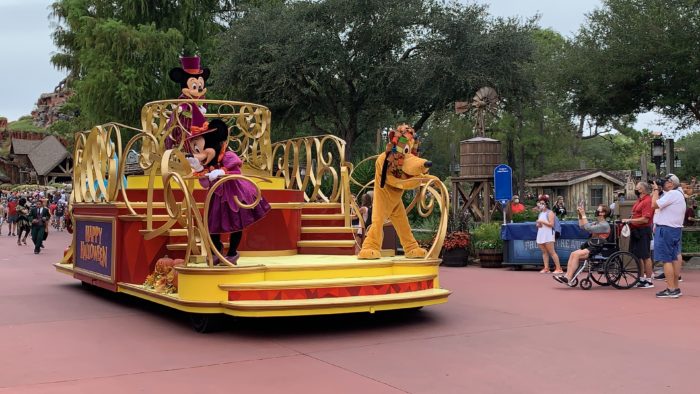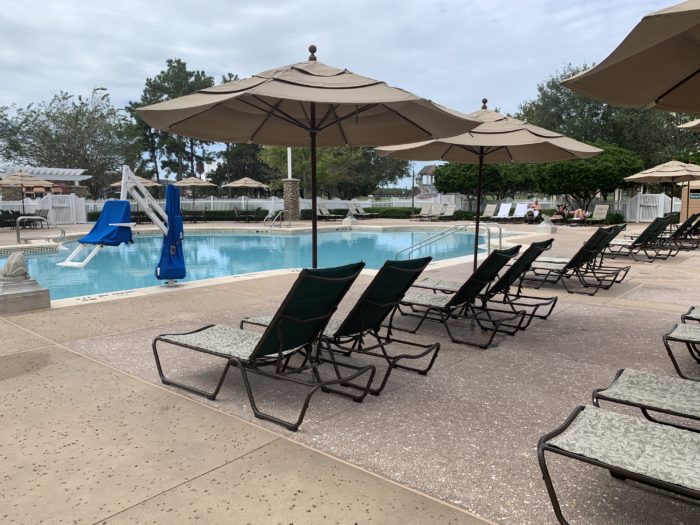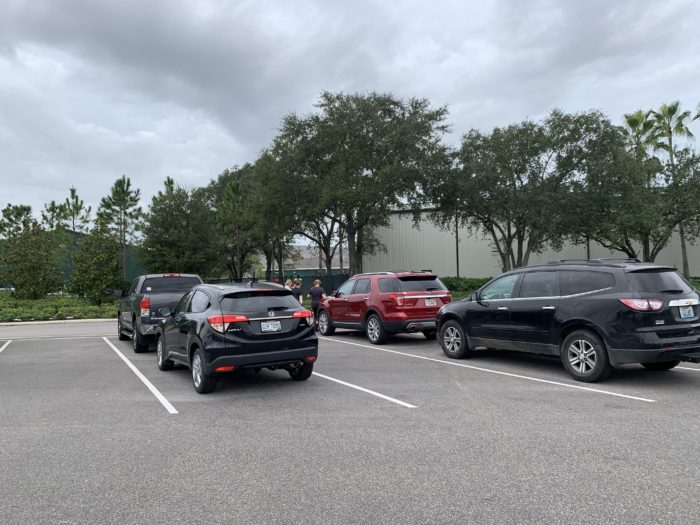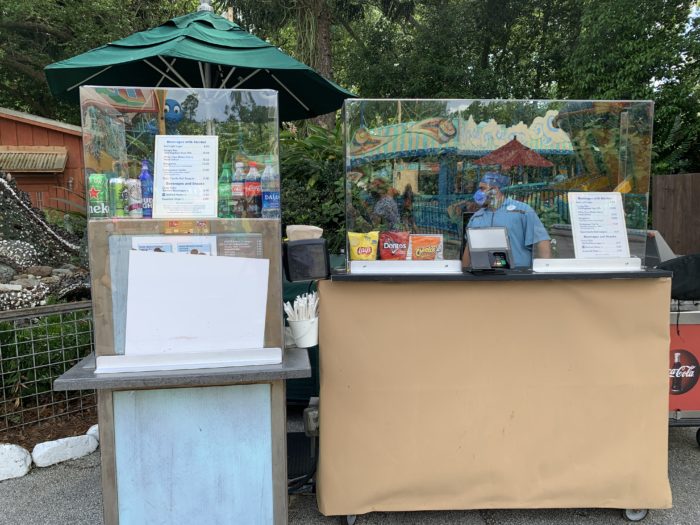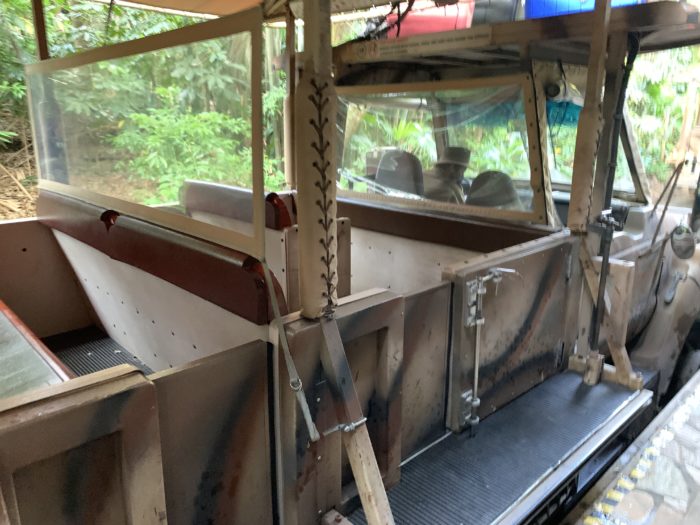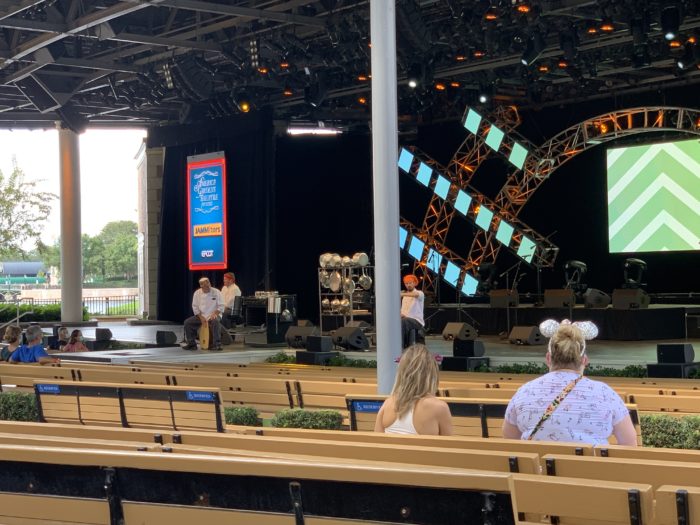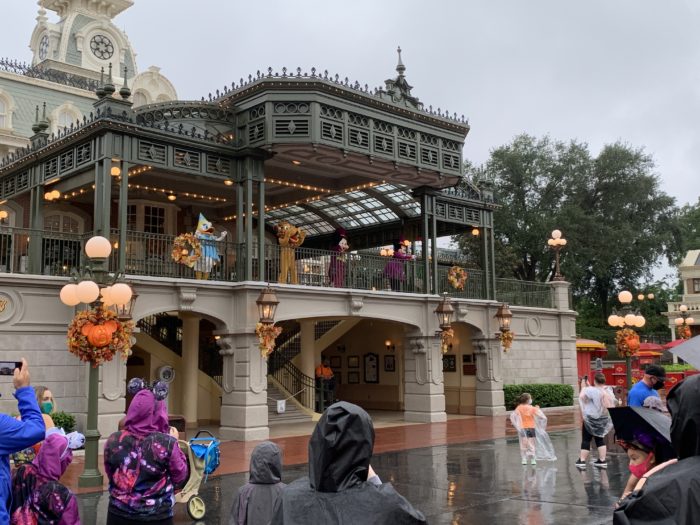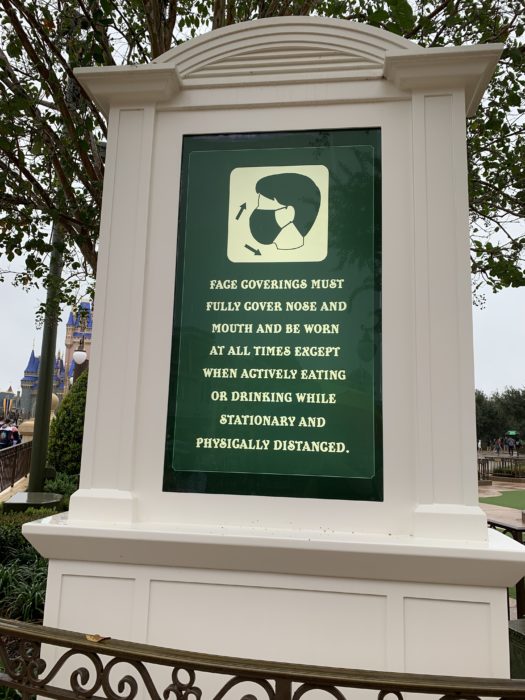 Things Started to Relax (Kinda Sorta)
Following the initial frenzy locking down anything and everything, there were frequent changes to protocols. From mid-2021 to mid-2022 the COVID precautions changed on what felt like a daily basis. Each month, a new aspect of the park reverted back to the old ways. More hotels reopened, restaurants reopened, the temperature checks stopped.
Masks eventually became optional outdoors but remained required indoors, then eventually masks were made wholly optional. When mask requirements were removed, the relaxation stations that allowed guests to take a break from them went away as well.
Multiple parties were loaded into the same ride vehicle, but plastic barriers separated groups. Then barriers were removed and rides returned to full capacity.
FastPasses were replaced by the Genie+ and Lightning Lane system.
Buses went from six parties allowed onboard, then ten parties with plastic barriers between, then twelve parties, then the barriers went away and full capacity returned.
Characters came back to "appear and wave" socially distant greetings and then finally to full greetings with hugs and autograph signing.
The restaurants that house character meals reopened, but without characters. Then characters appeared, but only from a distance. Buffet service at these venues was replaced with family-style dining, then buffets eventually resumed.
Dining reservations returned, but with a 60-day window rather than the old 180 day window.
Park hours returned to normal, but the Extra Magic Hours and Early Entry system was different.
Social distancing markers were pulled off the pavement. Hand sanitizer dispensers disappeared.
And so on, with large and small tweaks happening in fits and starts.
Mostly Back to the Old Procedures
By the second half of 2022, the vast majority of pre-pandemic experiences had returned to normal, or at least normal-ish. When you're inside the parks, it generally feels like the old days.
Only handful of closures remain, including:
Voyage of the Little Mermaid show (long rumored to be permanently closing even prior to COVID)
Enchanted Tales with Belle
The Ariel's Grotto greeting
The Pete's Silly Sideshow greeting
1900 Park Fare restaurant
The Space Mountain exit store
The Jedi Training Academy
The Splash Mountain store (will not reopen in its old form)
Some Bibbidi Bobbidi Boutique locations (the Magic Kingdom site has reopened)
Restaurant Marrakesh
Narcoosee's restaurant
Parking lot trams in some locations
Some annual pass sales remain discontinued
Resort package delivery has not returned
Additionally, there are some current and upcoming closures that are either unrelated to COVID (Rock n' Roller Coaster closing for standard maintenance and a standard winter water park closure, for example) or only tangentially related to the COVID era (the Splash Mountain retheming closure, for example).
The Primeval Whirl and Stitch's Great Escape attractions died during the COVID era, but these were likely unrelated to the virus.
And some previously announced attractions will never see the light of day due to COVID, particularly things like the Play Pavilion and Mary Poppins Ride at EPCOT.
The discontinuation of Disney's free Magical Express airport transportation system was unrelated to COVID, but many guests feel this is part of the same era of change.
The New Normal
So other than a few closed restaurants and character greetings, what's left of the COVID era?
A few of the COVID-era procedural changes that remain have generally positive reviews. Most folks like having the option to mobile order meals at WDW's quick service venues, although it's no longer mandatory. And I don't know of anyone who isn't thrilled to see the end of hand-searching every bag at the park entrances.
Another popular change that remains is the walk-up waitlist, a standby option for Disney table service dining that doesn't require you to physically stand in line. The character cavalcades, which many hoped would outlast COVID, are still happening as well. They're even at scheduled times now that there's no goal to prevent crowds from forming.
On the other hand, several of the remaining COVID-era practices continue to irk guests. The primary issues of continuing concern are:
The lack of full annual pass availability
The Genie+ and Lightning Lane system are seen by some as a poor substitute for FastPasses, as well as an unwelcome money grab by Disney
The removal of dining plans
The continuing need to make park pass reservations
The continuation of Park Hopping limited to the post-2:00 p.m. hours
The lack of free airport transportation (though again, this was not COVID-related)
Additionally, a subset of guests continues to feel that a lack of staffing plagues Disney World. For example, custodial staff and housekeeping workers appear to be in short supply (perhaps due to an early pandemic exodus from the Orlando era when theme park jobs disappeared), leaving some areas of the parks and resorts perhaps not as clean as they had typically been prior to COVID.
What's Next?
We'd like to hear your predictions for what will happen in 2023 at the Disney Parks. Do you think any of the "New Normal" items will revert back to the old normal? How do you feel Disney World has weathered the COVID storm? Let us know in the comments.