Disney California Adventure Aunt Cass Cafe Review
Aunt Cass Cafe is a quick service restaurant located in Disney California Adventure's San Fransokyo Square area. Like the land itself, Aunt Cass Cafe isn't new. In its first incarnation it was known as Pacific Wharf Cafe, while the new name reflects the change to match the land's new Big Hero 6 theme. The location's signature bread from San Francisco's famous Boudin bakery remains, but there's also some great new items to check out. In this post we'll take a look at what Aunt Cass Cafe has to offer.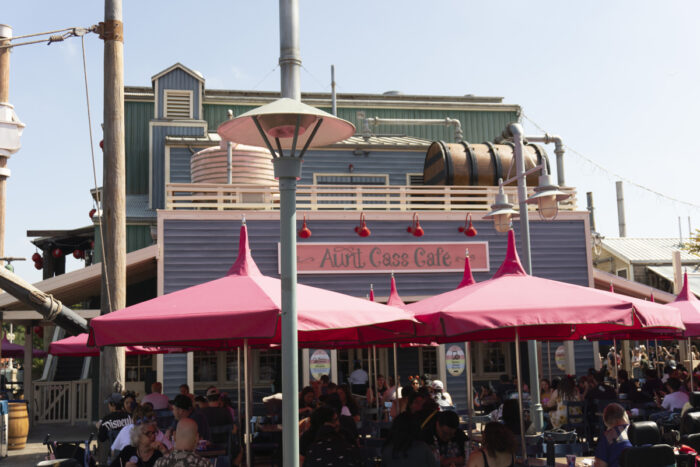 As you can see, not much has changed in terms of looks. Aunt Cass Cafe looks similar to Pacific Wharf Cafe, but has received a new sign and some new thematic elements inside.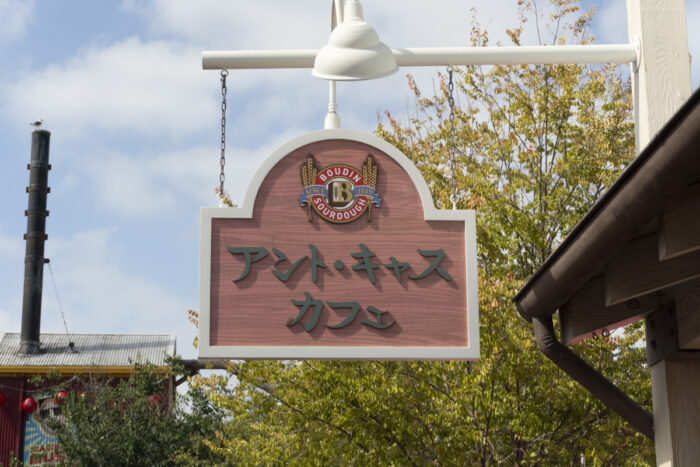 This marquee says Aunt Cass Cafe in English text on one side, and Japanese katakana on the other.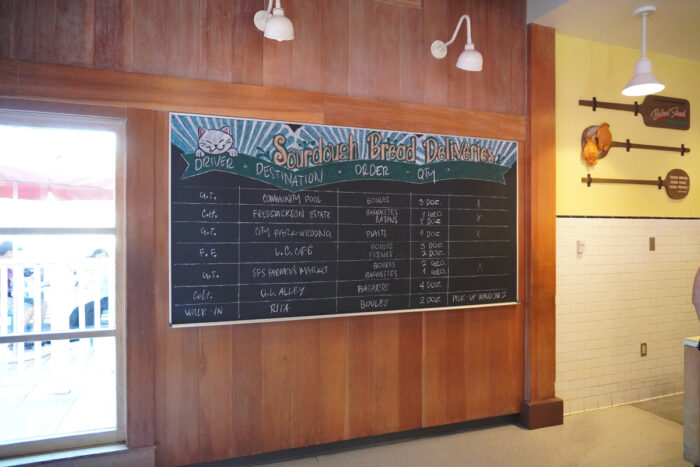 Inside Aunt Cass Cafe is this chalkboard with the bakery's deliveries for the day. On it you can see references to other parts of the land.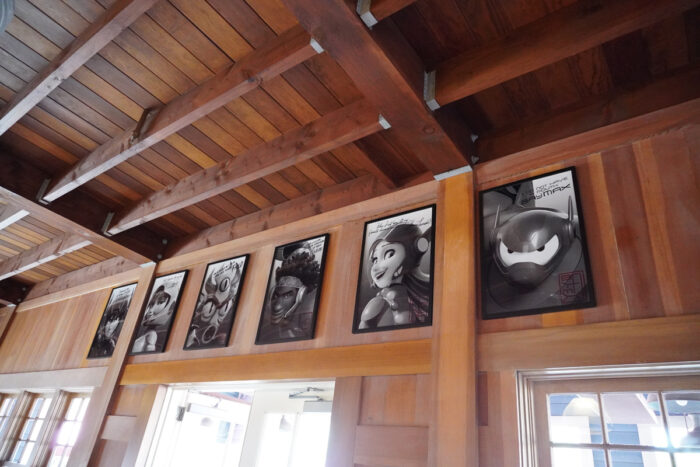 One of the walls shows pictures of the Big Hero 6 crew.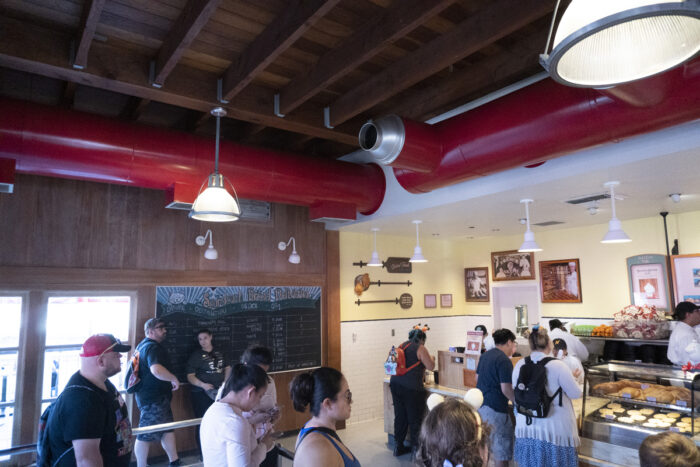 Like the outside, much of the inside of Aunt Cass Cafe remains the same.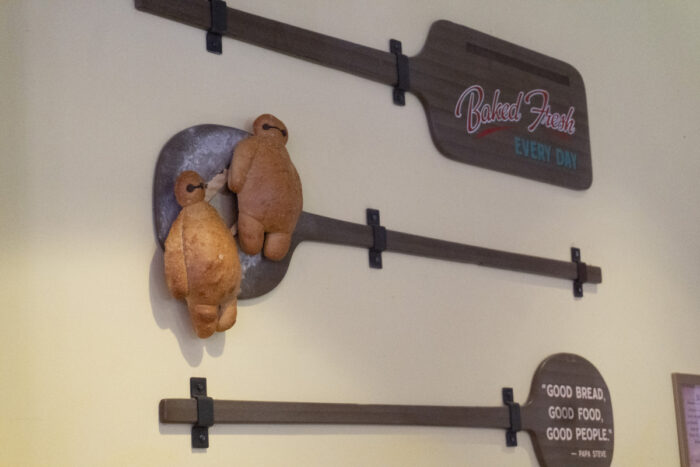 Something I thought was funny is this display on the wall. The oven peel in the middle used to have a fake loaf of bread on it. You can see where they ripped it off because of the exposed/unpainted wood in the center, as well as the ring of flour that used to circle the fake bread. Besides that it's cute that they put the Baymax bread on it.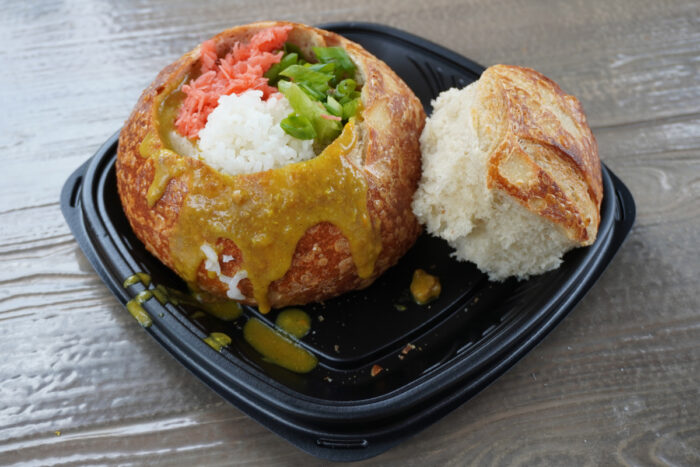 First up is the Curry Beef bread bowl with beef, carrots, potatoes and onions cooked in classic curry topped with rice, pickled ginger and green onions. Japanese curry is my favorite food, so I didn't have high hopes that Disney could produce a decent mass produced version of it in a theme park restaurant. Wow was I wrong. The curry beef bread bowl is fantastic. As is typical with Japanese curry, it's thick, savory, and has a hint of sweetness (which usually comes from grated apples or honey). The curry soaks into the fresh Boudin bakery bread and it's truly glorious. Also, yes you are seeing that right, they mixed carbs with carbs and topped it with white rice. This is a very filling and delicious meal for only $12.49, which is on the cheaper side of Disneyland Resort quick service meals. Don't miss out on this one.
Two other bread bowls are also available, clam chowder, and creamy mac & cheese, which are $12.49 each.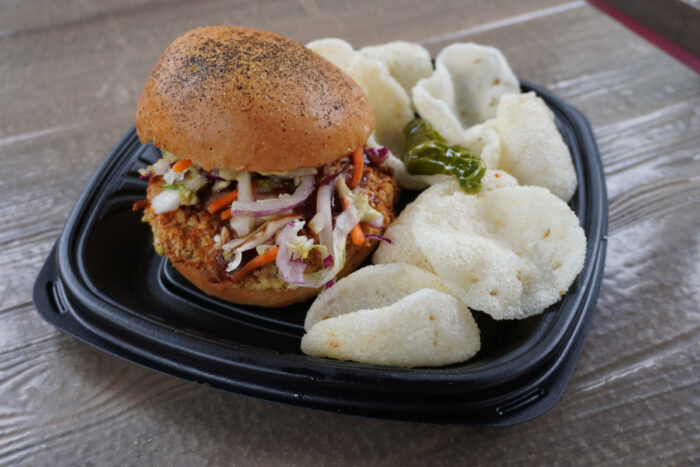 Another new item is the Shrimp Katsu Sandwich. The thing that came to mind when biting into the shrimp katsu patty was a cheap crab cake. The kind you'd find in a lower end chain restaurant or Costco frozen food section. It's not bad, but it's also not great, and I didn't even taste that strong of a shrimp flavor. At $14.99 this is hard to recommend. Especially when the fantastic chicken karaage sandwich is next door at Lucky Fortune Cookery.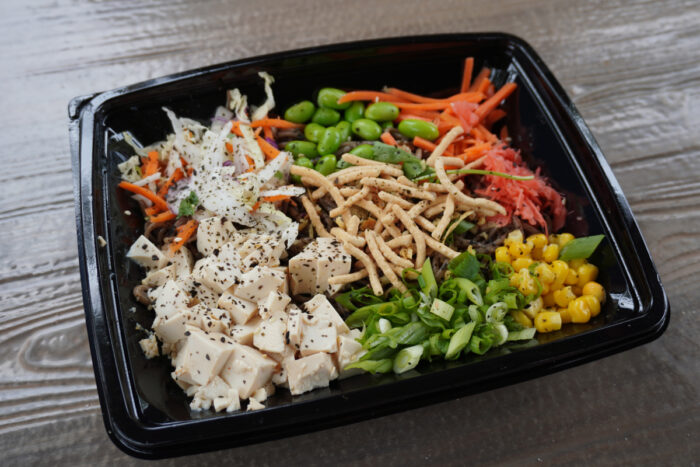 The Soba Noodle Salad is comprised of tofu, cabbage, edamame, carrots, roasted corn, scallions and cilantro topped with crispy shallots and sesame ginger dressing. This dish is perfect for people looking for a lighter meal, especially when compared to Aunt Cass Cafe's bread bowls. The salad is $13.99, and there's also a version served with shrimp for $19.99.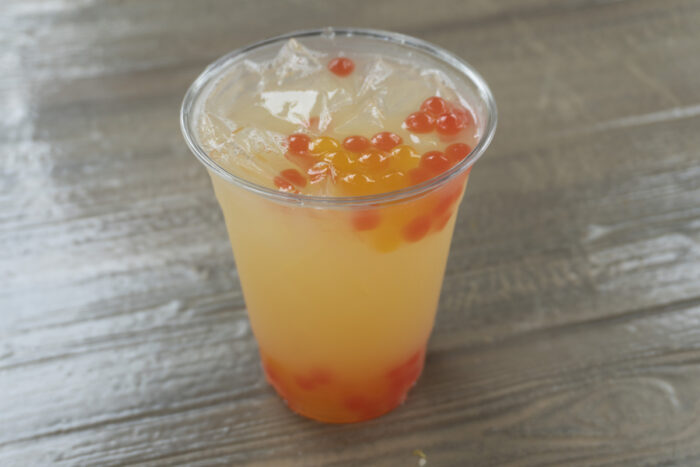 The Honey Lemon-Ade contains Minute Maid Lemonade Zero Sugar, yuzu puree with passion fruit and strawberry popping spheres. Even with the zero sugar lemonade this is still a total sugar bomb. The yuza flavor is great, but at $6.99 this is another pass for me.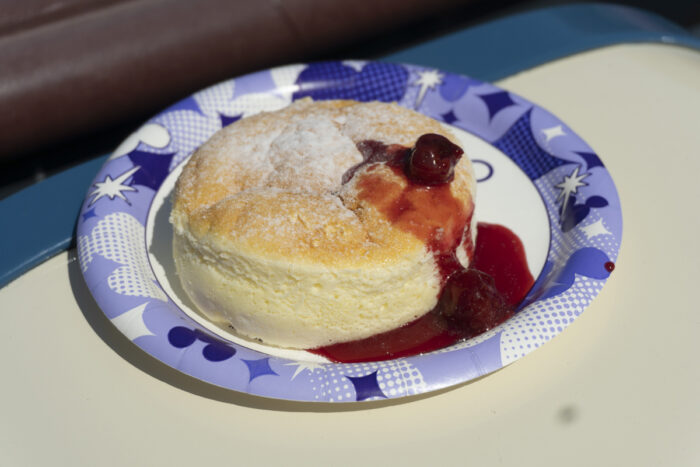 Now that you've skipped the Honey Lemon-Ade, you can spend the $6.99 on this beauty, which is the same price. The Japanese-style Fluffy Cheesecake is a wonderfully fluffy dessert packed with rich cheesecake flavor. Fluffy Japanese-style pancakes are very trendy right now, and while this isn't the best one I've ever had it's still great and worth a try.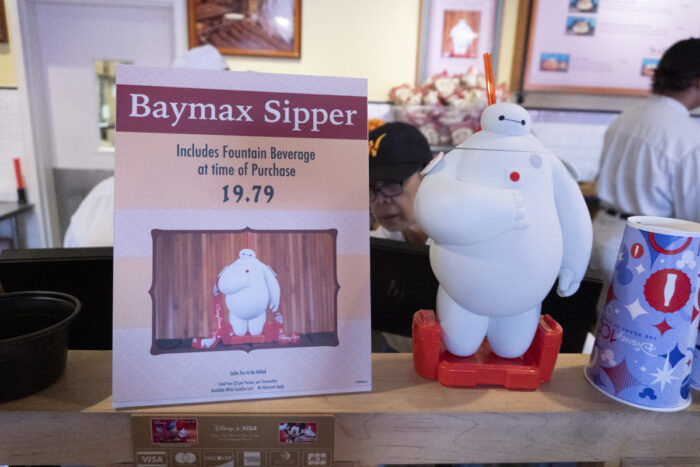 If you'd like to leave another item for your beneficiaries to throw away when you pass, this Baymax sipper is perfect. For $19.79 you get the sipper and one beverage.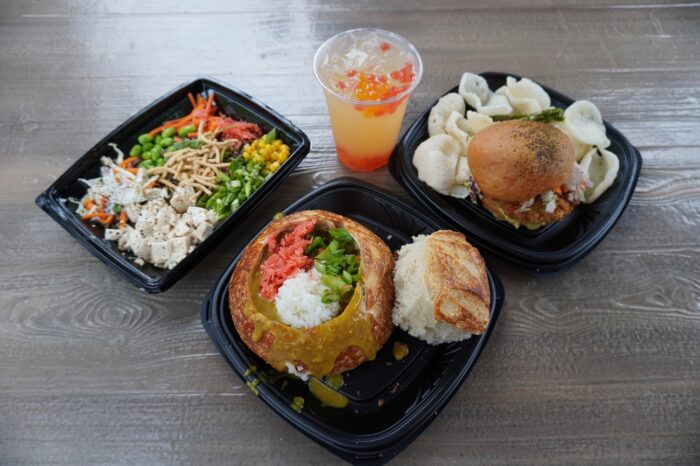 Aunt Cass Cafe is just as good as its original incarnation, Pacific Wharf Cafe. The new Curry Beef bread bowl is a must try, and the Japanese-style fluffy pancake is a unique dessert in Disney California Adventure. We hope Aunt Cass Cafe and Lucky Fortune Cookery continues to receive entrees that are inspired by Japanese flavors in the future, but for now they're off to a good start.
Check out our review of San Fransokyo Square's other quick service restaurant, Lucky Fortune Cookery.
Which food items in San Fransokyo Square are you excited to try? What you've eaten already. Let me know in the comments below.