10 Places to Stay the Night before Your Disney Cruise out of Port Canaveral
So where should you stay the night before your Disney cruise out of Port Canaveral?  My number one answer is – not in your own bed!  Well, unless your bed is within a few hours driving distance of the port that is.  In Port Canaveral, everyone must be onboard the ship by 4 pm, so while for many people there is certainly time to travel in on the day of the cruise, recognize that you are taking a risk!  That ship is sailing with or without you, so any travel delays won't just make you late for your vacation, they could make you miss your vacation!  On an Alaskan cruise, a one hour flight delay due to wind was enough to make us miss our connection and we couldn't make it into Vancouver until the next day.  But thankfully the ship wasn't leaving until the next day!  So we made it.  Another hundred dollars or so for a hotel room within driving distance of the pier is the best insurance you can buy in my opinion.  So here are a few options for you!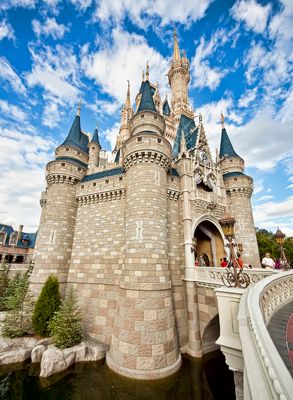 1. Walt Disney World Resort – The most obviously fun place to stay would be any resort at Walt Disney World! Walt Disney World is a little over an hour away from Port Canaveral and has a lot of options and price points. Who wouldn't want to visit Disney World for a night (or six) before you sail away? If you would like to take Disney transfers to the port, they cost $70 per person roundtrip and will pick you up from any Disney resort. Be aware, if you are in a hurry to get to the port for the earliest possible boarding, transfers from Disney World won't usually get you there until noon at the earliest. Your hotel will give you a pick up time the night before. If you are desperate to be there earlier and want to stick with Disney transfers, you can also take Disney Magical Express back to the airport and catch a transfer from there. It's a little more time consuming, of course, but you could be on one of the earliest transfers if that's your goal! The transfers from the airport usually start leaving a little after nine and those first busses are the first people in the terminal.
2. Shades of Green – If you are eligible, Shades of Green is a great place to stay on property. Located within walking distance of Disney's Polynesian Village Resort, Shades of Green is owned and operated by the U.S. Armed Forces. It's open to all active duty U.S. military personnel, including members of the National Guard and Reserves, retired military, employees of the U.S. Public Health Service and the Department of Defense, foreign military personnel attached to U.S. units, and some civilian contractors. The rooms are some of the largest on property, and rates are determined by rank. Disney Cruise Line transfers will not pick up at Shades of Green, but if you wish to take Disney transfers, you can walk over to the Polynesian and catch them there. Shades is a beautiful, peaceful resort and I'd recommend it to anyone eligible to stay there.

3. Hyatt Regency Orlando International Airport – As far as convenience goes, it doesn't get much more convenient than the Hyatt inside the airport. After picking up your bags at baggage claim, you literally walk over to the elevators to the hotel. The rooms overlook the inside of the airport or the runway. Disney transfers (also $70 per person roundtrip) are the way to go when you stay at the Hyatt. When you are checking in, let them know you are taking the transfers and they will give you instructions for the next morning. Your bags need to be tagged with your Disney Cruise tags and ready to go by around 8 am the next morning. Here's the best part.  Your bags will be picked up in your room and you won't see them again until they appear in your stateroom onboard the ship! You then can check in for your transfers at the Disney Cruise Line desk on level 1 side B of the terminal without having to drag all your bags. Enjoy a leisurely morning in the hotel or try to be first in line when the desk opens around 9. Your choice!
4. Hotel Near the Airport – If the Hyatt doesn't float your boat for whatever reasons, there are loads of hotels near the airport, many with free shuttles to the airport. So while your luggage won't be picked up from your room, you can grab it and catch a shuttle back to the airport to hop on a transfer to Port Canaveral. There's no way to list all of your options, but here are some good ones. The Orlando Airport Marriott Lakeside is a great hotel located only one mile from the airport.  You can count on standard Marriott quality there.  Homewood Suites is also one of my favorite brands no matter where I'm travelling.  I love the hot breakfast and size of the rooms  The Homewood Suites by Hilton Orlando Airport is no exception.  For more budget conscious options the La Quinta Inn & Suites Orlando Airport North, and Holiday Inn Express & Suites Orlando International Airport are  both good options. There's no shortage of choices near the airport!
5. Universal Orlando – Are you considering visiting Harry and friends before you sail away with Mickey? There are some great hotels in and around Universal. Go and wear yourself out before relaxing on the cruise. Touring Plans has all the details on the hotels for you here.  Universal is also about one hour to the port. If you don't have a car, you can always rent one or book a private transfer.
6. Radisson Resort at the Port – If you'd like to go ahead and head over to Port Canaveral before your cruise, the Radisson is a great option. Located about 2 1/2 miles from the port, the Radisson caters to cruise clients. There are several packages that include shuttles to the port as well as parking. Considering parking at the terminal runs $15 per day, a hotel package with parking may actually save you money. There are even packages that include transfers from the airport! There are standard rooms and suites with large Jacuzzi tubs in your master bedroom. The pool is great and a step above your standard square pool. We've stayed at the Radisson a few times and highly recommend it.
7. Residence Inn Cape Canaveral Cocoa Beach – The Residence Inn is right next to the Radisson and is another good place to stay in Port Canaveral. All the rooms here are suites with full kitchens. There's a great, complimentary, hot breakfast every morning. On Monday, Tuesday and Wednesdays there's a manager's reception with beer, wine and hors d'oeuvres. There are parking and shuttle packages, but the great thing about this hotel is the suite. If you don't want to have to go to bed at the same time as the kiddos, this is where you want to stay!
8. Fly, Snooze and Cruise – There are a few hotels in the Cape Canaveral area that include transfers from the Orlando airport. The Hampton Inn Cocoa Beach/Cape Canaveral has a Fly, Snooze and Cruise package which includes transfers for one person.  You can add more for $45 a person, roundtrip.  That's not a bad deal at all!  There are also simple parking packages if you just want to drive and leave your car.  The Comfort Inn & Suites Cocoa Beach also has a package that includes transfers for two people. If you don't want to rent a car but you do want to stay in Port Canaveral, these are great options!
9. Patrick Air Force Base Lodging – If you are in the military or have base access, you may consider staying at Patrick Air Force Base in Cocoa Beach! This option will really only work if you have a car, but it's a great, affordable option for eligible guests!
10. Holiday Inn Club Vacations Cape Canaveral Beach Resort – If you are familiar with the area and are wondering why you've never heard of the Holiday Inn Club Vacations, it's because it used to be the Ron Jon! It's a great property, that much has not changed. There's a giant pool, lazy river, a four story water slide and a splash area for little ones. There's mini golf, a game room, a fitness center, even a movie theater! The property is a vacation club, but you do not have to be a member to stay. There are studio rooms as well as 1,2 and 3 bedroom villas. Transfers are available for a fee and it's a short taxi ride to the port about 3 miles away. If you're looking for more than just your average hotel stay, this is where you want be!
Where's your favorite place to stay before a Disney cruise?