Where to Stay Before Your Disney Cruise From Port Canaveral
When it comes to cruises, I like to arrive a day in advance and you should too. If you miss your boat it will sail away without you, and unlike air travel there isn't another one departing later that you might rebook to. Even when I'm driving I like to get to within an hour of the port the night before, close enough that if I have car problems or there's an issue with the weather I can still be on the ship at all-aboard time.
There's just one thing: getting there the day before means you need to figure out where to stay and how to get to the cruise terminal. Cruise lines often offer airport transfers, but that's from the airport, not from your hotel.
Many Orlando and Port Canaveral area hotels offer Fly-Snooze-Cruise packages that bundle airport transportation, lodging, and cruise transfers into one. The tricky part is that it can be difficult to find these packages on the hotel websites – in many cases you need to call directly to book. Today I'm going to talk about some options for pre-cruise (or post-cruise) lodging and transportation, including GoPort packages which bundle together all the lodging and transportation you need for a cruise from Port Canaveral.
Disney Transfers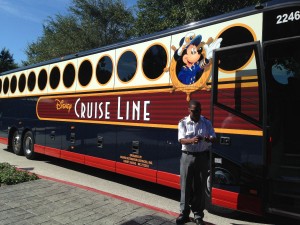 If you're cruising with Disney one easy option with everything rolled into a neat bundle is to use Disney's cruise transfers which are $39 each way. You can transfer directly from the airport, from the Hyatt Regency in the Orlando airport, or from a Disney World Resort. I've used DCL ground transfers a number of times myself, and they are straightforward and simple.
Here are some useful things to know, based on frequently asked questions about Disney Cruise Line transfers.
Disney transfers can be added to your cruise up to 4 days prior to sailing.
If you transfer from the Hyatt Regency or Disney World, your luggage will be picked up on the morning of your cruise and transferred to the ship. You'll only have to keep track of your carry-on bag during boarding, and your luggage will be delivered directly to your stateroom.
You can mix and match, with a pre-cruise resort pick-up and post-cruise airport drop-off, or vice versa. Or you can transfer only one way.
If your pick-up or drop-off is from a Disney World resort, you'll need to arrange your own transportation to or from the airport. (How to Get from the Airport to Walt Disney World)
If you stay at a Disney World Resort, you may be sharing your motorcoach with cruisers from multiple hotels. That could mean a few different pick-up (or drop-off) stops. You also won't have much control over your port arrival time, as Disney does not usually do more than one pick-up from each resort.
The buses used for Disney transfers do have bathrooms.
The buses also show cartoons and Disney trivia while in transit. Combined with the bathrooms, this makes DCL transfers a popular option for those who have small kids or who want to get into the Disney mood ASAP. To add DCL transfers to your trip contact your travel agent, or do it yourself in the Disney Cruiseline Navigator app or by logging in online at the DCL website.
Build Your Own Package
You can book your own hotel. You can book your own transportation to your hotel. You can book your own transportation from your hotel to the pier. Or if you drove, you can make your own parking arrangements at the port.
This is undoubtedly the option with the most flexibility, but it's also the one with the most legwork on your part. (Unless, of course, you have a travel agent like those at TouringPlans Travel do that legwork for you.) That legwork could include finding a Snooze-Cruise package on your own, or a common "cheat" is to book a hotel near the airport that has a free shuttle bus, and then use your cruise line's airport-to-port transfer.
Many guests add on a few pre- or post- cruise vacation days at Universal Orlando, Disney World, Cocoa Beach, or other area destinations. If this is you, or if your hotel just isn't close to the airport, you could prefer to book an independent transfer. The first thing that comes to mind might be rideshare such as Uber or Lyft, but it's worth looking at other options which may cost less.
If you'd like to book a separate transfer, several companies offer shuttles from MCO or local area hotels to Port Canaveral starting at about $25 per person one-way. Mears, Happy Limo, and Florida Magical Tours are three options that are often used by our Travel Agents. These companies also offer private car or limo options if you'd like to keep it to just your group and your own schedule. Private service generally costs more if your party is small, but may be comparable if you have 4 or more in your group. If you'll be traveling with young children in carseats, make sure there is a good match between what the provider offers and what you need.
A final reason to build your own itinerary is if you're flying out of Sanford or Melbourne, since cruise lines usually only offer ground transfer from the largest local airport.
GoPort Package
GoPort is a one-stop shopping solution: you make a single reservation that covers all your pre- and post-cruise lodging and transportation. They leverage a private lot near the Port Canaveral cruise terminal and their own transportation to offer Fly-Snooze-Cruise and Park-Snooze-Cruise packages at many Orlando and Port Canaveral area hotels. If you're flying into Sanford or Melbourne, they offer a few options there as well. Here's what you'll see when you book.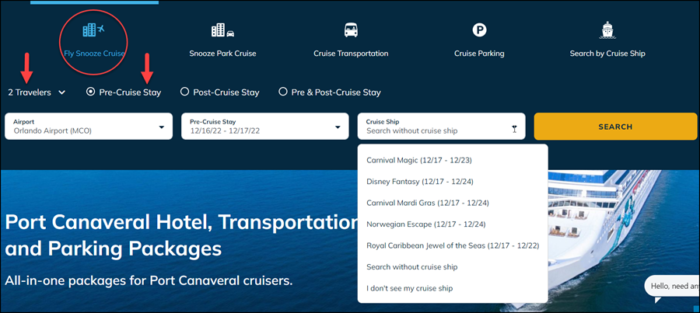 In the screen above, I've selected a Fly-Snooze-Cruise package, which includes transportation from the airport to the hotel, the hotel stay, and transportation from the hotel to the port. The Snooze-Park-Cruise package includes port parking in GoPort's private lot, and the hotel reservation. Or, you see that I could reserve just the parking in GoPort's private lot, or just the shuttle transportation.
In this case I've said that I only want lodging pre-cruise, and that there are two people in my party. It's important to include the correct number of people, because the all-inclusive price you'll be shown includes per-person shuttle transfers. The Cruise Ship dropdown only shows sailings that depart on my checkout date, and I'm going to pretend I'm sailing on the Disney Fantasy.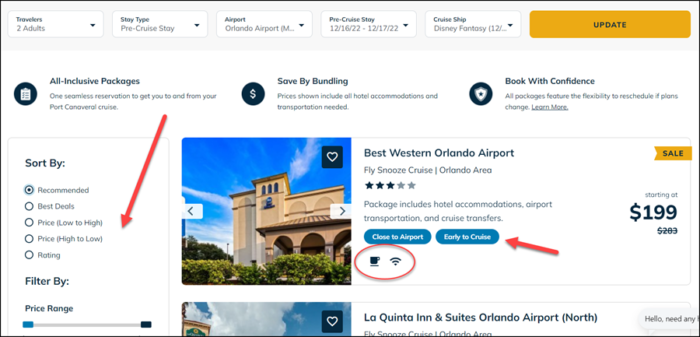 The first result here is for Best Western Orlando Airport, but you can use the side panel on the left to explore the results – it contains the usual set of sorting options and filters. Under the package description, labels show important details and icons highlight featured amenities. In this case, the hotel is marked as having an early cruise transfer, as well as included breakfast and free WiFi.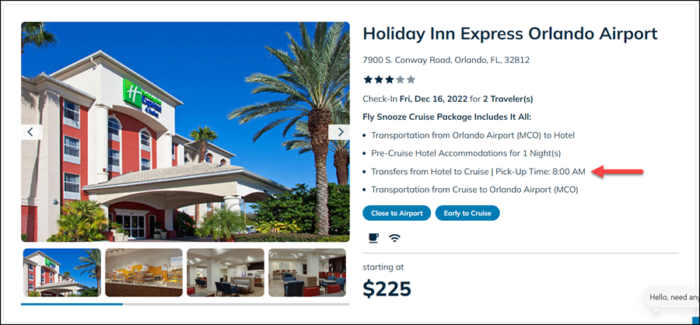 Clicking into an individual search result shows me the detail of what is included in the package, including the pick-up time for the port transfer. Scrolling allows me to choose among room options (some may be a higher price), view Package Details including a detailed description of the various transfers, and view the full set of hotel details and benefits. It turns out that even though this listing only has quick-view icons for the included breakfast and WiFi, it also has a pool, fitness center, and other amenities.
If you're a regular reader of articles listing hotels with free cruise shuttles, free cruise parking, or cruise packages for Port Canaveral cruisers, you'll find the usual suspects on GoPort. The price may be a bit different; I reviewed several examples posted to cruise forums as well as a couple that I priced out myself. Often the total was a little less, occasionally a bit more – rarely was there a big difference, and when there was it was usually in GoPort's favor. Our Travel Agents use GoPort when booking for clients, and many agents use it for themselves as well.
While Waiting For Your Post-Cruise Flight
We've focused mostly on the pre-cruise part here, but I want to devote a few words to some options if your flight out of Orlando International departs later than mid-afternoon. Cruise ships debark early, early, early, and there's a good chance you could find yourself back at the airport at 9 a.m. or earlier. If your flight doesn't leave until 7 p.m., that can be a long wait. Here are some ways to pass the time that might be more appealing than simply sitting at the gate.
Get a day room at the Hyatt Regency Orlando Airport. The in-airport Hyatt offers very reasonable day rates with checkout at 6 p.m. If you'd like to relax, work on your computer, or watch TV, this is a much more comfortable setting than the terminal. If you want to take a nap because you woke up way too early, this option knocks it out of the park compared to sleeping in a chair. Check at the desk when you get in, or look on the hotel page Offers section to try booking in advance.
Get a lounge pass. You may have access to an airport lounge with your airline status or credit card perks. Some lounges allow the general public to purchase day passes to the lounge. Check on LoungeBuddy to see what the options are for your airport; for some lounges reservations can even be made in advance.
Get a hotel day pass. Several Orlando area hotels sell day passes that allow the use of their pools and other amenities without booking a room. Check on the ResortPass site to see what might appeal to you, and you can read our review of a day pass experience.
Visit Disney World, Universal Orlando, SeaWorld, or other area attractions. Disney and Universal can be an expensive 1-day ticket, but if you have an annual pass you can get a day in the parks for just the cost of transportation. Alternately, you can visit Disney Springs or Citywalk … or even go exploring outside the theme park bubble. If you choose this option, price out the cost of a rental car; for a single day it can be cheaper than using rideshare or other options to get around the area.
What's your favorite place to stay before a Port Canaveral Cruise? Share your tips in the comments!