Disney Cruise Line Remy Dessert Experience FAQ
The Disney Cruise Line ships Dream and Fantasy offer the Remy Dessert Experience on select sea days of most sailings. Here's what you need to know.
Last updated July 15, 2023
Are reservations required for the Remy Dessert Experience?
Yes. Reservations are required.
You can make reservations when your Onboard Activity booking window opens – after you've paid in full, according to your Castaway Club status. Make reservations via the Disney Cruise Line website under the Already Booked tab. Select Book/Manage Cruise Activities, then select Dining.
If you want to try the Dessert Experience, but it's not available to book in advance, check the Navigator app or stop by Guest Relations when you're on the ship. Cancellations do happen.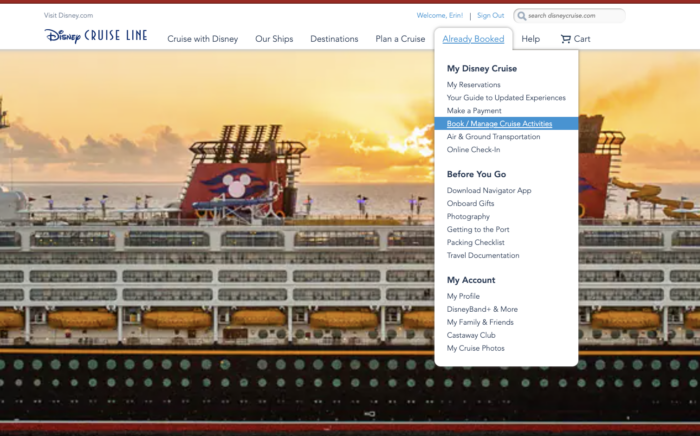 How much does the Remy Dessert Experience cost?
The Remy Dessert Experience currently costs $65 per person, plus gratuity for reservations made after July 11, 2023; the previous price was $60.
How much should I tip?
Gratuities are at your discretion, but in general, consider 18% to be the minimum tip for adult dining on DCL. Due to the quality of the attention in this restaurant, many guests will choose to tip more. A gratuity of 25-30% is not uncommon here.
What is the venue like?
Remy is most upscale dining venue on the Dream and Fantasy; the restaurants are very similar on both ships. The photos in this post are of the Dream, but the Fantasy is substantially the same. It's fancy, but in my opinion, not intimidatingly so.
If you're nervous about whether you'll "fit in," consider that the restaurant is absolutely filled to the brim with hidden images of cartoon rats. The restaurant is named for the rodent protagonist of the 2007 animated film Ratatouille. There's only so snooty things can be when you're surrounded by stylized vermin. (Click images to expand.)
Can kids participate in this experience?
No. Remy requires that all guests dining in the restaurant be at least 18 years old.
This could be frustrating for families with an older teen who aspires to a career in the culinary world or has a love of fine food, but that's the way it is. Because DCL has your birth date as part of your boarding documents, there is no fudging on the age requirement.
I have kids, does that mean I can't try the Remy Dessert Experience?
You can't bring your kids to Remy, but that doesn't mean you can't go. Disney has fantastic kids' clubs where you can leave your youngsters for while you enjoy an adult dining experience. If your kids are age three or older (and potty trained), you can leave them at the Oceaneer Club or Lab, Edge, or Vibe with no reservation and no charge. If you have younger kids, you can leave them at the It's A Small World Nursery. Reservations are required for the nursery and there is a fee for sitting there.
If you're worried about your children being happy in the kids' clubs, plan to eat at Remy on one of the last days of your trip. That way you have time to cancel the Remy reservation on the off chance that your children don't want to stay in the clubs.
How many courses is the Dessert Experience?
Well, dessert is one course, but you'll get six different plates of food, served individually.
How long does the Remy Dessert Experience typically last?
Plan to budget 90 minutes for the Dessert Experience. You may find it takes a few minutes less, but if you block off an hour and half you'll be safe.
I'm not used to fancy dining. I'm afraid I'll make a mistake. Help!
I get it, gourmet dining may be new to some. If you want to get started on the road to haute cuisine, there is no better place to start than the adult dining venues on Disney Cruise Line.
The service at Remy is attentive, but not at all overbearing. No one is going to scold you for using the wrong fork. Seriously.
At the start of each course, your serving team will give a few sentence speech about the dish you're about to eat, perhaps giving information about the origin of the ingredients or about a technique the chef used to prepare the dish. You're welcome to ask questions if you want, though you're under no obligation to do so. Other than that, you'll just go ahead and eat.
I will say that a few of the items on the Remy brunch or dinner menus might be "weird" to American palates (one of my daughters was not happy about a cold, foamy, pea soup concoction she was served at Remy brunch), but this is dessert. It's an elevated experience, but most folks will find the Dessert Experience foods to be at least marginally familiar.
Can I choose my own desserts, or is it a pre-set tasting menu?
The Remy dessert tasting is a set menu. There are no opportunities for you to make unique selections. Limited modifications may be possible if you have food allergies. See below for more information.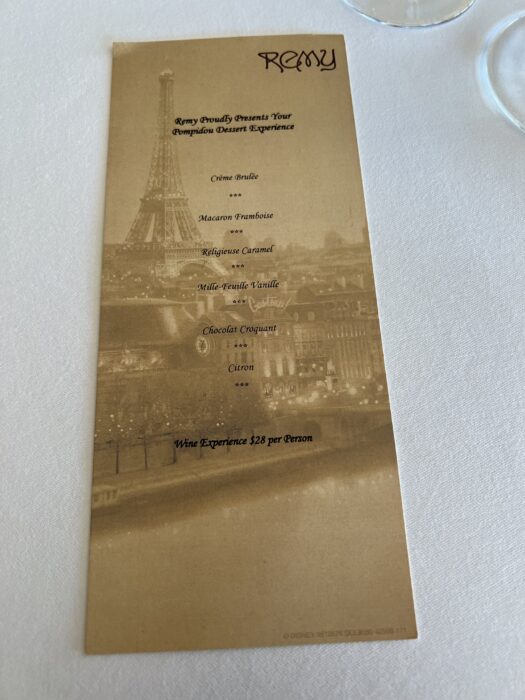 So what will I be served for dessert?
When I tried the Dessert Experience during spring 2023, I was served:
Creme Brulee. This is about half the size of the creme brulee that is offered in some on some of the main dining room menus. The ingredients are of a higher quality than the MDR version too.
Macaron Framboise. "Framboise" is raspberry in French. This is a raspberry macaron (the almond-based airy cookie, not the coconut-based macaroon with two o's) with raspberry creme filling, and fresh raspberries, served with gold leaf in a raspberry reduction.
Religieuse Caramel. The "religieuse" name comes from the shape of the dish, which is meant to resemble a rotund nun. This is cream puff filled with caramel cream and topped with a caramelized nut.
Mille-Feuille Vanille. An elevated version of a classic Napoleon.
Chocolat Croquant. A crisp chocolate brittle filled with hazelnut sauce.
Citron. This is textured white chocolate tinted yellow and filled with lemon mousse and a sauce made with fingerling limes. The balance of sweet and tart is perfection.
What beverages are available during the Dessert Experience?
There is a wine pairing supplement available with the Dessert Experience for an additional $28 fee. The supplement includes three average size glasses of alcohol. The $28 fee is per person, but there is no prohibition against sharing. When I enjoyed the Dessert Experience with my young adult daughters, I opted to add the wine pairing. All of us wanted to taste the wines, but none of us wanted to drink three full servings of alcohol. We passed around the glasses and thus each had about the equivalent of one glass, which worked out perfectly for us.
In addition to the wine pairing, you can order a glass or bottle of anything on Remy's substantial wine or cocktail list. If you need help deciding on a bottle, the ship's sommelier is nearby and is happy to offer suggestions.
You can also partake of a variety of fancy water options or have any soft drink available on the ship.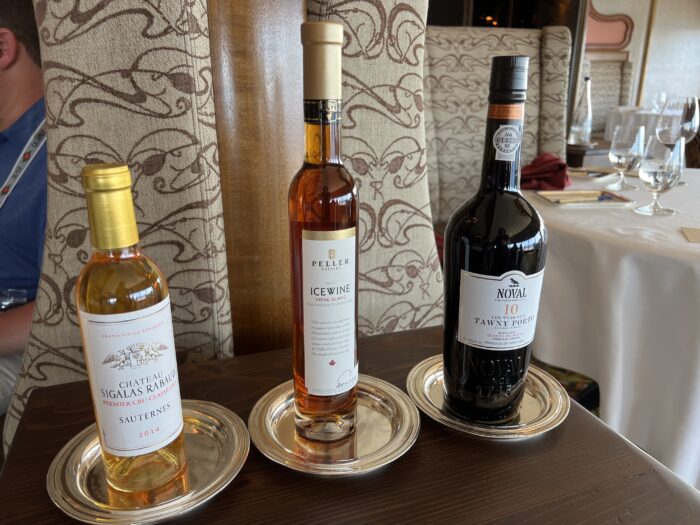 Is there a dress code for the Remy Dessert Experience? What is the appropriate attire?
There is a dress code, but it's less restrictive than it used to be. Currently, the dress requirements are the same at all of Disney Cruise Line's adult dining venues (Palo, Remy, Palo Steakhouse, Enchanté). The official word from Disney is, "Adult-exclusive restaurants aboard Disney Cruise Line ships are elegant dining experiences. Guests are requested to dress in a manner consistent with the restaurant's atmosphere. Formal or semi-formal attire is recommended. Dress casual attire with a polished look is permitted (such as dress pants, jeans in good condition, collared shirts and blouses and lifestyle shoes). Clothing such as T-shirts, swimwear and sports attire is not permitted."
The upshot is that business casual works. Some guests enjoy fancy dress and choose to get gussied up to dine at Remy, but this is not required. You'll find that more people get fancified at dinner than at brunch or the Dessert Experience.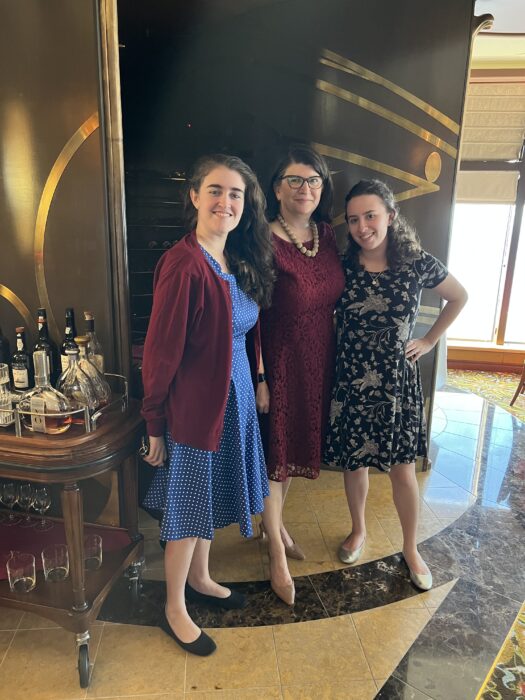 Are photographs allowed during the dessert experience?
There are no rules against photographing your food. I obviously took pictures during the Dessert Experience and I saw several other guests doing this as well. That said, you'll want to be respectful. Don't use your flash and don't keep your phone or camera on the table while you're actually dining.
Does the menu vary?
The menu does change periodically, but tends to remain substantially similar for several months or even years.
Will I be uncomfortably full after trying the Dessert Experience?
I've had that "OMG I might actually be ill now" feeling after some elaborate meals. This did not happen to me at the Dessert Experience. While there are six desserts, the portion sizes are modest.
That being said, I knew I was going to have a big mid-day dessert, so I purposely chose to eat a light lunch and we opted out of dessert during our main dining room dinner a few hours later.
The dessert often takes place at 2:00 or 3:00 p.m. If you have your regular dinner scheduled for 5:45, then you might not have much of an appetite for a big meal then. Feel free to skip your main dining room rotation and opt for a slice of pool-deck pizza or a room-service sandwich later in the evening. Or you can go to your scheduled dinner and just order a soup and salad. Do what works for your personal comfort.
Can dietary restrictions or allergies be accommodated during the dessert experience? How do they handle special dietary needs?
Overall, Disney Cruise Line has an admirable record of accommodating guests with food allergies. Unfortunately, the nature of this experience means that some guests with dietary issues may not be able to participate. For example, macarons cannot be made without nuts and many French desserts cannot be made without dairy. If you have a food allergy, be sure to see DCL's Special Dietary Requests page and complete the special services form at check-in. Depending on the nature of you medical needs the Remy Dessert Experience may not be appropriate for you.
Are the desserts here the same ones that are served during brunch or dinner at Remy?
No, the items served during the Dessert Experience are not the same as the ones served during the full meals at Remy. You could enjoy all three of these activities and have no overlap in dishes.
Is this available on Disney Cruise Lines' other ships?
There is an equivalent experience at Enchanté on the Disney Wish, called, not surprisingly, the Enchanté Dessert Experience. There is nothing like this offered on the Disney Magic or Wish.
Can you summarize why I might want to try the Dessert Experience?
You love fine dining and desserts.
You want to experience Remy at a lower price point than dinner.
You want to experience Remy but don't want to have your kids eat in the main dining rooms alone, making Remy dinner less attractive.
You want to experience Remy but don't want to have a large meal later in the evening and the brunch menu doesn't appeal to you.
You're a DCL maximalist and want to try absolutely everything the ship has to offer.
And why might I not want to book the Dessert Experience?
The menu is not medically appropriate for you.
You don't enjoy dessert.
You don't want to dress up during your cruise, either because you want to keep your packing light or you don't want to wear non-casual clothing.
You want to keep your cruise expenses in check.
You're traveling with kids who don't want to stay in the kid's clubs.
If you're looking for additional advice and planning assistance with any Disney Cruise Line sailing, be sure to check out the Unofficial Guide to Disney Cruise Line or ask for a free quote from one of our expert travel agents.
Originally published June 4, 2023