FAQ: Disney Cruise Line Castaway Club
Disney Cruise's Line's version of a "frequent flyer" program is called the Castaway Club. Here's everything you need to know about the program.
How do I join the Disney Cruise Line Castaway Club?
You will be automatically enrolled in the Castaway Club program when you book your first Disney cruise.
Where do I find my Castaway Club member number?
Your Castaway Club member number can be found on the Disney Cruise Line website. Click on the "Cruise with Disney" tab and scroll down to the "Castaway Club" link.
How do I earn Castaway Club status on Disney Cruise Line?
DCL status is accumulated by number of completed sailings. Other cruise lines may have status and reward levels based on number of nights sailed or amount of money spent, but DCL only cares about how many total voyages you've taken.
For example, on DCL,  the completion of a relatively inexpensive three-night sailing in the Bahamas in an inside stateroom counts toward your status in exactly the same way as an extremely expensive 11-night concierge-level sailing in Europe. A sailing is a sailing, regardless of its cost or duration.
What are the Castaway Club levels?
First time cruisers are called, not surprisingly, First Time Cruisers, after that …
Beginning on May 1, 2023 there will be four Castaway Club status levels. Again, these levels are solely based on the number of cruises completed.
Silver Members – Have completed 1-4 DCL sailings
Gold Members – Have completed 5-9 DCL sailings
Platinum Members – Have completed 10-24 DCL sailings
Pearl Members – Have completed 25 DCL sailings
Note that the word "completed" is important in these definitions.
If, for example, you've booked back-to-back sailings that are your fourth and fifth DCL cruises, you would not be able to take advantage of any pre-sailing benefits of Gold Membership (attained AFTER you've sailed four times) even if you've paid in full and are past the refund date for your 5th cruise. However, you will be entitled to Gold benefits on the second of the back-to-back sailings because you would then have then COMPLETED four cruises.
What benefits do these status levels give me?
Castaway benefits are summarized in the chart below. Basically, the higher your status, the earlier you can book your sailing and the earlier you can book components of your sailing such as adult dining or port excursions.
Additionally, once you're on board the ship, Castway members will be entitled to Welcome Aboard gifts (which get progressively nicer as your status increases). Gold members and above are allowed discounts on some onboard purchases. Platinum members and above are entitled to a complimentary brunch or dinner at Palo (Dream, Fantasy, Magic, and Wonder) or Palo Steakhouse (Wish), up to a $45 value. Pearl members will also receive a complimentary photo package.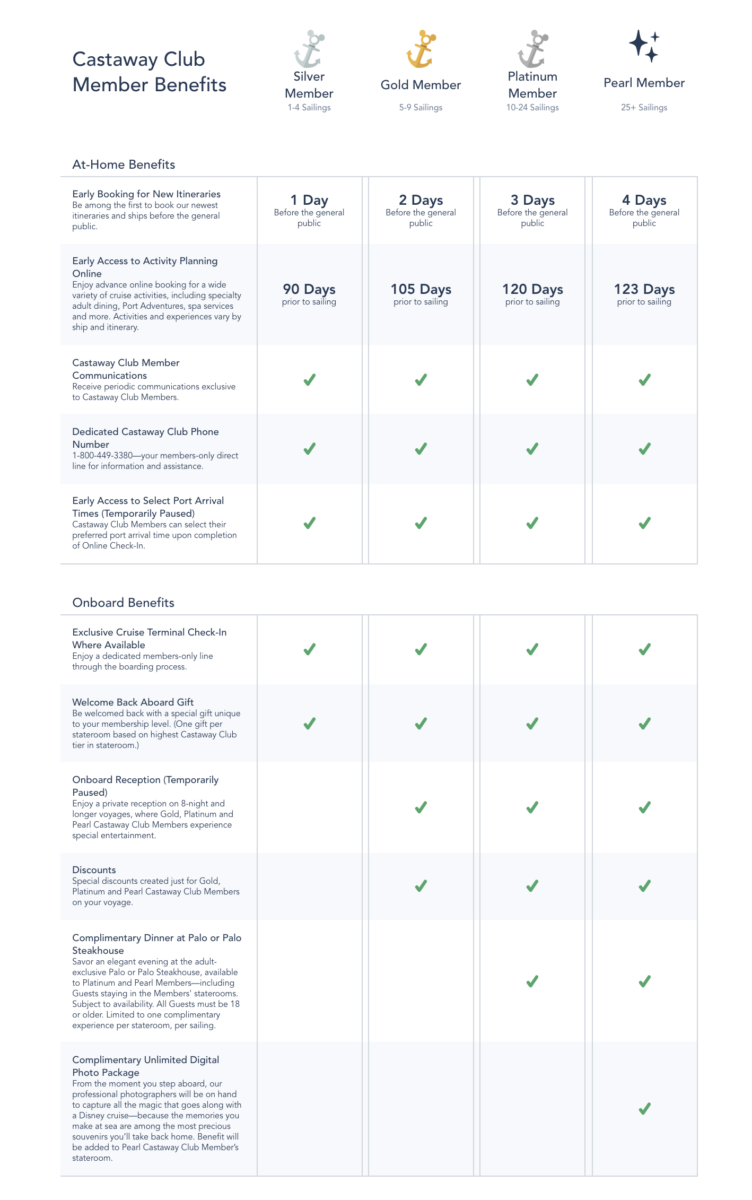 Are there other benefits not listed here?
Disney has quietly released another procedural modification based on Castaway status – staggered online check-in access. As of May 2023, the check-in access schedule is:
Pearl Castaway Club members and Concierge Staterooms: 40 day prior to sailing
Platinum Castaway Club members: 38 days prior to sailing.
Gold Castaway Club members: 35 days prior to sailing.
Silver Castaway Club members: 33 days prior to sailing.
First Time Cruisers: 30 days prior to sailing.
The only real benefit to checking in earlier is possible access to an earlier port arrival time.
I'm a First Time Cruiser. Will I be boxed out of the onboard reservations I want because all the Castaway members have had first crack at them?
Honestly, maybe, but don't worry about it too much.
Nearly every day I see social media post where first time cruisers bemoan the fact that they've been shut out of Palo reservations or certain shore excursions because all the other Castaway levels have had the opportunity to book before them. Here are some thoughts on that topic:
You may not really be excluded from these items. People change their minds and cancel cruise components all the time. Check back frequently and you may see the option you want has become available.
DCL may add activities at the last minute. I booked my most recent cruise just a few weeks prior to sailing, so even though I have a high Castaway status, some items were already fully booked when I went to select onboard activities. Of particular interest to me, none of the wine, champagne, or mixology tastings were available. This was one of my daughter's first sailings since she turned 21 and she wanted to do one of these events. Oh well — or so we thought. When we logged into the Disney Cruise Line Navigator app when we boarded the ship, we noticed that DCL had added several embarkation day tastings, including a champagne tasting that was at a perfect time for us.
Skipping some of the extras might actually be better. While dining at Palo, Remy, and Enchanté are terrific experiences, I seldom recommend these adult dining venues for first time cruisers. You'll better experience the main dining rooms and other base amenities of the ship if you postpone the extras until you're a more seasoned sailor.
You can book many port excursions on your own. In many cases you'll be saving money if you don't book your port excursions through Disney. Check out our post on Port Excursion FAQs for details.
Can children join the Castaway Club?
Yes! Everyone who sails on DCL, even infants and children become part of the Castaway Club when they sail on Disney Cruise Line. Kids can accrue status just like adults.
Guests retain their childhood status as they become adults and book cruises on their own. This is a big win for folks who sailed often with their families when they were young.
Does every DCL cruise I take count toward my Castaway Club status?
There are, however, a few circumstance where sailings on DCL will not count toward your Castaway count. Some examples include media traveling on special sailings, cast members traveling on business, and vendors working for DCL while onboard.
If you notice a difference in the number of completed cruises displayed with your Castaway Club Membership, email Disney Cruise Line or call (800) 449-3380 for assistance.
Does it matter if not everyone in my stateroom has the same Castaway Club status?
No.
For purposes of booking things like port excursions and onboard dining, the entire stateroom can book at the level of the highest person booked in the stateroom. For example, if I'm a Platinum member and my husband is a Gold member and we're staying in the same stateroom, I can arrange dining and port adventures for both of us when Platinum booking window opens.
Does it matter if not everyone in my party has the same Castaway Club status?
Yes! For booking purposes, Castaway Club level is recognized by stateroom NOT by traveling party.
Consider this situation — If, for example, my husband and I are both Platinum members staying in one stateroom and our three adult daughters are all Gold members staying in a different stateroom. I could book dining and excursions for hubby and me 120 days in advance of the trip, but I'd have to wait until 105 days in advance of the trip to book dining and excursions for the girls. A workaround for this would be to book one of the Gold girls into my stateroom and book my Platinum husband into the girls stateroom. This would allow both staterooms to make dining reservations at the 120 day mark. Once you're on the ship, Guest Services can issue you keys to both rooms and your stateroom host won't care who sleeps where.
My husband and I have also sailed with several other couples of different Castaway levels. We didn't want to cross-book with them because a) weird and b) sorting out billing would be a nightmare. In this instance, we all were able to book dinner at Palo, but got slightly different dining times. Once we were on board, we were able to explain what happened and Guest Services was able to arrange for us to eat at the same table at the same time. Pack your patience and it's likely that everything will work out.
Do Castaway Club benefits expire?
Nope.
Once you've taken a DCL cruise, it counts toward your status forever. My first DCL sailing was in 2003. When I went to book my next sailing, in 2011, my Castaway status was silver, even though it had been eight years since my previous cruise.
I've heard something about lanyards. What does that have to do with Castaway status?
DCL gives free lanyards to all Castaway Club members, labeled with your status. Some guests use these to hold their Key to the World Cards (room keys) around their necks while onboard the ship. I find wearing the lanyards annoying and generally keep my Key Card in my pocket, but other folks are seriously attached to them.
If you're a First Time Cruiser, you won't get a free lanyard, but you are welcome to buy one in the ship's gift shop or buy one at a Disney theme park or in any office supply store. Disney Vacation Club members may also be entitled to a free lanyard from the onboard DVC welcome desk, regardless of the their Castaway Club status.
What are the "Welcome Back Aboard" gifts?
Disney changes these periodically. In recent years the gifts have include sling-style backpacks and tote bags of varying design.  Castaway guests traveling on the Wish during her first few months of sailing received additional gifts. This may also happen when the Disney Treasure begins sailing in 2024.
The initial gift for Pearl level members will be a pair of pearlescent tumblers.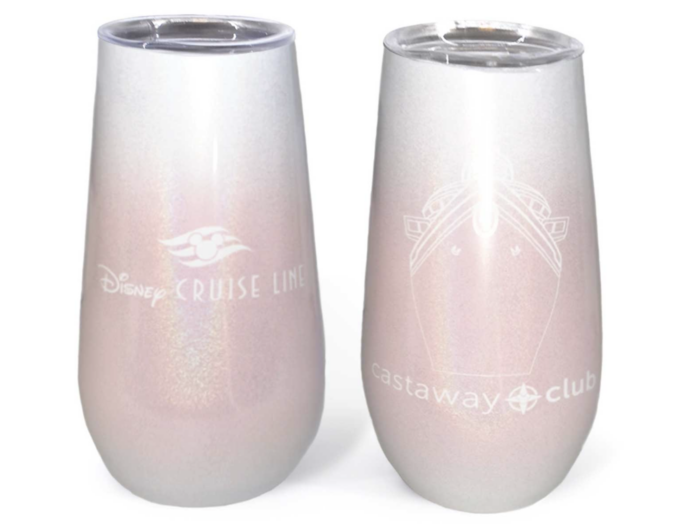 Who do I contact if I have questions about my Castaway Club status or the program benefits?
For assistance with your account, call (800) 449-3380, Monday through Friday 8:00 AM to 10:00 PM ET or weekends 9:00 AM to 8:00 PM ET. Guests under age 18 must have parent or guardian permission to call. Your travel agent may also be able to assist you with questions about the Castaway Club program.
If you're looking for additional advice and planning assistance with any Disney Cruise Line sailing, be sure to check out the Unofficial Guide to Disney Cruise Line or ask for a free quote from one of our expert travel agents.
Note: Updates made May 1, 2023.