Disney World Experiences Kids Today Will Never Understand
Editor's Note: In this flashback from January 9, 2017, it is interesting to see how some of the things that were on the list then will be things that kids of the future will not understand — FastPass+? MagicBands? Will the next generation of Disney fans view those like the kids of today view things like Walt Disney World with a working animation studio or a cake castle?
The Walt Disney World Resort is celebrating its 45th anniversary; and while a number of attractions and experiences from the resort's early days are still be enjoyed all these years later, the resort has been no stranger to change. When I think back on my childhood visits to Walt Disney World, a few things come to mind that kids today will never experience… or even believe! Like what? Well, let's take a look at just a few Disney World Experiences Kids Today Will Never Understand, shall we?
Cinderella Castle Was Once a Cake
Walt Disney World rarely gives their icons makeovers nowadays. For this year's 45th Anniversary, a banner appeared on Cinderella Castle for like five minutes and then vanished. Disney even forgoes the popular holiday layovers that some Disneyland Park attractions are given each year.
This is why Cinderella Castle's sugary pink makeover for the resort's 25th Anniversary is a little hard to swallow in retrospect.
Yes, on October 1, 1996, Cinderella Castle was transformed into a pink and white cake decked with an assortment of candies! My seven year self loved it, but let's just say others did not…
Regal Cinderella Castle remained a cake for 15 months, and that is just one of the Disney World experiences kids today will never understand or experience!
The Best Character Meet was PUSH the Talking Trash Can
For many years, the Magic Kingdom's Tomorrowland was home to a mobile, interactive trash can appropriately called PUSH. Now I know what you're thinking, kids. But trust me, PUSH was a rock star. PUSH would talk and tease guests and treat any trash you disposed in him as a tasty snack.
Sadly, PUSH can no longer be found at Walt Disney World these days, but he is one Disney World experience I hope may return one day.
Mulan Was Drawn at a Disney Park
Disney's Hollywood Studios, originally known as Disney-MGM Studios, was intended to be a theme park and a functioning production studio.
The studio element of the park eventually disappeared; but back in the day, live action and animation both took place at the park. In fact, park guests were once able to watch Disney animators working on films like Mulan, Lilo and Stitch, and Brother Bear at the Magic of Disney Animation pavilion.
Days at the Parks With No FASTPASS or FastPass+
One of the Disney World experiences kids today will never understand is the struggle of a Disney World Vacation before FASTPASS. Not until 1999 was the original FASTPASS paper ticket system introduced to Walt Disney World, offering relief from lengthy wait times and non-interactive queues in the pre-smartphone years.
Today, Walt Disney World guests enjoy FastPass+ where guests can book their FastPass+ reservation online or through the MyDisneyExperience app. This second generation system guarantees a short wait for a favorite headlining attraction, even before a guest arrives on property. It's a luxury my childhood self never could have imagined!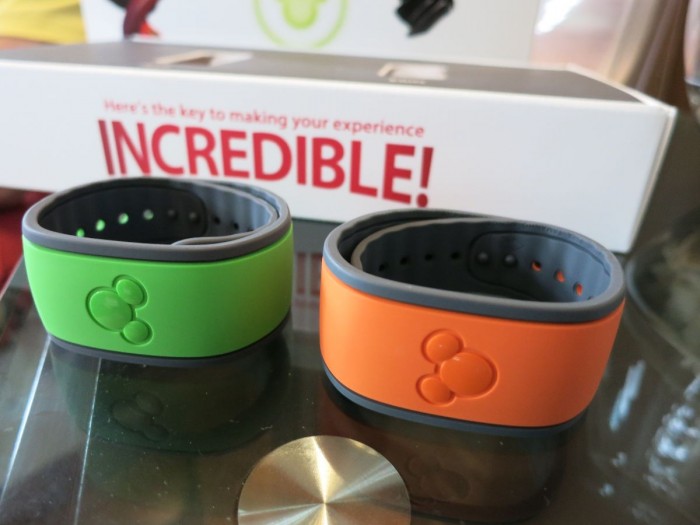 There Were No Bag Check Tables or Metal Detectors
It's been a while since bag check tables, and now metal detectors, weren't the first thing a guest encountered when entering a Walt Disney World Park. But once upon a time, security was the last thing on my mind when approaching a park entrance.
Unfortunately, kids today don't understand that kind of mindset and I don't think that will change anytime soon.
In the meantime, it's important for us and our kids to note that while we wish for better times, the lines for bag check and metal detectors are the most important lines we will wait in all day.
A Day at the Parks Pre-MagicBand
MagicBands are soft, flexible bracelets containing a chip which stores guests' park tickets, dining reservations, Disney Resort room keys, PhotoPass identifiers,  FastPass+ reservations, Magical Express reservations, and even their credit cards!
Now with MagicBand 2 being introduced, kids and Disney World Newbies will never know the stress of trying to juggle the family's FASTPASSES, park tickets, and PhotoPass cards which guests once endured in years prior.
The First Animal Kingdom Was an Island
Between Disney's Fort Wilderness Resort and Campground and Disney's Contemporary Resort is an island that was once home to Walt Disney World's first version of the Animal Kingdom Park.
Discovery Island was a small zoological park that guests visited by boat and explored via nature trails, all a stone's throw from the Magic Kingdom and the Magic Kingdom Resorts.
Discovery Island closed in 1999 due to the opening of Disney's Animal Kingdom Park. However, guests can still view the island from afar aboard Disney's boat transportation. It's also worth noting that Animal Kingdom's Discovery Island was most likely named after Walt Disney World's first Animal Kingdom.
Magic Kingdom Attractions Were Terrifying
The Magic Kingdom has always been synonymous with childhood, fantasy, and loveable characters. Well… For the most part, that is.
Two of the park's original opening day attractions, the Magic Kingdom's Snow White's Scary Adventures and Mr. Toad's Wild Ride, were seriously scary! Snow White's Scary Adventures lived up to its name due to its dark tone and the Evil Queen's frequent appearances. Mr. Toad's Wild Ride was more lighthearted, but it ended with a spin through hell.
Yes, you read that right.
Perhaps the scariest Magic Kingdom attraction of yore was Tomorrowland's ExtraTERRORestrial Alien Encounter. This attraction seated guests in a circular theater, but with shoulder restraints. The story was that a massive, terrifying alien was accidently teleported into the theater during a presentation and escaped into the audience!
The rest of the show took place primarily in the dark. It also used non-visual effects to simulate the alien's movements, the death of a maintenance worker, and the alien's breath and drool on guests! Oh, and the alien explodes at the end.
So yeah, a trip through Hades, a scary princess ride, and alien drool are all Disney World experiences kids today will never understand or even believe!
Epcot Before the Infiltration of Disney Characters
Epcot, formerly EPCOT Center, has gone through a strange evolution of sorts since it first opened in 1981 and looks to be undergoing more changes in the near future.
One significant change Epcot has made since its opening is the integration of Disney characters into the park.
You see, in Epcot's early years, there were no World Showcase Disney Princess meet and greets or Frozen Ever After and The Seas with Nemo and Friends pavilion was just The Living Seas.
Whether this synergy is good or bad is an especially controversial topic among Disney Park Diehards!
What past Disney World experiences do you remember? What do you miss? What do you think of Epcot adding characters, MagicBands, or the Magic Kingdom's former scary attractions? Let me know!