PHOTOS: EPCOT's Regal Eagle Smokehouse
EPCOT's Regal Eagle Smokehouse continues to be a solid source of tasty sustenance for the carnivorous among us. Located in the America pavilion in the center of EPCOT's World Showcase area, Regal Eagle has a menu that is, not surprisingly, heavily focused on smoked meats. The only vegetarian option of substance is BBQ Jackfruit Burger; unless that's a personal favorite, if you eschew meat, then you should plan to dine elsewhere.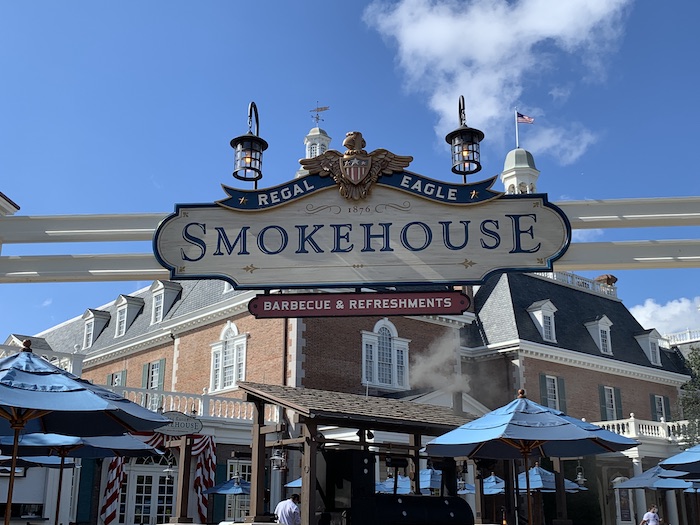 During the COVID era, Regal Eagle is a good option for guests who prefer to dine outdoors. Where there are socially distanced tables inside the building, plentiful picnic tables outside near the giant smoker give you space to spread out and the aromatic smoke adds to the atmosphere.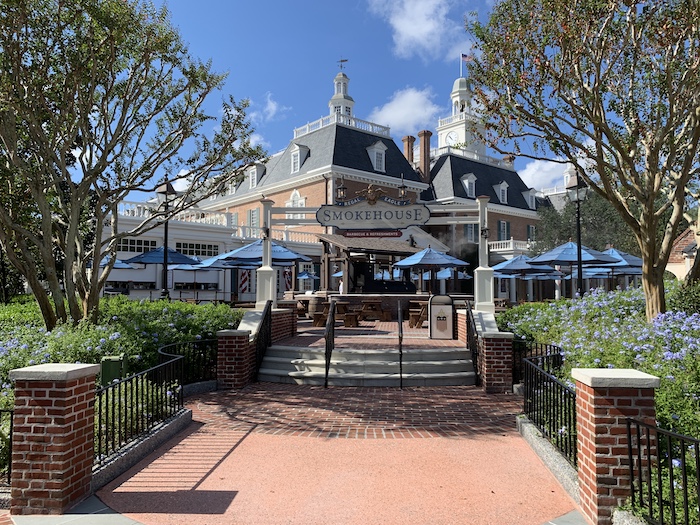 Here's what I ordered during two visits. First up: North Carolina Chopped Smoked Pork Butt Platter served with vinegar sauce, garlic toast, and a choice of side (I chose coleslaw). For dessert, apple crumb tart.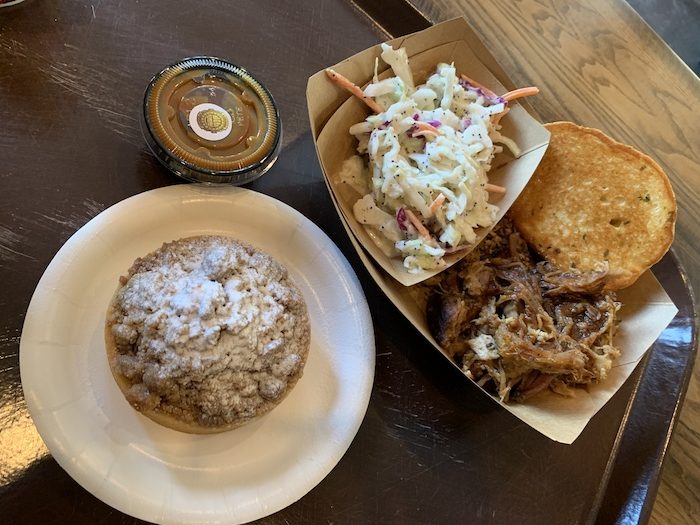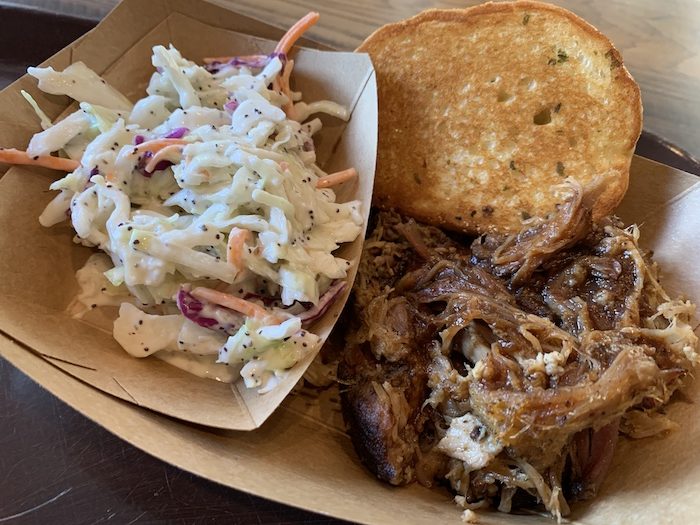 The meat was tender and flavorful, made more so by the extra sauce I drizzled on top. There are half a dozen sauces to choose from.
The coleslaw was a highlight for me – not too much mayo with a nice hint of vinegar. The poppy seeds and carrots added visual interest and additional texture. Overall it's a far more interesting take on this picnic staple than offered at the similarly themed Flame Tree BBQ at Animal Kingdom.
Unfortunately my luck with the apple tart was not as good. The texture was nice, but it had an off, almost metallic, aftertaste. Perhaps I just got a bad item, but I ended up throwing this out after two bites.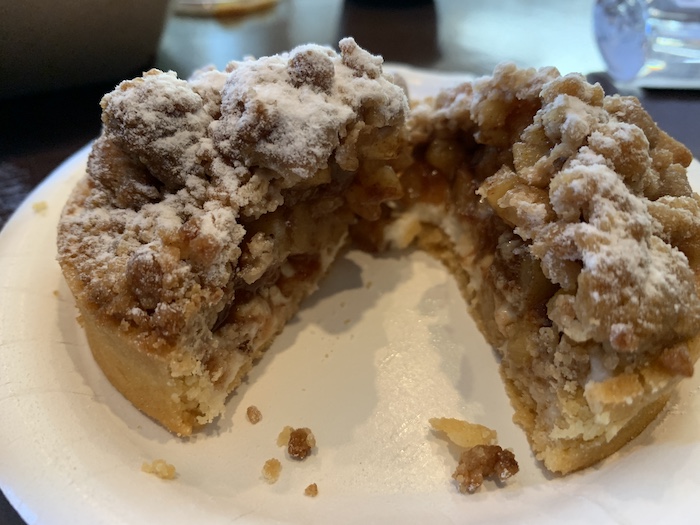 During this meal, I had water to drink. Pro tip: You can ask for a cup of iced tap water at any WDW counter service restaurant and they'll give it to you at no charge. You don't have to pay for bottled water if you just want something cold and quick. As I was visiting on a hot day, there was a tray of free water all ready for guests to take.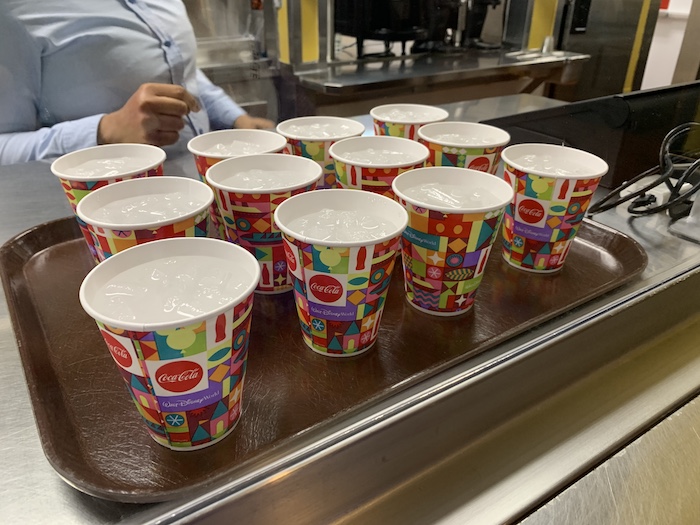 On my next visit, I ordered the Sliced Texas Beef Brisket Sandwich with a choice of side. Here I chose the house-made pickles. My meal was washed down with an Angry Orchard cider and finished with their banana pudding.
The sandwich was sooo close to being fantastic, but an errant piece of gristle in the meat tilted my opinion to just very good.
Now lets talk about the "pickles." My TouringPlans comrade Derek Burgan has chosen these pickles as his bete noir, a mortal enemy that shall never be redeemed. "Pickles are not a side," rants Derek.
Sir, I beg to differ. This dish is woefully misnamed, I'll give him that. The cukes here are so lightly pickled, that you're really just getting a hint of pickleness, BUT if you think about this item as a cucumber salad, then it becomes a lovely and refreshing side dish.
Several years ago Cosmic Ray's over at Magic Kingdom served a resplendent cucumber salad as their standard healthy side dish. I nearly weeped when they replaced this item with sad, mushy green beans. The Regal Eagle pickle side is a worthy step toward remedying that menu excision. My only complaint is that they went a little too heavy on the onions. Cut the onion component by half and I'd be a truly happy camper.
While the apple tart was a fail, my banana pudding dessert was perfection. My family gets the banana pudding from New York's Magnolia Bakery with some regularity and consider ourselves connoisseurs of the genre. Regal Eagle's version has true banana and cream flavors, with no notes of artificial tinkering. There are chunks of fresh fruit and a generous layering of vanilla wafers. I can see myself making a stop at EPCOT just to get this item.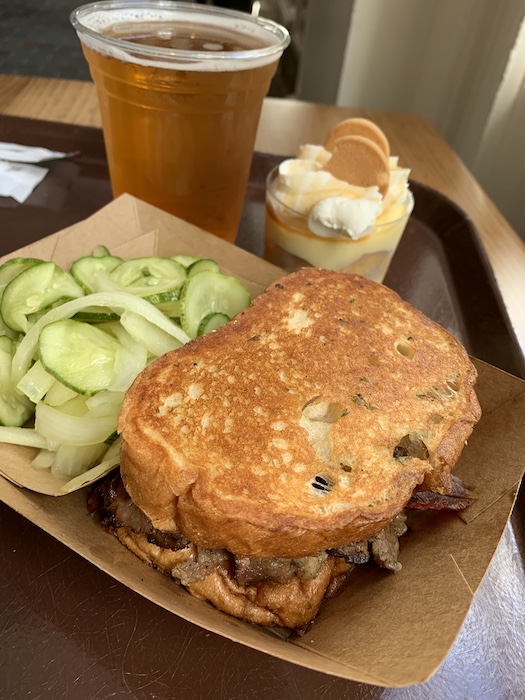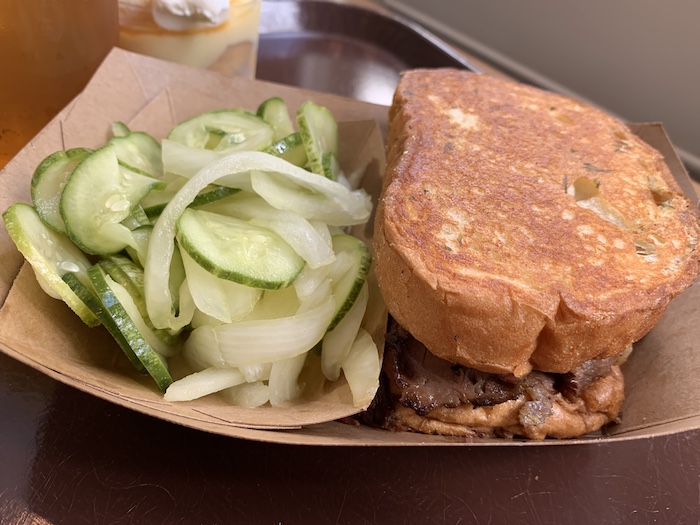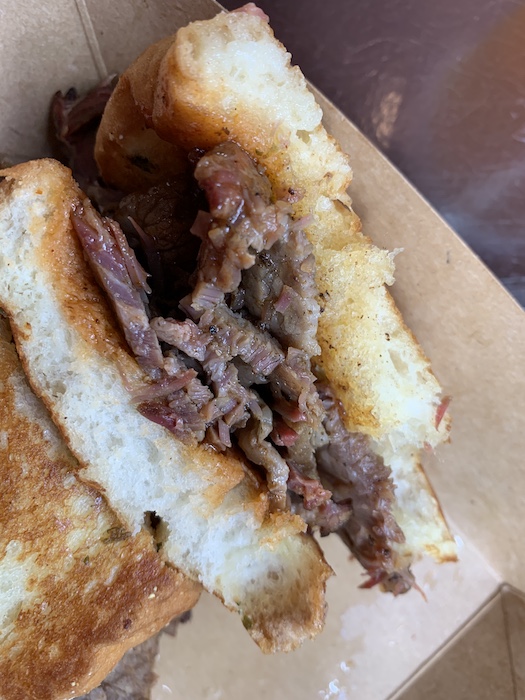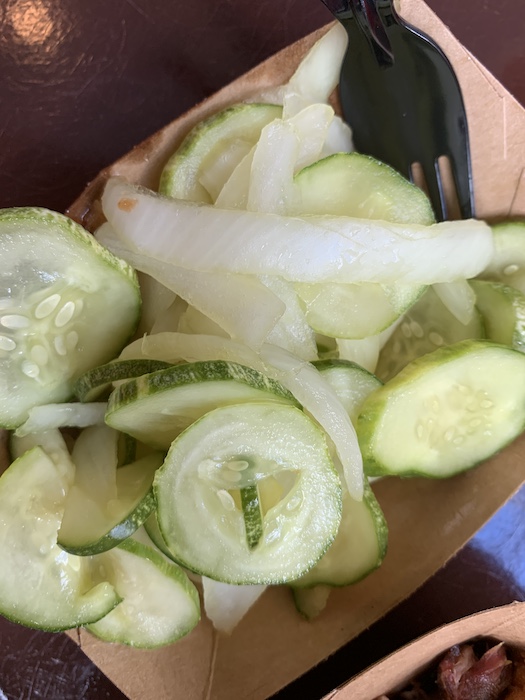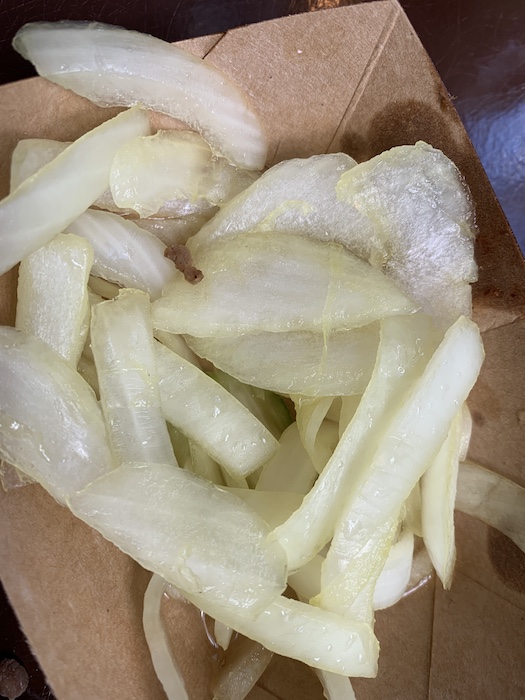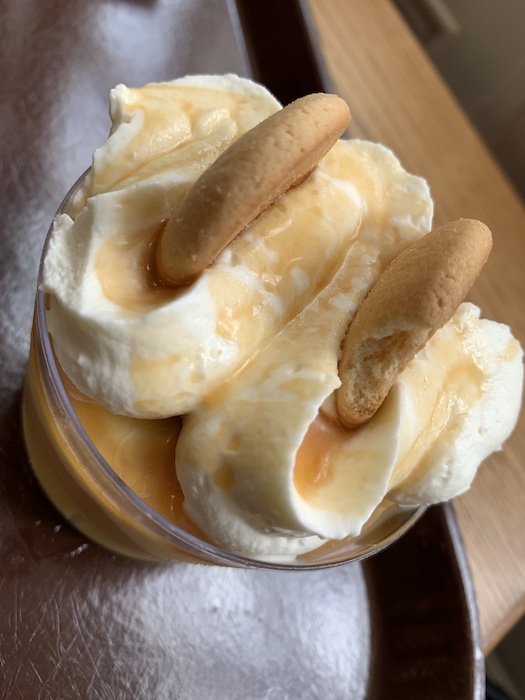 Have you eaten at Regal Eagle? What have been your favorite items?
First published December 18, 2020. Updated September 5, 2021.