Getting to Know Zero-Proof Drinking at Disney World
There are a ton of reasons not to drink alcohol at Disney World. It's cheaper, or you're pregnant, or you don't do well with alcohol in the heat. Or, like me, your kid has a skit of "Mom drinking a margarita" in which they pantomime falling asleep on the table as the glass empties.
But for every coffee-lover who tells you that if it's decaf it's not worth it, there are two who will tell you that it's not about the caffeine, it's about the experience. The same is true with adult libations and alcohol. Maybe you won't feel like you're on vacation unless you've got a glass with a little umbrella in it. Mocktails and zero-proof cocktails are a rising trend, and maybe you've gotten used to them as part of your dining-out experience. Whatever your reason, here's what you need to know about non-alcoholic drinks at Disney World beyond plain old soda, coffee, and tea. We'll cover the options for dry drinking at Quick Service and Table Service Restaurants, Lounges, and EPCOT Festivals. (And if you're feeling like you ended up in the wrong article, you could be looking for FAQ: Get to Know Drinking at Disney World)
Non-Alcoholic Can Mean For Kid or Adult Tastes
If you've got kids, or you've gone out to eat with kids, you know that there are drinks for kids that are meant to help them feel like grown-ups. Virgin piña coladas, shirley temples, and the like give kids the ability to mimic the adult experience of ordering a special drink when you eat out. Of course you can make a shirley temple at home, but my kids would tell you it doesn't feel the same, and it's not just the lack of a glow cube. These concoctions are, invariably, sweet. Sometimes, they are tooth-achingly sweet.
Now, I am not implying that adults don't like anything sweet; after all, a piña colada and many other umbrella drinks are just as sweet when they are not virgin. But Dry January and other teetotaler trends have driven a rise in the range of flavor profiles in Disney's non-alcoholic cocktails. Citrus syrups and sodas, tea, non-alcoholic spirits, and even less-sweet fruit syrups such as desert pear are increasingly found in drinks that will make you feel like they are complicated, complex, and made for a grown-up palate. The zero-proof trend has made its way all the way to Victoria & Albert's which has a complete zero-proof pairing as an alternative to the traditional wine pairing, and you know that those drinks will not taste like cotton candy!
Expectation Should Be Based On Location
It's not hard to find articles called things like "The Best 10 Mocktails at Disney World", but I sometimes find those frustrating. If I'm a local or a frequent visitor, they're great. But if not, I'm not planning my trip around drinking something that's only available in one location. I want to know what I can expect to find wherever I happen to be going. Taken from that angle, you'll find the trend is similar to what you'll see closer to home — what you can expect varies with the type of dining you're doing. Let's run them down from worst to first.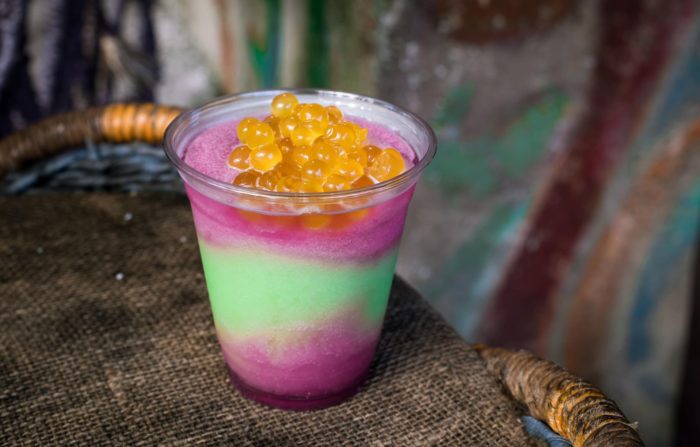 Quick Service Restaurant Non-Alcoholic Drinks
Quick Service (and I'm including Snack Carts and Stands here) will have the least flexibility, if there are options at all. These typically don't have an actual bar, and what you see is what you get. Many of them will offer kid-friendly non-alcoholic drinks such as frozen smoothies, flavored lemonades, or mixed juices. They will tend to be towards the sweet side, more like punch if they're not frozen, but may have more variety of flavors than you'll typically find outside of Disney World. Here are a few examples, just to give you an idea.
The Lava Smoothie is available at a number of Quick Service locations (and also pool bars and Table Service restaurants). It's frozen pina colada mix swirled with raspberry puree, and it is yummy. I'm pretty sure one of my kids is addicted to it.
Tatooine Sunset (Ronto Roasters in Hollywood Studios) – Gold Peak Unsweetened Tea and Minute Maid Lemonade with Melon and Blueberry
Pandoran Sunrise (Satu'li Canteen in Animal Kingdom) –Pineapple Juice and Limeade with POWERADE Melon
Wildberry Lemonade (Restaurantosaurus in Animal Kingdom) – Wildberry Monin and Minute Maid Lemonade
As a rule, the more banal the food, the more banal the beverages. If you're looking at cheeseburgers and chicken strips, odds are you're going to be limited to Coca-Cola products and maybe an ICEE. The Wildberry Lemonade in the list above is kind of a "keeping up with the Joneses" option; throwing a shot of Wildberry Monin into a lemonade is the bare minimum you can do when your menu is amusement park basics but you're in a park that's known for plussing up the Quick Service food.
Non-Alcoholic Drinks at EPCOT Festivals
Like the Quick Service restaurants, EPCOT Festival booths (mostly) do not have bars and therefore what's on the menu is what you can get. But what's on the menu is likely to cover a wider variety and be (in my opinion, of course) more interesting offerings. There are sometimes alcohol-free wine and beer, but more often you'll see versions of the Festival cocktails sans alcohol, or even non-alcoholic drinks that are designed just for the Festival itself. Some are … interesting, like this year's Pickle Milkshake, but many are Festival favorites that return year after year like the Flower & Garden Frozen Violet Lemonade shown below.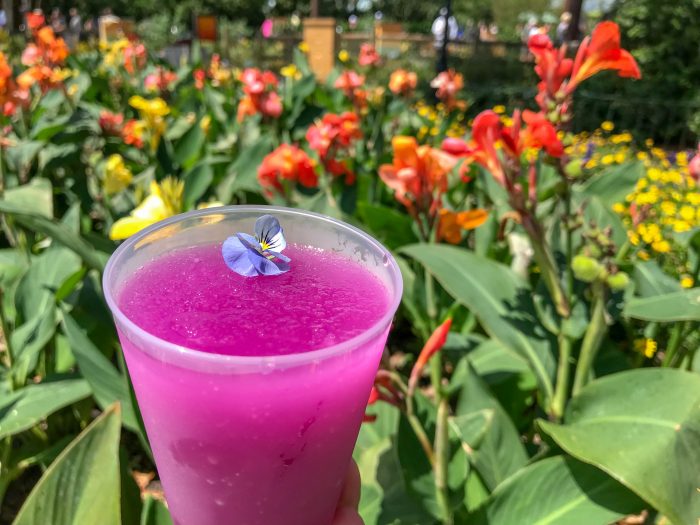 The four Joffrey's carts around the World Showcase offer a special drink each Festival (a different one at each cart) that are reverse mocktails; they're designed as a non-alcoholic drink and also offered as a spirited version with alcohol added. My experience with these is that they're hit or miss; they're on the menu but it's not uncommon to find they've sold out for the day.
Mocktails at the Pool Bar
The pool bars at Disney World are actual bars, and they have actual bartenders. Lava smoothies and standard virgin frozen drinks are often available at pool bars, but you can also go off the menu. Ask them to mix something that you know how to make, or they'll usually have a couple of favorites if you ask what they suggest – and you won't always get the same answer.
That said – these are pool bars. They specialize in drinks with umbrellas and swizzle sticks. They can make you something delicious, but they often don't have the most extensive mixology repertoires and they may have a more limited shelf. For example, you can make a virgin piña colada pretty easily just by leaving out the alcohol, but its cousin the melon colada relies on Midori. It can be replaced with melon syrup, but they may not have that to hand. So you'll have the most success going off the books if you're looking for something straightforward, or if you tell them what you like and let them surprise you.
Non-Alcoholic Drinks at Bars & Lounges
Many of Disney's Resort Hotels have a lounge, and some in-park restaurants have attached lounges as well. Although there are exceptions to every rule, the sky is your limit here. You'll frequently find some interesting zero-proof options on the menu, bartenders will definitely have additional favorites of their own, and you'll find them more likely to have the experience and the materials to put together whatever you'd like. These bars are also where you're most likely to find alcohol-free spirits and distillations such as those produced by Seedlip, Lyre's, or Ritual. Translation: these are the places you're likely to find non-alcoholic mixed drinks that have tart, sour, or bitter notes.
Zero-Proof Options at Disney World Table Service Restaurants
Restaurants run the gamut. Many Table Service locations will have a zero-proof or non-alcoholic section on the menu; they might even label it mocktails. Mixed-drink mimics are, as in the lounges, more likely to offer a range of flavors that aren't sugary; even if they are sweet they're more likely to be refreshing than cloying. And it's worth noting that the restaurants that have attached lounges, such as Tiffins (Nomad Lounge) or the 50's Prime Time Cafe (Tune-in Lounge) can bring you anything they can make in the lounge.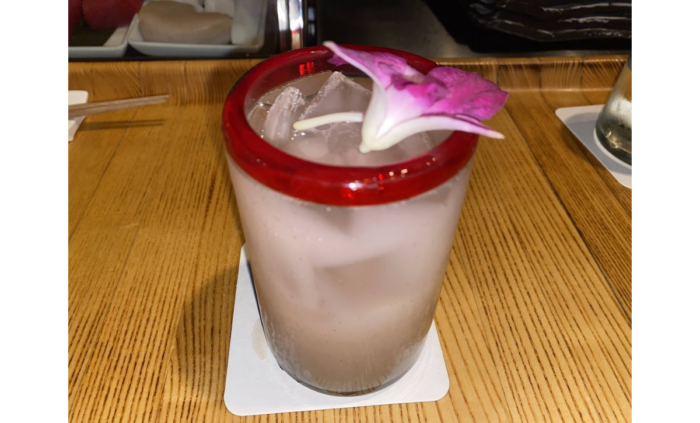 If the option is a lemonade mixer or flavored lemonade, the lemonade itself is more likely to be house-made and not Minute Maid. Eateries that offer mixer syrups for Sprite in their non-alcoholic beverage section will almost always be happy to put those over club soda for you, reducing the sweetness quotient. Or they may offer lemon or grapefruit sodas as a base.
Sometimes, you will still find that there is absolutely nothing non-alcoholic on the menu aside from soda, lemonade, or iced tea. You can still ask, and we have never been met with the answer "Sorry, only what you see on the menu". But … that doesn't mean there's a secret mocktail list they just forgot to mention, or that they'll be able to come up with something inventive and interesting. The Boathouse told us they could do a blueberry lemonade, and California Grill (surprisingly!) didn't have much to offer us except a flavored bar syrup over Sprite or club soda.
Tips For Off-Menu Mocktails
Sometimes you'll be going off-menu because, as mentioned above, there isn't anything on the menu. And sometimes you'll be going off the menu because you know that you can and you want to try something new and interesting. Depending on the circumstances, your strategy might be a little different.
It's good to head in with a simple standard (or two) that you know you like. I've already mentioned flavored bar syrups; if you've got a preference between Sprite and club soda, make sure to ask for what you want. Be flexible about additional components such as mint, lime, or lemon; stick to simple items that most bars will stock. The no-jito is a good example of a mocktail that almost any bar can put together: mint, lime, sugar, and club soda or Sprite. And if even that makes your server look a bit nervous, be prepared to back off and accept the flavored lemonade, a plain old soda, or whatever you might drink if you weren't looking for something special. Pro tip: don't be afraid to muddle your own mint using a spoon against the side of your glass if it looks pristine when it arrives in your drink.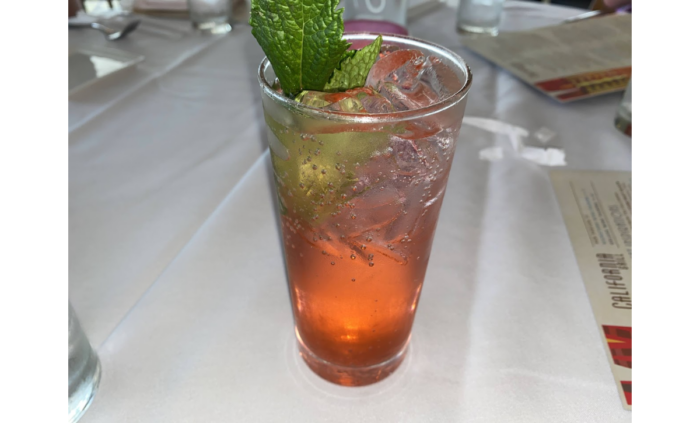 If you're just looking to explore and you know that you've got a bartender who can meet your desire for creative mixology, then be prepared to describe the flavors that you like. Sweet, sour, tart, bitter, subtle, intense, spicy are all descriptors that can provide a guide to what you're looking for. If you drink sometimes but just aren't drinking at this moment, offering a couple of your favorites can give the direction you need. If you say you like cosmos you're going to get a very different glass than when you express a preference for gin and tonics.
The Meaning of Non-Alcoholic and Zero-Proof Varies
Yes, this is … unintuitive. Since alcohol is a naturally occurring substance that can appear in everyday products such as orange juice, overripe fruit, and yogurt, beverages can be up to 0.5% Alcohol By Volume (ABV) and still be labeled non-alcoholic. There is no consistency in the general market as to how the terms mocktail, zero-proof, and non-alcoholic are used, and there's no consistency at Disney World either.
I have never seen this to be an issue at Quick Service locations. As previously mentioned, the base ingredients of non-alcoholic offerings there are juices, lemonades, teas, and other drinks that could be sold individually without the hint of a question as to their alcohol content. They are meant to be drunk by kids as well as adults.
Distilled non-alcoholic spirits, alcohol replacements, and non-alcoholic beer and wine are the drinks most likely to raise questions. These are most likely to be found on restaurant menus and at lounges. Sometimes, drinks that use these ingredients are set off in a separate section of the menu, like the one below from Sanaa which separates Non-alcoholic Beverages and Non-alcoholic Mocktails. (Side note: the Pink London Spritzer was yummy but we thought the Agave Garden tasted oddly of pickle juice and none of us liked it.)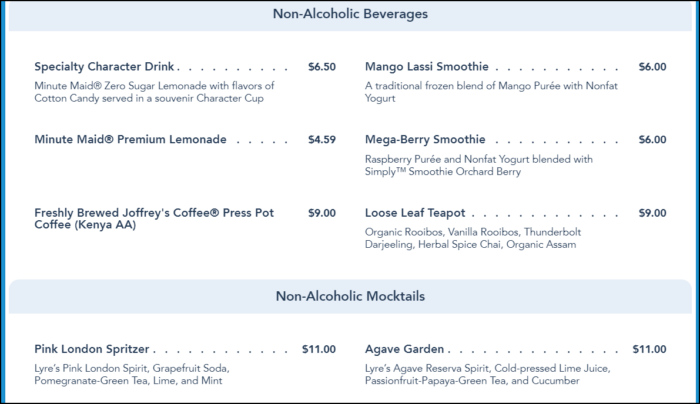 In other cases, our server told us that the drinks in the Zero Proof section weren't guaranteed to be completely alcohol-free. In yet other places, some drinks in the non-alcoholic section were labeled as "must be 21 or older to order". For many people, the use of a spirit that could be up to 0.5% ABV and will be diluted even more with mixers doesn't pose a problem. But if it's a problem for you, for religious or personal reasons, you have options. Depending on the location, you can ask to see the bottle. Or, you can ask for an ingredient list and search sites like Halal Wine Cellar or DryDrinker.com to possibly confirm that all ingredients are 0.0% ABV. If uncertain, you're probably better off choosing another option and giving yourself peace of mind.
What's your favorite non-alcoholic drink at Disney World? Do you have any tips for creative mocktails? Let us know in the comments!