Disney World Table Service Power Rankings Winter 2021
The world is weird right now. (Very tempted to start every blog post like that from now on). And that means Walt Disney World is weird right now too. Especially the whole dining situation. Even in "normal" times, menus would shift, prices would increase, and popularity of certain locations would change. Now add in the very real pressures of figuring out staffing and potential reopening of dining locations, plus supply chain issues that mean even the most reliable menus may be … not so reliable anymore, and the landscape of dining at Disney has never been crazier.
That's why overall satisfaction numbers don't really tell you what's really been happening recently at your favorite (or least-favorite) table service restaurants. If you only loved Ohana when it didn't have noodles, and then the noodles came back, well, then you shouldn't be so excited to visit next time. To help solve this problem of wanting to know how restaurants have been doing lately, we introduced our inaugural Walt Disney World Table Service Power Rankings about 3 months ago. We're going to revisit them every season just to see what's been happening, and how that might impact where you decide to eat.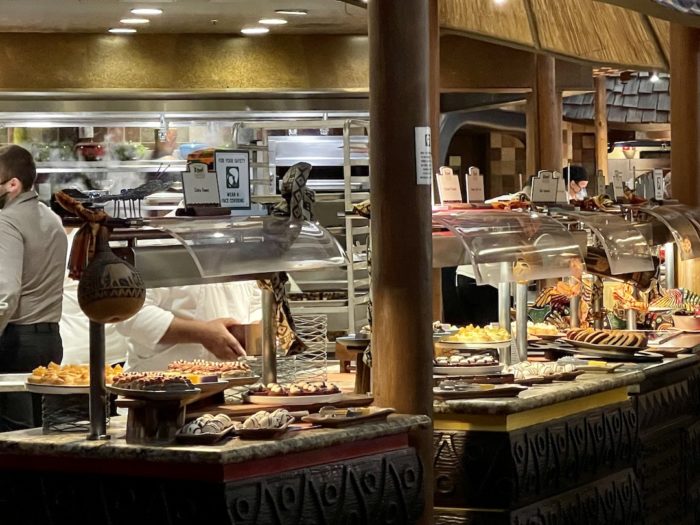 Explain the Math!
After you get back from your most recent WDW vacation that you booked with the amazing TouringPlans Travel Agents, you're invited to fill out our post-visit survey. That's how we get all of our satisfaction data that enables these sorts of analyses. One section of that survey has you rate each dining location that you visited with either a "Thumbs Up" or a "Thumbs Down". Then, I can pull all of that data and group together responses for each restaurant. That lets me look at the percentage of responses that were "Thumbs Up", and that's typically how we calculate overall satisfaction at that restaurant.
But this overall percentage doesn't emphasize the most recent reviews. A review from yesterday counts just as much as a review from 9 years ago, unless I don't introduce some cutoff. And I think we can all agree that in the world of Disney, a review from even 2 years ago shouldn't matter as much as a review from yesterday. So for these Table Service Power Rankings we'll be using a weighted average. If you already read our Resort Power Rankings or the Table Service Rankings from the fall, you already know how we do this. If not, we'll walk through what a weighted average is below.
For all of our Power Rankings, we want to keep the weighting simple and easy to understand. We want recent reviews to keep their full "weight" (and therefore impact on the full score), but as we go further back in time, we want to take away "weight" so that older reviews have less impact on the final score. For Power Rankings, we'll narrow the full weight "window" down to the past 3 months. Any reviews from that time period get to keep their full weight. They count as a whole response. But, beyond that, we will implement the following weighting system:
3 to 6 months ago: 1/2 weight
6 to 9 months ago: 1/3 weight
9 to 12 months ago: 1/4 weight
12 to 15 months ago: 1/5 weight
15 to 18 months ago: 1/6 weight
Etc.
What does all of that mean? Reviews from the past three months are six times more important than reviews from 15-18 months ago, when we calculate the final score. That means that our Table Service Power Rankings don't totally ignore the past, but recent reviews influence it a lot more. When we revisit these rankings again in the spring, we'll be able to see what changes happen compared to the winter, and that will give us lots of information about recent changes in satisfaction. For today, we'll compare the winter Power Rankings with the fall, to see what has changed over the past 3 months.
Which Restaurants are at the Top of the Table Service Power Rankings?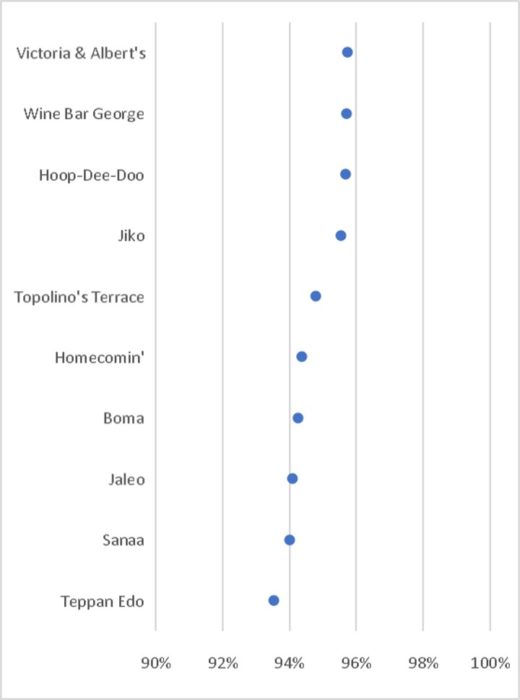 Which Restaurants are Making Positive Moves in the Table Service Power Rankings?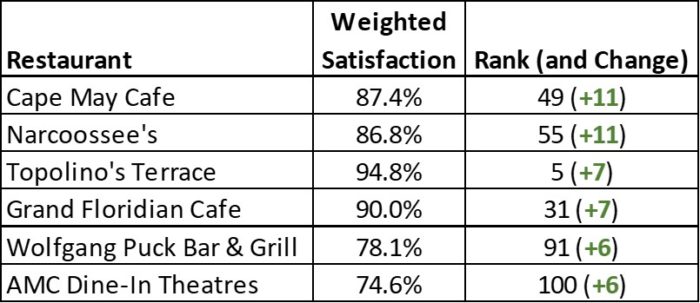 Mickey celebrating his return to the Top 10 (probably)

Interestingly, and maybe not surprisingly, 4 of the 6 restaurants listed here as making improvements in the winter were on our "negative moves" list in the fall compared to all time! Cape May Café, Narcoosee's, Wolfgang Puck Bar & Grill and AMC Dine-In Theatres all have plummeted pretty far compared to their all-time averages. They're still not back to where they once were, but this could definitely be a case of pandemic-era/post-reopening slumps that are starting to revert back to more normal operations and expectations.

The two exceptions to that list are Topolino's Terrace and

Grand Floridian Café

. Topolino's Terrace has always been one of the most highly-rated table service restaurants since its opening, so its disappearance from the top 10 in the fall seemed pretty anomalous. It could just be a blip, but we'll keep an eye on whether it stays in the top 10.

Grand Floridian Cafe isn't as highly rated, but it did climb its way back into the 90% satisfaction group for the winter. I think the relatively recent ability to expand the menu back out to something closer to its original has helped things significantly here.
Which Restaurants are Making Negative Moves in the Table Service Power Rankings?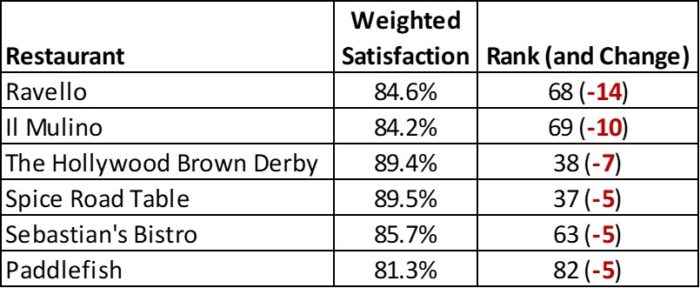 What Does This Mean For You?
As always, check back in before you make reservations for your next trip to see what might be new or different at some of your favorite spots. You don't want to be disappointed to learn that your favorite dish has dropped off of the menu!
Keep your mind open and don't be afraid to try out new locations, especially if they are showing high satisfaction.
Popularity doesn't necessarily equal quality or satisfaction. Table service restaurants with the top satisfaction aren't the ones that are getting the highest volume of reviews. You may need to get creative and eat at a resort or Disney Springs instead of in the park if you want a really satisfactory meal.
Did any of the results in our winter rankings surprise you? Did you have an experience at any of these restaurants that was particularly awesome or awful? And do you have any predictions about what we might see in the spring? Let us know in the comments!