Disneyland's Space Mountain — Better Know An Attraction
Welcome to our "Better Know An Attraction" series, where we'll take a deeper dive into various Disneyland attractions to help you determine whether or not it needs to make your list on your next trip! We're starting things off with an iconic Disneyland attraction, Space Mountain.
What is Space Mountain?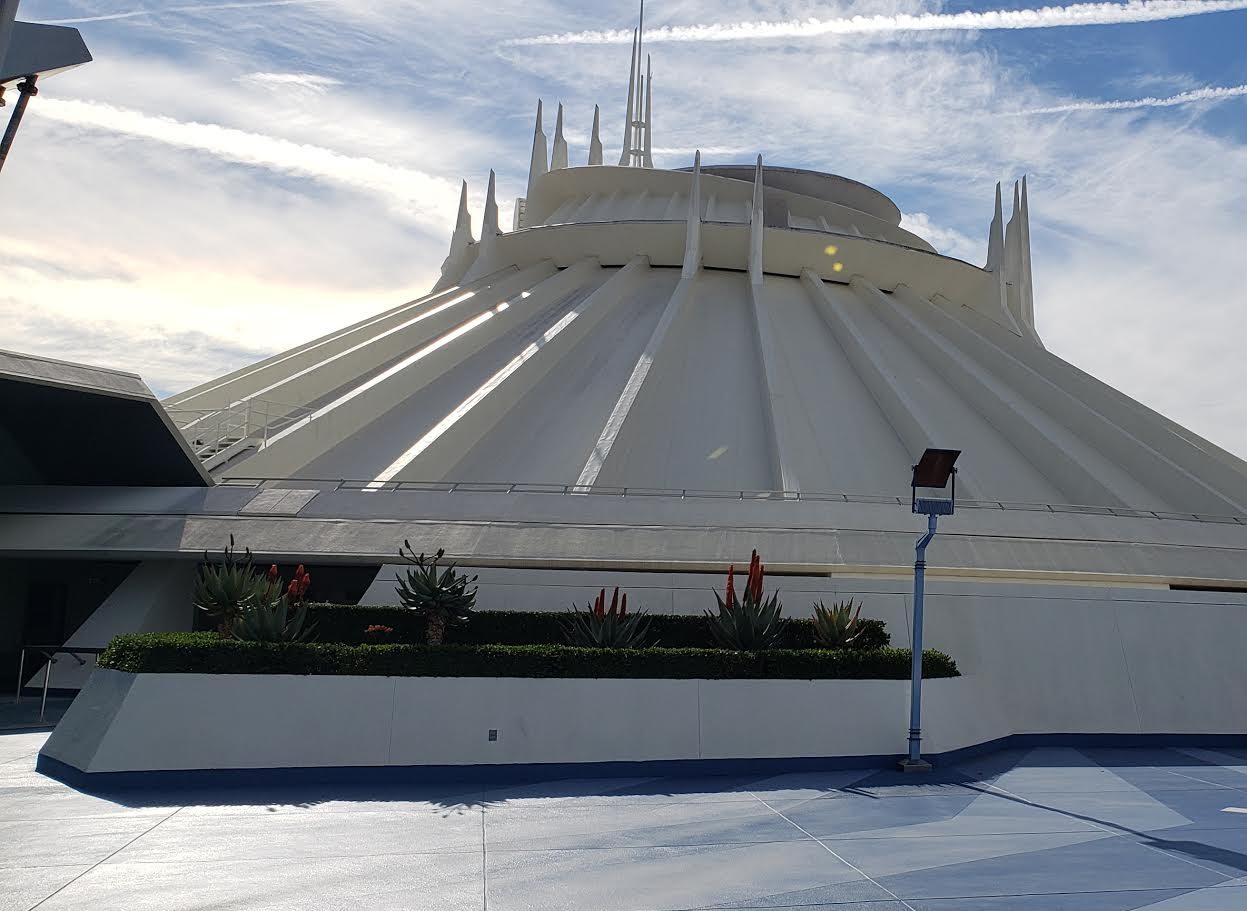 The most simple answer is that Space Mountain is a roller coaster in the dark. It is a "wild mouse" style coaster, which means that it focuses more upon quick, unexpected twists and turns than big drops and blistering speed. What separates Space Mountain from your garden-variety carnival coaster, however, is the addition of perfectly choreographed music and visual effects, which makes the ride feel much faster and more wild than it actually is. The ride itself is fun — the ride plus all of the Disney-added elements, however, is what makes it an iconic attraction.
Where is Space Mountain?
Space Mountain is located is Tomorrowland in the large, futuristic white building.  You'll enter via a hallway under the building to the left of the attraction sign.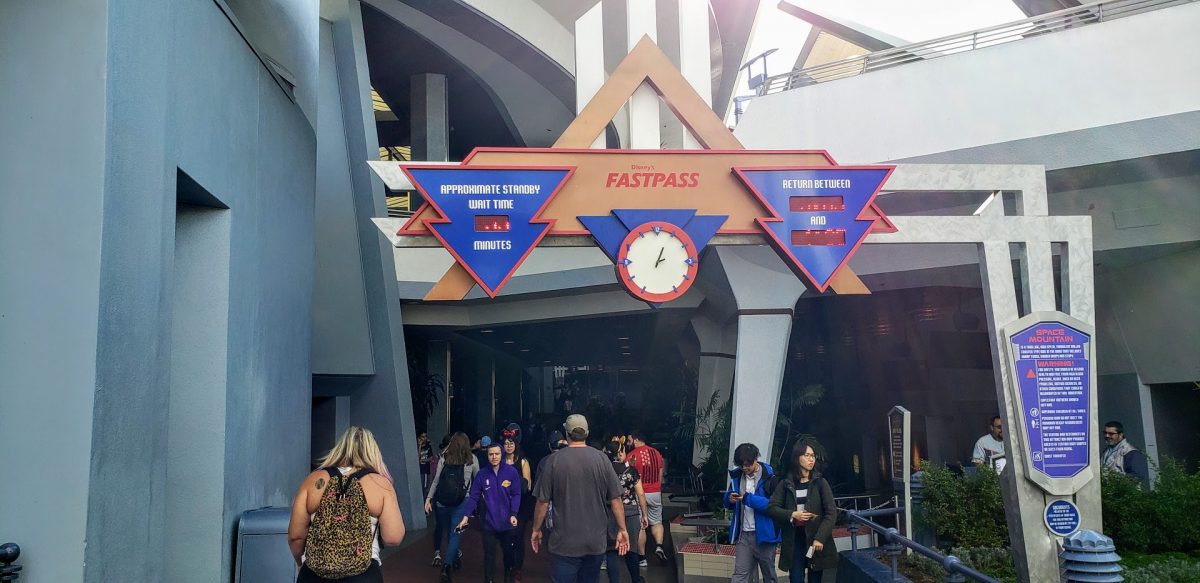 Space Mountain History
Disneyland's Space Mountain was opened in 1977, the second version of the attraction after the original was opened at Walt Disney World in 1975. It was based upon an idea that Walt himself had for a roller coaster themed after intergalactic travel called "Space Port" that was tabled on account of his passing.  It has seen significant renovations and changes over its life, including a major renovation over the course of 2+ years, which included a installation of a new track and trains in 2005.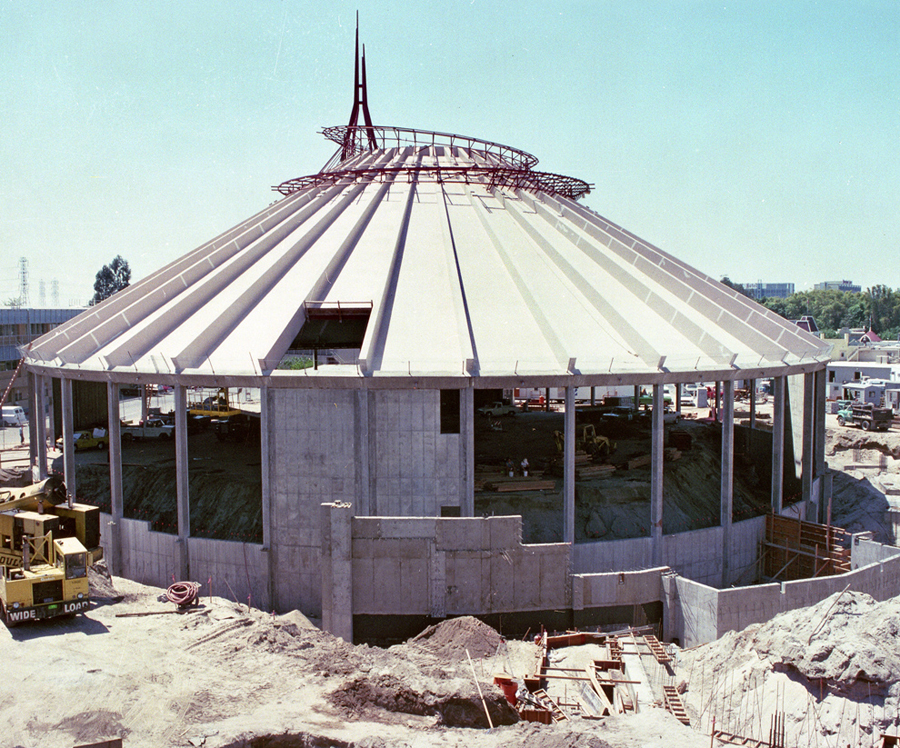 What You Need to Know About the Queue for Space Mountain
The interior portion of the queue consists of hallways themed to look like the inside of a space station. With that said, most of the queue is outdoors — the interior queue is past the FastPass merge point, so if you're riding standby, most of your wait is going to occur standing among switchbacks on a large, open area on the roof of the building. Shade structures have been added in recent years, which does help some, but be prepared to be outdoors for most of your wait. Space Mountain does have a single rider line as well, which is accessed via the attraction's exit. It also offers rider swap for parties with small children who cannot ride.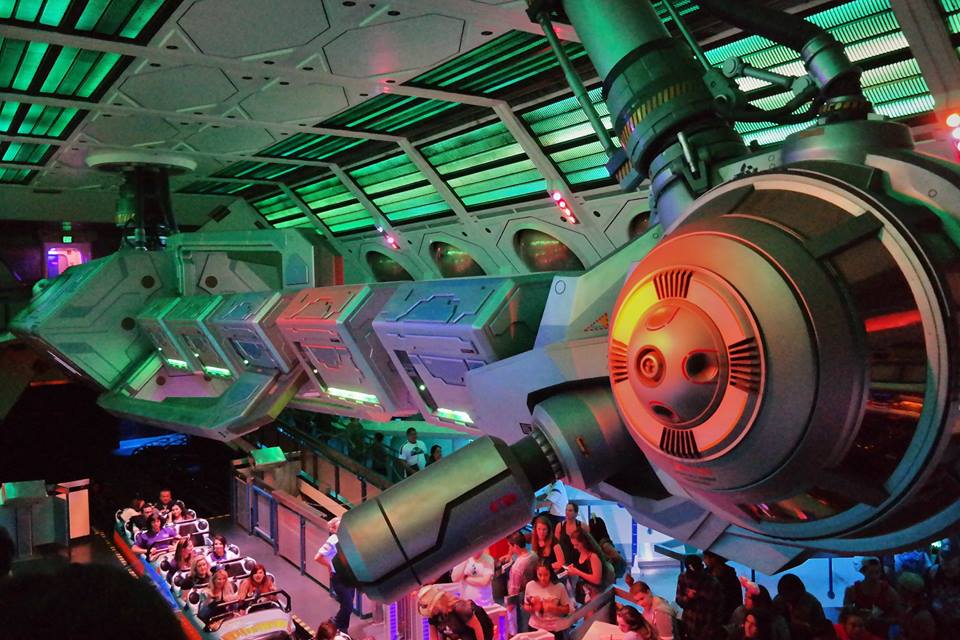 What is the Ride Experience Like for Space Mountain
At its core, Space Mountain is a roller coaster in the dark, and the ride is full of quick turns and drops.  Though the attraction isn't particularly "fast" in terms of raw speed, the near constant changes of direction and smooth ride make it feel very quick. It's an amazingly fun ride, and one of the best thrills available at Disneyland.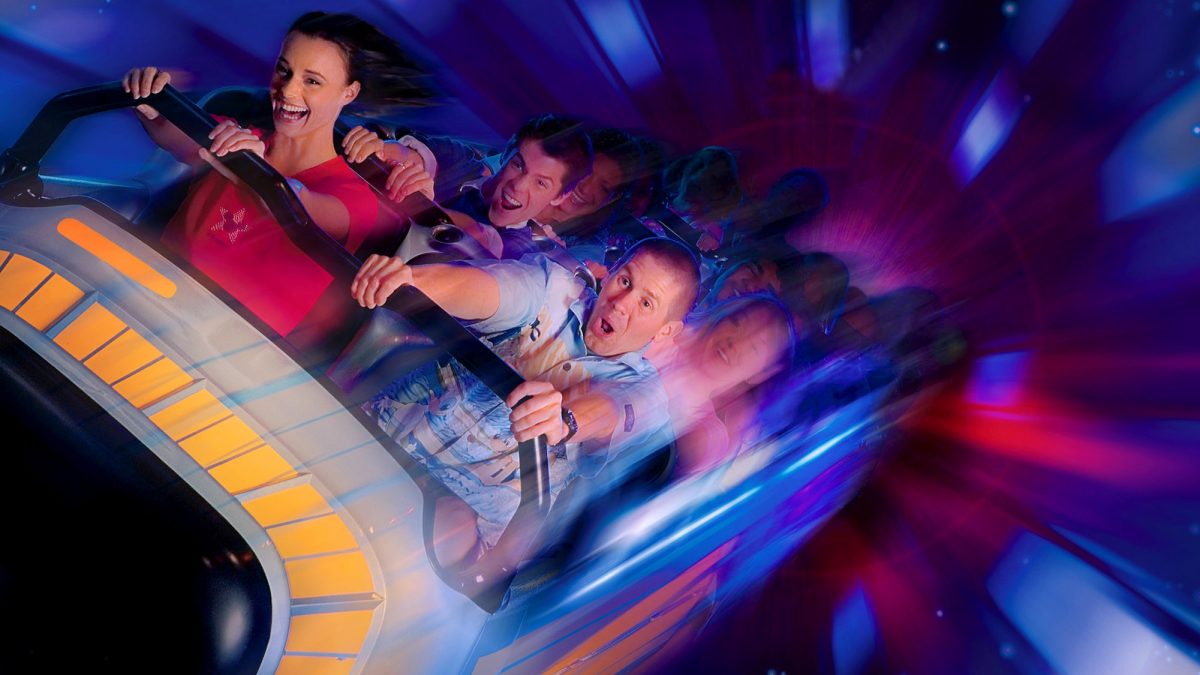 Beyond the motion of the attraction itself, the effects on the ride have a huge impact upon the experience, which will vary depending upon what version of the attraction is being operated.  The classic Space Mountain experience features space imagery and music by composer and frequent Disney collaborator Michael Giacchino (Up, The Impossibles) that has a distinct galactic hero vibe. The music is absolutely perfect for the ride and really enhances the experience.
At various times, Disneyland will operate Space Mountain as Hyperspace Mountain and give it a Star Wars overlay. The ride begins with the classic Star Wars music as you ascend the lift hill, and once the ride starts, the sounds, effects and motion put you in the midst of a dogfight between the Empire and the Rebellion. If you're a Star Wars fan, it's an absolute must-do. The ducks and dives of the coaster are suited perfectly for the dogfight story. Even if you're not a Star Wars fan, it's a great version of a classic attraction.
Finally, around Halloween (September and October), the Ghost Galaxy version of Space Mountain is used. It's intended to be the "scarier" version of ride, both the sounds and imagery are darker, and it has a more sinister, supernatural feeling. With that said, no child that is okay with riding the original version of the ride is going to find it so much scarier as to be an issue.
What are the Ride Vehicles Like for
Space Mountain?
Space Mountain uses trains designed for two riders across. Each rider has an individual seat area with an individual lap bar (i.e., you cannot spread yourself across the entire train if you are riding solo). Each vehicle has its own on-board audio, which allows each train's motion to sync with the music.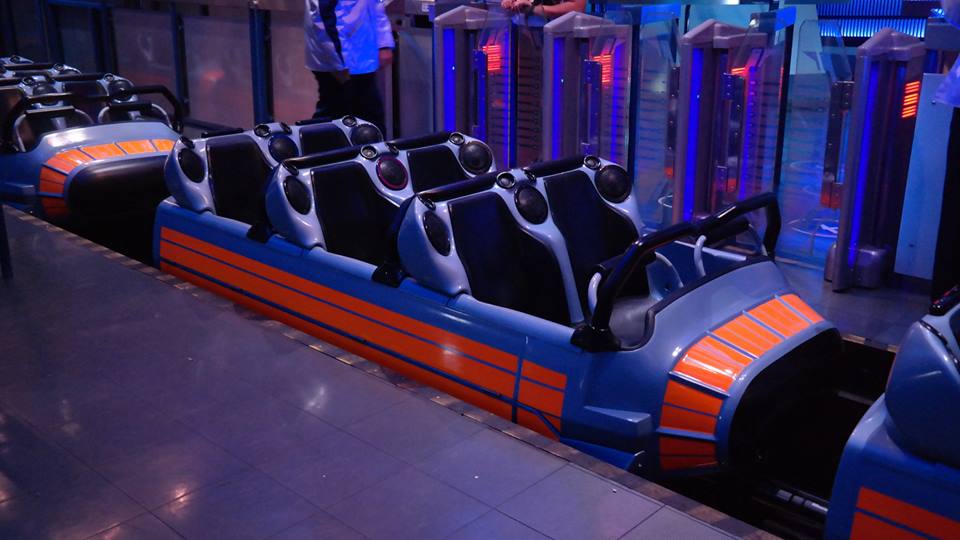 What You Need to Know About Accessibility for
Space Mountain
Guests do need to be able to transfer into the ride vehicle to be able to ride Space Mountain. With that said, Space Mountain has a load system that allows it to load people who may need additional time or assistance outside of the standard boarding process, and that vehicle is then merged in with other vehicles once it's ready to go. Guests in wheelchairs should enter the attraction through the exit and follow arrows to the left for boarding (or to the main entrance with a FastPass). 
What You Need to Know About Health and Safety Warnings for
Space Mountain
As with most thrill rides, Disney warns that "you should be in good health and free from high blood pressure, heart, back or neck problems, motion sickness, or other conditions that could be aggravated by this adventure. Expectant mothers should not ride."
What are the Height Restrictions for
Space Mountain
Riders must be 40″ or taller to ride Space Mountain.
Does
Space Mountain
Offer FastPass?
Yes, FastPass is available via kiosks or MaxPass. FastPass kiosks for Space Mountain are located in front of the Tomorrowland Theater, along with distribution for Buzz Lightyear and Star Tours FastPasses.
Does Weather Affect
Space Mountain?
As the attraction is indoors, weather does not impact operation of Space Mountain. With that said, the overwhelming majority of the queue is outdoors, so inclement weather may make your wait unpleasant.
What's the Best Time of Day to Experience
Space Mountain
Space Mountain is deservedly one of the most popular attractions at Disneyland, and will generate long lines from the moment the park opens that will persist all day long. To minimize your wait, either head directly to Space Mountain at park open or plan on using FastPass. This chart shows the average peak wait time based upon crowd level. For more accurate predictions, check our Space Mountain Wait Times for the date of your visit.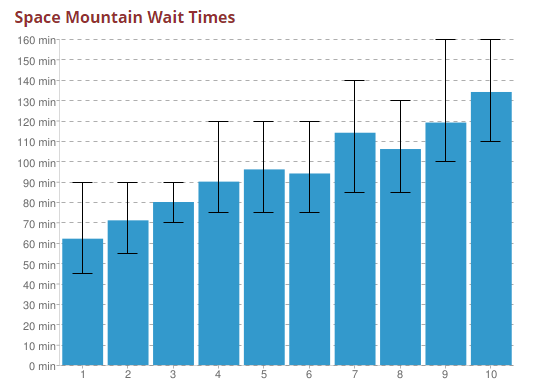 So, is Space Mountain on your must-do list? What is your favorite version of this iconic attraction? Let us know in the comments!