Disney's Art of Animation Resort – Lion King Family Suite Review
With over 20+ resorts to choose from at Walt Disney World, choosing your home away from home at the most magical place on earth can be a little overwhelming. To make the decision process a little easier, and to guarantee that you're fully informed, we're covering what you need to know about Disney's Art of Animation Resort!
Disney's Art of Animation Resort – The Basics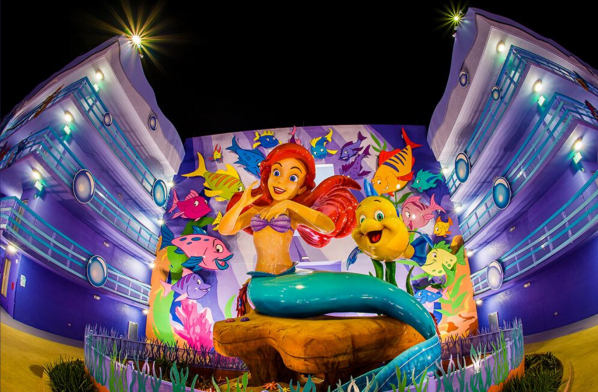 Disney's Art of Animation Resort is a Value resort located near EPCOT and Disney's Hollywood Studios, as well as right across Hourglass Lake from Disney's Pop Century Resort.
Unlike other Value resorts, Art of Animation offers 864 standard hotel rooms and 1,120 "family suites" with the latter including two rooms, two bathrooms, and a kitchenette!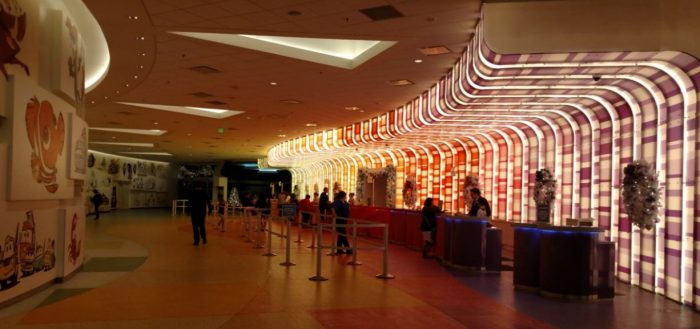 The resort is divided into four areas with each themed to one of four following Disney-Pixar films: Finding Nemo, The Little Mermaid, The Lion King, and Cars. The Little Mermaid wing, however, only offers standard hotel rooms.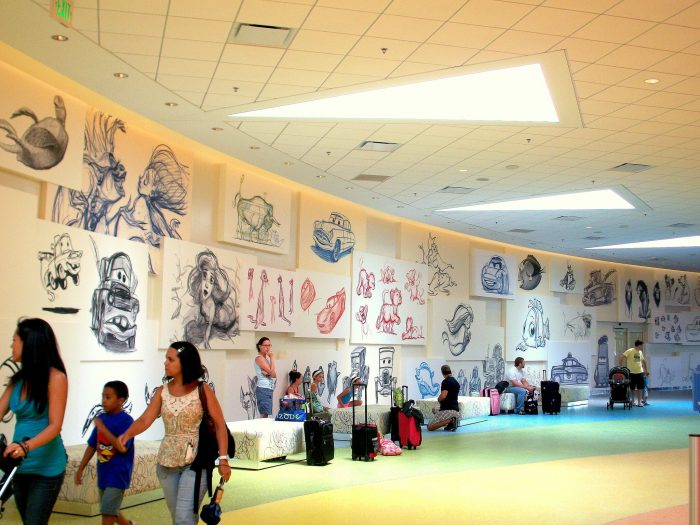 Animation Hall is the resort's main building housing the check-in desk, food court, and gift shop. Since the resort is a homage to Disney Animation, Animation Hall has a variety of concept art on display from the four films it represents. There are even some autographed concept sketches hanging from the chandelier!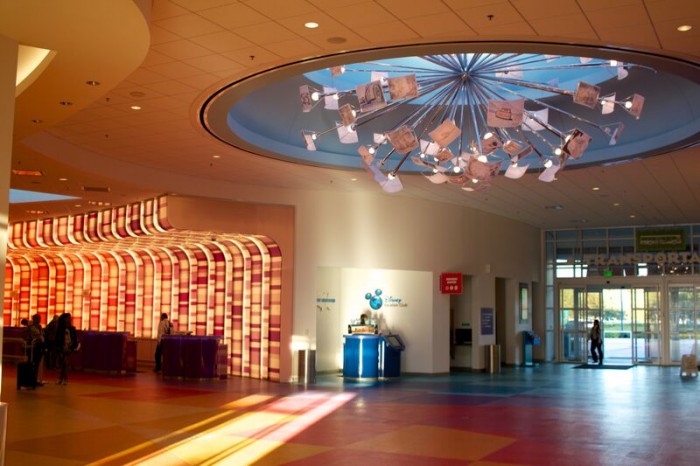 Art of Animation – Our Room
On a recent stay, Chrissy from our team stayed in Lion King Suite room 739 on the third floor of Building 10.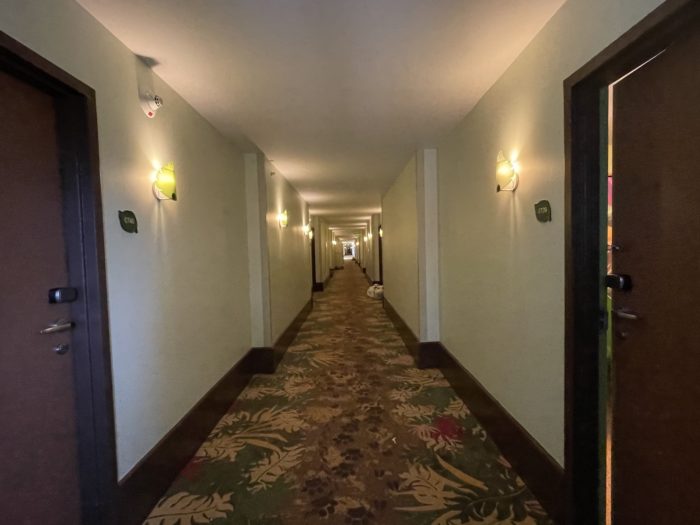 Unlike other Value Resort rooms, all of the Art of Animation suites are located inside their respective buildings as opposed to having their doors face outside.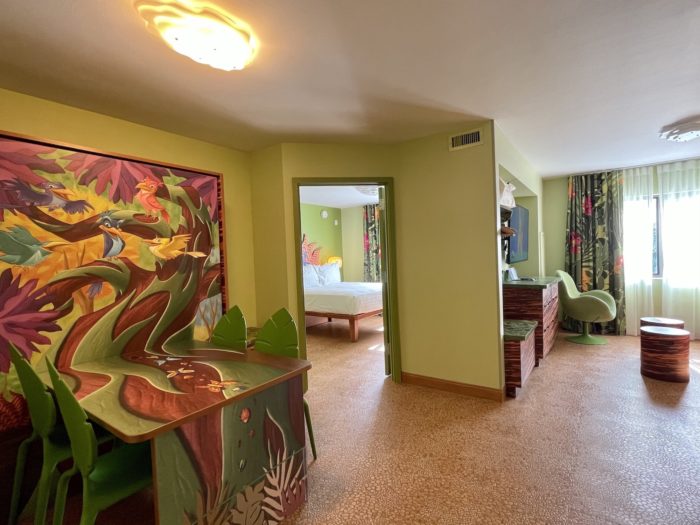 Each suite sleeps 6 guests with a queen bed in the bedroom room, a pull-out sofa bed in the living room, and a pull-down bed over the table.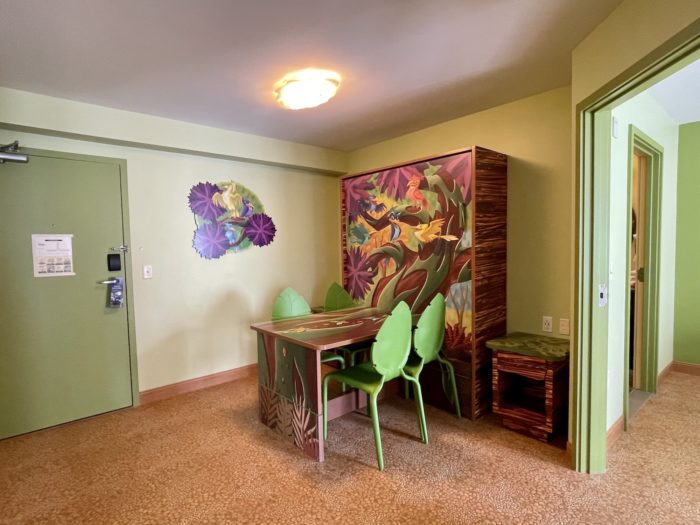 In addition to four chairs, there are nightstands on either side of the table offering additional storage. The table itself is 4 ft. long x 3 ft. wide.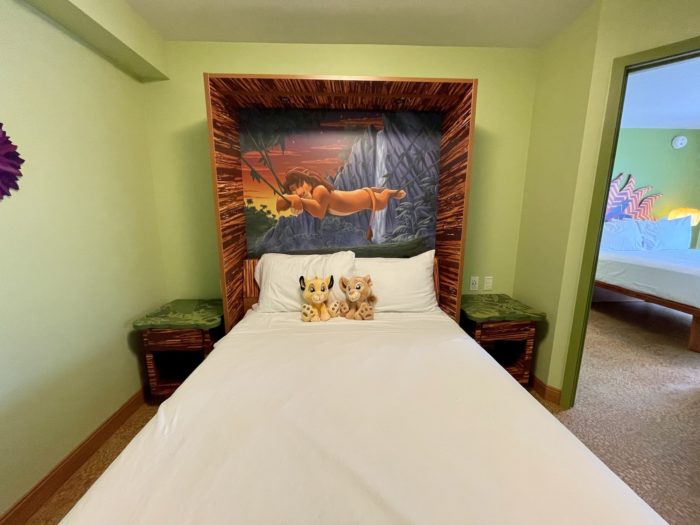 Here's a look at the bed when it's folded down.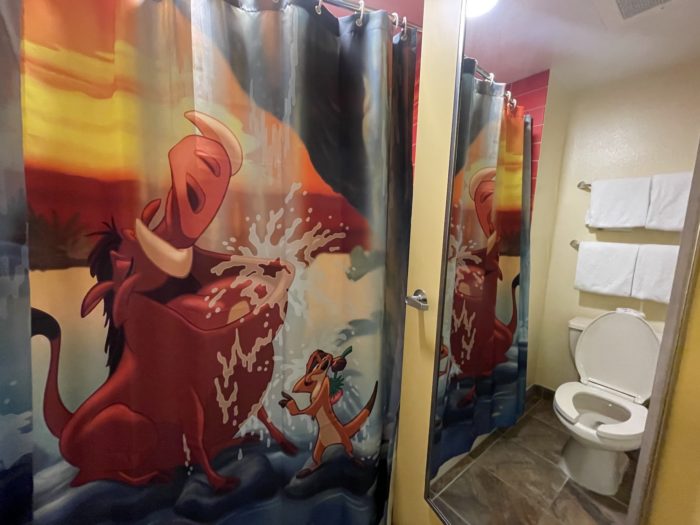 In addition to the three beds, each suite has also two bathrooms. The smaller bathroom is just off the main living area and is a little cramped measuring only 6ft 9in x 6ft 2in.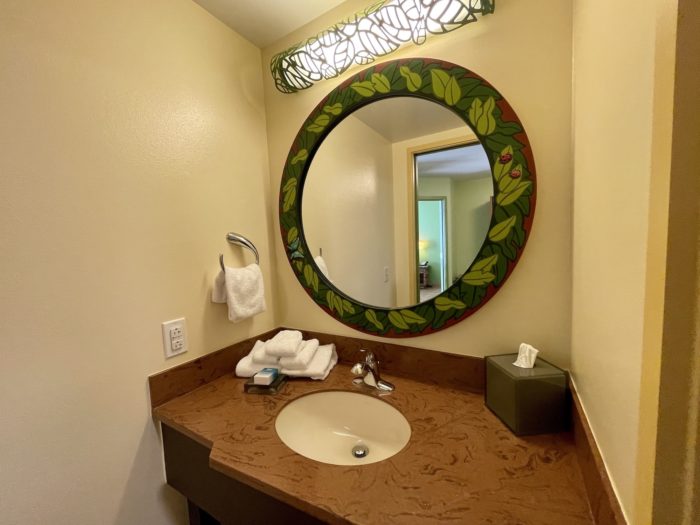 The tub and toilet are in a separate room from the vanity which is great for when everyone is getting ready in the morning. The vanity itself measures 3ft 5in x 22in.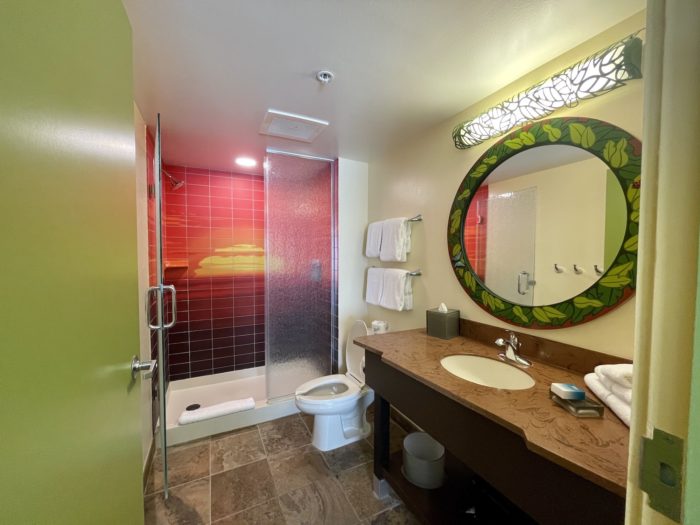 The second bathroom is an en suite bathroom located off the bedroom and includes a sink, toilet, and large shower.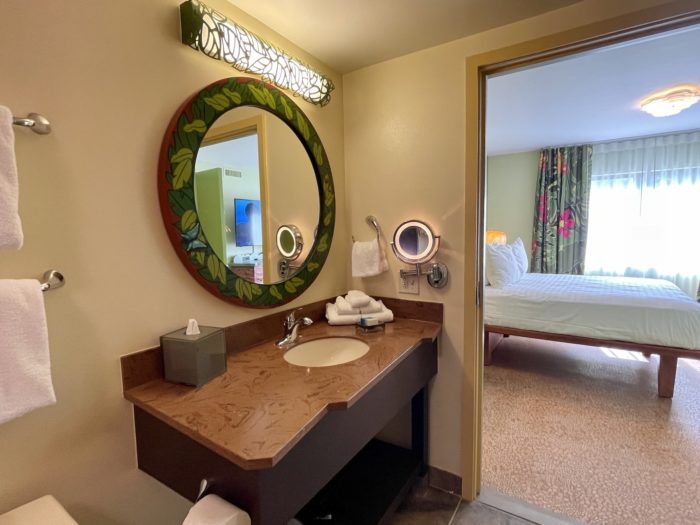 The vanity is 4ft x 22in with the bathroom itself measuring 6ft 11in x 5ft 5in. Plus, the additional storage under the sink is a useful addition.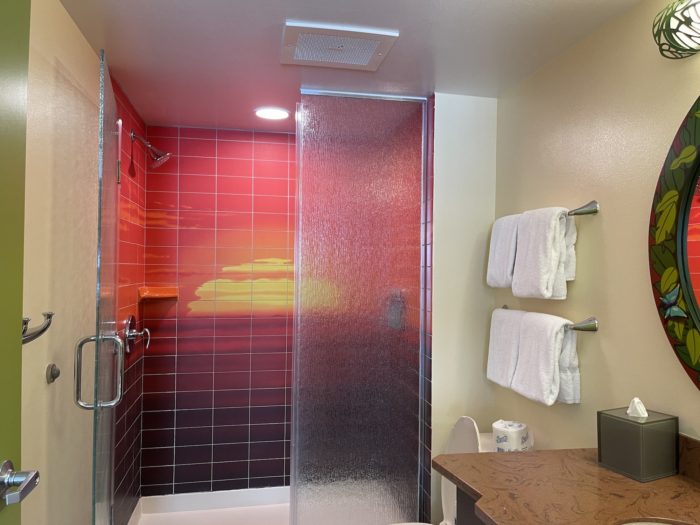 While The Lion King decor is far from quality and kinda looks like what you would find at Walmart or Amazon, the Circle of Life shower tile is one of the better touches. It's also sure to help you wake up in the morning for rope drop!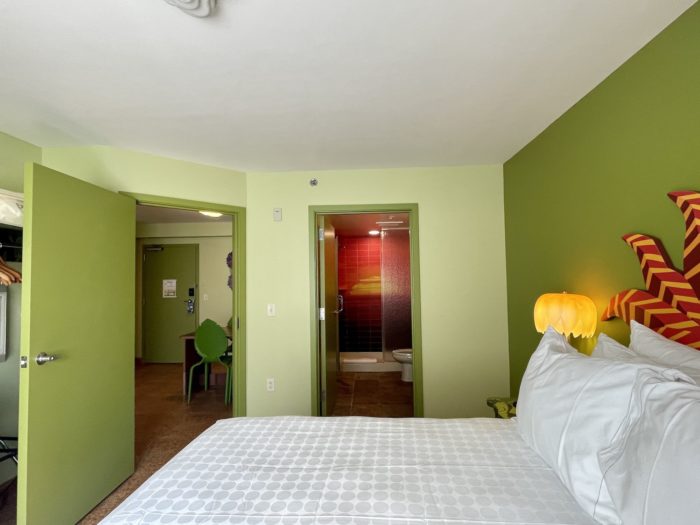 The main bedroom consists of a queen bed, the en-suite bathroom, a dresser, two nightstands, and a 43″ television.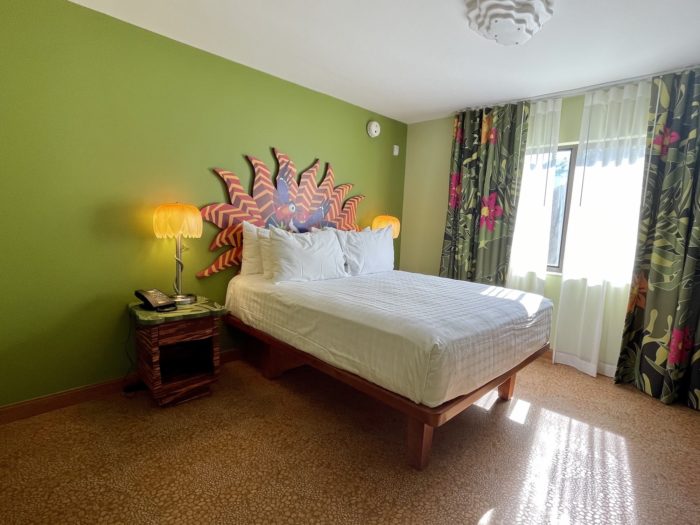 The room itself has quite a bit of space and measures 13ft 2in x 11ft 11in. There's also plenty of space under the bed for suitcases.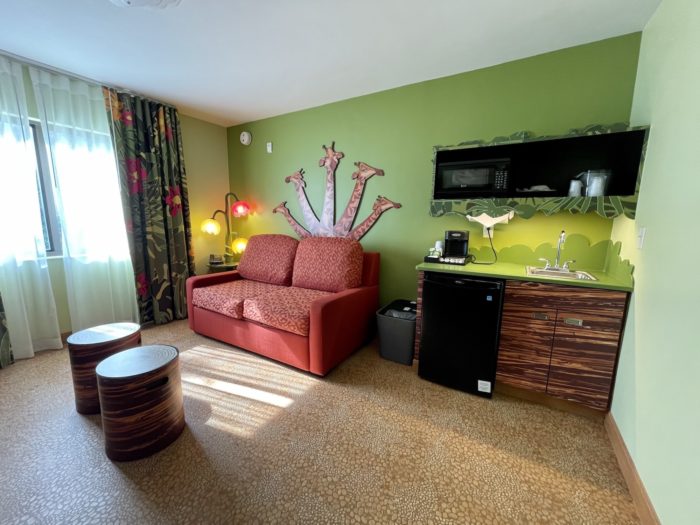 The living room offers a ton of space and is a surprising 13 ft. 8 in x 11 ft. x 10 in. In addition, the kitchenette includes a microwave, mini-fridge, coffee maker, and more.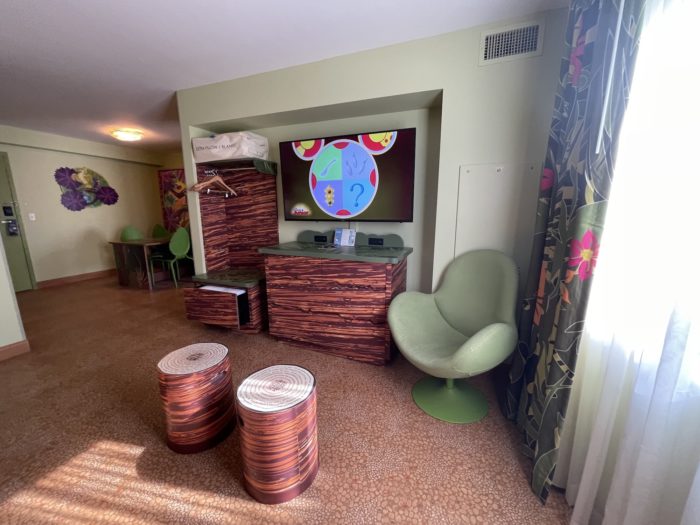 There's also a dresser, television, plenty of USB outlets, and a storage area with additional drawer space and a place to hang up items.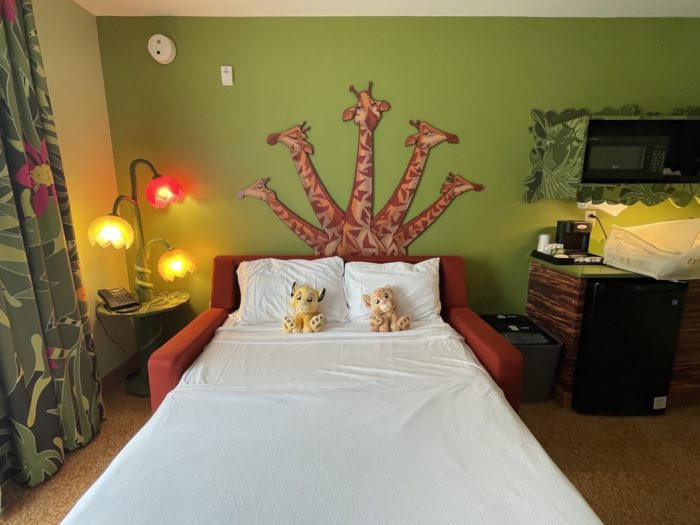 We also took several light meter readings in the room with the blackout curtains closed:
Kitchenette 792
Sofa 34.5
Center of table with chairs 84.3
Vanity in bathroom with tub 68.2
Primary nightstand 263
Pillow in primary bedroom 51.3
Vanity in bathroom with shower (primary) 115.4
Disney's Art of Animation Resort Amenities
Laundry Facilities
Disney's Art of Animation has a laundry room at each of their pools that can be accessed by MagicBand or your room key.
Dog-Friendly Accommodations
This resort is among the few at Walt Disney World offering dog-friendly accommodations. There is a limit of 2 dogs per room plus an additional fee.
Art of Animation Pools & Recreation
Disney's Art of Animation is home to 3 pools that all Art of Animation guests has access to. One of those pools, however, just happens to be the largest hotel pool at Walt Disney World! At each pool, lifeguards are on duty and towels are available to guests.
The Big Blue Pool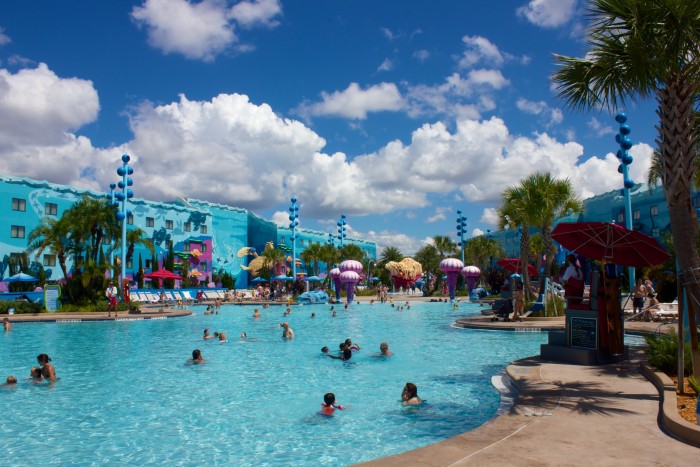 The Finding Nemo
-themed pool sits just behind Animation Hall and has the distinction of being the single largest hotel pool at Disney World! Open from 10 a.m. – 11 p.m. with a capacity of 250 guests, The Big Blue Pool is a zero-entry and 4 ft. 11 in. at its deepest point.
Flippin' Fins Pool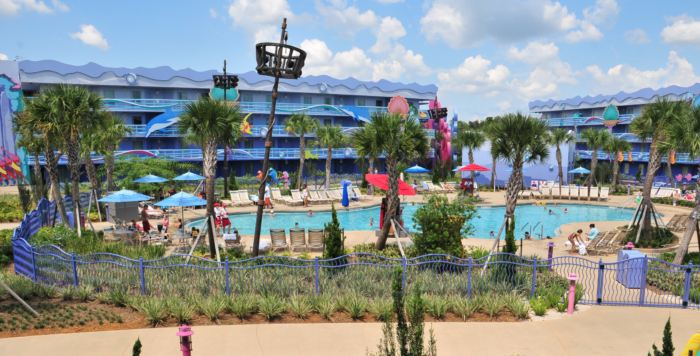 The Little Mermaid area pool sits the farthest away from the other resort's main building and other pool areas and is open from 10 a.m. – 11 p.m. with a capacity of 115 guests. The pool is only 4 ft. 11 in. at its deepest point.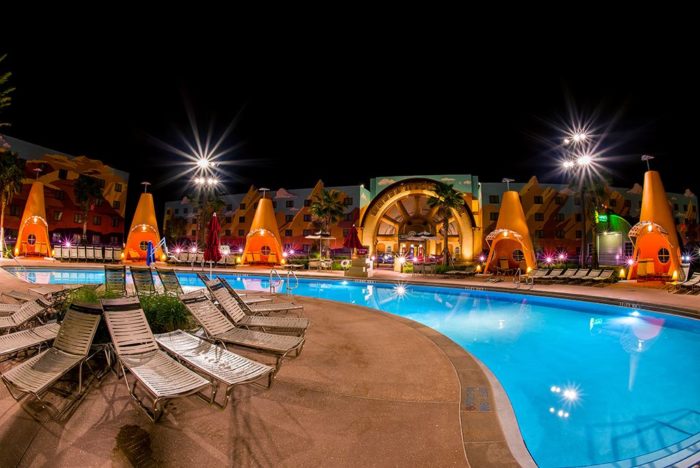 The Cars-themed pool is open from 10 a.m. – 11 p.m. with a capacity of 83 guests. The private cabanas surrounding the pool are designed to look like cones, just like what guests see in the Cars film.
Schoolyard Sprayground
This splash-area next to The Big Blue Pool features Finding Nemo characters and water jets for little ones and is open from 10 a.m. – 11 p.m. with a capacity of 80 guests.
Squirt's Righteous Reef Playground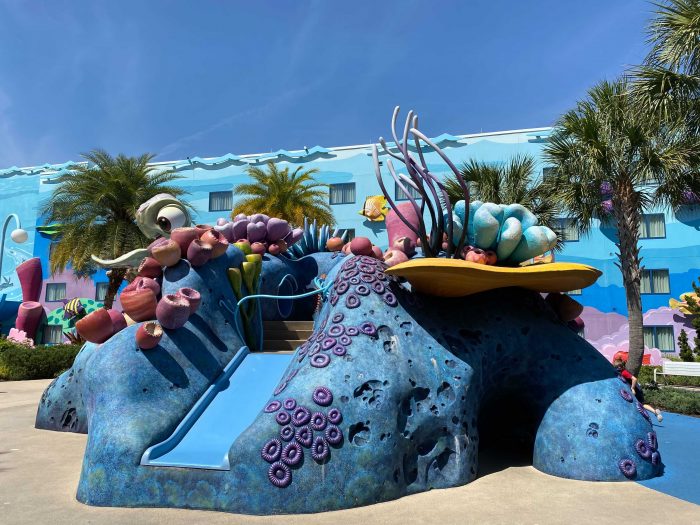 This playground located by the Finding Nemo-themed Big Blue Pool is for kids ages 5 – 12 with a capacity of 10 guests.
Movies Under the Stars
Outdoor movies are free to watch on this grassy area between The Lion King building and The Finding Nemo building.
Pixel Play Arcade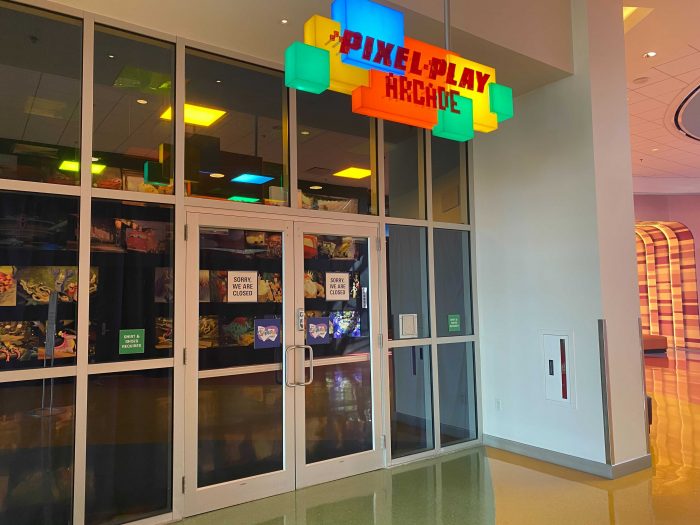 Inside Animation Hall, guests young and old can check out a variety of arcade games at the Pixel Play Arcade.
Jogging Trail
For those looking to walk or run during their stay, Art of Animation has a 1.38-mile trail that curves along Hourglass Lake.
Disney's Art of Animation Resort Transportation
Now let's talk about getting around Disney's Art of Animation Resort!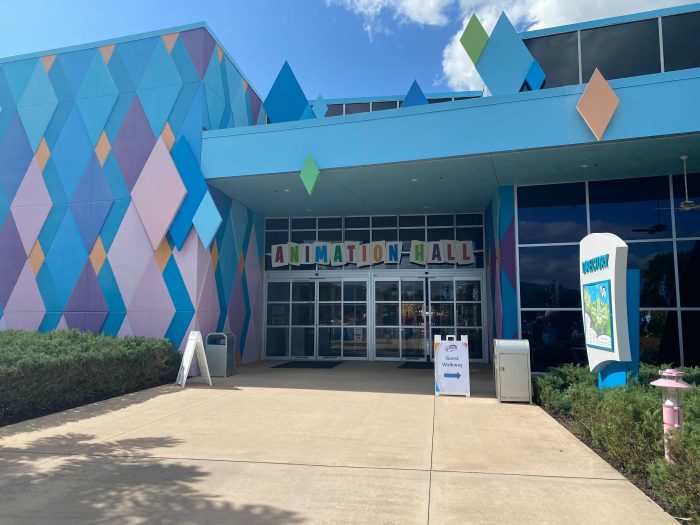 The Finding Nemo wing sits directly behind Animation Hall with both the Cars and The Lion King wing flanking either side. The Little Mermaid wing, however, requires a bit of a walk and is definitely the farthest area away from the resort's main area.
For reference, Chrissy's Lion King suite located in Building 10 was about a 1 minute and 12-second walk to Animation Hall. The bus stop took a little longer at 2 minutes and 4 seconds with the Skyliner entrance taking the longest at 4 minutes and 24 seconds.
Resort Bus Transportation
There is only one bus stop at Art of Animation which is located outside of Animation Hall. Guests relying on Disney's free transportation will need to use the bus transportation to reach Disney's Animal Kingdom, Magic Kingdom, Disney Springs, and water parks.
Skyliner Transportation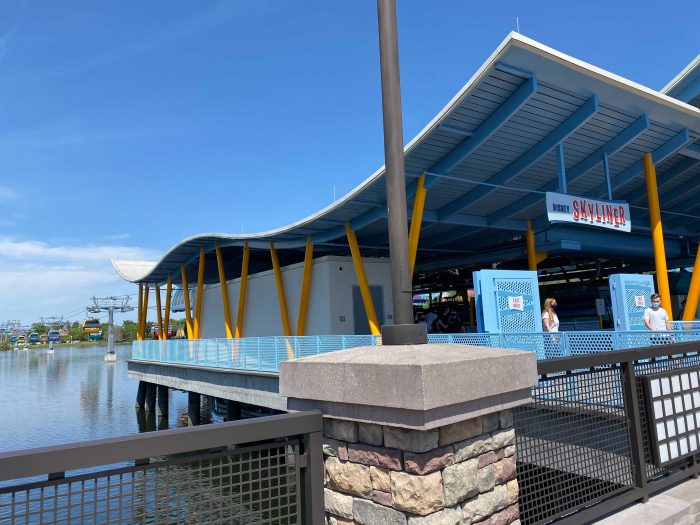 One of the resort's newer perks is that it shares a Skyliner station with Disney's Pop Century Resort which guests can ride to reach EPCOT, Disney's Hollywood Studios, and other Disney Resorts with Skyliner access.
Dining at Disney's Art of Animation Resort
Like other Value Resorts, Art of Animation's dining options is limited to the Landscape of Flavors food court and The Drop Off pool bar.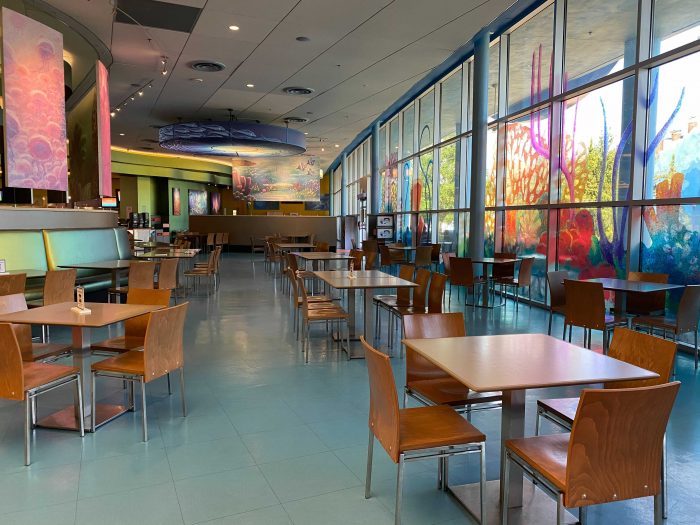 Landscape of Flavors is open for breakfast, lunch, and dinner and has long been known for offering some of the best food out of all the value resorts, although post-reopening the menu has been "standardized" to be similar to all Value resorts.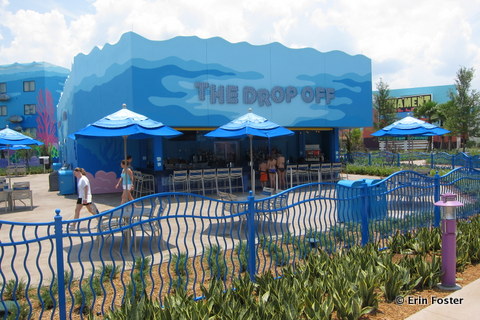 The Drop Off sits near The Big Blue Pool and even has a few snacks in addition to its drink menu.
What are your thoughts on Disney's Art of Animation Resort? Let us know in the comments!