Disney's Beach Club Resort – Room Review
With over 20+ resorts to choose from at Walt Disney World, choosing your home away from home at the most magical place on earth can be a little overwhelming. To make the decision process a little easier, and to guarantee that you're fully informed, we're covering what you need to know about Disney's Beach Club Resort!
Disney's Beach Club Resort – The Basics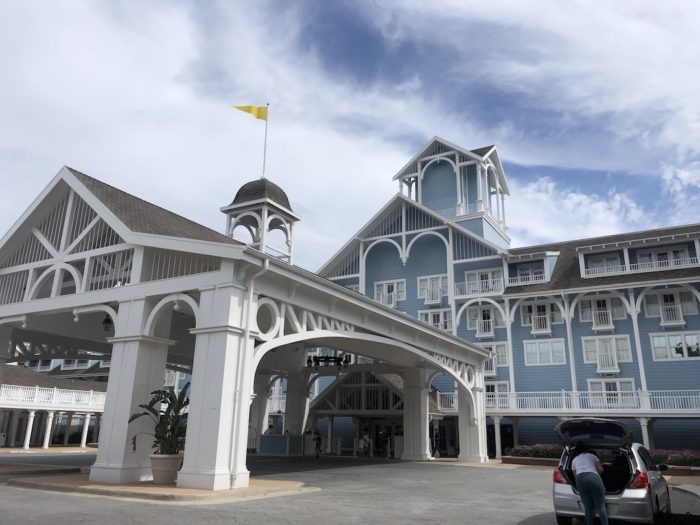 Disney's Beach Club Resort is a Deluxe resort conveniently located next to EPCOT and only a stroll, boat ride, or Skyliner ride away from Disney's Hollywood Studios.
This breezy, vintage seaside resort offers 576 guest rooms in addition to 282 studio and one and two-bedroom Disney Vacation Club Villas.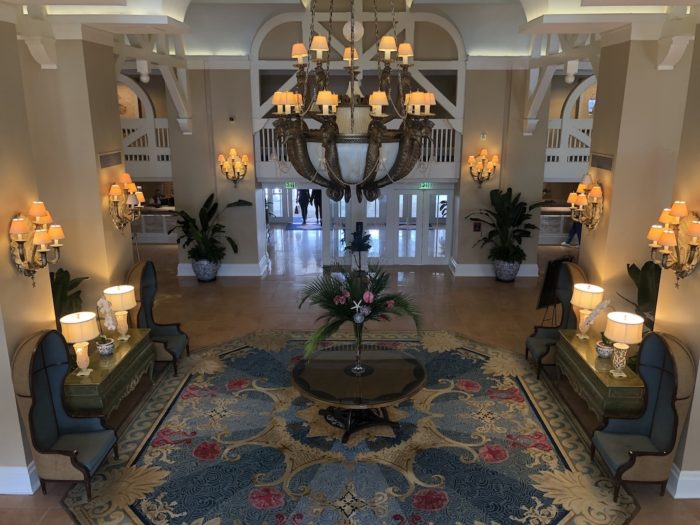 The lobby is smaller than other Deluxe resorts like the Grand Floridian or Animal Kingdom Lodge, but with seahorse and seashell-inspired accents, lots of light, and a fresh, ocean-y smell that has inspired fan-made candles and air fresheners.
The Beach Club consists of a long main building with several blue and white clapboard-covered wings worthy of a vintage postcard. Also, unlike other Disney resorts, this Deluxe has a sister resort right next door: the Yacht Club.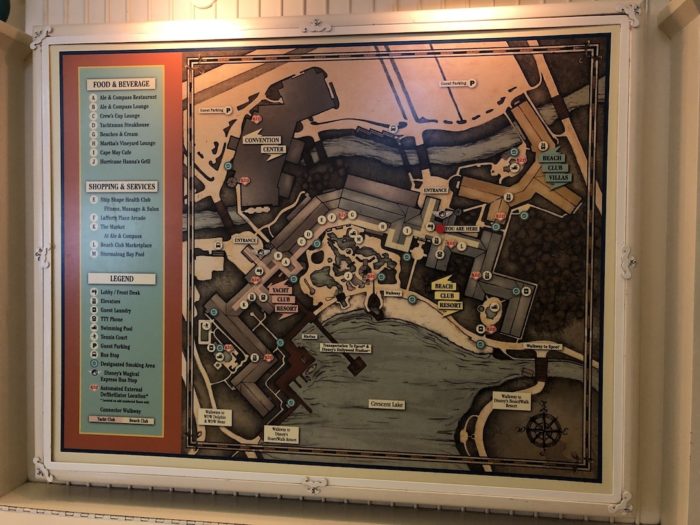 Looking at the resort from Crescent Lake, the Beach Club adjoins the Yacht Club on the left and spreads toward Epcot on the right. The main building and the various wings range from three to five stories. Most rooms have balconies or, on the ground floor, patios.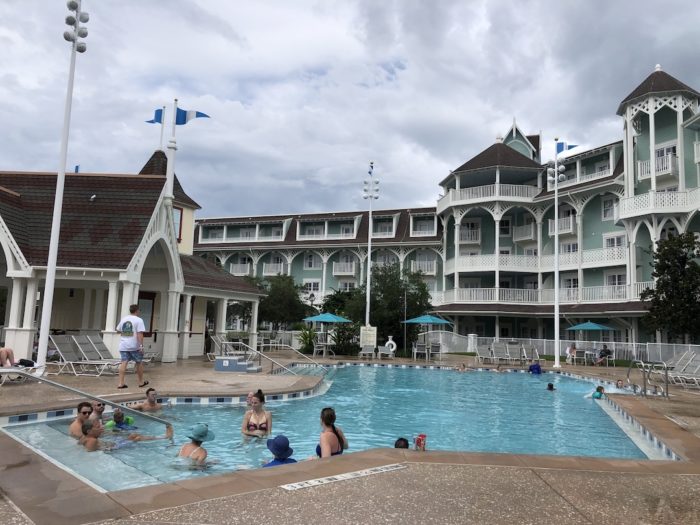 The Beach Club Resort shares restaurants, pools, and other amenities with the Yacht Club Resort and Beach Club Villas. A small business center serves guests' work needs for both the Yacht and Beach Clubs and Beach Club Villas.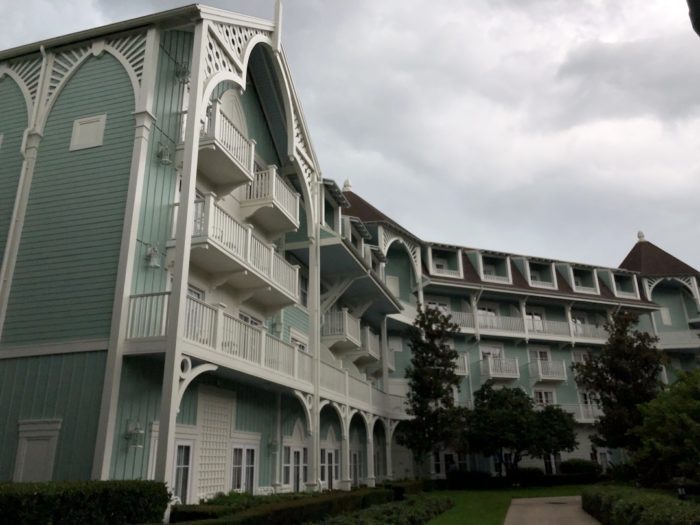 The grounds are also conveniently located adjacent to the Swan and Dolphin Resort, and just across the waters of Crescent Lake from Disney's Boardwalk Resort.
Our Beach Club Resort Room
On a recent stay, our team stayed at the Beach Club in room 3609.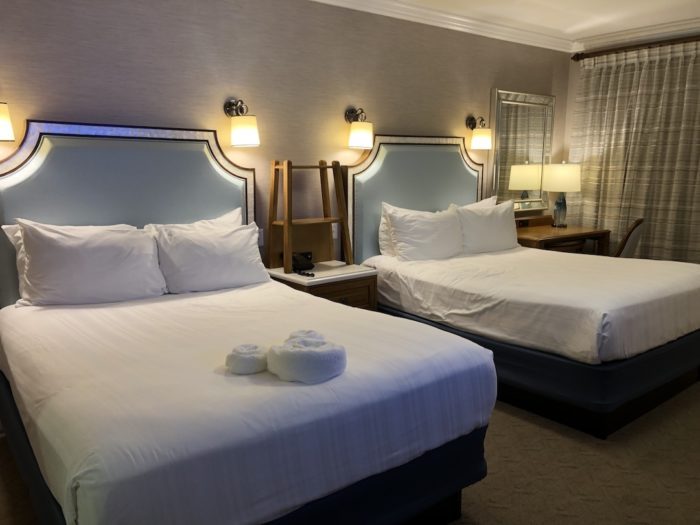 Since this is a TouringPlans review, you know we got measurements! So room 3609 measured 13′ wide and 29'7″ long and was furnished with the following:
Two queen beds
Dresser with 4 small-size drawers
Table with 2 chairs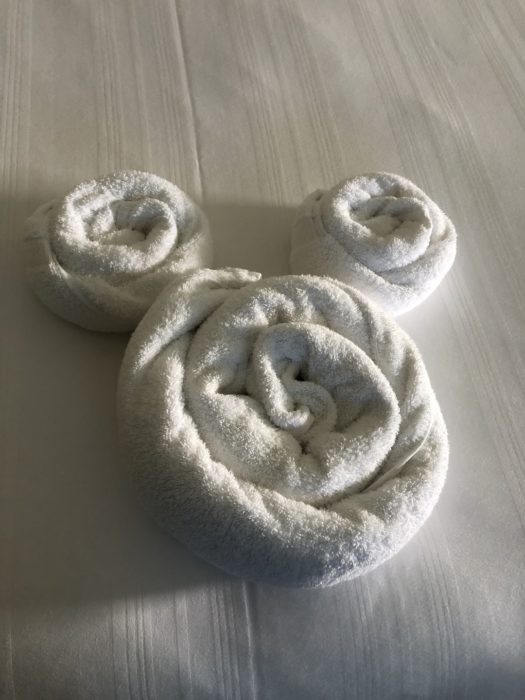 The bedding was clean and appeared in good condition; and as in the current Disney resort convention, the bedspread is basically a flat sheet. The material and age is unknown.
The duvet was also in good condition and made of warm fleece and 100% spun polyester.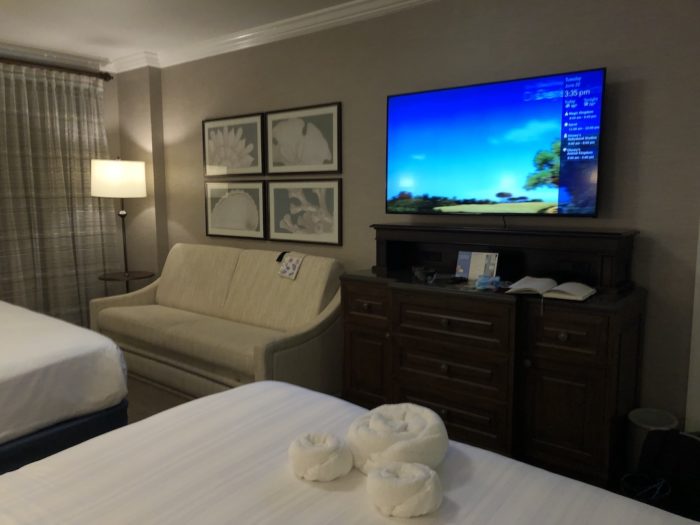 The room includes a 53″ flat-panel mounted television. A/V outlets are accessible.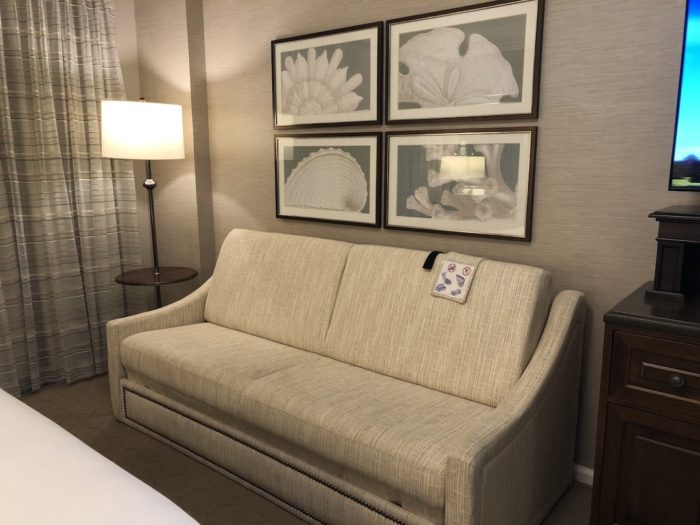 The sofa folds down into a twin bed and includes visible instructions for how to do so.
Now let's talk curtains for those looking to avoid that Florida sunshine in the morning hours. The Beach Club's are double-layered, although they don't completely overlap. The amount of light coming through was measured at 1989 lux.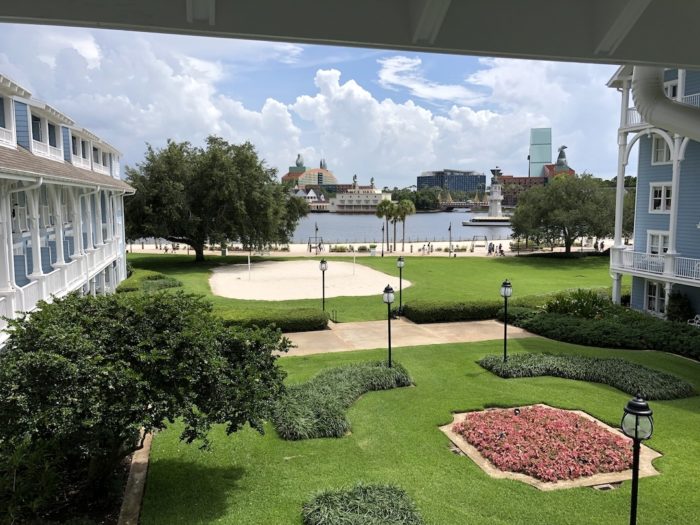 If you were to open those curtains, here's a look at room 3609's view of Crescent Lake, the Boardwalk, and the Swan and Dolphin Resort.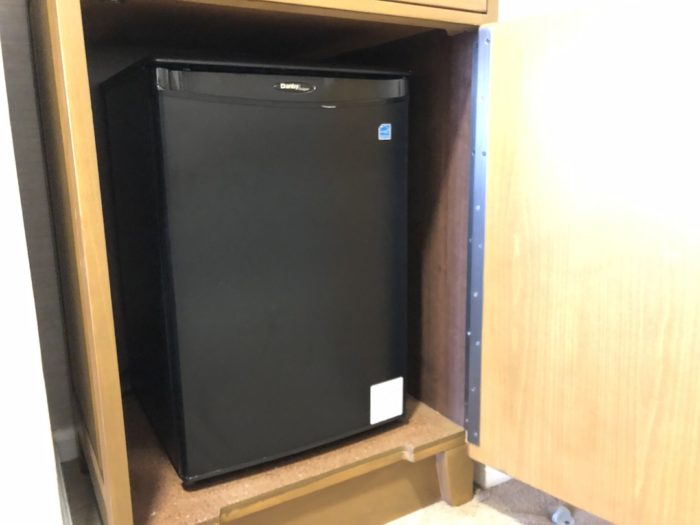 The room's mini-fridge is 21 1/2 in. tall, 16 1/2 in. wide, and 13 in. deep. There is no separate freezer.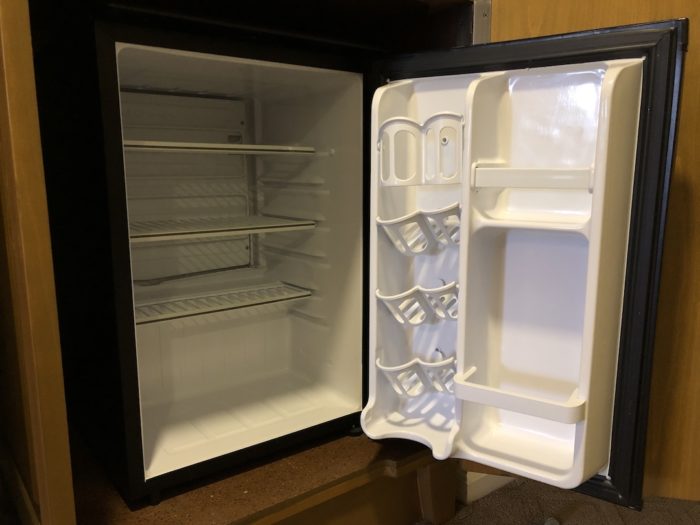 In addition, the room comes with a Keurig coffee maker and the following:
3 Joffrey's French roast coffee pods
3 Joffrey's French roast decaf coffee pods
1 Twinings green tea pod
1 Twinings English breakfast black tea pod
4 Coffee-Mate creamers
Regular sugar Sweet'n Low packets
Wooden coffee stirrers
4 paper coffee cups with lids
5 plastic lids
1 ice bucket.
Lastly, since we all need to charge up our phones, laptops, tablets, camera equipment, and the like, the room is equipped with 10 standard outlets and 8 USB ports.
Now, let's get to the bathroom, shall we?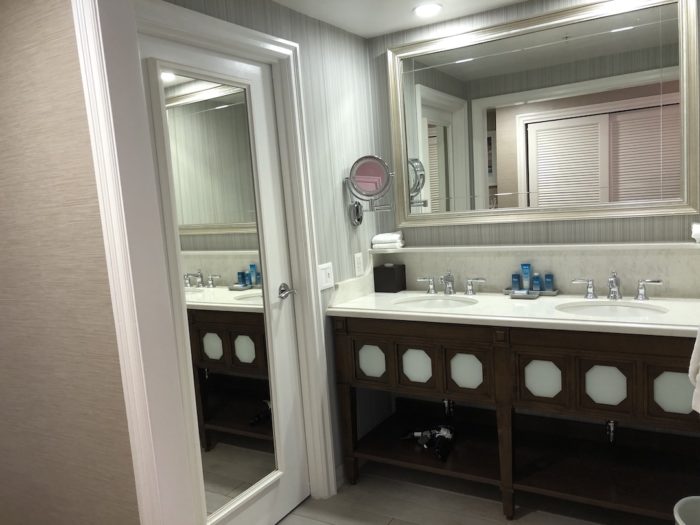 The spacious, marble vanity measures 5'4″ long and 3'4″ wide and, thankfully, has double sinks! Along with the large mirror over the counter, and a smaller, magnifying mirror mounted to the wall, there's a full-length mirror on the door as well.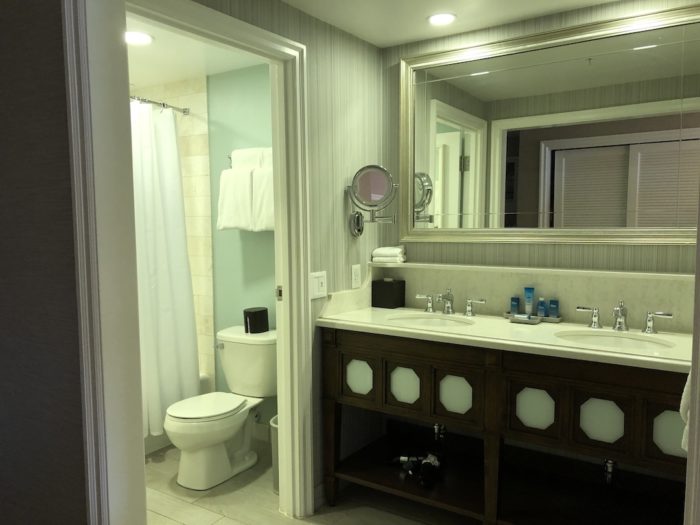 For those wanting to know about the location of those outlets, there is one next to the sink and under that mounted magnifying mirror. A hairdryer is provided.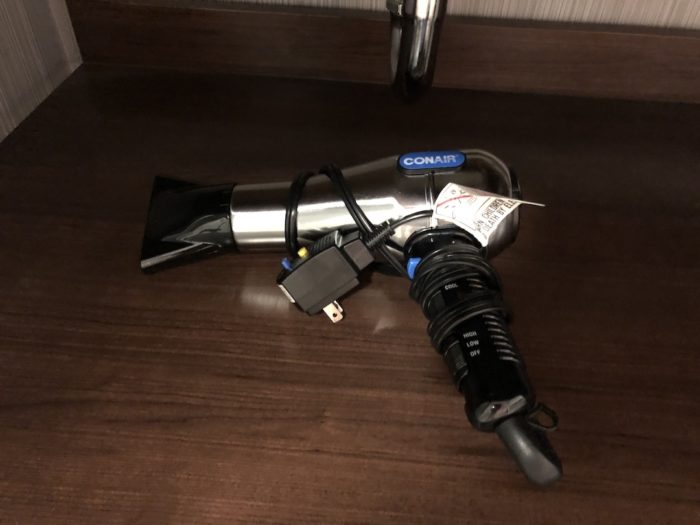 In addition to Disney's samples of H20+ shampoo, conditioner, body wash, and bar soap (in individual bottles – not mounted pumps!), guests also are also provided with a complimentary vanity kit, mouthwash, and facial soap.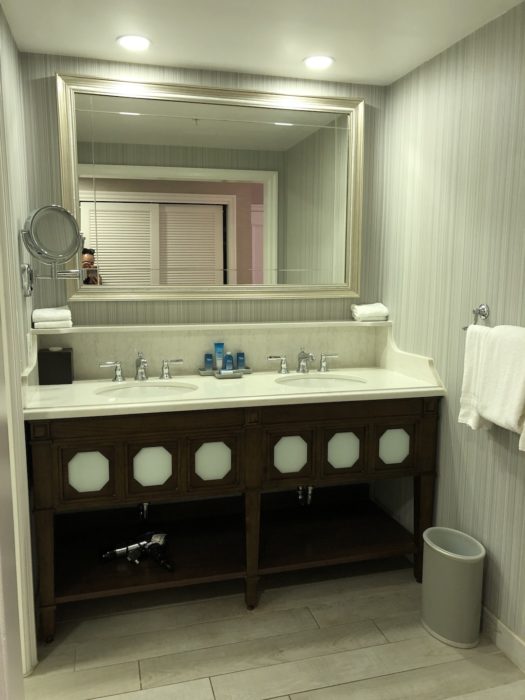 The bathroom itself measures 4'4″ wide and 3'7″ long.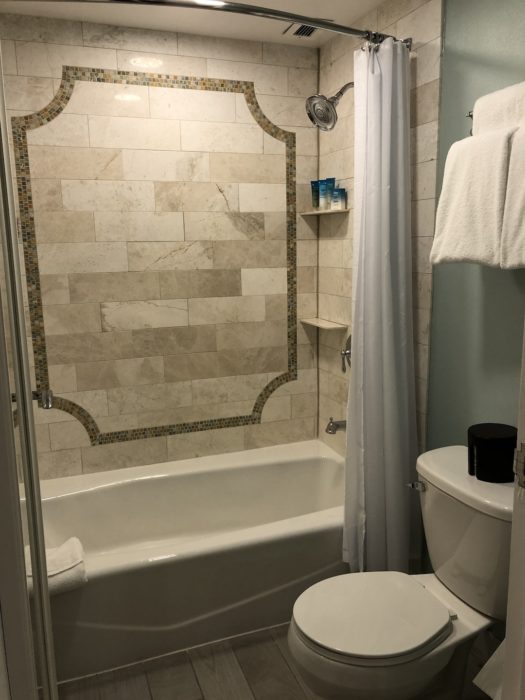 The tub is 4'6″ long and 24 inches wide and is fully tiled around the perimeter.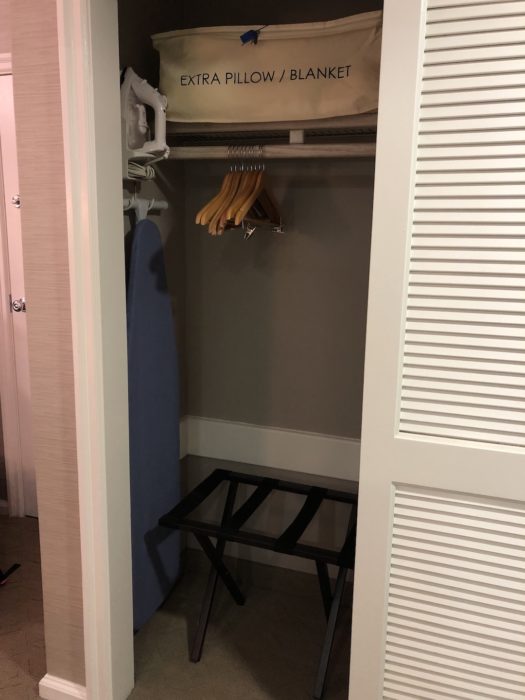 Across from the bathroom, the closet contains a luggage rack, an extra pillow and blanket for the fold-out couch, hangers, an iron and ironing board and a 5 in. in-room safe.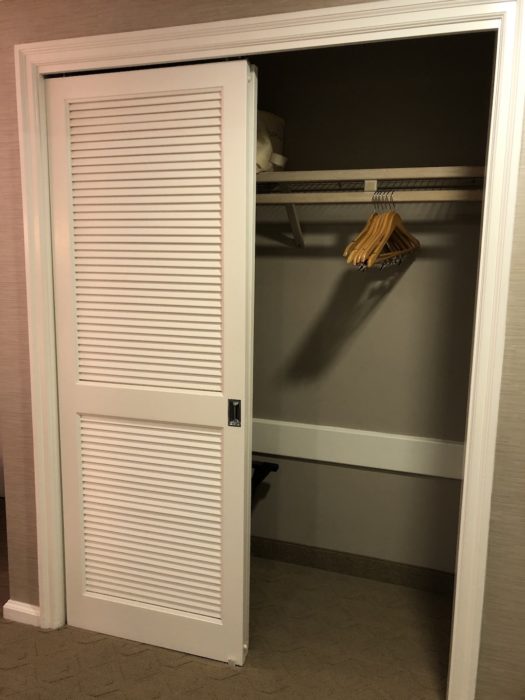 It's also surprisingly spacious measuring 5'2″ in length and 22 in wide.
We also took several light measurements in the room:
Desk 155 lux
Bed 146 lux
Vanity 145 lux
In addition, for light sleepers, we took a few sound measurements too:
Baseline measurement with just the A/C on high – 46 decibels
Decibels in the room with 70 decibels outside – 40 to 46 decibels
Disney's Beach Club Resort Amenities
Laundry Facilities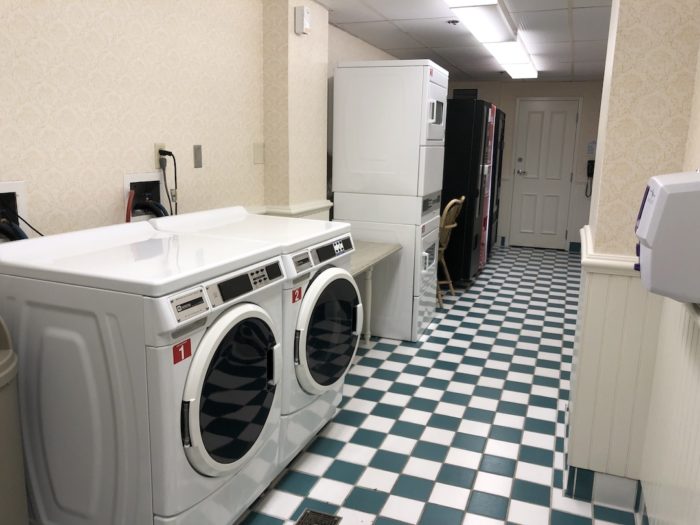 Disney's Beach Club provides 24-hour self-service laundry rooms near Tidal Pool, plus dry cleaning and valet laundry services.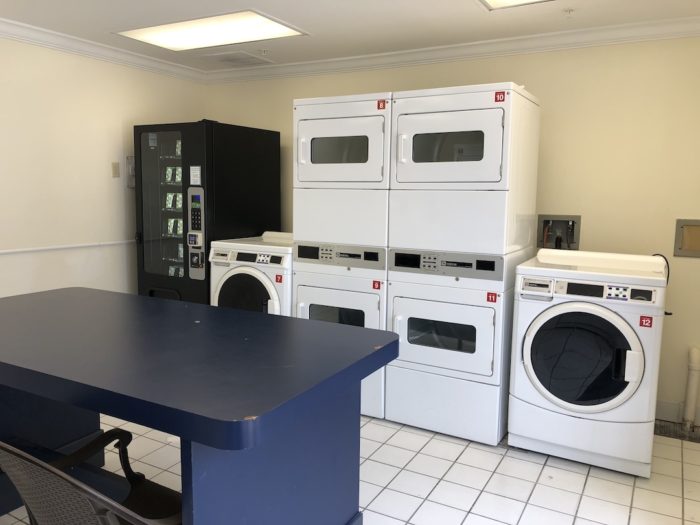 Here's how guests can pay for the laundry services and get supplies if they didn't bring their own.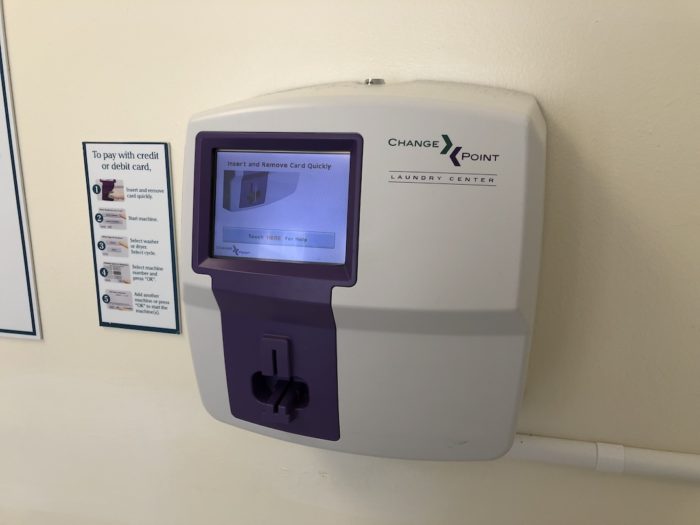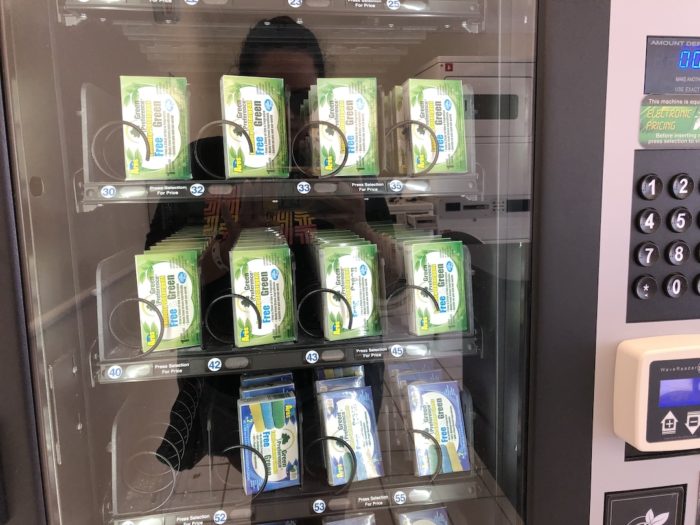 Resort Concierge
The Beach Club's concierge is where you can buy tickets, make dining reservations, get recommendations, and more. Guests staying in Club Level rooms can also enjoy personalized concierge service, advance itinerary-planning assistance and complimentary refreshments throughout the day.
Gym, Spa, & Salon Services
At Ship Shape Massage Salon Fitness, guests can take advantage of this full-service facility to utilize the gym equipment, enjoy a massage or facial, or hairstyling and nail services for men, women, and children.
Disney's Beach Club Resort Pools & Recreation
For those looking to relax instead of splash, the Beach Club and Yacht Club share three leisure pools. Although, they're most famous for their epic and arguably most popular pool areas in all of Walt Disney World – Stormalong Bay.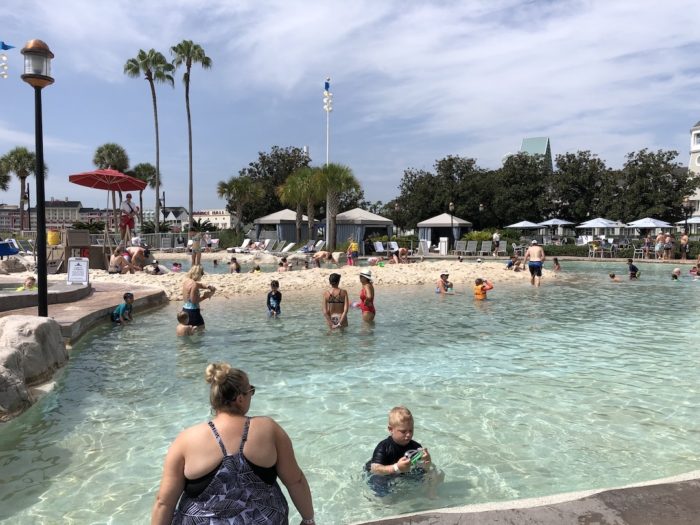 Stormalong Bay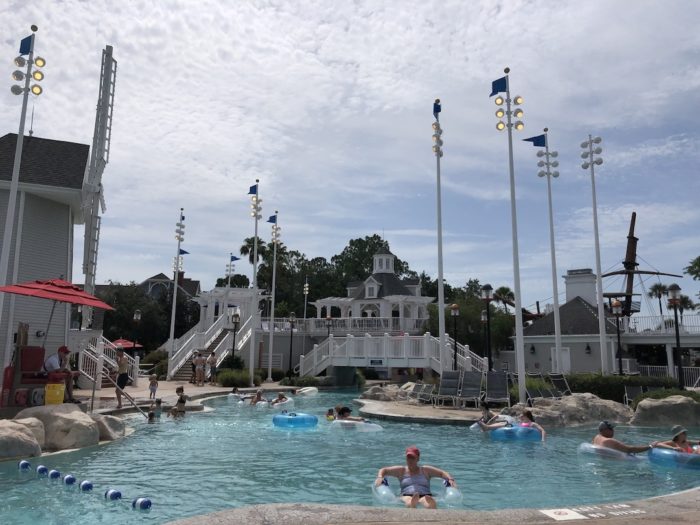 Instead of a just pool, Stormalong Bay offers 3 acres of sand-bottom pools, a mini-lazy river, 3 whirlpool spas.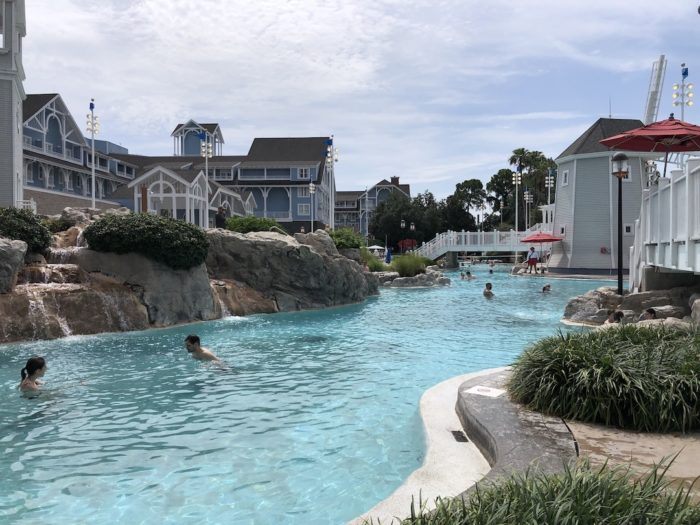 Plus, there's a 230-foot-long waterslide resembling the mast of a life-sized shipwreck!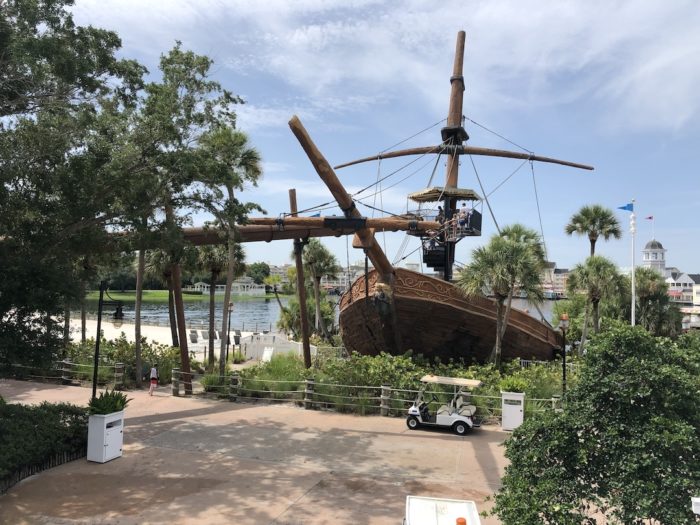 Leisure Pools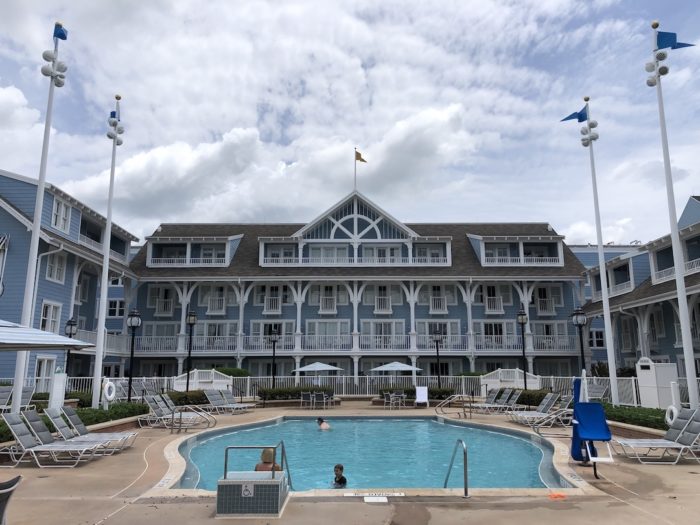 Those leisure pools consist of the Beach Club's 43,000-gallon Tidal pool that faces Crescent Lake, the Yacht Club's Admiral pool, and the Dunes Cove pool at Disney's Beach Club Villas, which are available to all resort guests. Also, all leisure pools offer whirlpool spas.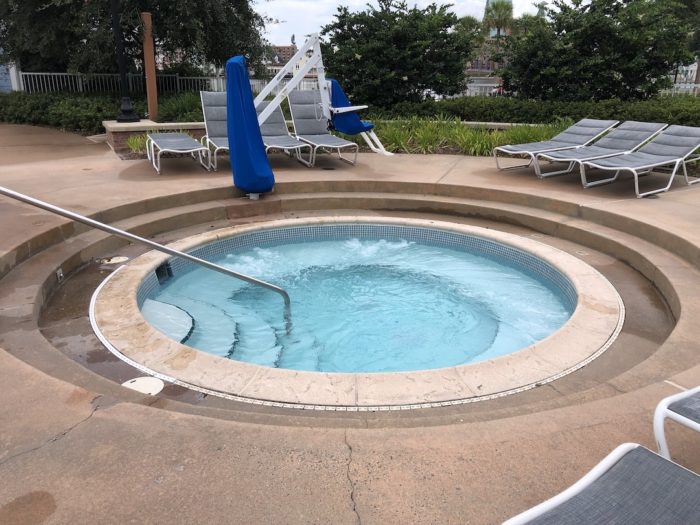 Movies Under the Stars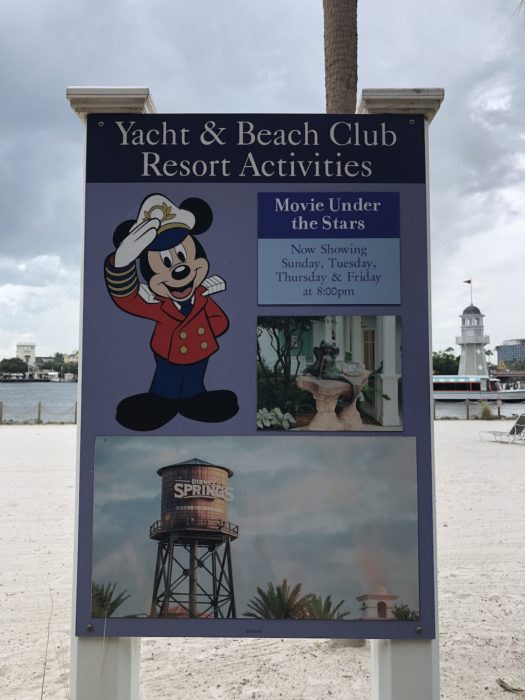 Outdoor movies are free to watch via a giant screen on the resort grounds. Check with the resort for the nightly schedule.
Lafferty Place Arcade
Near Stormalong Bay, guests young and old can check out a variety of arcade games at the Lafferty Place Arcade.
Jogging
For those looking to walk or run during their stay, Beach Club has several jogging trailers, including a loop around Crescent Lake.
Athletics
Enjoy some beach volleyball at the Beach Club near the Tidal Pool or play some tennis on the court near the Admiral Pool.
Resort Activities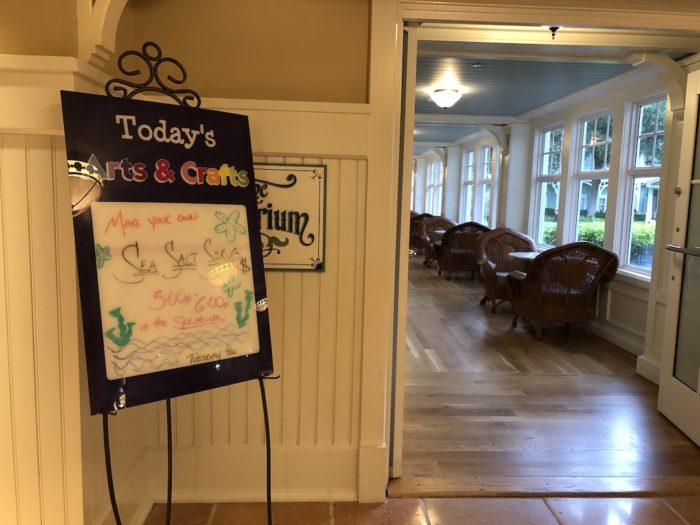 For little ones and adults enjoying a resort day, be sure to check out the posted resort activities. These range from arts and crafts to trivia to even towel animal tutorials.
Boating & Fishing
The Beach Club not only offers boat rentals from Bayside Marina, but also guided fishing excursions for rookies and pros.
Campfire
After sunset, guests can enjoy an old-fashioned campfire and roast marshmallows!
Disney's Beach Club Resort Transportation
Let's talk about getting around Disney's Beach Club Resort!
Parking
Guests looking to drive themselves should know that standard overnight self-parking is available to registered guests. However, it's no longer free. Instead, a fee will be applied to a guest's hotel folio upon check-out and includes tax.
Parking at Disney Deluxe Resorts is $25 per night
Valet parking is $33 per night.
Self-parking is complimentary for guests who aren't staying at the resort but enjoying select dining, shopping, entertainment, and recreation.
Skyliner Transportation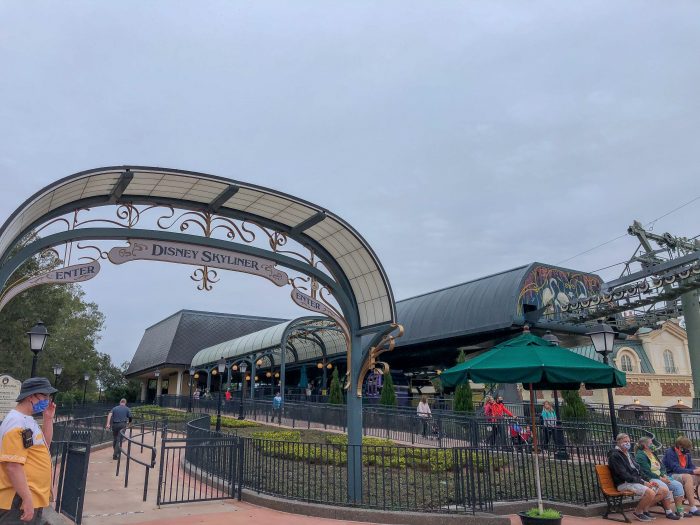 One of the resort's newer perks is that a Skyliner station is right next door allowing guests a ride in the sky to Disney's Hollywood Studios or other Skyliner resorts.
Walking
Since EPCOT is literally next door to the resort, guests can easily access this park through the International Gateway (EPCOT's "back door" into the park's World Showcase) within minutes. There's also a walking path to Disney's Hollywood Studios; and, again, the Boardwalk, Yacht Club, and Swan and Dolphin Resort are steps away.
Disney Bus Transportation
Disney's Beach Club Resort bus stop can be found across the canal and between the entrance to the resort and the convention center.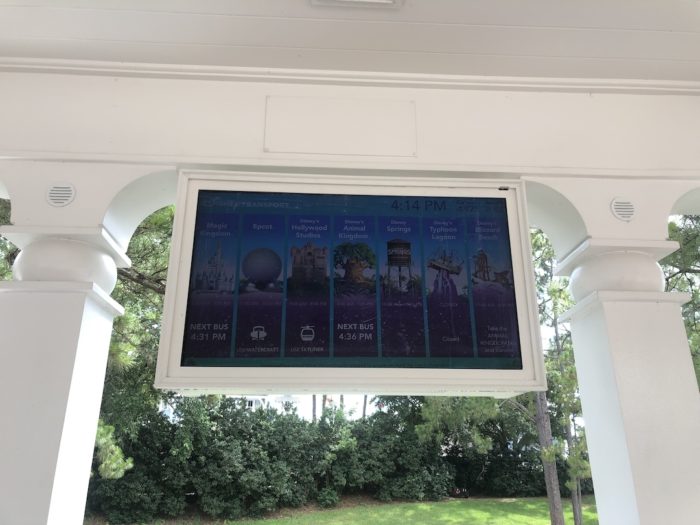 Disney buses are how guests reach Disney's Magic Kingdom, Disney Springs, Disney's Animal Kingdom, and the water parks.
Dining at Disney's Beach Club Resort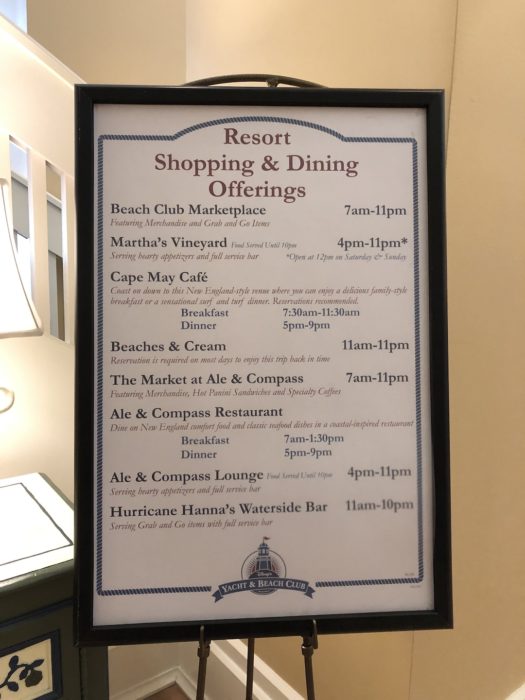 The Beach Club Marketplace
For something quick and on-the-go, the Beach Club Marketplace serves snacks, drinks, and hot and cold items.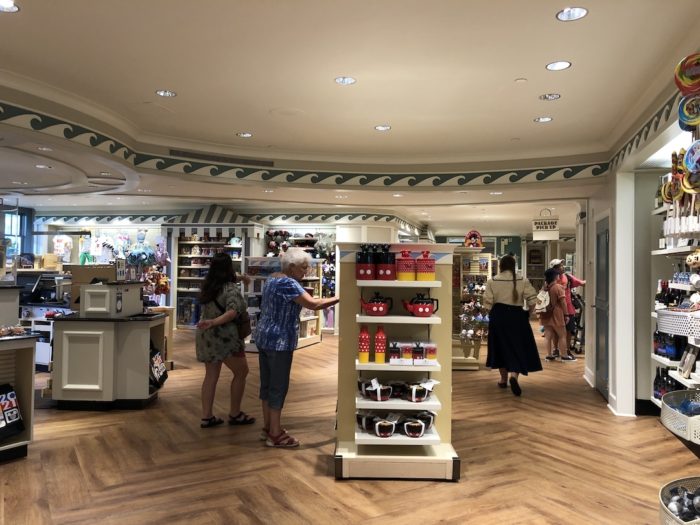 This is also connected to the resort's gift shop meaning you can find sundries and personal care items, as well as souvenirs and resort merch.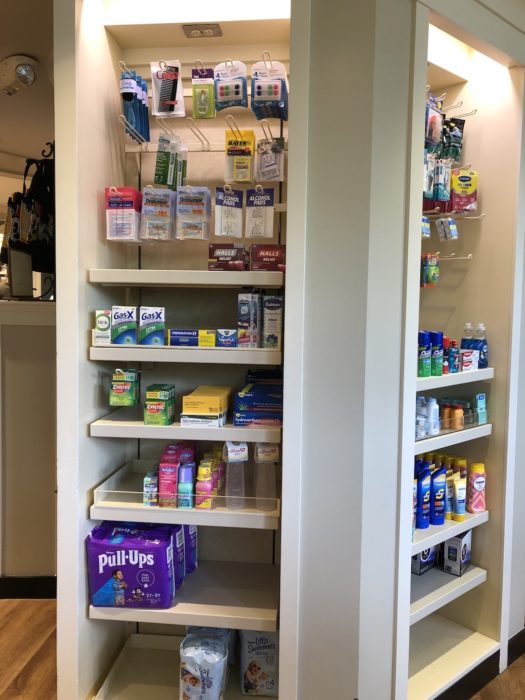 Hurricane Hanna's Waterside Bar & Grill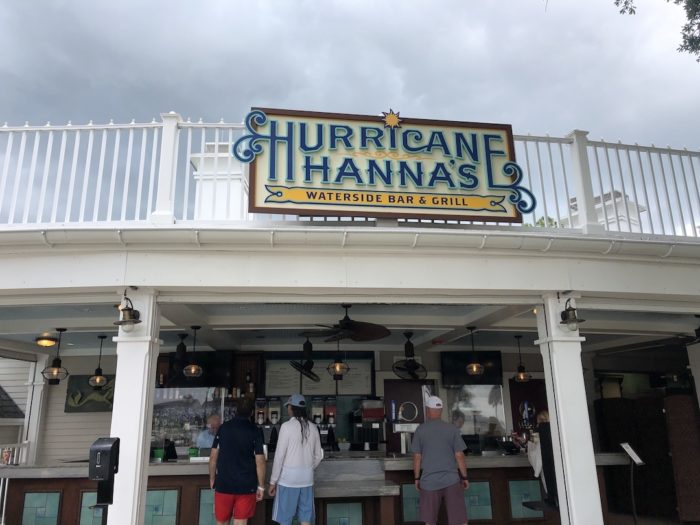 Located by Stormalong Bay, guests can enjoy pool bar fare in addition to drinks.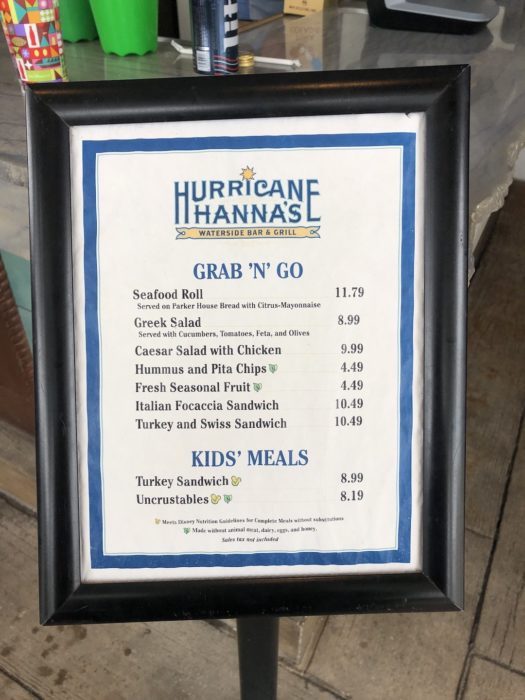 Cape May Cafe
Open for breakfast and dinner, this format buffet/character meal is currently offering a modified experience.
Beaches and Cream Soda Shop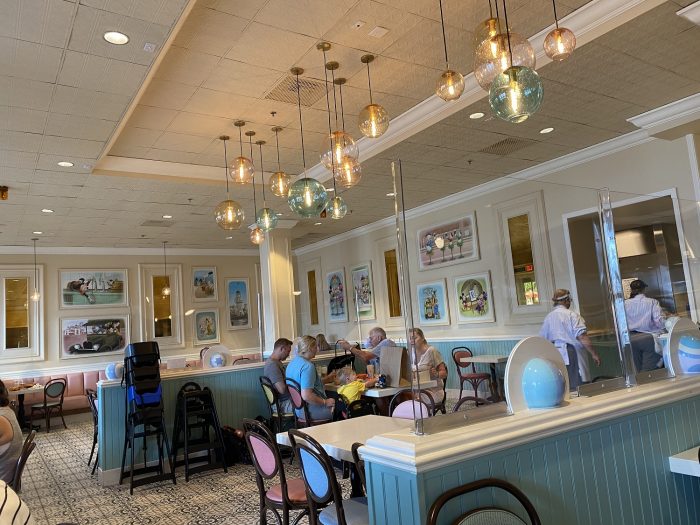 This old-fashioned soda shop has long been a Disney World favorite and is famous for its shareable Kitchen Sink dessert.
Martha's Vineyard
This New England-inspired lounge is open in the evenings serving drinks and appetizers.
What are your thoughts on Disney's Beach Club Resort? Let us know in the comments!