Disney's Wilderness Lodge Resort – Room Review
With over 20 resorts to choose from at Walt Disney World, choosing your home away from home at the most magical place on earth can be a little overwhelming. To make the decision process a little easier, and to guarantee that you're fully informed, we're covering what you need to know about the accommodations at Disney's Wilderness Lodge Resort.
Disney's Wilderness Lodge – The Basics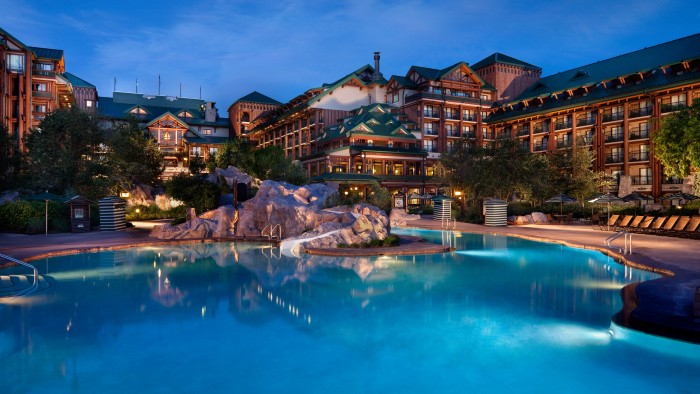 Disney's Wilderness Lodge is a Magic Kingdom resort located on the shores of Bay Lake and next to Disney's Fort Wilderness Resort and Campground.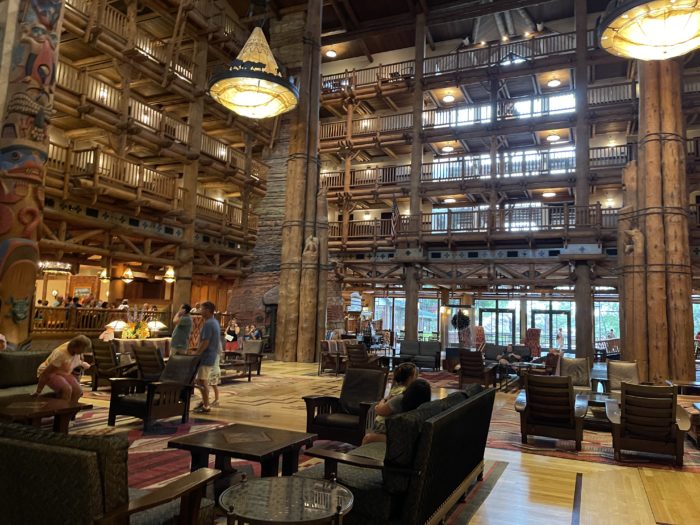 This resort is inspired by turn-of-the-century National Park lodges and features one of the most impressive lobbies in all of Walt Disney World complete with multiple fireplaces, an indoor bubbling spring, towering totems, and massive chandeliers.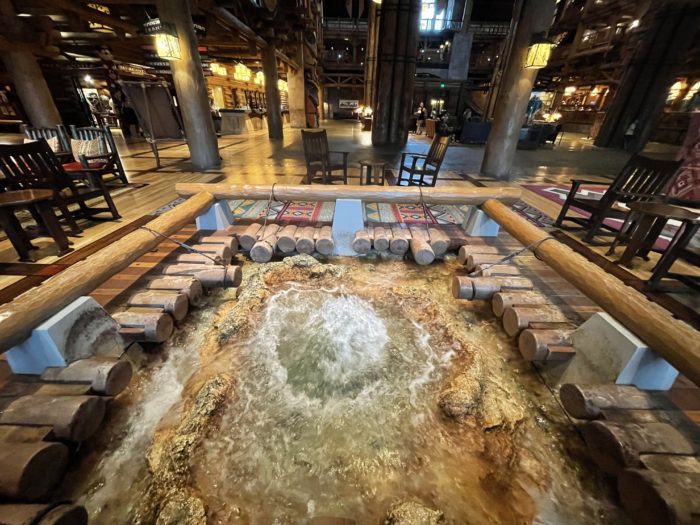 Wilderness Lodge technically offers three different options for accommodations. In addition to the resort's standard guest rooms, Disney Vacation Club (DVC) has TWO different wings of villas at Wilderness Lodge: Boulder Ridge and Copper Creek.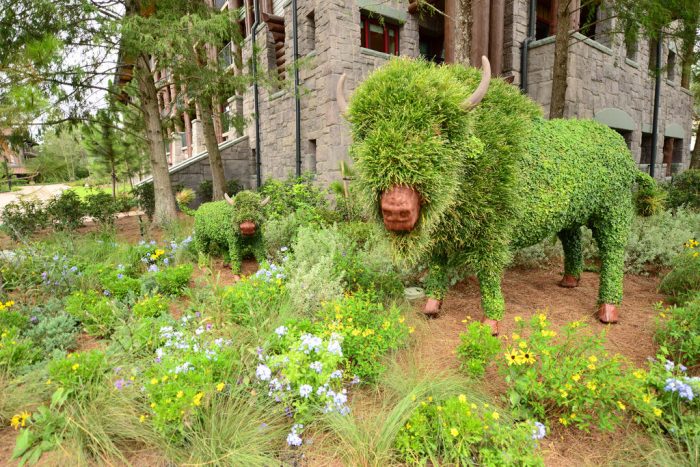 Boulder Ridge is housed in its own separate, albeit attached, building with a bonus lobby that's totally worth checking out.
Most of the Copper Creek Villas are housed inside of the resort's main building, but they also include the luxurious, two-bedroom, waterfront cabins!
Our Wilderness Lodge Resort Room
During a July stay at Disney's Wilderness Lodge, our team stayed in Room 2008 with a King Bed and Nature View in the resort's main building.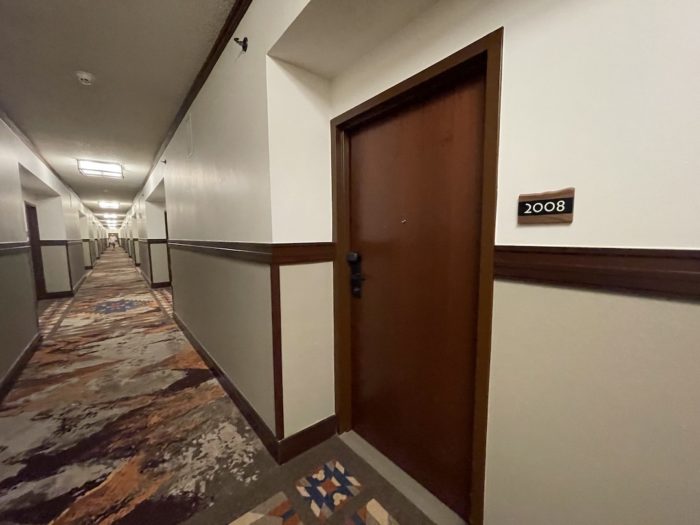 Wilderness Lodge's 727 guest rooms are smaller than that of other Magic Kingdom resorts like the Contemporary, Grand Floridian, and Polynesian.
We measured Room 2008 at 26ft 10 in long x 11 ft wide.
On the left-hand side of the entryway is the sliding bathroom door covered with a full-length mirror measuring 5ft 9 in long x 3ft 2in.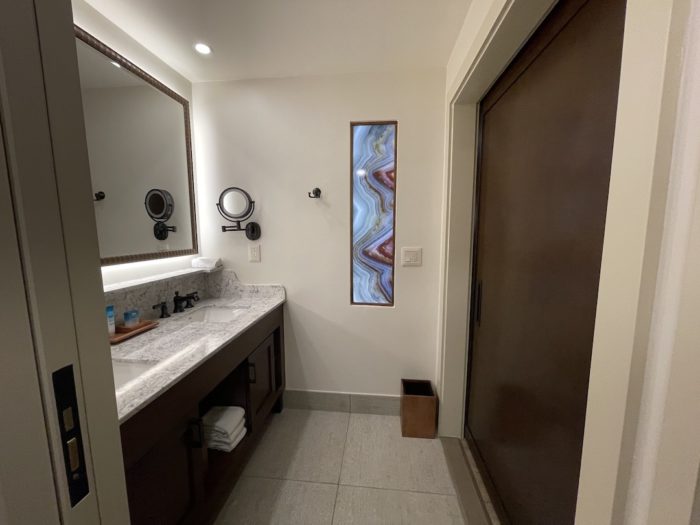 Here's a perspective of the room's vanity area, and its size, while standing in the space dedicated to the shower/toilet.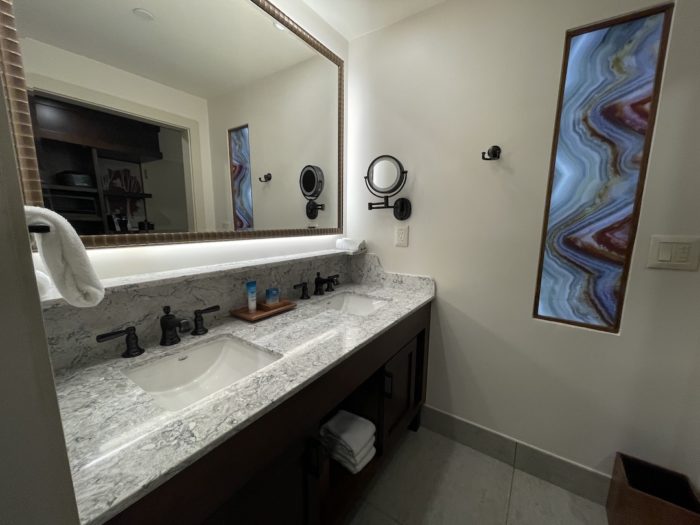 There's a narrow shelf and full mirror over the vanity's double sinks, as well as a hand towel rack on the left wall and a grooming mirror with light on the right.
The stained glass/art panel resembling the inside of a geode that can be seen from the main room as well.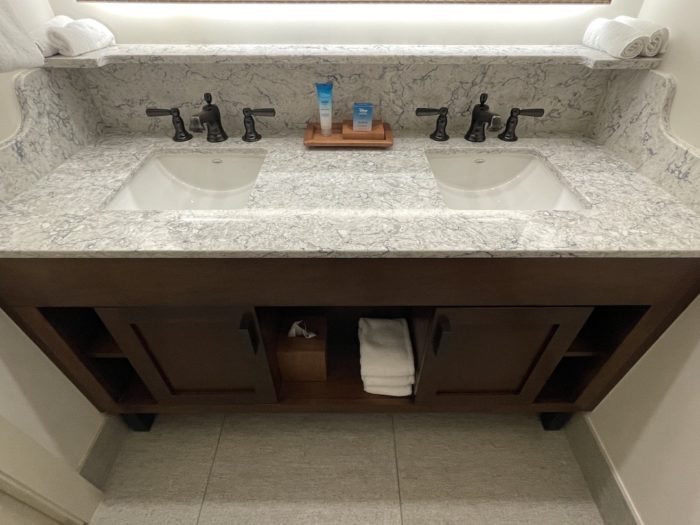 Here's another view of the vanity and its storage. The vanity counter itself measured 5ft long x 2ft wide.
The entire space from the edge of the cabinet to the door (a.k.a. walking space, not wall to wall) measured 5ft long x 3ft 6in wide.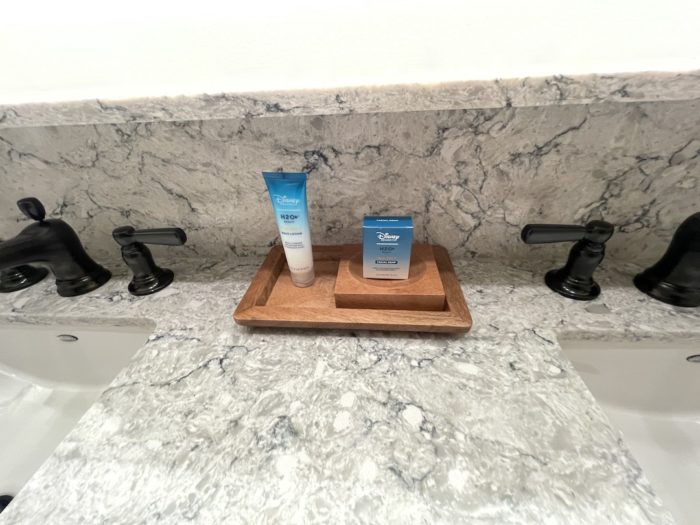 Many Disney guests will be happy to note Disney's H20 lotion and soap still come in individual bottles!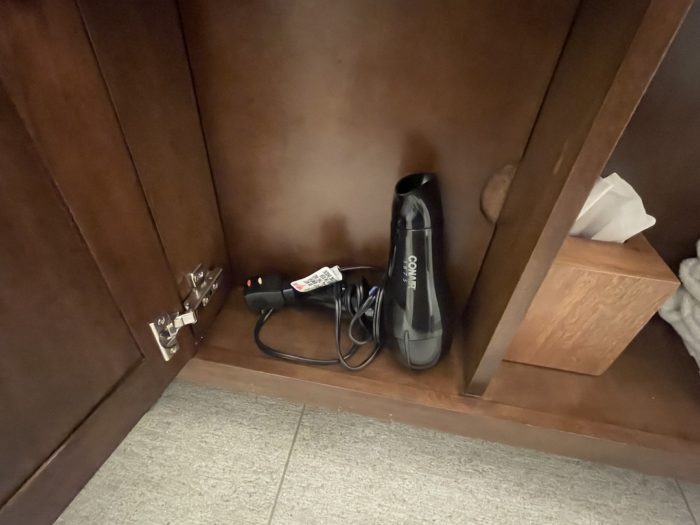 The provided hairdryer is a Conair 1875.
The cabinet was stocked with 2 boxes of tissues and an extra roll of toilet paper. In regard to towels, the room came with four washcloths, four hand towels, and four bath towels.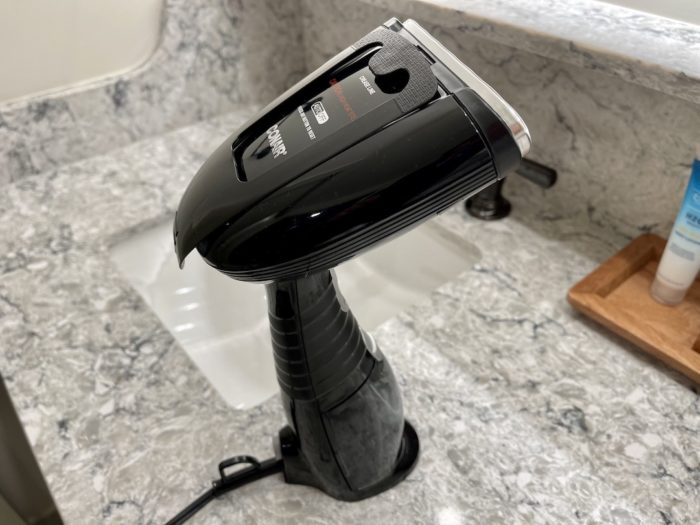 Interestingly enough, we also found a Conair steamer since there was no iron or ironing board.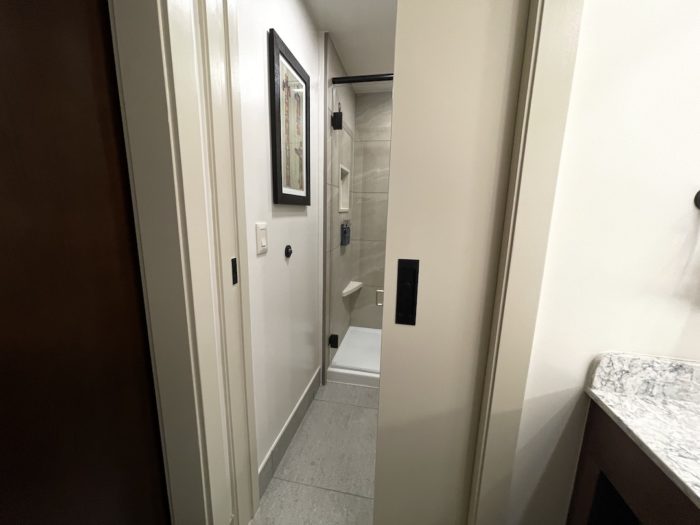 The vanity area is separated from the shower and private toilet room by a pocket sliding door for optimal space.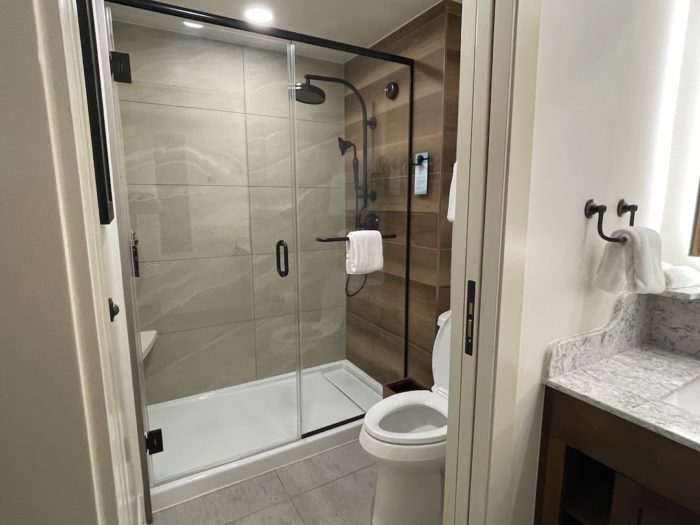 This room measured 5ft long x 3 ft wide and has a glass shower, but no tub. The shower itself measured  4ft long x 2ft 5in wide.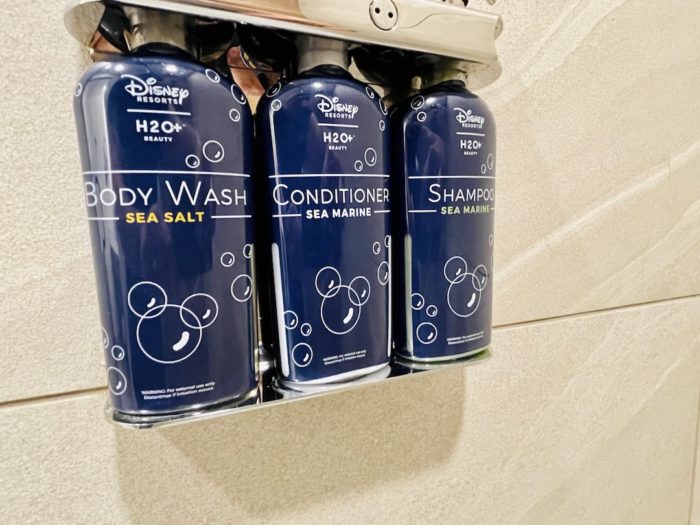 Unfortunately, Disney's H20 brand of shampoo, conditioner, and body wash are in pumps mounted to the wall.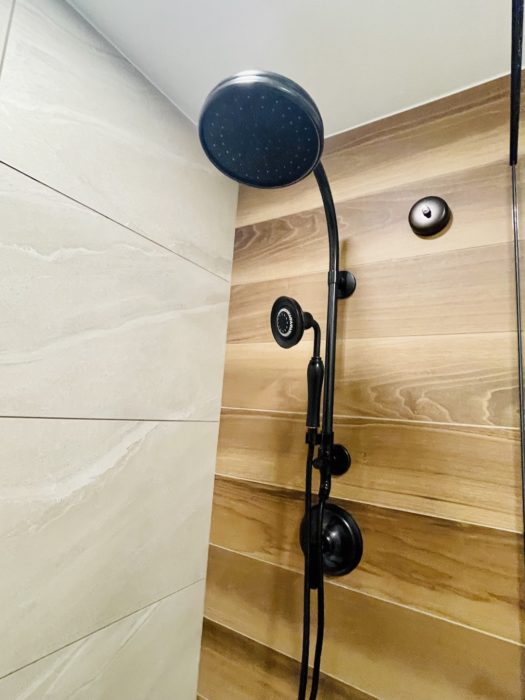 In addition, the shower has two separate showerheads: one high and one low.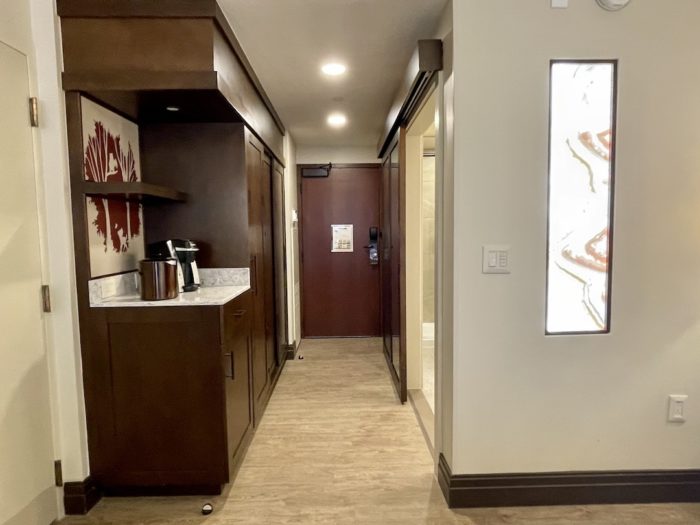 Back in the hall, the other side consisted of a large closet and a coffee and fridge space.
The entire hallway/entryway itself measured 9ft 11in long x 3ft wide.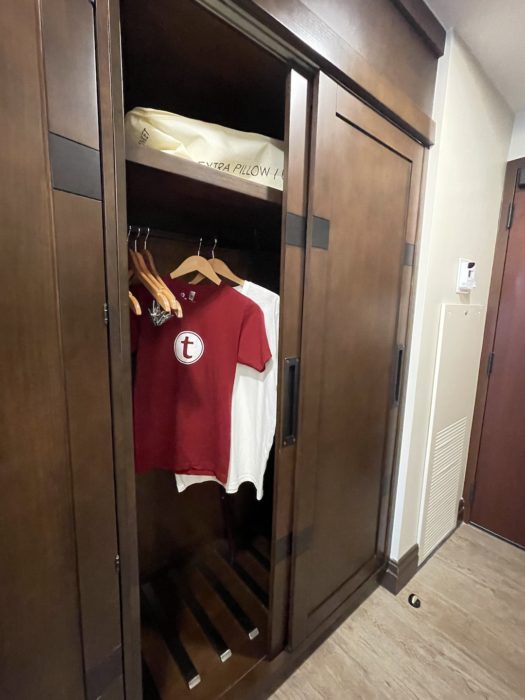 The closet space included a luggage rack, 10 hangars, and an extra blanket and pillow with a freshness lock.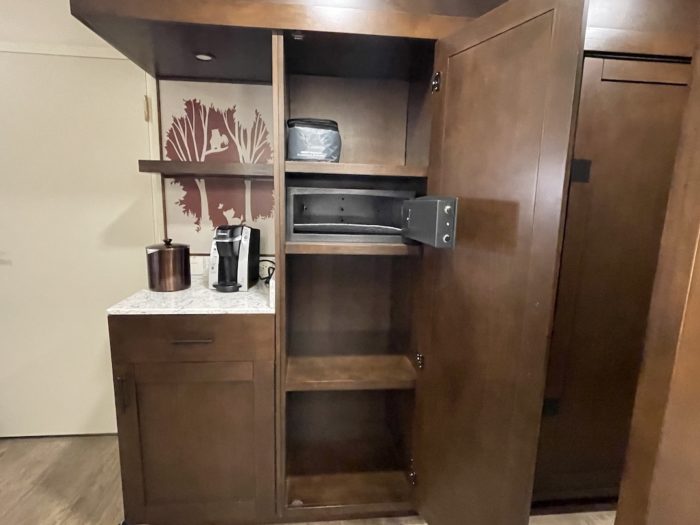 A cabinet space next to the closet offers additional shelf space and a standard safe.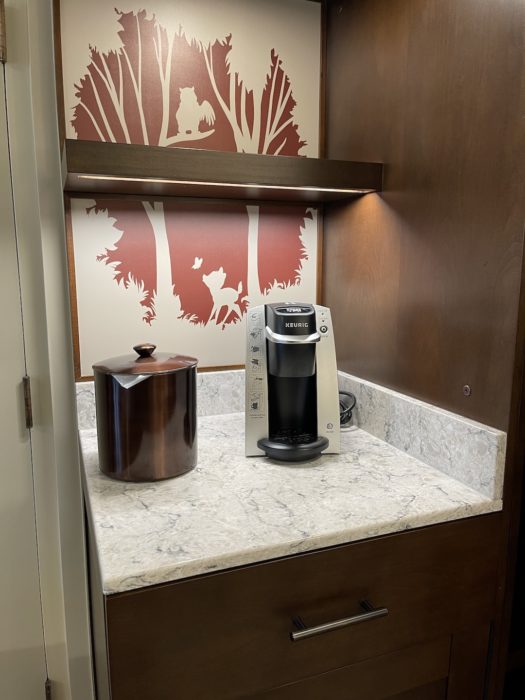 The coffee/fridge space has a Bambi-inspired backdrop with a shelf for storage, as well as a Keurig machine, ice bucket and bag, and measured 22.5in x 3ft 4in.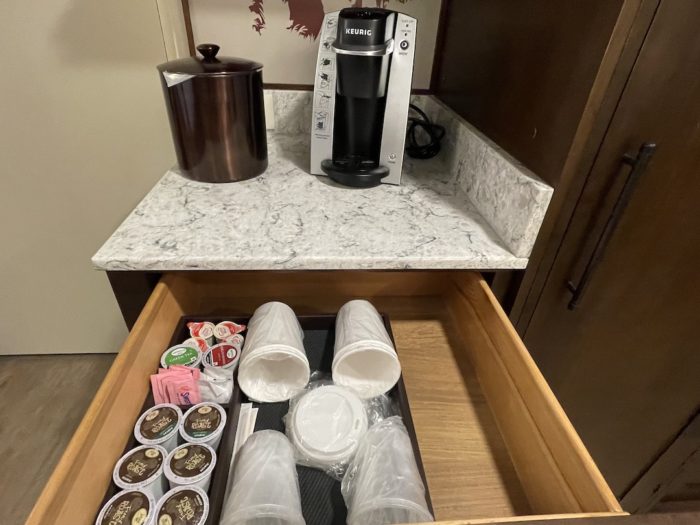 The drawer underneath came with 4 individually wrapped foam coffee cups and lids, as well as the following:
2 decaf pods
1 Green Tea
1 English Breakfast
4 CoffeeMate cups
Sugar & Sweet'N Low
Individually wrapped stirrers
4 regular cups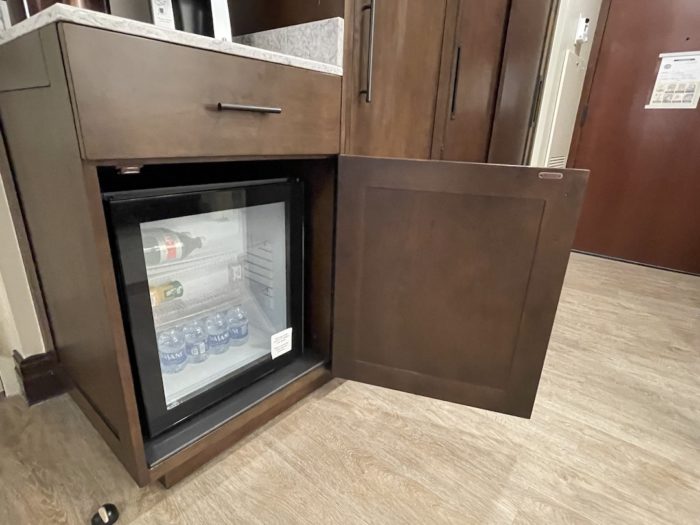 The mini fridge can be found behind the bottom cabinet door.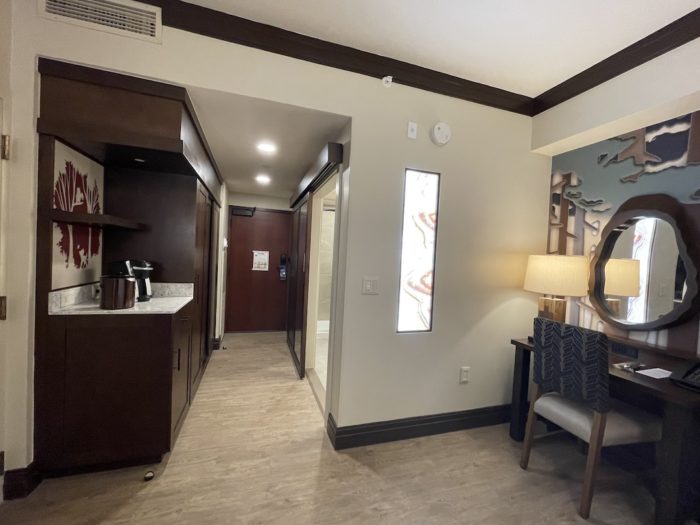 Now let's move on into the main part of the room!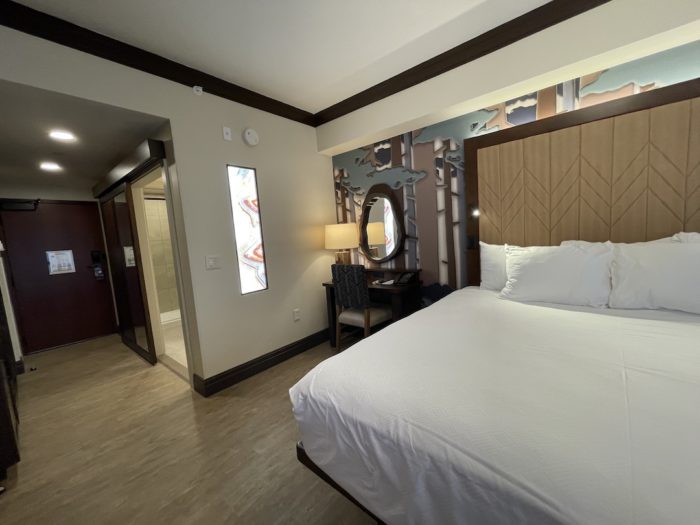 Again, Room 2008 had a king bed only.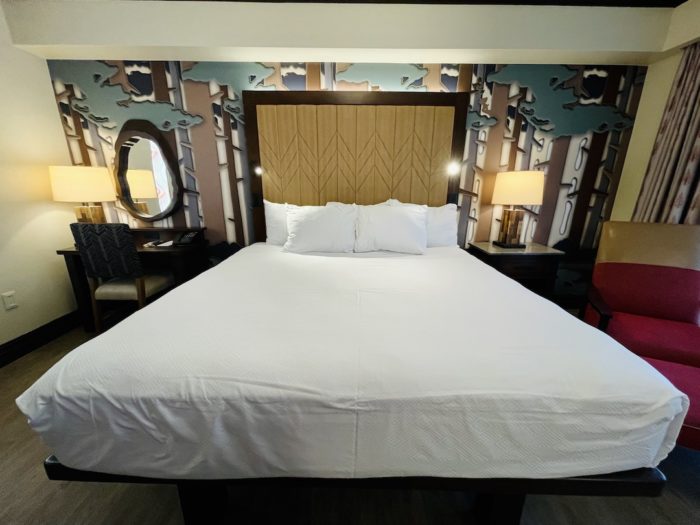 Of course, we investigated the bed's PosturePedic pillow top mattress as you know we do.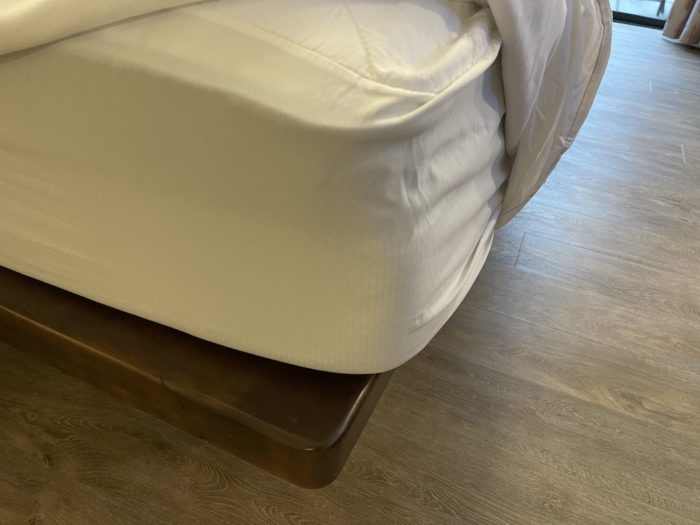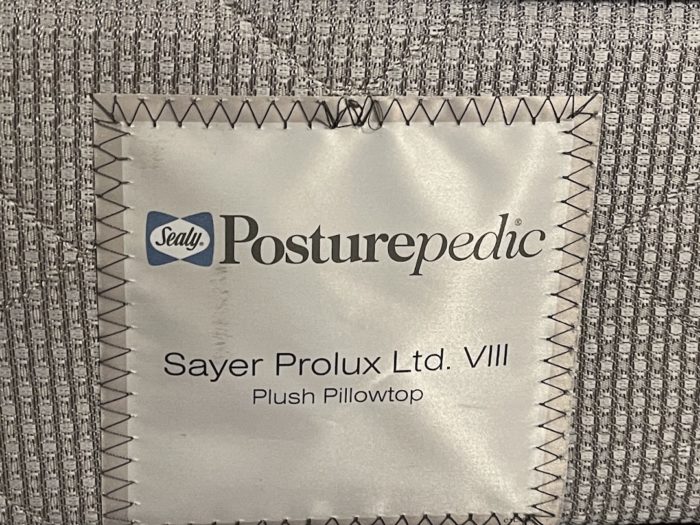 It was dated 10/27/20.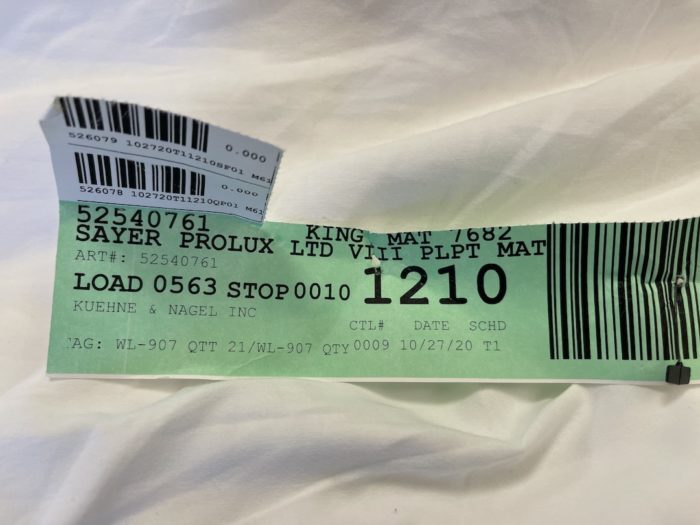 We also investigated the rest of the room's bedding. Here's what we found: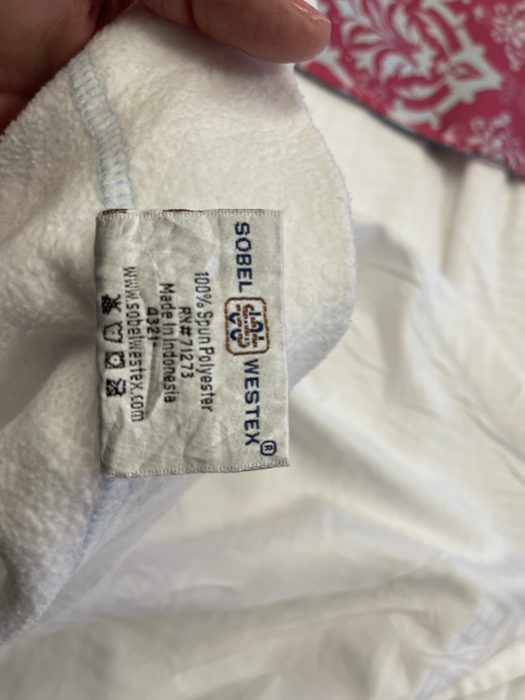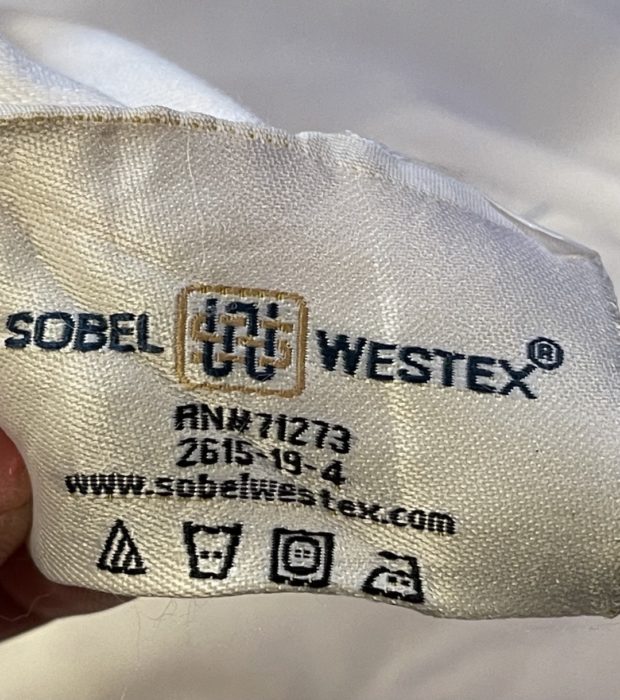 The bed also included handy in-headboard nightlights on either side along with overhead light dimmer switches!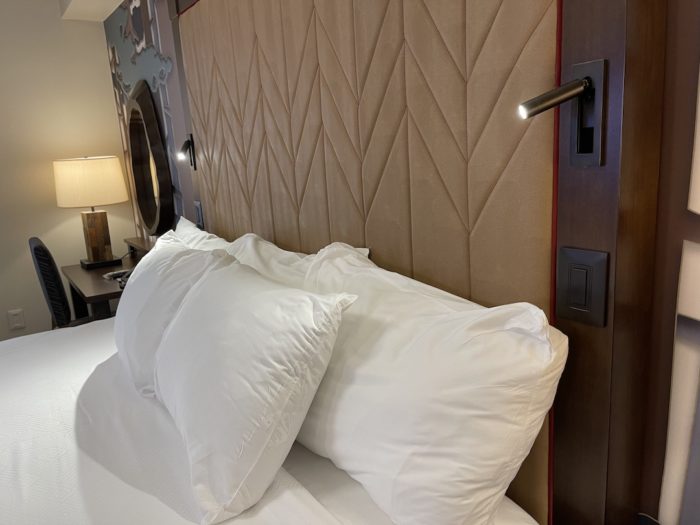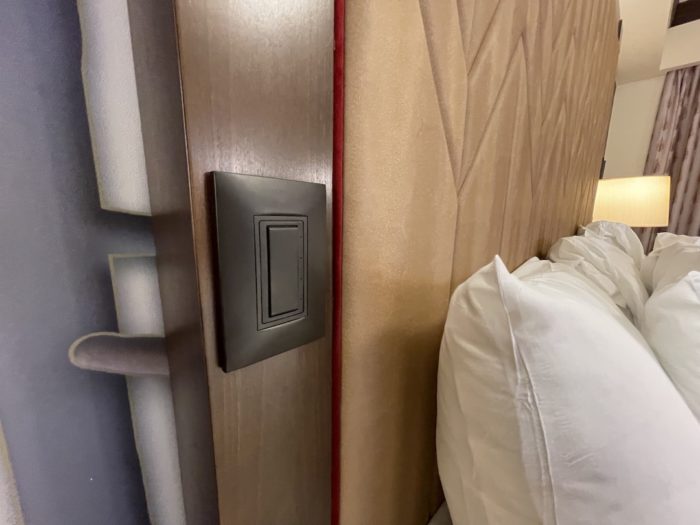 Next to the bed was a single nightstand with one drawer and one open space for storage.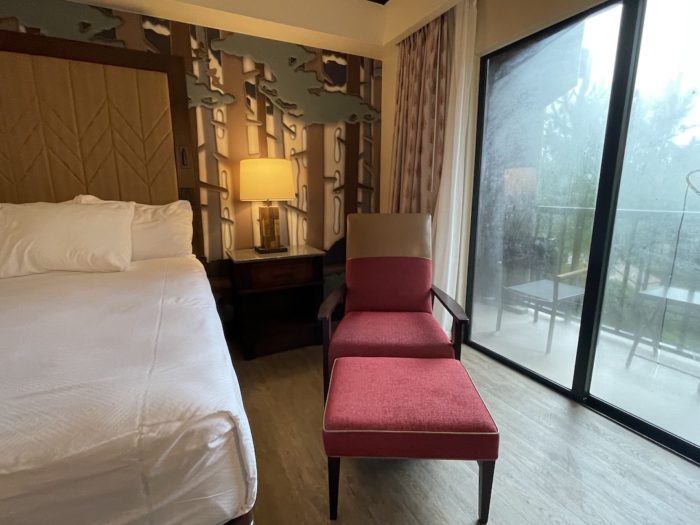 The lamp on the nightstand is also where guests will also find two outlets and two USB ports.
In terms of seating, the room has 1 chaise and ottoman and two desk chairs.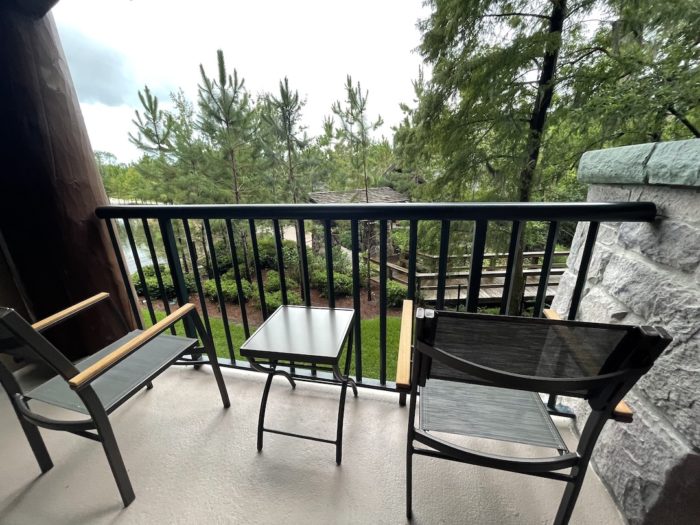 The patio was semi-private with 2 chairs and a table. This, of course, was Room 2008's Nature View.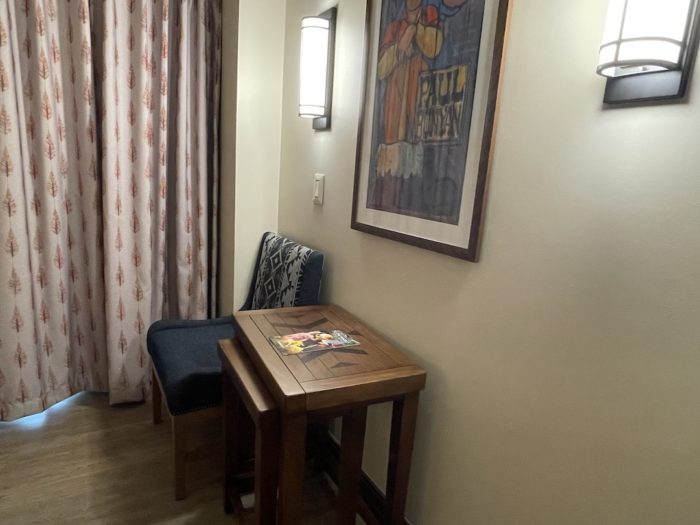 Two nesting tables and that desk chair sat against the wall opposite of the chaise lounge and nightstand.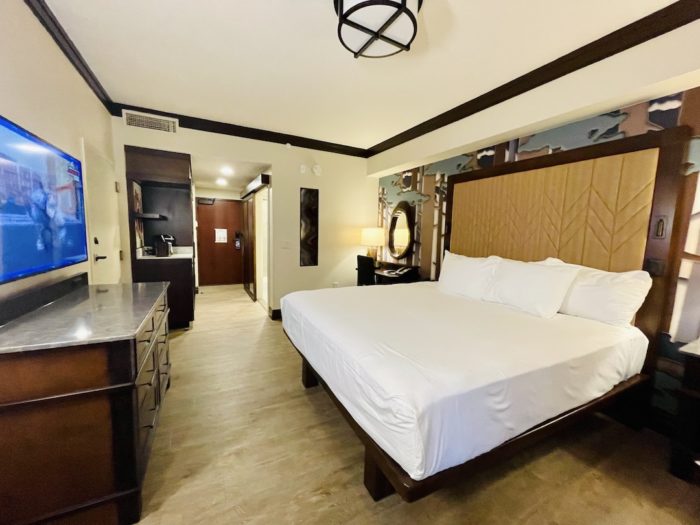 The room's television was a 48" Samsung.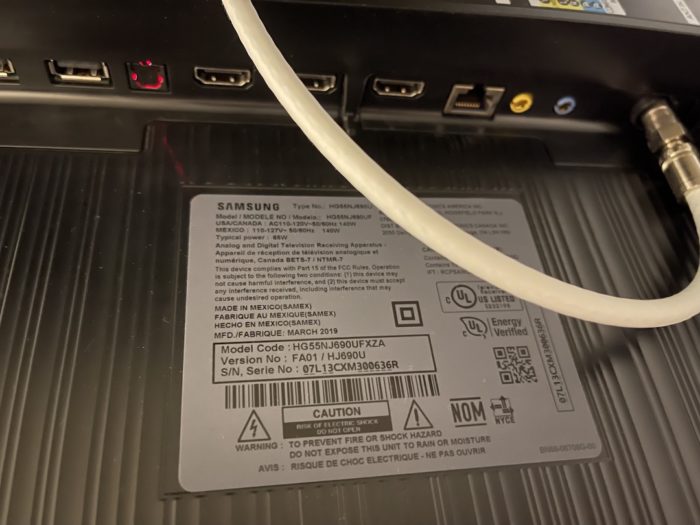 If you're looking to bring a Roku, an Amazon Fire TV stick, or anything else to hook into the TV, here's a peek at the connection ports.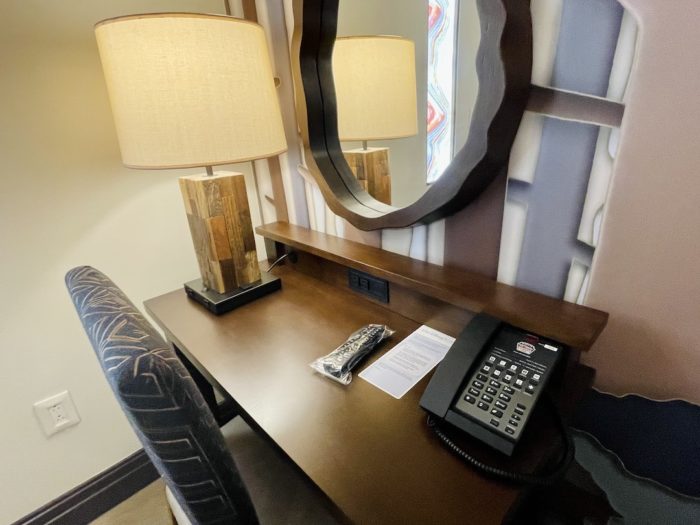 On the left-hand side of the bed was a desk and chair with two outlets and USB ports, as well as the same lamp as the nightstand with its two outlets and USB ports.
In total, we counted 16 outlets and 10 USB ports in the room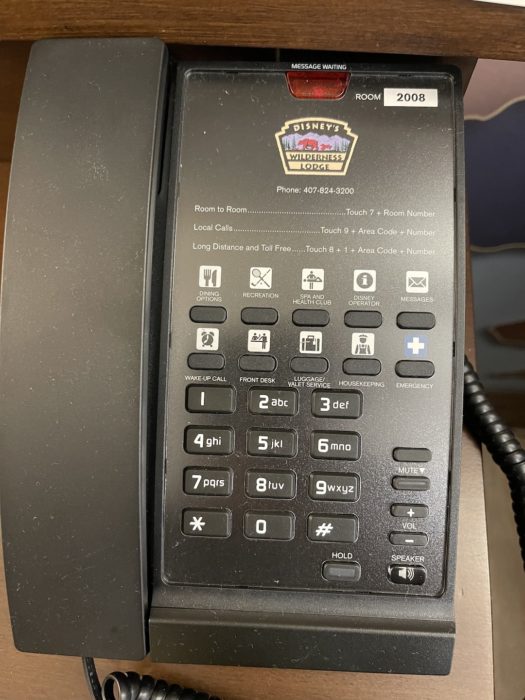 Here's a look at the phone with its in-house preprogrammed numbers.
Now, as usual, we took light readings all throughout the room – all LUX. Here's what we found:
4.2 lux with all lights out and both layers of curtains closed
334 bathroom vanity
359 coffee/snack area
65.2 dresser under tv
121.6 pillow
118.4 desk
283.1 nightstand
We also timed how long it took to get around the resort from Room 2008. Here's what we discovered:
45 seconds from the room to the elevator
1 minute and 41 seconds from the room to Roaring Fork
3 minutes and 9 seconds from the room to the Mercantile
Disney's Wilderness Lodge Resort Amenities
Views of the Electrical Water Pageant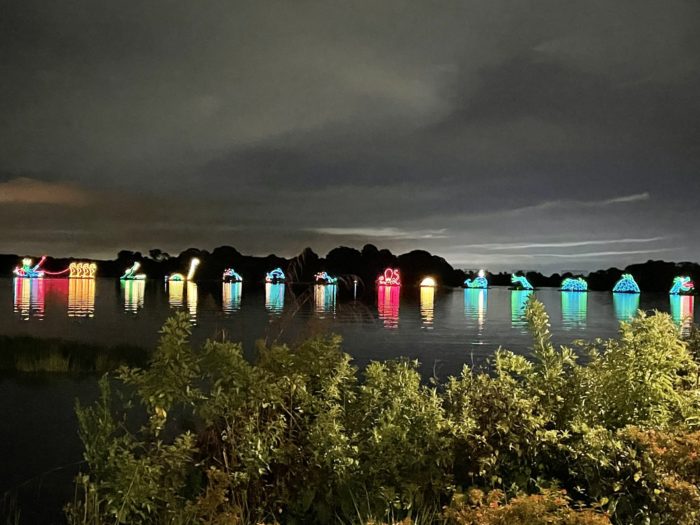 This vintage nighttime water parade sails past the shores of Wilderness Lodge every night! Guests enjoying Geyser Point have a front-row seat.
Laundry and Dry Cleaning Services
Wilderness Lodge offers a 24-hour self-service laundry room is located past Roaring Fork, as well as dry cleaning and valet laundry service.
Concierge
Drop by the resort's concierge for assistance, suggestions, and expertise!
Salon by the Springs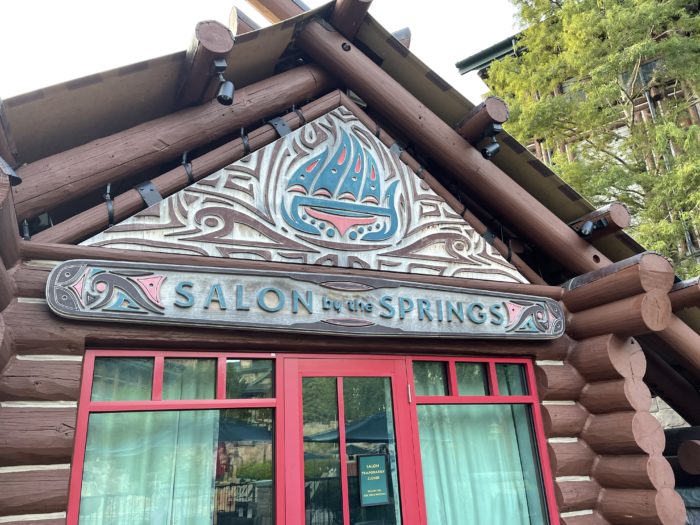 Here guests can relax and enjoy manicures, pedicures, and hairstyling. Services are available for guests of all ages!
Disney's Wilderness Lodge Pools & Recreation
Wilderness Lodge is home to two pools: the Copper Creek Springs Pool and the Boulder Ridge Cove Pool.
Copper Creek Springs Pool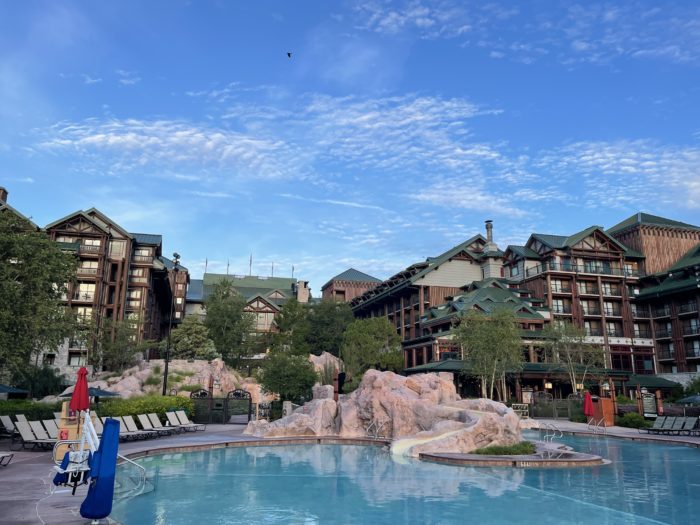 The Copper Creek Springs Pool is the largest and is somewhat of a centerpiece for the resort's courtyard.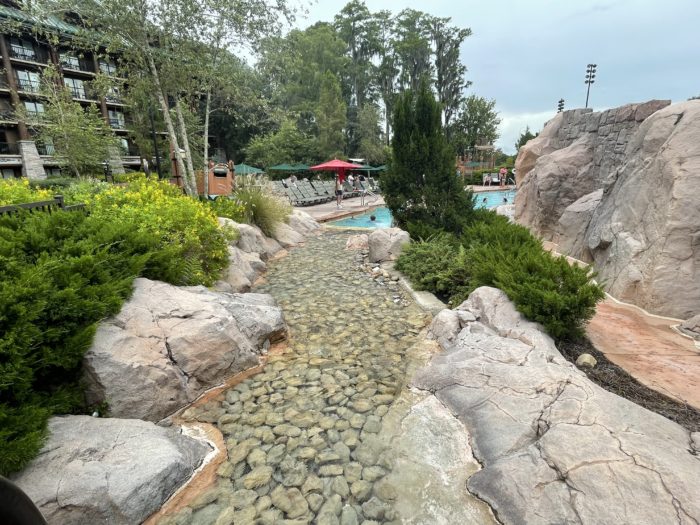 In addition to a hot tub, water slide, kiddie pool and splash area, the lobby's indoor spring seemingly flows from the resort's interior and into this pool!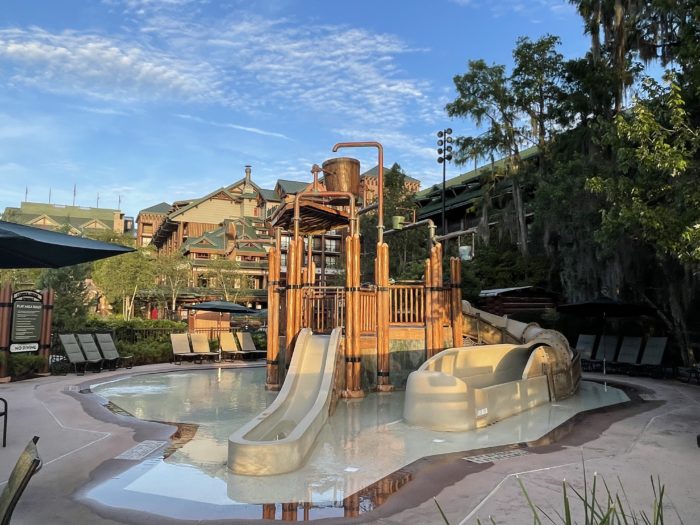 If that wasn't all, it's also set near gorgeous rockwork, a waterfall, and within view of Bay Lake and the resort's geyser.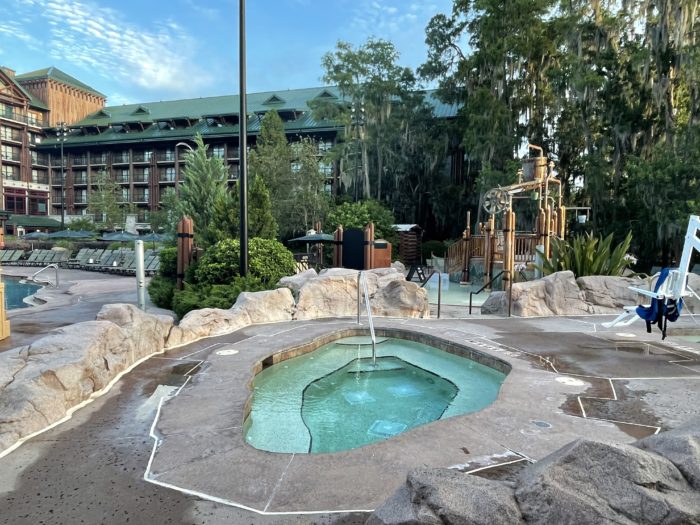 The pool has a capacity of 122 people and is open for guests from 10 a.m. to 11 p.m. Lifeguards are on duty, and no MagicBand is needed for entry. The spa/hot tub has the same hours as the pool but with a capacity of 9 and a 15-minute limit.
The children's splash area has a capacity of 23 people; no age limit is posted.
The Boulder Ridge Cove Pool sits on the far right of the resort towards Geyser Point and next to the Boulder Ridge Villas.
It's a zero-entry pool and is considered the resort's "quiet" pool. It also offers 6 covered seating areas available on a first-come, first-served basis.
Movies Under the Stars
Outdoor movies are free to watch via a giant screen on the lawn between the marina and Geyser Point Bar & Grill. Check with the resort for the nightly schedule.
Wilderness Lodge Mercantile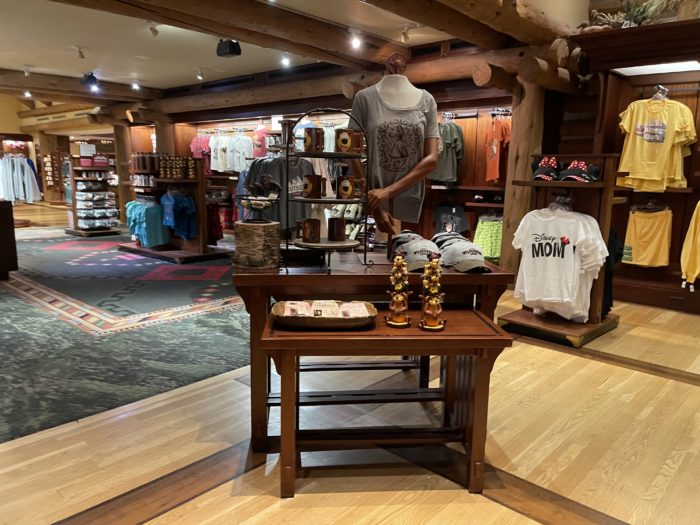 In addition to traditional merchandise, the Wilderness Lodge Mercantile offers resort-specific merch, sundries, dry goods, and a refrigerated section.
Resort Activities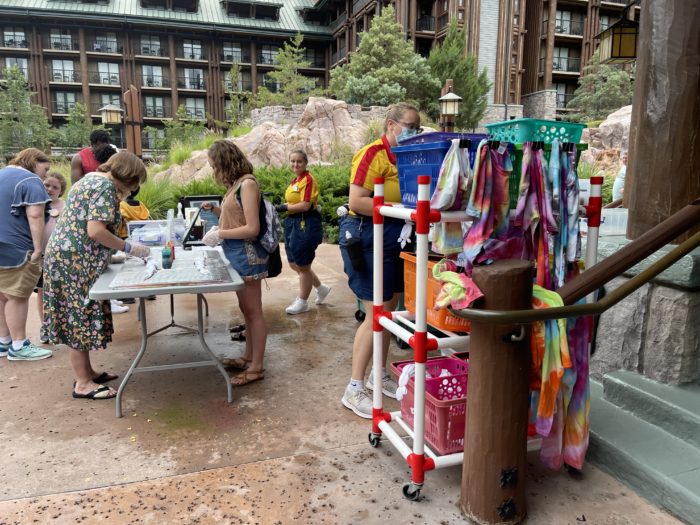 For little ones or those enjoying a resort day, the Wilderness Lodge offers daily activities ranging from trivia to tie-dye to other arts and crafts.
Motorized Boat Rentals & Bass Fishing
The Wilderness Lodge Resort usually boat rentals and guided fishing excursions from its Bay Lake Marina. Note: This amenity is currently unavailable.
Buttons and Bells Arcade
Guests can enjoy a variety of games old and new at the arcade located in the resort's main building. It's not staffed by a Cast Member.
Campfire Activities
Check with the resort front desk about old-fashioned campfires and marshmallow roasts for the whole family.
Disney's Wilderness Lodge Resort Transportation
Parking
Guests looking to drive themselves should know that standard overnight self-parking is available to registered guests. However, it's no longer free. Instead, a fee will be applied to a guest's hotel folio upon check-out and includes tax.
Parking at Disney Deluxe Resorts is $25 per night
Valet parking is $33 per night.
Self-parking is complimentary for guests who aren't staying at the resort but enjoying select dining, shopping, entertainment, and recreation.
Bus Transportation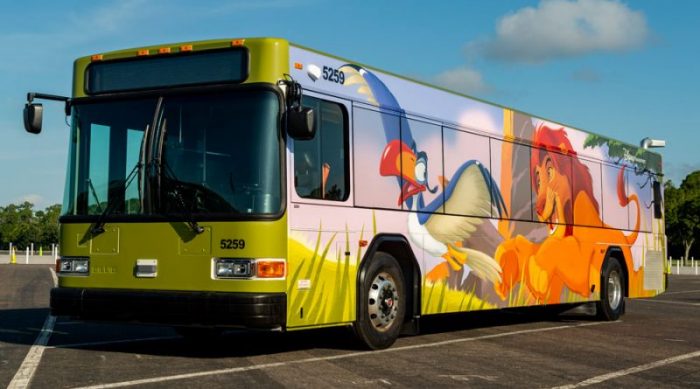 Guests can access Wilderness Lodge's bus stop by taking the doors next to the Wilderness Lodge Mercantile and heading straight down the covered walkway. If guests don't plan on driving themselves, buses are the only way to reach EPCOT, Hollywood Studios, Animal Kingdom, the water parks, and Disney Springs.
Monitors at the bus stop show the next Bus Estimated Arrival time and Estimated Park Arrival Times. Buses to the Magic Kingdom are provided in the event of inclement weather. Buses run 45 minutes prior to park opening until 1 hour after park closing.
Boat Transportation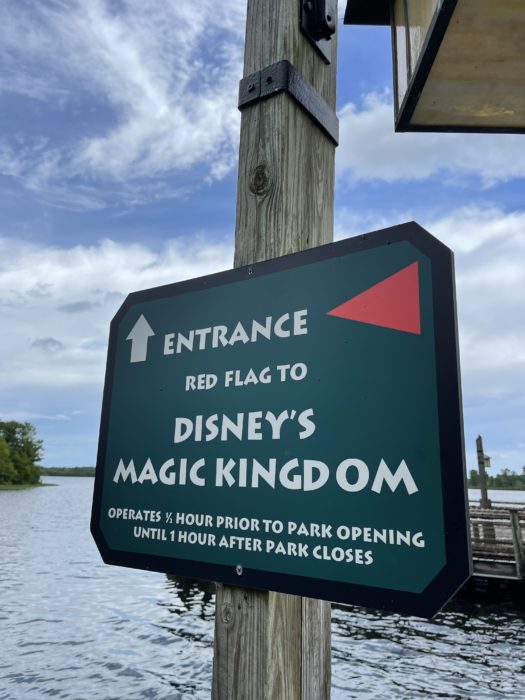 Boats to the Magic Kingdom start running 30 minutes prior to park opening until 1-hour past park closing.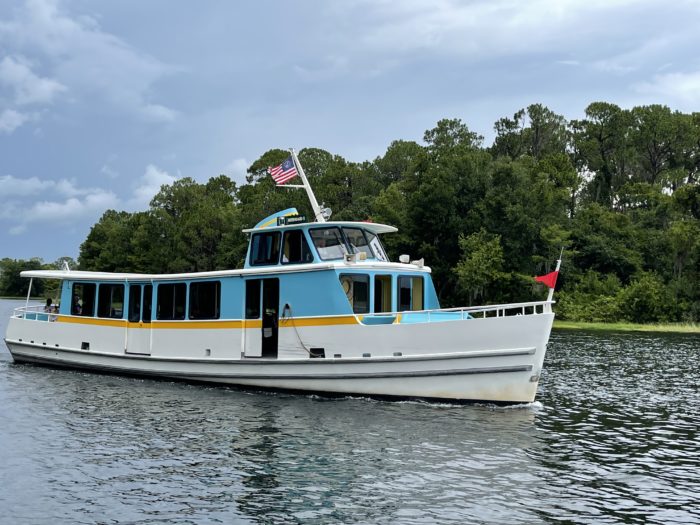 We timed the duration of the boat ride from Wilderness Lodge to the Magic Kingdom at 8 minutes and 35 seconds.
Dining at Disney's Wilderness Lodge
Territory Lounge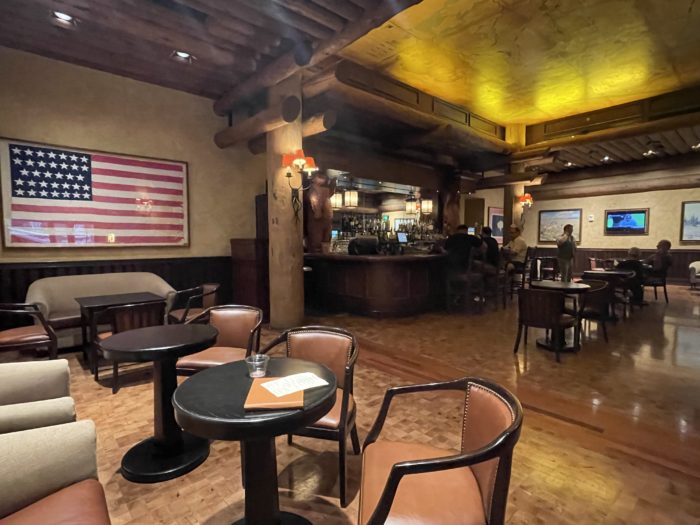 Wilderness Lodge's lounge operates from 4 p.m. to 10 p.m.; guests are free to walk in and have a seat.
Whispering Canyon
This western-style table service restaurant serves breakfast, lunch, and dinner and is famous for its staff's antics and all-you-can-eat skillets. Advance dining reservations are encouraged and can be made on the My Disney Experience app. Guests can also join the walk-up reservation list on the app or in person. While not advertised, they will do to-go for Wilderness Lodge resort guests.
Roaring Fork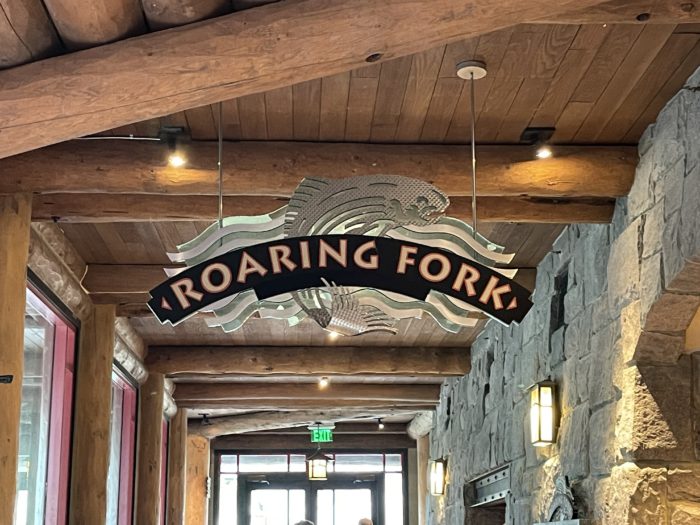 The resort's quick-service spot for quick meals and snacks, guests can order to-go or eat-in. There is seating indoors and outdoors.
Geyser Point Bar & Grill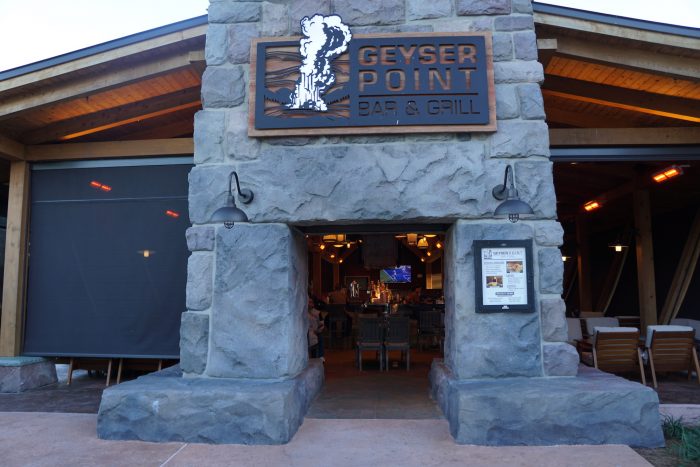 This open-air, waterfront lounge serves lunch, dinner, and appetizers. Guests can join the walk-up list or place a to-go order on the My Disney Experience app. Walk-ups are accepted.
Note: Pick up for to-go orders on the far right of the building if you're facing the water.