EPCOT Restaurants Offering the Best Value
With 2022 Walt Disney World Resort vacation packages available to book, we're getting some insight into what Disney has planned for future vacations during these uncertain times.
It appears Disney will still require park pass reservations for park entry into 2022, and Disney Dining packages will continue to be unavailable. Yes, you read that right. No Disney Plan or Free Dining Plan Offers for 2022.
But there are ways to save money when dining at Disney outside the Dining Plan. For many families and individuals, Disney Dining Plans actually cost more than dining out of pocket. The secret is knowing where to go for your meals; and as always, we've done the legwork for you.
Today I'm breaking down the EPCOT restaurants offering the best value. And by value, I'm talking about where to go to get the most for your hard-earned dough!
Note: I'm not including any of the EPCOT festival booths since they're seasonal.
Quick Service Values
Sunshine Seasons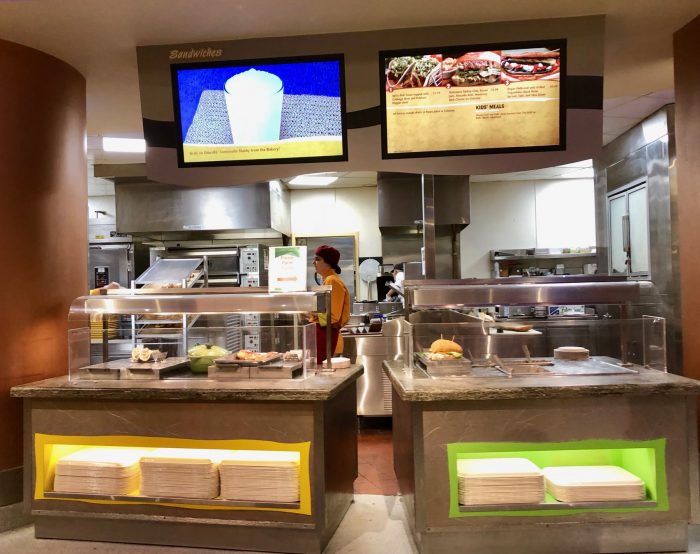 Sunshine Season is a quick-service, cafeteria-style restaurant on the first floor of The Land pavilion where the fruits and veggies served here are actually grown in the Living with the Land greenhouses! Instead of farm to table, it's attraction to table? Does that work?
Anyway, back in normal times, Sunshine Seasons offered various stations serving up their own distinct menus. But for the time being, mobile order only is encouraged. Still, guests can enjoy items like oak-grilled salmon for $12.99, rotisserie chicken for $12.29, a Pepperoni Flatbread for $10.99, and a kids (or adult?) meal of macaroni and cheese for $6.69.
Yorkshire County Fish Shop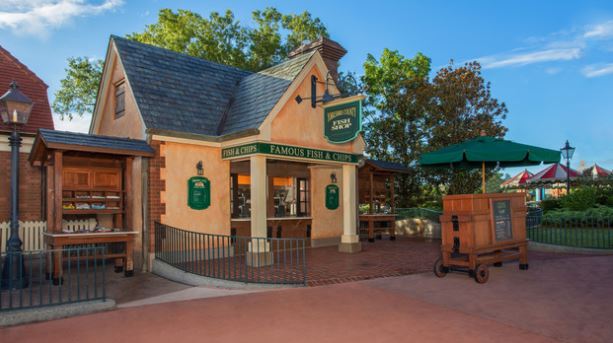 This walk-up window at the World Showcase's U.K. Pavilion serves up delicious fish and chip platters so good that many guests rank this particular meal above that of actual sit-down restaurants at Walt Disney World.
In addition to being truly scrumptious, these are the same fish and chips served at the Rose & Crown Pub but at a significantly cheaper price! Plus, you don't even need a dining reservation.
Les Halles Boulangerie-Patisserie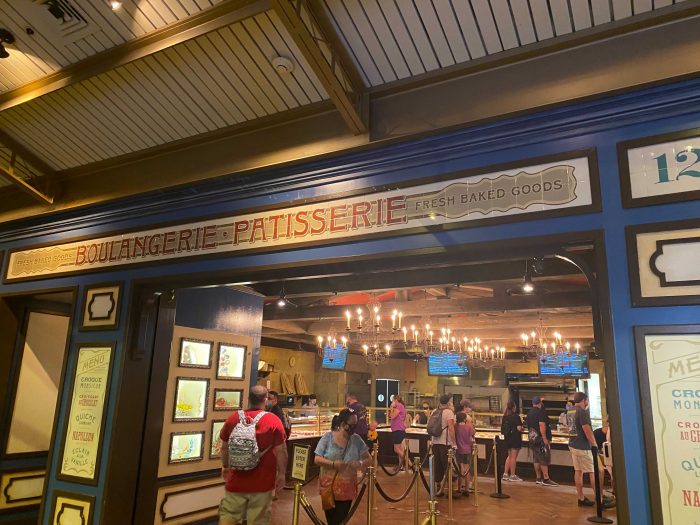 This French bakery tucked at the rear of the France pavilion is famous for its selection of pastries, sandwiches, bread, and soups where almost every item is under $10.00! Plus, the food is legit delicious, especially their desserts. It's rare to find a meal at Disney World that's both yummy and a great deal so be sure to put the Patisserie on your to-do list.
Katsura Grill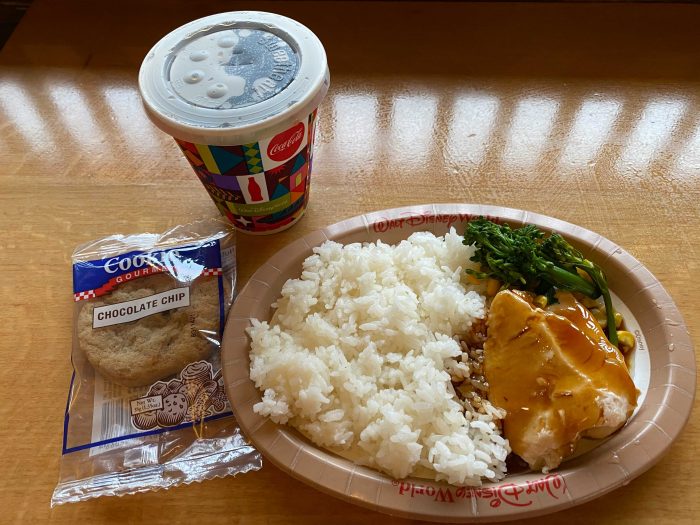 Katsura Grill at the Japan pavilion serves somewhat basic yet gratifying sushi combos, teriyaki, ramen, udon noodles, and the like.
Our team recently enjoyed a meal at Katsura Grill and discovered the kids' meal serving sizes are only slightly smaller than the adult portions. They are also priced under $10.00 and include a drink and cookie!
Regal Eagle Smokehouse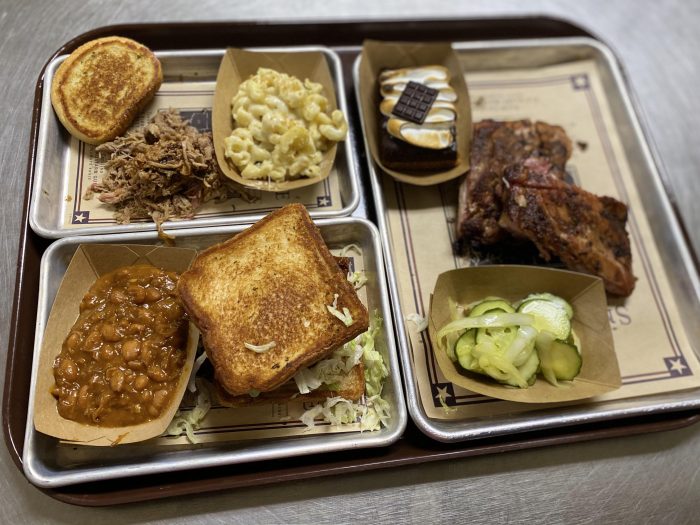 A relatively new addition to EPCOT's list of restaurants, Regal Eagle Smokehouse at the American Adventure pavilion is an American barbecue eatery with, yes, a light Muppet theme? Odd combination, I know; but hey, Muppets anything is a win in my book.
In all seriousness, Regal Eagle offers ribs, a half-chicken, brisket, salads, and more along with a variety of barbecue sauces inspired by different areas around the country. Regal Eagle also serves watermelon, baked beans with burnt ends, onion rings, and banana pudding!
The average price for an entree at Regal Eagle hovers around $13.00. So it's not as cheap as other locations on this list; however, the fare is hearty, delicious, and some entrees are easily shareable. If you're looking for a full meal (and a little Muppets and Americana), you won't be disappointed here.
Table Service Restaurants
Garden Grill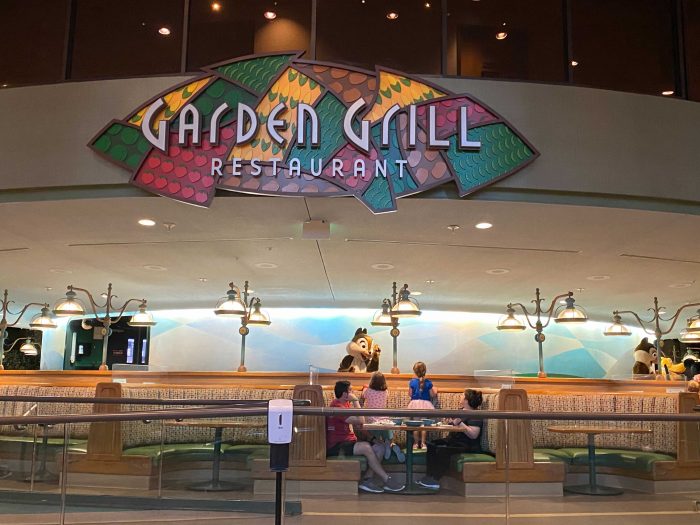 The Garden Grill Restaurant at EPCOT's The Land pavilion offers a dining experience like no other in that it slowly rotates to offer views of scenes from inside Living with the Land! Also, just like Sunshine Seasons, some of the produce served here is from the Living with the Land greenhouses.
Chip 'n' Dale's Harvest Feast character meal is available at lunch and dinner and is served family-style and, of course, is all-you-can-eat! If you're going to splurge on a character meal, the Garden Grill fare rarely disappoints and the setup for socially distanced character interactions here are some of the best. The feast currently costs $55.00 per adult and $36.00 per child.
Via Napoli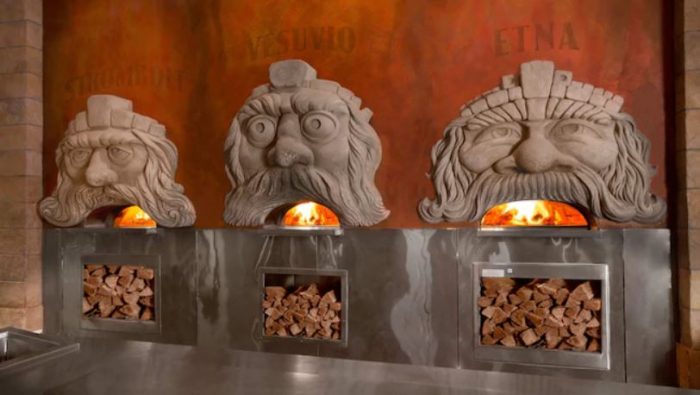 Ready for some real talk? Via Napoli is home to the BEST pizza at Walt Disney World. In fact, it rivals, if not surpasses, some of the best pizza I've had anywhere! (Order the Carciofi Pizza. Why? Two words. Truffle. Oil.)
Anyway, Via Napoli's pizza is as authentic as they come since the restaurant actually imports ingredients from Italy. Via Napoli also bakes their pizzas in massive wood-burning ovens named after the 3 active volcanoes in Italy—Mount Etna, Mount Vesuvius, and Stromboli.
Also, as a general rule, pizza is a fantastic value when you're dining with a group or your family. It's also a sure bet for even the pickiest eaters.
Pro Tip: Via Napoli often offers to bring out a family-style salad. But unless you plan on having salad as your meal, skip this offer. It's surprisingly pricey and you'll want to save your room for all the pizza you won't be able to stop eating.
Biergarten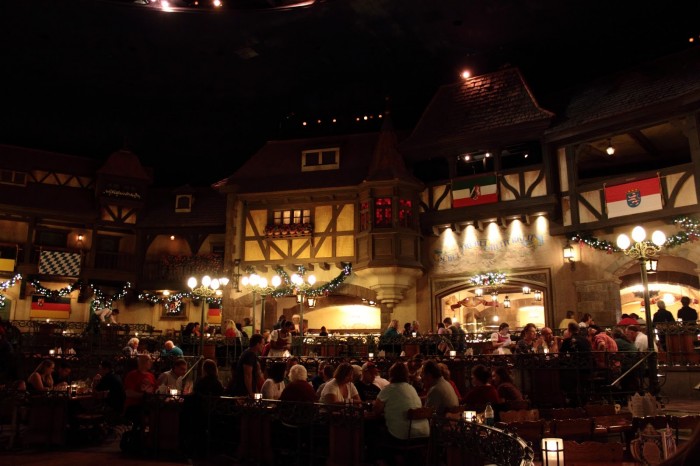 Similar to Mexico's San Angel Inn, Germany's Biergarten is an indoor restaurant that's designed to look like the outdoors at night! Plus, you're eating in a picturesque town square complete with a charming water wheel.
While originally a buffet, Biergarten now brings platters of food to your table family-style; and the once communal-table set-up now has individuals and families eating together and socially distanced from others.
The menu consists of pretzel rolls, a selection of salads, schnitzel, nudel gratin, roast chicken, bratwurst, and dessert platters of strudel, cheesecake, or a Black Forest roll.
Currently, lunch or dinner at Biergarten costs $46 per adult and $25 per child. The charming setting and all-you-can-eat menu may be worth the price to some, but I consider Biergarten a value since it's also one of the few locations at Walt Disney World offering live entertainment right now courtesy of charming, oompah band!
Which restaurants and eateries do you consider to be the best values at the EPCOT? Let us know in the comments! 
First published March 22, 2021. Updated August 18, 2021.