2022 EPCOT Festival of Holidays: Nochebuena Cocina Holiday Kitchen Review
New this year, Nochebuena Cocina has one of the few plant-based offerings of the Festival. This kitchen is located in the cluster near Port of Entry.
Our recommendation: Meh. We didn't have anything here that would bring us back – this could have been great, but it missed the mark. Hopefully it comes back with expanded options next year, but in the meantime, we say skip.
Booth Overview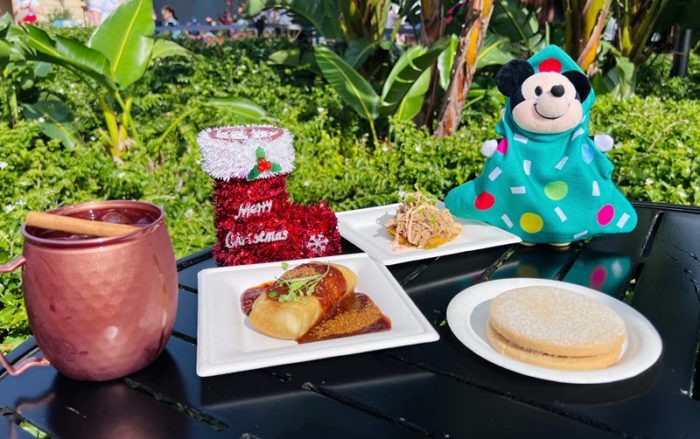 Food
Impossible™ Chorizo Tamale 🌱 – $5.50
– with Plant-based Cotija Cheese and Spicy Red Chile Sauce
Pernil: Mojo Pork – $5.50
– with Tostones and Ketchup-Mayonnaise
Alfajores: Vanilla Shortbread Cookie 🍪 – $3
– with Dulce de Leche and Coconut
Beverages
81Bay Brewing Co. Horchata Beer – $5.50
– Tampa, FL
Chai Ginger Mule – $11.50
– featuring Boyd & Blair Potato Vodka
Our Thoughts
Best of the Booth
The Pernil was nice, but not close to the other things that we loved so much at other kitchens. It had flavor, but it wasn't anything special. Still, if you're going to get a dish here, this would be our pick.
Rest of the Booth
We wanted to love the Tamale, but it was far too spicy for us; even the cotija couldn't cool it down enough. And the Alfajores cookie was dry and not great.
The Chai Ginger Mule was nice but we really, really love a holiday drink with full seasonal spices. If this is your thing, it might be a reason to stop at this booth.