Everything You Need to Know About Disney Cruise Line Check-In
If you're going on a Disney Cruise Line sailing, you'll be checking in for your cruise online. Here's everything you need to know about the process.
When do I check in?
Check-in becomes available at midnight Eastern Time, on staggered dates based on your Castaway Club status. You're not required to check in at that exact time, but many guests choose to sacrifice sleep to complete their check-in right at midnight.
Is this a recent change on when I can check in?
DCL has tinkered with check-in timing several times during the past few years.
Pre-pandemic, Disney Cruise Line offered staggered check-in dates, based on your DCL Castaway Club status or whether you were sailing in a Concierge level stateroom. From the return to sailing during summer 2021 through April 2023, check-in opened prior to sailing for all guests at 30 days in advance. In May 2023, DCL returned to a staggered date program.
What are the new check-in dates?
As of May 2023, the following dates apply:
Pearl Castaway Club members and Concierge Staterooms: 40 day prior to sailing
Platinum Castaway Club members: 38 days prior to sailing.
Gold Castaway Club members: 35 days prior to sailing.
Silver Castaway Club members: 33 days prior to sailing.
First Time Cruisers: 30 days prior to sailing.
I went to check in at midnight and encountered multiple computer problems. Help!
Disney is know for its glitchy websites. The resumption of staggered check-in should help a bit, but you never know what you might encounter.
You're less likely to have problems if there is only one DCL ship opening its check-in on a particular date, but there's not much you can personally do about this. Pack your patience and just try to go with it.
Do I have to check-in in the wee hours of the morning?
Nope.
You can check in at any time between your check-in opening date and 3 days prior to your sailing. You should probably do it closer to opening day rather than 3, to give yourself time to rectify problems in case there are any hiccups with your documents. But you can certainly wait a day – and you're much less likely to have computer problems if you wait to check in until mid-day.
If check-in is wonky at midnight, then why do people make a big deal about being online at Cinderella time?
The only real advantage you might gain by checking in early is that you'll have a better chance at snagging an early port arrival time if you're among the first on your sailing to check in.
With the staggered check-in dates, Pearl and Platinum guests should not have any problem securing their preferred port arrival time. Concierge guests may arrive at the port whenever they like.
Why do I care about getting an early port arrival time?
Folks with the earliest port arrival times get on the ship first. Currently the earliest arrival times are in the 11:00 a.m. range, depending on the sailing.
If you're among the first on board the ship on embarkation day, you'll have a few moments of calm. You can get some epic photographs of empty ship spaces, you'll have first crack at booking last minute spa or adult dining appointments, and you'll have first dibs on possible stateroom upgrades (for a fee). If you aren't anticipating any last minute onboard chores, the difference in an hour or two in your port arrival time likely won't matter much.
There is also a subset of guests who prefer a later arrival time. These might be people with children who nap in the late morning or early afternoon, who have work or school calls they must complete before boarding, or who don't want to be on the ship until they can go directly to their stateroom (which typically happens at about 1:30 p.m.).
Note: Pre-pandemic, Platinum and Concierge level Castaway Club members could arrive at the port at any time and get in the next available boarding group. Now all non-Concierge guests must select a port arrival time. 
I'm a new DCL cruiser. Does that mean I'll only have late port arrival times available when I check in?
Yeah, maybe. But try not to stress about it too much. You'll have a wonderful time on the ship, regardless of what time you board.
Does check-in impact when I book my port excursions and onboard activities?
No, this is an entirely different set of tasks.
You are allowed to book port excursions, adult dining, nursery appointments, and many onboard activities after you've paid in full for your cruise AND your personal booking window opens. Booking windows for these items are based on your Castaway Club status, but occur at an entirely different set of dates.
How do I get started?
Well before your check-in date, you should have a Disney Cruise Line online account. Make sure that you can log into this account and that your cruise is listed in the My Reservations Section.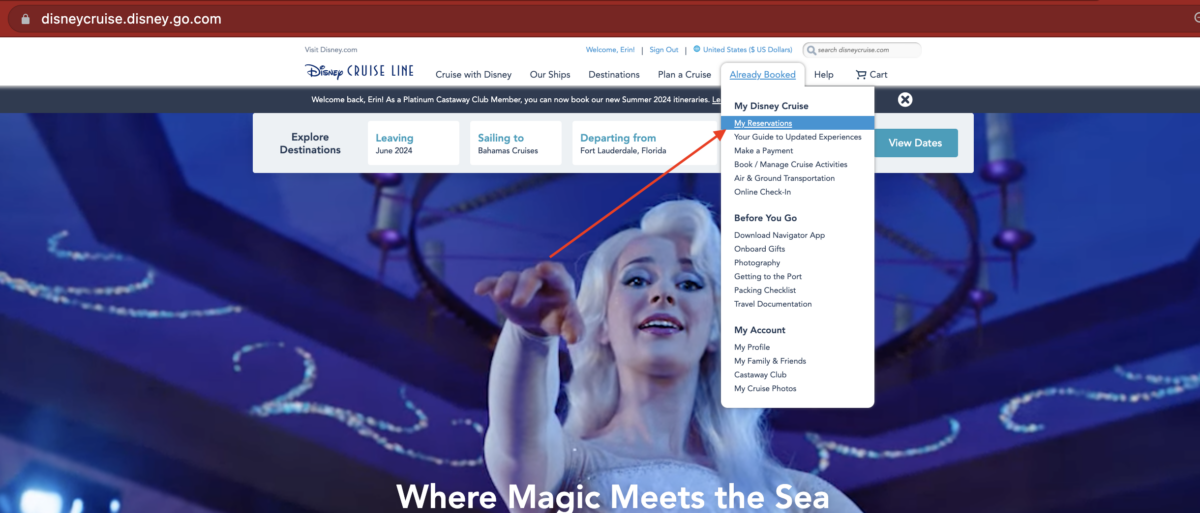 When your check-in window opens, go to the site and click the Online Check-In button in the My Disney Cruise menu.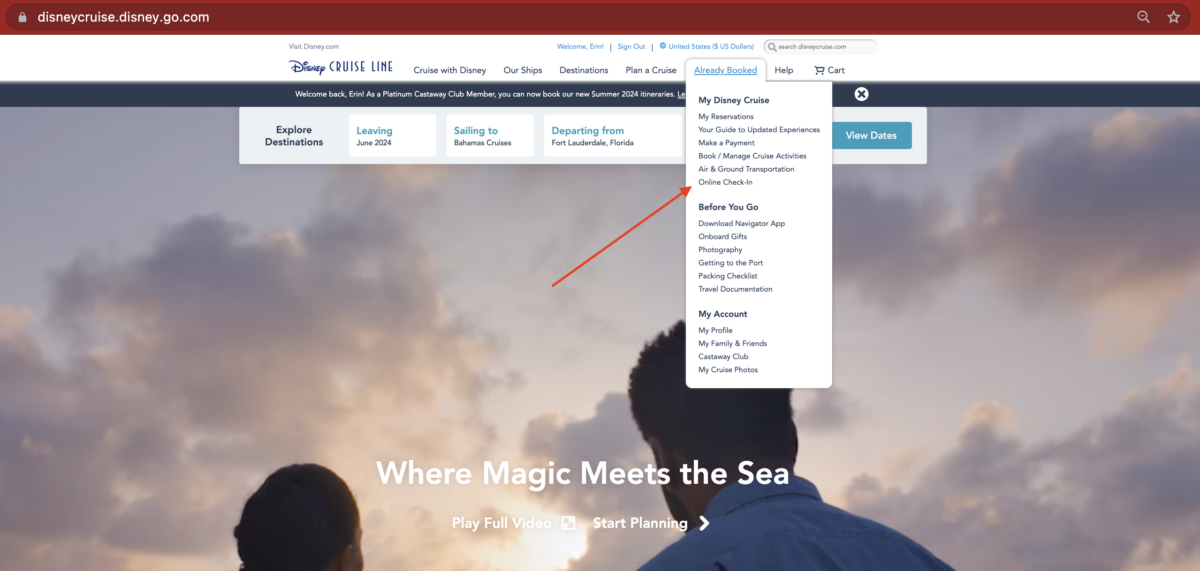 What are the components of online check-in?
Check-in involves Disney collecting information about:
Guest identity and contact information
Payment for onboard spending
Travel plans to/from the port
Port arrival time selection
Accepting your cruise contract.
If you're traveling with minors, you'll have additional sections about Youth Activity Registration and Traveling with Minors.
What do I need for identification information?
During online check-in you will upload a photo or scan of your required citizenship documents. For most folks, this will be an image of the passport pages that include your signature, photo, legal name, and passport number. Other folks on closed loop cruises from the United States (cruises that start and end at the same point) may be able to use alternative documentation such as an original birth certificate AND a government issued-photo ID. See the Disney Cruise Line website for the complete list of acceptable citizenship documentation.
Your required identification documents may vary depending on your citizenship and destinations visited.  It is your responsibility to check with your travel agent, government agency, embassy or consulate to ensure that you have all the proper documentation to board the ship and enter each of the countries on your cruise. U.S. travelers can visit the U.S. State Department's travel website or call the U.S. National Passport Information Center at (877) 4USA-PPT [877-487-2778] for more information.
Whichever documents you're using, the photos/scans of these items should be in focus and free of shadows, glare, or other distractions. A member of the Touring Plans team had to resubmit an image of a family member's birth certificate because their scan of that document had a tiny fold in the corner. Getting a glare-free photo of a passport can be oddly challenging. You may find it helpful to have a second person hold the passport upright while you snap a picture, rather than laying it flat on a table.
If you're using a drivers' license as part of your identity documents, you will need photos of the front and back of the license.
For check-in, you'll need to have images of the required documents for all members of your party, including children.
You will also need to physically type in much of the information that exists on your documents. For example, you'll need to type in your passport number as well as uploading a scan.
You may find that Disney has auto-populated some fields during online check-in. For example, if you've sailed recently with DCL, your passport information may already be keyed in from your previous trip. PLEASE double check that the information is correct.
Passports or other identification information will also be reviewed in person at the port prior to embarkation. YOU MUST ALSO BRING THESE ITEMS WITH YOU TO THE PORT.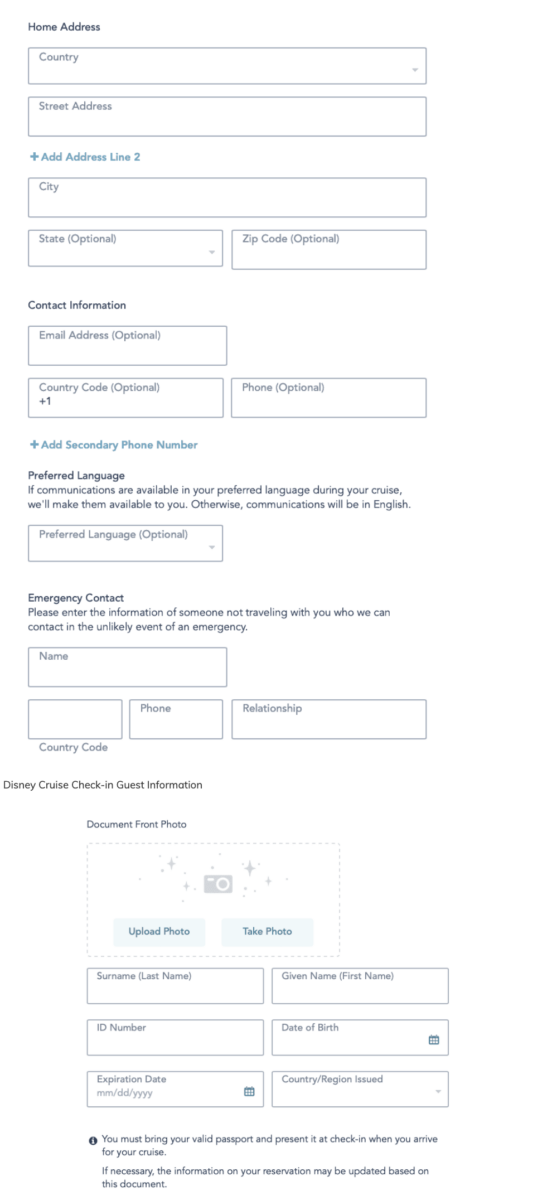 I've heard people talk about photos for identification. What's that about?
During the check-in process, you will need to upload a individual photo of each member of your party, including children.
The photo you upload must be a color picture with no filters, one person per photo, with a neutral background. You cannot wear a hat or sunglasses in the photo, or any glasses that obscure your eyes. You cannot use the same picture that is on your passport.
As long as you follow these guidelines, you'll find that a selfie or a child's school photo often works.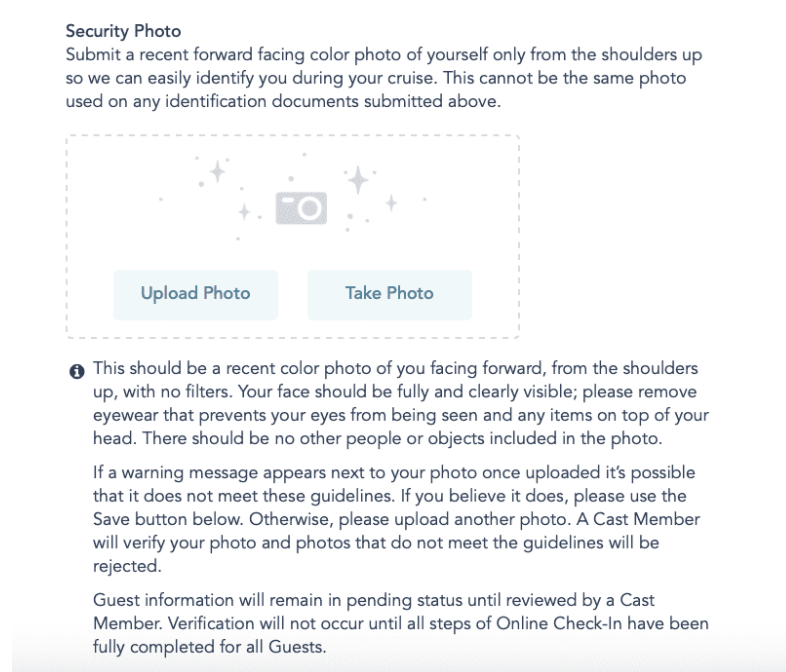 Why do I need to upload a photo?
Pre-pandemic, DCL took a photo of every guest at the port just prior to embarkation. They stopped this practice as a way to thin out crowds and reduce time spend gathering in close quarters at the port. Your uploaded check-in photo is the replacement for the embarkation identification photo.
These pictures are used by ship crew as identification while you're on board and when you exit and enter the ship during port stops.
Your picture doesn't need to be perfect or glamorous, it just needs to allow the crew to accurately identify you. Simpler is better.
The check-in says I need to provide emergency contact. Who should I put?
The odds of your emergency person being contacted are extremely small. Just pick any competent close friend or family member. However, you must choose someone that's not traveling with you.
What do information do I need to complete the onboard payment section?
This is the section where you'll input a credit or debit card that will be used for onboard charges such as adult beverages or dining, spa treatments, port adventures and the like. You may also elect to use a cash account for onboard charges. If you're traveling with more than one adult, you can designate different payment methods for each.
You can also grant, or choose not to grant, charging privileges to minors in your party.
I'm traveling with kids. What else do I need to know about check-in?
If you have guests in your party under age 18, you'll have an additional section of check-in to complete. This is where you can register them for kids' clubs (you can also do this at the port or while on board).
During check-in, you can also complete a debarkation permission form, if needed. Debarkation permission allow children to disembark the ship with an adult not staying in their stateroom. For example, if you're traveling with extended family across several staterooms, you might want to give permission for, say, a grandparent staying in a different stateroom, to take a child off the ship.
How do I fill out the travel section of the check-in form?
If you're flying to your cruise port, you'll need to provide your flight numbers and dates/times of travel in both directions. This helps Disney plan the flow of guests embarking and debarking, as well as giving them an additional means to assess your whereabouts if you're running late for your cruise.
If you don't happen to have your flight information available when you're completing online check-in, just say that you're not flying in for your cruise. You can add flight information later.
If you've paid for Disney transfers to/from a hotel or airport, make sure that the appropriate button is clicked on.
If you're staying at a local hotel before or after your sailing, DCL will also want to know this.
How do I select a port arrival time?
Once you've completed the bulk of the check-in tasks, you'll have the opportunity to select a port arrival time. Concierge guests may arrive at any time, but everyone else must choose a time. Typically options are available in 15 minute increments beginning at about 11:00 a.m. and ending at about 3:30 p.m., but there are variations depending on the port and the itinerary.
Most guests will opt to select the earliest arrival time available, but as mentioned above there may be circumstances where you prefer to have a later arrival window.
In the post-COVID era, Disney has been stricter about port arrival times, but things have loosened up in recent months. In general, plan to arrive at the port no earlier than half an hour prior to designated time.

The check-in process includes a contract. What is this?
The Cruise Contract is the official document that outlines the rights and responsibilities of both you and DCL related to your cruise. There are different versions for cruises in different locations. You'll have the opportunity to print the contract or have an electronic version of it sent to your email address.
There's a lot of technical, legal info in the contract, but it makes sense to give it a read, particularly if you're a first time guest or haven't sailed in many years.
To complete check-in, you must scroll to the bottom of the contract and accept it.
How do I make requests for things like seating in the main dining rooms?
You can make DCL preference requests in the online check-in section of the DCL website, but you can do most of this at any time after you've make your booking. There's no need to wait until  30 days before your trip.
See our full post on understanding DCL preferences for more details on this topic.
Do I need to test for COVID or provide proof of vaccination as part of the check-in process?
Not currently.
During the early post-pandemic return to sailing, Disney, along with most other major cruise lines, required that guests undergo varying sorts of pre-cruise COVID testing or levels of vaccination. There are currently no COVID-related requirements to cruise and no COVID-related components of check-in.
Disney could choose to reinstate these or similar requirements at a future date if COVID rates, or the incidence of any other communicable disease, become elevated. Be sure to check the Know Before You Go section of the DCL website several times in the weeks and months leading up to your cruise. (Note: There are different versions of this section depending on your itinerary. Look for different rules if your sailing departs from the United States, Canada, Europe, or Australia and New Zealand.)
How do I know that I'm done with check-in?
When check-in is complete, you'll be issued a port arrival form. You can download this and/or have it emailed to you.
The arrival form will state your port arrival time and boarding group, along with QR codes for your party members. You WILL NEED THIS FORM AT THE PORT. Be sure to bring it with you (both print and electronic versions of the form are OK).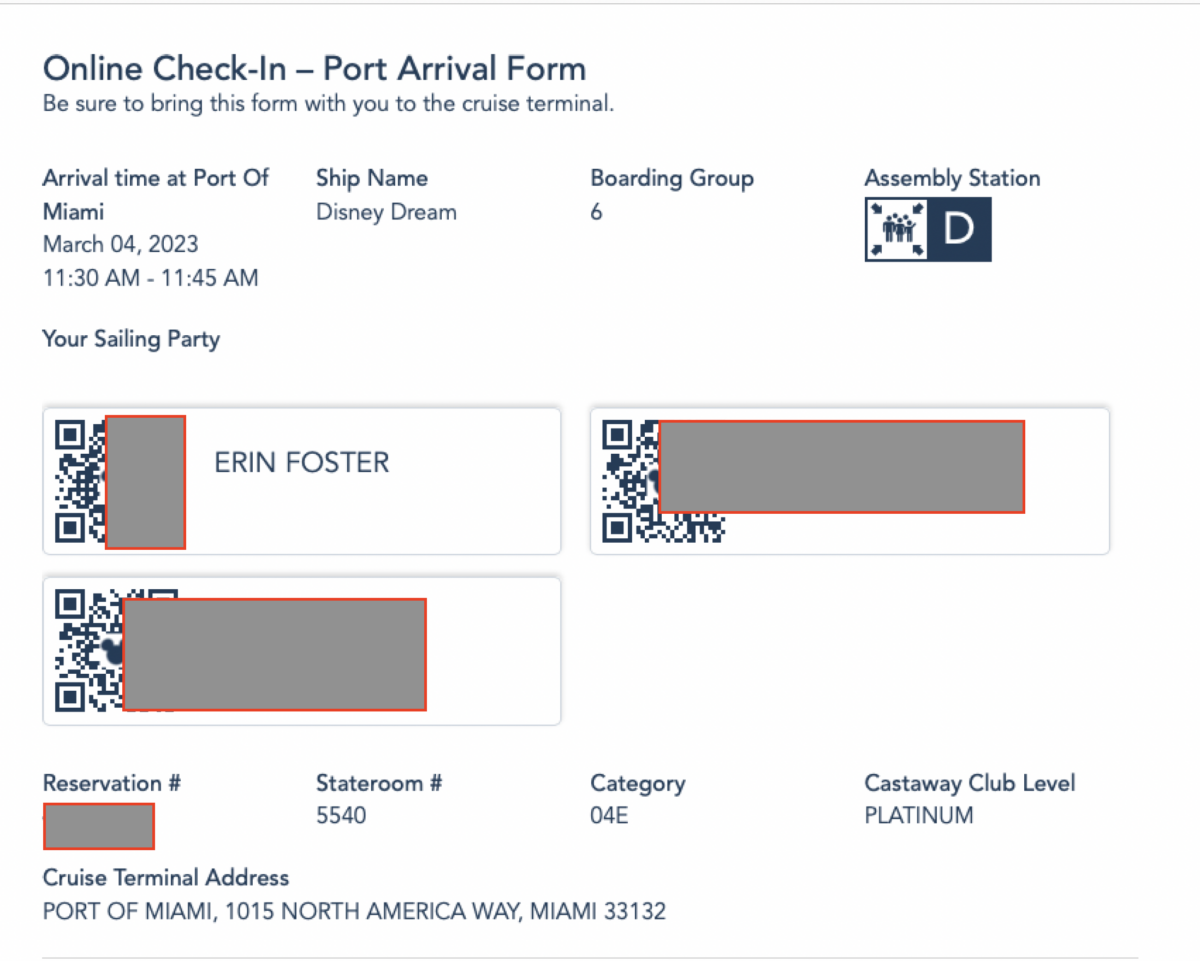 Should I use the Disney Cruise Line website or the Disney Cruise Line Navigator app for check-in?
You can do either, but I prefer using the website on my computer. I find that it's easier to read all the little boxes that must be checked and to upload documents using a larger screen, but that's my personal choice. Whichever version you opt for, make sure you have a strong Internet connection and that all your photos/scan are easily accessible on your device.
Why does the check-in section of the DCL website say "pending" even after I've uploaded all the documents and completed all the forms?
DCL uses humans to review all the identity documents and photos – and this takes some time. It often takes a few weeks for your documents to clear this process. Don't even begin to stress about this until a week prior to sailing.
When your check-in forms have been successfully reviewed, you will receive an email notification. As an example of typical time for review, I received this "Check-In Finalized" email on February 19 for a sailing departing on March 4.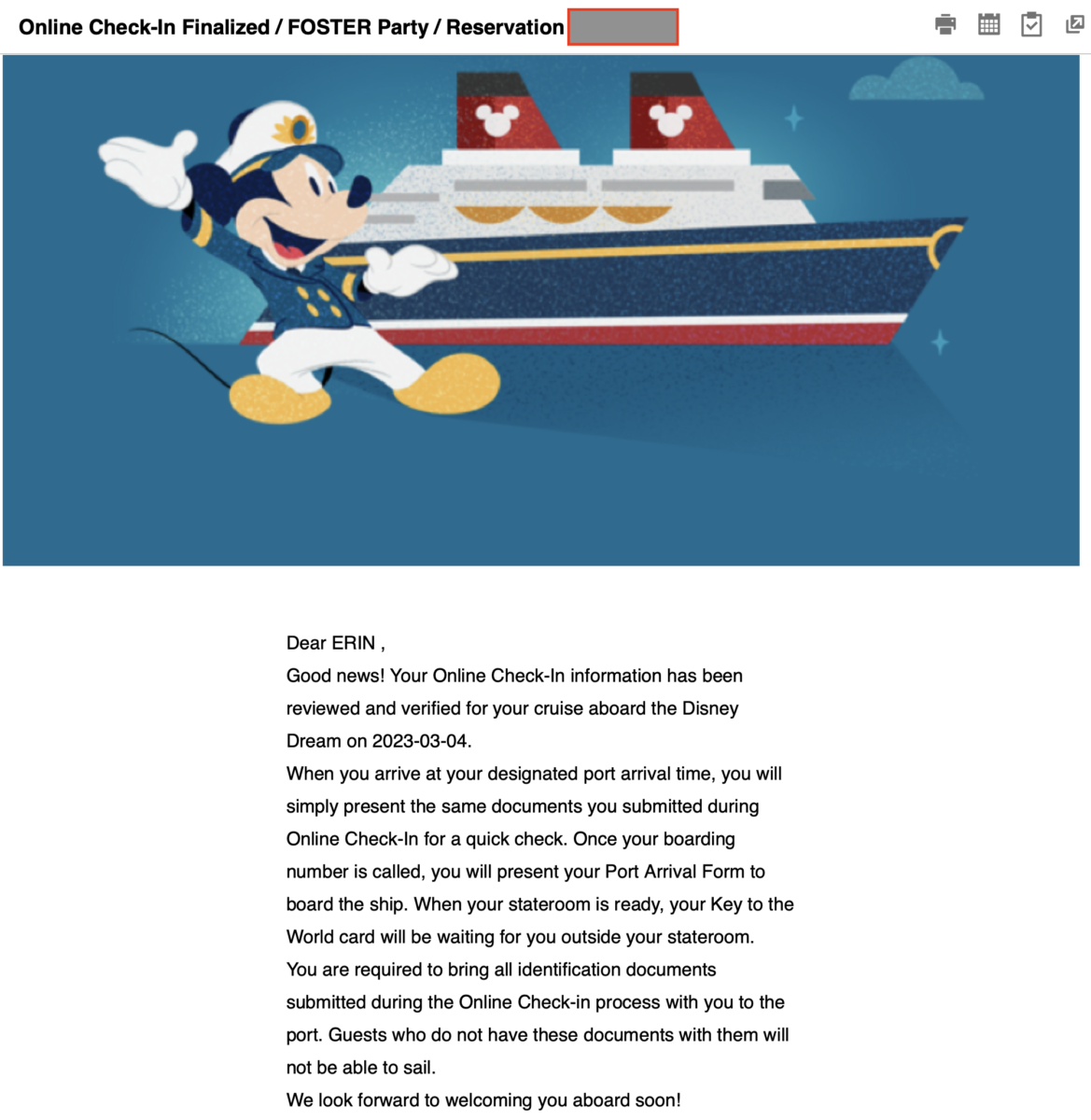 If you still see "pending" a few days before sailing, you may want to give DCL a call to see what's up. And as in all cases, be sure to bring all your documents with you to the port.
If you're looking for additional advice and planning assistance with any Disney Cruise Line sailing, be sure to check out the Unofficial Guide to Disney Cruise Line or ask for a free quote from one of our expert travel agents.
Note: Updates made May 1, 2023.