Fort Wilderness Cabins Will Become a Disney Vacation Club Resort
Disney has announced the newest Disney Vacation Club project, the conversion of the Cabins at Fort Wilderness into a DVC resort. There weren't very many details with the announcement, but that leaves lots of room for rampant speculation! We've got the highlights of Disney's statement below. And, we've got our thoughts on what changes we might see (and why) as more news is released about this project.
What We Know About the Fort Wilderness DVC Conversion
Here are the basics from Disney's announcement:
The name won't change much: the new resort will be called "The Cabins at Disney's Fort Wilderness Resort – A Disney Vacation Club Resort"
There will be 350+ new cabins. These will be built on the footprint of the old cabins.
Each cabin will sleep up to 6 adults, and have a bedroom, bathroom, living room, full kitchen, and private patio
A number of cabins will be dog-friendly
This will be the 17th Disney Vacation Club resort.
The Disney Vacation Club conversion of the Fort Wilderness Cabins is part of a larger project at Fort Wilderness. Again, the details were skimpy but the words "pools", "walking trails" and "dining" were mentioned.
How Do the Current Cabins Compare to Similar DVC Rooms?
Before we compare the Fort Wilderness Cabins with existing Disney Vacation Club rooms, let's take a moment to understand their niche and how it has evolved over time.
The History of "Sleeps 6" at Disney World
Fort Wilderness is one of the original resorts at Disney World, opening in 1971 along with the Contemporary and the Polynesian. In the 1980s Disney added "Wilderness Homes" to the resort, and in 1997 these were remodeled as the Cabins that we know today. Later remodels, most recently in 2016, made adjustments to the furnishings and layout but not to the sleeps-six capacity.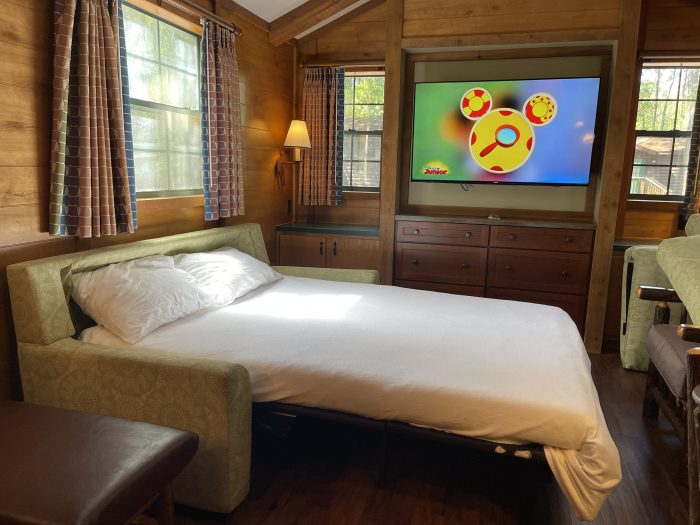 In the meantime, Old Key West (then the Disney Vacation Club Resort) opened in 1991. Outside of a small number of expensive hotel suites, the 2-bedroom Villas here were the only other on-property rooms that slept six. There was no guarantee that they would be available to reserve if you weren't a DVC member, and they were costly. So if you were a family of six, your options were mostly limited to a campsite, a Cabin, or an off-property room.
Disney spent the 90s and the early aughts branching out to Moderate and Value resorts. Different price points allowed a wider range of demographics to stay onsite. But no Value rooms slept more than 4, so even for families with only five, the most cost-effective rooms were at Moderates. And those Moderate rooms were comparable in price to the Cabins at Fort Wilderness.
Fast forward to 2006, when Disney opened the Family Suites at All-Star Music. With the advent of these 192 rooms, there were finally more options for larger families at the Value and Moderate price points. And unlike hotel rooms that slept five, these rooms were direct alternatives to the Cabins. They slept six and had, if not a full kitchen, at least a kitchenette where you could make coffee in the morning. Then, in 2012, Art of Animation brought more than a thousand new Family Suites into Disney's hotel inventory. The unique atmosphere of Fort Wilderness had always been a draw for the Cabins, but now it was the only one. Families who were simply looking for space had more conventional hotel options.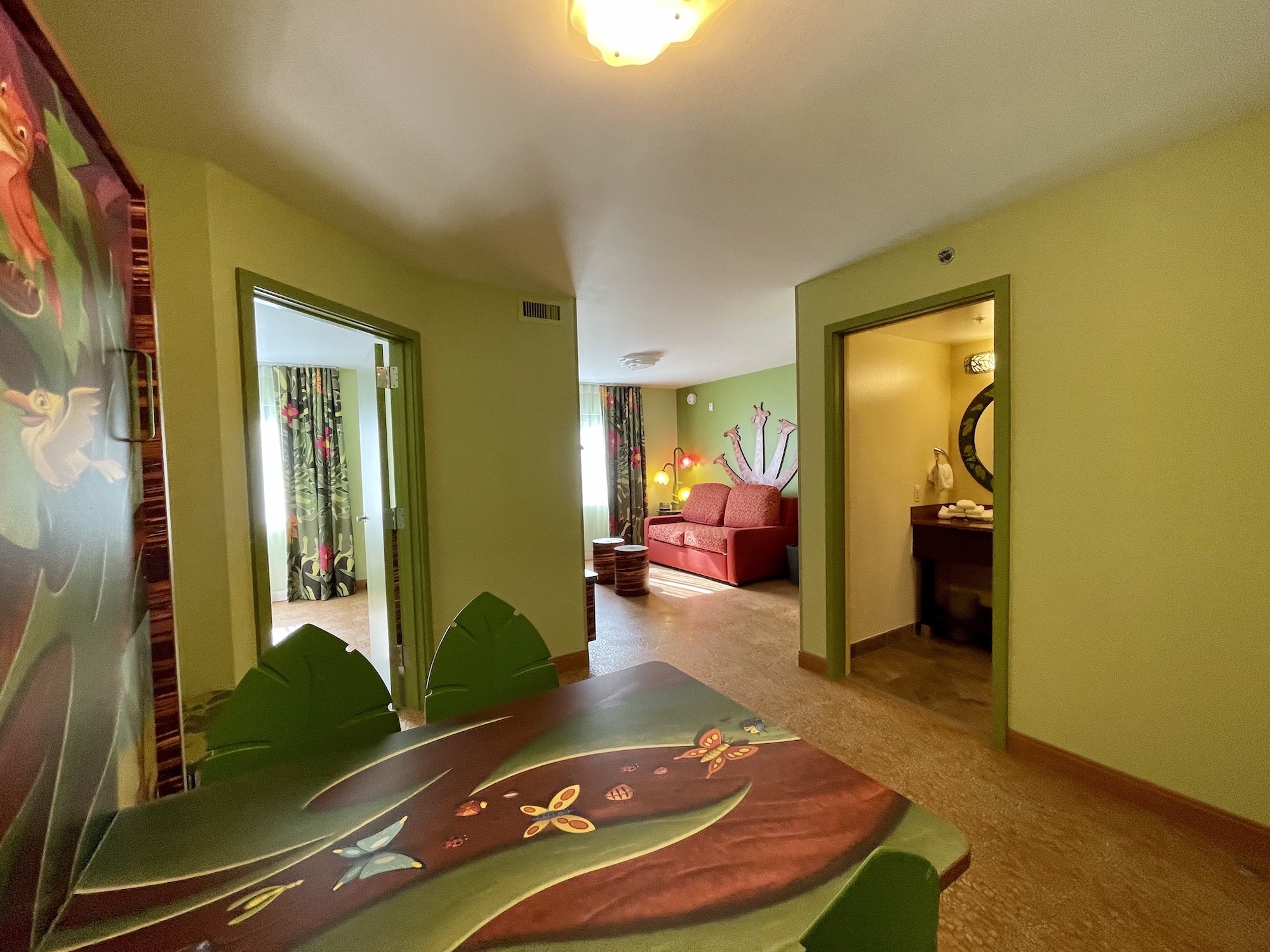 Fort Wilderness Cabins vs. Disney Vacation Club Villas
I can't say what Disney thinks, but I feel like the advent of Family Suites freed the Cabins to become DVC rooms. Prior to Art of Animation, they were needed to fill that sleeps-six niche in hotel inventory. But the Cabins are currently classed as Moderates, and are comparable in price to the Family Suites in the Value tier. Disney Vacation Club Resorts are considered part of the Deluxe tier.  How do the current Cabins compare to Deluxe-level Disney Vacation Club?
Rooms
Disney Vacation Club 1-Bedroom Villas sleep 4-5 with one bedroom and one bathroom, similar to the Fort Wilderness Cabins. They have full kitchens, as do the Cabins. They have laundry, which the Cabins don't. And there's one important difference.
If you are parents vacationing with your 3 kids, DVC 1-Bedroom Villas are set up so that you'll sleep in the bedroom. By yourselves. While you may be too tired to get up to any hanky panky after a day in the parks, you have the privacy to do it if you want to. By contrast, the Fort Wilderness Cabins have a queen bed and a bunk bed in the bedroom. Family vacation, yes … but that doesn't scream "Deluxe" family vacation to me.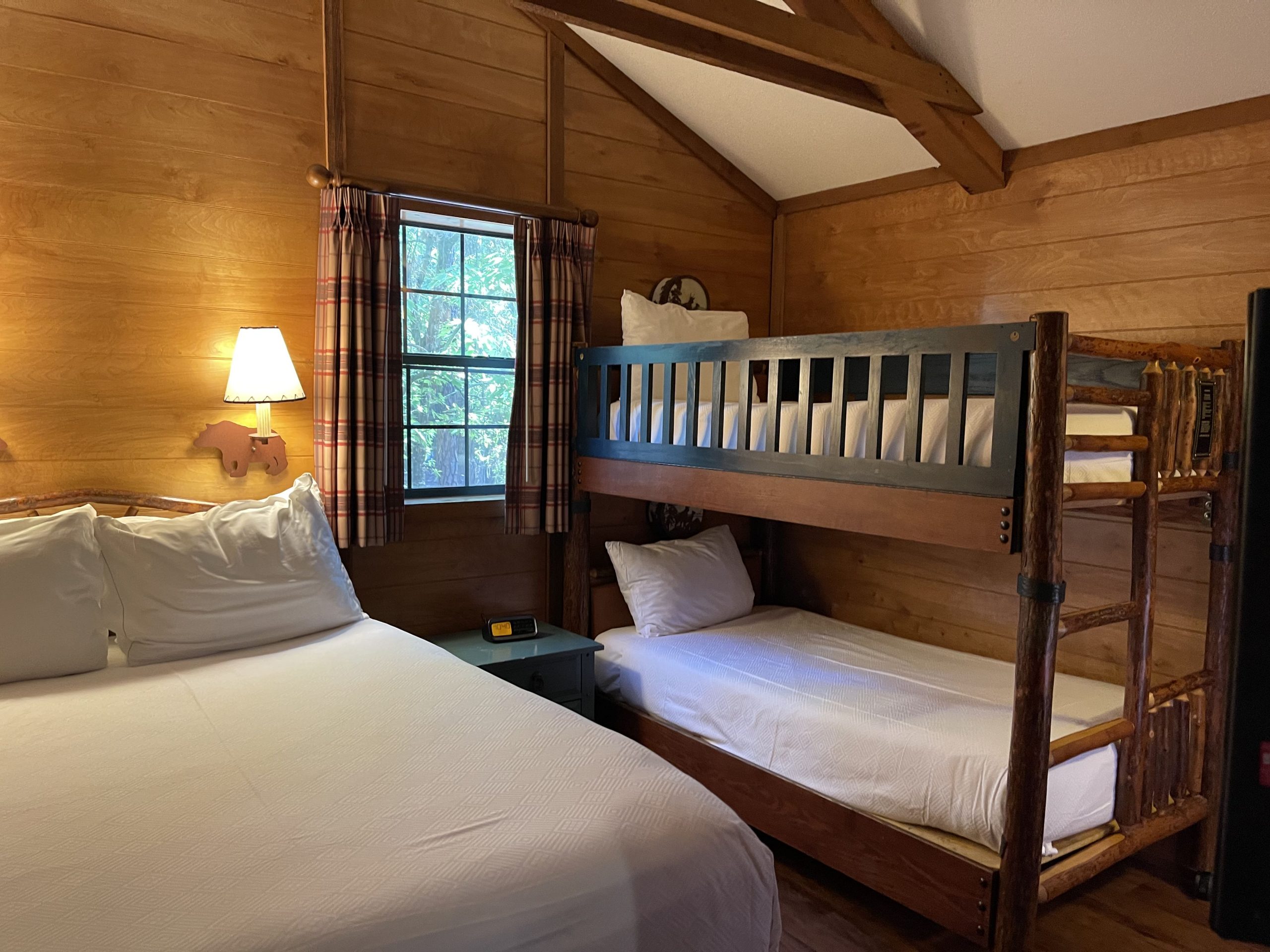 Transportation
Fort Wilderness is very spread out. It can take 20 minutes or more (depending on your speed) to walk from the Cabins to the Settlement, where the boat dock and the former Trail's End are located. It's also a bit of a hike to the main pool at the Meadow Trading Post. It's the only resort that rents golf carts to get around. And bus service to the theme parks requires you to take an internal bus to the Outpost and transfer.
While many DVC resorts are more compact, Old Key West and Saratoga Springs are also quite spread out. Less so than Fort Wilderness, but enough to make it hard to argue that things like internal bus loops and not being convenient to the feature pool are unheard of. I've stayed in the Saratoga Springs Treehouses, and it's a 15-minute walk from there to the feature pool too. Fort Wilderness does have a parking spot right next to your Cabin, both for your car and for a golf cart.
Dining
All Disney Vacation Club resorts have at least one Table Service restaurant. Currently Fort Wilderness has none. Trail's End has closed, and won't be replaced with Table Service when it reopens. Fort Wilderness does have the famous Hoop-Dee-Doo Musical Revue, but that's a dinner show. There are also a variety of Quick Service and Lounge options.
Recreation
The pools at Fort Wilderness are often considered subpar; guests have been known to describe them as "concrete holes in the ground". But recreation overall is a shining jewel of the resort. Archery, fishing, canoe and kayak rentals, bike rentals, and horseback riding – you can't find this range of options elsewhere. Fort Wilderness is a unique opportunity for a Disney vacation that doesn't focus on the parks. And perhaps this is part of its appeal for Disney Vacation Club, which serves repeat visitors who may not want a cookie-cutter resort experience.
Overall Summary
Rooms: the Cabins aren't quite in the same league as a Disney Vacation Club 1-Bedroom Villa.
Transportation: a few other DVC resorts are sprawling, but that's often seen as a negative by guests at those resorts.
Dining: In its current state, Fort Wilderness is definitely not up to snuff.
Recreation: The pools are a low point. But as a whole, the uniqueness of recreation makes Fort Wilderness a good fit to add some diversity to the Disney Vacation Club repertoire.
One thing that wasn't captured above is that there are currently no pet-friendly DVC resorts, so the fact that the Cabins are dog-friendly (and will continue to be) is a big mark in the win column. But big picture, I'd have to say that Fort Wilderness as is doesn't rank well as a Disney Vacation Club resort. Still … that's the "as is" comparison. There will undoubtedly be some changes coming.
How Will the Fort Wilderness Cabins Change as They Become Disney Vacation Club Rooms?
What will the new DVC Fort Wilderness Cabins look like? Disney only says that they will offer a "fresh take on the current Cabin experience", and you could drive a truck through the wiggle room in that statement. It's always dangerous to read too much into concept art, but I'm guessing we're going to see quite a bit of change. Click on any of the images in the gallery below to browse them.
Disney has already said that the new cabins will be built on the same footprint, so 504 square feet is what they've got to work with. That's 12′ x 42′ for the standard cabin; accessible cabins are a bit wider. The patio doesn't look like it's going to change much either. Looking at the concept art, the roof has gone from a simple gable to a skillion, which would be friendly to skylights. The Cabins have always been known for feeling dark inside, and a push to make the interior feel more light and open would also be consistent with the floor-to-ceiling windows and doors from the living area to the patio, as well as the clerestory windows.
I've already mentioned that the bedroom layout in the current Cabins is a problem as a DVC 1-bedroom unit. I think we're going to see the bedroom remain in the same location, but brought down to a single queen bed. The bedroom appears to be losing its direct access to the patio, and the clerestory windows can remain uncurtained during the day while still providing privacy. These two changes should make it feel more like a master bedroom.
What's going to happen in the rest of the space? Disney has made huge strides in use-of-space with Murphy beds in the last 10 years. It's a little ironic that in 2016 they took Murphy beds out of the current Cabins to replace them with a sleeper sofa, at the same time as they were adding pull-down beds in other resorts. I believe we're going to see something similar to the main room of the Family Suites in All-Star Music. For reference, those rooms are 10′ x 26′.
Maybe the TV will be under the right-hand clerestory, with a sofa/Murphy-bed combo opposite. And the dining table, currently a tight squeeze when not in use, could move to the back wall as a table/bed combo. That places the table opposite those floor-to-ceiling windows, for an airy feel, and the TV in a lower-light area for good visibility.
I used a free online floorplan tool to mock up what I thought a layout like this could look like. The floorplan below adds laundry and an additional vanity sink to help everyone get ready in the morning, as well as moving the 2nd bed to the living room area. I'm far from a design professional, so there are probably some significant issues like missing space for HVAC. Keep in mind: this is purely a thought exercise to show that it isn't impossible right off the bat.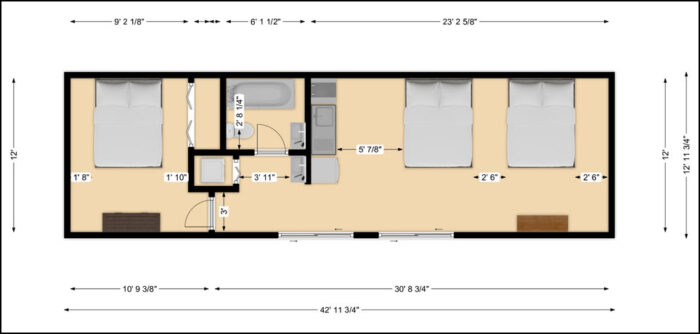 Here's a wild flyer of an idea. Maybe the sofa is beneath a bunk and folds down only to a twin, preserving the fan-favorite bunk beds. I'm not sure this is going to play well with the roof height for the skillion though. It might be too low at the rear of the cabin to make this work.
What Will Change at Fort Wilderness for Disney Vacation Club?
I hope it's obvious that what I've written above is my own wild-hair interpretation of what's possible. Disney has not officially announced any of these changes. But now that we've got the Cabins whipped into DVC-level accommodations, let's keep going to the resort as a whole. I'm going to take a big leap here: jump with me.
There are currently 364 Cabins at Fort Wilderness. The announcement for the reimagining of these Cabins as a Disney Vacation Club resort specified 350+. For the arithmetic-challenged, that means as many as 14 Cabins could be going away. The image below shows the current layout of the Fort Wilderness Cabins and the number of cabins in each loop.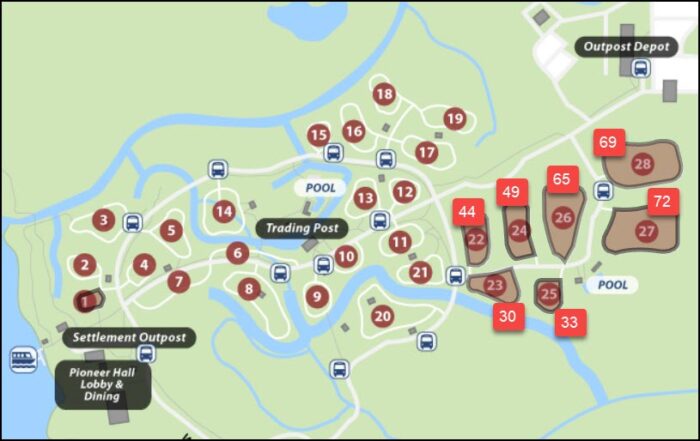 There's plenty of space in the current pool location for a reimagining. Less clear is whether there's space for a bar or Quick Service location next to it. Of course it looks like it on this flat map, but not all ground is suitable for building on. If Disney brings this pool more in line with a Deluxe pool, I expect it would be treated like the Riviera pool. Guests of the Cabins would be able to use the new pool, as well as the existing Meadow Pool, while guests at the campsites would be limited to the Meadow Pool. That might mean the construction of a new quiet pool elsewhere, attached to the campsites.
Removing some Cabins from the 2600 and/or 2800 loops could make way for the following changes:
Construction of a Table Service restaurant with attached Quick Service
Movement or expansion of the Outpost Depot, including the associated parking, closer to the existing Cabins or
Upgrading the current bus stop within the Cabin loops to have bus service direct to the theme parks
The need for a Table-Service restaurant if we're shooting for Deluxe should be obvious. Changes to the bus service and parking would kill two birds with one stone. First, it would bring bus transportation in line with what you find at Old Key West and Saratoga Springs. It won't be the Skyliner or the monorail, but you'd be able to walk to a bus and take it to the theme parks, instead of having to first get to the Outpost and transfer. Second, it would bring access to the new restaurant for guests not staying at Fort Wilderness. A challenge of Trail's End was getting to it from anywhere outside the resort, except the Magic Kingdom boat dock. A new restaurant with nearby parking or bus service wouldn't have that setback.
Disney also spoke about improvements to the walking trails. I don't know how far it is, but I wouldn't be surprised to see a walking path from the Cabins to Wilderness Lodge. Or, there could be a shuttle between the Cabins and Wilderness Lodge like the one that runs from Jambo House to Kidani at Animal Kingdom Lodge. Increasing access to Wilderness Lodge adds to the "Deluxe-ness" of the Cabins.
How Could These Changes Affect the Cost of the Fort Wilderness Cabins?
TL;DR: the above (hypothetical and not Disney-confirmed) changes would
Give the Cabins a layout consistent with a Disney Vacation Club 1-bedroom elsewhere
Improve the feel of the Cabins by increasing the amount of light and improving the use of space
Bring new Table-Service dining to the Cabins at Fort Wilderness Resort, within walking distance
Increase access to this new dining option for guests not staying at the Cabins
Bring direct-to-parks transportation to within walking distance of the Cabins
Increase access to dining and amenities at Wilderness Lodge for guests of the Cabins
Improve the pool at the Cabins to be in line with other Deluxe feature pools
Potentially bring new Quick-Service and Lounge options to the Cabins at Fort Wilderness
These changes would bring The Cabins at Fort Wilderness – A Disney Vacation Club Resort into line with the Deluxe tier, and the relationship with the Fort Wilderness Campsites could resemble what we see with Caribbean Beach and the Riviera. As a Moderate, the Cabins are priced with the Family Suites at Value resorts. As a Deluxe, I'd expect to see these rooms priced more in line with 1-Bedrooms at Saratoga Springs and Old Key West. That would mean a rack rate of between $600 and $800 per night or so; about $4.2-$5.6K per week.
As far as points go, we already have a points chart for the Fort Wilderness Cabins in the 2023 Disney Collection. But using points to trade into the Disney Collection tends to be "overpriced" compared to using those points at a Disney Vacation Club resort. Case in point: a Savanna View room at Animal Kingdom Lodge through the Disney Collection is 379 points per week over the summer of 2023; for most of that time a comparable Savanna View Deluxe Studio is 125 points. Post-reimagining, I think we'll see point ranges akin to Old Key West and Saratoga Springs. Maybe a bit higher given that they'll sleep 6.
What to Take Away
All that we know right now is what Disney has announced: high-level details. But it's not hard to imagine how Disney could change the Fort Wilderness Cabins. Improvements to dining, pools, and park access could convert the Cabins to the Deluxe tier. These improvements would also be a boon to the rest of Fort Wilderness. Disney has said that the Cabins will still be open to all guests as inventory allows. Fort Wilderness Cabins are a Moderate resort now, but a move into the Deluxe tier would come with an increase in price. Whether you're looking to spend cash or points, I expect that the Fort Wilderness Cabins as a DVC resort will be priced similarly to 1-Bedroom Villas at Old Key West or Saratoga Springs.