FAQ: Disney Cruise Line Port Adventures – Pros, Cons, and Whys
New Disney Cruise Line guests are often confused about booking port excursions during their sailing. We're here to answer ALL your questions.
What is a port excursion?
Port Excursions (also called Port Adventures) are activities off the ship when the ship is in port. Most, though not all, port excursions are organized group activities, where you will participate in an activity or explore an area with other parties sailing on the same ship.
Port excursions range from inexpensive walking tours to $1,000+ helicopter trips.
There are a few port excursions that include a private guide or private transportation. These are typically among the most expensive options.
And there are a handful of inexpensive activities that Disney classifies as port adventures on Castaway Cay (DCL's private island) that are really just equipment rentals. For example, you can rent a bike for an hour on your own time.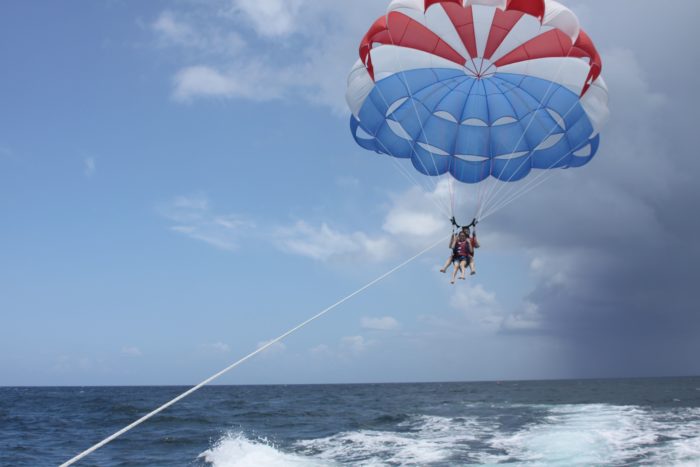 Do I have to book a port excursion?
Absolutely not.
You're welcome to stay on the ship during any port stop. You're also welcome to disembark the ship an explore any port on your own. Or you can plan an excursion with an outside vendor. The choice is totally up to you.
Will I be missing out if I don't book a port excursion?
Possibly. But also possibly not. It really depends on what your vacation goals are, what your budget is, where you're going and a host of other factors. Here are some examples of what I mean:
I've been to Nassau port calls a dozen times before and I'll probably stop there again. I might decide stay on the ship when we dock in Nassau because I want to enjoy the onboard amenities (such as the AquaMouse slide) when they're less crowded.
I'm on a limited budget and I really want to experience the spa and adult dining options on the ship. I'll skip the organized port excursions to save funds for what's more important to me.
I have a particular interest on shore that isn't part of any of any organized excursion, I'll just explore the port on my own.
I'm a single person who very much wants to have an onshore experience but nervous about being in an unknown place on my own. Booking an organized port excursion might be the best (or only) option.
I'm in a once-in-a-lifetime port and want to see the highlights in an organized manner. Booking a port excursion might make a lot of sense for me.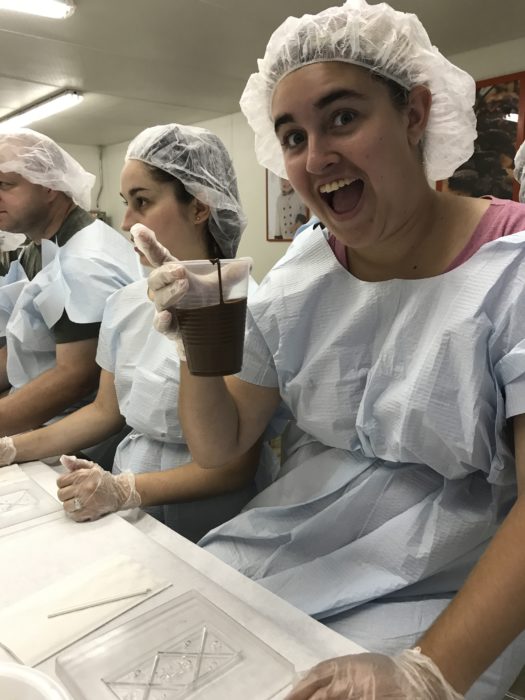 I want to book a port excursion. Do I have to book my excursions through Disney?
Nope. There are vendors at nearly every port that offer outside tour bookings.
What are the advantages to booking through Disney?
Some of the advantages of booking a port excursion through Disney are:
Convenience of selection. To book a Port Adventure through Disney, just head over to the DCL website. For each port you'll see a menu of options, it's a one stop spot for information including activity descriptions, age/height/weight restrictions, costs, and related data. If you find an excursion appealing, you can have it booked with just a few clicks.
Convenience of billing. When you book your excursion through Disney, the fee appears on your stateroom bill, which you can pay using any of the acceptable DCL methods, in US dollars, British pounds, or in Euros. As an added bonus, you don't pay a deposit and you don't pay until you sail. If you're booking an excursion in another country on your own, you may have to pay a large deposit, you may have to pay in another currency, or you may be limited to use of a particular credit card or other form of payment, possibly with an unknown exchange rate. And remember if you're using Disney Gift Cards as a payment method on the ship, you may be able to have an effective 5% discount if you've purchased your gift cards through Target, or other discounts when purchasing through Sam's Club, Costco, or another retailer.
Safety. Of course, whenever you're on a port excursion, you'll want to exercise and abundance of caution, but if you book a Disney-vetted excursion, you know that they've done some of the work for you. Disney verifies that the excursions they offer are via legitimate businesses. They make sure that the transportation used is safe and that the guides are accountable for your whereabouts. If you book an excursion on your own, the onus is on you to do the research.
Communication with the ship. When you book an excursion through Disney, they know where you are. If something unforeseen happens, they have representative who can contact your group and vice versa. If you book your excursion on your own, cast members on the ship will likely have no idea where you are. And they're not going to wait for you if you don't arrive back at the dock prior to sail-away time.
Language issues. Booking your excursion through Disney means that the transaction will take place in English. If you're booking an excursion on your own for a port in another country, the website or phone representative may use another language.
Cancellation policies. Disney Cruise Line's Port Adventure cancellation policy is clearly stated on their website. If you book on your own, you may be subject to an entirely different set of policies, which may or may not be clearly outlined, or fair.
How do I book port excursions through Disney?
The overview of all port excursions is the place to start if you're just beginning to explore whether you want to take a Disney cruise. If you've already reserved a DCL cruise, you can book port excursions once your booking window opens AND you've paid in full for your cruise. Booking windows are based on your Castaway Club status (see below for more info on this).  Assuming you've fulfilled both these requirements, to book an excursion on the DCL website, go to the information page for your reservation and follow the steps below.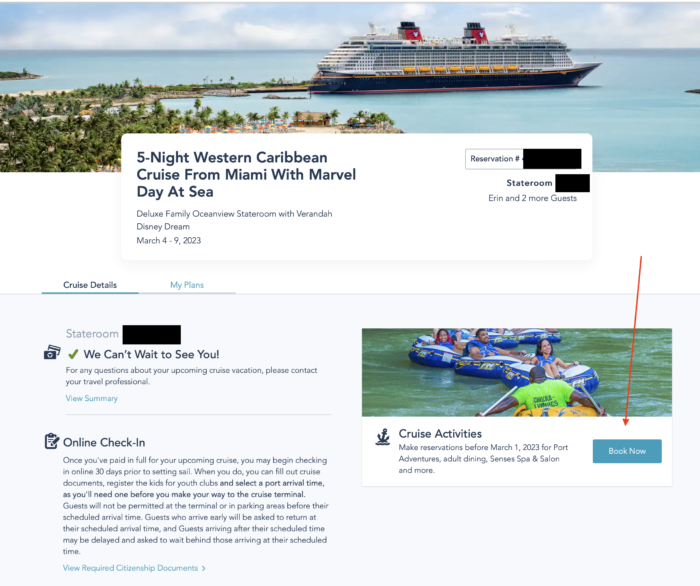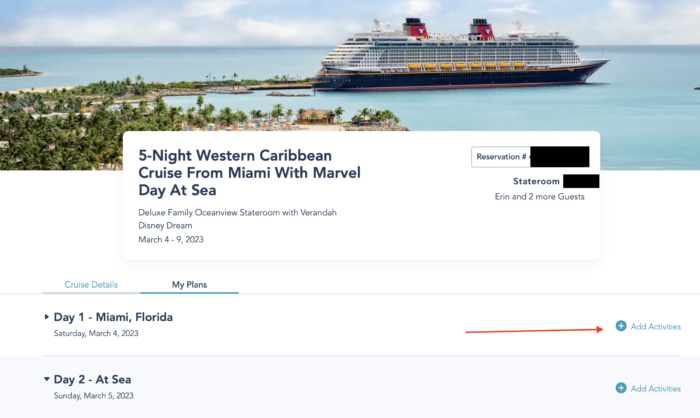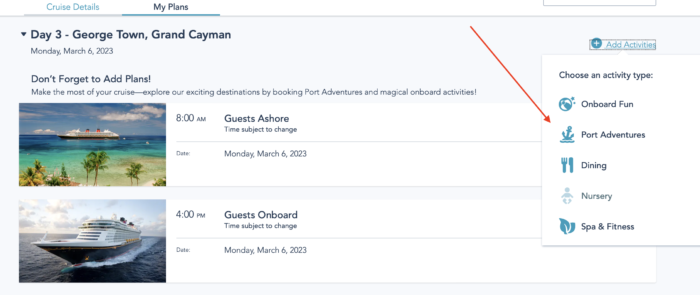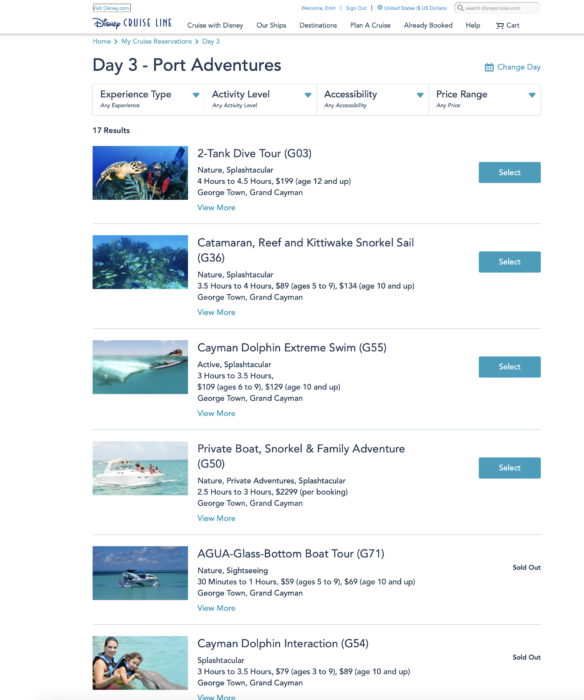 Listings will include information about price, activity level, duration of the excursion, transportation methods used, and more. Be sure to read these descriptions carefully to make sure that you're booking something that is appropriate for your family. See, for example, the wealth of information about this one Grand Cayman excursion.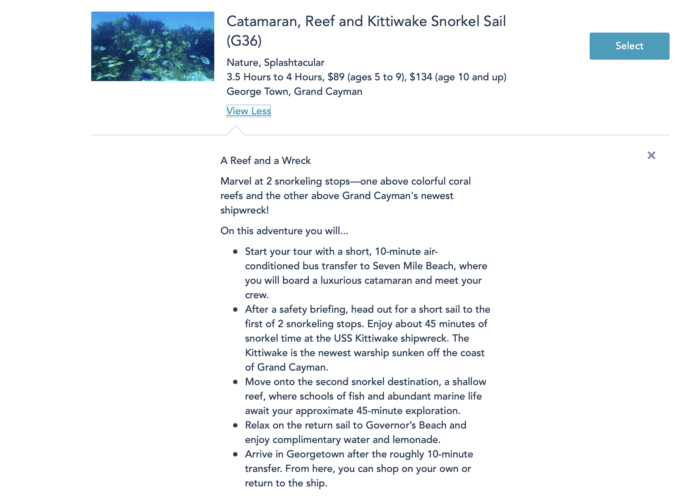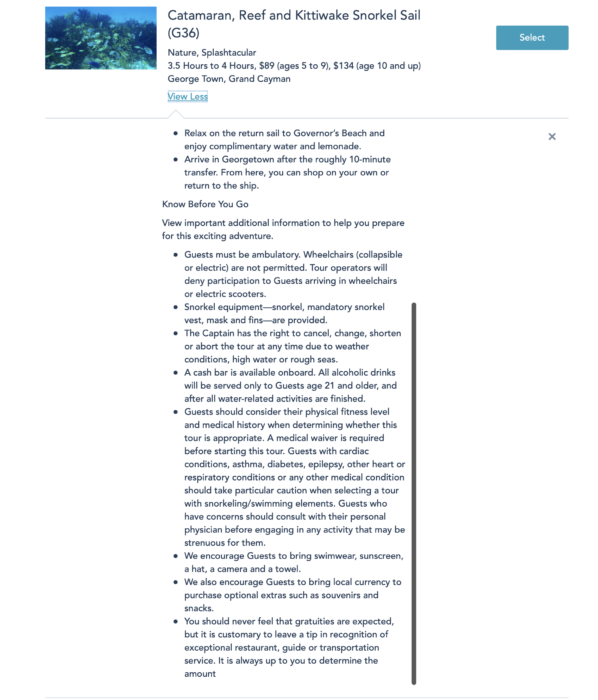 What are some reasons why I would not want to use Disney for my port excursions?
While booking a DCL excursion is easy, it might not be right for everyone.
Price. Many guests have found that similar excursions to Disney's can be booked independently at a lesser cost. Additionally, when booking on your own, you'll be able to construct an excursion at a budget or luxury level that specifically suits your needs.
More options. While Disney offers a range of excursions at each port, the list of options is certainly finite. If you book on your own, there's no limit to the number of choices you might have.
Customization. When booking on your own, you can often work with a vendor to construct an excursion custom tailored to your interests or hobbies. You might be able to combine visits to two disparate sites in one excursion. You might be able to skip part of a standard tour that doesn't interest you. You might be able to linger longer at a favorite venue. Or you might be able to arrange for transportation which accommodates a medical need, such as wheelchair use.
Booking window. On the DCL website, your ability to access excursion booking is based on your Castaway Club status. A first-time cruiser booking excursions through Disney might be locked out of some popular activities because they've become fully booked before they had access. When booking excursions on your own, you're not subject to any waiting period. You can take a crack at booking whenever you want.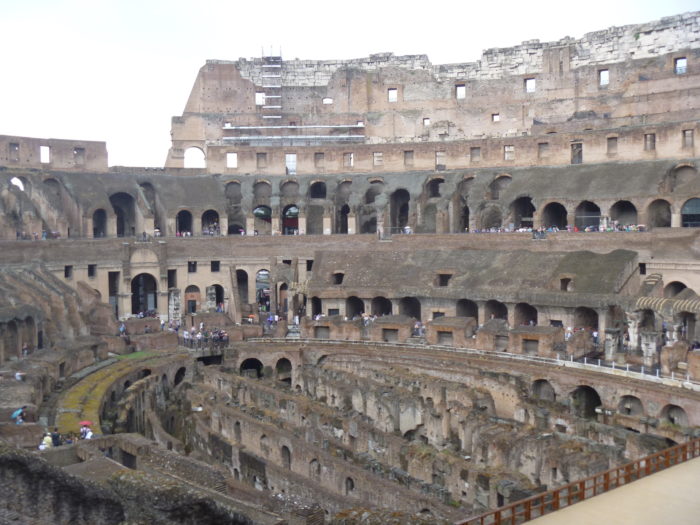 What are some reasons why I might want to stay on the ship when we're in port?
As I mentioned earlier, some guests prefer to stay on the ship rather than disembark at port stops. Here are some reasons why:
This is your first DCL sailing, or first sailing on a particular ship, and you want to explore it in great detail.
You're a DCL veteran but want to enjoy the ship's amenities when it is less crowded on board.
You're sailing in a concierge level stateroom and want to get as much from that investment as possible.
You've been to that port before and have already experienced the main attractions.
You have physical limitations or a medical condition that make it difficult to maneuver in a particular port.
You have safety concerns about a particular port.
You have budget constraints that make staying on board more appealing.
You have anxiety about something like returning to the ship on time.
What are some reasons I might want to disembark the ship in port without a planned excursion?
Many guests choose to just walk off the ship and explore rather than booking a planned excursion through Disney or through another source. Some reasons are:
You like puttering around new places. For example, you enjoy exploring things like local supermarkets or food stalls that are near the dock.
You only want to be off the ship for a limited amount of time.
You want to enjoy the local culture without the filter of a tourist guide.
You're learning the local language and want to practice with residents of the area.
You just want to sit on a local beach and don't need help doing that.
… and so on.
Also be aware that if you book a short excursion and the port call is long, you may be able to combine a planned activity with spontaneous exploration.
How does Castaway Club status impact my ability to book port excursions through Disney?
Castaway Club is the method Disney uses to reward repeat cruisers. It works somewhat along the lines of a frequent flyer program in that the more you use the service (Disney cruising), the better your "status" and the more perks you get.
If you've never taken a Disney cruise before, you are a First Time Guest.
Guests who have completed 1 to 4 Disney cruises have Silver Castaway Club status.
Guests who have completed 5 to 9 Disney cruises have Gold Castaway Club status.
Guests who have completed 10 or more Disney cruises have Platinum Castaway Club status.
Guests who have completed 25 or more Disney cruises will have Pearl status when this new level rolls out later in 2023.
Your Castaway Club level determines how soon you can book your port excursions.
First Time Guests may make reservations 75 days prior to sailing.
Silver Castaway Club Guests may make reservations 90 days prior to sailing.
Gold Castaway Club Guests may make reservations 105 days prior to sailing.
Platinum Castaway Club Guests may make reservations 120 days prior to sailing.
Stay tuned on information for Pearl cruisers.
While some port activities rarely become fully booked (bike rentals at Castaway Cay, for example), other experiences are in short supply.
Please note that some Castaway Club benefits (such as the window when port excursion booking opens) are determined by the Castaway Club member with the highest status in each stateroom. For example, if I've been on a few more cruises than my husband (lucky me) and my Castaway status is higher than his, I can make excursion reservations for both of us at my higher status level. However, if we're also traveling with our neighbors, First Time Cruisers staying in another stateroom, even though they are part of our party, they can not take advantage of my higher status level. Effectively, Castaway status on any particular cruise is applied by stateroom, not by the total party.
Keep this in mind if you're planning an activity for a large group. Not everyone will have equal access to reservations if members of the traveling party have different Castaway Club status levels.
The port excursion I want is listed as Sold Out on the DCL website. What can I do?
Well first, keep checking back. People cancel cruises and cruise excursions all the time. Your desired activity might suddenly reappear as an option.
You could also decide to wait until you board and see if someone has dropped out at the last minute. (Stop by Guest Services or the onboard Port Adventures desk to do this.)
If you don't want to wait that long to ensure that you'll be able to do what you want, another option is to book a similar excursion on your own.
What are the cancellation policies if I book my excursion through Disney?
Cancellations can be made up to 3 days prior to the cruise departure date, unless otherwise noted on a specific activity. After that time, all reservations are final and non-refundable.
Also note the Disney or the excursion operator will sometimes cancel an excursion at the last minute. For example, many of the Castaway Cay port excursion (such as parasailing or feeding stingrays) are cancelled if there are even moderately high winds. If this happens you will automatically be refunded.
How do I pay for a port excursion I've booked through Disney?
The Guest's onboard account is charged for booked Port Adventures and activities upon boarding the ship.
Guests typically place a credit card on file before arriving via the online check-in process. Other options include providing a credit card at the time of embarkation or setting up a cash account.
At the end of the cruise, Guests may choose to settle their account with the credit card on file, a different card or cash.
If want to have a port excursion but I can't or don't want to use Disney, what are my options?
There are many ways to located non-Disney port excursions. Some include: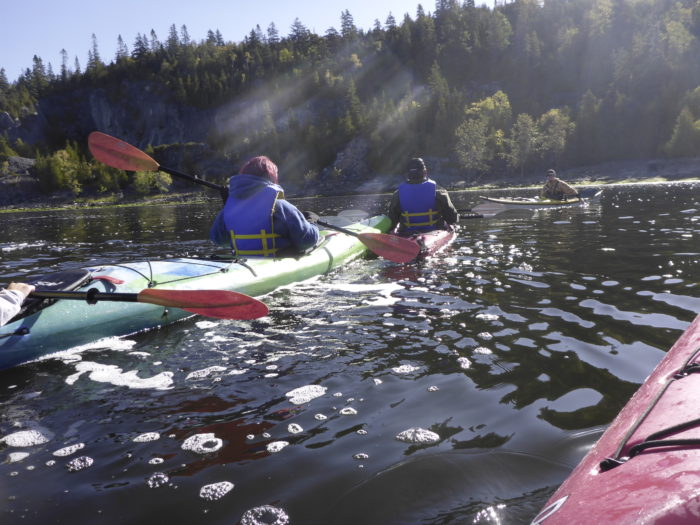 What questions should I be asking when trying to decide about a port excursion?
When you're booking a port excursion (through Disney or on your own), you should have a handle on the following:
What is the base price of the excursion?
Are there additional fees for things like meals or photography?
What language will the excursion be conducted in?
Are there similar excursions in other ports? Would it be better to do this elsewhere?
Can I do something like the excursion at home? For example, some excursions with cooking classes or ziplining are similar to things you can do in many parts of the US.
Are there age limits for all or part of the excursion?
Is there an adults only or teens only version of this? Would that better suit my family?
Can my family's medical needs be accommodated on this excursion? (Consider things like wheelchair use, food allergies, and motion sickness tendencies.)
How active is this excursion? Is that appropriate for my party?
Do I have the necessary qualifications to do the excursion? For example, some dive excursions require scuba certification?
What sort of transportation will the excursion use? Do I feel comfortable with that?
Are the weight limits I need to know about? For example, some helicopter-based excursions in Alaska or Hawaii have weight maximums.
How much of my day will the excursion use?
What's the ratio of travel time to entertainment time on the excursion?
What are the cancellation policies?
Do I need to leave a deposit?
Has the excursion been impacted by any outside factors such as COVID or recent storms?
Will the excursion be conducted if there are adverse weather conditions?
Is a passport needed? (Some DCL guests may board the ship without a passport but may be excluded from certain activities if they don't have one.)
Will I be required to pay for the excursion if the ship does not end up visiting that port. (It doesn't happen often, but the ships do occasionally need to reroute due to weather or other local conditions.)
Does the excursion vendor have a good reputation? Can you verify this with a known party (a friend or your travel agent) or do they have good ratings on a service like Yelp?
How many people will I be sharing the excursion with? Is this a big group tour, a private booking, or something in between?
What's the best way to contact the tour operator if I have questions or if something happens last minute that impacts my ability to participate? Will I have access to that communication method when I'm on the ship? For example, does your phone plan include calls from ship to shore at a reasonable price?
Will I need to bring anything with me on the excursion – camera, food, swim fins, towels, etc.?
Will I be required to sign things like safety waivers? How do I feel about that?
Do I have the ability to customize the excursion to meet my unique needs?
How do you get to your Disney Cruise Line port excursion?
If you've booked your excursion through Disney, the DCL Navigator app will be populated with instructions once you get on board.
Typically, you'll meet in a common area of the ship (such as a lounge or theater) at an appointed time and a DCL crew member will walk you off the ship and take you directly to a representative of your tour company.
If you've booked an excursion on your own, then you'll have to make your own arrangements.
Do you take your passport on shore excursions?
There are different schools of thought on this – and some of it depends on the excursion and the port. However, at the very minimum you should bring a photo ID, your ship ID (Key to the World Card), and a photocopy of your passport. Be aware that if you are late returning to port and miss the ship, having your passport with you will greatly facilitate getting you back where you need to be.
Some excursions will specify that passports are 100% required. For example, there are some train-based excursions in DCL's Alaska ports that wend in and out of Canada. Passports are absolutely necessary here.
Should I tip on a shore excursion?
See our guide to tipping on Disney Cruise Line for more info on DCL tipping in general, but yes, tips are almost always welcome. If you have had a good experience with your excursion bus/boat/car driver or tour guide then offering a tip is best practice, though not strictly required.
Are there any rules about port excursions?
In general, you should try to be a good human. Observe and respect the rules of your host country. Treat the tour operators and your fellow passengers with grace and kindness.
Beyond that, pay strict attention to the instructions related to your excursion. Arrive on time for departure and be super double plus sure to arrive back at the ship well before departure time. Bring the required documentation with you. And pay attention to your surroundings – safety is paramount whenever you're traveling.
If you're looking for additional advice and planning assistance with any Disney Cruise Line sailing, be sure to check out the Unofficial Guide to Disney Cruise Line or ask for a free quote from one of our expert travel agents.