FAQ Tipping on Disney Cruise Line: EVERYTHING You Need to Know
First time Disney Cruisers often have A LOT of questions about how to tip on their vacation. Some guests get overwhelmed, thinking – this is new environment to me – I don't want to seem cheap, but I also don't want to get rooked. Which tips are required and which are optional? How does tipping physically work? And on and on and on … Never fear, we've got the COMPLETE scoop on what you need to know about tipping on your Disney Cruise Line sailing.
I'm on a strict budget. What's the bare minimum I have to tip?
The bare bones Disney Cruise Line gratuity amount is currently $14.50, per person, per night, for guests staying in non-concierge staterooms.
If, for example, you're traveling on a three-night cruise with a party of two, your total gratuity fee would be $87 ($14.50 x 2 people x 3 nights). If you're traveling on a seven-night cruise with a party of four, your total gratuity fee would be $407 ($14.50 x 4 people x 7 nights).
This baseline amounts will be automatically added to your stateroom bill. You can choose to pay them in advance of your sailing or once you're onboard.
If you're having trouble figuring out what your party's baseline tip amount will be, head over Scott Sanders' excellent Disney Cruise Line Blog to use his DCL Tip Calculator tool.
If you're sailing in a concierge stateroom, tipping is slightly different – I'll cover that in a sec.
Who do those tips go to?
The breakout of the daily $14.50 is:
$4.75  for your server (your main waiter)
$3.75 for your assistant server (the waiter primarily tasked with your beverages and clearing)
$1.25 for your head server (runs the dining room)
$4.75 for your stateroom host (cleans and maintains your stateroom).
There are other situations where you'll be tipping on the ship, the base gratuity covers these four people.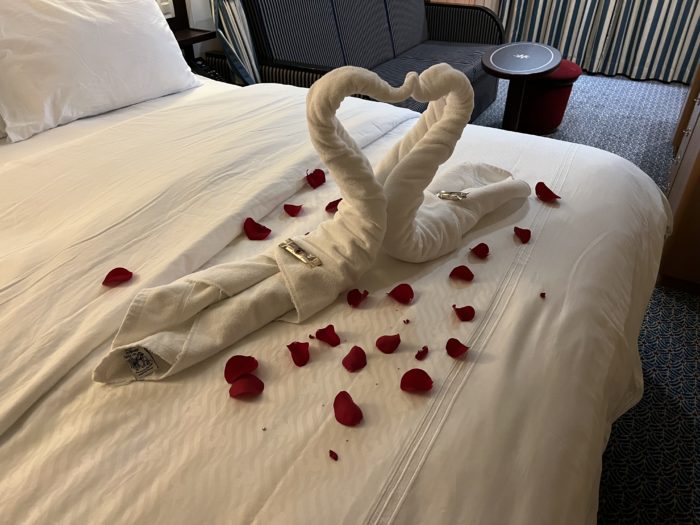 Do I really have to tip all those people? I mean, I don't even know what the head server does?
The server, assistant server, and stateroom host are people that will be highly visible during your trip. They'll assist you daily and you'll observe them doing their jobs.
On the other hand, the head server position is a bit of a black box. They will likely stop by your table to greet you during dinner, but otherwise it's not immediately clear what they do to merit a gratuity. Here's what they're up to: the head server is responsible for making sure that the entire dining room runs smoothly. This will impact you personally if you've made any special requests about your meal situation. If you want your table in a specific location, if you want to avoid sitting with strangers, if you want to make a mid-cruise change to your dining rotation, or if you're having a problem with your table's serving team, then the head server is the one who deals with those issues. You should tip them.
I'm from a country that doesn't have a tipping culture, can I forgo tipping?
Can you? Maybe.  (see below)
Should you? Definitely not.
The Disney Cruise Line website reads, "It is customary to give gratuities …" Tipping is the norm and you should be prepared to abide by this custom.
The DCL crew members in tipped positions have a modest base salary; the majority of their pay comes from gratuities. These folks work incredibly hard to enhance your cruise experience, with no days off for months at a time. Just pretend that it's part of the baseline cost of your trip and move on.
I'm traveling with a baby that doesn't eat solid food. Do I still have to  pay gratuities for them?
A baby is a person, so yes.
I see that I can pre-pay these gratuities ahead of my cruise. Should I do that?
It's really up to you. Some guests prefer to have a larger portion of their cruise expense paid in advance, often because this helps their budgeting process. Other guests like to hang onto their money as long as possible and only mete it out when required.
You can prepay tips on the DCL website. Or if you're using a travel agent, they can do this for you.
Do I have to tip the serving team members if I won't be eating in the main dining rooms?
Several years ago I traveled on a three-night Disney Cruise Line with a group of friends. One member of our party never ate in a main dining room. She was ill one evening and ate in her room and the other two nights our party ate at Remy and Palo.
Since my friend didn't use the services of any of the main dining room staff, she went to Guest Services and asked to have the gratuities for those folks removed from her bill. The cruise staff gave her some solid pushback, but in the end they did remove those tips from her folio.
Why did she get pushback? It turns out that the waitstaff does much more than serve you dinner. They're also serving meals at the pool deck buffet restaurants, in the main dining rooms during breakfast or lunch, and on Castaway Cay. In short, even if you're not eating dinner in the main dining rooms, you're all but certain to be using waiter services during other portions of your trip.
And again, these folks don't make a lot of money. If you have the wherewithal to take a Disney Cruise Line vacation, the addition of a de minimus tip will mean significantly more to them than it will to you.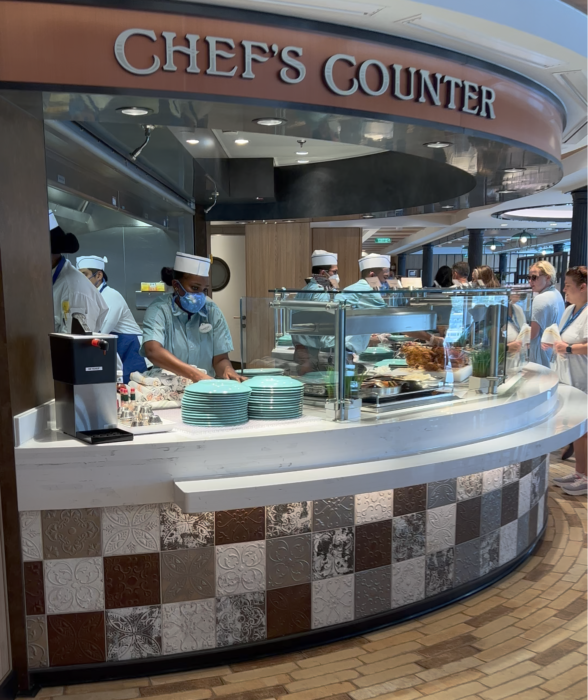 I love my serving team and room host. Can I tip them more that the minimum?  Should I tip them more than the minimum?
If you have the funds to do so and the spirit moves you, then yes, absolutely you should tip them more. Any additional gratuities are greatly appreciated by the cruise staff.
How much extra should I tip beloved ship crew?
Ask a thousand people and you'll get a thousand different answers. And when you get those answers, you can't 100% be sure that what they've told you is true.
Given that, I'll describe some of my own "extra tip" scenarios as well as some that I've seen from trusted friends and relatives:
The baseline tip is given, but nothing extra because

Extra just wasn't in the budget
The serving team was good but did nothing that merited a supplement
We skipped the main dining room several nights

We gave an extra $X per person, per night, where X is anything from $5 to $20+
We gave one member of our team (such as just the stateroom host) an extra tip (say $100) because they made our trip extra special
We gave all members of our a flat extra tip because we like to be generous
We give extra on longer sailings (7+ nights) when we really get to know our serving team, but we don't give extra on quick 3-night sailings when we interact less with the crew members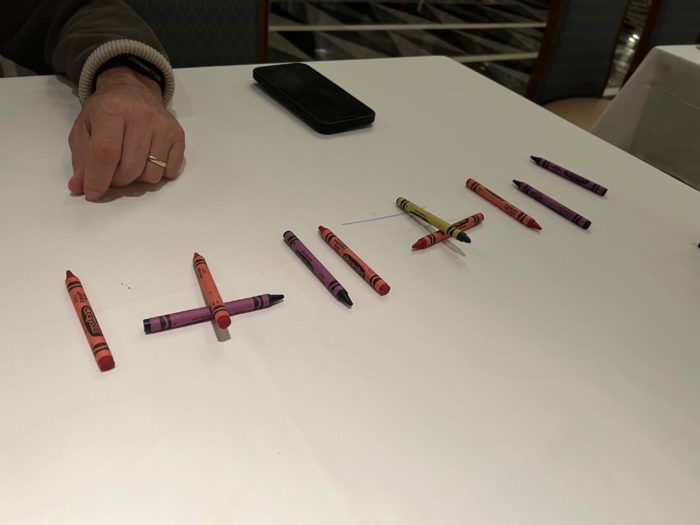 If I want to tip extra, do I need to bring cash?
If you simply want to give extra to your four main service team members (the ones listed above) you can do that in cash.  Or if you prefer not to carry much cash, you can stop by the Guest Services Desk onboard at any time and add funds to the gratuity part of your bill. Either way works.
There are, however, some other tipping situations where you will want to have cash on hand (see below).
How do tip my servers/room host? Physically, what happens?
On one of the last nights of your sailing, your stateroom host will leave you four small envelopes (labeled Server, Assistant Server, Head Server, and Stateroom Host) along with a tan-colored paper (perforated into four sections) which gives the names of your service team members and the basic tip amounts. But there are no instructions on what you're supposed to do with these items. Guests often find this confusing.
The easiest situation is that you're giving the baseline tip level. If you're just giving the recommended amount, you don't really have to do anything. Your folio (cruise bill) will be billed the standard amount (or you've paid the standard amount in advance) and that amount will be automatically distributed to your crew team. You can keep the summary sheet for your records or throw it out.
Other ways to approach tipping are:
If you plan to give your crew members the standard gratuities but think it feels weird to leave on the last day without handing them anything – Place the perforated strips from the summary sheet into the corresponding envelopes and hand them to the crew members on the last night of your sailing.
If you want to give one or more of your crew members an additional gratuity you can,

Place cash in the envelope(s) and hand them to your team on the last night of your cruise
Place both the perforated strip and additional cash in the envelope(s) and hand them to your team on the last night of your cruise

 Add a gift card to the envelope(s) rather than cash. Some guests feel uncomfortable carrying cash and don't want to deal with possible waits at Guest Services, but they do want to give something extra of financial value. We'll say up front that crew members very much prefer cash, it's easy to use in ports and to send to family members back home. But if cash is not your thing, Visa or American Express gift cards or store cards from big box locations such as Target or Walmart often appreciated.
Do any of the above and add a personal note of thanks.
Do I tip bartenders on the ship?
Bar tabs (at the coffee bars and at the traditional bars) on the Disney Cruise Line ships have an automatic 18% gratuity added. There is also a line for you to add an additional tip if you choose to give more.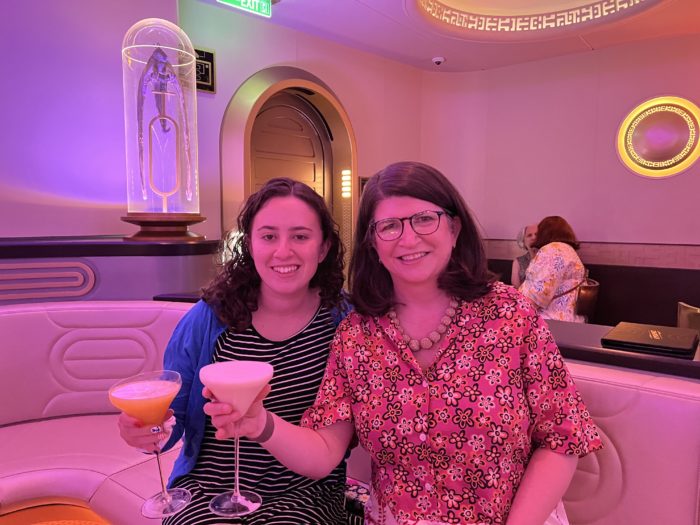 Do I tip for room service?
Many of the room service items on DCL are available free of charge. A gratuity is optional for most room service orders; however, tipping is polite and greatly appreciated. The amount you tip is at your discretion. If you're looking for a rule of thumb, start with $1 per item ordered or $2-3 per person and go up from there.
On a recent cruise on the Dream, my daughter and I ordered room service continental breakfast of coffee, fruit, and cereal. We tipped $5.
You can give the room service attendant cash or add a tip to the receipt you'll get when your food is delivered.
How much should I tip at the onboard adult dining venues (Remy, Palo, Enchanté)?
There is an 18% gratuity automatically added to the price of any alcohol you purchase at the onboard adult dining venues (Remy, Enchanté, and Palo).
There is no specific amount you're required to tip for food. That said, at a bare minimum you should tip at least 20% for the food bill. If you're a Platinum cruiser and are getting your food comped, you should still tip at least 20% of what your food cost would have been.
My opinion only – you do you – I don't think that bare minimum level of tipping is adequate for the impeccable service you're getting at these restaurants. You can never go wrong by tipping more.
You can add tips to your bill at the end of your meal as you would if you were paying with a credit card at any restaurant on land.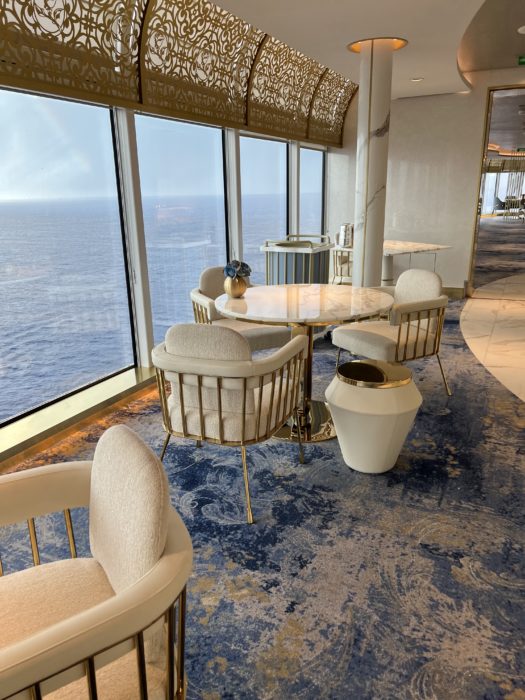 How much should I tip at the spa?
Tipping is customary for spa and salon services. You'll see an 18% gratuity added to your bill, but you can always add more.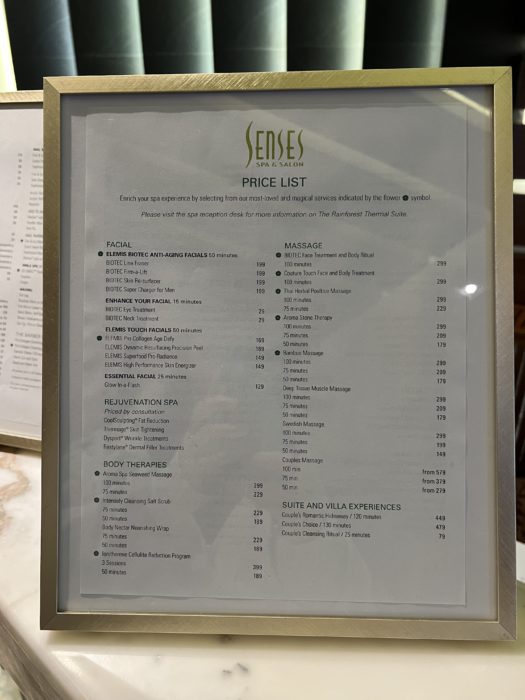 Are there people I need to tip at my port?
Yes. There are porters who will take any checked luggage onto the ship for you. These folks should be tipped in cash. A typical tip is $5 for one or two suitcases, $10 for two or three suitcases, and additional multiples of that for additional bags.
Similarly, if you use the porters at disembarkation, tip them the same amounts.
And if you've used a car service, Uber, or bus to get to/from the port, your driver will likely need tips as well.
 Should I be tipping anyone during my onshore excursions?
Most of the shore excursions are run by third party companies, not by Disney itself. The DCL website says that tipping is not required, but it is ALWAYS appreciated. Use your discretion on how much to tip based on the length of your excursion, the number of people in your party and the level of personal attention you receive.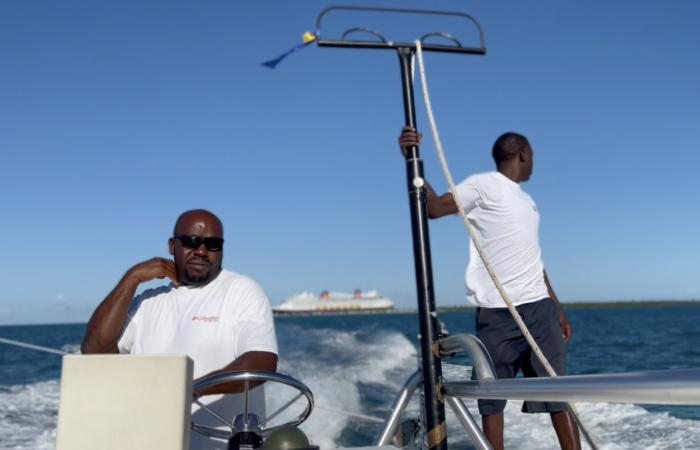 I'm in a concierge level stateroom? Is there anything different about tipping there?
In July 2022, DCL updated its recommended baseline tips for guests staying in Concierge Level staterooms. The recommended gratuity is $15.50 per person, per night of sailing, compared to $14.50 for non-Concierge rooms. The difference is that these rooms have an Assistant Stateroom Host position tipped at $1.00 per person per night.
The breakdown is:
Dining Room Server – $4.75 per person, per night
Assistant Dining Room Server – $3.75 per person, per night
Dining Room Head Server – $1.25 per person, per night
Stateroom Host – $4.75 per person, per night
Assistant Stateroom Host – $1.00 per person, per night
Additionally, Concierge Guests often ask for guidance regarding gratuities for the Concierge Lounge Team (Concierge Managers and the Concierge Servers). Disney recommends that these folks receive a gratuity amount of $8.00 per night, per stateroom guest. However, it is always up to the Guest to determine what they feel is appropriate. MANY guests tip more than this baseline.
My child absolutely adores the youth activities team. Should I tip them?
Youth activities staff are not normally tipped. Indeed, they're supposed to decline tips. That said, they are allowed to accept cash, gift cards, and small gifts if you insist three times. Adding a note written/colored by your child is a nice touch.
Are there other folks on the ship I should be tipping?
If you're lucky enough to snag a cabana at Castaway Cay, you'll be attended by a host who'll bring you extra towels or sodas, give you a golf cart ride back to the ship, and generally make your life nicer. Tip these folks in cash depending on the size of your party and the level of attention you receive.
Any other helpful hints?
If you really care about your crew team, the best thing you can do to reward them is by giving them EXCELLENT (not Very Good) ratings on the comment card you'll get on your last night onboard. These ratings are a big part of how crew members get promoted.
Also, some guests like to bring candy, American magazines, or trinkets from home to give to cruise staff. This is a nice thought, but not necessarily best practice. The crew rooms are extremely small (you'd be shocked how tiny) shared quarters. They don't have much room for extra "stuff." Additionally, they might have allergies or different tastes than yours. Cash really is best and gift cards are a runner up. If you want to give something else, consider it as a supplement to a gratuity and not a substitute.