FAQ: Meeting Characters on Disney Cruise Line
Many families choose to sail with Disney Cruise Line specifically because they want to be fully immersed in Disney culture. A big part of this for some folks is meeting Disney characters. There will be plenty of opportunities to interact with the characters during your cruise. Here's what you need to know.
Note: Click on the photos to expand the images.
What exactly is a character?
Characters are the live version of animated creatures/people found in Disney films and television programs. While a character may be just inches tall when you see him on TV, all the in-park characters are adult human size or larger (sometimes much larger).
There are two types of characters: "fur" characters and "face" characters. Fur characters are those with an oversized, non-moving mask serving as their entire head. Typically the fur characters are animals such as Mickey and Minnie, Goofy, and Donald Duck. There are some "human" fur characters, notably Captain Hook and the Incredibles, but these are less common.
Face characters have a fully human form – they look like real people, with nothing obscuring their eyes/nose/mouth. The essence of the character is conveyed via costuming, wigs, and makeup. Face characters include all of the princesses and their princes, Jack Sparrow, and more.
Other than appearance, one of the key differences between face characters and fur characters is that face characters talk, while fur characters generally do not.
How do I know which characters will be on my sailing?
A handful of scheduled character greeting opportunities may be available to book prior to embarkation. These will be listed in the Onboard Fun section of your Cruise Activities on the DCL website for your reserved cruise. The number of reservable character experiences will vary based on the length of your sailing and the whether you're on a themed sailing. Themed sailings will have more reservable character meets. Note that reservations for these experiences, as well as all other reserved activities (such as port excursions and adult dining) become available after you've paid for your cruise in full AND the booking window opens for your Castaway Club level.
The pre-scheduled character greetings typically feature more than one character – four or five Disney princesses at once, for example, or a particularly popular character "get" such as Captain America on a Marvel-themed sailing.
Beyond the limited number of pre-scheduled character greetings, you'll typically find at least a dozen (if not several dozen) character greeting opportunities on every sailing. At a minimum you can expect to find several princesses and members of Disney's "fab five" (Mickey, Minnie, Donald, Goofy, and Pluto), as well as several others, often including Chip & Dale, Stitch, Daisy Duck, Captain Hook, and more.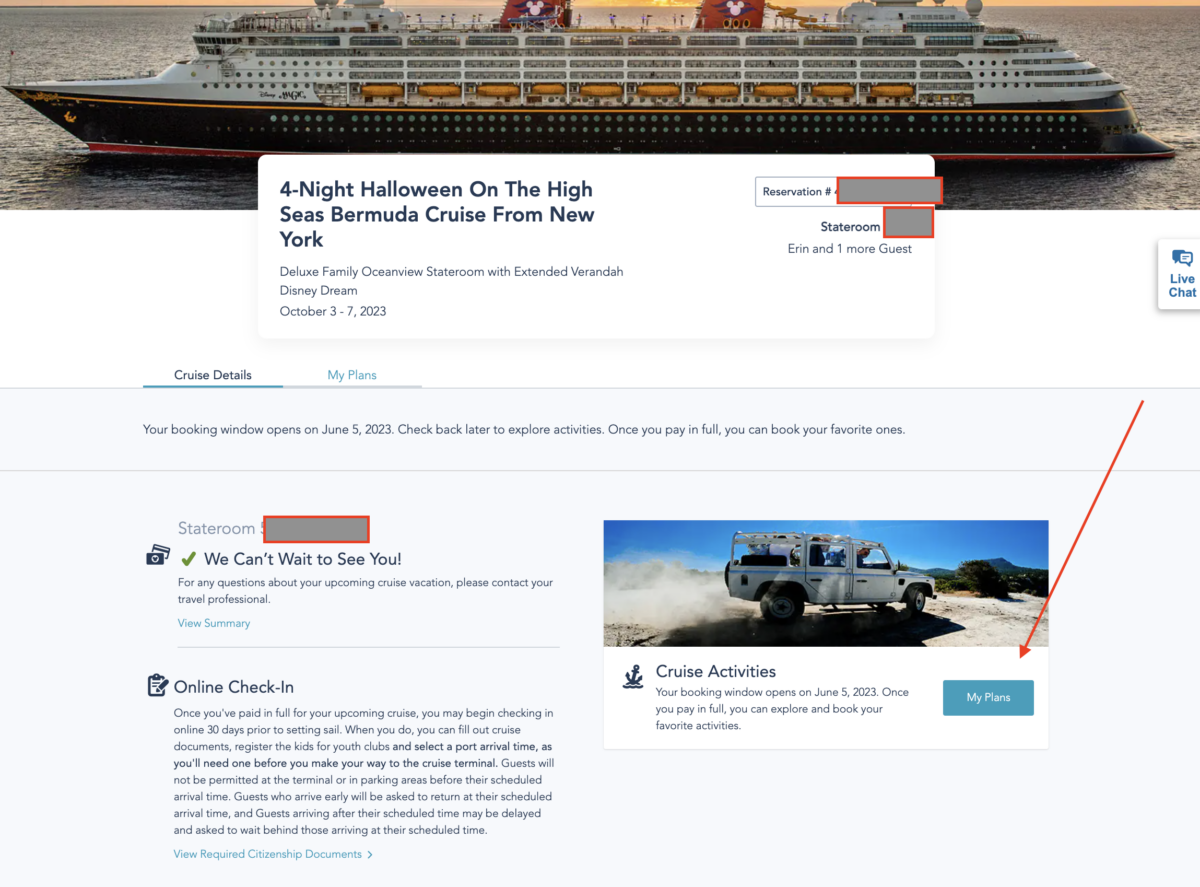 What is a themed sailing?
Currently Disney Cruise Line offers Marvel Day at Sea and Pixar Day at Sea sailings. These trips include one day where MANY characters related to the theme are available onboard. On my recent Marvel sailing I lost count at 20 distinct Marvel characters that were on the ship – there may have been many more than this.
In the past, Disney has offered Star Wars and Frozen themed sailings, but these are not currently part of any itinerary.
Additionally there are Halloween and Christmas themed sailings. These involve standard characters in interesting costumes (more on this below) rather than adding extra characters.
Do I need reservations to meet characters?
Other than the small number of special character greetings that are available to book on the Cruise Activities, the vast majority of onboard character greetings are first-come, first-served. Just walk up and get in line to meet whichever characters you want to meet.
I didn't get the reservation I wanted. My family is devastated. What can I do?
Keep the faith, you may not be as locked out as it first seems. People change their minds and cancel cruise components all the time. Check back frequently and you may see the option you want has become available. Additionally, DCL may add activities at the last minute. I booked my most recent cruise just a few weeks prior to sailing, so even though I have a high Castaway Club status, some items were already fully booked when I went to select onboard activities. Of particular interest were some Marvel character greetings that my Marvel fan daughter wanted to experience. Oh well — or so we thought. When we logged into the Disney Cruise Line Navigator app when we boarded the ship, we noticed that DCL had added several embarkation day bookable character greetings, including photo opportunities with some Marvel favorites, at a perfect time for us.
Are there differences between reserved and non-reserved character greetings?
Yes, but not in a way that will impact your character interaction much. Reserved greetings typically take place in one of the main dining rooms during non-meal hours. These characters will often pose in front of themed backgrounds that match the character's story.
Other character greetings may take place in any public area of the ship and you'll have the regular ship decor as your background.
How will I know when regular (non-reserved) characters will be available to meet onboard?
There is no way to know this in advance of your trip. But once you're onboard, the Disney Cruise Line Navigator app is your friend. All the greeting times will be listed in the Characters section of the schedule. As a bonus, if you click on one of the listings (for example, Goofy in the photo below), it will tell you all the times that particular character will be available during your sailing. On a longer sailing, you might have half a dozen or more chances to meet Mickey.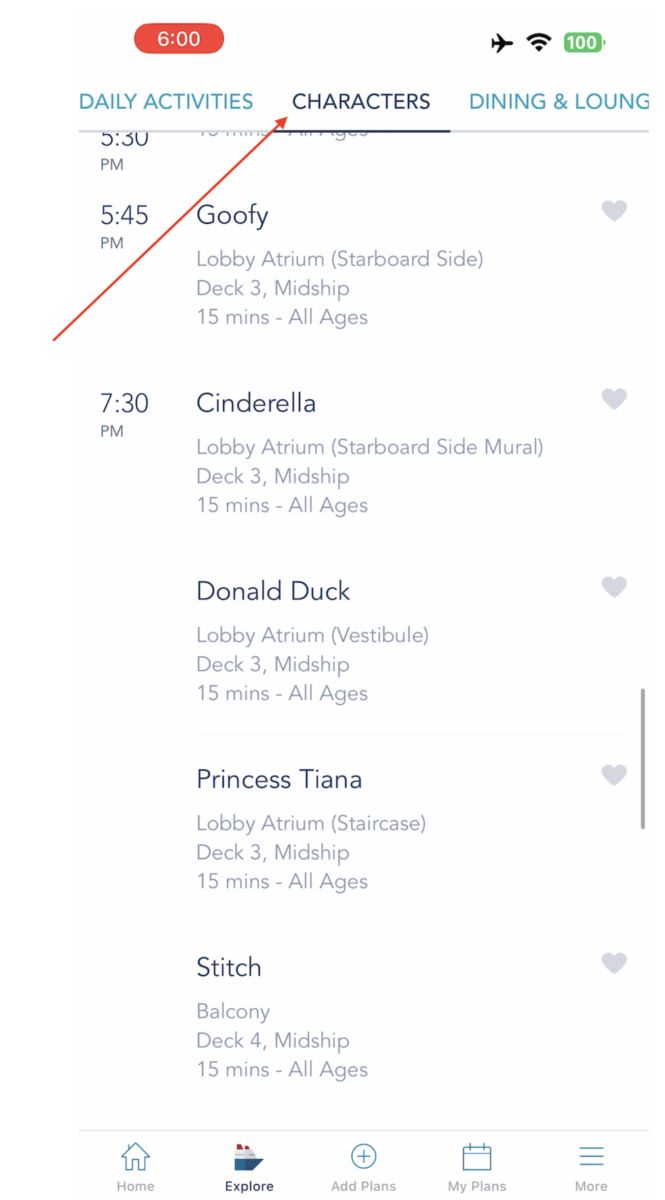 Are characters only available during specific announced times?
For the most part, yes, but I've seen enough random characters strolling around the ship to say that just running into a character is common. Much more than in the theme parks, I've found that if you run into a character just walking by, they're likely to stop and give you at least a quick hello.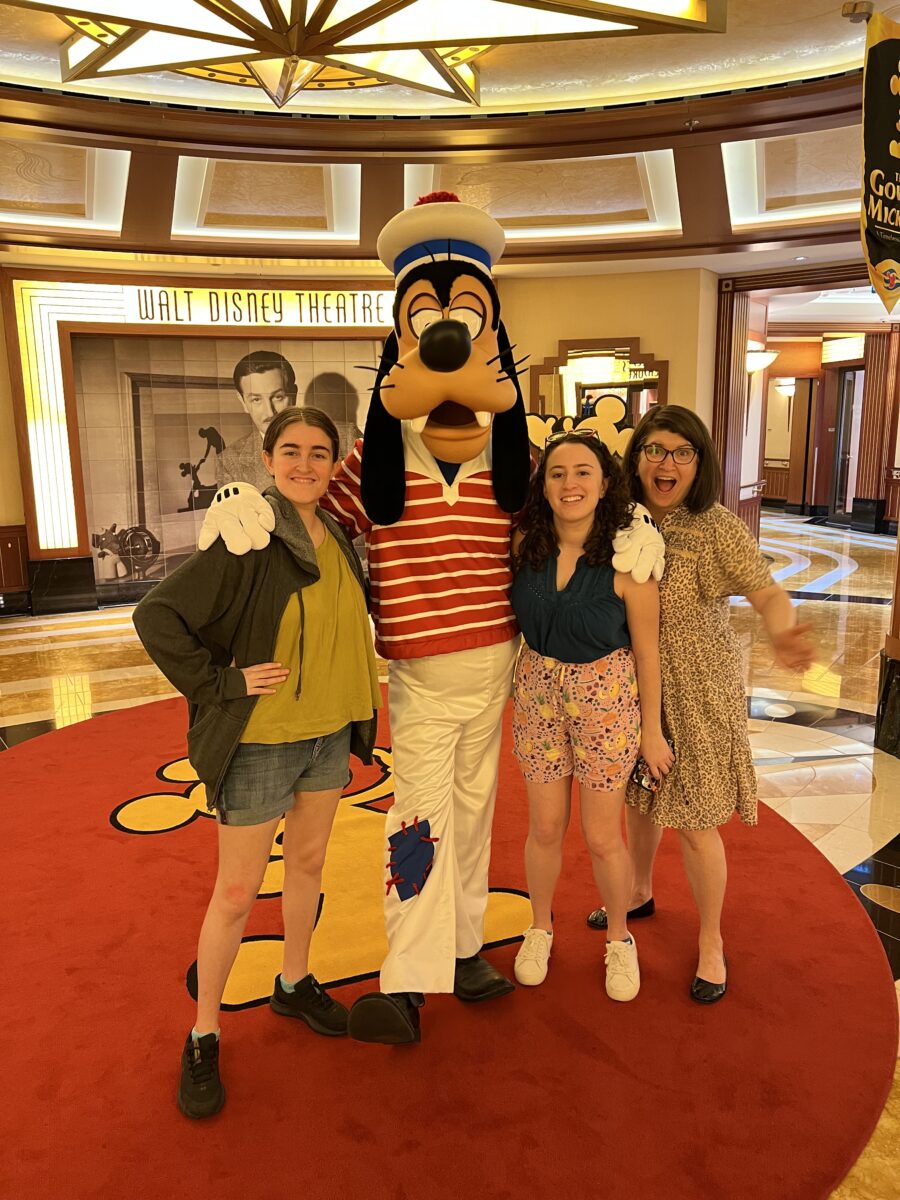 How long does a character greeting take?
The actual meeting with a character takes a few seconds to about two minutes, depending on your level of interaction. However, you will likely have a bit of a wait before you actually get to the character.  You'll see above that characters often have 15 minute greeting slots. If a character is a "must do" for your family, then get in line at least 10-15 minutes prior to the start of your greeting time – some lines become fully subscribed almost immediately.
Can I hug the characters?
There was a period in the post-pandemic return to cruising when characters did "appear and wave" greetings at a six-foot distance from guests. Those days are over and you can now stand directly next to characters to chat and pose for photos. And yes, they're back to giving big cuddly character hugs.
Can I get autographs from the characters?
Most characters will sign autographs – assuming that they have hands capable of gripping a pen.
The characters are often wearing bulky gloves which make gripping a delicate writing tool a bit of a challenge. It can be helpful if you provide them with a somewhat chunky pen, maybe something along the lines of the basic elementary school Crayola marker. Sharpies also work well. However, if you don't have a fat pen, don't worry about it. The characters will make do with whatever you have on hand – regular pen, pencil, crayon – it all works.
Where can I buy Disney autograph books?
Disney autograph books are available in the onboard gift shop, at shops at Disney World and Disneyland, at stand alone Disney stores, and often on shopDisney.com. They range in price from about $15.00-$20.00 depending on the model you choose.
That said, there is absolutely no requirement that you use a Disney branded autograph book when you get signatures. A 99-cent notebook from Target works just as well. Whatever you choose, take a moment to write your name, stateroom number, and email address inside the cover. This will greatly facilitate the return of your book if happen to misplace it while onboard.
Do I have to get autographs in an autograph book?
Nope. The characters will sign many types of items. I've heard of guests asking characters to sign calendars, photo mattes, postcards, baseball caps, footballs, quilt squares, and much more.
You should know that characters will not sign any clothing while you are wearing it. This means that they're happy to sign a tee shirt, but not one that you're wearing at the time. Nor will they sign any part of a human body. Don't even ask. Other things they won't sign are the currency or flag of any nation or political signs or statements.
If you will be asking characters to sign something non-traditional, be sure to give them a mechanism so they can do this easily. For example, if you want a character to sign a shirt, bring a clipboard or piece of sturdy cardboard to provide a backing surface for them to lean on. Also, if you're having characters sign fabric, you will want to consider whether you need to bring indelible fabric markers or the like.
Will the characters hold my child for a photo?
NOOOOO! Imagine big-headed Mickey holding an infant and accidentally dropping her. Or imagine Mickey holding a toddler who's sporting an unknown leaky diaper. Or imagine a Mickey picking up a preschooler who's got a belly full of popcorn and is woozy from a rocky sea. Or imagine any other of a thousand unpleasant scenarios that might occur if characters held children.
The characters are happy to pose with your young child if you're holding her, or if she's sitting in a stroller, but nothing beyond that.
Will the characters look the same on every sailing?
Nope – characters change costumes all the time.
While you'll usually find the princesses and Mickey & Minnie in their standard costumes at least once or twice during each sailing, the characters really like to dress up on cruises. You'll find them sporting different outfits on themed sailings on holiday sailings (Halloween, Christmas, New Years Eve, Easter, July 4th, etc.), on pirate night, and at interesting port stops. Cruise characters in costume is my favorite genre of character greeting.
Note: These are examples of characters and costumes you might find onboard, but there are many variations. 
Do I need to use the Disney photography service for my pics with characters?
Many, but not all, character greetings will take place with one of the ship's professional photographers at hand. Photos taken by the ships' photographers are available for purchase at a rather hefty price. You're also welcome to use your own phone/camera to take pictures at any onboard character greeting.
Are there characters on Castaway Cay?
There are! You'll often find pirates such as Captain Hook and Jack Sparrow on the island, as well as several classic characters. We're anticipating that characters will also be available at Lighthouse Point when it opens.
Character greeting times on the island will be noted on the DCL Navigator app.
Are there opportunities to meet characters at meals?
Some longer sailings have no-fee character meals that do include characters stopping to chat at every table. Not all sailings will include this type of experience. If your sailing includes a character meal, you'll be able to reserve it in advance in the Cruise Activities section of the DCL website.
Additionally some of the ships' main dining rooms have regularly scheduled entertainment that includes characters. Among these are Rapunzel's Royal Table on the Magic, Tiana's Place on the Wonder, and Arendelle on the Wish. You might be able to meet a character during these meals, but they don't stop at every table.
Are there other fun places to meet characters?
Some scheduled activities will have "surprise" character greetings. For example, the onboard Disney Vacation Club presentation typically includes a Mickey Mouse appearance at the end. The Inside Out game show often includes a Joy greeting. These are unannounced and not guaranteed, but they are predictable.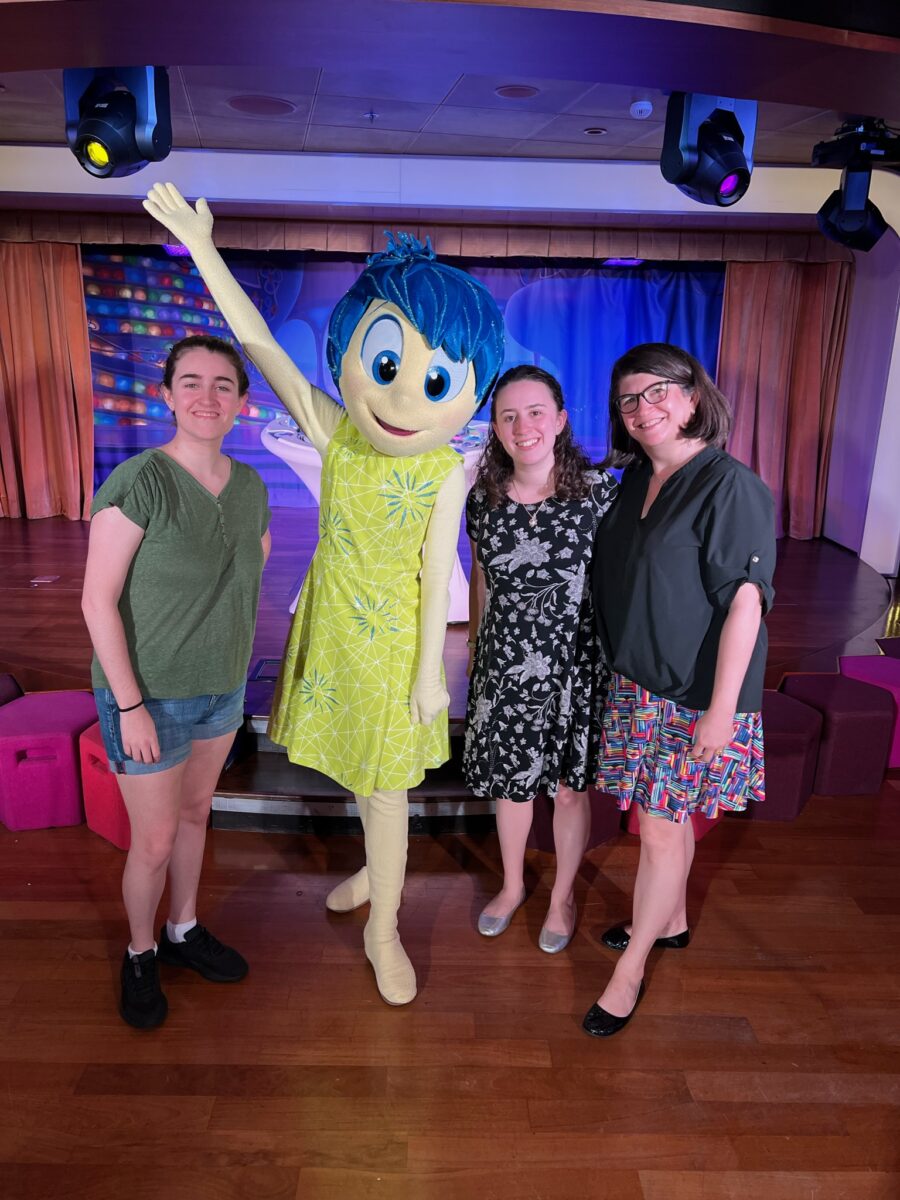 And though he's not a Disney character, Santa makes routine appearances on Christmas sailings.
I'm an adult traveling without kids, is it weird if I want to get photos with characters?
This is not even a little bit weird at all. Truly. ANYONE can pose for photos with characters. It's not just for kids.
In fact, I absolutely insist that every grown-up get at least one photo with Mickey without a child in the frame. This goes double if you're on a Disney Cruise for any sort of adult celebration such as a honeymoon or anniversary.
There are two character greeting at the same time. I'd like to do both. Help!
Many character greeting are within sight of each other in the lobby atrium areas. If you have more than one adult or teen in your party you could have folks wait in multiple lines and have the kiddos bop back and forth as it becomes your turn with each character. Absent that, you might miss a greeting or two. But again, key characters often have several greeting times over the course of a multi-day sailing. Be sure to check your Navigator app.
Do you have any tips for having a better character interaction?
If the characters are super busy, you might not be able to get more than a quick hug or hello. But there are many times when you can get a more substantial or personal interaction with a character. The trick to get characters to engage with you, is to give them an opening or hook they can latch onto.
This is perhaps easiest with the "face" characters, the ones that will talk with you. For example, ask the character a question relevant to their movie storyline – something like, "Cinderella, what size shoe do you wear?" or "Belle, what's your favorite book?" or "Jasmine, what's it really like to fly on a magic carpet?" They will often give you charming and very elaborate answers.
With the non-speaking "fur" characters, a prop is often helpful in getting a more substantial character experience. For example, if you're meeting Donald Duck, bring a toy Mickey Mouse with you and see how Donald reacts.
On my recent Marvel Day at Sea cruise, my absolute favorite character greeting wasn't even my family's. My daughter and I were waiting to meet Ant Man and the Wasp. The family in front of us included toddler twins in a stroller, one of whom was holding a tiny plastic Donald Duck figurine. Ant Man and Wasp seamlessly improvised a whole story about how the kids must have stolen some Pym Particles because they had SHRUNK DONALD. The characters struck exactly the right tone, the kids were mesmerized, and everyone in line was charmed – none of which would have happened without the prop.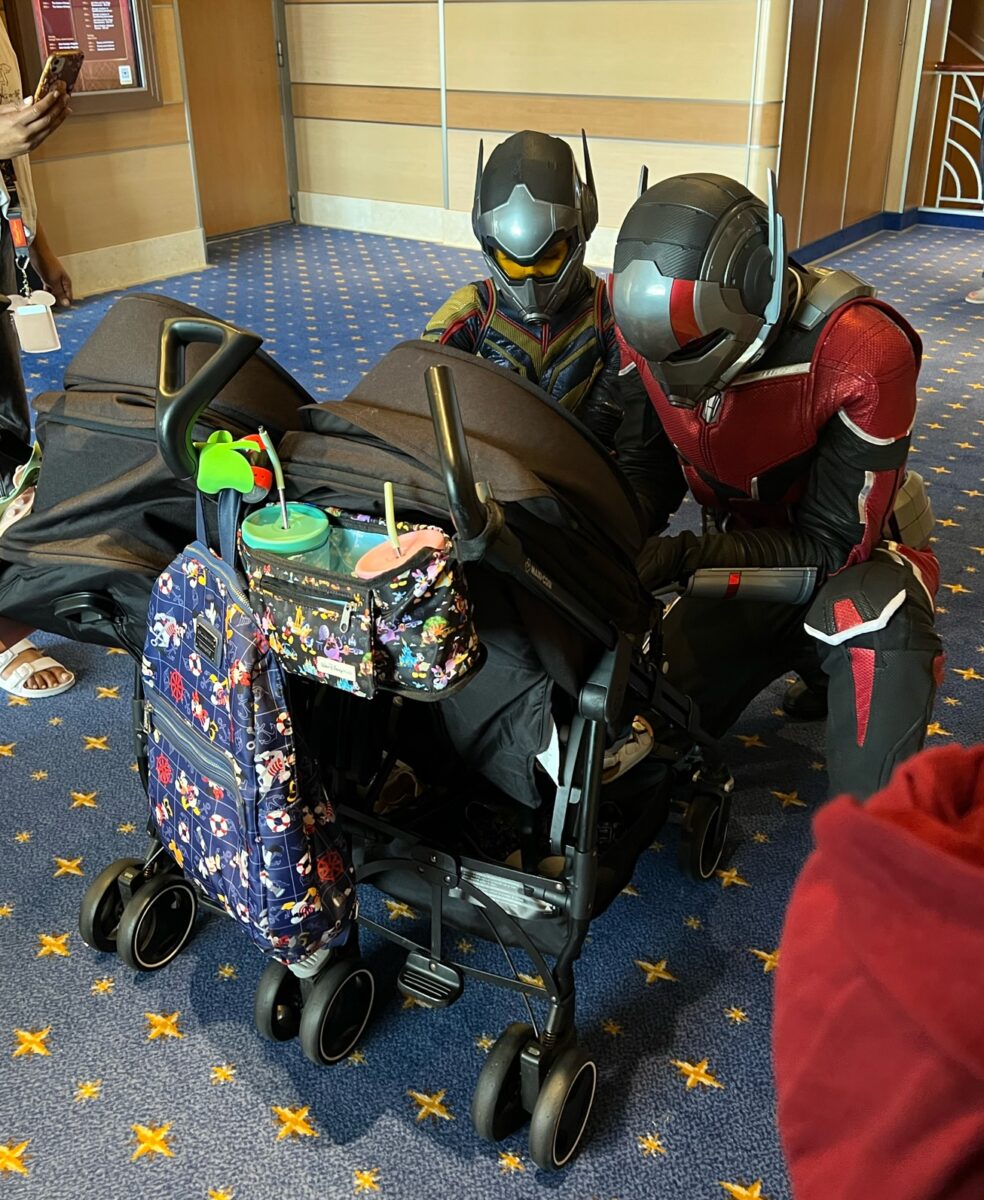 Will there be characters on board that I can't meet?
Probably. There are stage shows on deck and in the main theater during all Disney Cruise Line sailings. There characters that make appearances in these shows that do not meet with guests.
Are there characters in the kids' clubs?
Sometimes, yes. Characters do make visits to the kids' clubs. Often these appearances will be hinted at in the Navigator app descriptions of kids' club events. For example, a "superhero training" activity might include a Marvel character visit.
What do I do if my children are afraid of the characters?
Unlike the Disney theme parks, where it's relatively easy to avoid all character interaction, the ships are confined spaces. Characters will appear in public areas on a regular basis. You don't have to get in line to meet them, but your kids probably will see characters from time to time.
If you want to push the envelope a little, try taking baby steps toward character interaction; perhaps ask the child to wave at the character from a distance and then take it from there. Or if you know in advance that your child is truly frightened of characters, then maybe try to desensitize them a bit at home prior to your sailing by visiting restaurants or sports events where there will be mascots present.
If you have a child with a character phobia, PLEASE tell the staff in the kids' clubs so that they can warn you about possible appearances in the clubs.
I don't have any interest in meeting characters. Will that impact my Disney Cruise Line experience?
Adults can easily bypass most character interactions if that's their preference. The only way not meeting characters will impact your cruise is that it will give you more time for other onboard activities.
Are there people other than characters that I should be getting a photo with?
Sure, there are loads of folks on the ship that are fun to take photos with. On longer sailings, the ship's captain may a have a time to pose for photos with guests. Lots of cruisers take pictures with the Cruise Director, with their dining room serving team, with their stateroom host, or with other members of the crew that make their sailing special. Pictures like these can help you remember the people who make your trip special.
If you're looking for additional advice and planning assistance with any Disney Cruise Line sailing, be sure to check out the Unofficial Guide to Disney Cruise Line or ask for a free quote from one of our expert travel agents.