SATURDAY SIX: 6 Reasons We Love Universal's 2023 MARDI GRAS Carnival!
This week's SATURDAY SIX takes a look at the Universal Orlando Resort's MARDI GRAS Celebration! One of our favorite events of the theme park year takes place at Universal Studios Florida and it is included with regular park admission. It has unique food options, great music, and Universal's best parade. That's right, we're talking about Mardi Gras, and today we're going to look at six reasons why this is the best party outside of New Orleans itself and we'll start off with….
# 6 – Merchandise
After a series of "blah" merchandise offerings for some major events across town (we're looking in your direction EPCOT 40th Anniversary and WDW 50th Anniversary), the selection of items being offered for Mardi Gras is top notch. Huge fan of the cartoony King Gator holding a King Cake, which is one of the primary designs being used this year.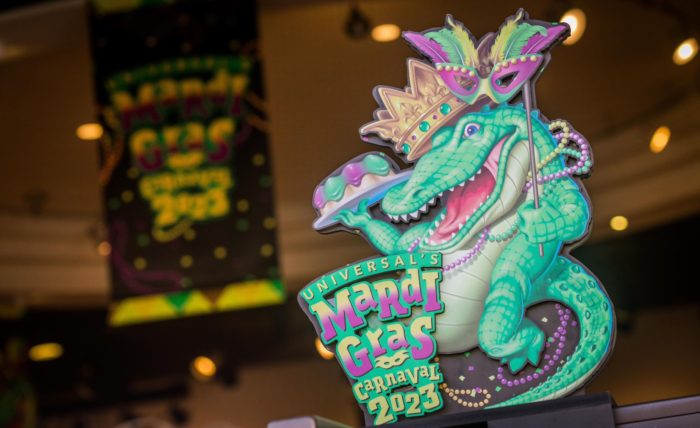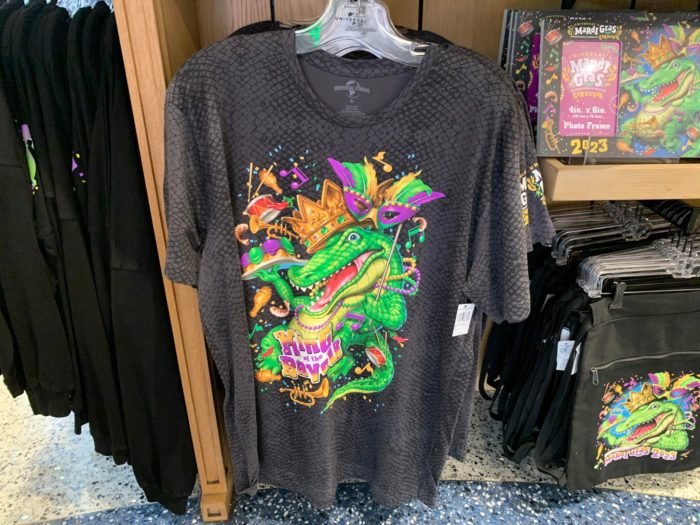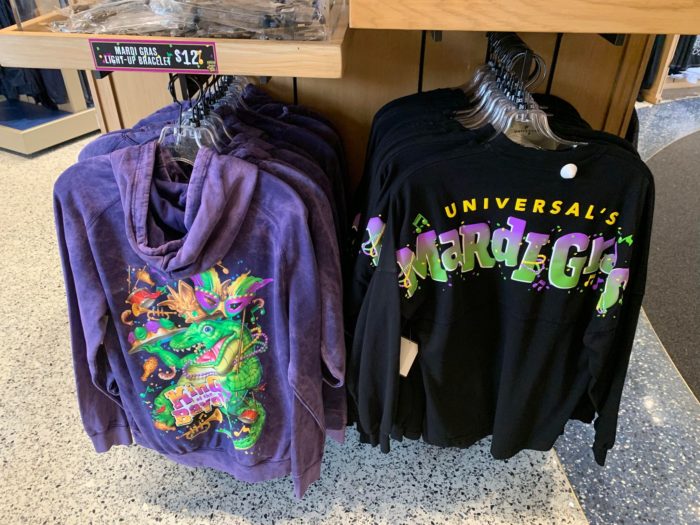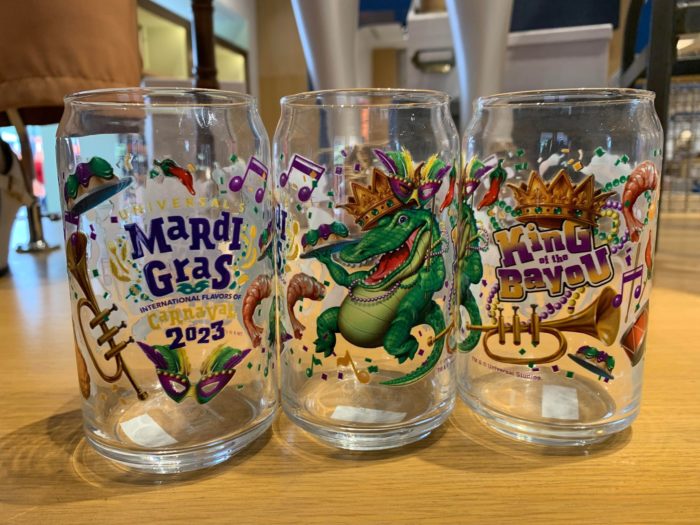 As always, plenty of other fun designs as well on all types of different products…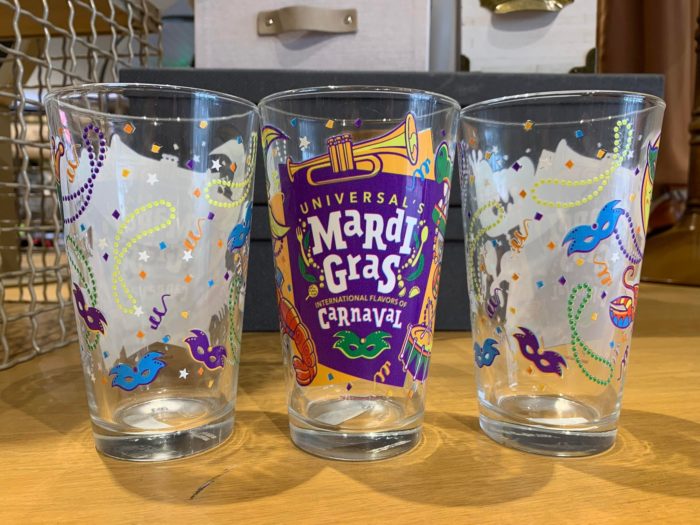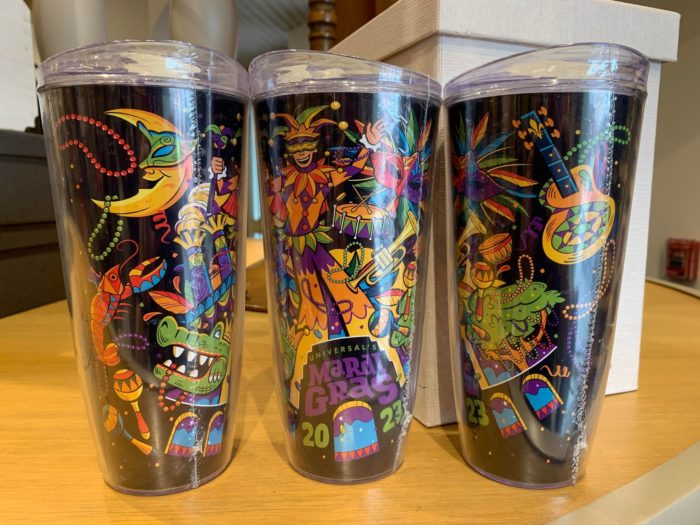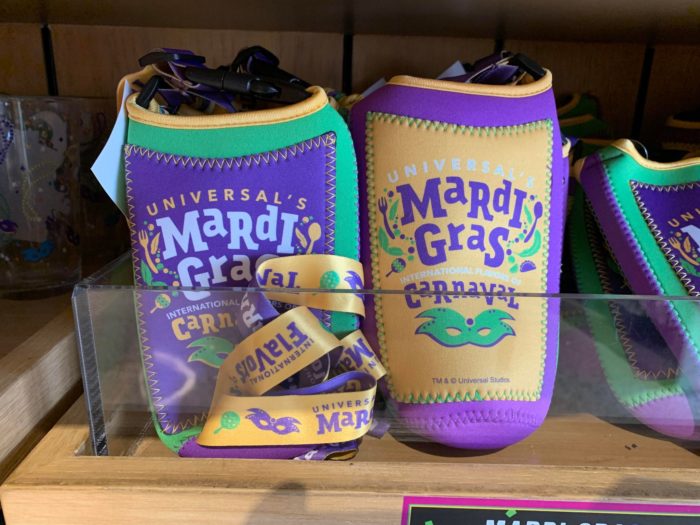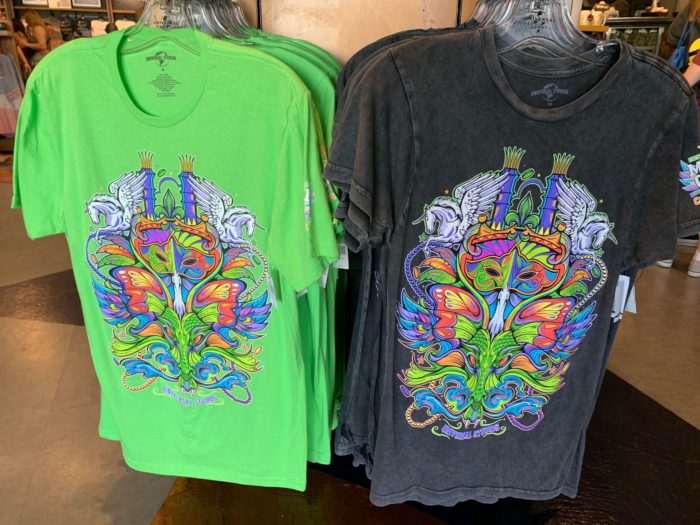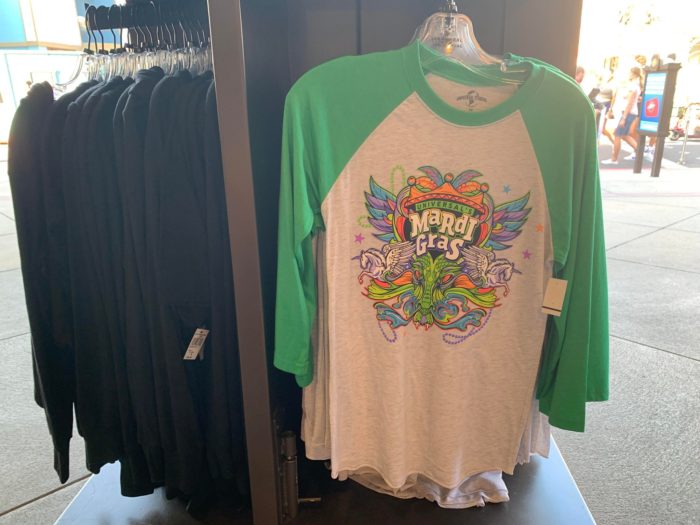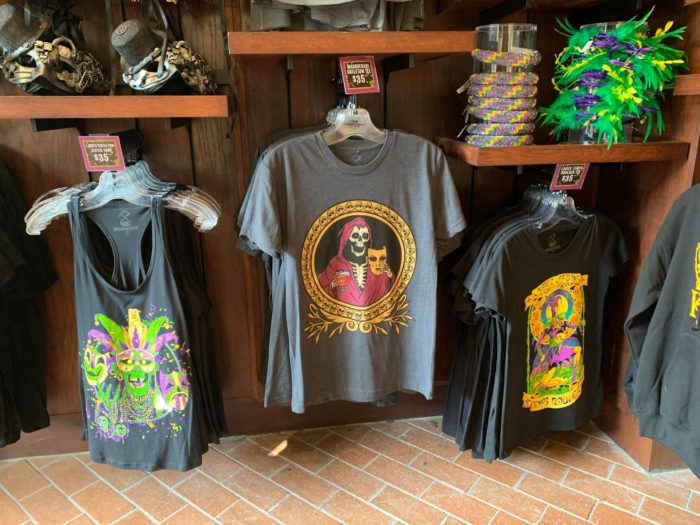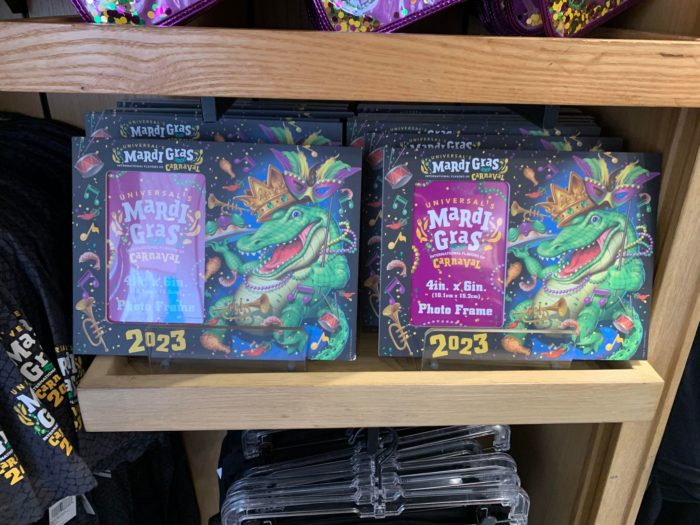 Universal's candle game is now the best in the business with multiple options being offered during the event.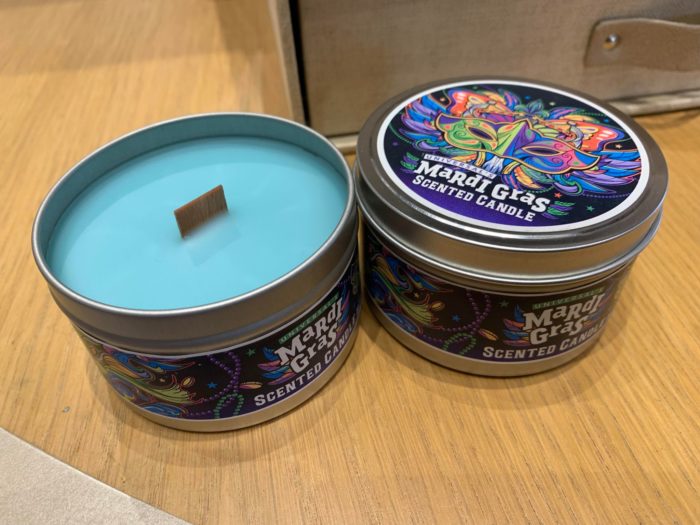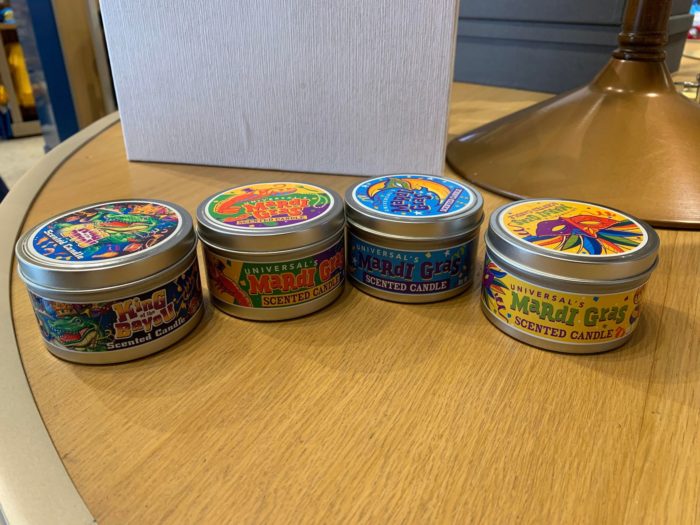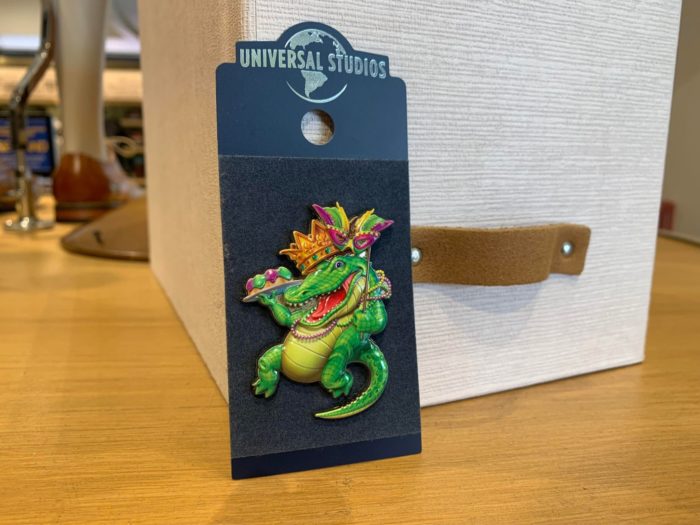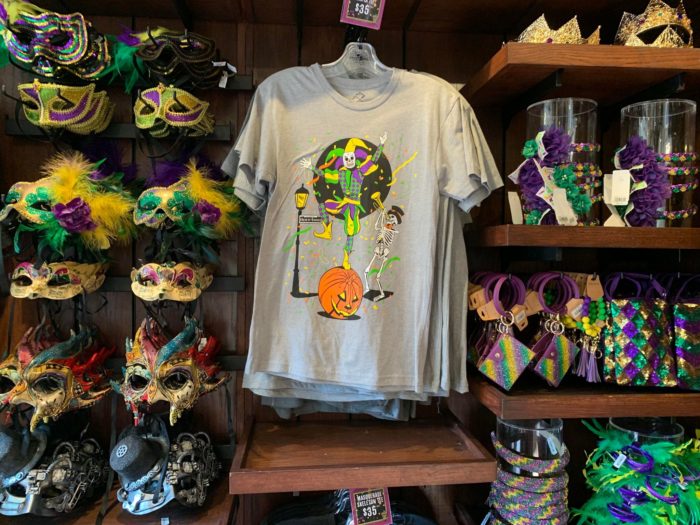 # 5 – The Food and Drink
The explosion in quality when it comes to the food and drink offerings during Mardi Gras can not be overstated. What was once a small selection of tents in the New York section of USF  featuring primarily fried foods is now a wide array of themed outdoor kitchens featuring culinary options from around the world. A few years ago, Universal's Mardi Gras wasn't even in the same league as EPCOT's International Food and Wine Festival. Today, in 2023, in my book Mardi Gras has put "Food & Wine" in its rearview mirror. That's something that is almost impossible to wrap my head around.
Like all theme park food festivals, guests have the option to buy everything on the menus à la carte, but Universal also has Tasting Menu cards available to save some money.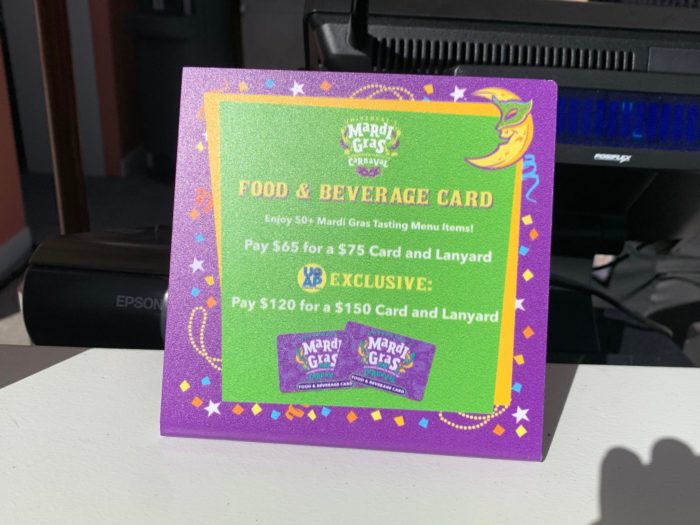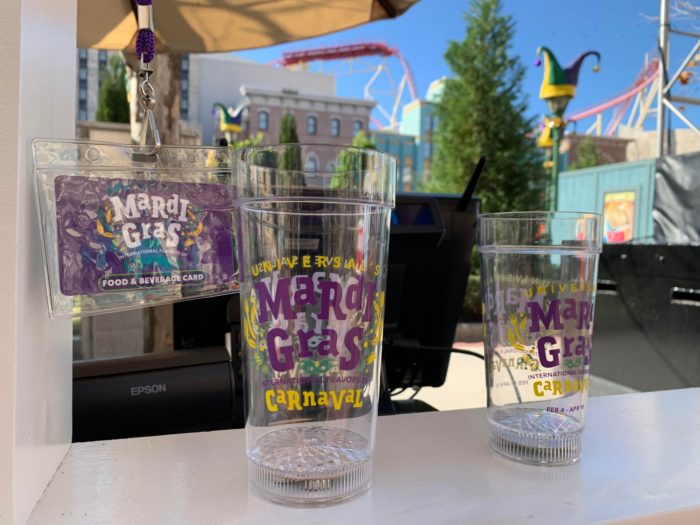 Now let's check out some of the food! One of our favorite places on Disney property is Port Orleans French Quarter and a big reason for that is the Cajun-style food. Beignets, king cake, fried green tomato po' boys, shrimp gumbo, Andouille sausage, and jambalaya are all on the menu at Universal's Mardi Gras.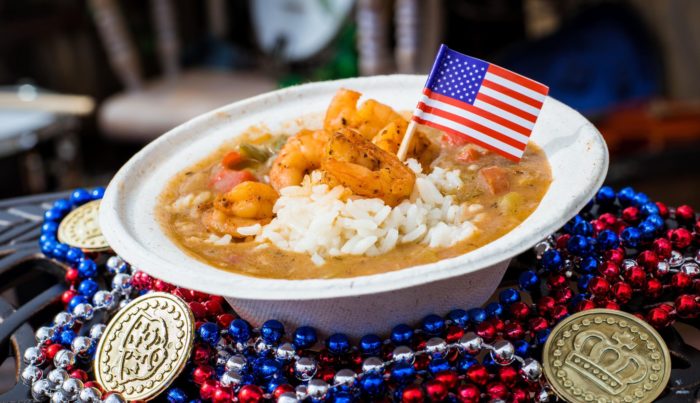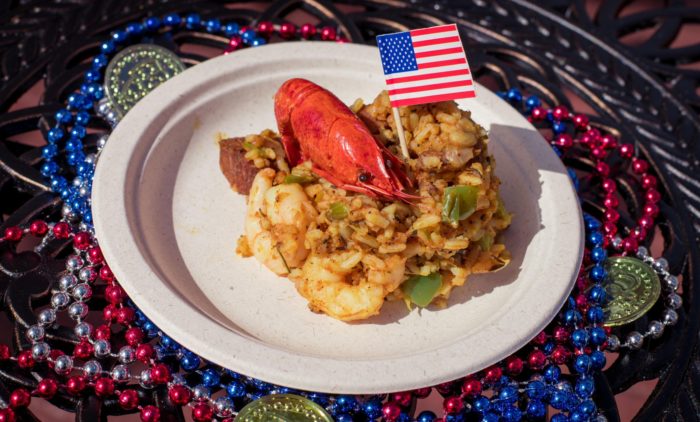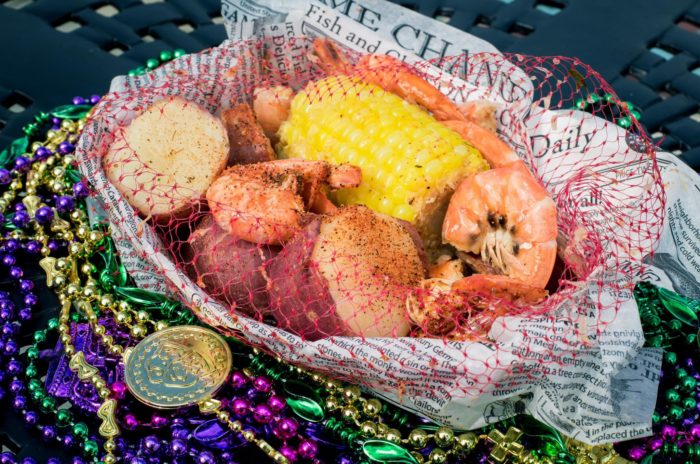 Across Universal Studios Florida you'll find decorated outdoor kitchens just like you would at an EPCOT Festival. These kitchens represent countries from around the globe and each have their own unique menu.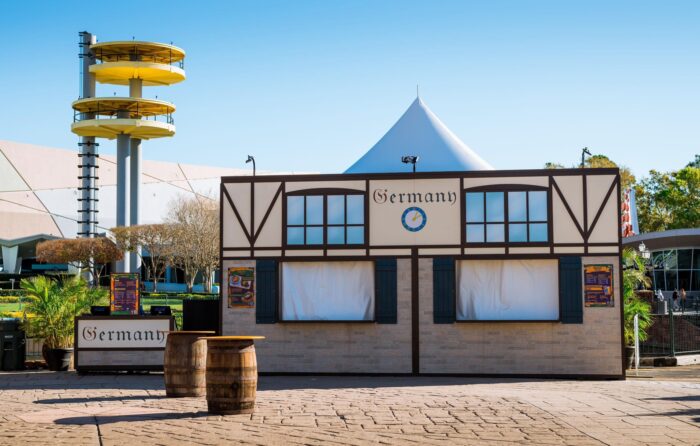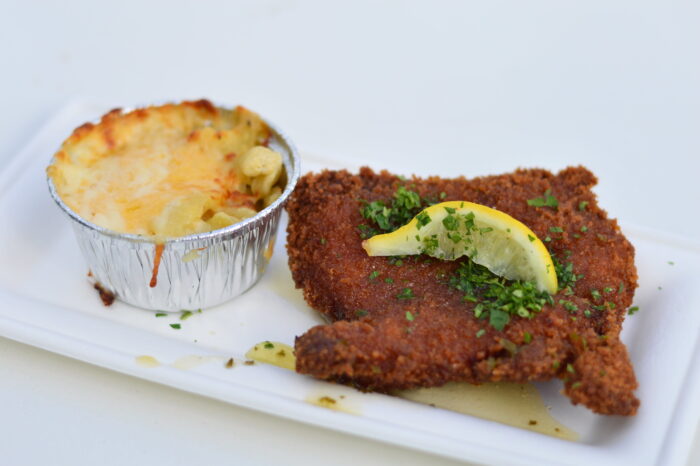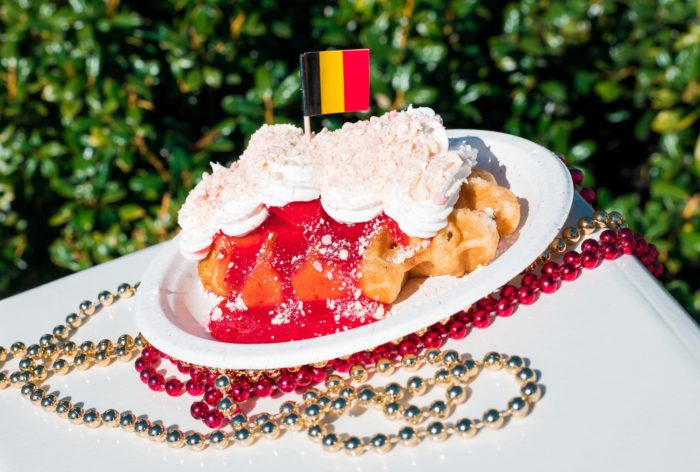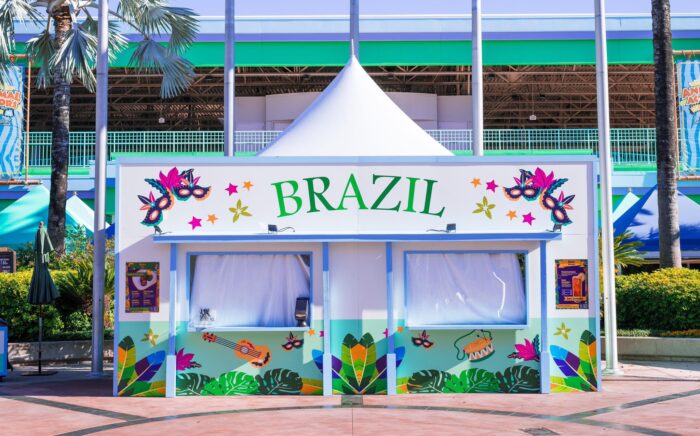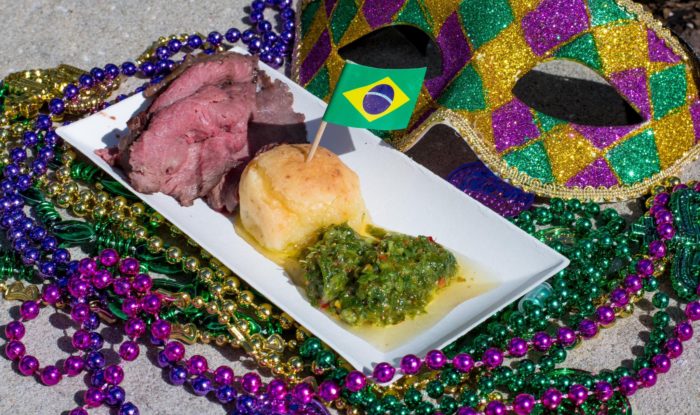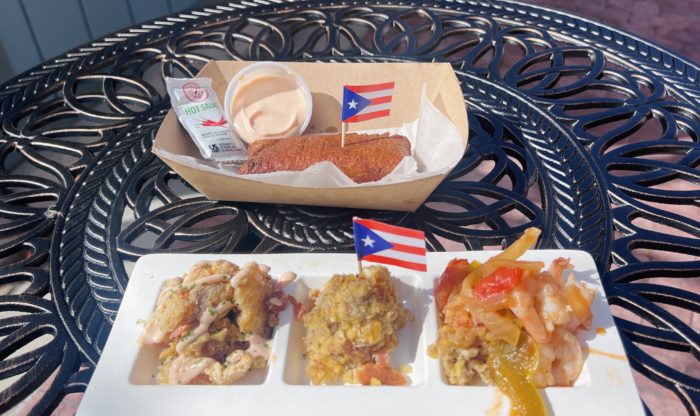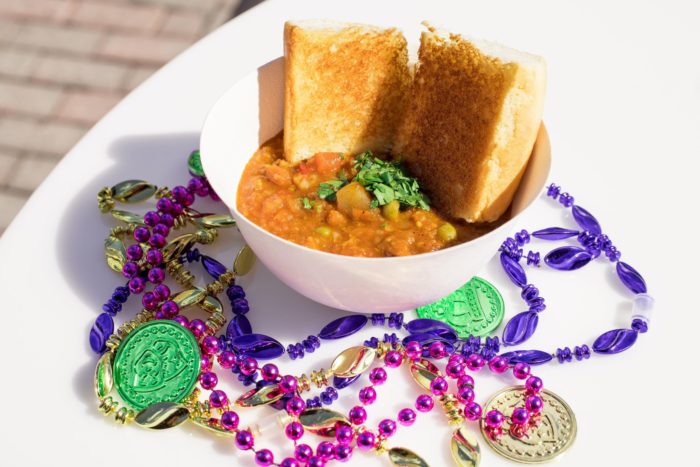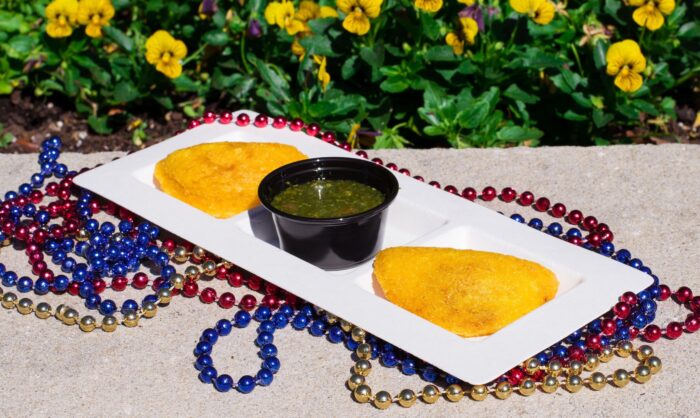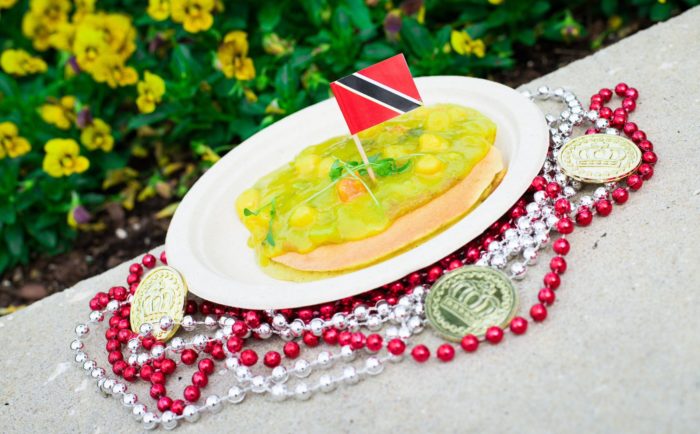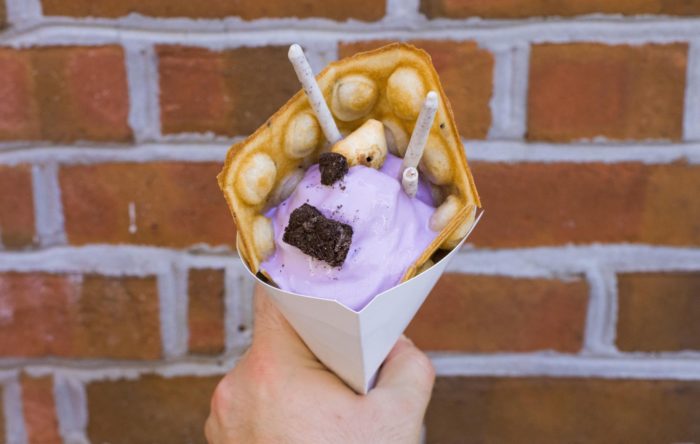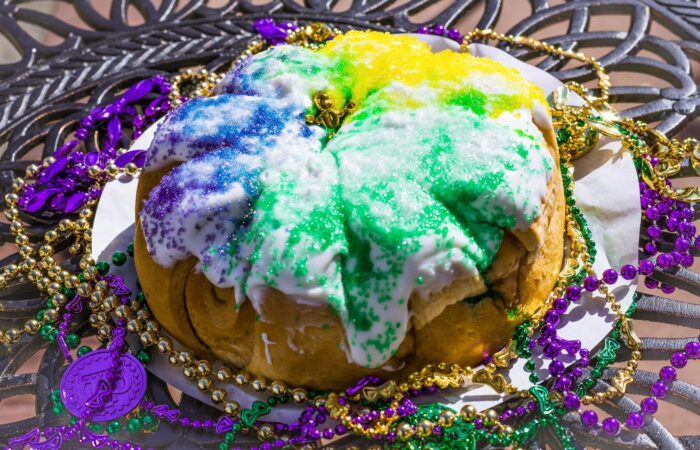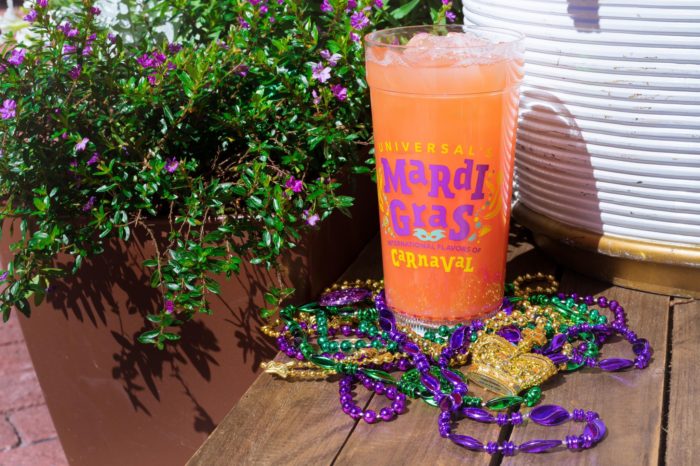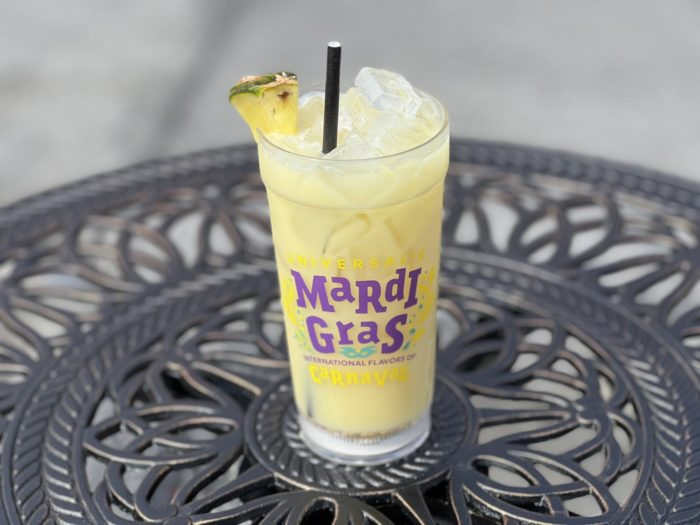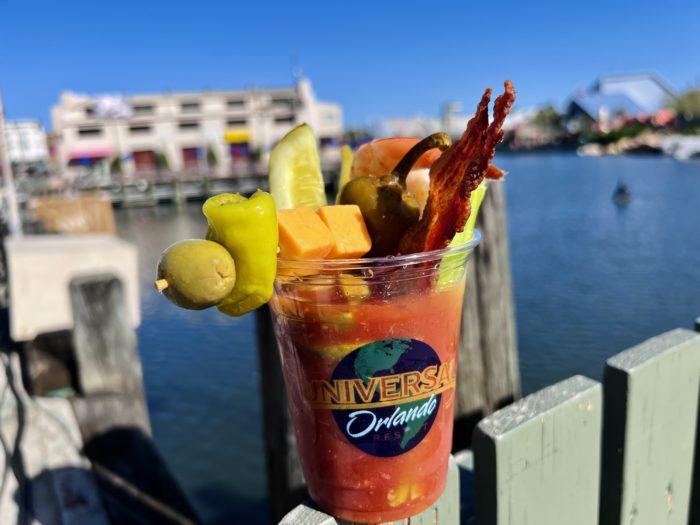 # 4 – The Food and Drink Across The ENTIRE Resort
This year Universal also had outdoor kitchens set up in Islands of Adventure and in CityWalk. The fact that these kitchens didn't last the entire event may indicate how overall successful they were (could also be a staffing issue with the Team Members needed elsewhere once crowds got crazy) but regardless it is a first step into what could be a promising start to incorporating these two parts of the Universal Orlando Resort into events that take place primarily in Universal Studios Florida (and who knows, maybe we'll even see Volcano Bay get into the action down the road…)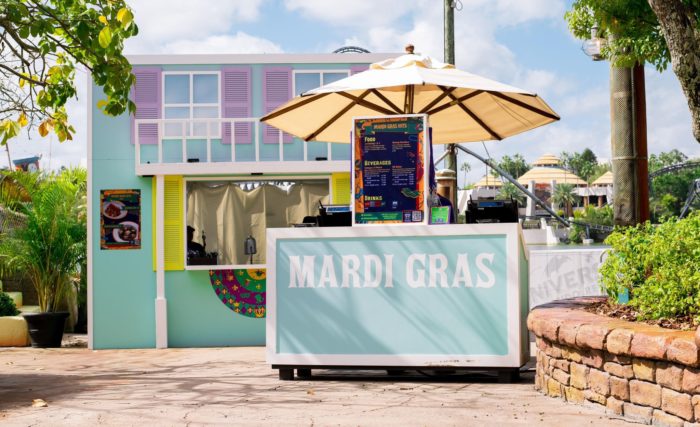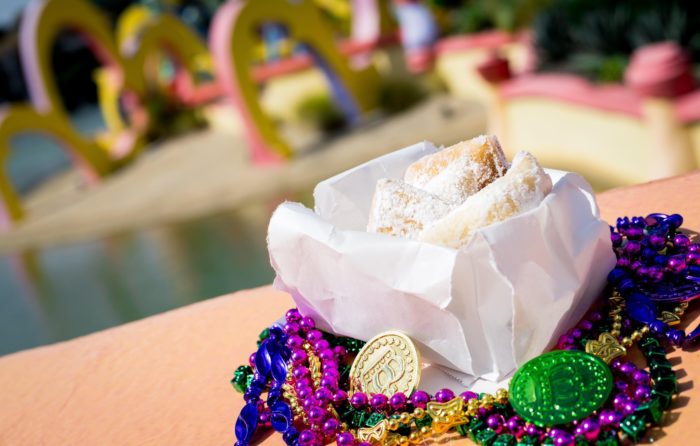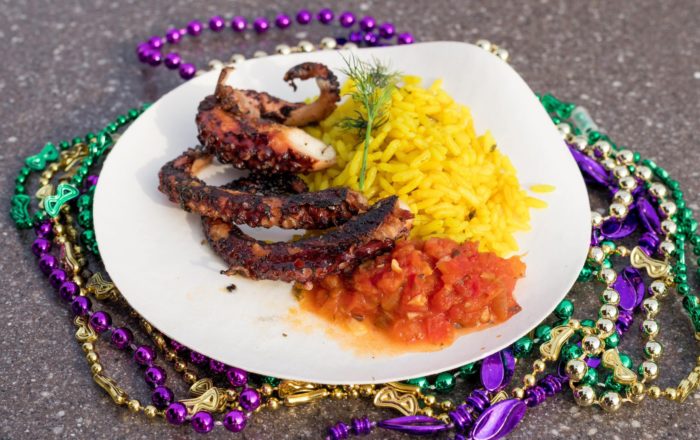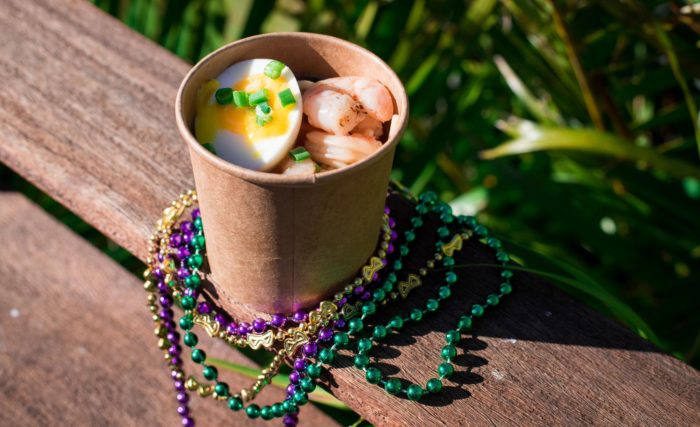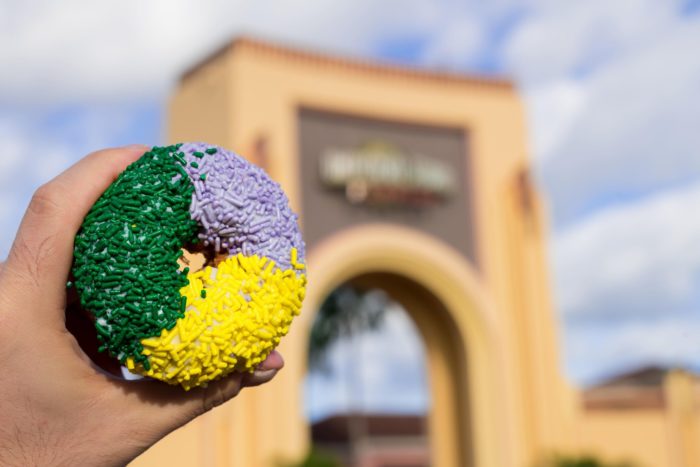 This year each of Universal's on-site hotels also had Mardi Gras food and drink offerings available that were exclusive to each resort.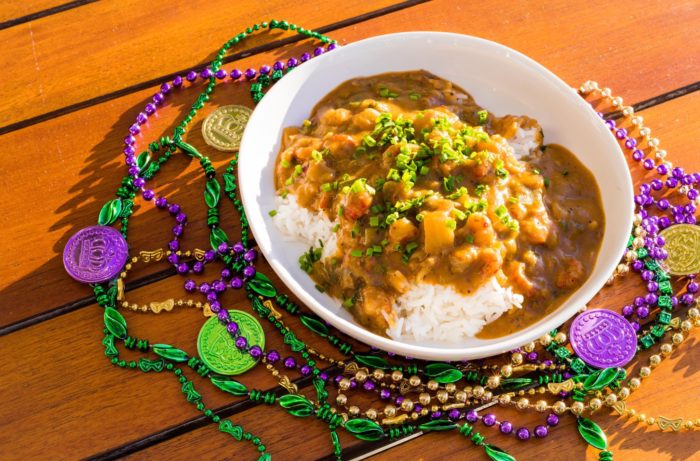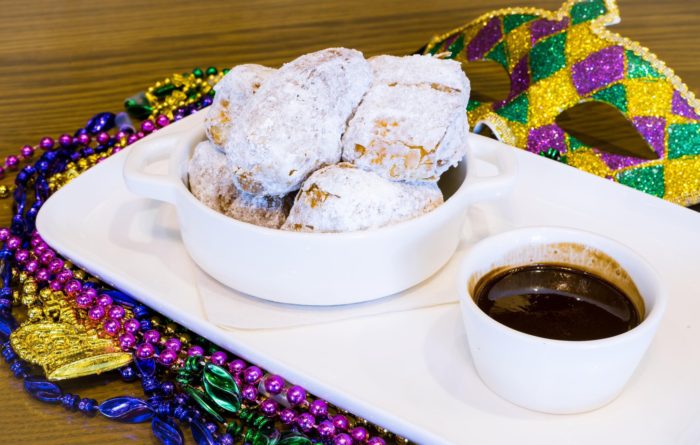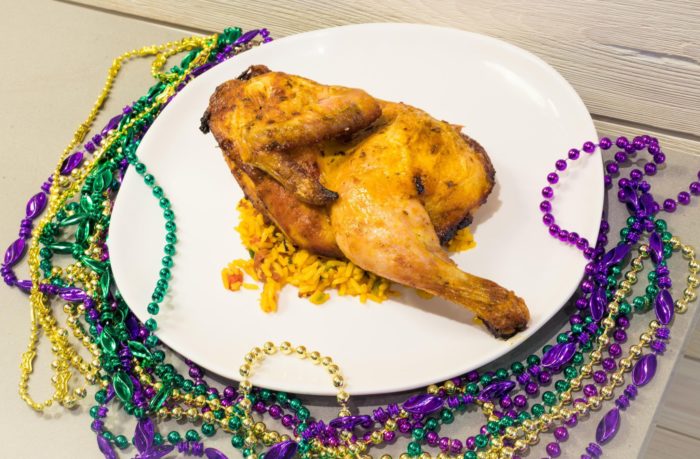 # 3 – Park Decor
The Mardi Gras decorations throughout Universal Studios Florida give guests some great photo ops along with adding a bit of overall fun to the average park day. You also just might see some live music along with walk around characters getting into the festive mood…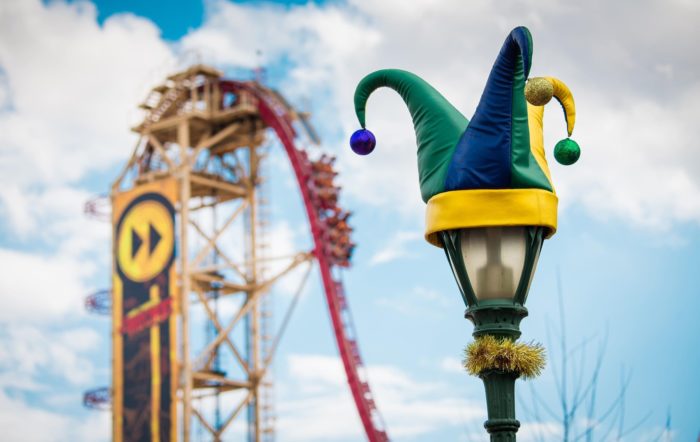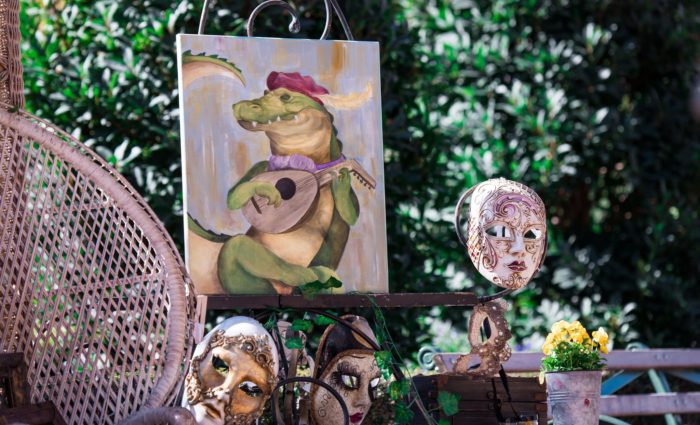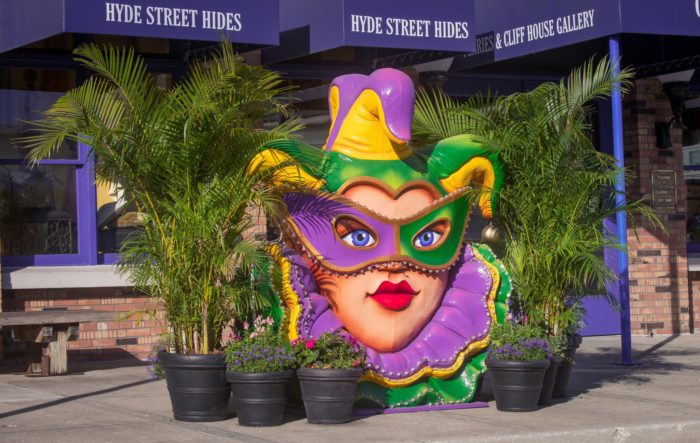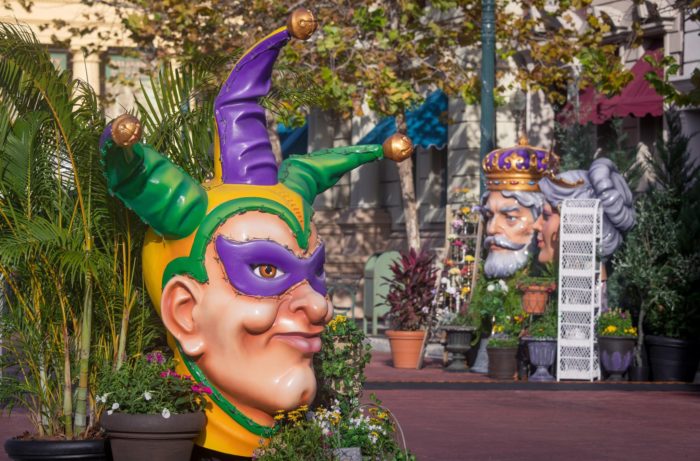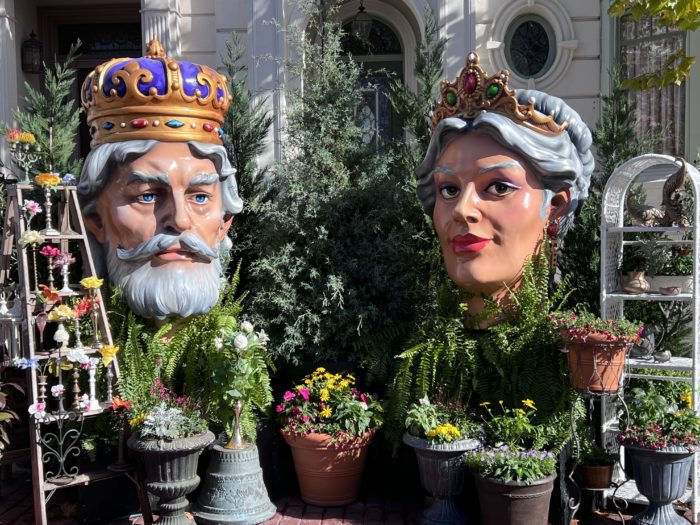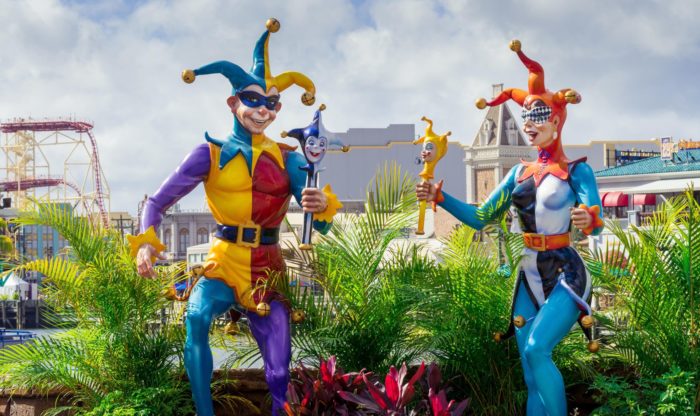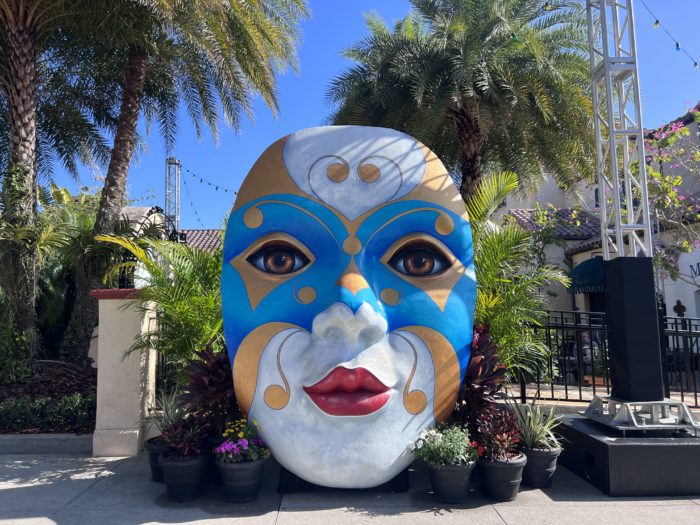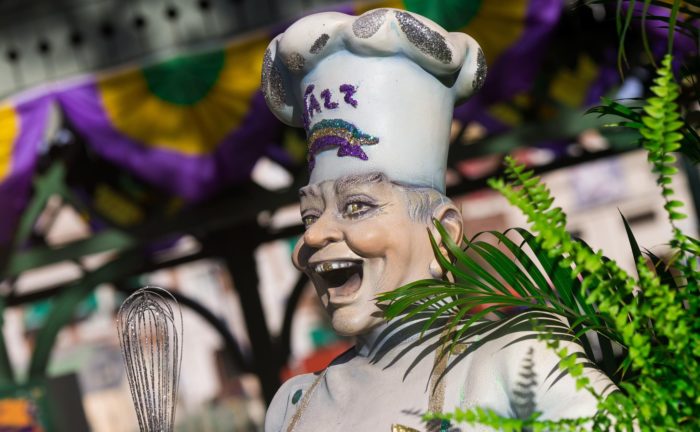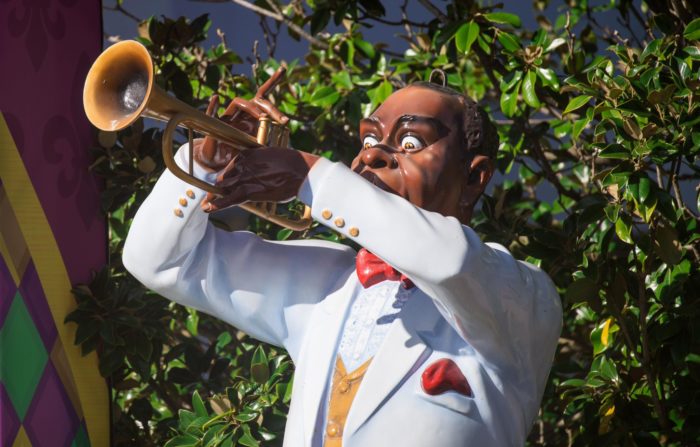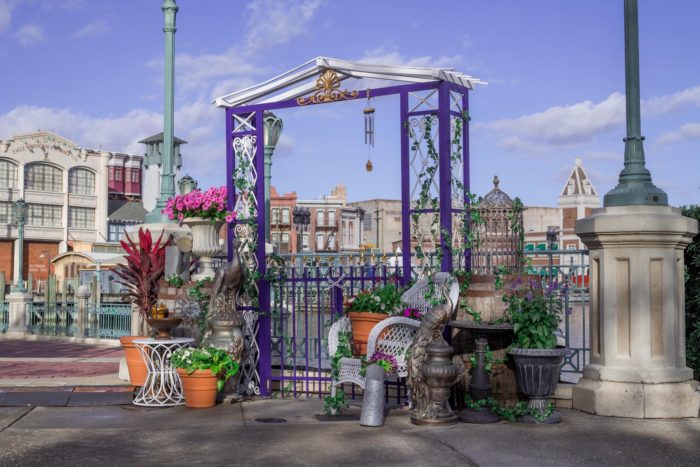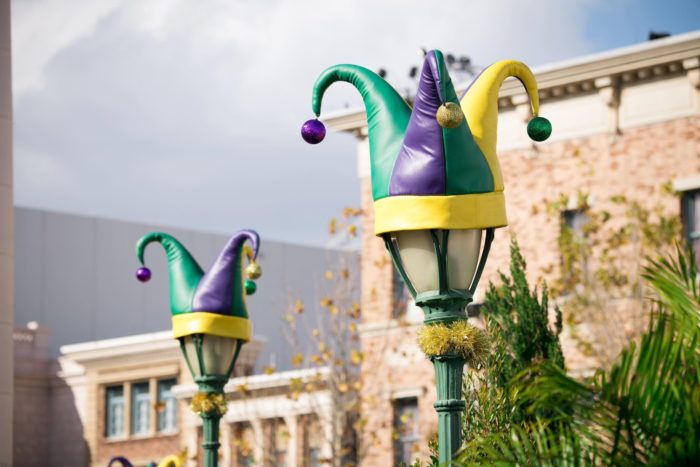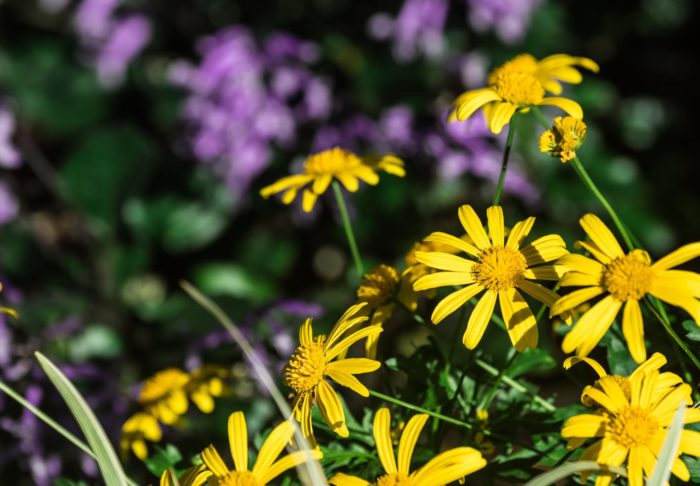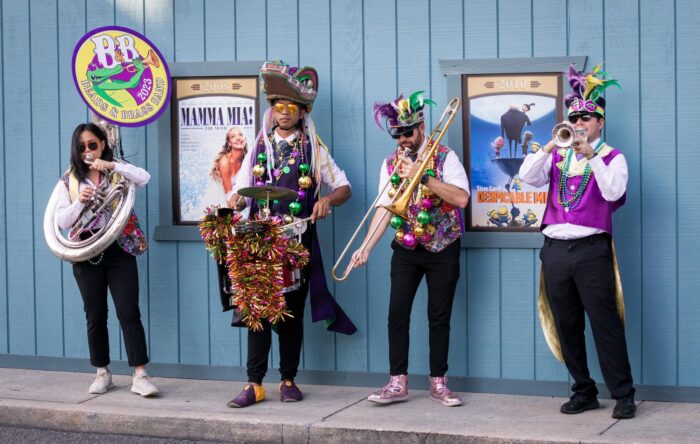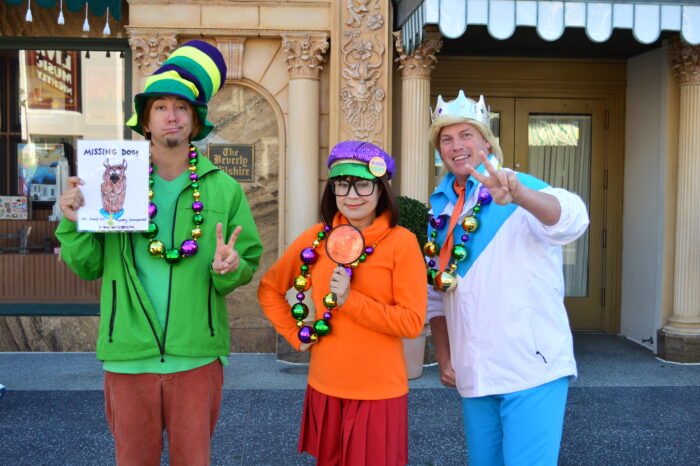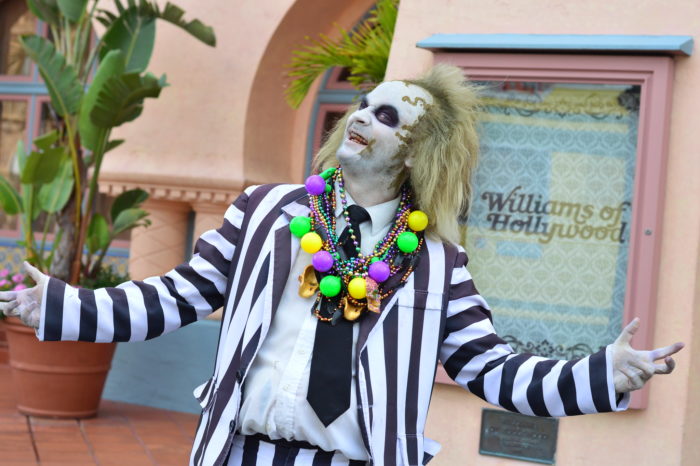 # 2 – The Tribute Store
Last month we did an entire article dedicated to the Mardi Gras Tribute Store, now located in its new home in the Hollywood section of the park. CLICK HERE to read more about the store including all of its wonderful Easter eggs and references for theme park fans.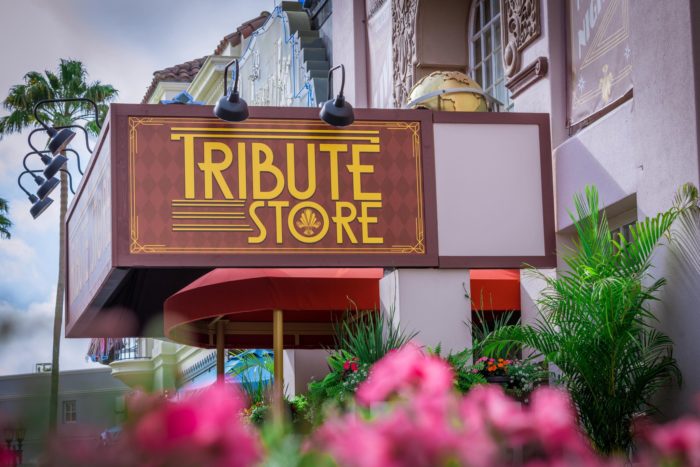 I feel like we're in a "pinch me, I'm dreaming" alternate reality and one day Universal will stop making these incredibly elaborate shopping experiences, but the good news is that we still have them and they are awesome.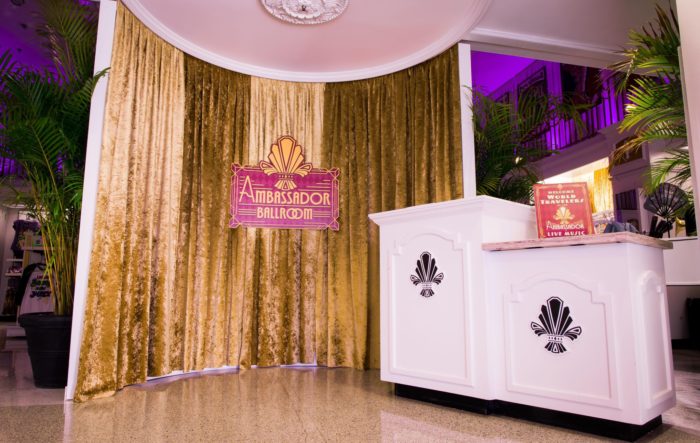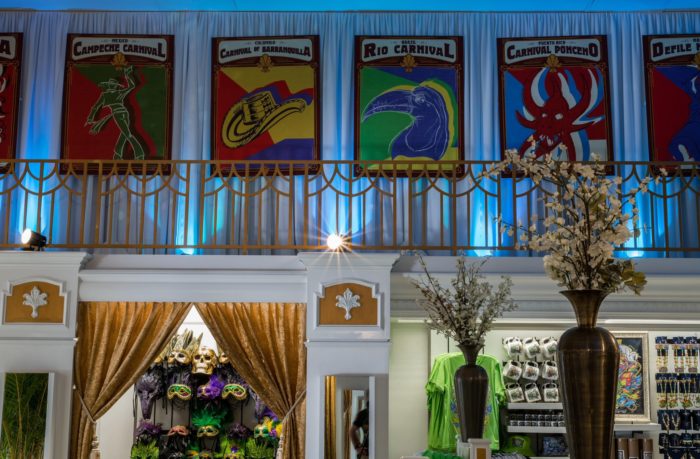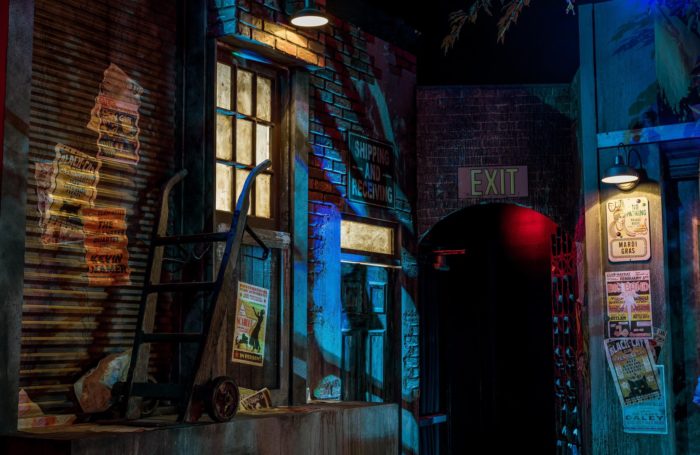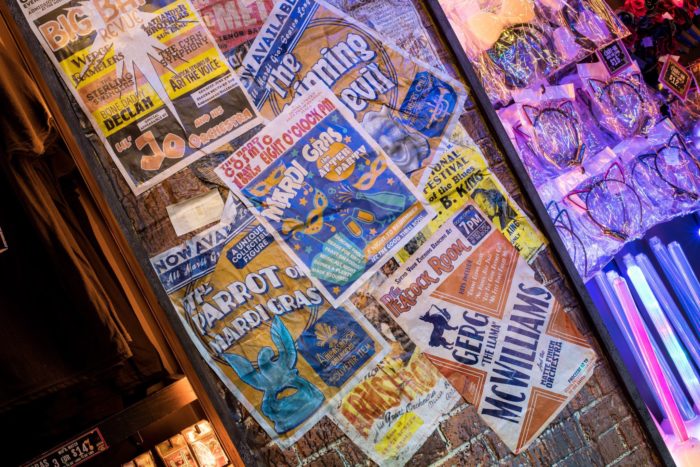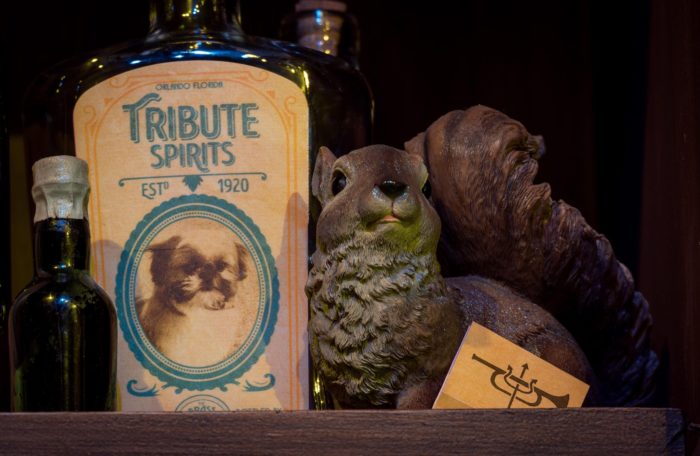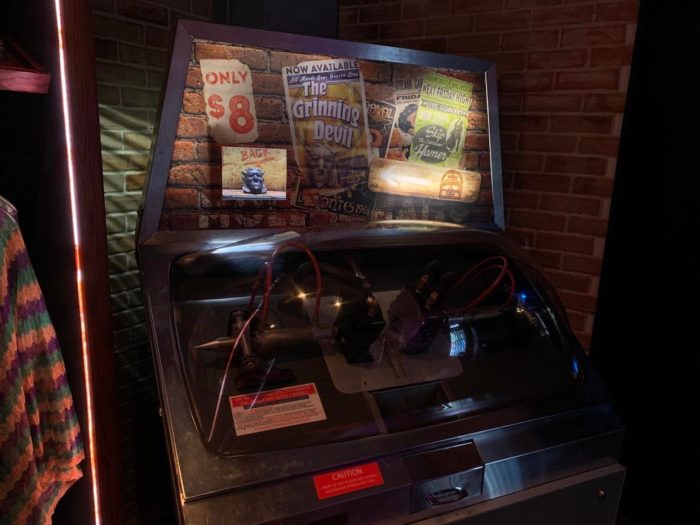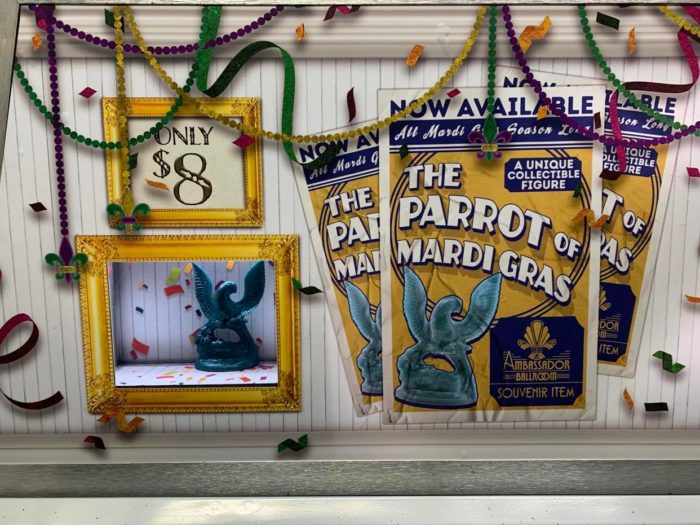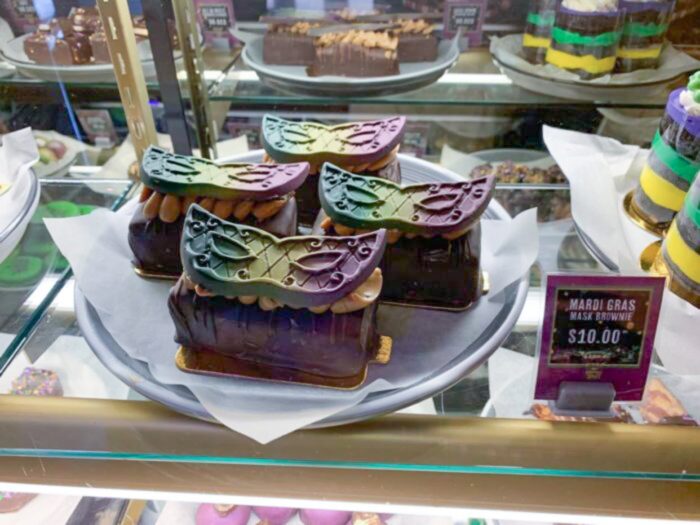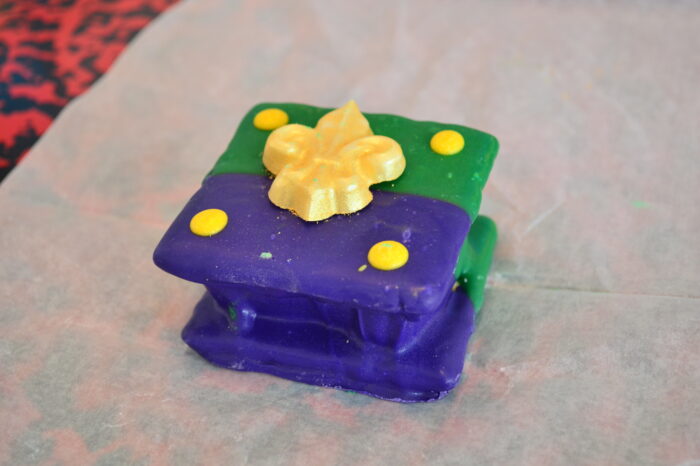 # 1 – The Parade
A staple of the Mardi Gras celebration is the nightly parade. Theme park fans used to Disney's amazing Festival of Fantasy parade may not understand why Universal's floats are pulled around by pickup trucks, but this is actually a nod to the Mardi Gras parade held annually in New Orleans. The floats themselves are also created by Kern Studios, a world class manufacturer known for its gorgeous floats used in various Mardi Gras parades in New Orleans, but also for parades and celebrations around the world. Each year Universal's Mardi Gras parade features 12 floats that are a mix of classic floats that we see every year (such as King Gator, the Miss New Orleans Riverboat, & Krewe of Dionysus) along with brand new elaborately themed floats. The theme for the new floats in 2023 is The Mythical Realms of Mardi Gras, so there are a lot of nods to creatures like sea serpents, dragons, and unicorns. Each float also has an entire group of entertainment characters walking around with it, so get your cameras ready because before the parade many of these characters are out on the streets before the parade. The interactions that come with some of these characters can really elevate your Mardi Gras experience.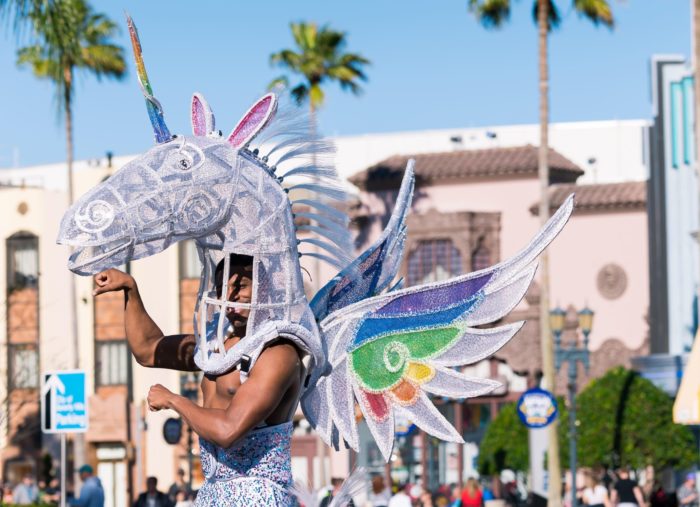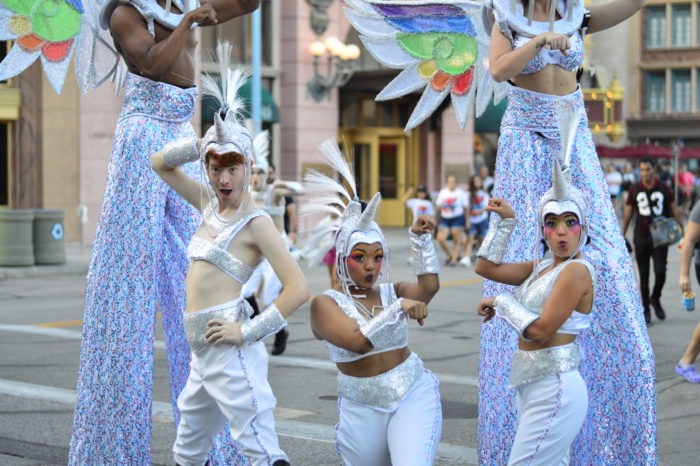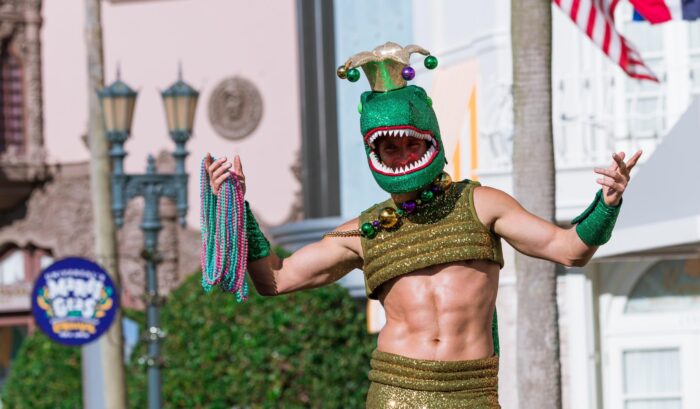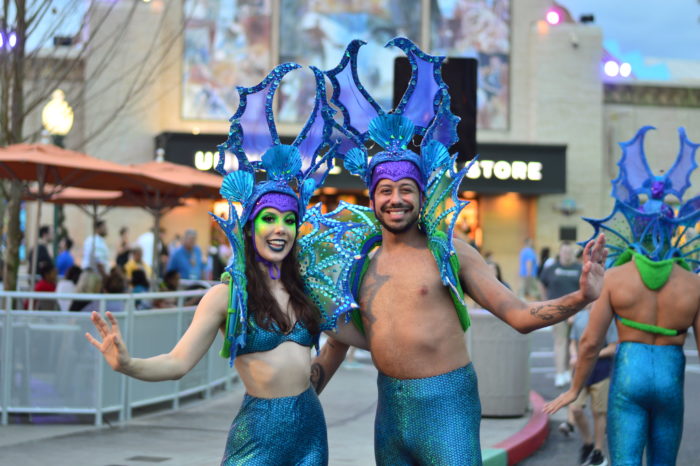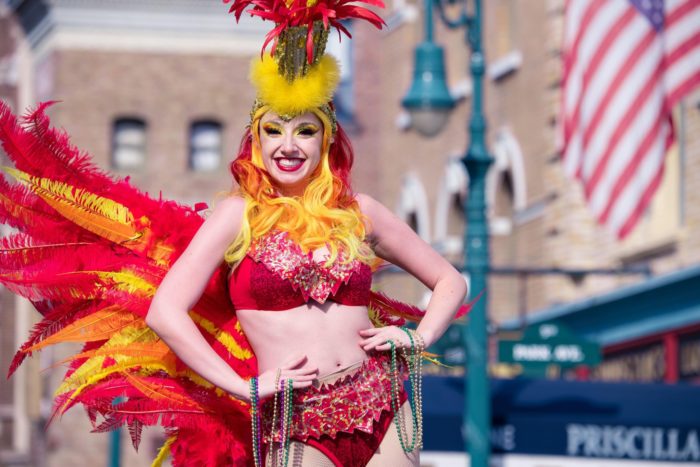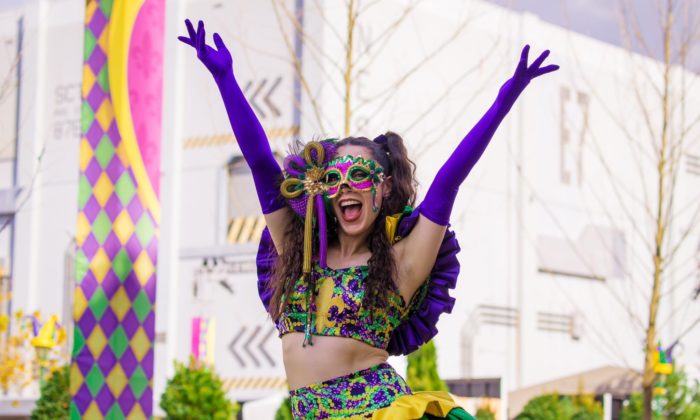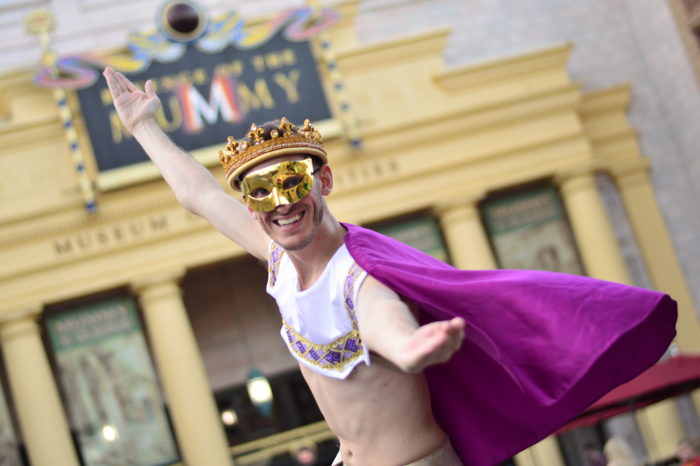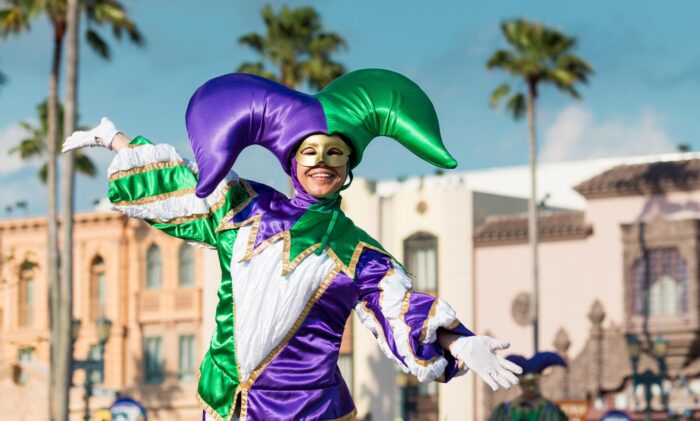 Let's check out some of the floats and the performers in action…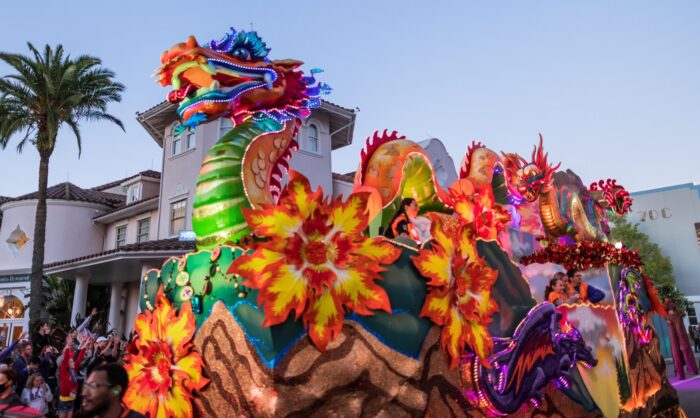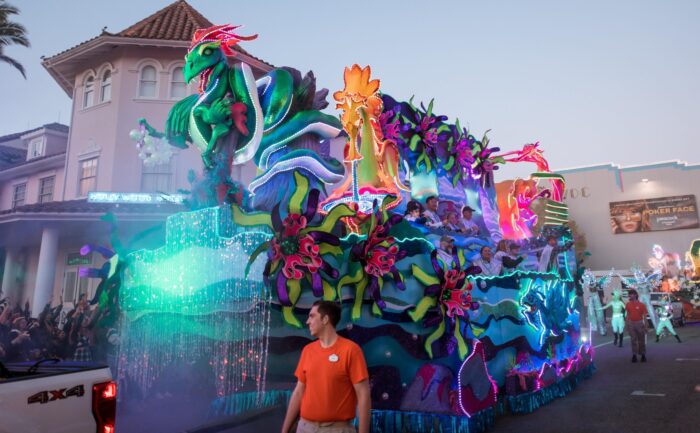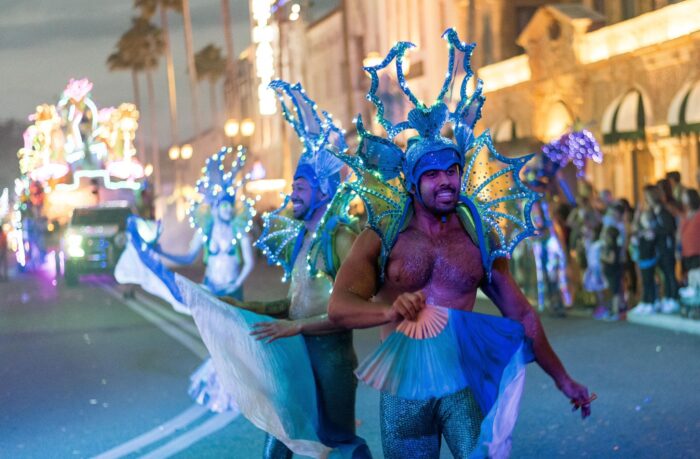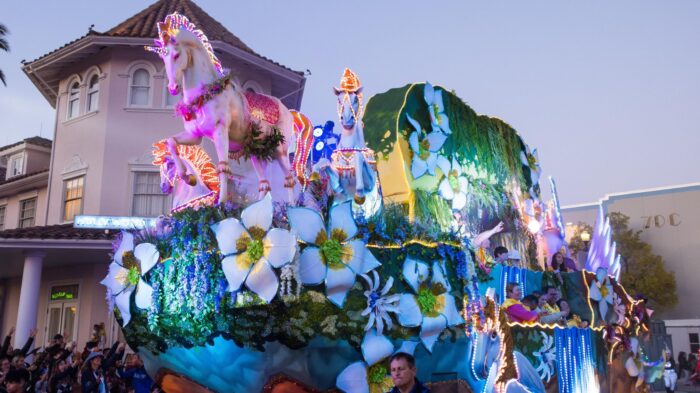 The lighting features for each parade unit really pop when the sun goes down.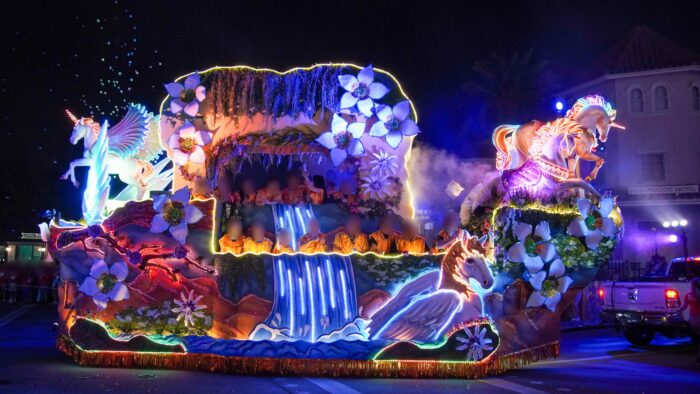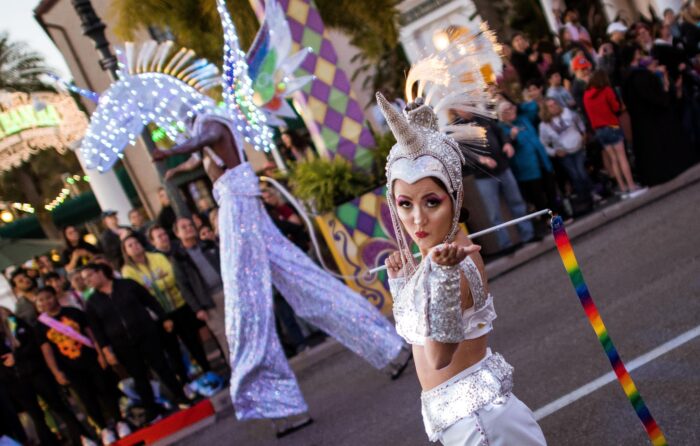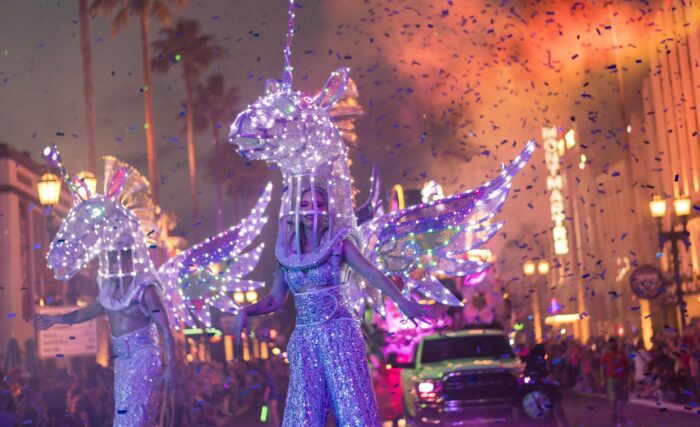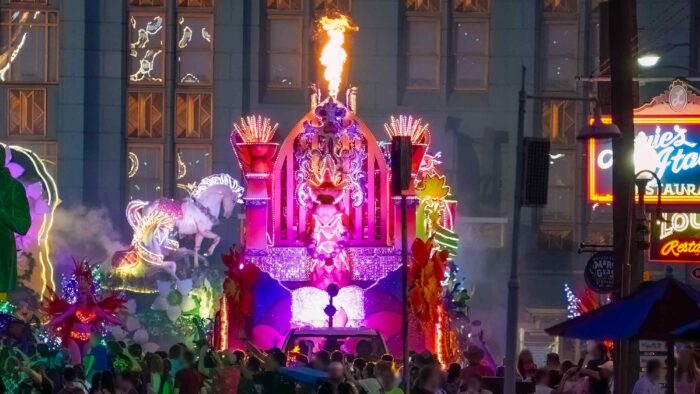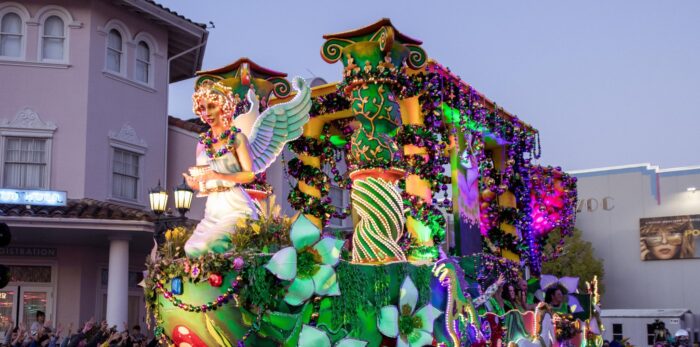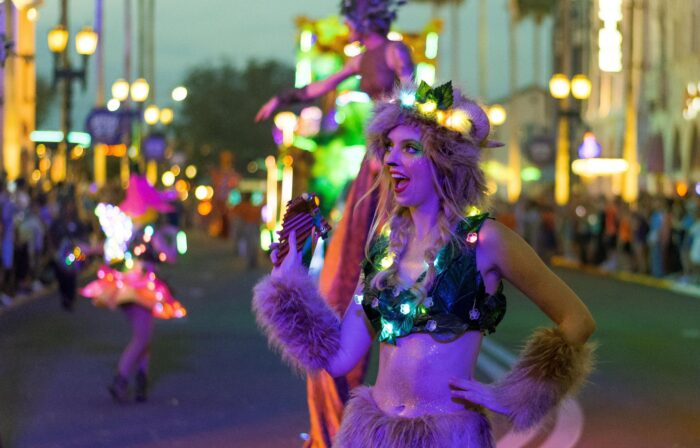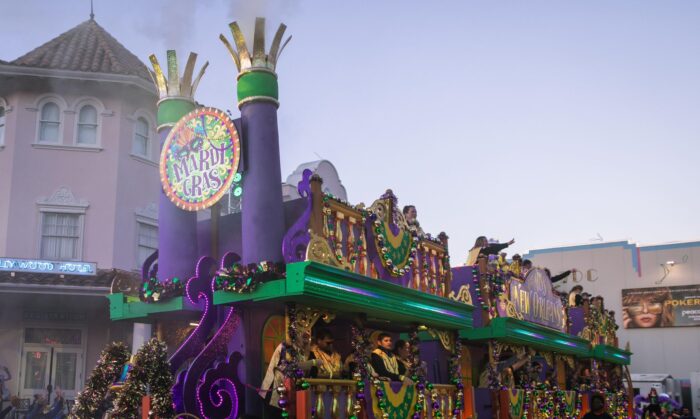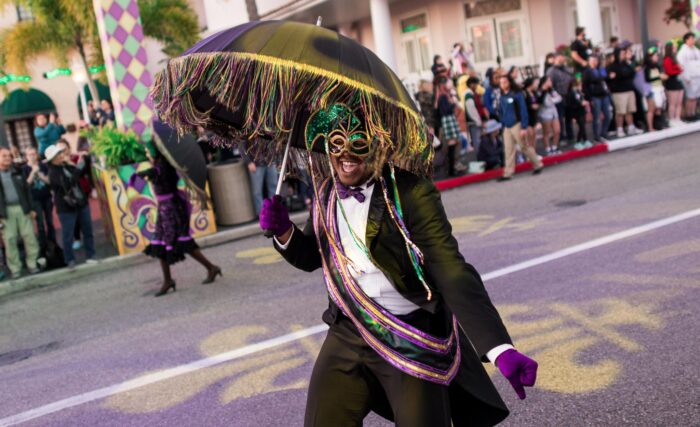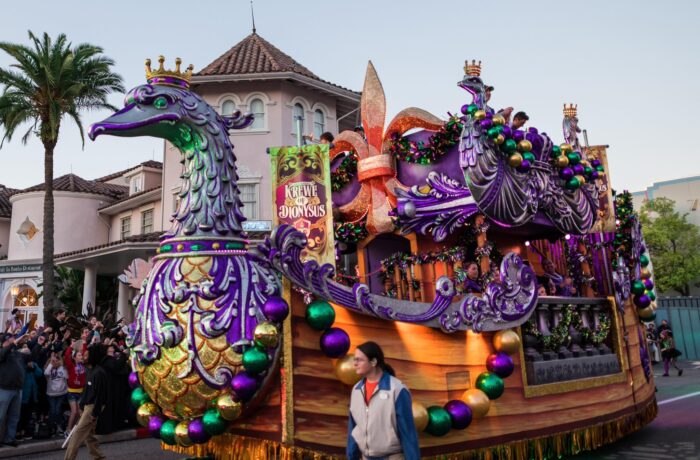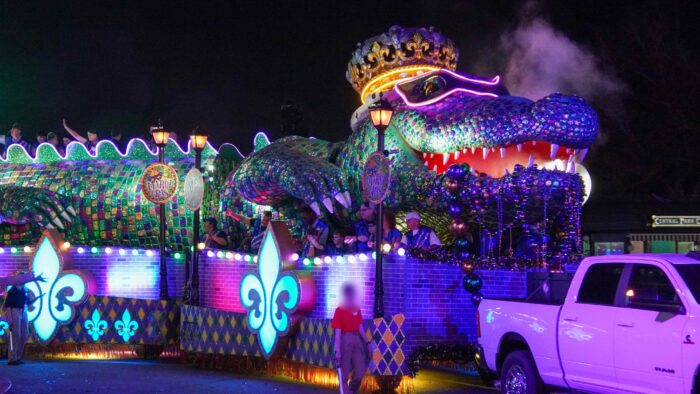 One of the absolute best parts of Universal's Mardi Gras celebration is that actual guests are on board every single float throwing beads to guests.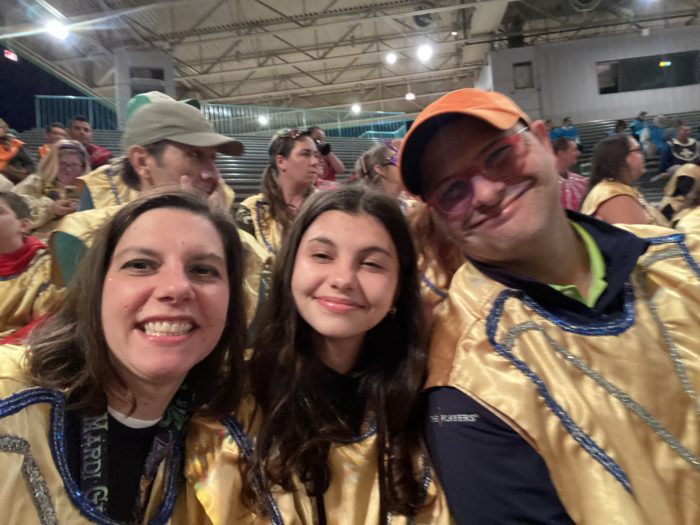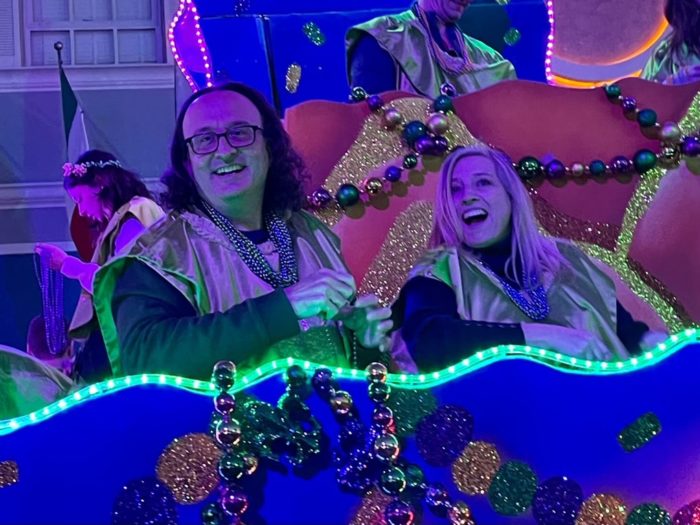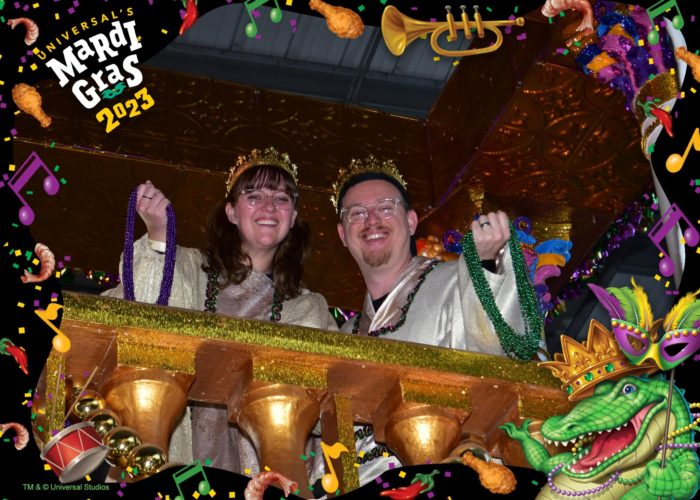 HONORABLE MENTION: The Bead Tree
We mentioned above that Universal offers the opportunity for guests to throw beads, but EVERYONE at Mardi Gras gets a chance to receive beads! In fact, you'd have to actively try to avoid getting any beads to not take home at least a dozen necklaces. It's a true blast and especially fun if you have young kids with you (or kids-at-heart). A staple of the Mardi Gras celebration is the "bead tree" which is located on the way back to the Universal parking garage.  Many guests decorate this tree by tossing some beads onto it.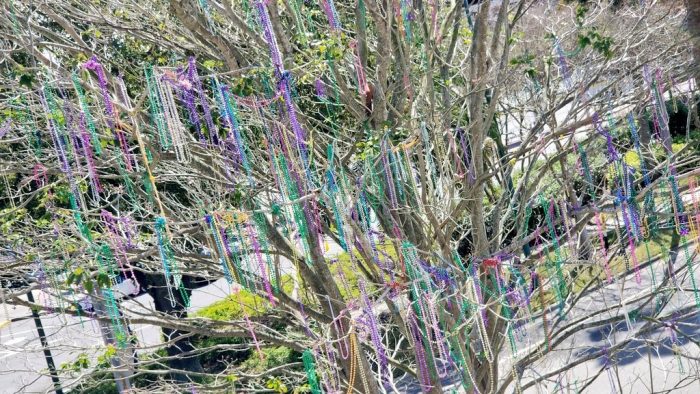 You can see nods to the bead tree in the Mardi Gras Tribute Store…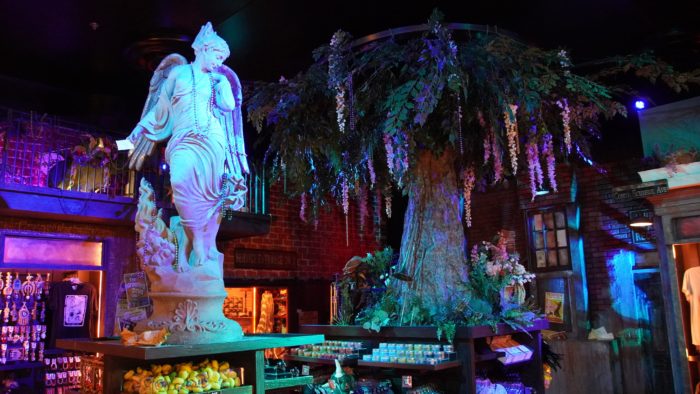 …and even on the event's official merchandise.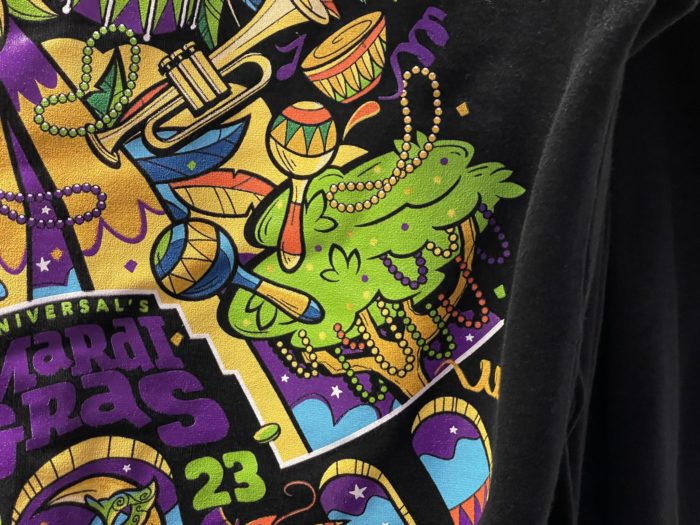 So imagine everyone's surprise when the Bead Police were out to prevent guests from tossing beads. Listen, I get it. I truly do. There's probably a dozen reasons people shouldn't be throwing beads from an elevated walkway. However, it is now almost a rite of passage for new Mardi Gras fans and something that is now steeped in tradition. Rumors and Innuendo say that years ago the person in charge of the parking garages at Universal HATED the bead tree and had it removed, thinking that would solve the problem. NAY NAY. As anyone who has seen Jurassic Park will tell you, life finds a way, and guests just started throwing beads at trees that were farther away. As you can see in the photo below, there is a roadway not that far from the trees. With the original bead tree gone, guests were not as successful at throwing their beads onto a tree farther away, leading to issues of beads going into the roadway. Long story short, in order to "fix" a problem, the issue was made much worse.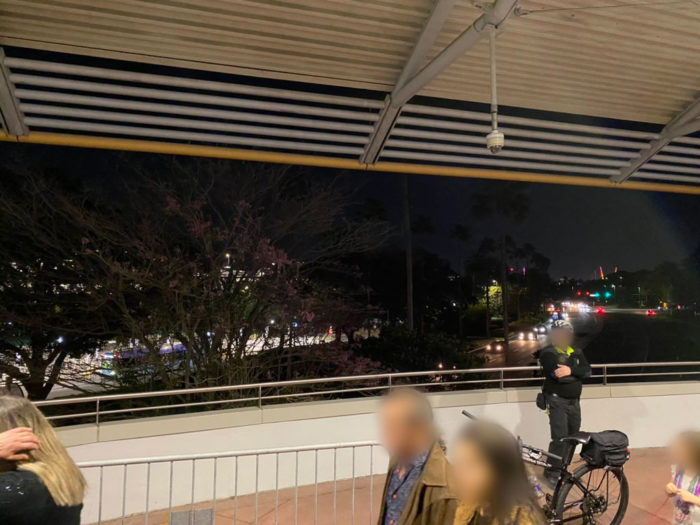 Thankfully, the Bead Police are generally not on duty and guests are allowed to have a little bit of fun as the world around us goes absolutely bonkers at a pace never seen before in human history.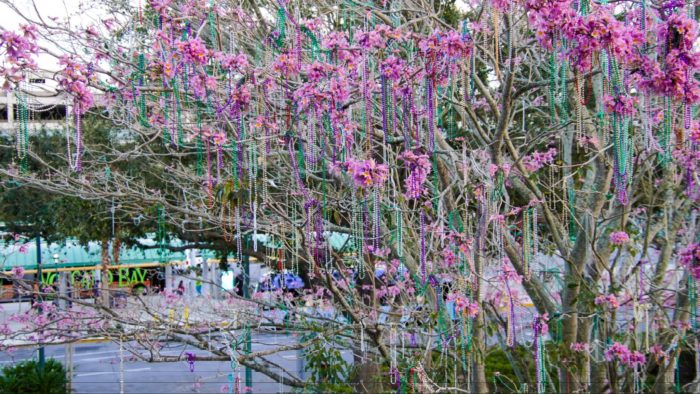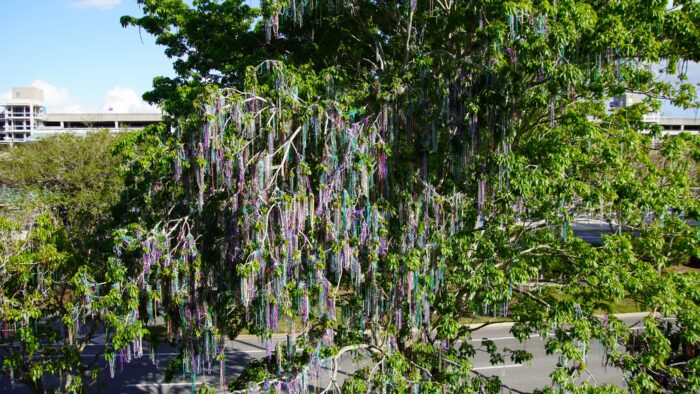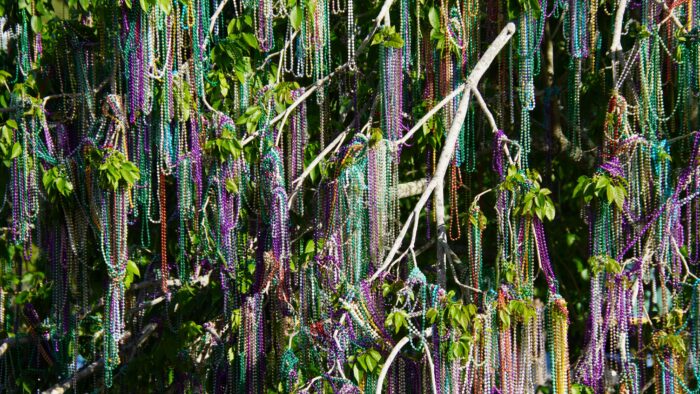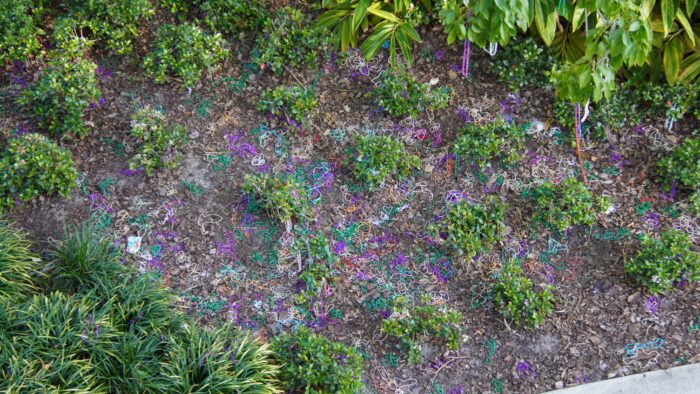 DOUBLE SECRET HONORABLE MENTION – Cursed Coconut Club
Last month we also did an article on the Cursed Coconut Club in CityWalk, another extension of the Mardi Gras celebration that was just fantastic.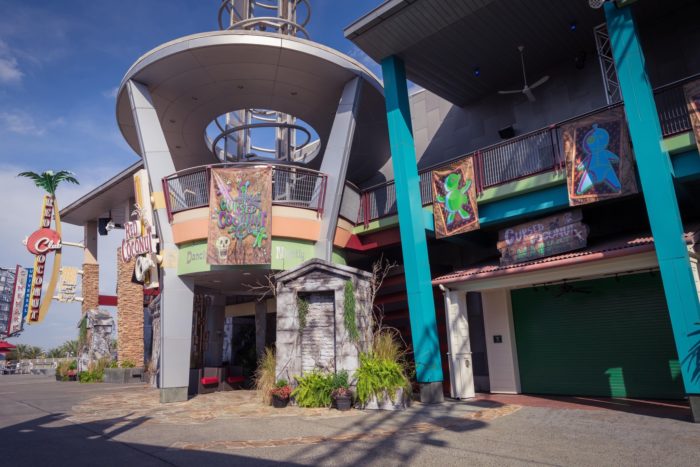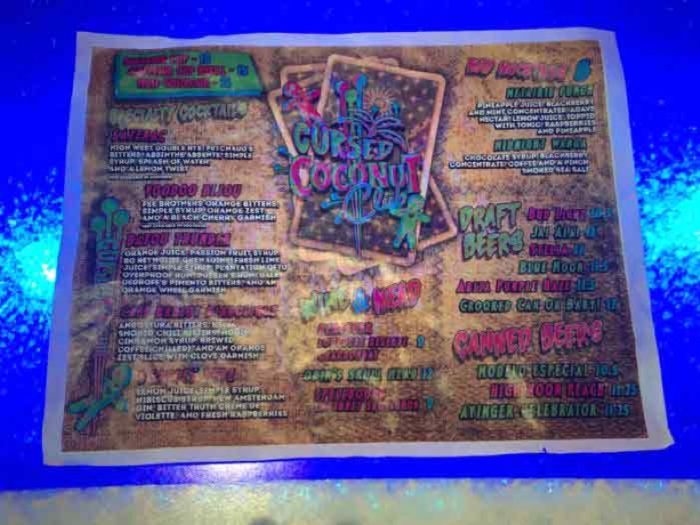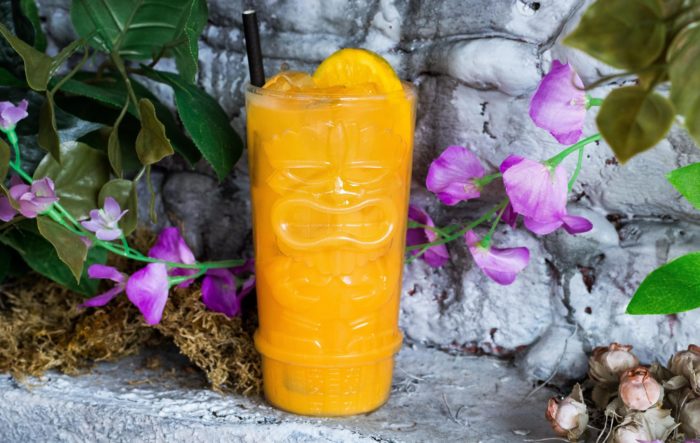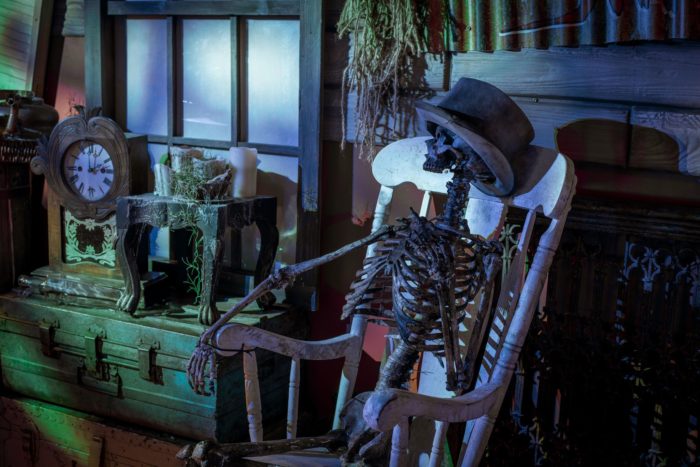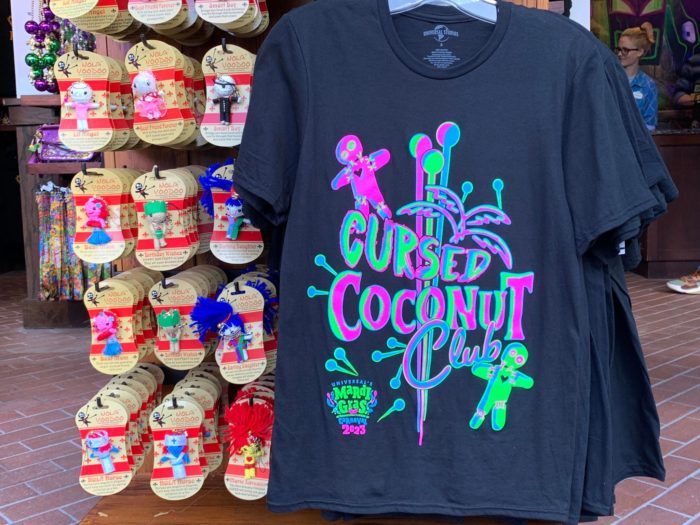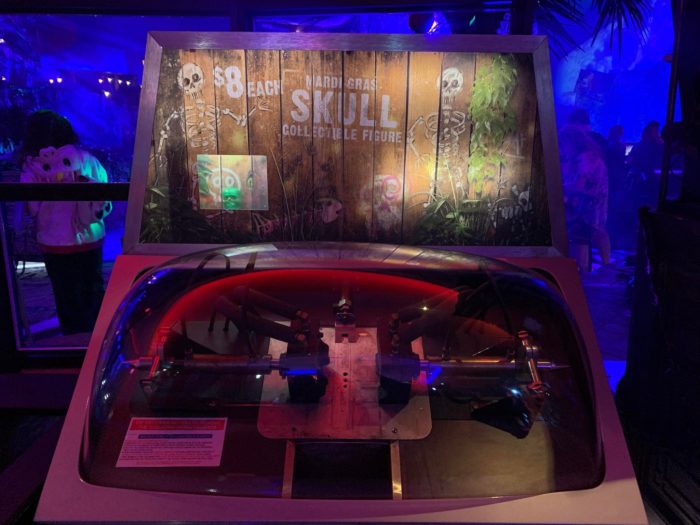 So there you have it: The SATURDAY SIX Looks at Universal's 2023 Mardi Gras Celebration! See you next weekend for the latest installment of the SATURDAY SIX, where we'll look at something fun from the world of Disney and Universal. If you enjoyed yourself, be sure to check out the THEME PARK ENJOYMENT INDEX, giving a monthly recap of all the theme park news you need to know (and a lot more you don't need to know, but we're gonna tell you anyway). You can also follow Your Humble Author on Twitter (@derekburgan).
If you enjoyed this article, you will surely like the following: 
SATURDAY SIX Presents: The Disney Merchandise Hall of Shame
SATURDAY SIX Presents: The Disney Signage Hall of Shame
SATURDAY SIX Presents: The Disney Food Hall of Shame
SATURDAY SIX: Tribute to Josh easyWDW
SATURDAY SIX: Tribute to Ian Barritt
Special Thanks to The Elite Brandon Glover, Digital Maestro Scott Walker, the bio-est of all reconstructs @bioreconstruct, Captain Cruiseline Scott Sanders of the world famous Disney Cruise Line Blog, my personal protege Hunter "Elvey" Underwood, artist @SonderQuest, the mighty maven of merchandise Hedgehog's Corner, the SAT SIX Fun Squad of Parkscope Joe and "the Dadalorian" Nick, hot shot Michael Carelli, charter member of the Universal Four @Nitro230, the permit princess Alicia Stella, master cartographer Tommy Hawkins, and Hermione Granger's tutor Megan Stump for their invaluable assistance with this article. Absolutely no help was added by SeaWorld Influencer @SuperWeenieHtJr. The SAT SIX is inspired each week by goofballs Aengus Mackenzie and LitemAndHyde and you Potterheads will  enjoy Meg's other blog work over at the Central Florida Slug Club.
I think the Twisted Frank – which is a long hot dog that is encased by a Twisted Tater – is Universal's litmus test to see if someone has had too much to drink during Mardi Gras. If you're at the point where this looks like a good idea, you're cut off.