How To Find Your Favorite Kid-Friendly Foods at Disney World
If you've got a picky eater, feeding kids can be a challenge at home. Take that challenge on the road to Disney World, and you might feel like your Magical vacation is lacking in mealtime magic. Never fear, TouringPlans is here! We'll tell you how to find all the chicken nuggets, applesauce, mac & cheese, and Uncrustables you need to keep your kids happy at mealtimes.
Our secret? TouringPlans has a menu search feature. If you go to Google and type in "Where do I find chicken nuggets at Disney World", you will get some articles and a few links to forum answers, each of which will list a few restaurants. But if you go to our Disney World menu search, you will get a complete list of all the dining locations that serve chicken nuggets.
Normally I would start an article like this with the big picture overview of kid-friendly food at Disney World. But here I'm going to go backward and walk through the menu search first. Here's a list of everything we're going to cover, and you can tap any link to jump straight to that section.
Using Menu Search – the Basics
Start on our Disney World Menus page. Scroll down to the search feature. In Lines, you can find a link to the Menu page on the home screen. When you tap the link, the page will open in your browser, not in the app. That means the Menu Search will look the same no matter whether you started from Lines, from a bookmark, or from a result that you got by Googling "TouringPlans menu search".
Enter the search terms. You can narrow your search by selecting a location and/or the type of restaurant you're looking for. Then click "Go"!
Your results will show the name of the dish and the description, exactly as they're listed on the menus on Disney's site. You'll also see the restaurant name and the name of the menu (breakfast, lunch, dinner, etc.) that the dish was found on. These names are clickable and will let you jump to our site page for the restaurant or the menu directly.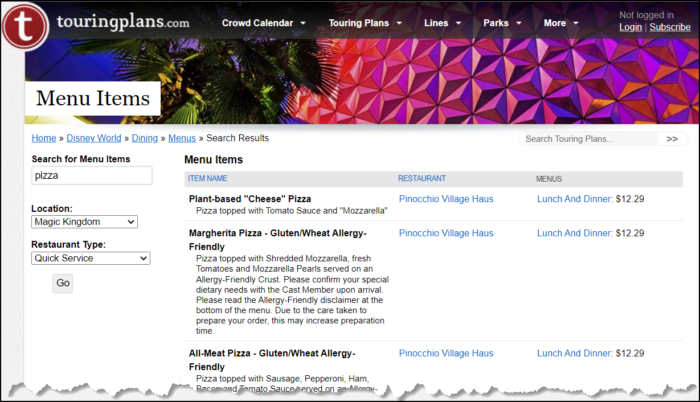 Using Menu Search – Advanced Tips
OK, confession time. The search above for pizza at Magic Kingdom Quick Service restaurants might seem like it was a random example that I picked because it seemed realistic. In fact, it was carefully chosen to illustrate two things:
Menu Search is sensitive to the specific words you choose to describe the food
It usually doesn't matter
If you looked closely at the screenshot, you might have noticed that the hits all seem to be for special diets: plant-based, allergy-friendly, or the like. That's because even though Pinocchio Village Haus does serve pizza, it's called "flatbread" on the regular menu. Our menu search does not have (nerd word alert!) an ontology that tells it that pizza is sometimes called flatbread and it should show flatbread to users looking for pizza. Google has us beat on this front, because it often knows things like this. Luckily, it usually doesn't matter because allergy-menu names are often less fancified, and will get you to the right restaurant.
Still … it's not good to rely on luck. So, here are a few things to know about searching for kid favorites.
Chicken Nuggets, Chicken Tenders, and Chicken Strips
It's my opinion that Disney World has the best fried chicken tenders anywhere. But if you search for chicken tenders, you'll get results that seem to be mostly chicken dishes but not chicken tenders. If you put quotes around it to search for "chicken tenders", then all of your results will be for chicken tenders. But you'll only have two pages of them, because what you really want to search for is "chicken strips". You might now be thinking that if you want the nugget form you should search for "chicken nuggets", right? Nuh-huh, that will be a fail because they're chicken breast nuggets.
To find the familiar fried and breaded chicken dishes that most of us know as chicken tenders or chicken nuggets, use our menu search with the terms "chicken strips" or "chicken breast nuggets". If you find nothing, then fall back on a location-specific search for chicken, as there are a very few restaurants that don't use those labels.
Pizza and Flatbread
We already talked about this, right? Your best bet is to do two separate searches, one for flatbread and one for pizza. Just be careful of the things that are served with a side of flatbread, because that's usually just a flat, grilled piece of bread, not a pizza.
Macaroni & cheese
Good news! You can search for macaroni here, and you'll find what you need. But you should know that the macaroni & cheese served at Disney World is not Kraft, so if you have one of those kids who accepts nothing less than the … well, I feel it's stretching it a bit to call Kraft the best, but if you have one of those kids who won't eat macaroni & cheese if it's not the familiar Kraft product, then be prepared.
Peanut butter & jelly
Peanut butter & jelly appears on many menus, but you will never find them all searching for "peanut butter". Search for Uncrustables instead.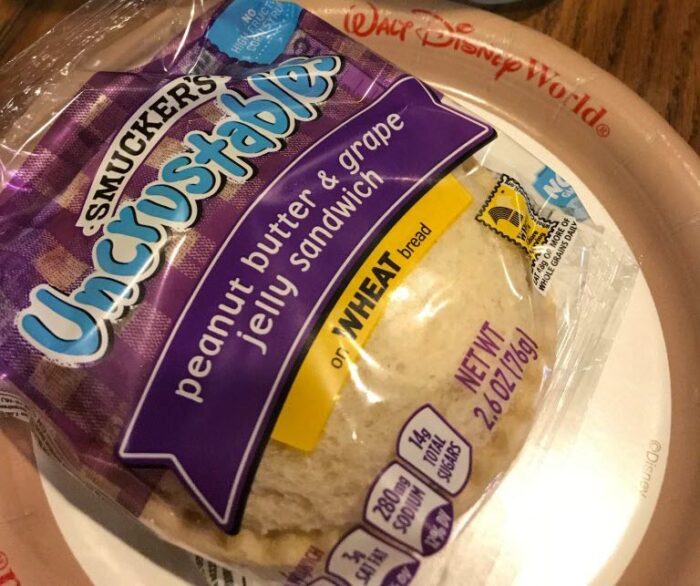 Hamburgers, Cheeseburgers, & Hot Dogs
Good news! You can just search for hamburger, cheeseburger, or "hot dog". You'll be good to go.
Picky Eaters and Disney World Menus
If you've got a kid who only eats chicken nuggets, now you know how to find them. But what if your child isn't so picky that you need to search out specific foods? What if they're just not adventurous? So listen, you're at Disney World. They know their audience. At pretty much every restaurant, there will be something un-fancy, un-fussy, and very familiar to make your kid happy. But there are some useful tips, depending on where you're eating.
Feeding Picky Eaters at Disney World Quick Service
The vast majority of the food on kids' menus at Disney World Quick Service restaurants is kid-friendly fare. Dishes like macaroni & cheese, chicken fingers, hamburgers/cheeseburgers, pasta, hot dogs, and pizza dominate these menus. Sides are similarly plucked from the repertoire of kids' most frequent favorites: french fries, grapes, yogurt smoothies, applesauce, baby carrots, apple slices, and the like.
The time when you want to research more carefully is when serving size is an issue. If you're paying cash, anyone can order off the kid's menu. But you may have an older child who is still a fussy eater, or a younger child who tends to eat more. In these cases, the standard recommendations apply. Check out menus in advance to find the ones that have food your little one will eat on the adults' menu. Or, be prepared to order additional sides or other meal components to build something that will satisfy your child's appetite.
The reality is that it's harder to find food for adventurous eaters on Disney World Quick Service menus than it is to satisfy picky ones. For more information, see our Disney World Quick Service Kids' Meals FAQ.
Feeding Picky Eaters at Disney World Table Service
One thing that's really nice about Disney World Table Service restaurants is that the dishes on the kid's menu often pair a couple of standards with some selections that reflect the specific restaurant's cuisine. If you eat a Table Service dinner every day for a week, your child won't be looking at the exact same menu every night. That's great! But it sometimes means that the "safe" offerings seem like they're limited to only a dish or two.
Options for fussy eaters will vary from location to location. But we can get the best handle on them by looking at the three different kinds of Table Service dining experiences: buffets, menus, and all-you-care-to-enjoy (AYCE).
Buffets
Kids have the run of the adult food at buffets, so offerings on the kids' buffet tend to be very safe. Chicken nuggets, pasta, macaroni & cheese, potato barrels, and mini corn dogs are all common. Vegetables are often completely absent from the kids section; in my family we often picked off individual veggies from the salad bar sections for our kids. And no matter how old your kiddo is, portion size will never be an issue. Buffet, remember?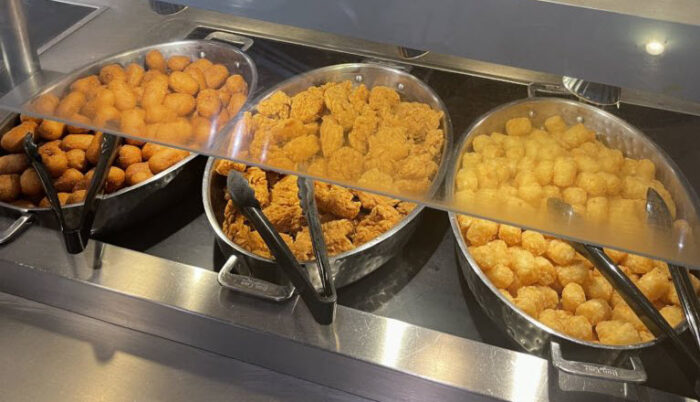 Regular Menus
As mentioned, you may find only one or two picky-safe entries on the kid's menu. Even if your child eats a reasonable repertoire of kid standards, the ones that are on offer might be ones they're not willing to eat. What to know:
Items from the "less safe" entrees can often be prepared without sauce or toppings to make them more friendly
Sides can usually be swapped out for sides that are available on any other dish
All-else failing, there are often kid-safe items that aren't on the printed menu.
To that last, ask your server if there really isn't anything your child will eat. They've seen this before, and they'll know what can be made easily. Buttered noodles, for instance, are available at almost all restaurants. Sometimes items like chicken tenders will be available off-menu. And if it's serving size that's the problem, most restaurants will let you order a larger portion of a dish from the kids' menu for an extra charge.
All-You-Care-to-Enjoy
These family-style meals such as 'Ohana, Garden Grill, and Liberty Tree Tavern can feel like they have the fewest options for picky eaters. the 'Ohana menu, for instance, includes Mixed Greens Salad, Signature 'Ohana Bread, Honey-Coriander Chicken Wings, Pork Dumplings Tossed In Garlic-Chili Sauce, Wood-fire Grilled Teriyaki Beef, Spicy Peel-n-Eat Shrimp, Grilled Chicken with Polynesian-inspired Chimichurri Sauce, 'Ohana Noodles, and Roasted Seasonal Vegetables. There's a lot of sauce and spice in those descriptions.
However, like the restaurants that offer a more traditional menu, there are often "secret menu" items that can be had for the asking. It feels obvious that your child might not like everything that's served on the family platter—sometimes adults don't either! But if there really isn't anything that they're excited by, talk to your server and see what they know. Since these meals are "unlimited refill", portion size will not be an issue here any more than at the buffets.
What's your experience with picky eaters at Disney World? Let us know in the comments!