Five Facts to Know About Guardians of the Galaxy: Cosmic Rewind
Since opening in May 2022, Guardians of the Galaxy: Cosmic Rewind has proven itself to be among the most popular rides at Walt Disney World, if not THE most popular. And because of the odd – and some may say frustrating – way Marvel properties were licensed back in the 90's, it's the first and only Marvel-themed ride you can experience at WDW – so far, anyway! (Curious? Why Marvel Can't Come To Disney World)
All that said, here in no particular order of importance are Five Fundamental Facts you should know about Guardians of the Galaxy: Cosmic Rewind before you head out to help save the galaxy.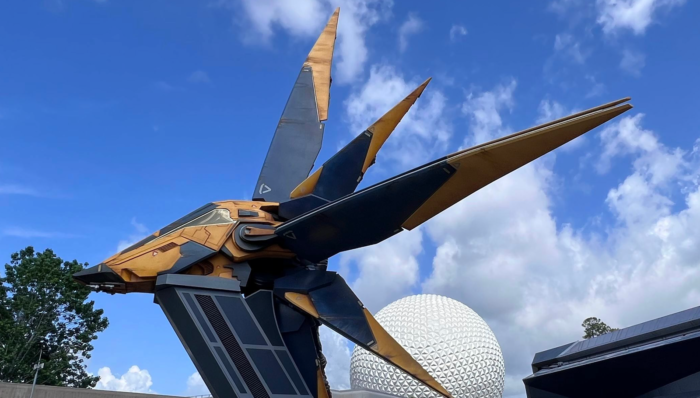 Fact #1: Where on earth (or EPCOT) is it?
Guardians of the Galaxy: Cosmic Rewind is located on the former site of Ellen's Energy Adventure (the Universe of Energy pavilion) at EPCOT. It's in the same World Discovery neighborhood where you'll find the new Joffrey's coffee and tea shop, Connections Café, Creations Shop, Club Cool, Space 220 restaurant, and Mission: Space.  Just look for the huge Xandarian Star Blaster Spaceship out front.
The attraction is cleverly billed as the "Wonders of Xandar Pavilion," as if it were similar in format and presentation to the different nations' pavilions at EPCOT's World Showcase – except this one is from another world!
Inside, as you begin your adventure, you enter the "Galaxarium" where you'll find an exhibition comparing the Earth's galaxy and Xander, displays about the history of Xandar, its culture, and more; again, similar to the way nations in the World Showcase are set up. Then the Guardians show up and, well, things get interesting.

Fact #2: It has enough technological advancements to fill a galaxy with wonder.
As you might expect from EPCOT's first (and only) roller coaster, the Imagineers have loaded GOTG with a number of technological firsts.
For starters, it's the first ever reverse launch on a Disney coaster, providing guests with a one-of-a-kind, not-be-duplicated experience anywhere else in the parks!
Plus, it features a brand-new ride system that rotates 360 degrees! Imagineers call it an OmniCoaster ride system as it's inspired by Disney's OmniMover system used in the Haunted Mansion and Spaceship Earth – but reimagined for a roller coaster. Disney says that each of the OmniCoaster cabs moves in such a way as to direct your eyes to the story happening around you, so you'll never miss any of the action.

Another first: Cosmic Rewind is one of the largest fully enclosed coasters in the world. In fact, Disney has said that the enormous building housing the coaster is so massive that the volume of four Spaceship Earth attractions could fit inside it. That's big!
And while not a technical advancement, per se, through the magic of technology, you'll be joined by Star-Lord, Drax, Gamora, Nova-Prime Irani Rale, and Centurion Tal Marik, all played by their original GoTG cast.
A last word: as you may suspect, like many other technologically advanced attractions (and some not-so-technically-advanced), Cosmic Rewind goes offline occasionally, so after a delay and re-setting of the ride, be prepared to wait for your Boarding Group to be called. Pack your patience. It's worth the wait.
Fact #3: Of course, there's a terrific soundtrack.
Guardians of the Galaxy is known for its classic rock soundtrack that's carefully selected and woven into the plot of its films. So, it stands to reason that this couldn't be a Guardians of the Galaxy attraction without Peter Quill's treasured playlists – which guests can expect to hear aboard Cosmic Rewind in the style of Rock 'n' Roller Coaster.
Throughout most of the year, the soundtrack includes: I Ran; Conga!; September; Disco Inferno; One Way or Another; and Everybody Wants to Rule the World.
But during the holiday season (the day after Thanksgiving through the day before New Year's Eve) a special Holiday Remix is substituted for the originals, with Run Run Rocket (Run Run Rudolph with reworked lyrics) riffing on Jingle Bells; Deck the Halls; Go Tell It on the Mountain; and We Wish You a Merry Christmas.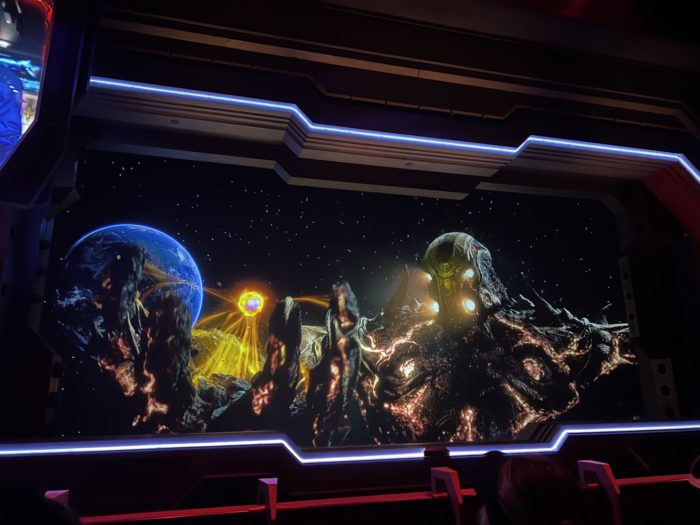 Fact #4: You can only join the adventure in one of two ways.
There is currently no standby line for GOTG. You must either join a Virtual Queue or purchase an Individual Lightning Lane, using the My Disney Experience app. And Disney is limiting the number of times you can ride per day.
Since Boarding Groups are limited, you'll want to be extra-familiar with how to join the Virtual Queue or how to snag an ILL for this ride. We've covered the how-to's in depth in this handy guide: Step-by-Step: How to Ride Guardians of the Galaxy: Cosmic Rewind
It probably goes without saying that Boarding Groups in the virtual queue are not guaranteed, based on availability. So, if this is a must-ride and you only have one day planned for EPCOT, buying an ILL for each member of your group is the more certain way to go.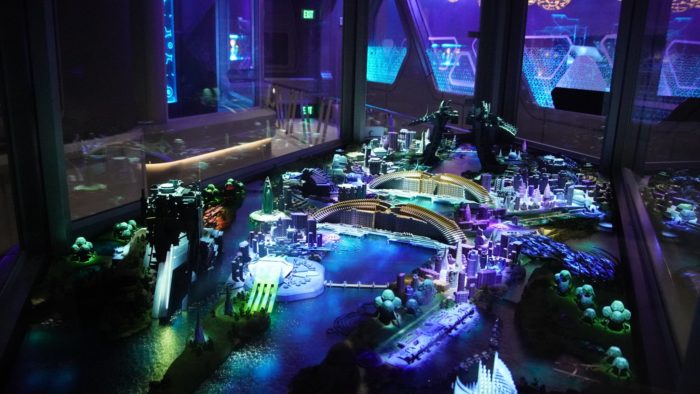 Fact #5: What about motion sickness (and is there a chicken exit?)
With all the innovative ways this coaster moves, some of you may be wondering about motion sickness. Even though this is a coaster that rotates and launches in reverse, Disney describes Guardians of the Galaxy: Cosmic Rewind as a family-friendly coaster. It's a smooth ride, similar in feel to Slinky Dog Dash, with no sudden jerking or bumps.
If, like me, you enjoy a lot of the pre-ride queue but are hesitant (make that totally unwilling) to go on the ride itself, there's a chicken exit. Not sure if you're willing to ride? You can read a more detailed first-hand account – still spoiler-free – in A Ride Chicken Review of Guardians of the Galaxy: Cosmic Rewind.
Have you ridden this coaster? Do you plan to? Let us know about your experience with Guardians of the Galaxy: Cosmic Rewind in the comments!