Why Marvel Can't Come To Disney World
The Avengers are assembling at the Disney Parks with Avengers Campus coming to Disney California Adventure at the Disneyland Resort on June 4, 2021! But even though Star Wars: Galaxy's Edge came to both coasts, don't expect the same to happen with Avengers Campus.
There's actually something even more powerful than Thanos keeping the Avengers out of Walt Disney World — lawyers.
Due to a contract from the 1990s, there are rules for where Disney can utilize the Avengers at the Disney Parks; and with the opening of Avengers Campus just around the corner, I'm here to break it all down.
The Notorious Contract Keeping Marvel Out of WDW
Long before Disney purchased Marvel for a cool $4 billion, and even before Tony Stark said, "I am Iron Man," Marvel signed a contract with MCA Inc. who owned the Universal Studios theme parks.
This, folks, is why we have that incredibly '90s Marvel Superhero Island over at Universal's Island of Adventure park and why you can meet a Thor and Captain America who look nothing like the characters from the MCU.
Now, due to this agreement, coupled with the fact Disney didn't obtain all of Marvel's licensing rights, Disney is severely limited in how it uses the Marvel name and what characters it can use at Walt Disney World.
According to the contract, any characters being used by Universal cannot be used by Disney in their parks east of the Mississippi River. And unfortunately for East Coast Disney guests, this agreement is perpetual as long as Universal continues to pay Disney who now owns Marvel.
A Tale of Two Spider-Men Rides
Now we know the rules, let's clear up some other confusing aspects of Marvel at the theme parks starting with Spider-Man rides.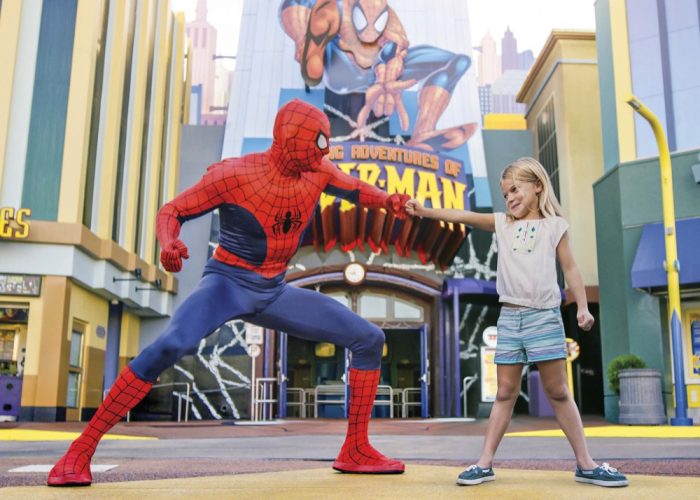 The Amazing Adventures of Spider-Man attraction opened at Universal's Islands of Adventure park way back in 1999 (that's why you won't see Tom Holland or Zendaya).
But since the agreement allows Disney to use Marvel characters west of the Mississippi, WEB SLINGERS: A Spider-Man Adventure is set to open with Disney California Adventure's Marvel-themed land Avengers Campus (and yes, here you WILL see Tom Holland).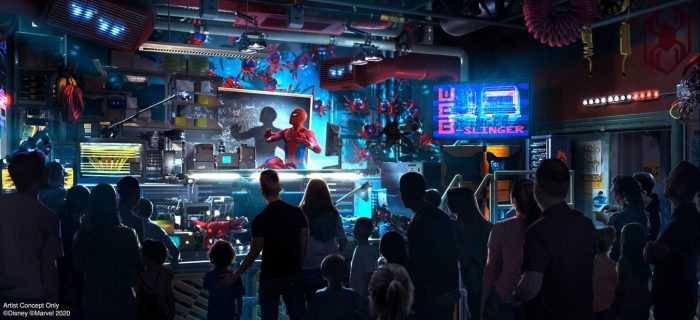 So if you're on the West Coast, there's a Disney Spider-Man ride. But if you're on the East Coast, the only Spider-Man ride is at Universal.
So Why Does EPCOT Get Marvel's Guardians of the Galaxy?
So considering all those pesky legalities, you've gotta be wondering how Disney can build Guardians of the Galaxy: Cosmic Rewind at EPCOT, right?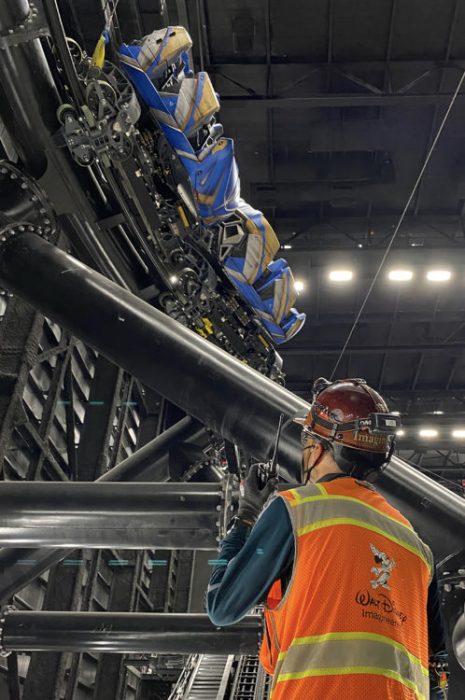 Well, if you're only familiar with Marvel movies, and not the comic books, you're probably unaware that the Guardians of the Galaxy is a pretty deep cut from the Marvel library of comic book characters.
Therefore, the ragtag heroes aren't technically part of the Avengers or the Fantastic Four, and aren't already featured at Universal's Superhero Island. This means the Guardians are free game for Walt Disney World to implement into the parks hence Cosmic Rewind and other appearances of the Guardians, such as short-term meet and greets at Disney's Hollywood Studios and live performances at EPCOT.
Exceptions & Loopholes
Even though you can't see Iron Man or Spider-Man at Walt Disney World, you have been able to see them aboard the Disney Cruise Line (in pre-COVID times that is) for Marvel Day at Sea events.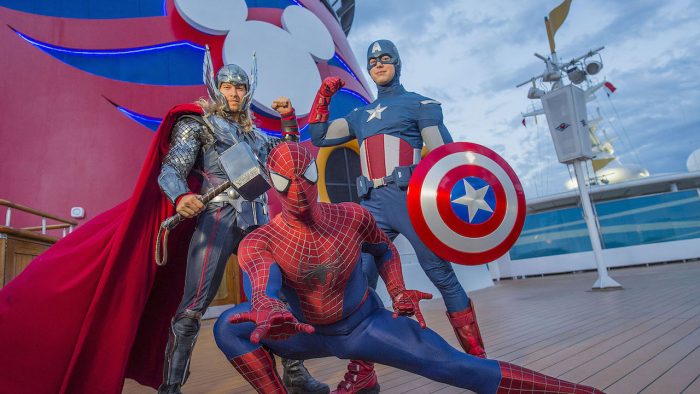 How? Well, these special Marvel-themed days onboard occur in international waters.
Guests may see more Marvel at Disney Springs at Walt Disney World since it's not a Disney Park. This is why shoppers were able to find WandaVision cakes at Amorette's Patisserie earlier this year, and it's also why there's a Marvel merchandise store called Super Hero Headquarters.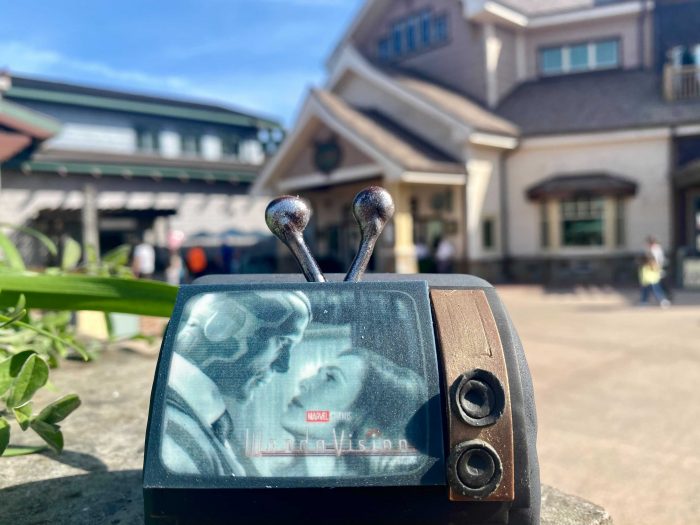 But did you notice that Super Hero Headquarters doesn't include the Marvel name despite its selection of Marvel-themed merch? It's for the sake of the agreement, as is the name Avengers Campus (sans the Marvel name) at Disney California Adventure.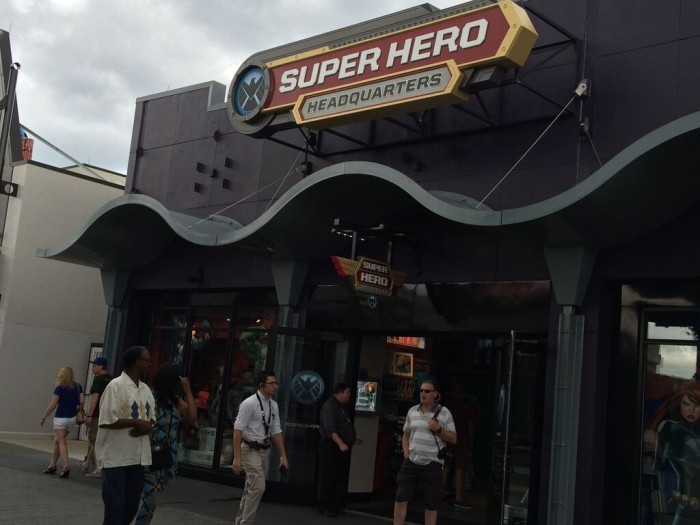 Basically, it's unlikely Disney World guests will be able to enjoy many Marvel-themed attractions or character interactions in the near future, especially considering the perpetuity of the '90s Marvel contract. So if you're looking to sling webs with Spidey, eat Shawarma like an Avenger, or train with the Dora Milaje, the Disneyland Resort is where you'll need to assemble.
Have you been confused by the rules for where Marvel can be used by Disney and why? Do you wish there was more Marvel at Walt Disney World? Let us know in the comments!