Five Things to Know About Star Wars: Rise of the Resistance
It's possible that you've been living somewhere in the Outer Rim and haven't heard about Star Wars: Rise of The Resistance. If that's the case, the first thing to know is that a lot of superlatives have been used to describe this one-of-a-kind Disney attraction. Words like exceptional, extraordinary, groundbreaking, and not-to-be-missed. So, what's left to say about a ride that's received such overwhelmingly positive praise? Turns out, at least five things!
If you want to jump to hyperspace and just hear about where to find this attraction and how to ride, you can head straight to the Nuts and Bolts section.
1. You will be immersed in a galaxy far, far away.
Another way to say this is that you don't just ride Rise of the Resistance, you EXPERIENCE it. For 18 minutes from start to finish, you're transported to another time and place.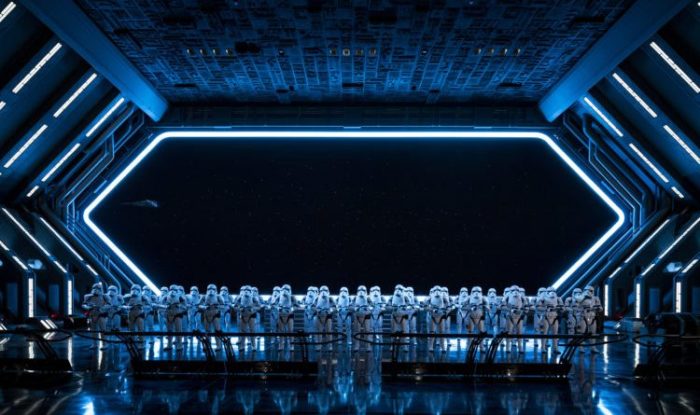 RotR is truly unlike any other attraction at Disney World. It uses multiple ride systems to offer you an experience that's part dark ride, part trackless ride, part simulator, and part walk-through. These all seamlessly flow together in a way that moves the story forward at a good pace. At the same time, they work to successfully immerse you in the experience, playing an important part in this galactic drama.
2. You'll join the fight against the Empire.
Rise of the Resistance begins with two pre-show experiences. First, you're met by an audio-animatronic BB-8. A hologram transmission from Rey explains your mission as new recruits: to strike a blow against the First Order.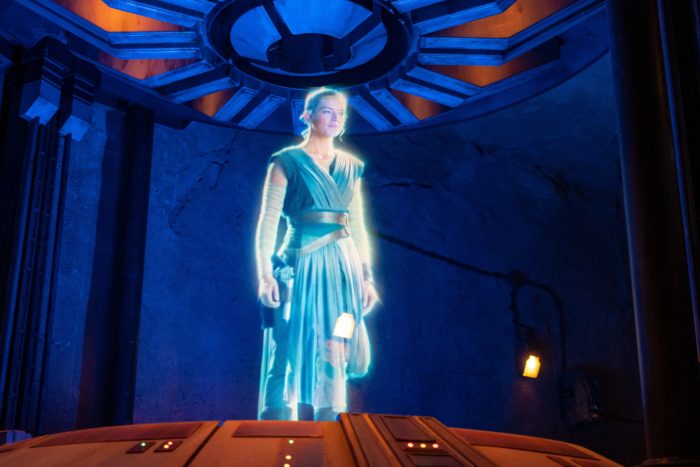 In the second preshow, you exit the briefing room and board a standing-room-only (with handrails) shuttlecraft. It's piloted by Nien Nunb from Return of the Jedi. You can see Poe Dameron accompanying you in his X-Wing as the shuttle takes off, gets in a battle, and ends up in the tractor beam of a Star Destroyer. After landing inside the larger ship, the doors open and you're in a cavernous hangar, facing a regiment of 50 Stormtroopers.
At this point you can look around all you like since you're on foot. There are TIE fighters and a 100-foot-wide bay window looking out into space. First Order officers herd you into holding rooms. You're waiting to be interrogated by Kylo Ren himself! (Our Cast Members did not break character but were very kind and reassuring to smaller children who were a little skittish at this point.)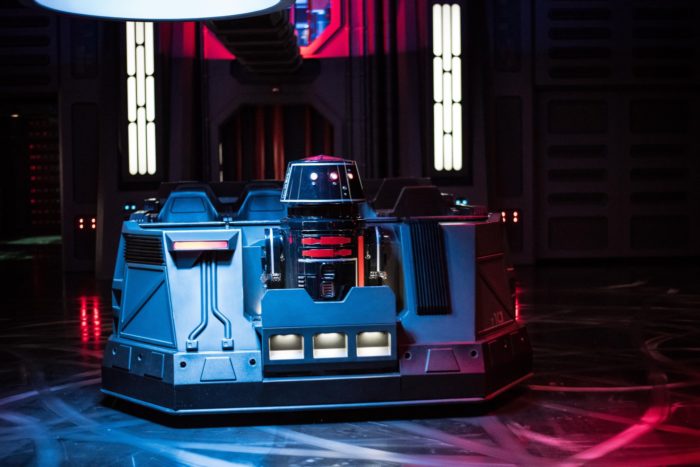 Then the Resistance helps you escape! You climb into a trackless troop transport with an animatronic R5 unit droid as your driver. This part of the ride uses dozens of animatronics and enormous sets with video projections to create some of the largest-scale scenes ever seen in an indoor ride.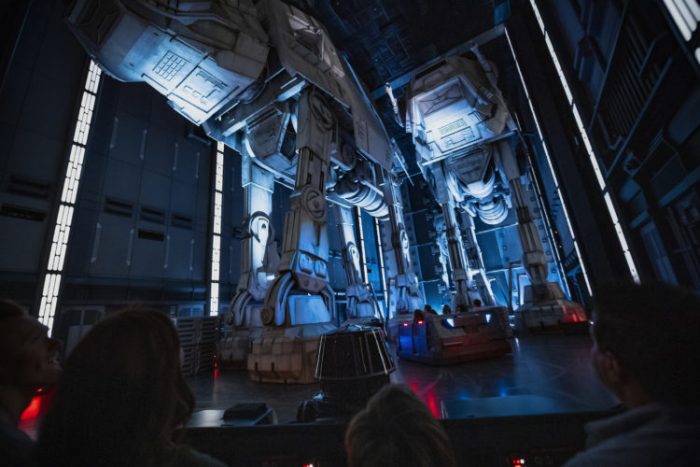 You dive between the legs of towering AT-ATs while dodging laser fire from Stormtroopers. You come face-to-face with Ren, who is in hot pursuit. Finally, the trackless ride vehicle moves into an escape pod, heading back to Batuu. As the pod drops into space, you'll experience a small – but significant – drop. The pod moves through a space battle, where you feel every hit. In the end, your pod crash-lands back on Batuu, the flight back enhanced by incredible digital projections.
It seems you've survived and helped strike a blow against the Empire. Well done, you!
3. Where does RotR fit into the chronology of the Star Wars saga?
The universe portrayed in the nine films of the Skywalker Saga that make up the backbone of Star Wars has been augmented over time. There have been more live-action films, several live-action series plus animated series on Disney+, all of which have expanded that universe. (And introduced names like Greef Karga on The Mandalorian and Keef Girgo on Andor. Does anyone else think we're running out of vowel/consonant combinations?)
Books and websites have been devoted to keeping this all together, but even the most casual Star Wars fan must wonder where this story fits in. The clues? You're recruited into the Resistance. It's a time when Kylo Ren has stepped up to finish what Darth Vader could not.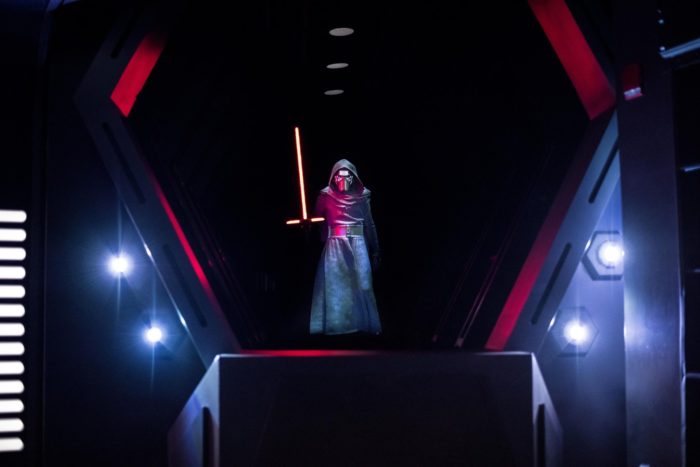 So, the answer is RotR is set in the time between The Last Jedi and The Rise of Skywalker. And yes, true nerds will tell you that Rise is canonical!
4. The attraction is as reliable as the Hyperdrive on the Millennium Falcon.
Which is to say that Rise of the Resistance goes offline with unpredictable regularity. But, let me speak in its defense. The very same astounding degree of complexity and detail that provides a one-of-a-kind experience can go awry in a thousand ways. Even my far less complicated laptop, phone, and watch must be rebooted from time to time; with the amount of challenging tech in Rise of the Resistance it feels like we should be understanding (if frustrated!) about why it goes down so often.
Sadly, some days Rise shuts down more than once. This can be especially challenging if you're trying to fit it into a schedule you've loaded with a couple of Genie+ reservations. Or a lunch reservation. Or dinner. Or if you purchased an Individual Lightning Lane. It also seems to be true that cast members are unable to tell you when it might be up and running again so you'd know when to return.
Our word of advice is to remember what Yoda once said: "Patience is the key to victory; be patient, and you will succeed." Also, we think you should consider buying an ILL for this attraction to avoid the possibility that you'll be in the queue when it's "dumped". You might still not ride on schedule, but you won't wait over an hour to not get to ride.
5. The Nuts and Bolts
Star Wars: Rise of the Resistance is in Galaxy's Edge at Disney's Hollywood Studios. If you enter Batuu from Grand Avenue, the entrance is to the left marked by a mobile Resistance gun turret. You can board RotR in one of two ways: wait in the long standby line or purchase an Individual Lightning Lane. Guests must be at least 40 inches tall to ride.
Since Rise of the Resistance is indoors, weather shouldn't be an issue that impacts whether it's operating. But if the queue extends outside the building (as it frequently does), guests in line are out in the elements.
The ride vehicles for Rise of the Resistance are 8-seater troop transports with two rows of four seats each. The seats and seatbacks are hard plastic, and there are individual fabric lap belts. To board the transport, you'll need to take a small step up.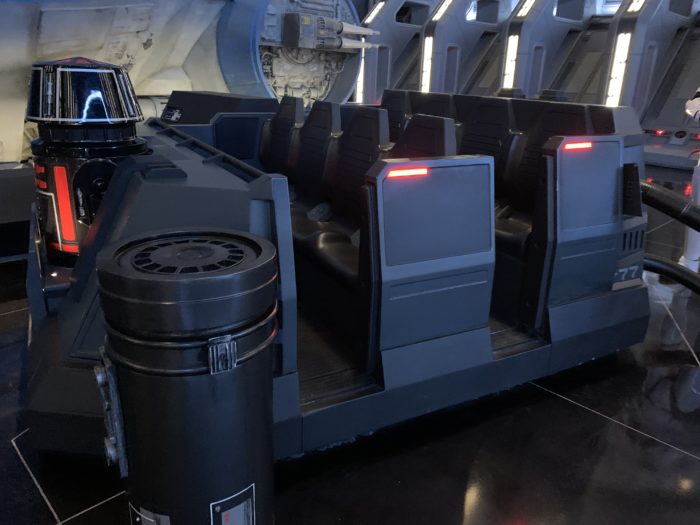 Guests in a wheelchair/ECV must transfer to experience the actual ride portion of RotR. Guests unable to do so can experience the queue and pre-shows, including the Star Destroyer hangar, but will have to exit the attraction if unable to transfer to the ride vehicle. Cast Members will provide details and instructions.
Because of all the different motions you'll experience, Disney advises that you should be in good health and free from high blood pressure, heart, back or neck problems, motion sickness, or other conditions that could be aggravated by this adventure. Expectant mothers should not ride.
As I mentioned, Rise can be scary and a little too much for some guests and children. Cast members do their best to be reassuring without breaking character in my experience.
Rise of the Resistance is open for Early Theme Park Entry. And to make the attraction more accessible, Audio Description and Handheld Captioning devices are available from Guest Services for a refundable fee.
The bottom line.
I've mentioned elsewhere that I'm prone to motion sickness and don't do coasters and dislike heights. But I've experienced RotR several times, all without incident and I'm glad I did. It's totally immersive and unlike anything else at Disney World. So yes, it's true: Rise of the Resistance is not to be missed!
What was your favorite part of RotR? Tell us why in the comments below!