Genie Testing: Genie and TouringPlans Head-to-Head
Yesterday, October 21st, was a big day for us at TouringPlans. It was our first planned head-to-head test with Genie – Disney's new "plan your day" feature. Would Disney's claims that it could pick attractions that delight you and help you avoid waits and have a magical day compete with what we've been doing for years? They certainly made big claims.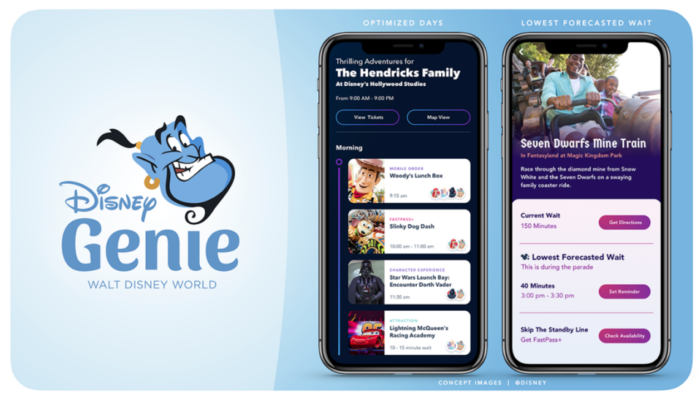 To review, here is what Disney wrote about Genie when it announced the October 19 launch date: "the complimentary Disney Genie service offers new features that let you create your best Disney day. These features include a personalized itinerary creator that effortlessly and smartly maps out an entire day inspired by the things you tell us you love – helping you make the most of your park time so you can have more fun." And "Disney Genie continues to update your itinerary from morning to night as the day changes, so you can stay spontaneous and go with the flow." Sounds ideal! But what happens in the real world?
The Set-Up
We wanted to test the ability of Genie to live up to two specific claims:
The personalized itinerary helps you accomplish the things that you tell it that you love
The itinerary continuously updates throughout the day
Both of these things are easily accomplished with a Touring Plan, by 1) selecting attractions that you want to experience, and 2) optimizing that plan throughout the day. Could Genie keep up?
We picked a set of 12 attractions from the COVID-19 Magic Kingdom for Adults One-Day Touring Plan:
Big Thunder Mountain Railroad
Buzz Lightyear's Space Ranger Spin
The Haunted Mansion
it's a small world
Jungle Cruise
The Many Adventures of Winnie the Pooh
Peter Pan's Flight
Pirates of the Caribbean
Seven Dwarfs Mine Train
Space Mountain
Splash Mountain
Under the Sea
And we added a 30 minute lunch break. To start Genie with the same information, we picked the exact same attractions as the things that we "love," or our must-dos for the day.
We set the following rules: Do whatever the plan tells you to do. No using Genie+ or ILL purchases. And we needed to start slightly after rope drop so that neither plan allowed you to take advantage of early entry or rope drop strategy. And we would wrap up our test slightly after 3 pm.
6 hours with Genie
Our test started at 9:25 with a kickoff at Casey's Corner in Magic Kingdom. Our tester checked her Genie itinerary, which sent her immediately to Jungle Cruise, which had a 40 minute posted wait. She ended up only waiting 18 minutes. Not too bad.
But then things start to go off the rails, after Jungle Cruise, Genie tells her to go to the Swiss Family Treehouse – an attraction that not only wasn't on her list of what she wanted to experience, but is an attraction that almost never has a wait. It's a great attraction to slot during very peak crowds – not early in the morning. Nonetheless, she followed the plan and got in her climbing for the day.
Did Genie get back on track with her preferences after the Treehouse? No. She was next sent over to the Enchanted Tiki Room. While we can all agree that this show is a timeless treasure … it's not really a great morning option. Again, almost never a wait.
Her third stop was a spin on the Magic Carpets – which means that 3 out of her first 4 attractions weren't on her list of must-dos. The posted wait was 15 minutes, and the actual wait was 15 minutes. Not a horrible wait, but also not a great attraction.
By this point, our tester was significantly ahead of the times that Genie expected her to hit. But whenever she tried to refresh, all of the steps and times would stay the same. There was no way to mark a step as complete or to try to force a reshuffling. Definitely no continuous updates so far. What this meant was that she was sent to visit Tom Sawyer Island before Tom Sawyer Island opened. Since we were following the rules, she waited until the Island opened and then spent 30 minutes away from civilization. Again, not an ideal time to head to Tom Sawyer Island. It's a relaxing place, but best saved for the busiest times on the busiest days. Especially when you have a list of 12 popular attractions to get to in a day. Genie is now 1-for-5.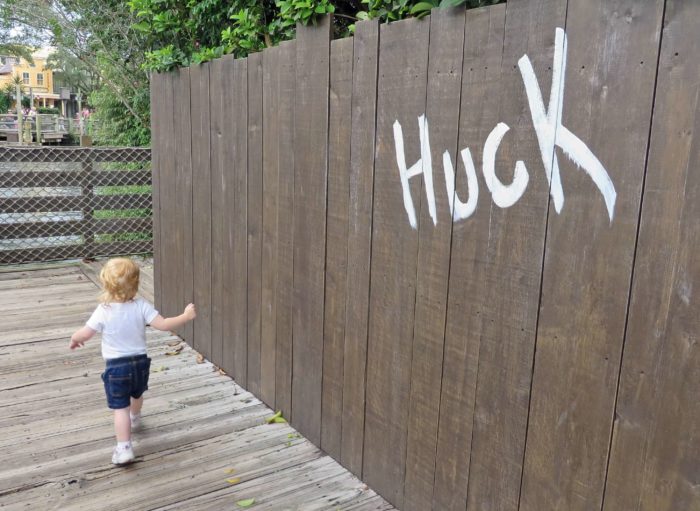 Finally, at 11:40, Genie decided to allow our tester to experience another attraction that was on her list of must-dos. She was sent to Big Thunder Mountain Railroad, which had a posted wait of 45 minutes. So hey, 2-for-6. The actual wait ended up being a bearable 37 minutes.
After that wait, our tester took her lunch break. Genie suggested Golden Oak Outpost (another questionable suggestion given other nearby options with better food), but we let our tester ignore that recommendation. Something something Geneva Conventions.
After lunch, her plan had still never shuffled attractions or appreciably updated in any way. Her next step was supposed to be Haunted Mansion, but when she got there it was closed. Genie recognized this issue, and for the first time in the day, it updated the rest of her steps for the day. And it decided a good swap for Haunted Mansion (which was on her list of interests) was … Country Bear Jamboree (which wasn't). That was another 12 minute wait and then a long show.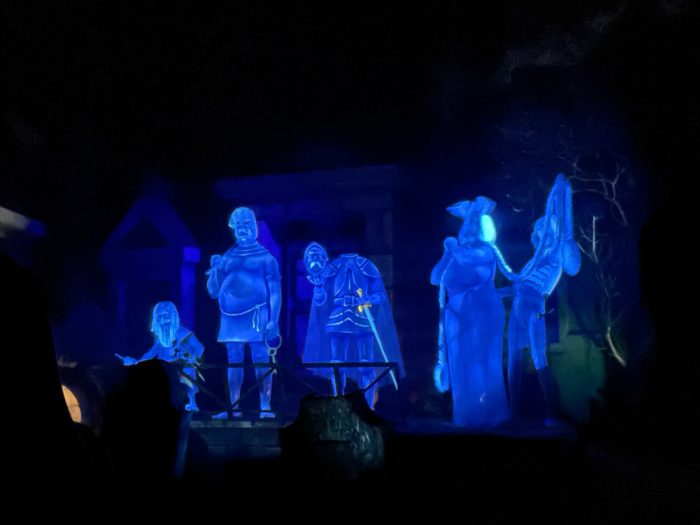 You might think Genie has been weird and unreliable so far, but JUST YOU WAIT. It gets even crazier. After exiting Country Bear Jamboree at 1:48 (which was a single step after an update of her schedule), Genie suggested that our tester grab a spot on Main Street for a Main Street Philharmonic performance … at 3:35. Almost 2 hours away! Attempts at forced refreshes were futile. If we hadn't tried to hack the plan, that would've been the end of her test. She would've completed 2 of her 12 wish-list attractions, and a bunch of other randomly recommended experiences.
Luckily, we toyed around with how to "fix" her plan. She deleted the Philharmonic step. And then the cavalcade step after that. And then another cavalcade step after that. And finally, when there was a 4-hour gap in her plan, Genie was kind enough to update her plan with new steps again. It sent her to Space Mountain at 2:28, with a posted wait of 45 minutes. She waited 37 minutes and her test time was done.
Genie doesn't have a way for you to tell it what time you plan on leaving the park, so even if we give it the benefit of the doubt and say that we were unfair by leaving mid-day, we could examine the rest of the suggested steps to see if it was just shifting all of her requested attractions to the end of the day. What were the remaining steps in her plan? Mad Tea Party, Under the Sea, Peter Pan's Flight, Prince Charming Regal Carrousel, Dinner at The Lunching Pad, it's a small world, Pirates of the Caribbean, Audio Tales (audio tour options), and Buzz Lightyear's Space Ranger Spin. This would've left her with 4 attractions on her must-do list that Genie didn't ever put in her plan, even with 12 hours in the park. Ouch.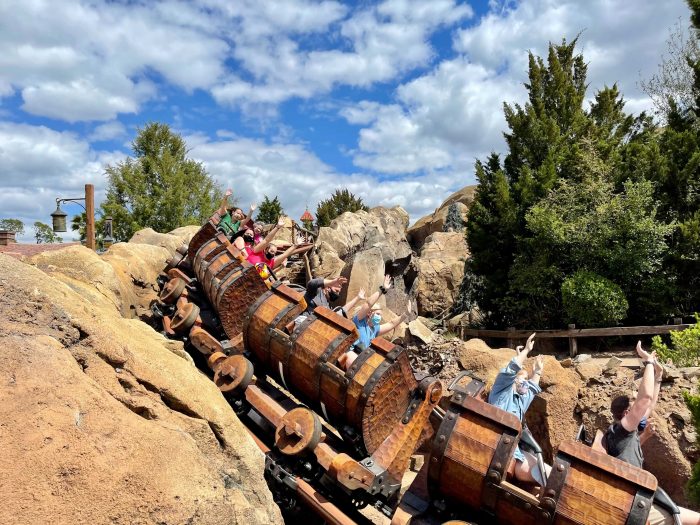 So what's the summary? Wait times were mainly low for this tester, but it was because her input regarding what she wanted to ride was almost completely ignored. She was shifted from low-popularity-attraction to low-popularity experience and didn't get to try most headliners. She wasn't even notified that Enchantment would be happening. Proximity seemed to be prioritized over almost anything else. There weren't continuous updates throughout the day. In fact, Genie only updates when literally forced due to ride closure or exorbitant deletion of steps.
6 hours with a Touring Plan
Our TouringPlans tester also began her day at Casey's Corner at 9:25. When she optimized her plan, it sent her to Buzz Lightyear's Space Ranger Spin, where she arrived to a walk-on experience. Excellent start to a day.
After exiting the ride, she optimized again and headed to Haunted Mansion. A long walk, but a ride that would see increasing rides throughout the day. TouringPlans had her skip past all of her Fantasyland attractions because it was very crowded that morning. She arrived to Haunted Mansion at 9:39 with a 20 minute posted wait. She only waited 15 minutes, but the ride broke down 3 times while she was in her doom buggy – a sign of the trouble that would likely eventually lead to its closure that threw off our Genie tester.
Once she escaped the Mansion, TouringPlans sent her to the Jungle Cruise. By this point, Jungle Cruise had a 60 minute posted wait. Definitely more people in line than when the Genie tester got there earlier in the morning. Our TP tester had a 38 minute wait, and then went to see the back side of water.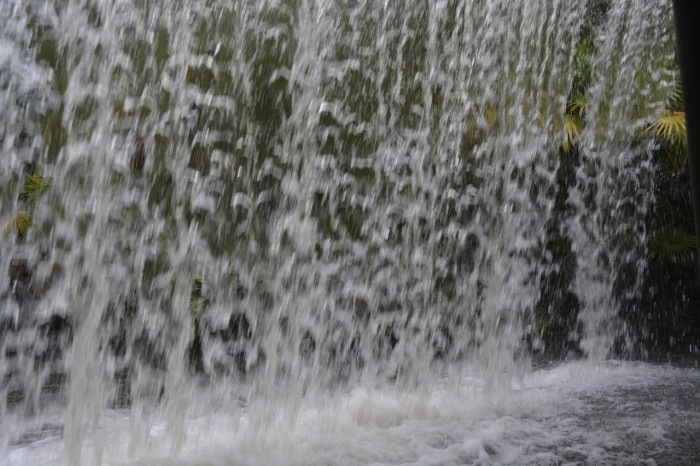 After her cruise, she re-optimized and was sent to Peter Pan's Flight, which had a 50 minute wait, but wasn't predicted to see a drop in crowds for a while. She got in line and waited 46 minutes. It was now time for her lunch break, and she chose Tortuga Tavern.
After lunch, she was supposed to go to Splash Mountain, but when she re-optimized she saw that it was down, and she was directed to Big Thunder Mountain Railroad instead. There was a 45 minute posted wait (just like when the Genie tester entered line), and the actual wait was 41 minutes.
Her newly re-optimized plan then told her that it was a great time to head to Pirates of the Caribbean. The 40 minute posted wait ended up only actually being a 14 minute wait. That's a breeze.
Once she got off of the boat, Splash Mountain had come back online, and her re-optimized plan sent her there next. There was a big 75 minute posted wait, which turned out to be an actual 53 minute wait. That gave our tester time to rush to one last attraction before our testing time was over.
The re-optimized plan told her to hustle over to it's a small world, which had a posted wait time of 20 minutes. Only 15 minutes later, she was on her boat and enjoying one last classic attraction.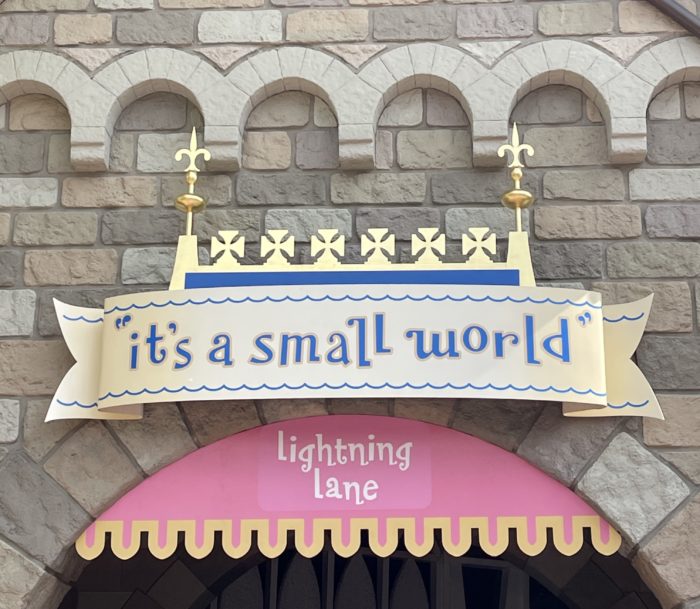 What were the results for her touring plan? In less than 6 hours, she was able to check off 8 of her ideal 12 attractions. Pretty impressive given that the 12 attractions are meant for a full park day. And if she had more time, she could've finished the next 4 steps (all of which she had picked in advance as attractions she was interested in) by around 6 pm.
Conclusions and Commentary
The fundamental goal of any plan for your day in a Disney park should be: Helping you accomplish what you want to do. And that is where Genie failed. It failed spectacularly. And not because of time constraints or confusing input. From the outside, it appears to blatantly ignore the inputs other than picking one of the selected attractions for the first step. From there, proximity (not interest) ruled the recommendations.
Genie did not come anywhere close to continuous updates. In almost 6 hours, it updated twice. Once when an attraction was closed, and once when our tester deleted enough steps to make an apparent 4 hour gap that Genie needed to close.
Genie was willing to send our tester to a bunch of non-requested attractions that have low to zero waits in almost all conditions. But when met with a 2 hour break before a show, it failed to send her to other nearby attractions with low waits (like PeopleMover or Mad Tea Party or Carrousel or … many other options).
Genie may eventually receive updates to meet its self-declared requirements of taking your interests into consideration, or to continuously update throughout the day. But until then, go ahead and opt for the app that already successfully does both of those things. Use a TouringPlan and avoid all of the mess.
Have any thoughts about the testing? Let us know what you think in the comments.