Galaxy's Edge vs. Star Wars Galactic Starcruiser vs. Star Wars Day at Sea: What's the Difference and Which One is Right for You?
Disney purchased Lucasfilm in 2012 – and with that purchase came the rights to all things Star Wars. In the intervening decade, Disney has designed several ways for guests to go beyond the passive watching films, creating real world places where guests can physically interact with elements of the Star Wars universe. Access to these physical spaces comes at variety of prices points with a range of immersion levels. Here's what you need to know to decide which Star Wars experience might be right for you.
Galaxy's Edge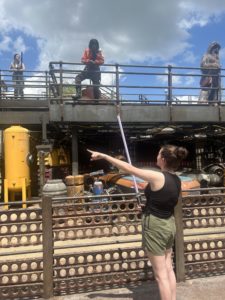 What is it? Galaxy's Edge is a land (section) within a theme park. There are two equivalent spaces called Galaxy's Edge – one at Disney's Hollywood Studios at Walt Disney World in Florida and one at Disneyland in California.
How much will it cost? Admission is included with your theme park ticket. Park ticket prices vary depending on which coast you're on, the length of your stay, the date of your visit, and whether you choose to add ticket enhancements. As a ballpark, you'll generally be spending about $75-150 to enter the theme park that includes Galaxy's Edge.
Your park admission fee includes the ability to walk around the land, interact with characters (if they are available during your visit), pose for photos with set pieces like land speeders and droid parking, and experience the two rides: Rise of the Resistance and Millennium Falcon Smugglers Run. In addition to Galaxy's Edge, your theme park ticket will allow you to access the other areas of the park and all of their rides.
That said, to really dig into Galaxy's Edge, you'll have to spend a lot more than just the price of admission. Other opportunities to spend money include:
Drinks at Oga's Cantina: approximately $10-20 each, depending on what you order
Creating a custom droid (remote control) at Droid Depot: starting at about $100. Add-ons include language chips or a carrying case.
Building a custom light saber at Savi's Workshop: starting at about $220. Add-ons include rare kyber crystals.
Quick service meals at Ronto Roasters or Docking Bay 7: about $10-25 per person, depending on what you order.
Merchandise: everything from $10 plush toys to $200 robes and $500 art pieces.
How long will it take?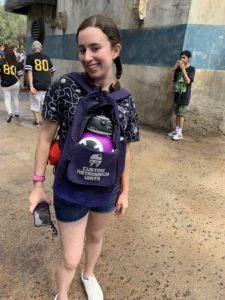 The amount of time you spend at Galaxy's Edge is entirely up to you. You can visit the park and bypass it entirely, you can walk through quickly, or you can explore every inch of the place and spend the better part of a day in just this one land.
Is this good for kids?
It's a good place to start with kids. If they like it, great; if not, you can bail and take them to Toy Story Land (WDW) or Fantasyland (DL). Bear in mind that there are height requirements for the rides: 38″ for Smugglers Run and 40″ for Rise of the Resistance, so the littlest visitors won't have much to do.
As with all things Disney, if you want your kids to be excited about something, it helps if you can prepare them in advance by showing them the associated films or books. Given the "Wars" part of "Star Wars" some particularly sensitive kids may find aspects of the area challenging — for example, stormtroopers roaming the area carrying blasters.
Do I have to prepare anything for this experience?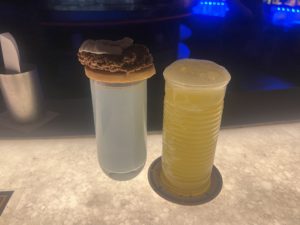 Beyond watching a couple of the films, there's not much to do to get basic gist of Galaxy's Edge. Some Star Wars devotees may choose to indulge in some light cosplay, but this is by no means mandatory and given the intense heat in Florida during most of the year, it may be uncomfortable.
If you want to go all-in on Galaxy's Edge, your real preparation challenge may be acquiring reservations for Oga's Cantina, Savi's Workshop, and the Droid Depot. During one recent trip, I obtained Savi's somewhat easily, but initially couldn't get Oga's on the same day. Touring Plans dining reservation finder came to the rescue and I was able to score an afternoon visit to the Cantina on the same day as the rest of my Galaxy's Edge activities. Whew!
Do I have to be a Star Wars fan to enjoy it?
It certainly helps, but it's not a dealbreaker. There's plenty to look at as you walk around the land. And both rides are entertaining even if you're not 100% sure what's going on. There's also plenty to do elsewhere in the theme parks if you take a walk through Galaxy's Edge and find that it's not your cup of Yub Nub.
Star Wars Galactic Starcruiser
What is it?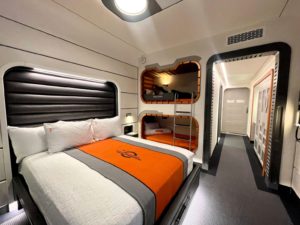 Opened in 2022, Star Wars: Galactic Starcruiser is a hotel, several restaurants, a land-based cruise, a role-playing game, and a way of life, all rolled into one.
The Galactic Starcruiser is like an all-inclusive resort, if the resort were in outer space. All stays include your room, entertainment, and most food (but not alcohol). When you're there you're in another world. To get the full scope of the experience, read our in-depth review.
How much will it cost?
Pricing starts at about $5,000 for two guests for the mandatory 2-night stay for a standard room during the week. Prices go up (and up and up) from there. Merchandise is extra.
How long will it take?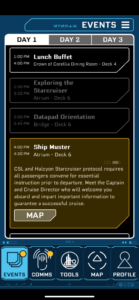 All stays are two nights long. You will be immersed in the experience for the full two days.
Is this good for kids?
Maybe. A child who is not into Star Wars, cosplay, or role-playing games will likely be out of his/her depth. Children are allowed on the Starcruiser and they'll probably have fun just because they'll get lots of attention from the stellar cast, but having a small child with you might mean that you get less out of it. We'd wait until our kids were at least middle school age, but you do you.
Do I have to prepare anything for this experience?
If you want to have the best possible experience, then yes, please prepare. When you're on board the Starcruiser you can be anyone in the universe. Plan who you want to be and go all in — create a backstory, craft multiple costumes, tell everyone on board who you are. The more you put into it, the more you'll get out.
Do I have to be a Star Wars fan to enjoy it?
Pretty much. To have the best experience, you have to have at least a moderate knowledge of the Star Wars universe and a strong interest in role playing. Watch the movies and work on your improv skills.
Star Wars Day at Sea
Let's get this out of the way – Star Wars Day at Sea is something that may no longer exist. "Star Wars Day at Sea" is still listed on the Disney Cruise Line website, but the most recent batch of these sailings ended in March 2022 and no additional sailings with this theming have been announced. Confounding matters further, DCL did announce a new set of themed sailings, Pixar Day at Sea, which are slated to take place during what would normally be the Star Wars Day at Sea itineraries.
I'm including the information here, because Star Wars Days at Sea may be resurrected at some point – or you may hear someone talking about having done this and wonder what it was.
What is it?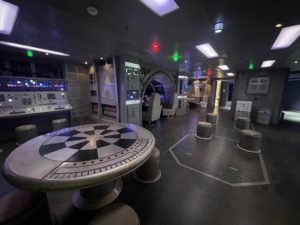 Star Wars elements take over the ship for one day of the sailing. Star Wars characters appeared on the ship. Star Wars films played in the theaters. Trivia sessions were Star Wars themed. The ship's horn plays the Imperial March. Star Wars themed makeovers were available in the Bibbidi Bobbidi Boutique. And the restaurant menus had items renamed with Star Wars theming – an ice cream dessert became a "Frozen Carbonite Sundae." You get the idea.
How much will it cost?
The cost of Star Wars Day at Sea (or any of the other themed sailings) is baked into the cost of your cruise. The 2022 Star Wars Days at Sea took place on 7-Night Caribbean sailings on the Fantasy during the late winter and early spring. Rates for the 2023 Pixar sailings on the equivalent dates start at about $3,500 for two guests in the smallest inside stateroom and move up to about $10,000 for two guests in a fancy-schmancy concierge level stateroom. The themed aspects of these sailing are covered in that price.
How long will it take?
The themed elements took place during one day of the seven-day sailing, though the films might be shown in the theaters on most days. A seven-night cruise takes, you guessed it, seven nights.
Is this good for kids?
Depends on your kid. If you're raising a Star Wars fan, then yes, absolutely. But as with Galaxy's Edge, some sensitive kiddos may be unnerved by blaster-wielding stormtroopers roaming by the pool. (Then again, some sensitive kiddos might also be alarmed by Buzz Lightyear, or any large character, walking around as well.)
Do I have to prepare anything for this experience?

Plenty of die-hard Star Wars fans chose to bring cosplay garb to wear during Star Wars day. This was absolutely not mandatory, but dressing up for the fun does increase your immersion in the event and will make for better photo ops, if that's your thing. Beyond acquiring dress-up clothes, there's nothing specific to do related to the Star Wars Day at Sea. (Of course there is plenty to do to prepare for any cruise. If you're curious about that, we humbly suggest that you consider buying The Unofficial Guide to Disney Cruise Line.)
Do I have to be a Star Wars fan to enjoy it?
If you're moderately interested, feel free to partake as much or as little as you like, depending on your interest. If you're a huge fan, you could participate in every Star Wars-related event and have a lovely day. But remember that Star Wars Day is just one day of your seven-day sailing. While you will see plenty of evidence of the event in the main dining room menus, in the movie theater offerings, and in some temporary onboard decor, you're not required to participate in any of this. Take a stack of Bridgerton novels to the adult pool and book your dinner at Palo and you can effective ignore the entire thing.
Is there anything else I should know?
Even if you're not on a Disney Cruise Line sailing that includes a Star Wars Day at Sea (and it seems that will be case in 2023, at least), there are still opportunities to experience pockets of Star Wars immersion while you're on other sailings. For example, the Oceaneers Clubs for children on the Dream and the Fantasy, both have Star Wars themed rooms. During open house hours, adults are welcome to explore these spaces and pose for photos. On Disney's newest ship, the Wish, debuting this summer, there will be a themed bar – the Hyperspace Lounge – the will simulate space travel in the Star Wars universe. This will be available to all guests on board the ship during normal operating hours.