Star Wars: Galactic Starcruiser – The Steamboat Willie of Themed Experiences
Overview
Over its nearly 100-year history, the Walt Disney Company has invented several entirely new themed entertainment businesses. Released in 1928 (and introducing the world to Mickey Mouse), Steamboat Willie was the first cartoon with synchronized sound. When it debuted, the Museum of Modern Art notes, it was so groundbreaking that it "threw silent animation into obsolescence" overnight. Likewise, Disney's 1937 release of Snow White, and its 1955 opening of Disneyland in California, were the first entries in what's now the billion-dollar feature-length animated entertainment and theme park industries. Disney remains a leader, if not the leader, in both.
I got to experience the Starcruiser on its first-ever "voyage" with paying guests on March 1, 2022. I've covered theme parks for more than twenty years, and Starcruiser is so far beyond the current state of the art in themed entertainment that it deserves its own category: Starcruiser-like hotel experiences. It surely belongs on the short list of Disney "firsts."
It's also (you'll pardon the pun) astronomically expensive, starting at just under $5,000 for two people for two days. The cost makes Starcruiser worthwhile only to well-off, experienced travelers who enjoy both Star Wars and days-long role-playing. If that's you, then this is a chance to create your own Star Wars story that stays with you for the rest of your life. 
The remainder of this review includes sections on every aspect of the Galactic Starcruiser experience. Click on any link to jump to that section:

The Role-Playing Experience and Game
Think of Galactic Starcruiser as a two-day, live-action video game. The premise is that you're on board a legendary space cruise ship, the Halcyon, as it comes out of drydock for its 275th voyage. The Star Wars character you invent is thrust into the middle of a battle between good (the Resistance) and evil (the First Order). As events unfold, you'll be asked to perform tasks that help one side or the other, with consequences either way.
For Star Wars fans, the story is set in the timeline of the last set of Star Wars movies (Episodes VII, VIII, and IX). Characters referenced aboard the Halcyon include Rey, Kylo Ren, Chewbacca, and Yoda, but not Luke Skywalker or Darth Vader. On board the Halcyon, a set of seven live actors explain the plot and, in one-on-one conversations, ask you to perform tasks to help them and their cause:

Riyola Keevan

– Captain of the Halcyon and the "steadying hand" throughout the voyage

Lenka Mok

– Cruise Director of the Halcyon, and Captain Keevan's trusted advisor

Sammie

– A junior member of the crew

Gaya

– A singer aboard the Halcyon, accompanied by two alien musicians

Raithe Kole

– Gaya's manager

Lieutenant Croy

– Officer of the First Order, on board to ferret out any Resistance activity on the ship. Almost always accompanied by a couple of Stormtroopers.

Saja

– Master of the lightsaber and of The Force
It's pretty obvious that the First Order's Lieutenant Croy supports the First Order, but the sympathies and allegiance of other characters are only revealed over time.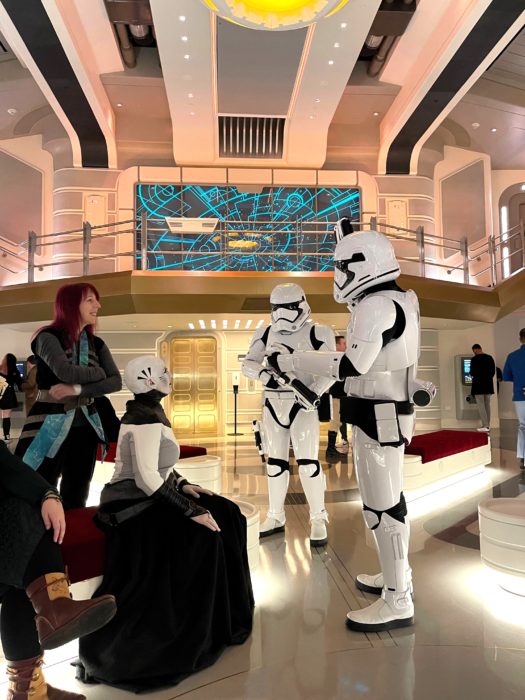 Like a video game, you have some say in how events unfold aboard the Halcyon. Your actions can't change how the story ultimately ends (one of our friends asked "Can I kill Chewbacca", to which a character replied "No. And what's wrong with you, man?"), but what you do while playing will definitely influence what you get to see and do during the game.
Because interacting with the characters and other players is so important to the Galactic Starcruiser experience, introverts and those who prefer to "watch from the sidelines" should be willing to commit to the game play before making a reservation.
Your Backstory and Why It Matters
Disney encourages Starcruiser guests to dress in Star Wars-appropriate clothing, and to have a "backstory" created (before you arrive) that ties in, even tangentially, to the Star Wars universe. Your backstory does not have to be extensive, but we think it's mandatory for two reasons:
It shows Disney that you want to participate actively in the game instead of just observing

It helps the characters improvise dialog for you and determine which side you're supporting
For example, if you're approached by a character who asks where you're from, and you say "Pittsburgh", that might be taken as a sign that you're not willing to play along. If, however, your answer starts with something like "I was born to poor spice miners on the third moon of Endor," they know you're up for an adventure.
I named my character Hank Lonely (a play on Han Solo). Hank is an aging galactic film star who wrote, produced, directed, and starred in an epic 9-part science fiction series called Space Robots in Outer Space. Through a set of unfortunate coincidences, every single thing that Hank wrote in Space Robots actually happened in the Star Wars universe (which, remember, is "real life" on board the Halcyon), to characters that looked exactly the same, but with different names. And because these things really happened, everyone thought Hank's movies were documentaries, so nobody went to see them. Undeterred, Hank is on board the Halcyon to prepare for the 10th movie in the series, a musical. My backstory included a Han Solo-like outfit and 8×10 glossy publicity photos in the style of Harrison Ford as Han Solo. My character's tag line when signing photos was "May space always be in your mind."
All Disney cast members – not just the main actors – will remember your backstory throughout the voyage. For example, the cast member that checked me in to the hotel decided that she was "Hank's #1 fan", and maintained that throughout the two days. Even if we just passed each other in the atrium, she'd point to herself and say "Number one!"
From the moment you set foot out of your car, assume that every conversation you have with a Halcyon crew is being recorded and analyzed for possible inclusion inside the game later.
"If she'd asked for a kidney, I'd have given her that too"
The actors who play the main characters are the heart and soul of the Halcyon experience. They benefit from a script and story that both follows the Star Wars lore and allows plenty of improvisation to include your specific details. A character named Saja led us through lightsaber training, but the experience began with an explanation of The Force's mystical properties; how it envelops and permeates everything around us; and how to "center" yourself physically, mentally, and spiritually in order to wield it. All of it is done with encouragement and emotional support that, frankly, none of us gets enough of in our daily lives. Let's put it this way: At the end of lightsaber training, Saja asks if you're willing to help the Resistance. Not only did I say yes through tears streaming down my face, but if Saja had asked for a kidney instead, I would've said yes to that too. The acting and story is that good.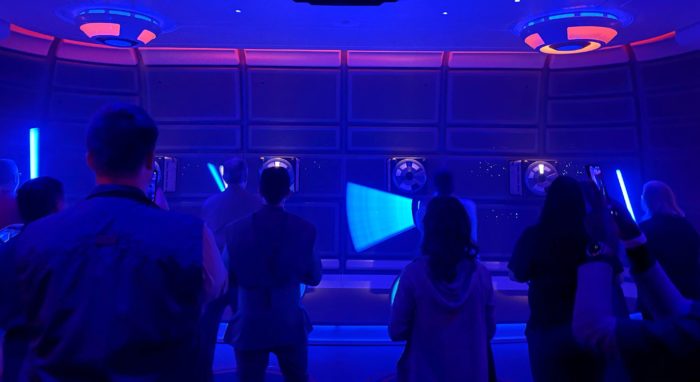 Day 1
The game begins as soon as you arrive. A Halcyon representative, probably in a light blue uniform, will meet you at the hotel entrance and get you checked in. This is the first point at which you can start explaining your backstory, and it's probably a good idea to do so.
From there, you're led down a battle-scarred, concrete hallway to a "transport ship" (an elevator) that takes you from ground level into space, where the Halcyon is orbiting. The elevator drops you off in the ship's atrium, which is on the 6th floor of the Halcyon.
The ship's atrium is the center of most activity on board. Besides being the stage on which all of the communal story elements are played, the atrium is connected directly to the ship's bridge, the gift shop, and the Sublight Lounge bar. There's also a small "guest services" counter with 24-hour grab-and-go snacks.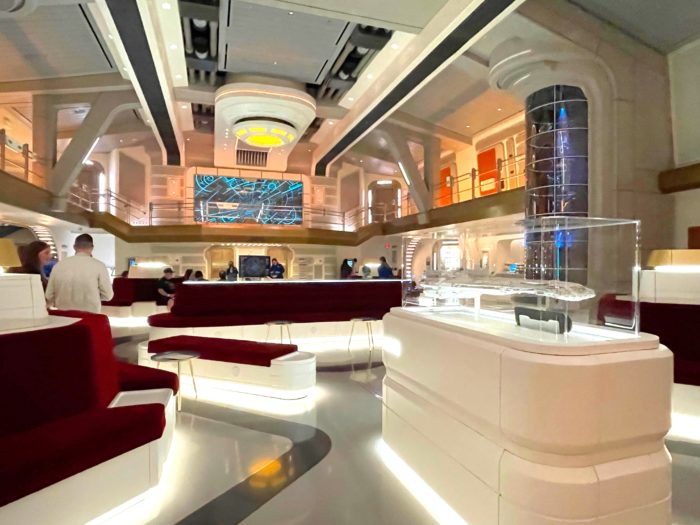 You're given a sample itinerary when you book. We found the sample itinerary to be an accurate schedule for the two days of activities. You'll view your itinerary, and do most of the game play, using the Play Disney Parks app on your mobile device. On board the Halcyon, your phone and the Play Disney Parks app is referred to as your "datapad".
A few items on the itinerary are highlighted in a different color. These are critical elements of the game and should not be missed.
One thing to note about the itinerary is that activities that look mundane always have opportunities for characters to engage you. For example, the standard itinerary has some version of "Ship Orientation" from 1 pm to 4 pm. In reality, this is where the main characters mingle with you, suss out your story, and your willingness to play along. Likewise, we think the dance lessons and "space bingo" segments are a way for Disney to determine which guests are most likely to participate in anything they're asked to do.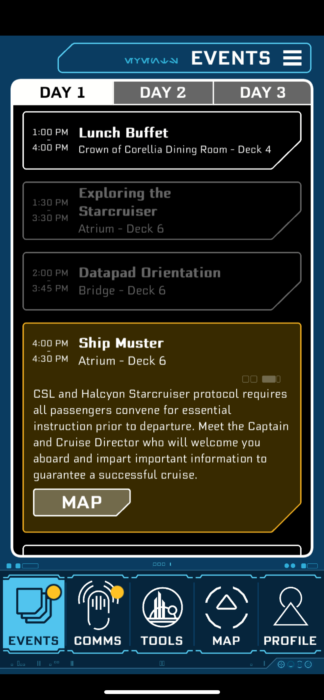 Once the ship orientation is over, you'll go through Bridge Training. Bridge Training involves mastering a set of four relatively simple video games, each of which supposedly controls one element of the Halcyon: weapons, communications, shields, and (I think) supplies.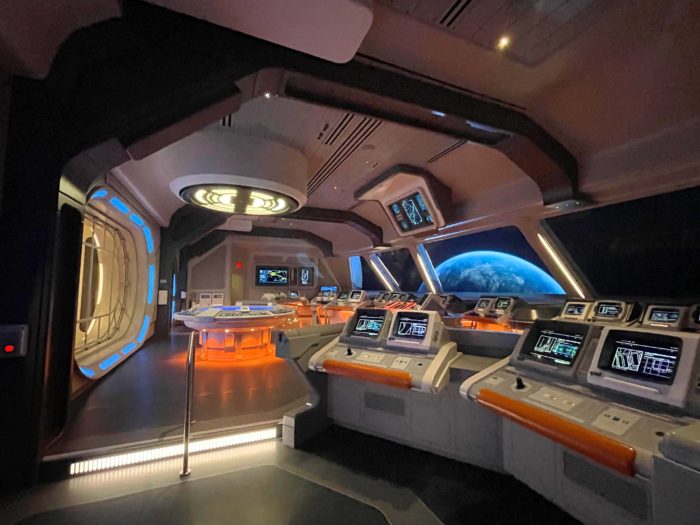 After Bridge Training, if you've already interacted with characters and indicated a willingness to play, you'll be given your first task. (I won't give away the details of each task or what happens if you complete them.) 
Assume each task takes anywhere from 30 minutes to an hour to complete. Some are much harder than others. The good news is that Halcyon crew members are everywhere and will provide helpful hints for the more difficult puzzles.
Other than a break for dinner, we were "in character" and playing for almost ten straight hours on Day 1, until almost 11 p.m.
Day 2
After an early breakfast, Day 2 begins with a trip to the land of Batuu in Disney's Hollywood Studios. Each Starcruiser reservation includes one-day tickets, and a Lightning Lane pass for each of the two rides in Galaxy's Edge: Millennium Falcon: Smugglers Run and Star Wars: Rise of the Resistance.
In addition to riding the Galaxy's Edge rides, your datapad will be filled with communications from the story's main characters, asking you to perform scavenger hunt-type tasks while in the park. These might include, for example, finding a set of hidden crates bearing special symbols from amongst the props scattered around Galaxy's Edge's 14 acres. Completing each task requires both finding the right props, solving a simple puzzle, and then communicating back to the main characters about what you discovered.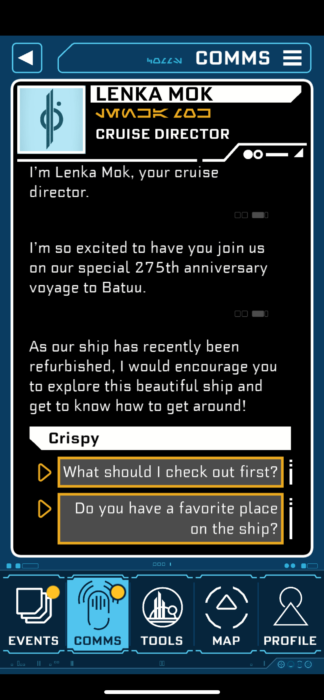 We won't divulge the specific tasks we were asked to do, or what the consequences were for doing so. We will say that we think that riding both rides and completing all of the tasks unlocks special events for you to participate in back on board the ship. Again, to get the most out of the experience: Do everything.
Our day 2 activities included lightsaber training, an "emergency" on the bridge, and (of course) the grand finale of the show in the atrium after dinner. All told, we probably spent at least another 8 hours on Day 2 playing the game.
Galactic Starcruiser Cabins and Staterooms
The Galactic Starcruiser has 100 rooms, by far the smallest of Disney World's hotels:
94 Standard cabins (many with accessibility options)

4 "Galaxy Class" suites (2 offer accessibility options)

2 "Grand Captain" suites (1 with accessibility options)
We stayed in a standard cabin. That room is laid out in a familiar rectangle shape. Including the walls, storage, bath, and everything else, we think that rectangle is just under 250 square feet in size. Excluding space for walls, and unwalkable space for those closets, the sink, and the like, we think these rooms measure around 180 square feet – by a wide margin the smallest rooms in Walt Disney World.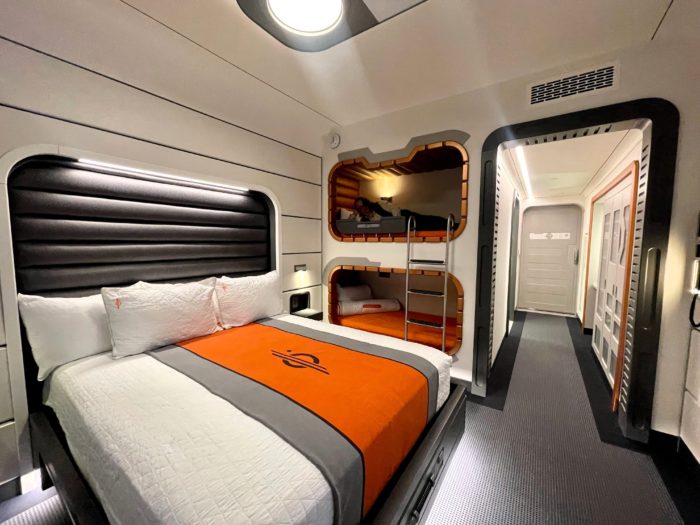 Standard rooms include a queen bed and two bunk beds; a walk-in shower, one sink, and a separate water closet. There's also a mini-refrigerator, hair dryer, and a wall-mounted television, but no coffee maker or microwave. And no windows. Instead, a video screen embedded in the wall emulates the view you'd see from space. Disney's taken this an extra step forward by syncing the video on your screen to the video that's displayed from other "windows" around the ship. So, for example, if a group of people launch the Halcyon into hyperspace during bridge training, your stateroom's video screen will also show the jump to light speed.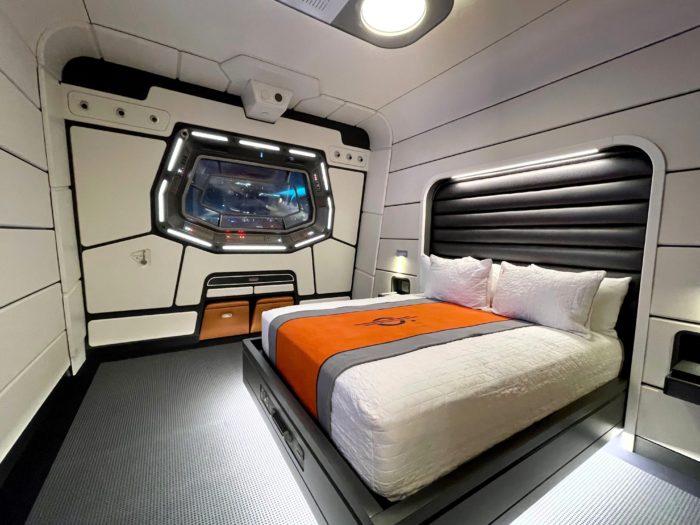 Despite its size and lack of windows, the room didn't feel small for the two adults. We spoke, however, with groups of four adults who all said that two days was the upper limit on how long four people could get along in these small surroundings. 
As far as the quality of the furnishings goes, I thought the queen and bunk mattresses were too firm – I like a soft, pillow-top mattress, with soft pillows. However, only a handful of people I spoke with shared my opinion, and several enjoyed the mattresses. At this price point, I'd like to see Disney offer different mattress and pillow options for guests.
Water pressure in the shower was good, and the bathroom setup is very functional. With doors separating the sink area from the rest of the room, and another door for the toilet, it's possible for three people to get ready at the same time. That's a smart use of space in a cabin of this size.
A couple of other items to note: there's plenty of storage space for your luggage and costumes. Air-conditioning is controlled through a modern, digital thermostat. And there's an Alexa-like video-chat terminal in your room. It can't (I think) tell you about the weather, but interacting with it will help Disney figure out which side of the game you're on. Parents should note that it requires you to push a button and then scan a Magic Band to use, and we think it's unlikely to be in "always listening" mode. 
Food and Restaurants Aboard the Galactic Starcruiser
There are three places to get food aboard the Galactic Starcruiser:
The Crown of Corellia Dining Room

serves breakfast, lunch, and dinner

The

Sublight Lounge

serves drinks from late morning until the early hours of the morning

A small grab-and-go snack stand in the atrium serves pre-packaged snacks and treats, plus fresh fruit, 24 hours a day
Disney also provides a dining plan credit for lunch while you're in Disney's Hollywood Studios. You'll order lunch using the Mobile Order option on My Disney Experience (MDE), and MDE will use that pre-loaded dining credit to pay for the meal. While Disney says you should eat in Galaxy's Edge, the dining credit works at any quick-service restaurant in the park – I ate at ABC Commissary and it worked perfectly.
Crown of Corellia Dining Room
The Crown of Corellia Dining Room is open for breakfast from 7 a.m. until 11 a.m. on Day 2 (and until check-out on Day 3). Lunch is served from 1 to 4 p.m. on Day 2, and is available immediately after you board on Day 1. Both breakfast and lunch are served cafeteria-style, where you walk through the kitchen and grab small plates of whatever strikes your fancy. Be forewarned that most food items come in unexpected or unusual shapes, and sometimes in exotic colors, which may be off-putting to picky eaters. For example, the waffles are round on the Halcyon, and the sliced fruit is amazingly translucent. It's all good – some of it is quite good – and you can eat as much as you like.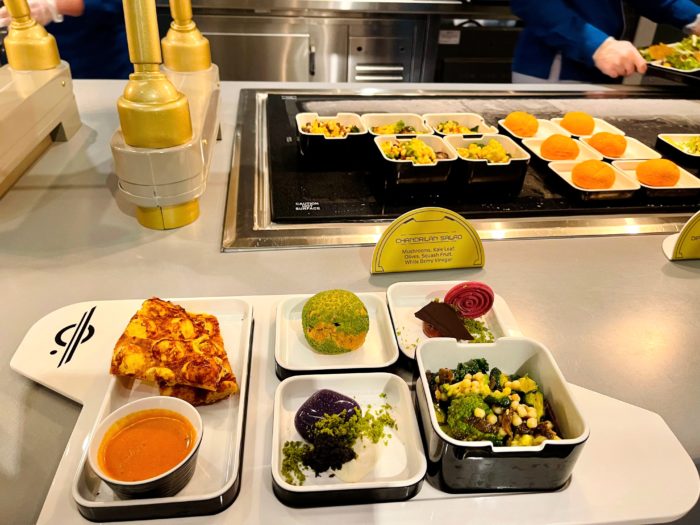 Dinner each night is a full-blown, multi-course production, with live entertainment to go along with the food. If you're familiar with how other Disney World restaurants serve "family style" meals, that's how dinner is run: each night's dinner features a fixed menu. Unless you request otherwise, small plates of every item offered in every course are brought to your table. Eat as much as you like, and you're encouraged to ask for more of anything you particularly enjoyed. Like other cruises, the cost of meals is included in your fare; the cost of alcoholic beverages is not.
I found the dining room's dinner fare to be comparable in quality to the popular African-themed buffet Boma at Disney's Animal Kingdom Lodge Resort. There's plenty of food, it's tasty, and visually appealing to boot.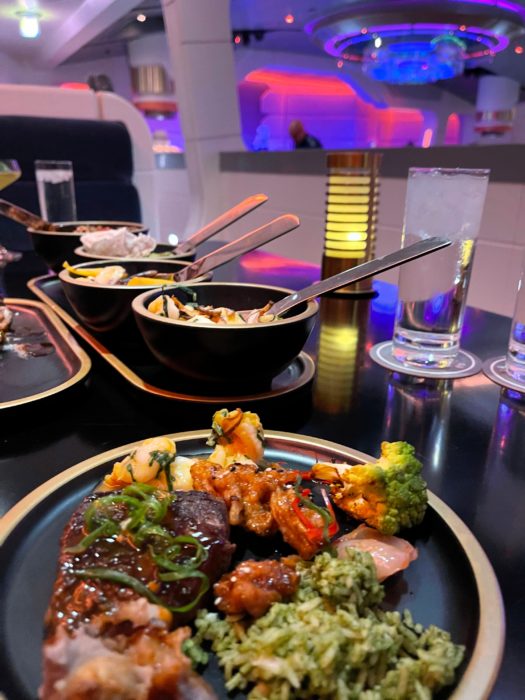 An optional $30 upcharge gets you seating at the Captain's Table for dinner. The primary benefit of this is that part of the story unfolds at that table, giving you a front-row seat into the action. We recommend booking the Captain's Table, preferably for dinner on Day 2.
Sublight Lounge
Sublight Lounge is the place to grab a drink, socialize, and play a couple of hands of sabacc (a Star Wars card game whose rules are explained to you) with your fellow passengers.
Like the rest of the ship, the Sublight Lounge is heavily themed to the Star Wars universe. While you'll find standard cocktails, beers, and wines, they're all given exotic names, and some drinks are custom to the Halcyon. These custom drinks, such as the Mustafarian Fire, have the bartenders making an elaborate show of producing the cocktail. They also include a souvenir glass which may come in handy during other parts of your trip.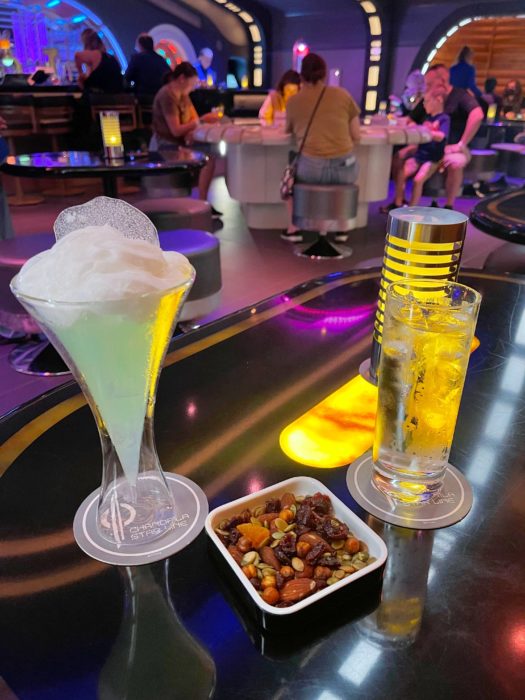 Food Allergies and Preferences
If you've got food allergies, intolerances, or strong preferences, head to the Crown of Corellia Dining Room between 1 pm and 4 pm on Day 1 to discuss your options with a Disney chef.
The menus at each meal do a great job of highlighting the vegetarian and vegan options available. For dinner, we were told that many items can be customized to omit ingredients if needed. When in doubt, just ask a server for what you want.
Check-In / Check-Out
Checking in and out are straightforward on the Halcyon. Check-in happens immediately upon your arrival at the hotel. You're given custom MagicBands to use throughout your stay, and these open your cabin door, provide entry into any part of the ship you've unlocked through game play, and entry into the Lightning Lane attractions at Galaxy's Edge in Disney's Hollywood Studios.
Unlike other Disney hotels, you're required to pass through a metal detector during check-in. Firearms of any kind (real and props) are not permitted on the Halcyon, but lightsabers are.
Check-out is likewise simple. A member of the Halcyon crew will walk you to the elevator transport. A few taps of their IPad and a couple of seconds on the elevator for your return, and you're back at the check-in area where you can pick up your car. The entire check-out process takes just a couple of minutes.
How to Get the Most Out of the Galactic Starcruiser Experience
At $5,000 for two nights, the Starcruiser experience only makes sense if you're willing to go all-in and play the game as it's intended. That means that for around 42 hours, you have to believe that the events in Star Wars actually happened, that The Force is real, and that you'll do absolutely anything anyone asks of you in order to further your cause.
One question we've got is whether kids will enjoy the experience. I think that as long as the kids are old enough to understand the plot of any one of the Star Wars movies, and they're willing to play along, they'll absolutely love it.
One great thing that Disney does on the Halcyon is ensure that kids get enough chances to play. Without giving away any spoilers, one of the best lines delivered during our experience was from a main character to a 10-year old girl who supported that character throughout the trip. The character's last line, delivered as he was being dragged away during the climatic scene, was "ELIZABETH! I'LL NEVER FORGET YOUR LOYALTY, ELIZABETHHHHHHHHHHHH!" 
Transportation To and From the Galactic Starcruiser
The easiest, fastest way to get to the Galactic Starcruiser is to drive your own car. The Starcruiser's address is:
201 South Studio Drive
Lake Buena Vista, FL 32836
At the time I wrote this, neither the Google Maps, Uber, nor Waze apps had driving directions to the Starcruiser. Watch Disney's road signs for the Starcruiser name, and follow those directions to the hotel.
There is no self-parking lot at the Starcruiser – it's valet parking only. Bring along a few dollars for gratuities on either end of your stay.
Because the Starcruiser experience is packed full of activities that must be done in order to get the most out of it, there's no bus service from the Starcruiser to any Disney theme park. Buses do run between the Starcruiser and Disney Springs – check with the Guest Services desk on the Starcruiser for operating hours.
Making Reservations
For something that costs $5,000 to start, making reservations for the Galactic Starcruiser is remarkably difficult and takes an astounding amount of time.
We were on hold for around 3-½ hours to make our reservation. When we finally got through to a cast member, she said we were only the second call she'd had that day. Part of the problem, apparently, is that everything that you do on the ship requires entering data into a separate Disney IT system – none of the computers talk to each other yet. So while you're on the phone, someone on the other end has to enter your data for the hotel stay; then for your meals; if you choose the Captain's Table for dinner, that's another system; then for your Lightning Lanes; then for your MagicBands; and so on.
Fortunately, TouringPlans can do all the waiting on hold for you, at no cost. Click here to start booking your Galactic Starcruiser experience. We're also happy to answer any questions you have.
Here's what's included in your booking:
Two nights in a cabin or suite

An exclusive MagicBand

The two days of game play

All food and beverages on board, excluding alcohol and specialty beverages

A counter-service meal in Disney's Hollywood Studios

Admission to Disney's Hollywood Studios, plus Lightning Lane access to Galaxy's Edge's rides

Valet parking
Is Galactic Starcruiser Worth the Cost?
I'm a travel writer and the Unofficial Guide focuses on getting consumers good value for money. So I think it's my job to give you solid advice on how to spend your travel money to get the most out of it, without equivocations like "It's up to you to decide what's valuable to you." 
We know that a Starcruiser vacation costs more than ~95% of Americans spend on vacation every year. I'm assuming that I'm writing for that 95% – Jeff Bezos is not reading our blog, and Warren Buffet is not watching our YouTube videos.
Here's what I think you should do with $5,000 in travel money before you do the Galactic Starcruiser:
— If you haven't seen much of the US – and that means Alaska, Hawaii, the Rocky Mountains, the great plains, the Pacific Northwest, and, you know, the spectacle of Las Vegas, do that first. Drive, don't fly, as much as you can, to get a sense of how big this country is. You'll find good people in every town, in every state, in every part of it, and it will restore your faith in America in a way that a theme park can't.  Heck, Las Vegas even has its own interactive theater experience in Omega Mart.
— If you haven't been to the UK and Europe, do that next. Where the US has a couple hundred years of history, Europe has a couple of thousand. Europe has its own strange and unique way of doing things: the metric system, the social safety net, and unique plumbing and electrical systems. By visiting Europe, you start to think about why they made these choices, and what the advantages (and disadvantages) might be. And just like exploring the US, in Europe you'll find kind people everywhere just like us.
— If your family history is from another part of the world, Africa, Asia, South America, the North Pole, go see the homeland, and for pretty much the same reasons.
After you've done all that, I would absolutely recommend spending $5,000 on the Starcruiser. It's a chance for your family to have two intense days together doing things that aren't possible anywhere else in the world. And you'll have your own personal Star Wars story for the rest of your life. That's as good as themed entertainment gets. Five stars out of five.