TouringPlans Travel Beat 9-23-2023
At Travel Beat we have all the "other" news from the last week or so—the stuff that wasn't big enough to stop the presses for. What did the newsroom bring us this week? (Sneak peek: it's a smorgasbord.) Bullets are just ahead if you're in a hurry, and more details follow below. Don't forget to check out the Headline News Recap, in case there was something you missed!
50th Anniversary Statues to Stick Around at Disney World
Disney Announces 60 Billion in Investment for Parks and Products
Bear Shuts Down Half of Magic Kingdom
Carnival Cruise Line Rolling Out Vegan Menus
DisneyBand+ Goes Live on Disney Magic October 22
Mickey's Toontown Park Refurbishment
Trams Are Running Again at EPCOT, Hollywood Studios
Soarin' Over California Returns to EPCOT
Disney100 Kicks Off at Disney World
Brightline & Mears Partner to Offer Disney World Connection for Rail Passengers
Headline News Recap
If anything you read below tickles your feet, feel free to reach out to our friends at TouringPlans Travel for a free quote.
50th Anniversary Statues to Stick Around at Disney World
The 50th Anniversary Statues – golden tributes to iconic Disney characters that were scattered around the parks – were one of the first celebratory features announced for Disney World's 50th Anniversary. Now, they'll be some of the last ones standing as Disney is replacing the 50th Anniversary Medallion with "timeless Pixie Dust".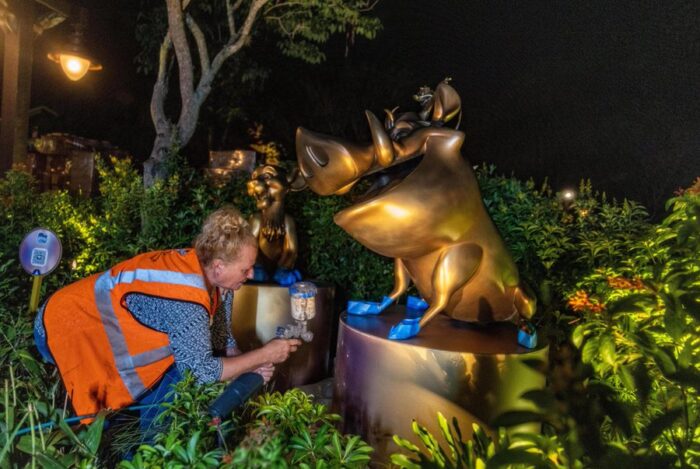 We're not surprised by this announcement, as the statues are fun decor and have their own Play Disney Parks interactive MagicBand+ game. Even without the MagicBand+, they make a fun scavenger hunt. Where to Find All of WDW's 50th Anniversary Statues.
Disney Announces 60 Billion in Investment for Parks and Products
Between an SEC Filing and a Disney Parks Investor Summit, we got a lot of teasers for upcoming growth over Disney's Parks, Experiences, and Products division (DPEP). What's covered there? Well, it's not streaming – it's the theme parks, Disney Cruise Line, and other travel products.
In addition to the mega-whopping-big-number spending announcement of $60 billion investment into Parks and Experiences over the next 10 years, Josh D'Amaro teased specific intellectual properties such as Frozen at the Disneyland Resort. Wakanda and Coco were also named as IPs that had yet to be fully explored. These disclosures come on the heels of more detailed (but still speculative) announcements about park investment made at Destination D23, including a Dinoland retheme, reimagining of Test Track, and more.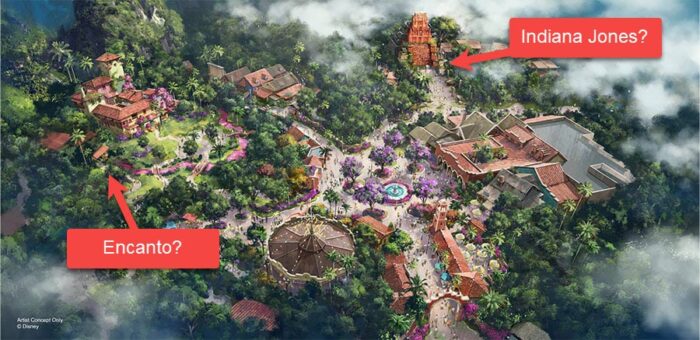 Let's put those numbers in perspective. Although every project is different, a few minutes with google gives us some estimates:
$50-500 million for a new attraction
$500-750 million for a new land such as Galaxy's Edge or Pandora
$1-3 billion for a cruise ship
$3-6 billion for a theme park
A different comparison is to spending in recent history; this is about double the recent pace of capital spending for Disney. What did that bring us? Here's a partial list covering the last 5 years: Galaxy's Edge (x2), Toy Story Land, Frozen, Zootopia, and other lands in international parks, two new cruise ships, Guardians, Mickey & Minnie's Runaway Railway (x2), TRON in the Magic Kingdom, and more.
How excited should you get? That depends. If your excitement is that the travel segment of Disney's business is going to see some significant investment, you're good to go. If your excitement is related to any specific ideas that have been teased … I'd advise being a little more circumspect. A number of studies show that anticipation is often a positive force, and especially that anticipation of a vacation can be as enjoyable as taking it when the time comes. But Disney doesn't have the greatest track record of delivering on everything they formally announce, and here they're only discussing possibilities. Personally, I only get confident about what's coming at Disney when they put up the walls and break ground.
Bear Shuts Down Half of Magic Kingdom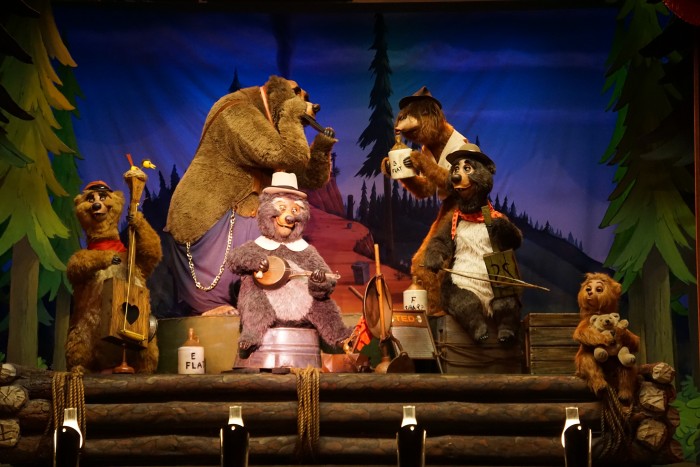 Bears do regularly inhabit the Magic Kingdom (see above) … but this week a real, live bear made an appearance in the park. The bear was found near Tom Sawyer Island during a pre-opening check of the park, and the entire left side of the park was closed for the first half of the day. The bear was captured and relocated with the assistance of the Florida Wildlife Commission. As you may imagine, wait times in the half of the park that was open were quite a bit higher than usual throughout the morning.
Carnival Cruise Line Rolling Out Vegan Menus
Carnival Cruise Line has announced that they have begun rolling out a vegan menu on their ships. The new menu will be available in the main dining rooms, and will feature three apiece of appetizers, entrees, and desserts. The new dishes include a mix of traditional vegan proteins, as well as meat substitutes such as plant-based salmon.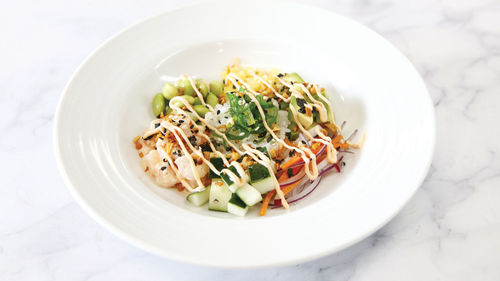 Carnival cites shifting customer preferences as part of the reason for the change, but vegan dishes are also often appealing to travelers with egg and dairy sensitivities. Although not guaranteed to be free from cross-contamination in the same way as an allergy-safe meal, those with milder allergies can simply order off the menu without prior discussion as to the ingredients. The dishes are already available on the Carnival Magic, Freedom, and Horizon, and will roll out to the entire fleet by the end of the year.
DisneyBand+ Goes Live on Disney Magic October 22
Disney Cruise Line has announced that guests sailing on the Disney Magic on or after October 22, 2023 will now be able to purchase the DisneyBand+ and use it on their cruise. The DisneyBand+ has already rolled out on the Wish and the Fantasy. As a reminder, DisneyBand+ is the exact same technology as MagicBand+. That means if you've already got one that you use in the parks and you don't feel like spending $35-45 for a band with cruise line theming, you're good to go.
Mickey's Toontown Park Refurbishment
If you're visiting Disneyland in the next couple of months, you'll encounter some "Pardon Our Pixie Dust" at Mickey's Toontown Park. Centoonial Park is currently closed, reopening on October 22, and on the heels of its reopening Goofy's How-to-Play Yard will close for refurbishment starting Oct. 23. The entire land is expected to be open again in early November.
Trams Are Running Again at EPCOT, Hollywood Studios
Fool me once, shame on me, fool me twice, shame on you. Disney had previously announced that trams would return to all parks by the end of 2022. That didn't happen. Just last month, Disney announced that trams would be returning to Hollywood Studios and EPCOT "in September", which we skeptically noted could mean September 30 as easily as September 1. We're happy to report that trams have been operating at all four parks since Wednesday. My feet (and yours!) are just thrilled!
Soarin' Over California Returns to EPCOT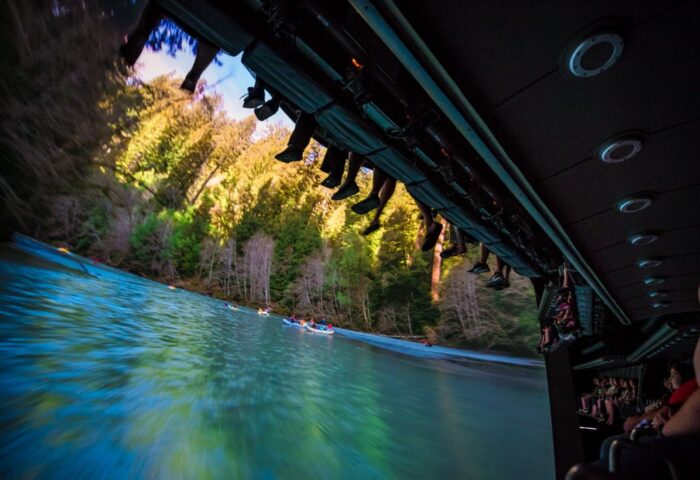 For the first time since 2016, Soarin' Over California ("the OG") has returned to Disney World. Our parks reporters were there for the first day (they rope-dropped to make sure to get in the very first showing!) and confirmed that not only is the film back, but the orange grove scent is too. This is a "limited time" return, but an end date has not been announced yet. If you're visiting in the near future and you've only seen Soarin' Around the World, take the opportunity to punch your ticket to participate in the debate about whether the original or the remake is better.
Disney100 Kicks Off at Disney World
Disney100 officially kicked off at Disney World this week, with EPCOT "hosting" the festivities. What will you see if you head for the parks during the celebration? Here's a sprinkling of photojournalism, straight from our parks researchers.
Disney100 banners and medallions have appeared
You may notice the corner of a building in the image above; the last four Food & Wine Festival booths have opened. From now through the end of the Festival, you can visit Wine & Wedge, Bubbles & Brine, Swirled Showcase, and Char & Chop. Our taste testers thought these booths were winners.
A Figment Meet & Greet debuted earlier this month, and now Mickey & Minnie are meeting in their 100th Anniversary outfits.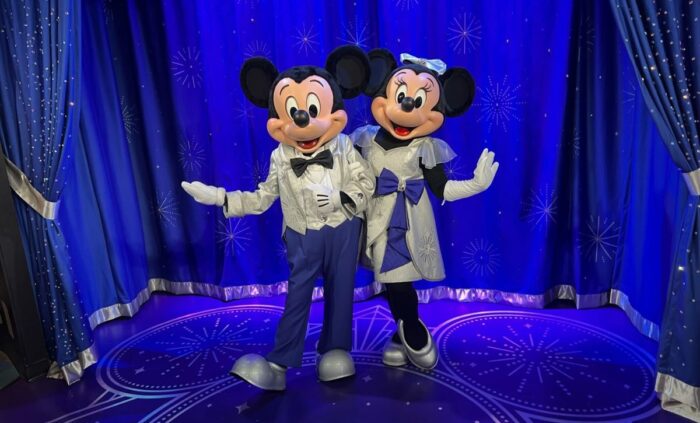 Of course there is merch, including the Disney 100th Popcorn Bucket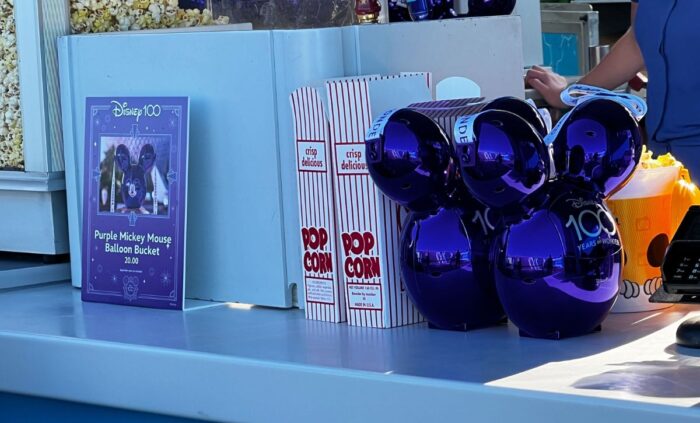 At night, there's a new light show on Spaceship Earth. (Check it out on our Instagram). And along the central path to World Showcase, you'll find a Disney100 mural featuring 100 hidden Disney characters.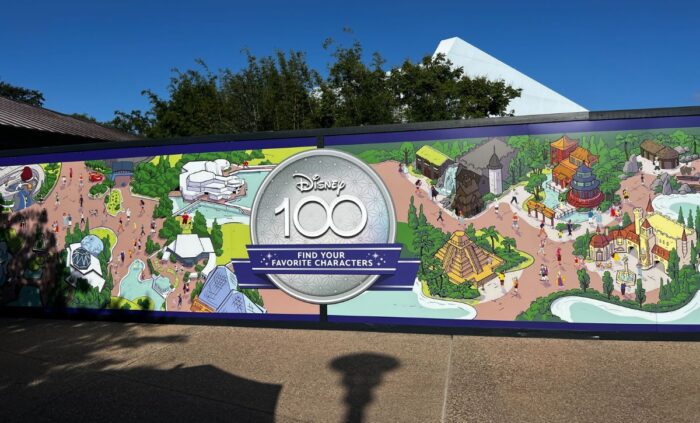 If you're not going to make it in person, you can click into the gallery below for a sampler of the characters we found! Secretly, we're convinced there are more than 100.
Brightline & Mears Partner to Offer Disney World Connection for Rail Passengers
Brightline officially opened its Orlando station yesterday, and is also partnering with Mears to offer last-mile connection to Disney World through Brightline+ in its app. Whether you're a Florida local taking the train instead of driving, or you're using the train to connect your Miami cruise to your Disney World vacation, you can book your entire trip seamlessly in one place. Buy your train ticket in the Brightline app, and add on shuttle or private car connection by Mears from the train station to your Disney World resort.
Headline News Recap
It was a big week for discounts, with Disney releasing a new Florida resident ticket good through December, and Disney World and Aulani room discounts in early 2024. See them all:
This might not truly be headline news, but the updated dining reservation system has rolled out online and in the app. We've tested it out and updated our walkthroughs, and in my personal opinion it is sweet. Disney IT often (deservedly) gets a bad rap, but the new reservation system is fast and responsive, and feels like software you'd expect to see in 2023.
That's it for this week's Travel Beat. What news are you most excited about? Let us know in the comments!