Getting nuiMOs If You're Not at Walt Disney World
They're petite and pricey, but they're also popular — nuiMOs are taking Walt Disney World by storm. With new releases coming out the first Monday of every month, unless you're planing vacation or shopping trips to Disney each month, adding to your collection means shopping online. Here's what's currently available on shopDisney.
Plush
Currently available are Mickey, Minnie, Donald, Daisy, Stitch, and Angel (aka "the pink Stitch"). Each figure is $17.99.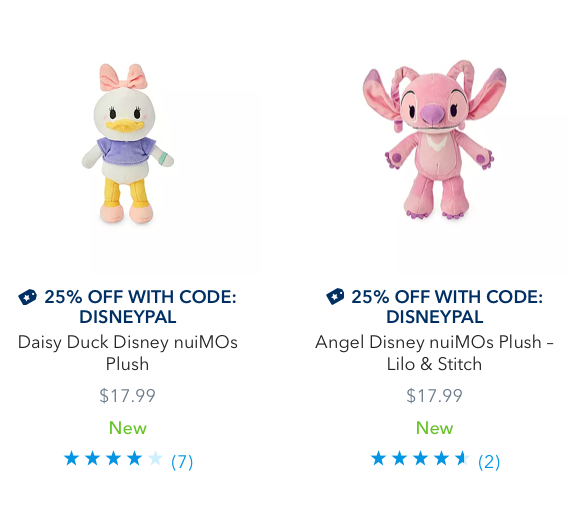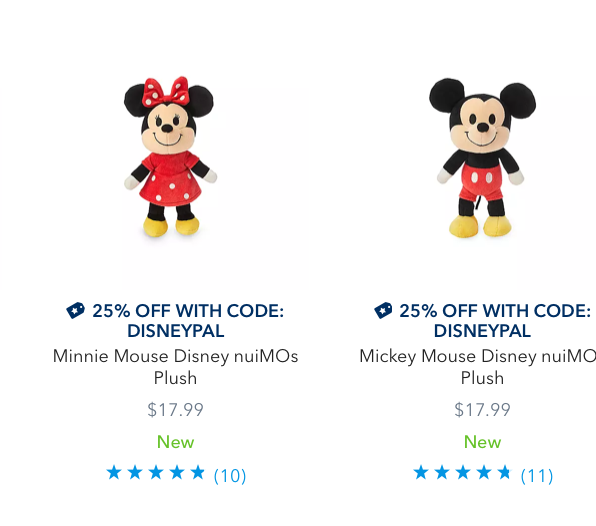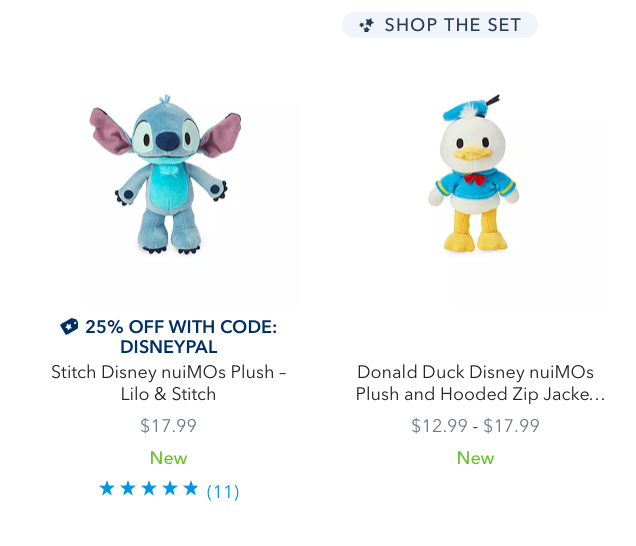 Outfits
In addition, there are many options for outfits to dress up your nuiMO. Currently available are:
Chinese New Year Sets (a shirt and pants set and a dress set, although the dress set was sold out as of Sunday morning, 2/14)
Varsity Jacket Set
Hooded Jacket and Skirt
Denim Jacket and Knitted Hat
Valentine's Day Dress (sold out as of Sunday morning, 2/14)
Animal Print outfit
Hooded Zip Jacket and Sneakers
Sweater, Skirt, and Headband set
Denim Jacket and Pants set
Woven Coat, Pants, and Scarf set
Varsity Jacket and Hat set
Jacket and Plaid Shirt set
College set
Flannel Hoodie and Jeans set
Hooded Tracksuit set
Black Faux Leather Jacket and Denim Pants set
Vest, Top, and Pants set
Jumpsuit and Pants set
Dress and Cowboy Boots set
Each of these sets is $12.99. Here's some examples.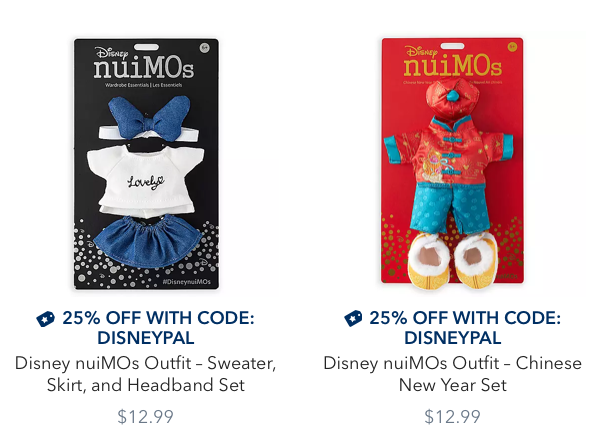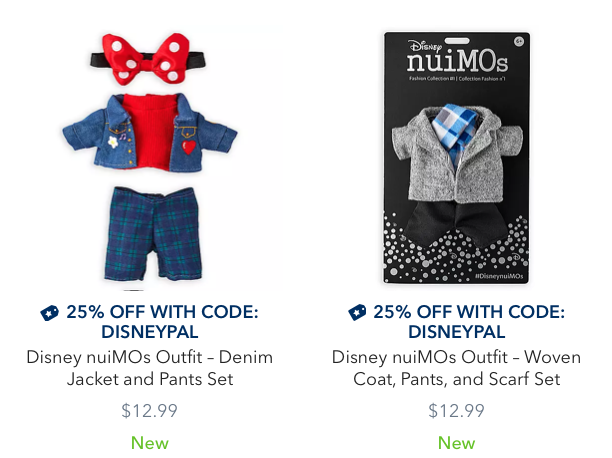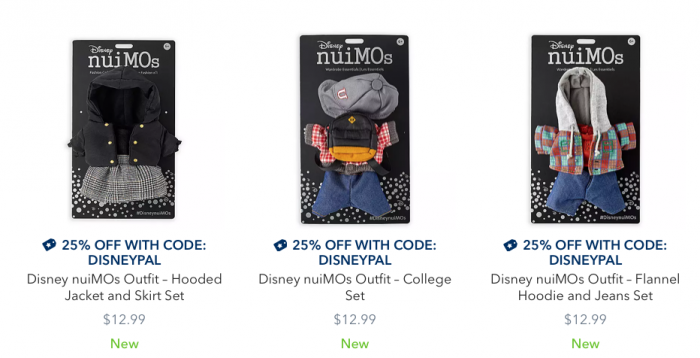 There are also some cosplay outfits.
Star Wars Cosplay
Oogie Boogie Cosplay
Cinderella Cosplay
Alice Cosplay
Cheshire Cat Cosplay
Woody Cosplay
Bo Peep Cosplay
Queen of Hearts Cosplay
The cosplay sets are $17.99 each.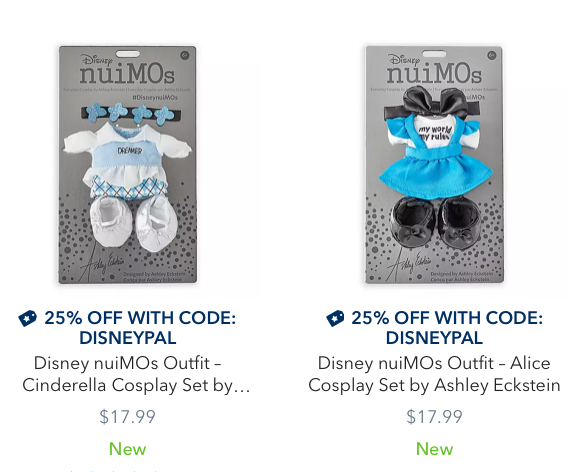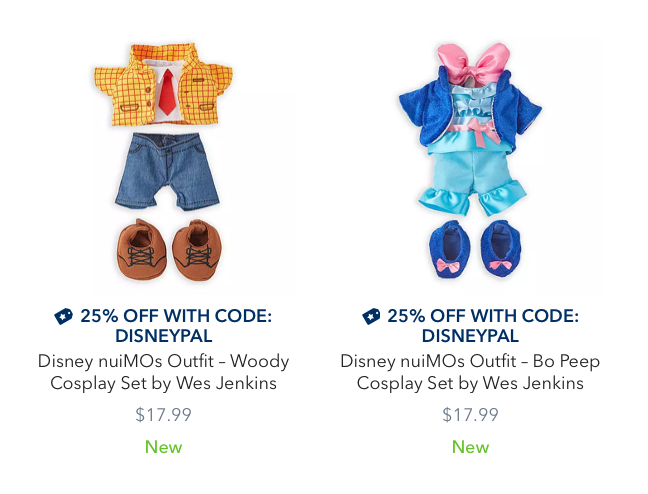 There are also spirit jerseys available.
Disney in Briar Rose Gold
Disneyland (in black)
Disneyland Paris (in black)
Walt Disney World (in black)
New York (in black)
London (in black)
These are $19.99 each.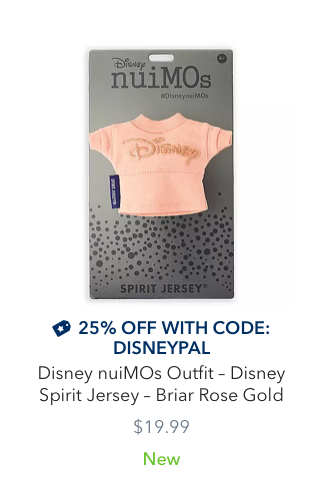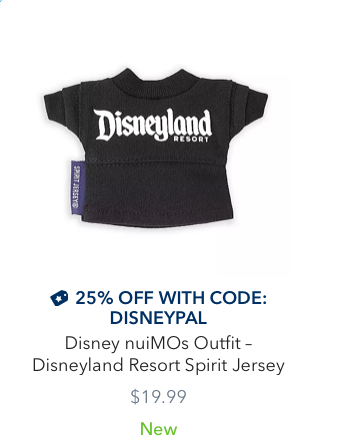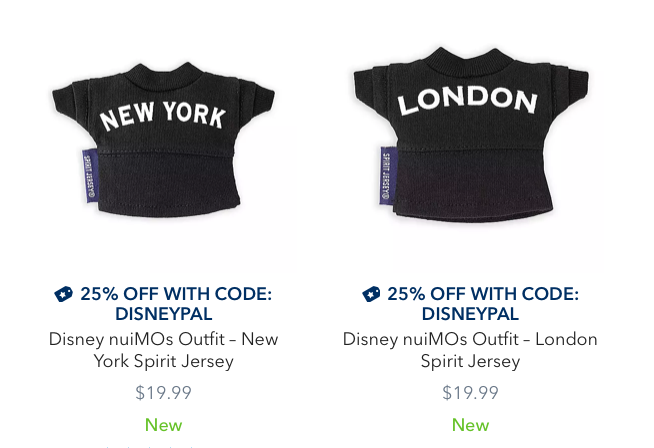 Accessories
And finally, there's Loungefly backpacks for your nuiMO.
These are $19.99 each.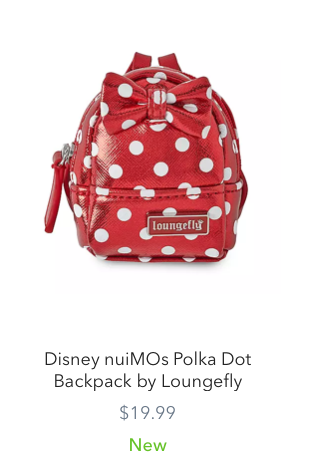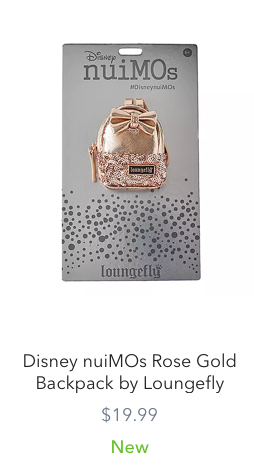 Currently, the items on shopDisney are available at 25% off with the code DISNEYPAL, and so if you're looking to get into this new series of fun collectibles, now might be the time to stock up.
Are you a fan of the nuiMOs line? Let us know what you think in the comments.