Getting to Know Universal – Illumination's Villain-Con: Minion Blast
Do you ever see a pile of plates and want to push them over? Debate in your head how to steal a work of art from a museum? Does mischief run in your blood? Well here at Villain-Con, Universal's latest attraction, you can test your villain skills and see if you have what it takes to be in the Vicious 6!
Quick Glance
Location: Across from Despicable Me: Minion Mayhem in Minion Land
Attraction Type: Interactive blaster ride on a moving walkway
Scope: Major Attraction
Touring Plans Rating: TBD
Height Requirement: 48″ to experience without riding with a guardian
The Experience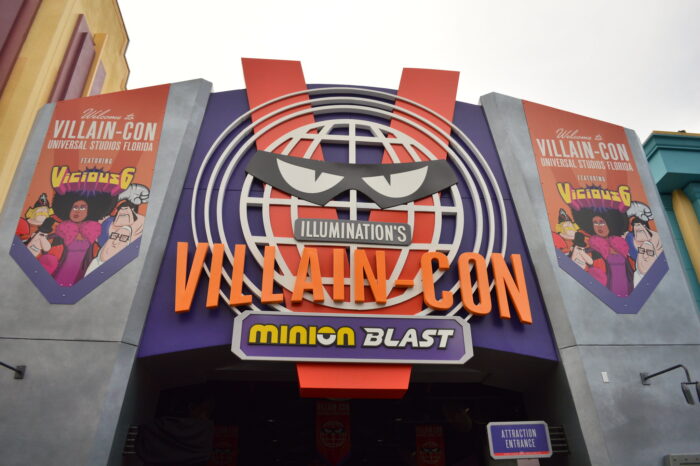 Villain-Con: Minion Blast is a new interactive shooter attraction similar to Toy Story Midway Mania. It located at the front of the park in the former home to Shrek 4D, across the street is Despicable Me: Minion Mayhem. Villain-Con, Minion Mayhem, and the new Minion Cafe combine to form new Minion Land.
Villain-Con is the parody convention for supervillains and minions featured in the Minions movies. For this year's Con  location the supervillains found the most villainous location ever to host: Universal Orlando Resort. While on the convention floor guests can try their hand at villainy by using E-Liminator blasters to shooting targets to rack up points. Guests glide through the show floor and past show scenes on moving walkways similar to those seen at aquariums.
Villain-Con features a deceptively long queue – the building entrance is on the opposite side of the entrance, near the Transformers meet and greet, and there is a new interior queue. But Universal does try to make of the the most of the outdoor queue with coverings, fans, TVs, and comical posters. If you see guests in the extended queue by the UNIVRS Store expect at least a half-hour wait.
Inside the sound stage is a sample of the Villian-Con convention floor full of vendor displays. Imagine a parody of the Consumer Electronics Show company booths where various wares are hawked, from the newest gadgets to villainy planning services.
But we're here to challenge the Vicious 6, so walk through the giant archway at the back of the exhibit and pick a blaster from the rotating rack. The E-Liminator X is a two-handed blaster device and unlike other interactive rides, the E-Liminator device is wireless. The E-Lim pairs to the Universal Orlando app which lets you customize your blaster and track your high scores. Young children who can't hold a blaster are given a mini blaster for training.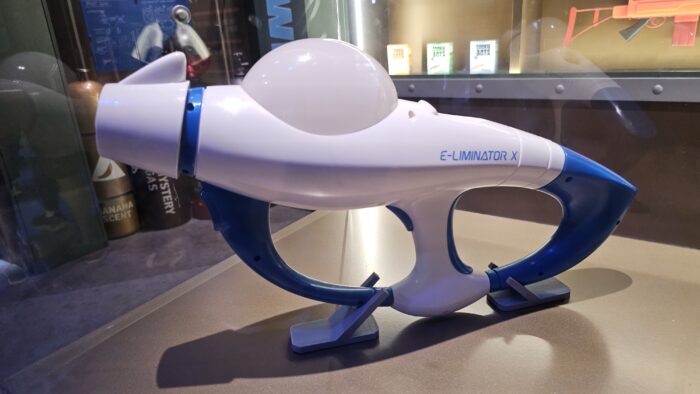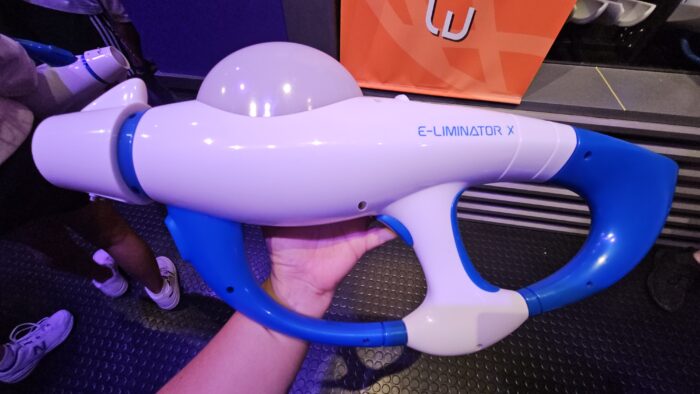 Each E-Lim blaster features two triggers – the back trigger shoots an unlimited amount of energy blasts and the front trigger is for limited-charge, high chaos launcher devices.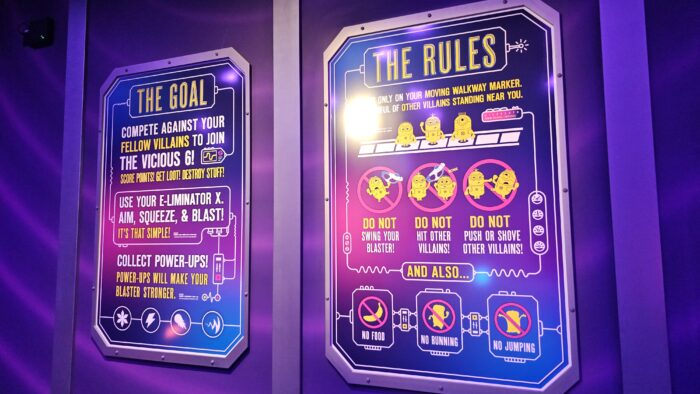 In a brilliant stroke of genius, the blasters sync to your phone using near-field communication (NFC) technology. Guests can track their scores, unlock achievements, and customize their game experience.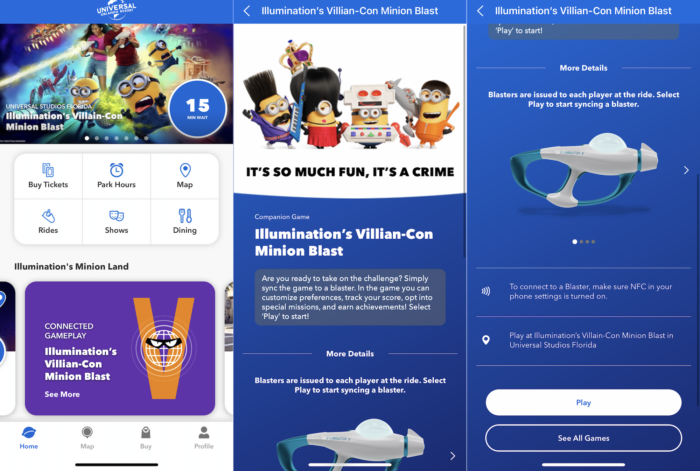 On the Universal Orlando app's home screen go to the Connected Gameplay icon for Villain-Con. This will take you to the Universal Play app splash screen, accept the terms and conditions and select "Play" under Villain-Con.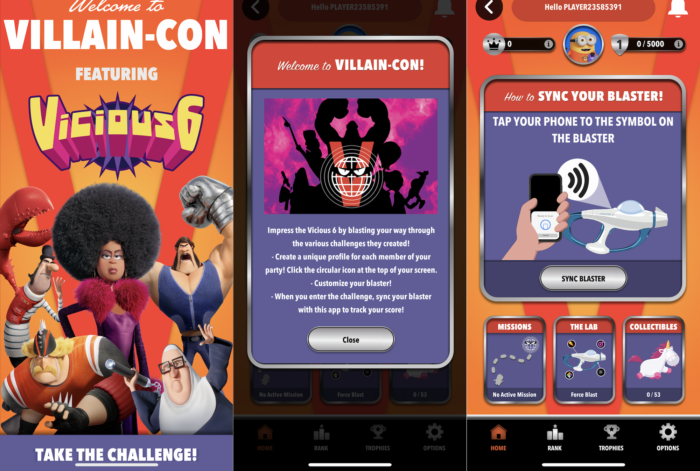 After a quick animation click "Close" then tap "Sync Blaster". Now you are done! Play the game and track your scores.
Customize your gameplay in four different ways:
Change your name and Minion icon. Tap the Minion icon at the top middle of the screen then "Edit Player".
The Missions tab lists challenges based on collecting objects, defeating enemies, and other tasks
The Lab customizes your blaster with unique blasters and special projectiles.
Collectibles are for collectibles! A fun checklist of items found on the ride.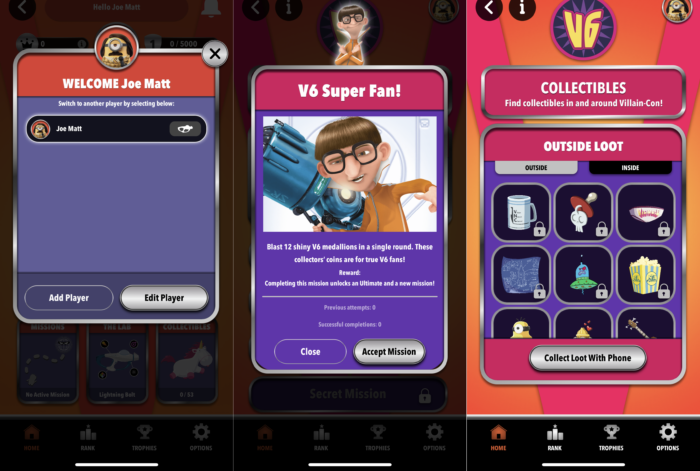 Guests score points by blasting loot, villains, and Minions seen on large screens throughout the attraction. Aiming is done using a colored circle on the giant screens, check the screen on your blaster to see which reticle color is yours. If you lose track of your blaster reticle aim towards the bottom corner of the screen to find it again.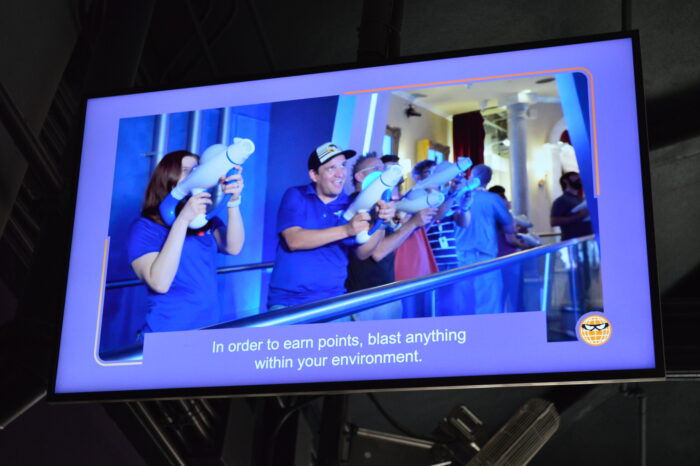 Villain-Con foregoes ride vehicles as guests are whisked around on articulated moving walkways. Guests are staggered on dots on on the walkway and told not to move around as this cause issues with the blasters. Glass barriers and metal handrails separate guests from the show scenes and lets Minions of all shapes and sizes to participate. While the moving walkway opens up more guests to ride-like experiences but there are still some issues – guests must stand unless they are in a wheelchair.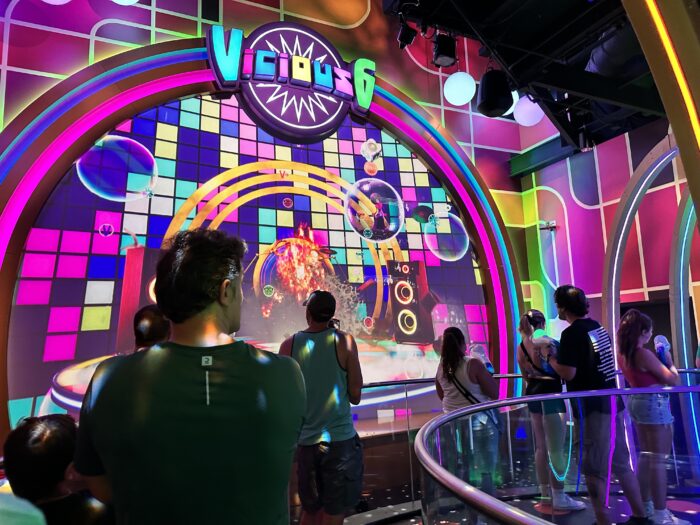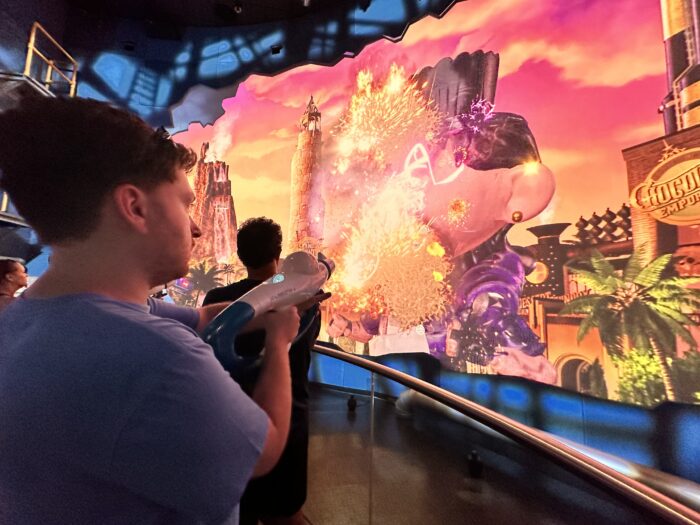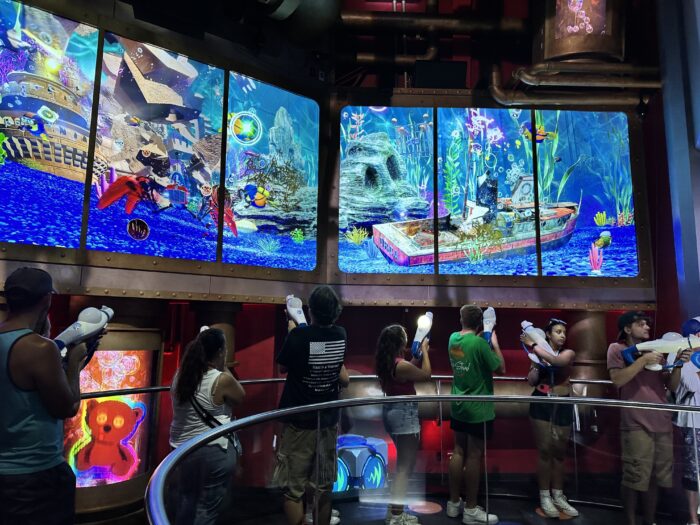 Each room is set in locations with high infiltration potential with one of the Vicious 6 supervillains causing mischief – Stronghold in a museum, Jean Clawed in a giant aquarium, and even Universal Orlando itself. The ride itself lacks much of a story or plot but instead focuses on going from room to room, witnessing various vignettes, gags, and mayhem. While the rooms are chaotic they are bright and colorful and should not be too scary for kids.
Once guests disembark their blasters are collected (that is one form of mischief they will not tolerate) before entering the gift shop. Sharp shooters can find their high scores on various TV screens and kids will love to buy a replica of the E-Limintaor.
The Opinion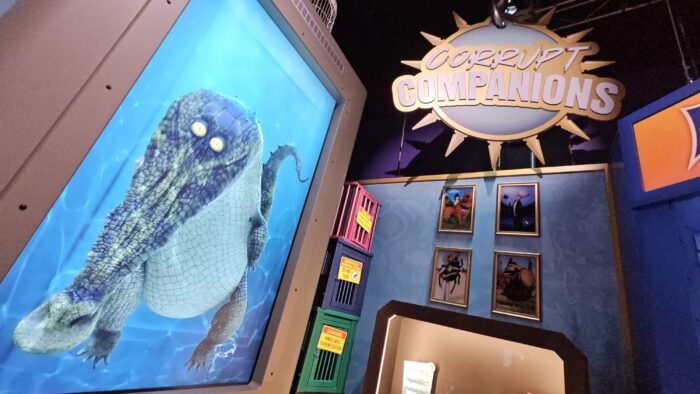 Villain-Con Minion Blast is Universal's attempt at a Toy Story Midway Mania attraction with deeper gameplay links built into their smart phone app. They were successful – racking up points is fun, the app customizations are a great addition, and the technology mostly works. Mostly. Gameplay on the video screens frequently skips and freezes as the computer controlling the game races to catch up and blasters have been known to stop working mid-ride. The good news is a lot of tech issues were resolved during the preview period and we expect other bugs to be resolved soon.
But the issues with the moving walkway remain – guests must stand so it feels more like waiting for another line than a proper attraction. The attraction also features less sets than other new attractions Universal has built, so expect more screens. Blasters are also heavy at roughly 3 lbs/1.3 kg so some children might have trouble using them throughout the ride. But tepid young children scared by Minion Mayhem might be convinced to give this a try, trust me I was one such kid.
Overall Minion Blast is a good ride that fills an all too important fact of theme parks – the C-ticket filler attraction. Universal and Disney have seemed to forget these exist and it's nice to see a smaller-scale attraction here breaks the mold, offers short lines, and can be experienced almost anytime.
Gameplay Tips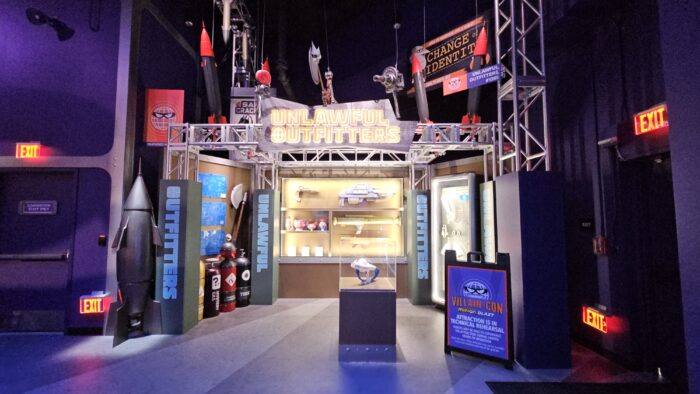 Gameplay Tips:
The front trigger is for a limited-shot secondary launcher. This racks up the points.
The back trigger is for unlimited ammo blasts, if you have kids have them use this one.
The small screen on the blaster shows your active power-ups, player name, and your icon color.
Check for physical items behind and to your sides that provide upgrades and new devices.
High Score Tips:
Aim for the main Villain in each room, and shoot them until they drop a box for a unique blaster.
Shoot the blaster box and collect the villain's unique blaster.
Using the front trigger shot the Villain with their own blaster to score maximum points.
Restrictions & Accommodations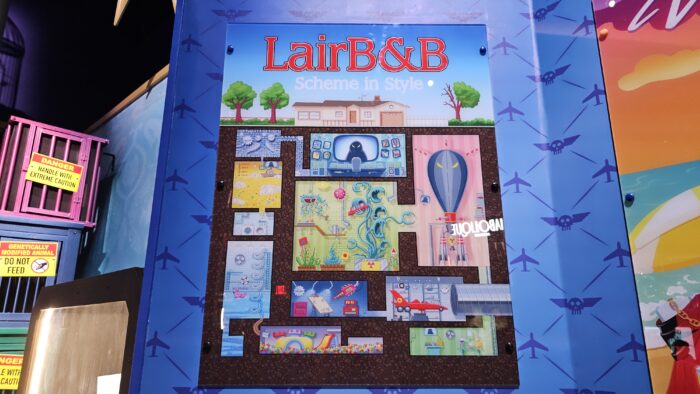 Guests under 48″ tall must be accompanied by a guardian
Guests must be able to stand while riding the attraction unless they are in a wheelchair
Guests in Electric Conveyance Vehicles (ECV) must transfer to a wheelchair before riding
Blasters are roughly 3 lbs (1.3 kg) in weight and require the use of both arms.
Touring Tips
This new sign was added at the end of the Villain-Con ride at @UniversalORL. pic.twitter.com/XjL4TC8ZGJ

— Attractions Magazine (@Attractions) August 2, 2023
Expect the longest wait times when Universal Studios Florida opens for the day.
Average wait times hover around half an hour to forty-five minutes during busy periods.
Wait times at Villain-Con are around half the length of those over at Minoy Mayhem due to its increased hourly guest capacity.
Visit in the early afternoon immediately before Minion Mayhem or the last 90 minutes the park is open.