Getting to Know Universal – Jurassic World VelociCoaster
Strap in and get ready to come face to face with a raptor pack, this week we are looking at the brand new Jurassic World VelociCoaster. This extreme thrill coaster replaced the long-closed opening day attraction, Triceratops Encounter.
Quick Glance
Location: Islands of Adventure
Attraction Type: Extreme thrill coaster
Scope: Super Headliner
TouringPlans Rating: 5 stars
Height Requirement: 51 inches

The Experience
Bold and striking, Jurassic World VelociCoaster is the first thing guests see entering the park. The slick black coaster track wraps around the Jurassic Park Discovery Center, with the iconic top hat element located on the left. The ride's entrance is located near the water–hug the right-hand side of the lagoon, and follow the signs to Jurassic Park. Look for the large VelociCoaster sign near The Watering Hole.
Unlike the rest of Jurassic Park, VelociCoaster is set during the Jurassic World series of movies. Upon entering the attraction guests find they are the first riders on the fictional's park newest attraction: VelociCoaster. Park operations manager Claire Dearing (Bryce Dallas Howard) says guests demand up-close encounters with more teeth, so what better way than a rollercoaster inside a raptor paddock. Fearless raptor trainer Owen Grady (Chris Pratt) is nonplussed by the idea.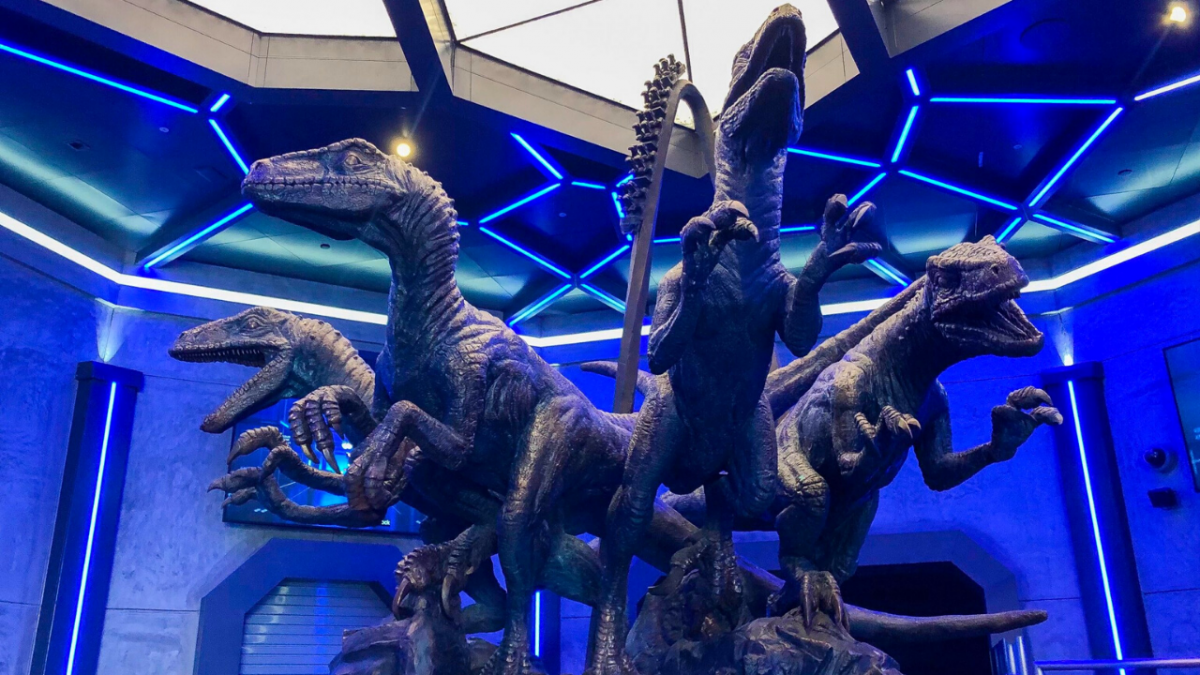 The queue is slick and modern with lots of easter eggs to the Jurassic Park movies. Two notable sections of the queue include a view of the second launch, with a "how did they do that" raptor effect, and lifelike audio-animatronic figures of the raptors. Fans of the movies will be pleased to see Mr. DNA returns to provide narration and safety instructions and Dr. Henry Wu (BD Wong) teaches us about dino DNA-splicing techniques.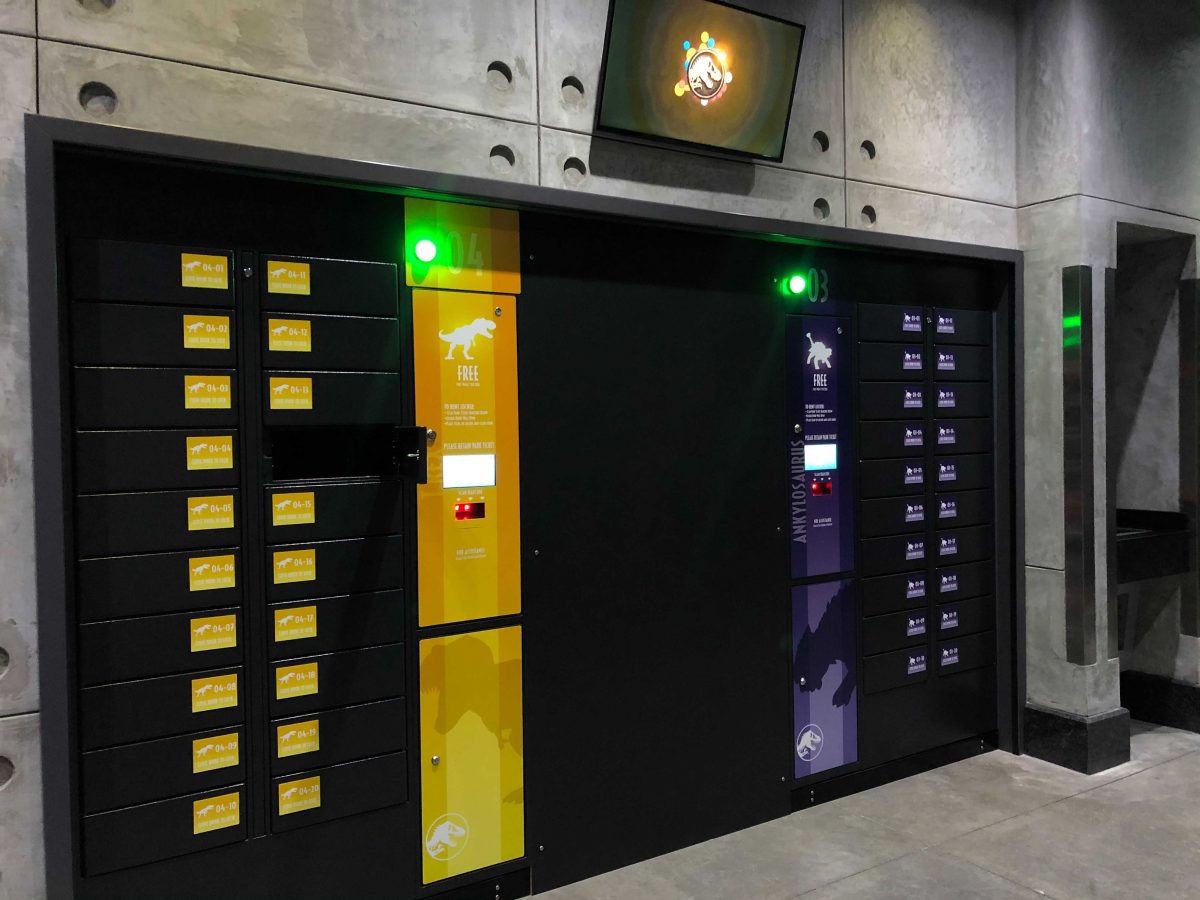 VelcociCoaster, like The Incredible Hulk and Hollywood Rip Ride Rocket, requires guests to place all items in a locker. This includes bags, cellphones, keys, wallets, and other loose items. Unlike those attractions, VelociCoaster features a mid-queue locker for small, pocketable items. Now guests can access their personal items, such as cell phones and water bottles, while in the queue.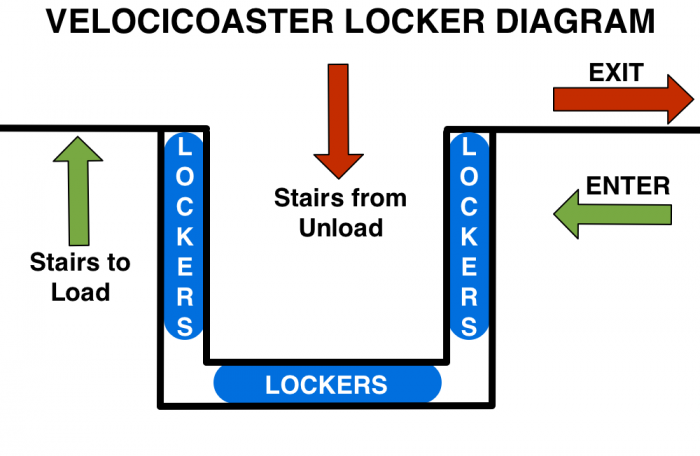 How does this work? Most lockers are one-sided – guests store and retrieve items using the same access door. The VelociCoaster lockers have two access points: one in the queue before riding and the other at the exit after riding. To rent a locker approach the terminals with the green lights (see above photo). Scan the barcode on your ticket and a locker will open for you. Place your items in the locker but hold onto your ticket, you will need that to re-open the lockers. If you have a digital ticket see a Team Member who will provide you with a temporary barcode to scan.
If you forgot your locker location while holding onto dear life on the ride, simply approach any locker bank, scan the barcode, and the screen will tell you which locker is yours.
The Opinion
VelociCoaster reviews are in and… well… we will let the fans speak for themselves:
I literally cannot convey what an amazing line up that Hulk, Hagrid's and Velocicoaster present. One/two more world class coasters and Cedar Point/Magic Mountain would have to give up. https://t.co/3nHRP92pe8

— Weenie (@SuperWeenieHtJr) June 4, 2021
HAHAHAHHA VELOCICOASTER IS SO GOOD

— braum's #1 fan (unofficial) (@godsonsafari) June 3, 2021
It's good, it is really really good. Like potential back half of my top 10 favorite roller coasters ever good. Airtime is considerably better than I expected, home run for Universal here. pic.twitter.com/QorVuQhWNR

— The Legend (@InTheLoopLegend) May 2, 2021
Worth. The. Hype.

— Brad VelociCoaSTARR (@braddrinks) April 29, 2021
VelociCoaster is incredible and lives up to the hype! Guests are going to be talking about it for a long time. Kudos to all who worked on it. @UniversalORL pic.twitter.com/Y4BYHYazC1

— Brian Glenn (@BriManIU) May 2, 2021
VelociCoaster offers an incredible amount of airtime through a crazy weave of coaster track. The whole experience is as thrilling as coming face to face with a raptor. TouringPlans' Ivonne Ramos says, "The ride is smooth and having only a lap bar makes it a comfortable one as well. It's an intense coaster that is all about air time and speed and the two launches are fantastic."
Restrictions & Accommodations
Guests riding Jurassic World VelociCoaster must be at least 51 inches (137 cm) tall to ride.
Guests in wheelchairs and ECVs must transfer to the ride vehicle.
Prosthetic limbs must be removed or secured during the ride; guests must be able to brace themselves while riding.
Due to restraints guests with waistlines larger than 40 inches might not fit; use the test seat outside the ride entrance to ensure you can be accommodated.
VelociCoaster requires guests to place all loose articles in a free locker prior to riding. Metal detectors are used in the queue.
Rider Swap is offered for parties with members under the height requirement; see a Team Member at the entrance for assistance.
This attraction is intense; it scares some adults.

Touring Tips
Jurassic World VelociCoaster is the second biggest draw at Islands of Adventure, immediately behind Hagrid's Magical Creature Motorbike Adventure. We suggest riding the first thing after the park opens or within the last hour the park is open. VelociCoaster is designed with Universal's Express Pass, but the line-skipping option was not offered during previews. It is not clear if they will offer Express at opening or if it will come at a later date. If waits are long consider using the single-rider line.
While currently not in use, VelociCoaster might operate with a Virtual Line on days of high attendance. Check the Universal Orlando app for more information.
Are you excited for the opening of this major attraction? Would you ride it, or just enjoy watching it from safely on the ground? Let us know in the comments.