What Makes a Good Hotel Room? What Makes a Good Hotel Room for You?
We recently ran a post that discussed the pros and cons of various hotel room views. The feedback we received noted that there were really two components of a hotel room view: the scenery/objects that you see with your eyes and the noise that those scenery/objects might represent.
For example, a view that overlooks a swimming pool might be visually appealing, but the possible noise generated by rowdy children playing in that pool might raise red flags that make that particular view unattractive. Some folks think the visual is more important; some think a quiet auditory background is more important; some will only be happy with a pristine view (whatever that means to them) AND complete silence; and still others might enjoy some festive background noise from a pool area because it feels vacationy or reminds them of a happy time in their lives.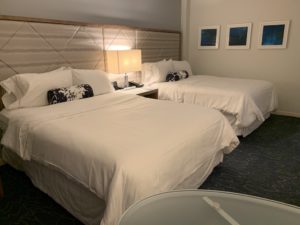 In addition to view and noise level, there are numerous additional factors that might impact your perception of a hotel room's quality. Thinking about these issues in advance can help you select the hotel and the hotel room that best meets your personal needs.
Some hotel attributes to think about are:
Cleanliness. Let's stipulate that having a clean room is an imperative for all travelers. We have rarely encountered rooms at Disney-owned hotels that were not clean. The few times that we did notice something amiss, the situation was rectified with appropriate haste. On the other end of the spectrum, we have seen a few bargain-priced off-site accommodations that were not up to our cleanliness standards. If you want to make sure your room is spotless, opt for at least a mid-priced off-site room or for on-site accommodations.
View. As discussed in the link above, the perfect view is in the eye of the beholder.
Noise level. Do you need absolute silence to sleep? Do you mind moderate noise from outside your room? Is it okay to hear music from outside your room? Does it matter if this is hallway chatter from other guests? Mechanical noises from things like elevators or ice machines? Are fireworks and parade noises pleasant or annoying?
Stated maximum capacity. If you have a larger traveling party, you'll need to pay attention to the number of guests allowed to stay in a particular room type.
Square footage. Beyond the number of guests allowed to stay in a room, think about how much living space you'd like to have and whether there are any characteristics of your party that will impact this. For example, when my kids were babies, my family of five had trouble with value resort rooms. While technically, at the time, we could have fit into a value room because their capacity is four guests plus and infant in a crib, I have twins. This means we needed two cribs. The small square footage of the value rooms means that there is very little room to walk with even one crib in the room, and toes will definitely be stubbed with two cribs. Similarly, if you have large items like a wheelchair or bulky medical items, square footage may be important.
Number and style of sleep surfaces. Is everyone in your party comfortable with sharing a bed? Do your kids sleep better if they're not competing for covers? A party of four who all wants their own bed might be better off in two rooms rather that one.
Quality/brand of bedding. Some travelers have a particular affinity for one hotel chain's brand of sheets or mattresses. Some travelers prefer a specific style of pillow. If these things are important, you may be more satisfied with an off-site hotel.
Number of separate rooms. Some guests prefer not to sleep in the same room with their children or other travel companions. There are accommodations with multiple rooms available both on and off site.
Type of furniture available. Are you okay with just a bed and a chair in your room? Do you need a desk and an ergonomic chair so you can do work in the room? Do you like to watch TV in the evening while sitting on a couch rather than on your bed? Make sure that the furnishings meet your needs.
Lighting. Do you need a desk lamp for work? Do you need a nightlight in the bathroom? Are you sensitive to light while you sleep and want a room away from any areas that might be illuminated at night?
Number of bathrooms. The size and composition of your party might influence whether you're happy using the standard single bathroom or whether your vacation might run more smoothly with access to two (or more) bathrooms. For example, do you not want to share a bathroom with your father-in-law? Does your teen daughter monopolize the bathroom drying her hair for an hour?
Bathroom configuration. There are some off-site hotels that have only showers, not bathtubs. This might not work for you if you're traveling with a toddler. Will sharing a sink with your spouse slow you down in the morning? Will it help you get to the parks on time if your room's toilet is in a separate compartment from the shower?
Bathroom amenities. There are any number of ways that amenities can influence your hotel bathroom experience: number, size, and quality of towels; availability of robes; type of showerhead; brand of toiletries; method of dispensing toiletries (individual bottles, wall-mounted containers, etc.); availability of non-standard toiletries.
Availability of cooking facilities. The availability of a refrigerator, coffee maker, microwave, or more substantial cooking facilities can be a requirement, a nice bonus, or an oppressive chore, depending on your needs and preferences.
Availability of a mini-bar. Some folks think of this as an expensive distraction, others like having in-room snack and beverage options available. None of the Disney-owned hotels are equipped with mini-bars. If you enjoy this amenity, you might prefer an off-site location.
Distance from the room to stairs or elevators. Some guests prefer to reduce walking time by having a room near the elevator others like adding steps to their routine or find that a stay away from an elevator improves their experience of noise at the hotel.
Distance from the room to hotel amenities such a transportation, shops, or restaurants. Similarly, some folks like to add or reduce the number of steps they take each day. Or some like to be close to restaurants for convenience, while others like to be away from restaurants to help reduce the temptation to snack.
Availability of comfort amenities such as concierge service, dedicated lounges, turndown service, etc. Some travelers enjoy lots of pampering, and others prefer to be left alone during their stay.
In-room electronics. Some hotel rooms have one small TV, others have multiple TVs plus radios and DVD players. Some off-site locations might have in-room video game systems or other electronic toys.
In-room connectivity. Some folks want zippy internet speed with which to work or to consume video content. Other guests like to unplug on vacation and do not like having the temptation of rapid Wi-Fi.
You'll notice that I haven't mentioned price in this list. While price is often the primary hotel attribute that travelers consider when deciding where to stay, it should not be the only thing that impacts your choice. For example, $250 a night might buy you a stay in an on-site moderate-level hotel at Disney World. The hotel might have amenities such as easy access to Disney transportation, early park entry, or immersion in the "Disney bubble." That same $250 might also buy you a multi-room off-site Airbnb with a full kitchen, several bathrooms, and a living room stocked with a game console.
Either choice might be better or worse for some guests. There are many variations in amenities even within similar price points.
Which amenities are most important to you? How do those choices impact what you consider to be a good hotel room?