Getting to Know Universal – Universal's Cabana Bay Beach Resort
Hop in the station wagon kids! This week we are looking at one of Universal Orlando's most popular resorts, Cababay Bay Beach Resort! This family-friendly hotel opened in 2014 as Universal's first value-priced hotel. Mid-modern appointed standard rooms and family suites are offered. Cabana Bay is located on Adventure Way – south of Islands of Adventure, west of Loews Royal Pacific Resort, and directly north of Volcano Bay.
Overview
Guest Rating: ★★★★
Touring Plans Rating: ★★★
Level: Prime Value
Price Range: Standard Room – $132 – $300+, Suite – $172 -$400+
Number of Rooms: 1800
Theme: 50s/60s motel chic
Theme & Layout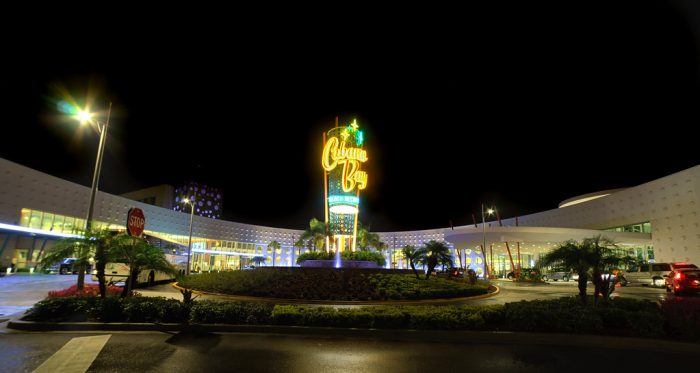 Cabana Bay is themed to the seaside motels along the eastern seafront popular in the 50s and 60s. The colorful mid-century modern details set this hotel apart from other Disney and Universal properties. Cabana Bay's entrance is lit up in giant neon, fountains, and a stylish portes-cochère. Continuing the theme, retro cars are parked outside waiting for their implied families to return from check-in.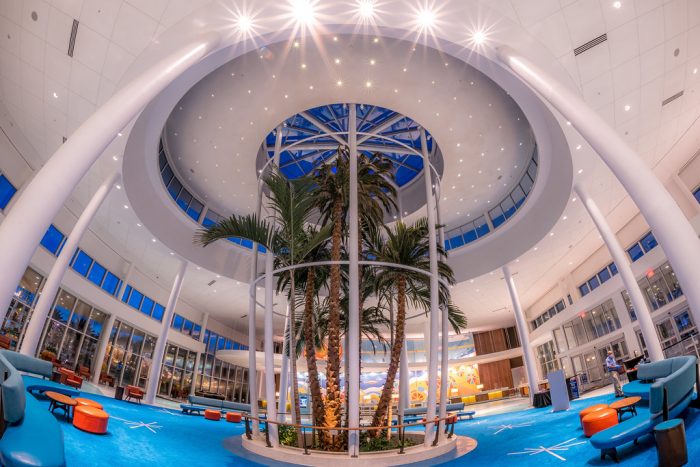 Inside is bright and airy, with two-story windows that overlook one of the hotel's two pools. Palm trees stand in the middle of the lobby which also features the check-in desk, retro-themed Universal Studios Store, and a lobby bar. Large arched couches and chairs are placed in the center of the lobby for waiting guests.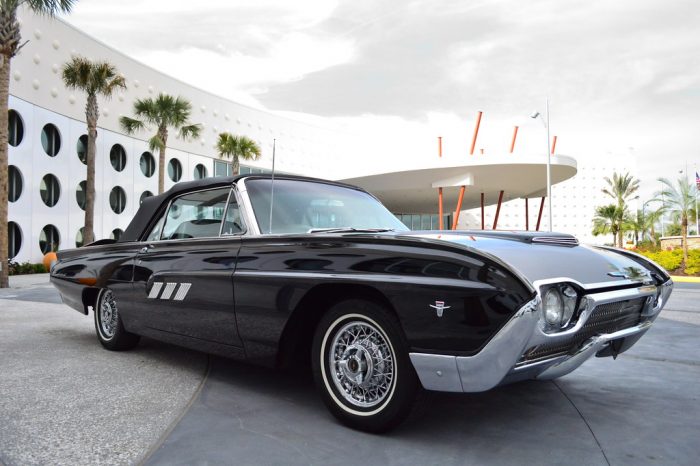 The hotel is spread across a sprawling 40 acres of land. On the north end of the property are the 3-story tall Starlight, Thunderbird, and Castaway buildings surrounding the action pool. In the middle of the property is the main guest building with interior amenities, dining, and reception. To the south, near Volcano Bay, are the 7-story tall Continental and Americana buildings flanking the quiet pool and lazy river.
Rooms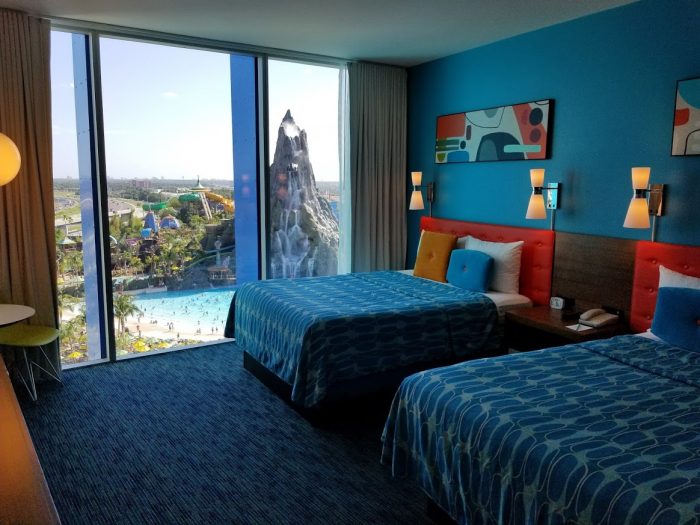 The theme continues in the rooms which also incorporate retro designs and flourishes. Lamps are distinctly retro, accent pillows in complementing shades of blue and orange, tables and chairs out of a 1960s bachelor pad, and even VO5 and Zest in the bathroom.
Cabana Bay features three room types:
Standard Rooms – 300 sq ft, two queen beds, bathroom, and one 40″ LCD TV. Sleeps up to 4. Prices start at $132 plus tax per night.
Family Suites – 430 sq ft, two queen beds, pull-out sofa bed, seating area, small kitchenette, one bathroom, and two 40″ LCD TVs. Sleeps up to 6. Prices start at $172 plus tax per night.
Volcano Bay 2-Bedroom Suites – 77s sq ft, two full-size beds, one queen bed, one pull-out sofa bed, seating area, small kitchenette, two bathrooms, and three 40″ LCD TVs. Sleeps up to 8. Prices start at $400 plus tax per night.
Two styles of Family Suites are offered: Exterior Entry and Interior Entry. Exterior Entry rooms are located in the Starlight, Thunderbird, and Castaway buildings on the north end of the property. Guests enter these rooms from the outdoors, similar to Disney's value and moderate resorts. Interior Entry rooms, as the name suggests, enter from an interior hallway in the Americana or Continental buildings. While both layouts are the same the exterior entry rooms have a window in the seating area while the interior entry rooms have a window in the bedroom.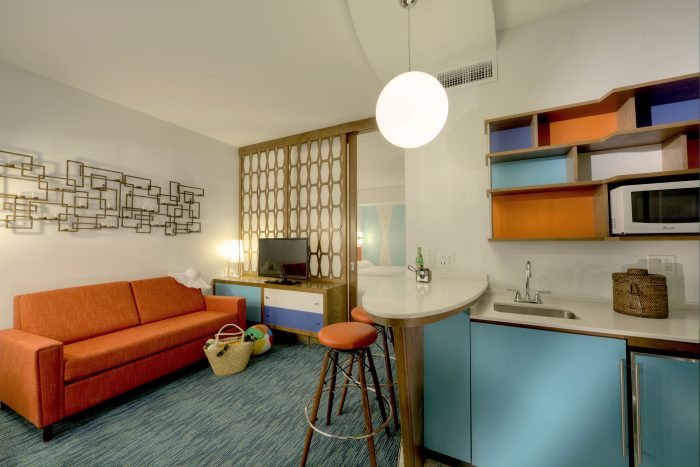 We find the standard room is small, but doable, for four people. We suggest upgrading to the Family Suite for more space as it adds a small seating area and splits the toilet and shower into two separate rooms. Request a free quote for a Cabana Bay room through Touring Plans travel!
Amenities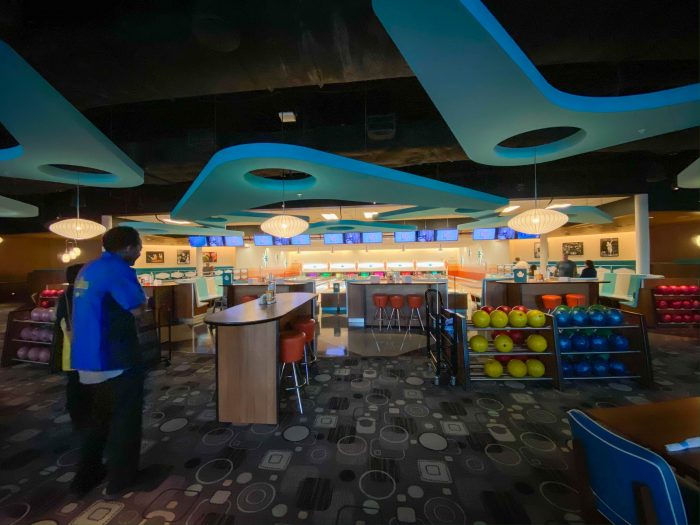 Cabana Bay knocks it out of the park when it comes to activities at the resort. In fact, I could argue one could make a full day out of just being at Cabana Bay.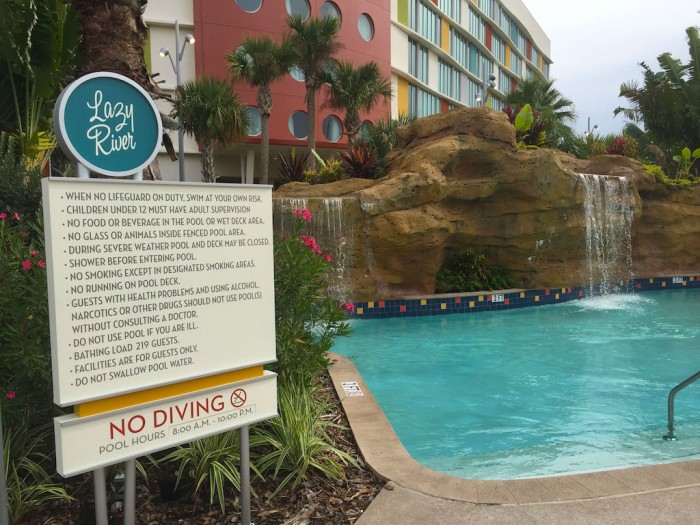 Cabana offers two pools – an action pool and a quiet pool. The action pool is the louder of the two, usually featuring a DJ and guest activities. Here is where you can find the resort's water slide which is modeled off of a high dive tower. On the other end of the hotel is the quiet pool, a more mellow pool with a lazy river. Themed tubes for the lazy river can be bought for around $10, we suggest purchasing them for less at home and bringing them with you.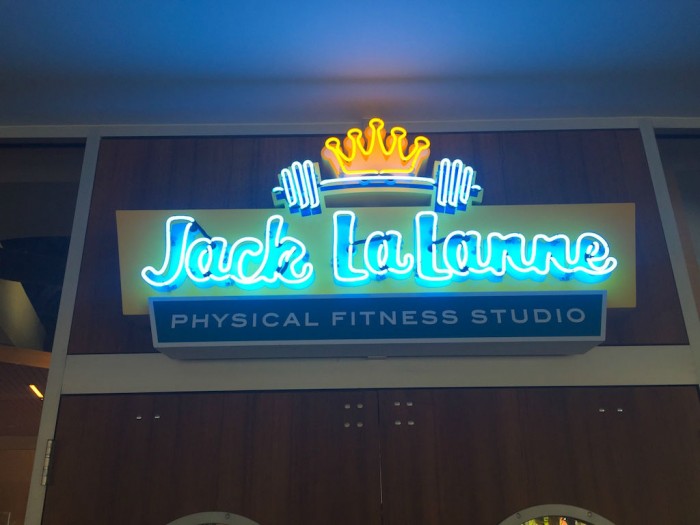 A Jack LaLanne-themed workout center is located on the second story of the main building. The center features modern, up-to-date machines and weights, televisions, and is regularly cleaned. Also on the second story is Galaxy Bowl, Cabana Bay's own full bowling alley. Derek Burgan would remiss if I did not mention the hotel has a very large arcade.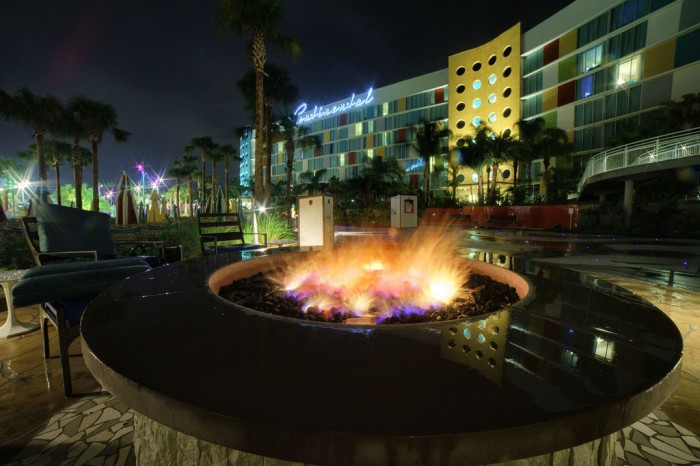 On select nights entertainment is offered around the resort, such as bands or movies. Check the schedule in the lobby for more information.
Cabana Bay also offers its own access to the front gate of Volcano Bay. The walk to the park from some rooms is under two minutes, making it the closest hotel to the water park.
No other hotel in Orlando offers the same amount of amenities at this price range.
Food & Drink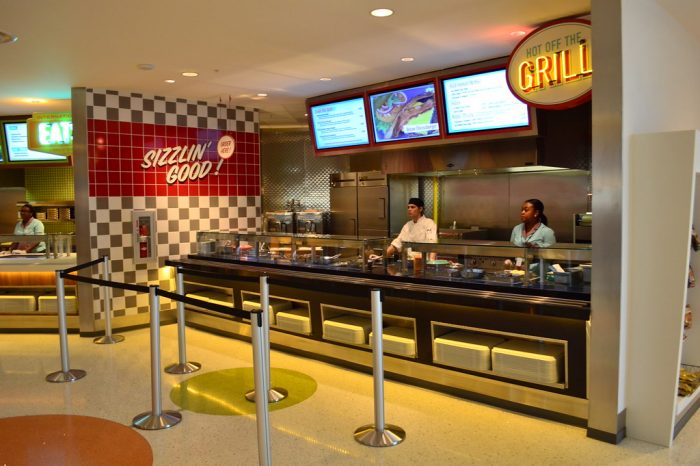 Just as with the theme of the resort, if there is one phrase to describe the food it is "classic American".
Cabana Bay's main dining hall is the Bayliner Diner, located in the main guest building. The menu features a rotating selection of burgers, sandwiches, entrees, pizzas, pasta, international items, and desserts. Bayliner is open 7 am till 11 pm daily.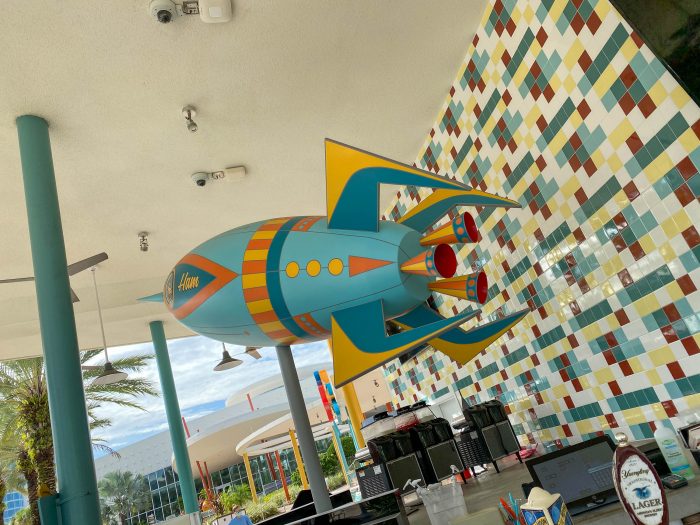 The Atomic Tonic and Hideaway Bar & Grill are the two pool refreshment posts at Cabana Bay. Their menu consists of pizzas, salads, sandwiches, and small entrees. Additionally, these two locations also serve as pool bars and feature a large selection of beer, wine, and mixed drinks. Both are open during pool hours.
Galaxy Bowl Restaurant is a small, full-service restaurant located inside the Galaxy Bowl bowling alley. The menu features appetizers, wings, salads, burgers, and sandwiches. While slightly nicer than the other options, if you are looking for a nicer full-scale dinner head over to another resort or CityWalk.
In addition to the pool bars is the Swizzle Lounge, a lobby bar modeled to look like your dad's (or grandfather's) liquor cabinet. The menu includes wine, beer, and appropriately themed cocktails. Swizzle is just one of the most fun resort bars around and we always try to stop for a drink.
For those early risers, or who just need a pick-me-up, the main building houses a full Starbucks for all your coffee needs.
Reviews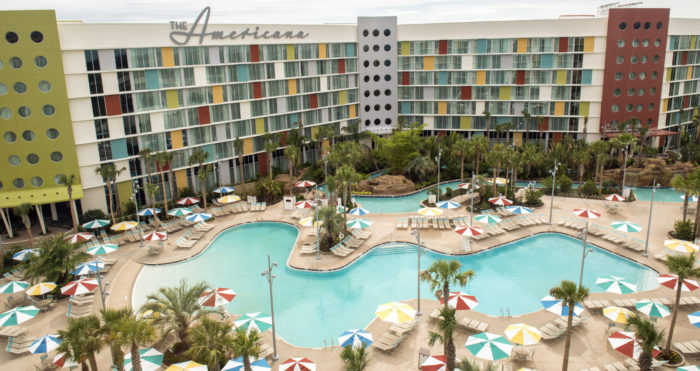 The secret is out: guests LOVE Cabana Bay. The amenities for its price, the hotel's location, and overall theme are huge hits with guests. Disney fans who are Universal curious are sure to enjoy the unique theme, fast shuttles, spacious pools (do not forget you can pool hop!), fun rooms, and amazing price point. Universal's Cabana Bay Beach Resort is great for young families, guests who love spending time at the resort, those who love the pool, and fans of mid-mod design. We do not recommend the resort for those looking for a quiet hotel, want deluxe furnishings, or will purchase Express Pass.

Have you stayed at Cabana Bay? What do you think of this resort? Leave them in the comments below!