The SATURDAY SIX Checks Out Universal's VILLAIN-CON MINION BLAST (the details, the gameplay, the app and MORE!)
This week's SATURDAY SIX Looks at Illumination's VILLAIN-CON MINION BLAST! Earlier this Summer, Universal Studios Florida opened Minion Land which includes a whole bunch of kid-friendly venues including a bakery, a meet-and-greet area, and the fan-favorite restaurant Minion Café. Minion Land includes an already-existing attraction (Despicable Me Minion Mayhem), but the attraction that anchors the land is the brand-new Villain-Con Minion Blast: a competitive, interactive shooting game featuring characters from the Despicable Me film series.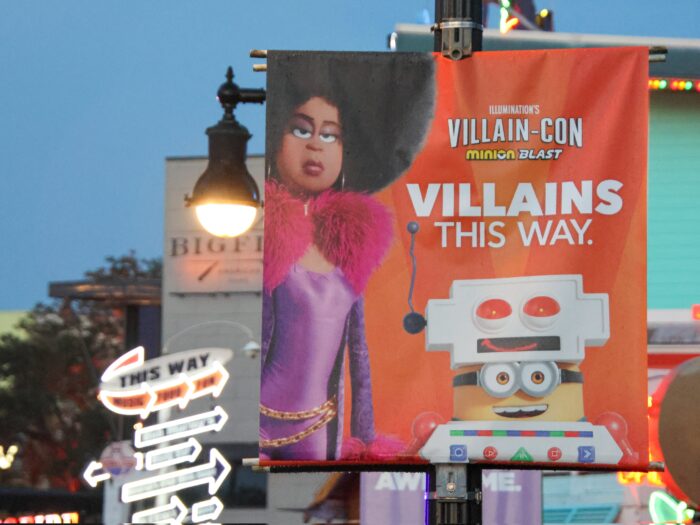 Minion Blast replaced Shrek 4D (you can read our love letter to the green ogre by CLICKING HERE) and is one of the very first attractions guests will pass by when entering the park. The addition of Minion Blast (and Minion Land in general) fixed one of USF's glaring problems since its transition away from a park that was based around the art of making movies and television shows. While other areas of the park are very "Disney-like" in how cohesive they are (Springfield, London Waterfront/Diagon Alley, and the New York section), the very first thing that guests would see when walking through the gates was a hodgepodge of attractions and themed areas that had absolutely nothing to do with each other. At one point in time, you would have an attraction based around Hanna-Barbera cartoon characters across the street from an attraction based around Alfred Hitchcock films which itself was next to a restaurant featuring Universal Classic Monsters. All of this has been addressed with Minion Land.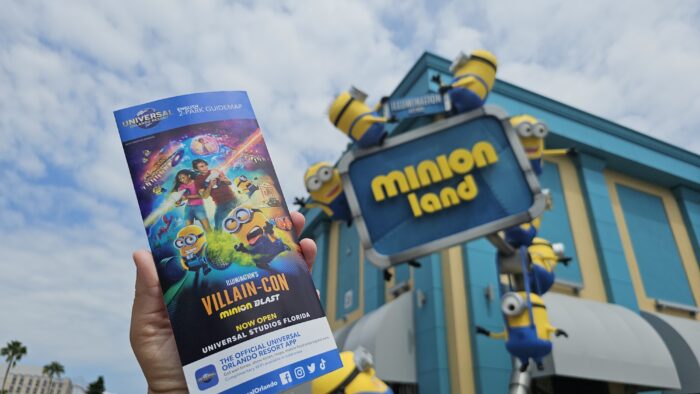 Today we are going to take a comprehensive look at Villain-Con Minion Blast and – as theme park merchandise fanatics – we're going to start off in the gift shop…
# 6 – Browsing in Evil Stuff
The gift shop for Villain-Con Minion Blast can be accessed from outside the building (that is, without having to take a spin on the ride) and is a great companion store for the gift shop located directly across the street at Despicable Me: Minion Mayhem.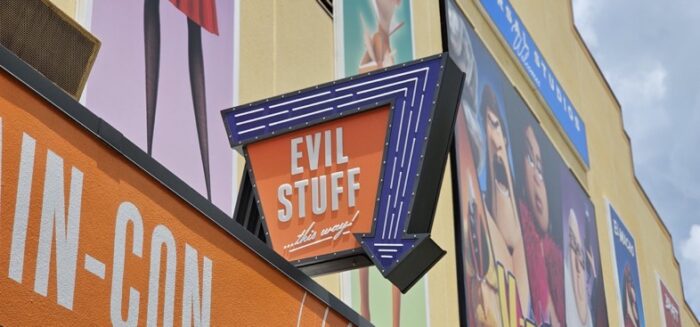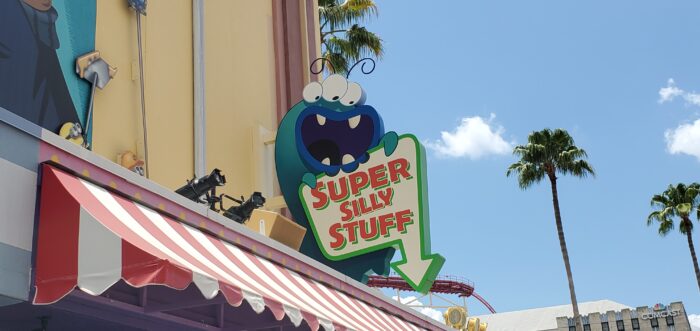 The store mannequins at Evil Stuff are dressed like fans going to conventions here in Florida, complete with lanyards and shorts.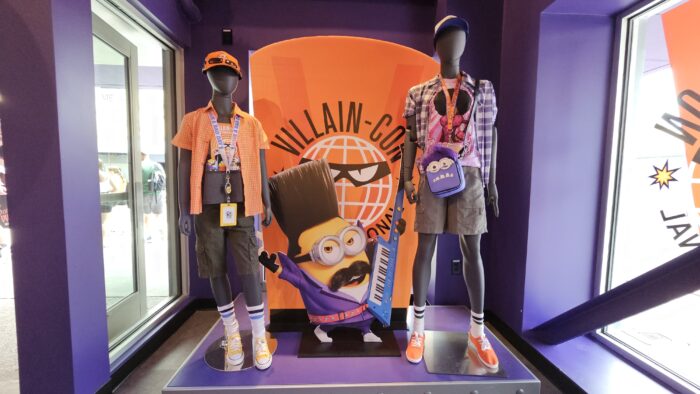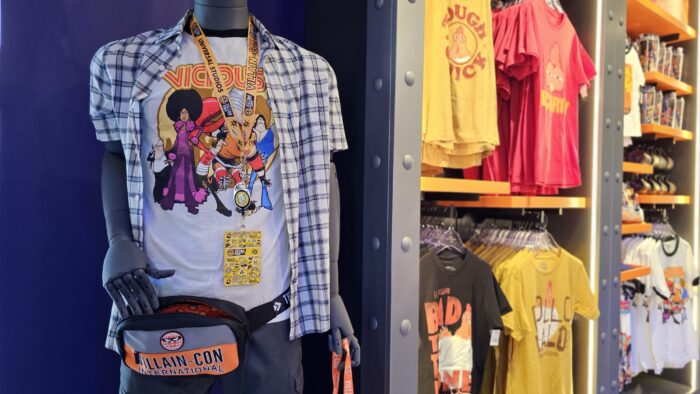 Once inside the store, you will find a metric ton of items specific to the Minion Blast attraction. This is exactly what I want to see in a theme park gift shop.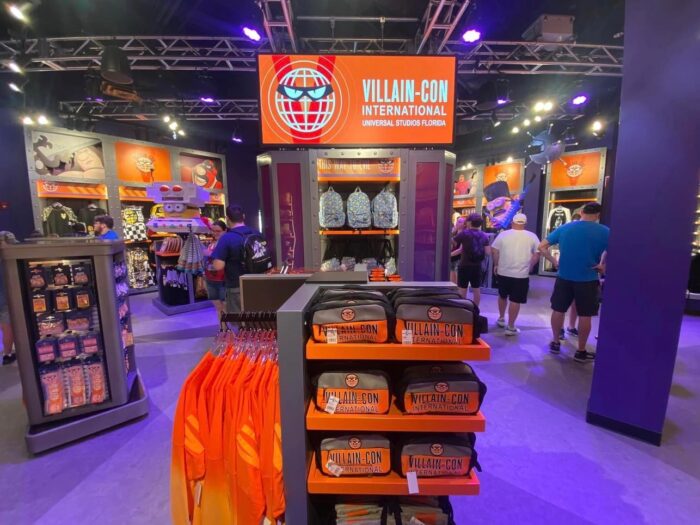 Another thing I like when it comes to theme park merchandise? Items that designate Grand Openings (or closings) at a park.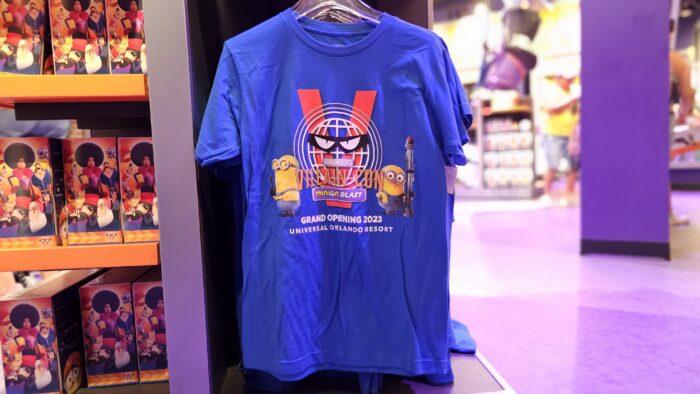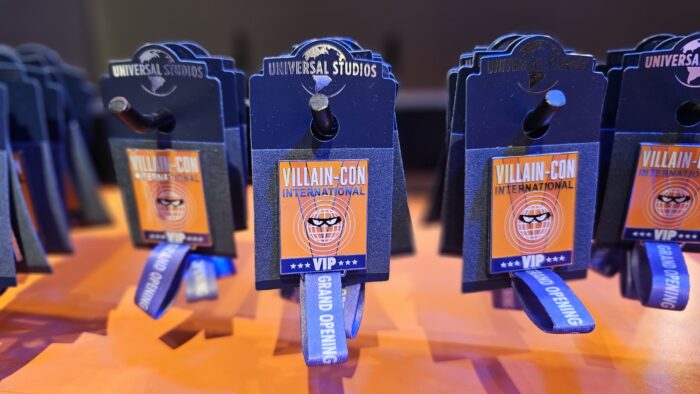 Many times the shirts made exclusively for Universal Orlando Annual Passholders are ones I would take a hard pass on, but the UOAP Villain-Con shirt is actually really good.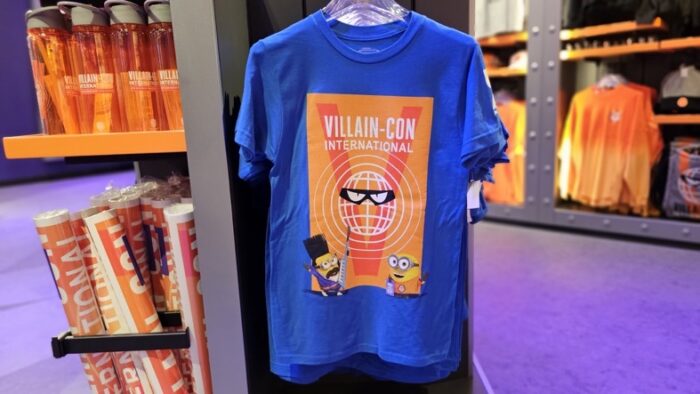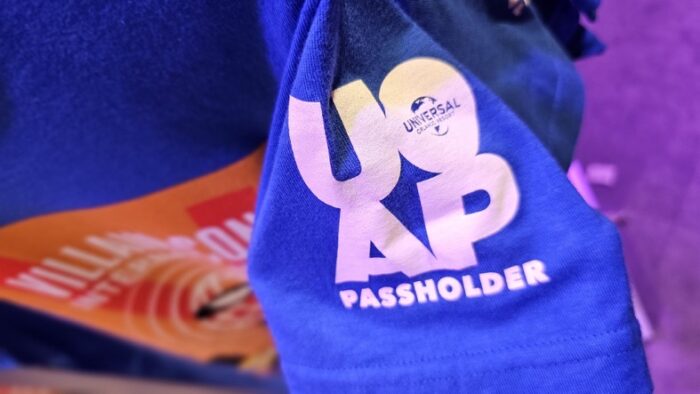 Have a favorite villain in the Despicable Me/Minions Universe? You'll most likely find an item featuring them. The overall selection of merchandise just for this attraction is shockingly large and we appreciate just how hard Universal went.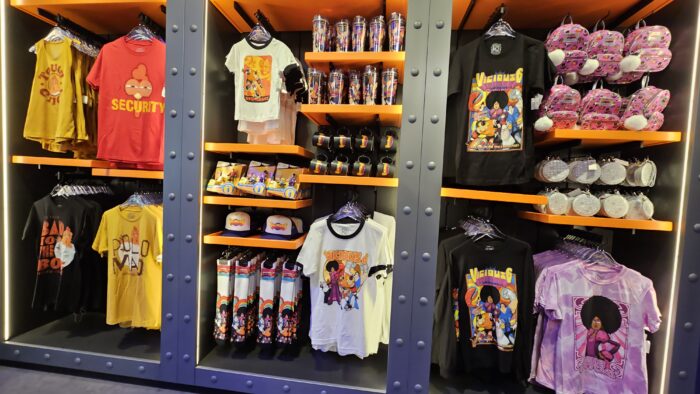 How great are these Minion plush dressed as convention goers? The top one has a foam hand for his favorite member of the Vicious 6, Jean-Clawed (this French baddie has a robotic lobster claw for an arm.)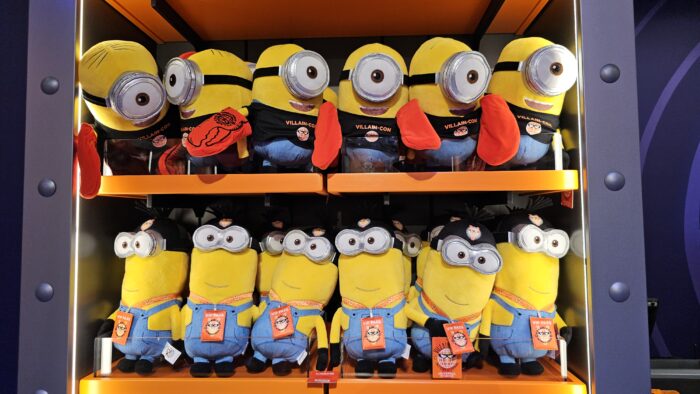 The store has Minions dressed as their favorite villains, including this guy here dressed as Vector from the original Despicable Me film.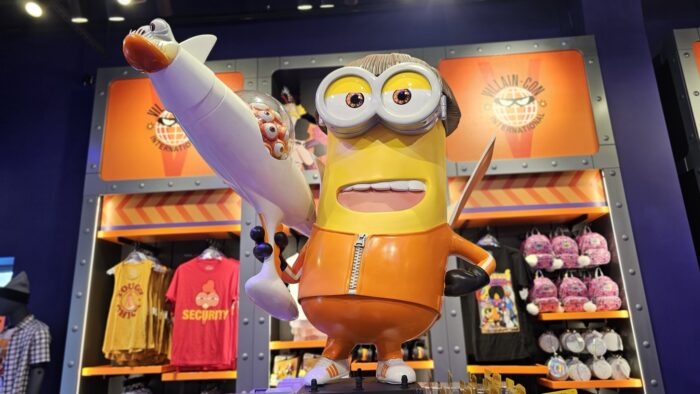 Scarlet Overkill, the main villain of the original Minions movie.
Balthazar Bratt, the villain of Despicable Me 3.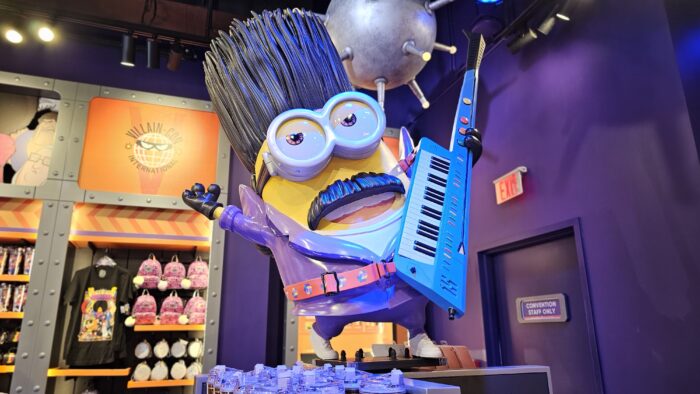 This is an E-Ticket detail, as the Minion also has a bald spot on his Balthazar Bratt wig where the actual villain has a bald spot in the movie.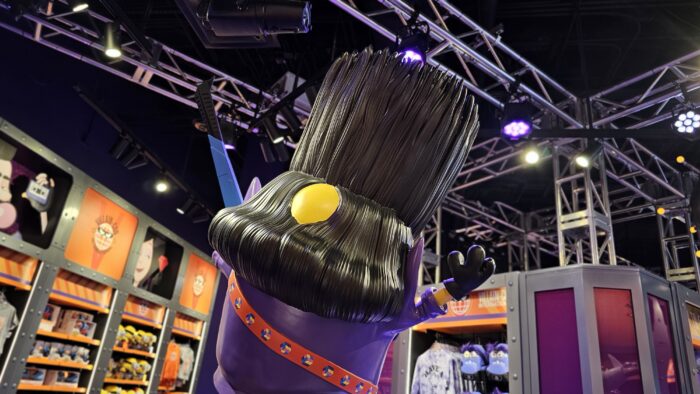 One of my favorite pieces of merch you can only get at the Evil Stuff gift shop is a personalized Secret Villain Badge.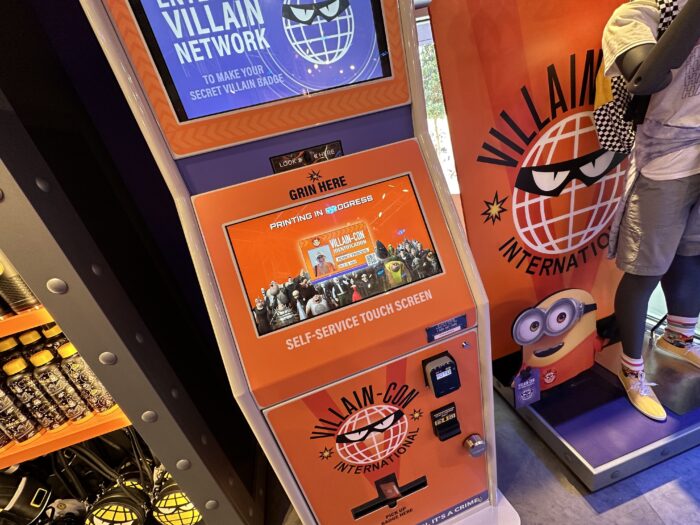 Here we have the Villain-Con Identification Card for the Permit Princess herself, Alicia Stella (who is your Go-To person when it comes to videos on the upcoming EPIC Universe, including this MUST WATCH one on the upcoming Monsters Unleashed land.)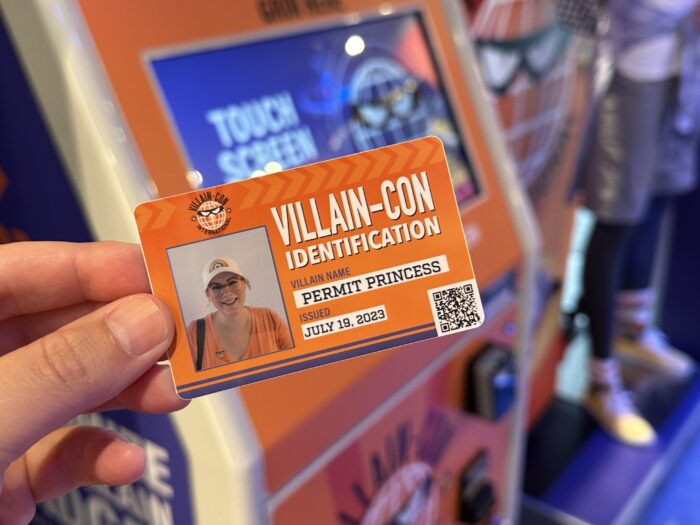 Of course, one of the most popular pieces of merchandise in the entire store will be the toy version of the E-LIMINATOR X gun that guests use during Minion Blast.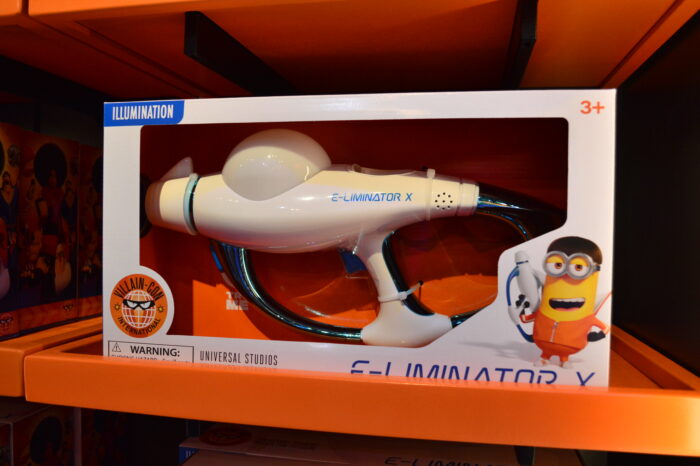 # 5 – Setting Up Villain-Con in the App
If you're planning on enjoying a game or two of Minion Blast, you may want to save yourself some time and create a Villain-Con account in the official Universal Orlando App ahead of your trip. It is completely free and there are no up-charges in the Minion Blast section of the app.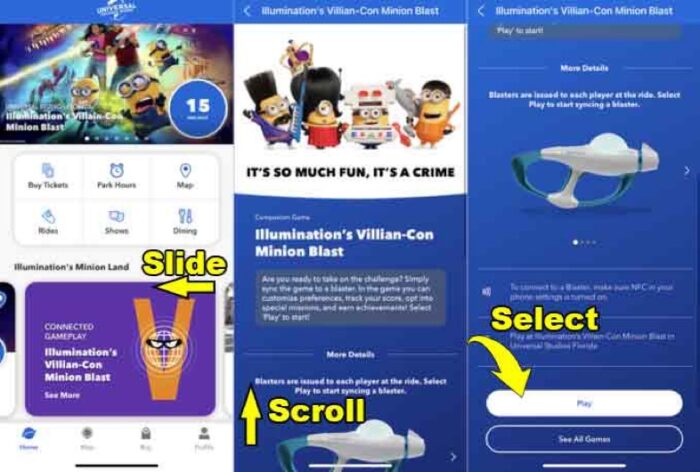 You'll notice when you first log onto the Villain-Con section you will be assigned a random name. Note in the picture below the name of PLAYER23585391. Don't worry about that because you can change it very easily. How? Glad you asked…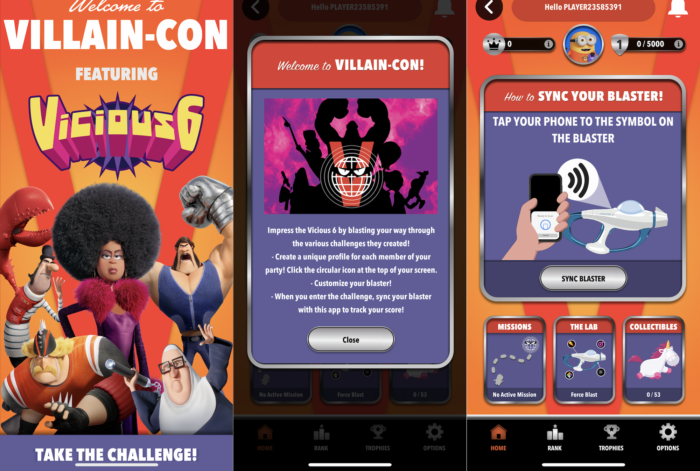 You can customize your gameplay in four different ways:
Change your name and Minion icon. Tap the Minion icon at the top middle of the screen then "Edit Player".
The Missions tab lists challenges based on collecting objects, defeating enemies, and other tasks.
The Lab customizes your blaster with unique blasters and special projectiles.
Collectibles are for collectibles! A fun checklist of items found on the ride.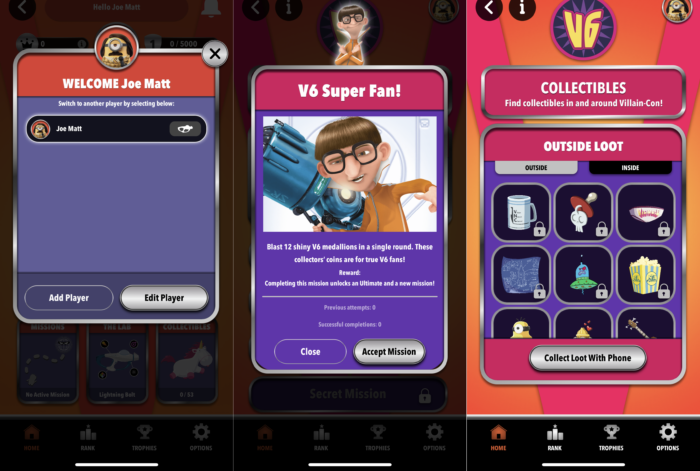 What's really cool about the Villain-Con app is that there are things to discover not only in the Minion Blast game, but within all of Minion Land! Keep your eyes open for the V6 tab (featured below) because when you find one of those you'll be able to collect items with your mobile device.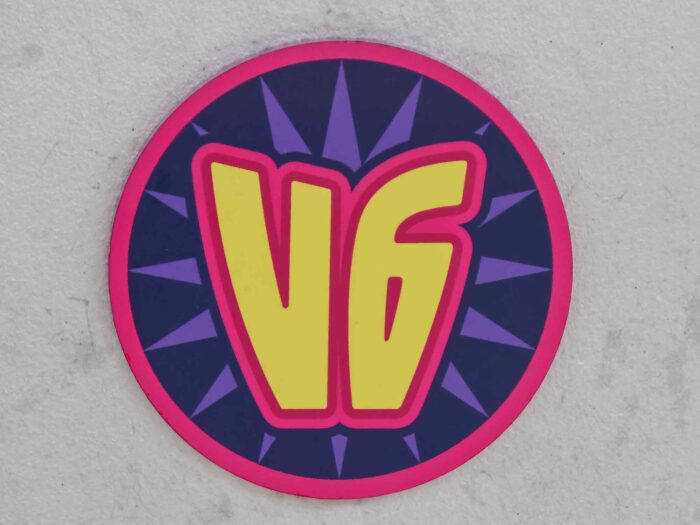 There are collectibles you can acquire by shooting certain targets in the game…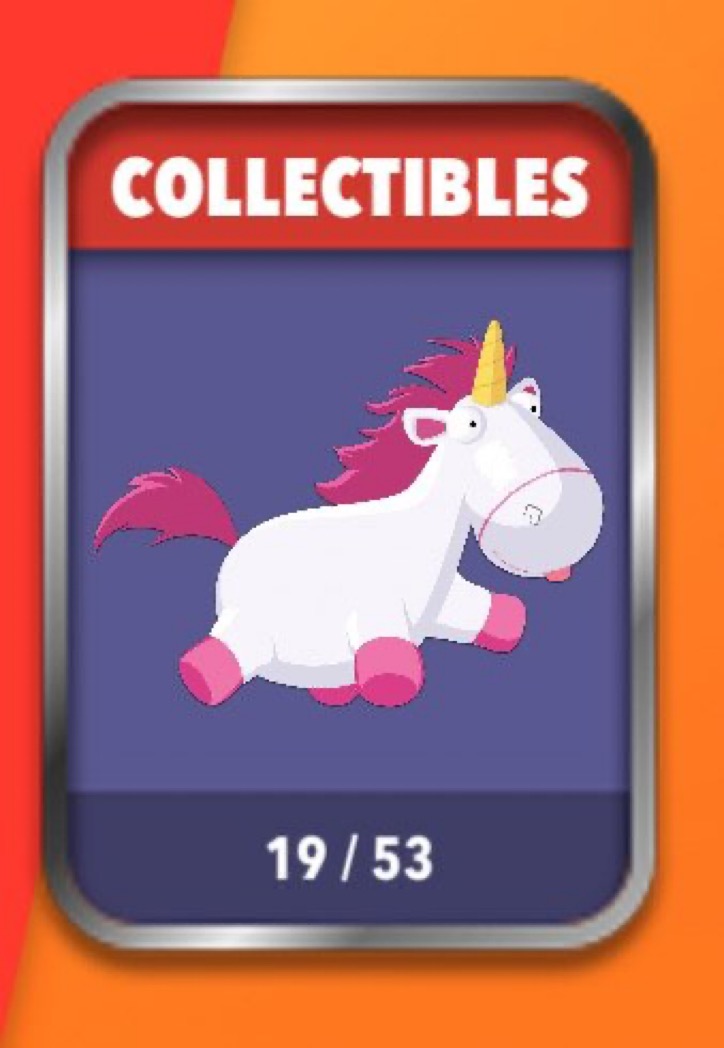 While others can be picked up throughout Minion Land, so keep your head on a swivel, both indoors and outdoors.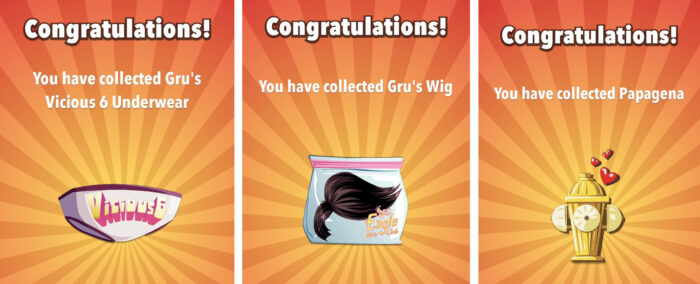 Here is my favorite part of the app and something I wish existed for all the competitive games at Universal and Disney, the Villain-Con app keeps track of all your scores!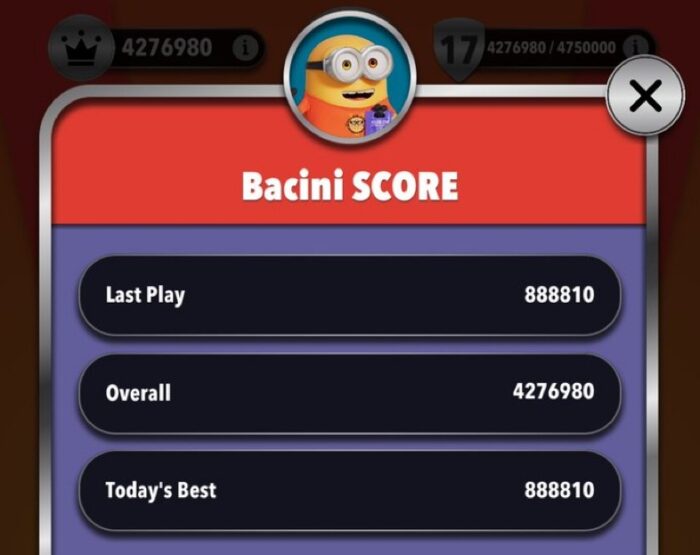 Check this out, not only will it keep track of every score you get on Minion Blast, you can also see how you did cumulatively by the day, month, and even all-time! Imagine being able to (easily) keep track of all your scores on competitive games like Toy Story Midway Mania, Buzz Lightyear's Space Ranger Spin, or MIB: Alien Attack and be able to compare them to your friends and family. You CAN do that on Minion Blast!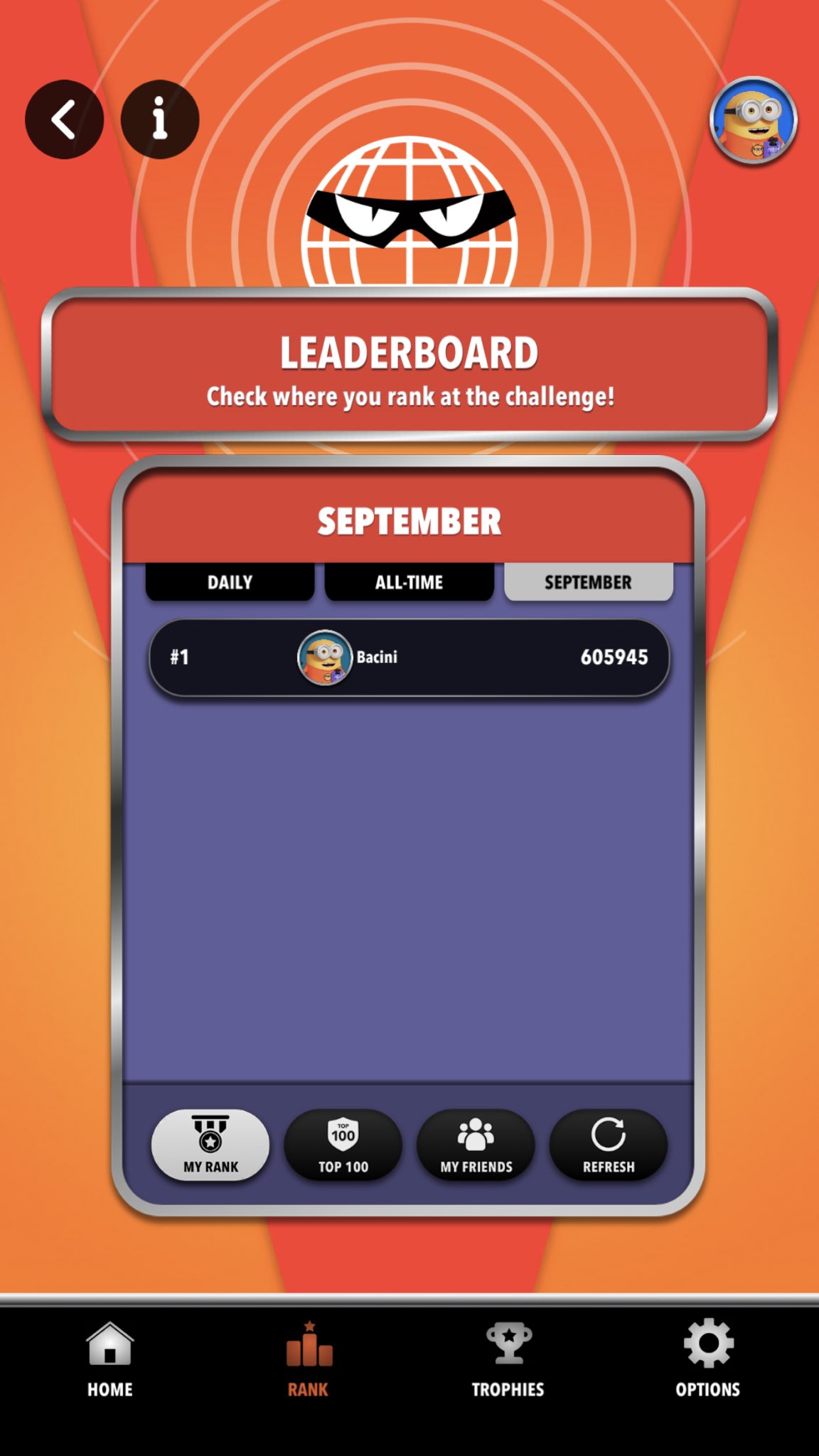 # 4 – Walking Through The Queue
Okay, so let's get ready to play Minion Blast, and we start our journey by going through the Villain-Con queue. Your mileage may vary, but as a comic book fan who has been to many conventions over the course of my life, Villain-Con does an incredible job capturing the experience of visiting a con and seeing the various vendors. With, of course, some Villain-appropriate modifications.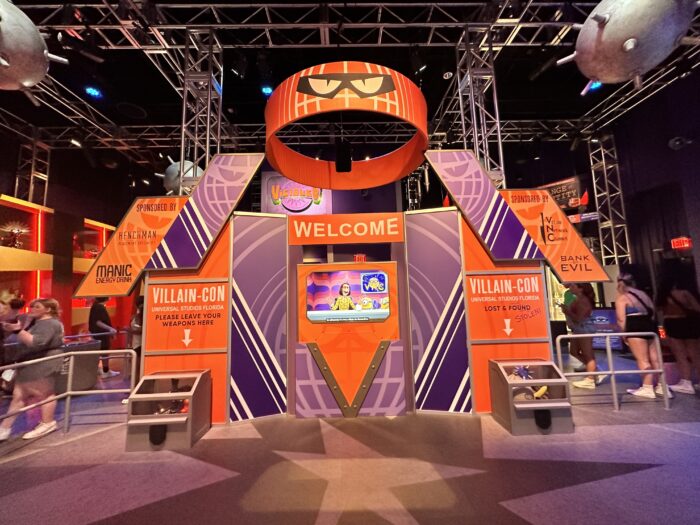 Normal cons have security bag checks and metal detectors, while Villain-Con has more of an "honor system" and allows the baddies to leave their weapons up front.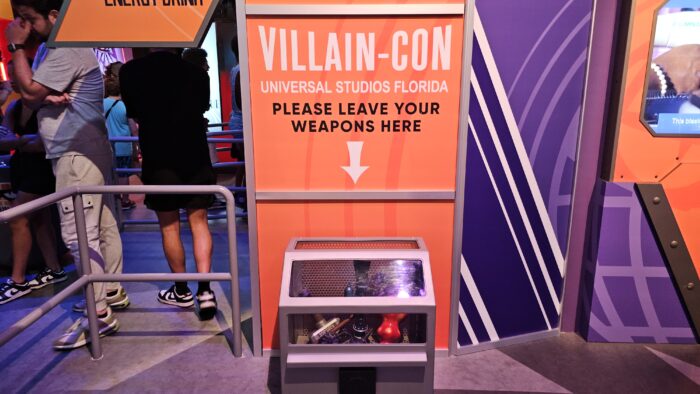 Lost & Found section has been appropriately renamed the Lost & Stolen section.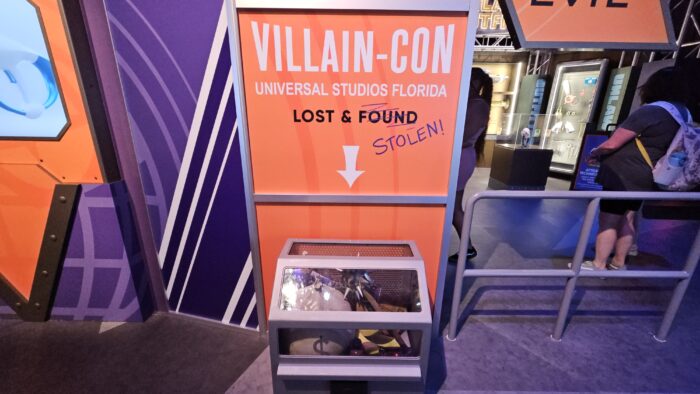 The Villain-Con information booth gives details on faux events happening at the convention, including a seminar titled BAD BUSINESS: A MONEY LAUNDERING WORKSHOP, which is surely a presentation on NFTs and Crypto that teaches aspiring villains how to "build."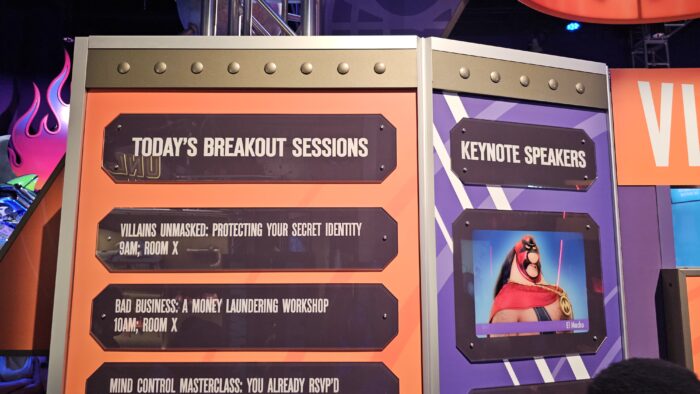 Have to love this Villian-Con map, which is just like every comic convention map I've ever seen. Lots of details to find, but my absolute favorite is a section right in the middle labeled Con-Artist's Alley. I don't care who you are, that's funny.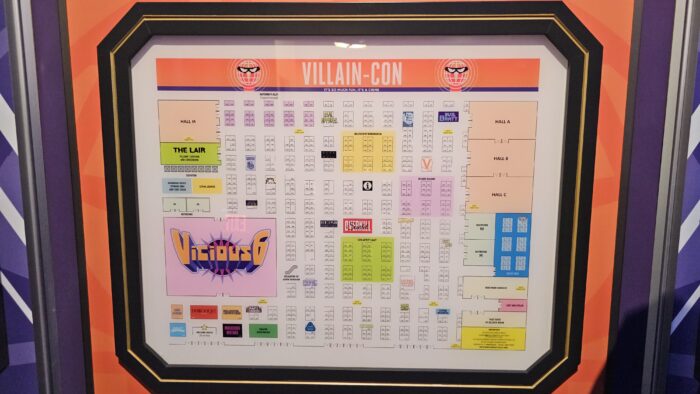 The bulletin board has a ton of great material to check out, including an ad for the Villain-Con Cosplay Contest, which is why all the Minions are dressed up. You'll notice that at the top of the Cosplay Contest ad there are some Universal icons in the artwork including my beloved Volcano Bay.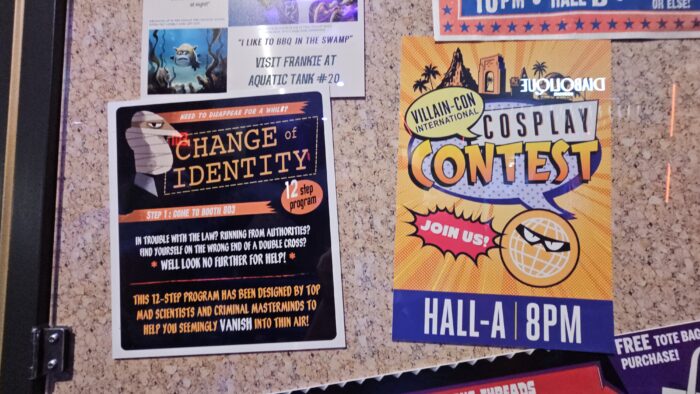 As you make your way through the queue you will come across booths set up by various villainous companies, such as Malicious Motors specializing in getaway vehicles.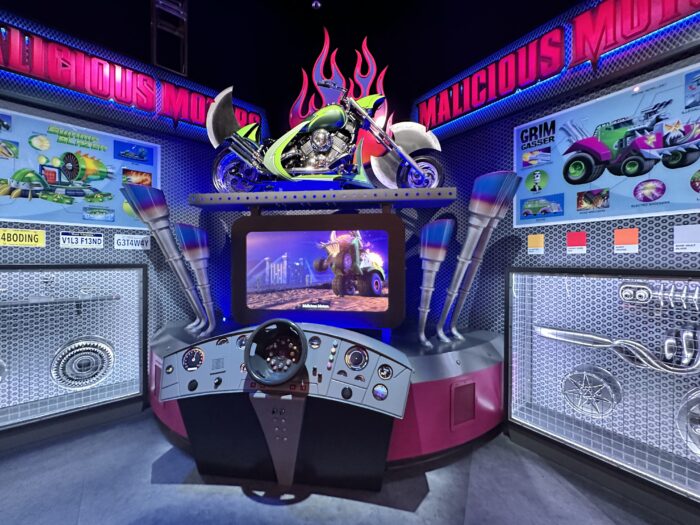 What kid wouldn't want to see this bike in real life? Now that's cool.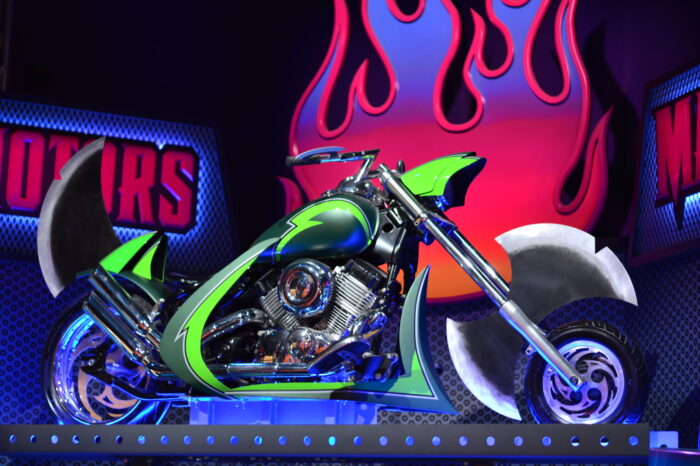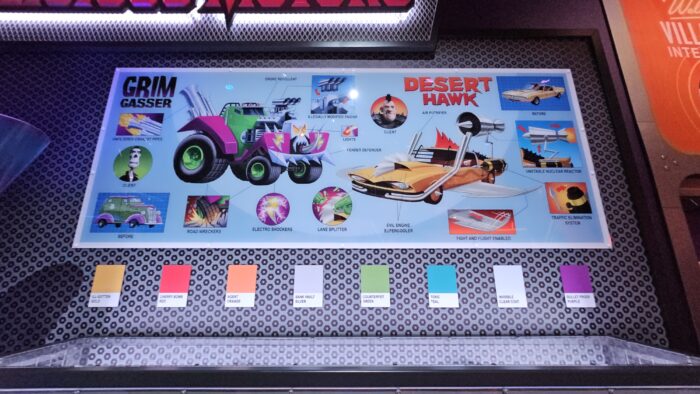 There's a fun video to watch that promotes Malicious Motors with all-new animation, including some super fun gags that include a fully decked-out RV for villains that includes, among other things, an actual tiger.
The next booth we come across is Unlawful Outfitters, which is trying to sell our favorite villains the latest in weapons and identity concealment.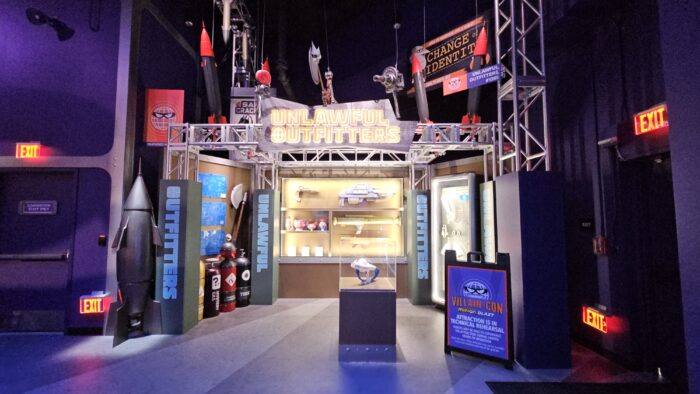 I'm a sucker for blueprints, and Unlawful Outfitters has some really neat ones featuring references to events from the Minions movies.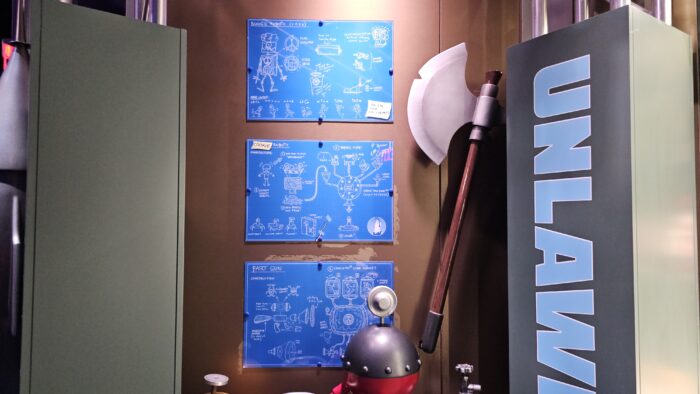 For example, the Boogie Robots were created in the original Despicable Me film when Dr. Nefarious misheard directions to build Cookie Robots.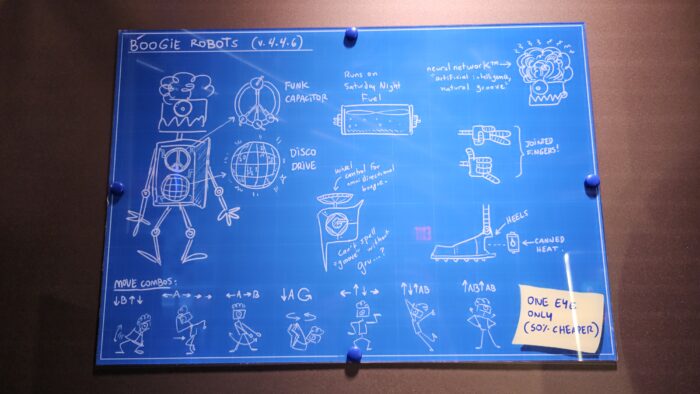 Speaking of Cookie Bots… we not only get to see the blueprints for them, but a prototype box.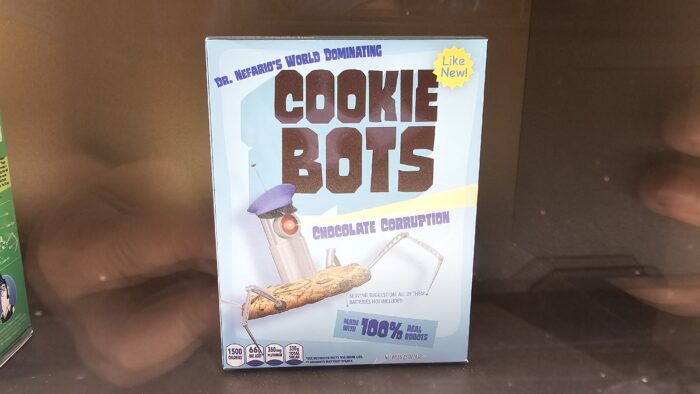 Ski-masks for cartoon character villains.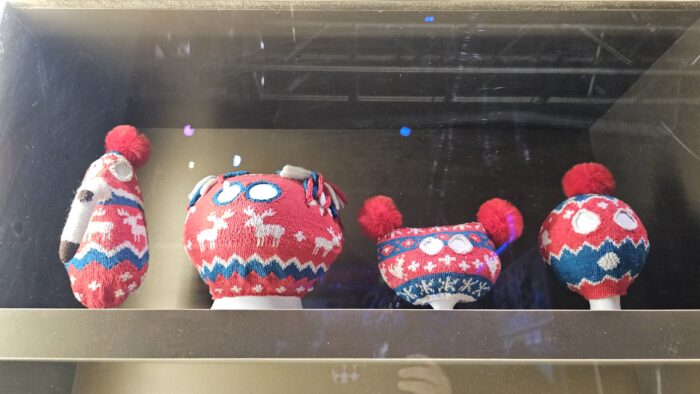 My personal favorite booth was Corrupt Companions, which focuses on evil pets. This is next-level genius.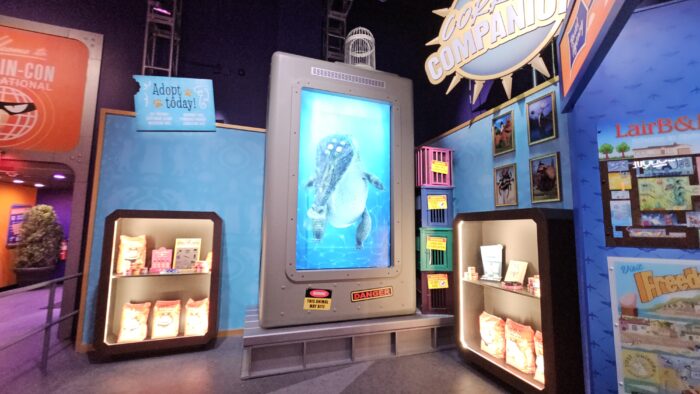 The alligator in the "tank" is a video that is just fantastic, you can check it out in the clip below.
Pet food for evil pets. How incredible is this?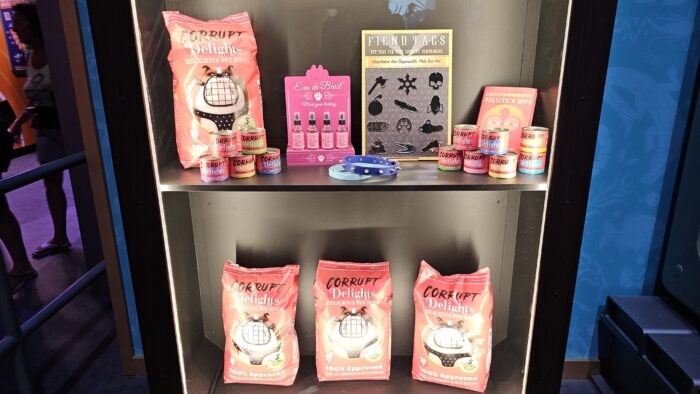 I mean c'mon, food for scorpions, bats, and vultures? Just wonderful stuff here.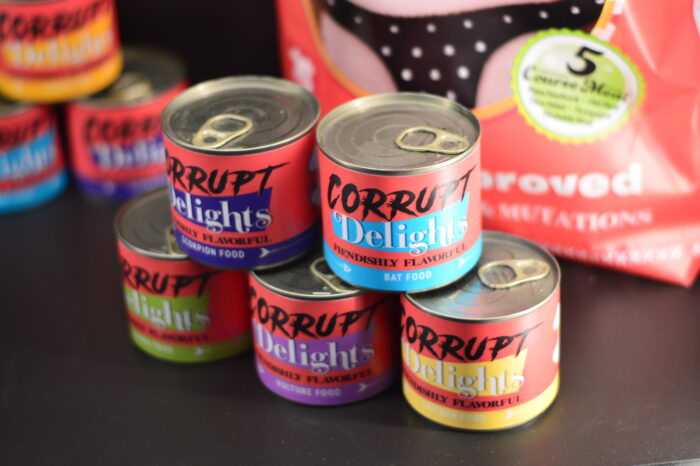 The perfume's tagline is Mark Your Territory while the pet tags say Henchmen Are Disposable, Pets are Not.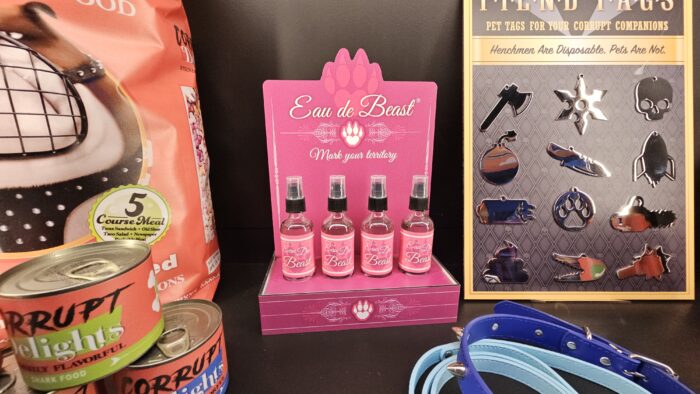 Devious Destinations is a booth set up for an Evil Travel Agency. This is just fantastic.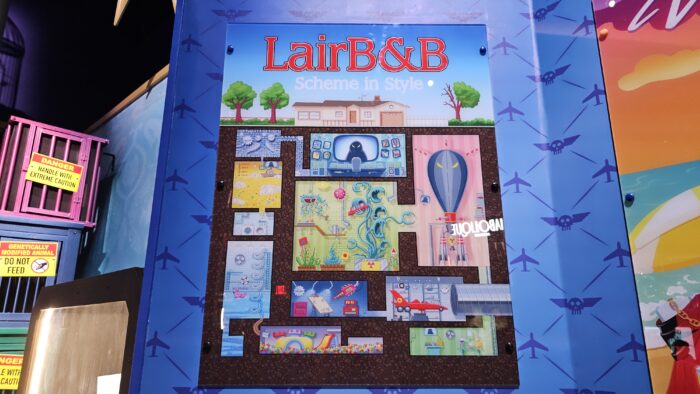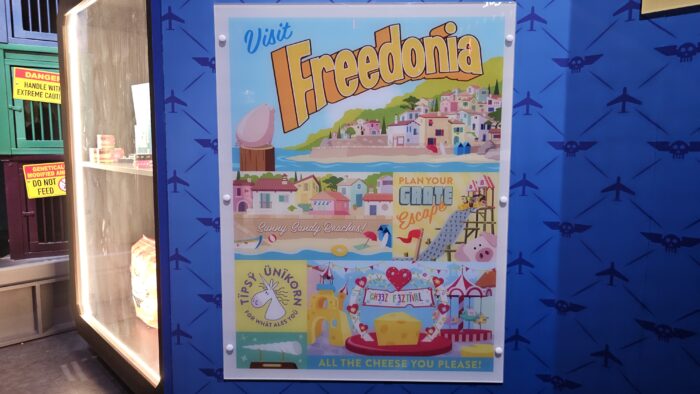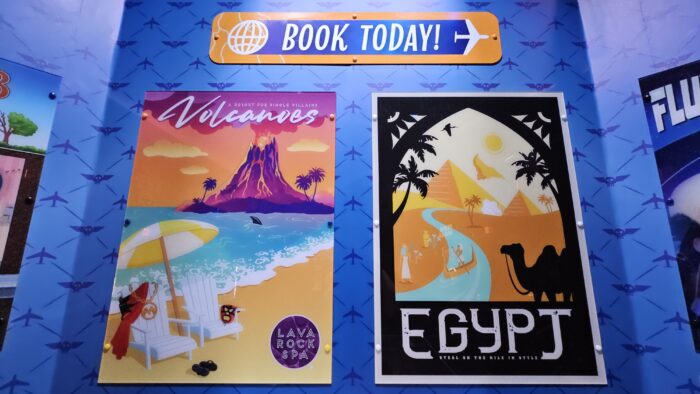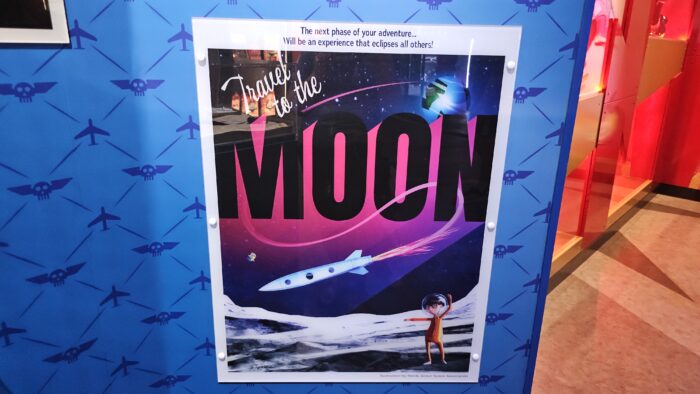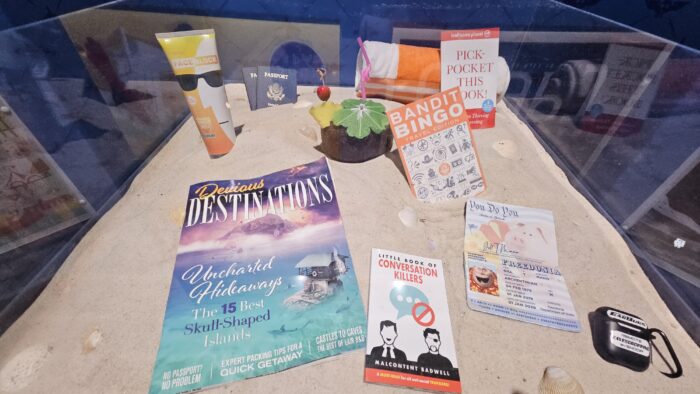 Our last vendor is Diabolique Boutique, focusing on evil fashion.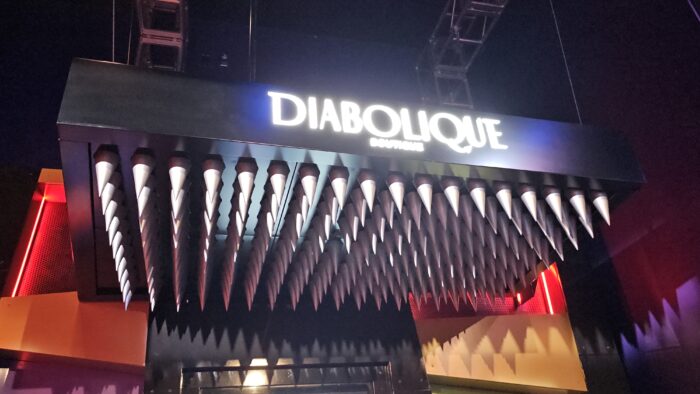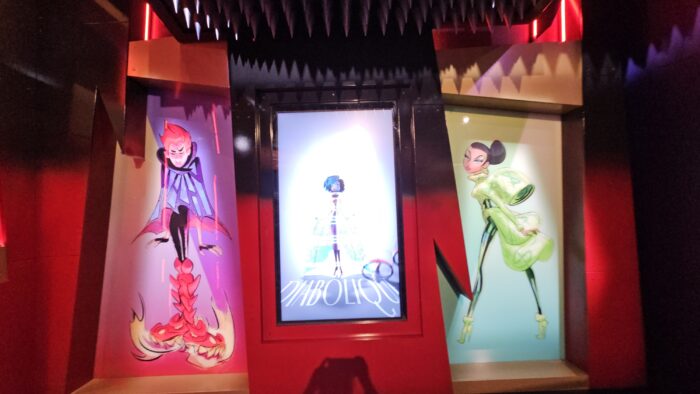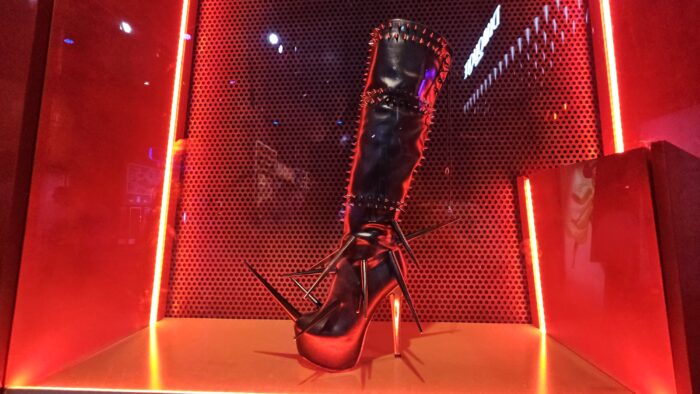 # 3 – Finding References to Old Attractions
We mentioned earlier that Villain-Con Minion Blast Replaced Shrek 4D and while we haven't found any references to Shrek in Villain-Con, we have found several references to the attraction which Shrek 4D replaced – Alfred Hitchcock: The Art of Making Movies.
An opening day attraction with the park, Alfred Hitchcock: The Art of Making Movies gave guests a behind-the-scenes look at how some of the most iconic movies in Hollywood history were filmed. One of Alfred Hitchcock's most famous films was the movie Psycho. The main character of Psycho was named Norman Bates, who you can see listed as a Villain-Con presenter in the queue.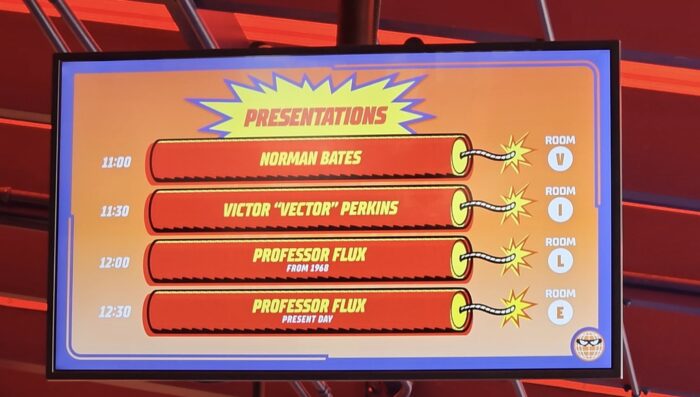 We try to avoid spoilers here in the SAT SIX, but to be fair the movie Psycho came out in 1960 and enough time has probably passed to go over a major plot point from the film. At times in the movie, the character of Norman Bates speaks in his mother's voice and even dresses as his mother, although we find out late in the film that his mother has been dead for many years. In the queue for Villain-Con Minion Blast, you'll see an advertisement for a Cosplay Contest, and in the ad there is a character in a stroller who is dressed up as Norman Bates-as-his-mother. The character is even brandishing a knife, referencing one of the most well known horror sequences in the history of cinema. As a bonus, you'll also see a reference to Jaws right below!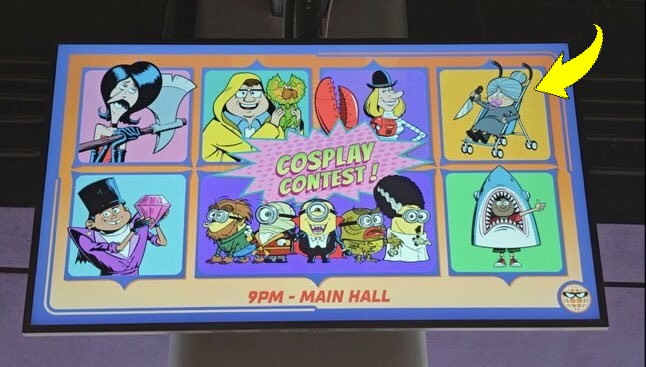 Over in Malicious Motors, there are a couple of good Easter eggs in the various displays you see on this dashboard.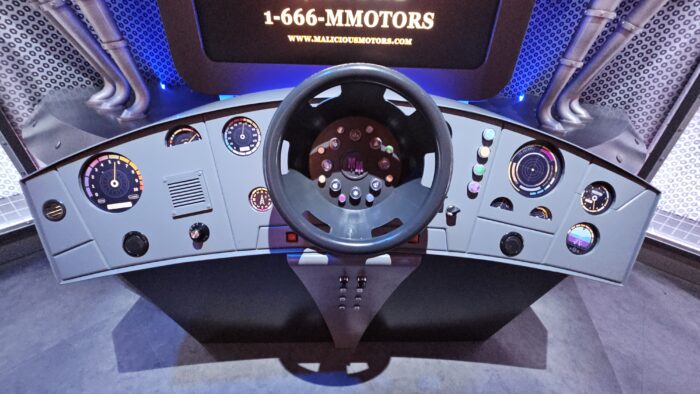 Our favorite? The speedometer reads 67.90MPH. 6/7/90 is the date that Universal Studios Florida officially opened.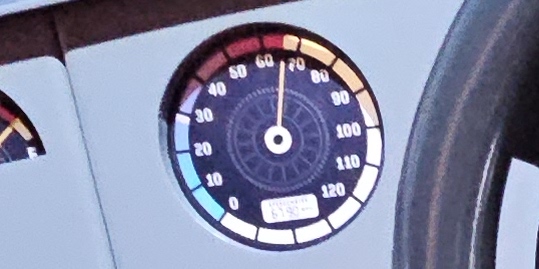 # 2 – Time to play Minion Blast!
We're out of the queue, and now we're grabbing our E-LIMINATOR X gun to play Minion Blast!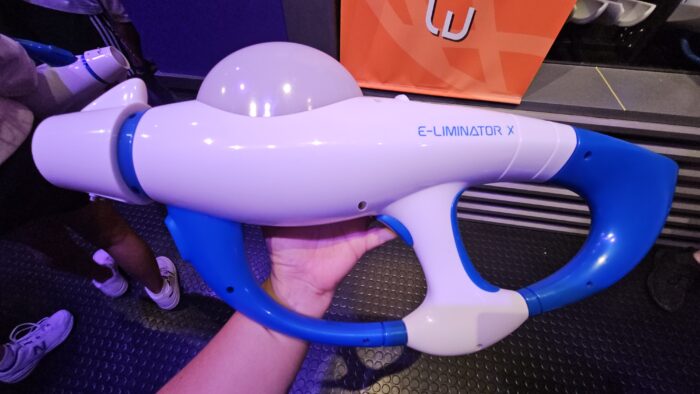 A quick look at the rules. Here is where we find that what you'll "get" for your top score is a chance to join the Vicious 6 as their newest member.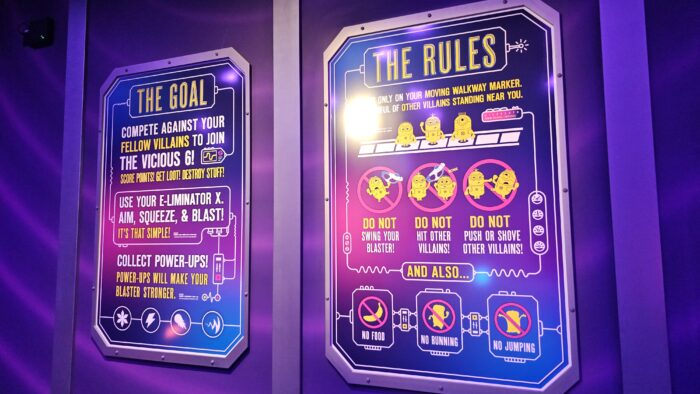 In a stroke of genius, the blasters sync to your phone using near-field communication (NFC) technology, and at this point you'll want to sync your blaster with your app.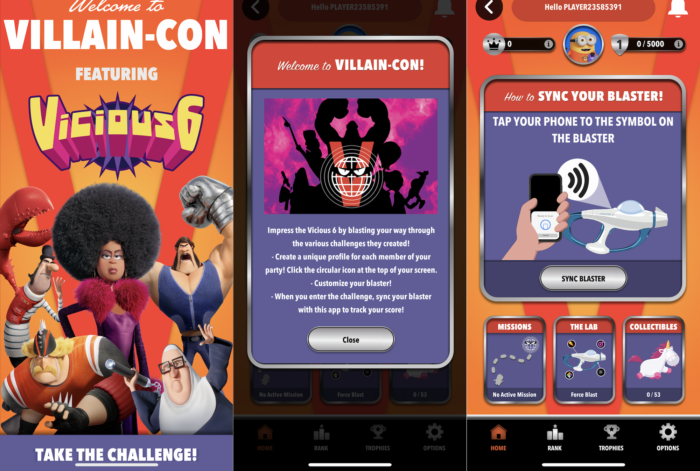 Guests score points by blasting loot, villains, and Minions seen on large screens throughout the attraction. Aiming is done using a colored circle on the giant screens, check the screen on your blaster to see which specific reticle (target marker) is yours. If you lose track of your blaster reticle aim towards the bottom corner of the screen to find it again.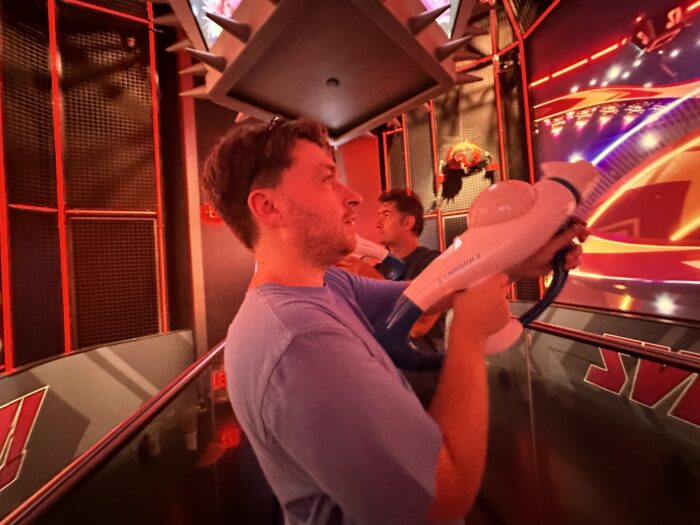 Villain-Con foregoes ride vehicles as guests are whisked around on articulated moving walkways. If you've ever dreamed of riding on those flat baggage carousels at the airport, this is your chance. Guests are staggered on dots on the walkway and told not to move around as this will cause issues with the blasters. Glass barriers and metal handrails separate guests from the show scenes and lets Minions of all shapes and sizes participate. While the moving walkway opens up more guests to ride-like experiences, there are trade-offs – guests must stand unless they are in a wheelchair.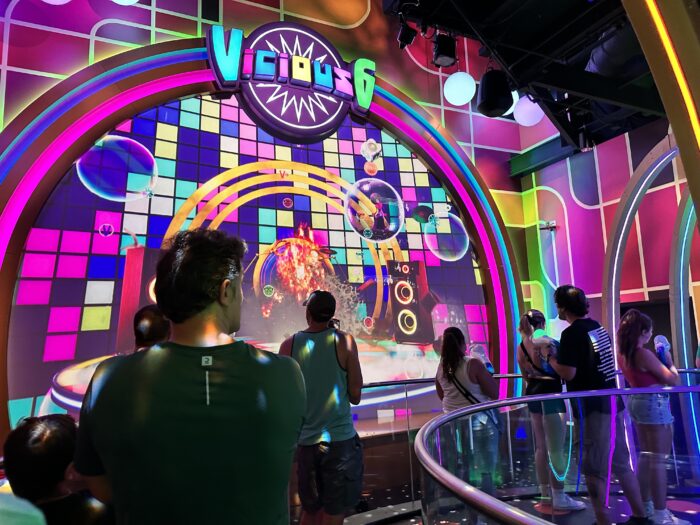 Each room is set in a location having high infiltration potential, with one of the Vicious 6 super villains causing mischief. You'll find Stronghold in a museum, Jean Clawed in a giant aquarium, and Belle Bottom at a disco. The ride itself lacks much of a story or plot but instead focuses on going from room to room witnessing various vignettes, gags, and mayhem. While the rooms are chaotic, they are bright and colorful and should not be too scary for kids.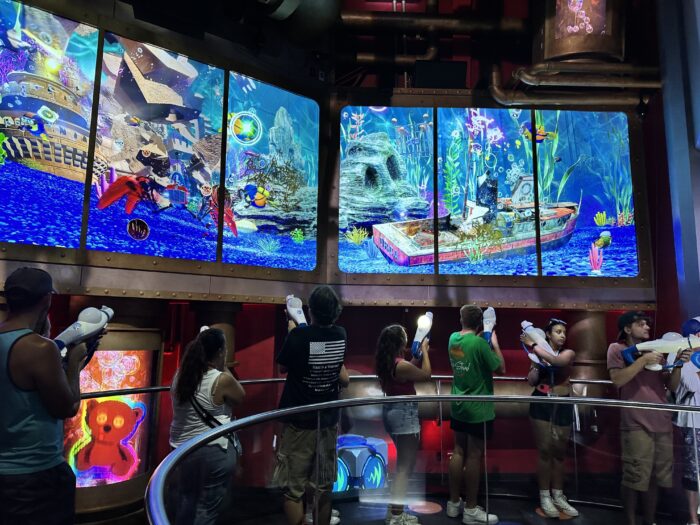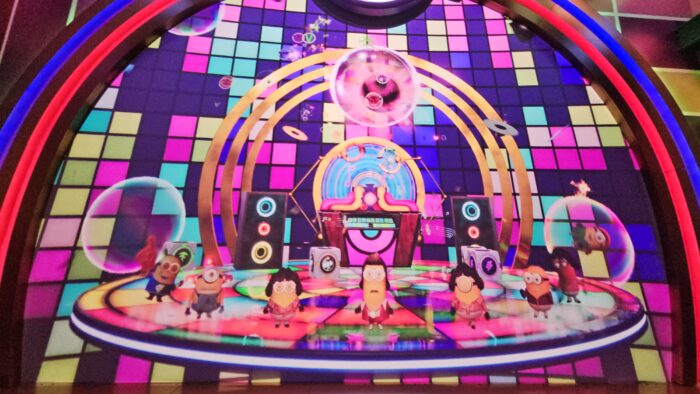 The finale of Minion Blast is one of the greatest things I have seen in any theme park as the battle takes place at the Universal Orlando Resort itself and we see the famous icons for Volcano Bay, Islands of Adventure, and Universal Studios Florida. Even better, we also have Toothsome Chocolate Emporium!! In my wildest dreams, I could not imagine a better room for me to be blasting away at villains in.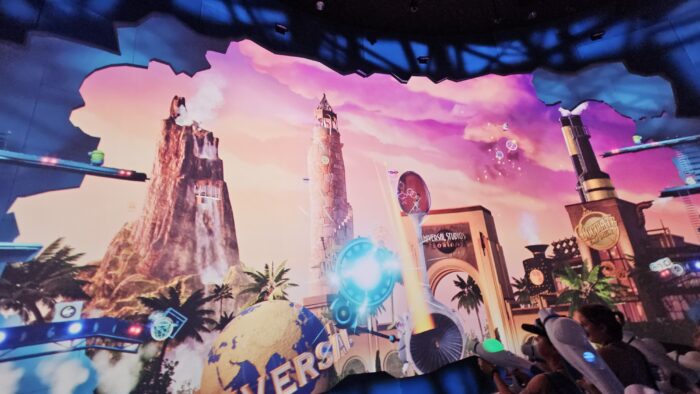 Indescribably beautiful.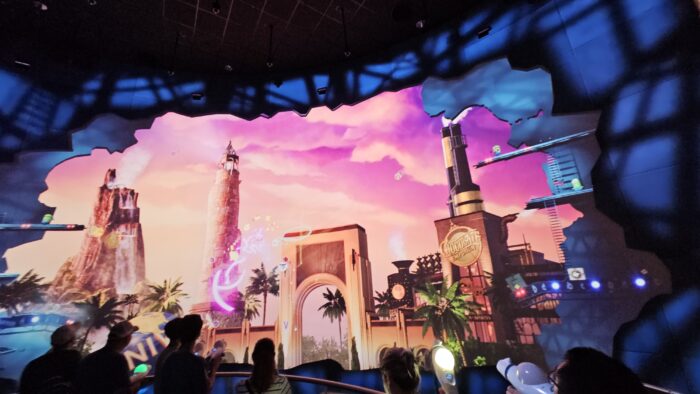 For your first game or two of Minion Blast you may just want to use the standard options pre-set on the E-LIMINATOR X gun, but the Villain-Con app has many options you will be able to play around with over time, some of which are unlocked through high scores in the game itself.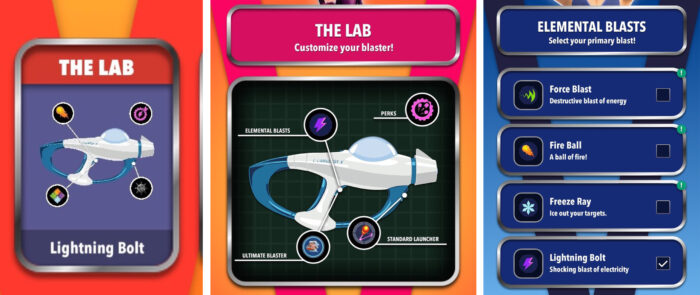 # 1 –  Checking The Leaderboard
We've all played competitive games at the parks which show our scores relative to the ride vehicles we are in, but Minion Blast takes it up a notch and has a running display of the Top 30 Scores of the day.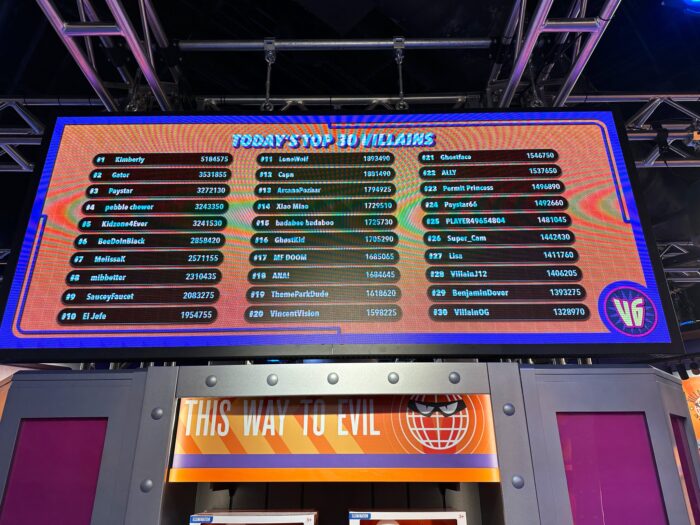 Here we have the Permit Princess herself showing up at #23 on the Leaderboard.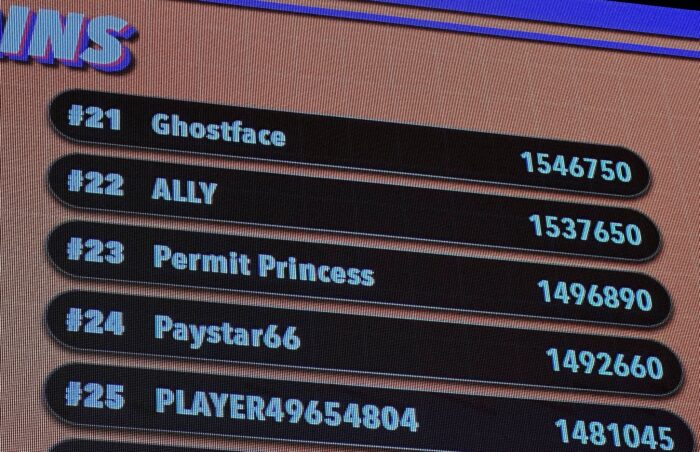 Here's where things get really cool. Let's look at another Leaderboard featuring the score of Bacini, the official dog of DisTwitter.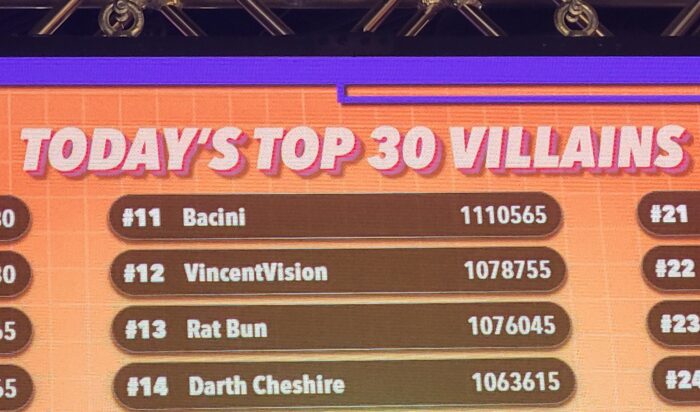 The exact same Leaderboard will show up in your app!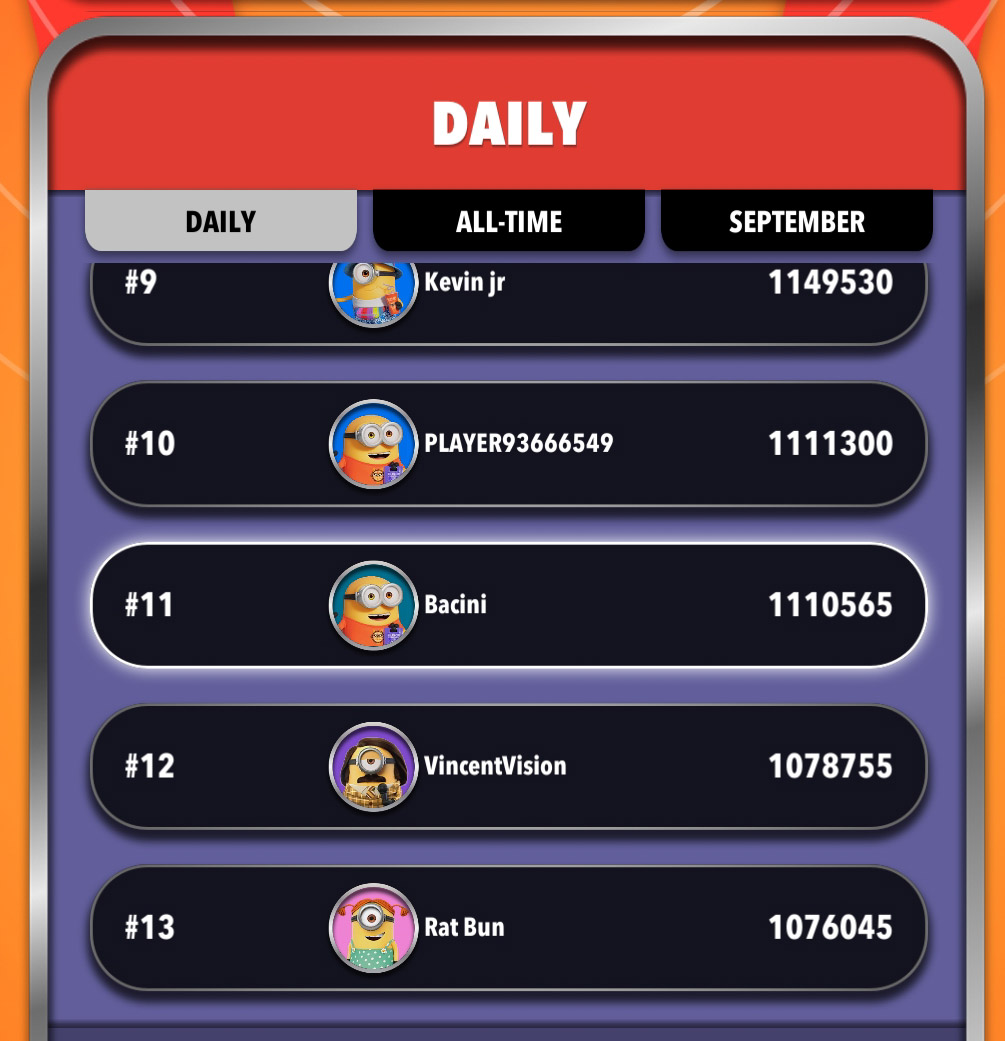 In the app you can also check your cumulative score for the current month. This will include all the Minion Blast games you have played.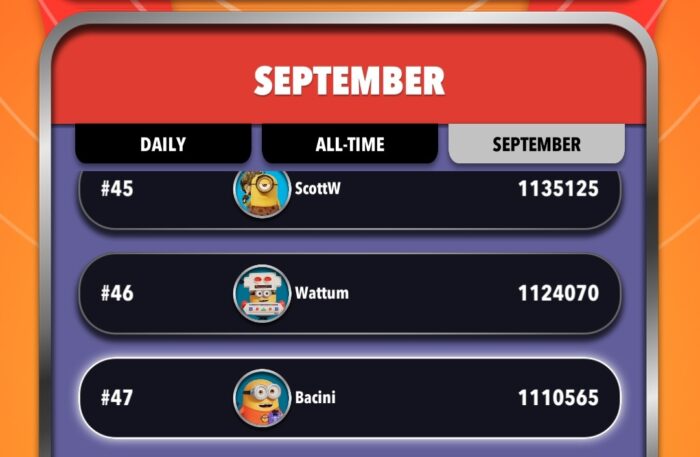 Even better still? The app keeps track of all the games you've ever played and can show your overall ranking!!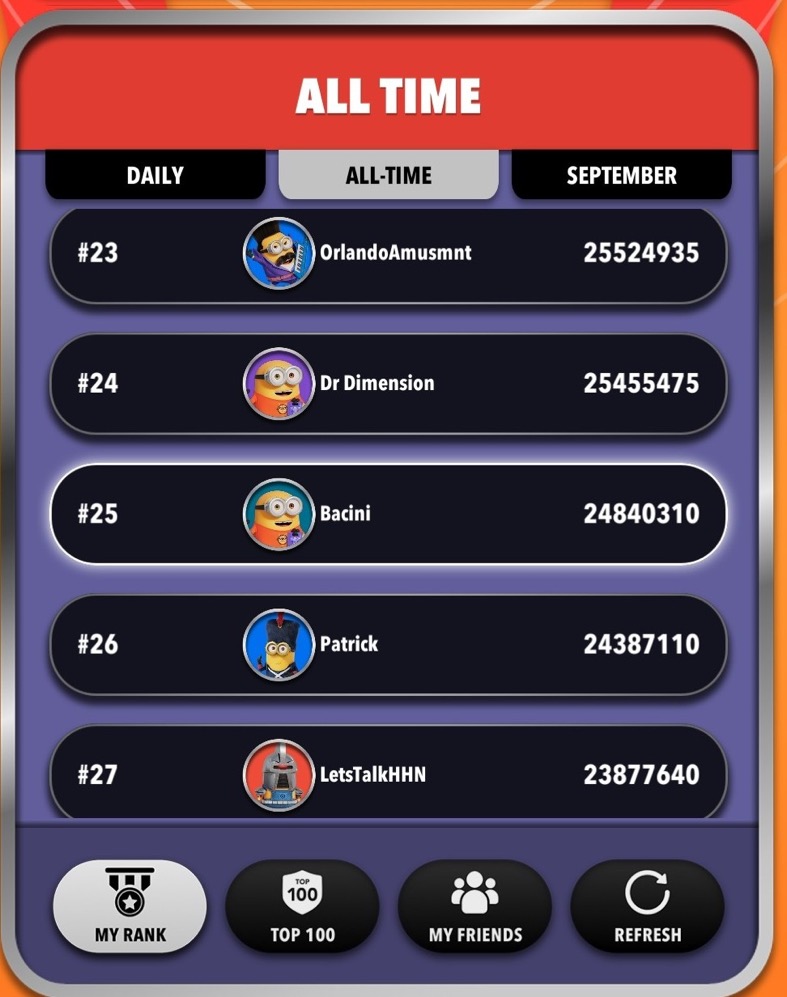 Here's where things get REALLY cool. In the Villian-Con app, you have the option to FOLLOW OTHER PLAYERS.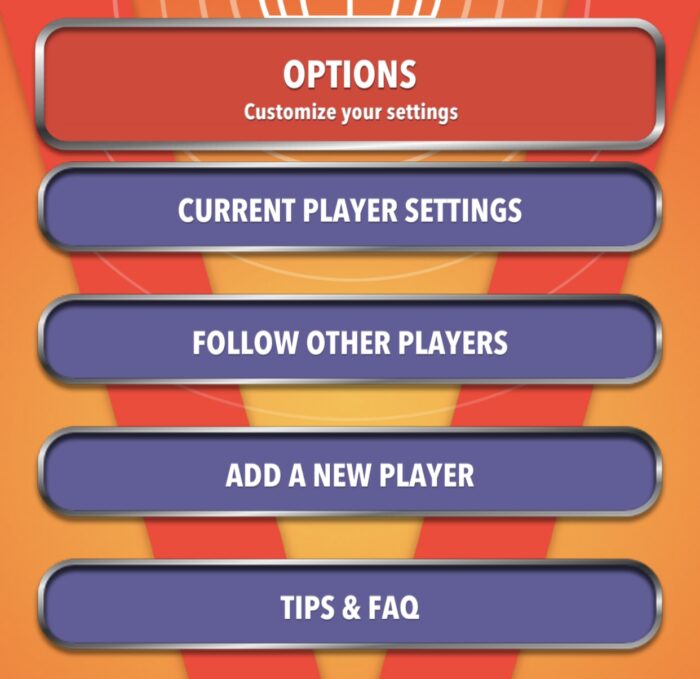 On the various leaderboards in the app you can click on click on any name and it will ask if you want to follow that player. So we'll just pick a name at random by going through the September leader board until we see a name that catches our eye…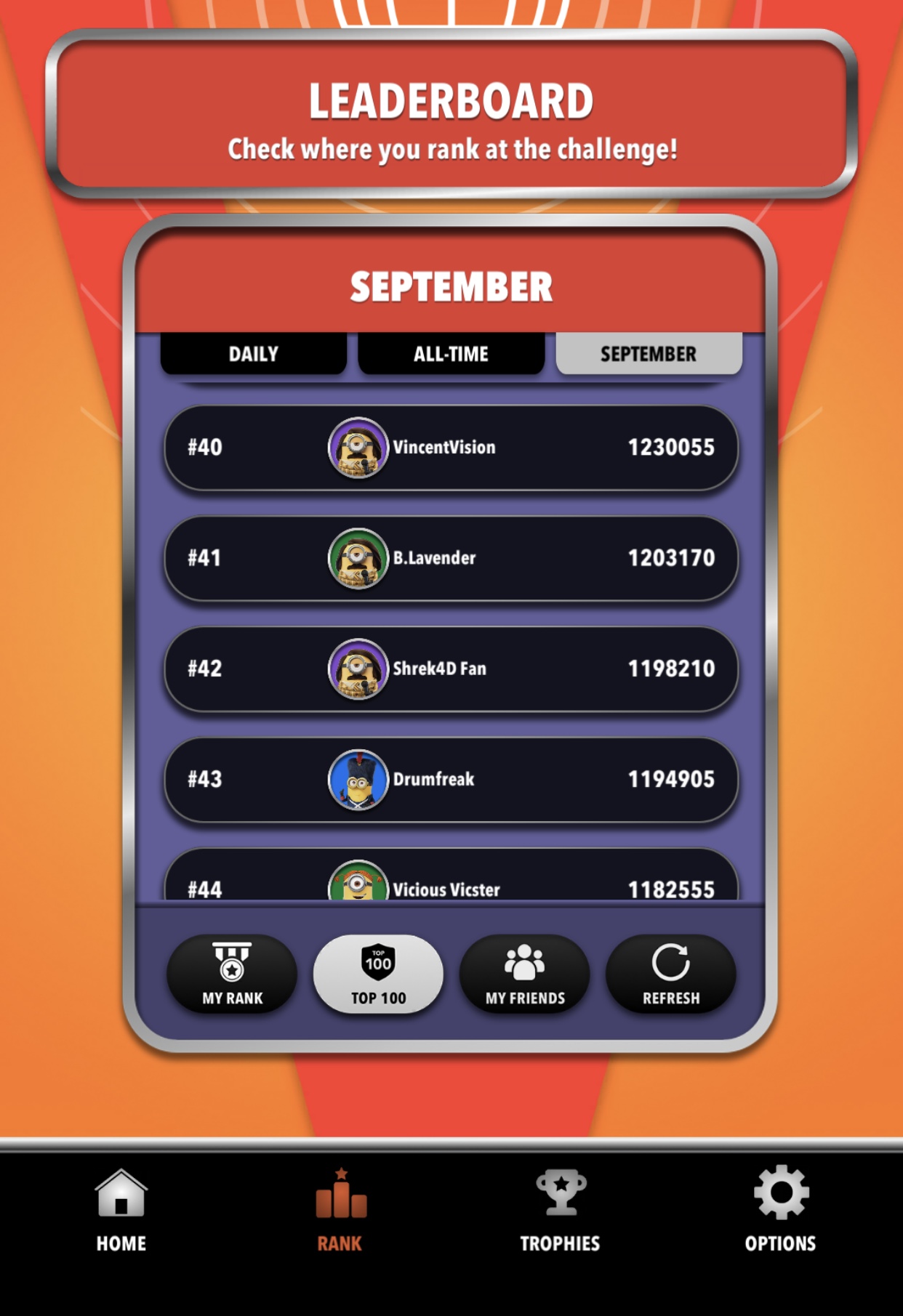 …now this sounds like a person I'd get along with!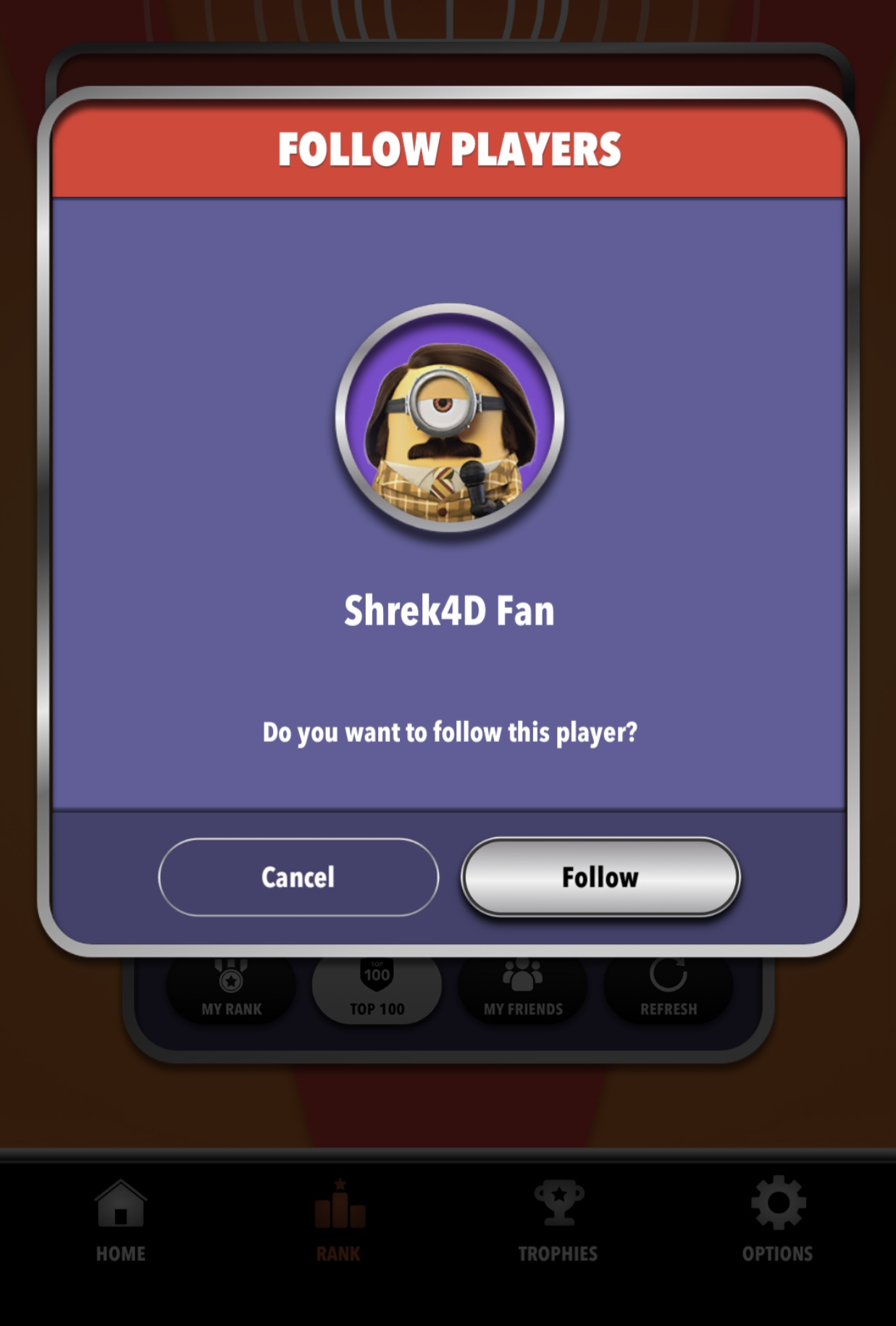 You can also manually type in any player's name to search for them as well.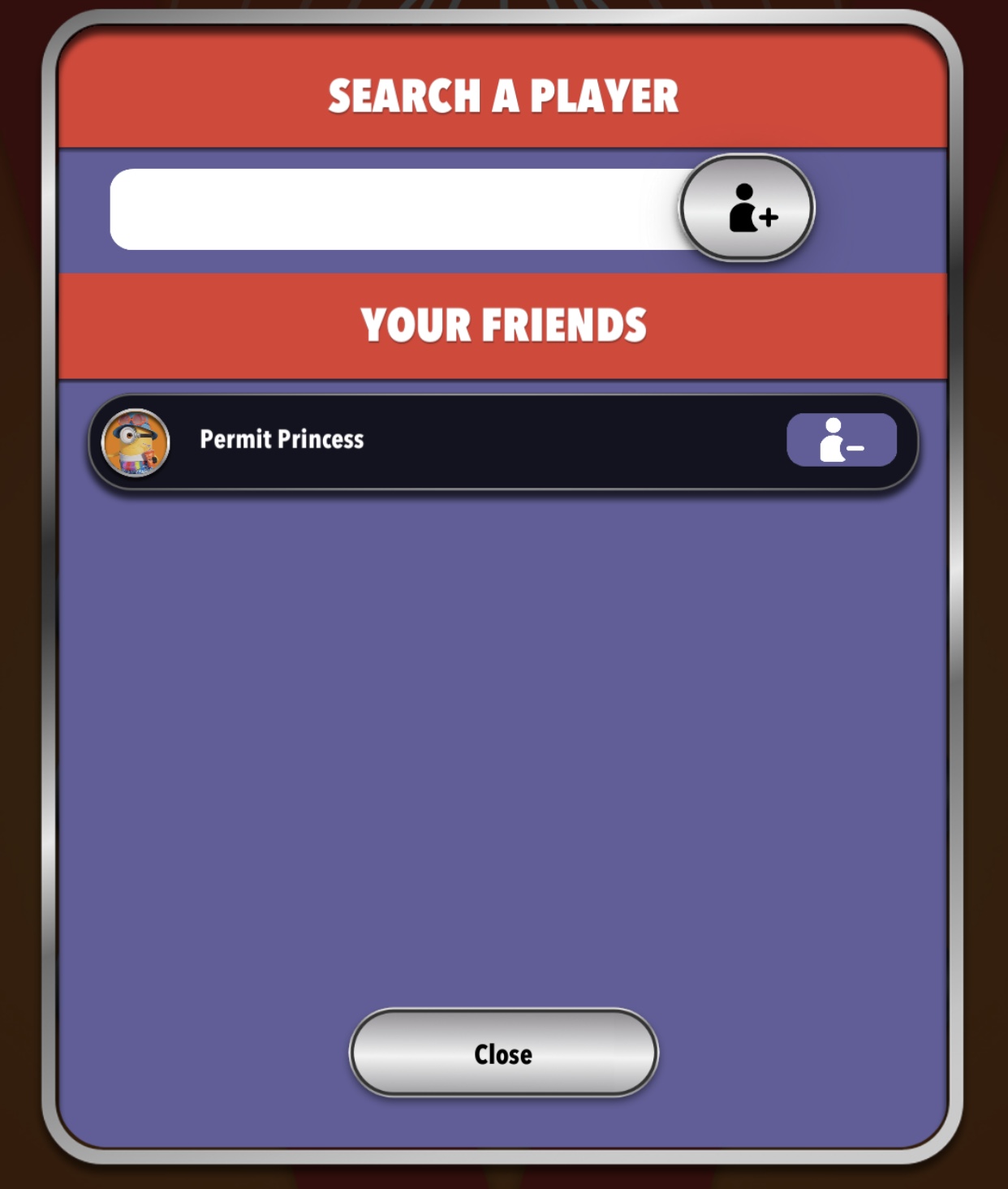 The app keeps track of you and all the players you follow. In this list you can see your "private" leaderboard ranking against just your followees, instead of against everyone who ever played the game.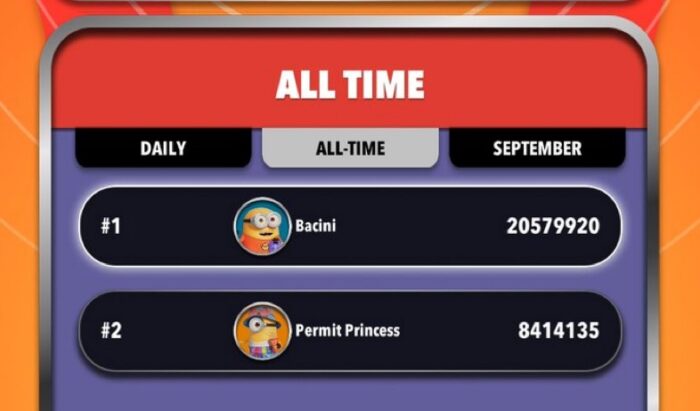 Before we go, I do have to point out my absolute favorite sign in Villain-Con. This is the one that you see right after you drop off your E-LIMINATOR X gun and make your way to the gift shop. It is a poster that credits the various works of art that are referenced/parodied in Villain-Con. But if you check out the note at the bottom of the poster…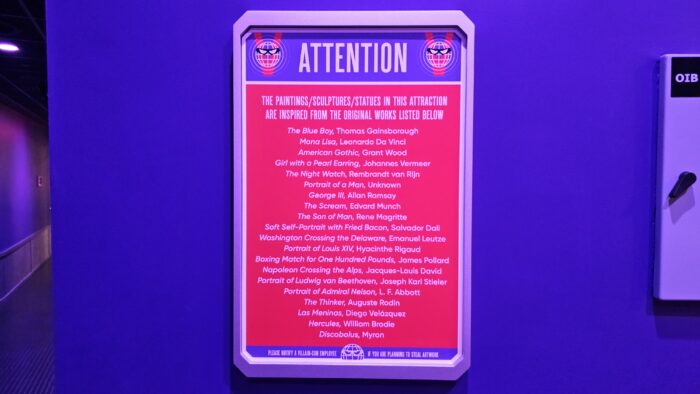 …it reads PLEASE NOTIFY A VILLAIN-CON EMPLOYEE IF YOU ARE PLANNING TO STEAL ARTWORK.

Honorable Mention – Villain Photo-Ops Outside Building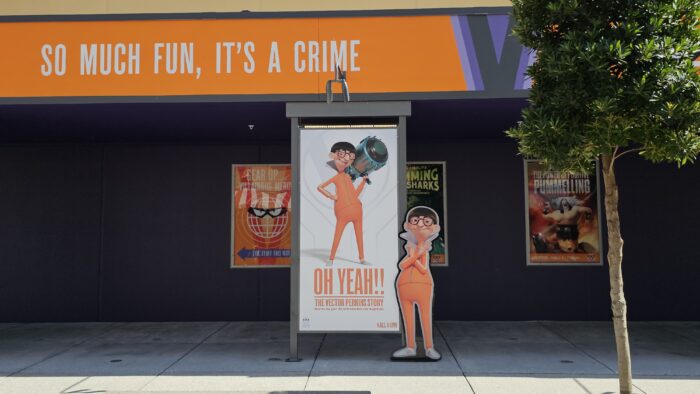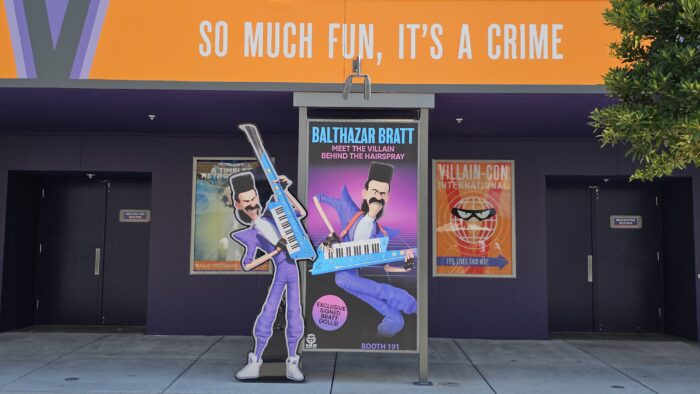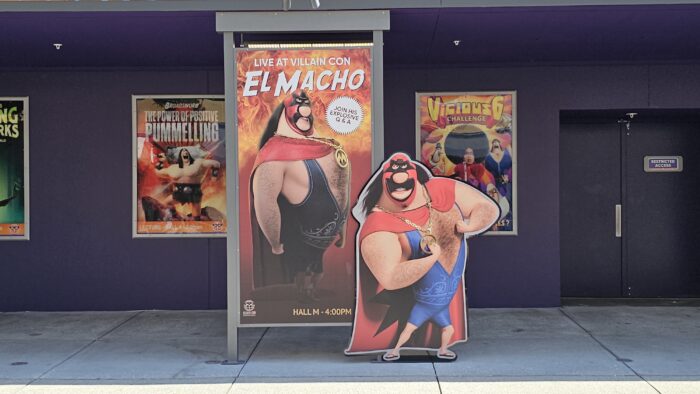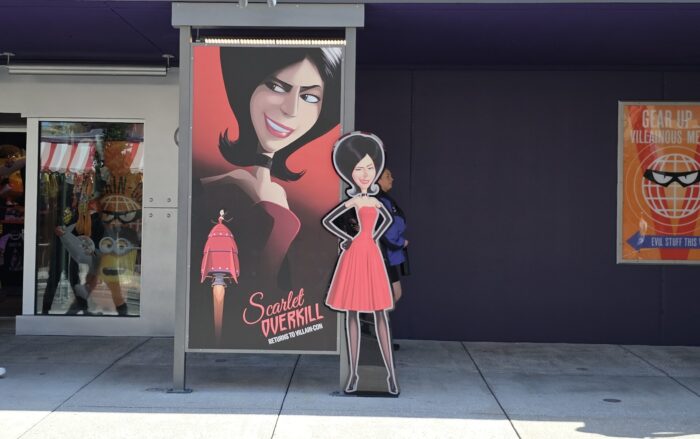 We also have a great mural featuring several Minions in their cosplay outfits, including my personal favorite, a Minion dressed up as a Cylon from Battlestar Galactica!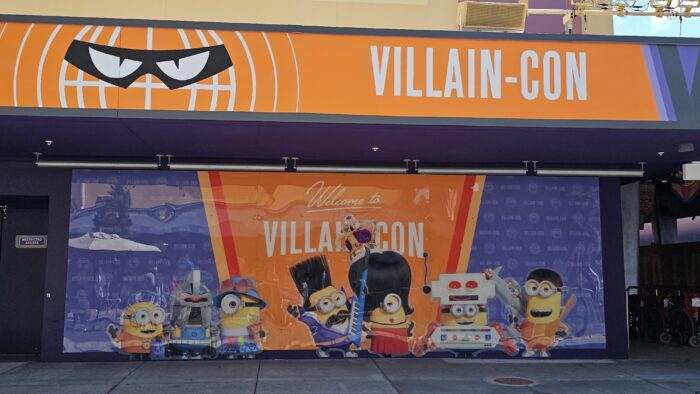 So there you have it: The SATURDAY SIX Looks at Illumination's VILLAIN-CON MINION BLAST! See you next weekend for the latest installment of the SATURDAY SIX, where we'll look at something fun from the world of Disney and Universal. If you enjoyed yourself, be sure to check out the THEME PARK ENJOYMENT INDEX, giving a monthly recap of all the theme park news you need to know (and a lot more you don't need to know, but we're gonna tell you anyway). You can also follow Your Humble Author on Twitter (@derekburgan).
If you enjoyed this article, you will surely like the following: 
The SATURDAY SIX Celebrates Ten Years with TouringPlans
SATURDAY SIX Presents: The Disney Merchandise Hall of Shame
SATURDAY SIX Presents: The Disney Signage Hall of Shame
SATURDAY SIX Presents: The Disney Food Hall of Shame
SATURDAY SIX: Tribute to Josh easyWDW
SATURDAY SIX: Tribute to Ian Barritt
Special Thanks to The Elite Brandon Glover, Digital Maestro Scott Walker, the bio-est of all reconstructs @bioreconstruct, Captain Cruiseline Scott Sanders of the world famous Disney Cruise Line Blog, my personal protege Hunter "Elvey" Underwood, artist @SonderQuest, the mighty maven of merchandise Hedgehog's Corner, the SAT SIX Fun Squad of Parkscope Joe and "the Dadalorian" Nick, hot shot Michael Carelli, charter member of the Universal Four @Nitro230, the permit princess Alicia Stella, master cartographer Tommy Hawkins, and Hermione Granger's tutor Megan Stump for their invaluable assistance with this article. Absolutely no help was added by SeaWorld Influencer @SuperWeenieHtJr. The SAT SIX is inspired each week by goofballs Aengus Mackenzie and LitemAndHyde and you Potterheads will  enjoy Meg's other blog work over at the Central Florida Slug Club.