Handling Weather in Galaxy's Edge
When Disney execs picked an opening day for Galaxy's Edge in Florida, I want to believe they did so by blindly shooting darts at a dartboard. Either that, or they've never been to Florida before. Believe it or not, August in Florida is mind-blowingly hot and humid, with a chance for monsoon-like rainfall on a daily basis. (And we won't even talk about how we're getting near the peak of hurricane season…)
But, here we are–the grand opening of Star Wars: Galaxy's Edge at Walt Disney World is mere hours away. If you're going, you may be prepared for long lines and crowds, but also make sure you prepare for the weather. Here's a few helpful hints to make your time on Batuu as safe and pleasant as possible.
1. Look for Your Biggest Fans!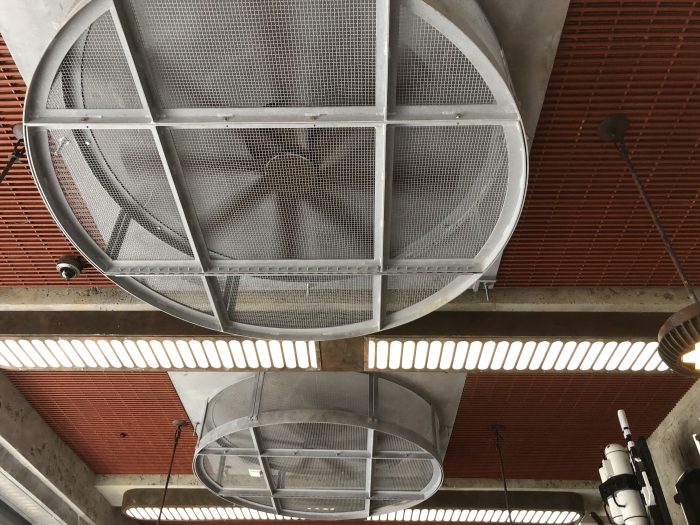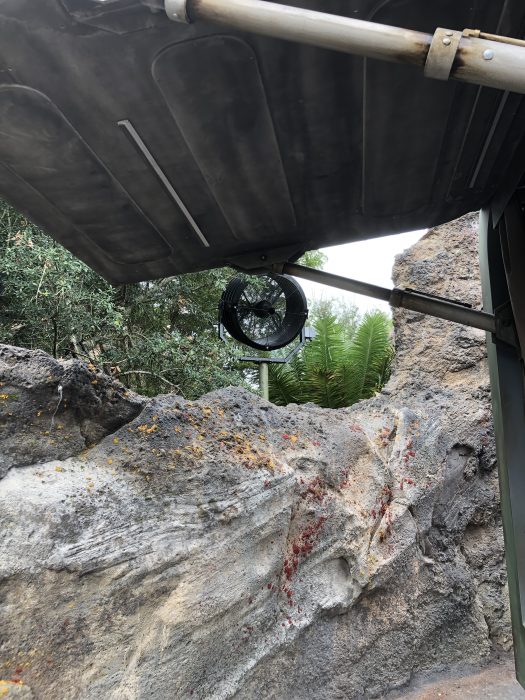 The citizens of Batuu may have impressive technology from around the universe, but air conditioning? Not so much. Yes, there are a handful of places with a/c (Docking Bay 7, Smugglers Run, Oga's Cantina, Dok-Ondar's, for instance), but large portions of Galaxy's Edge do not have a/c. What they do have, however, are lots and lots of fans. Ceiling fans, wall-mounted fans, and floor model fans can be found throughout. Need to cool off? Find one and stand there for a few minutes. It does help.
2. Hydrate Often.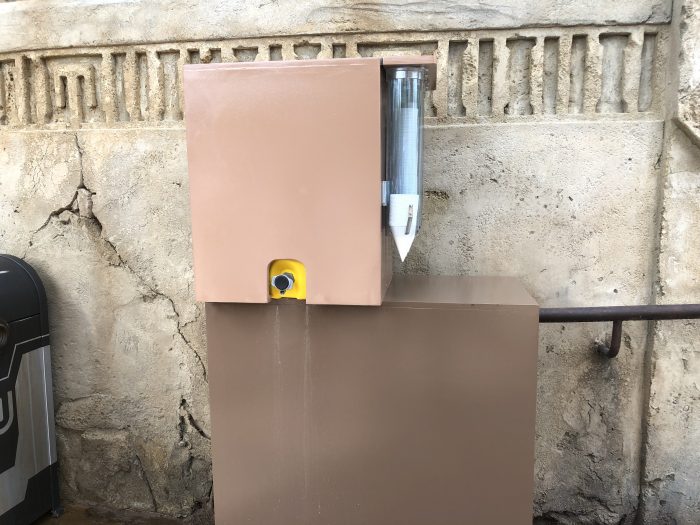 The rule of thumb is that if you don't feel the need to look for the restroom often, it's probably a sign you aren't drinking enough. There aren't an abundance of water fountains in Galaxy's Edge, but Disney has been doing well putting out portable water stations. Make sure to take advantage of these whenever you can.
3. Grab Shade When You Can.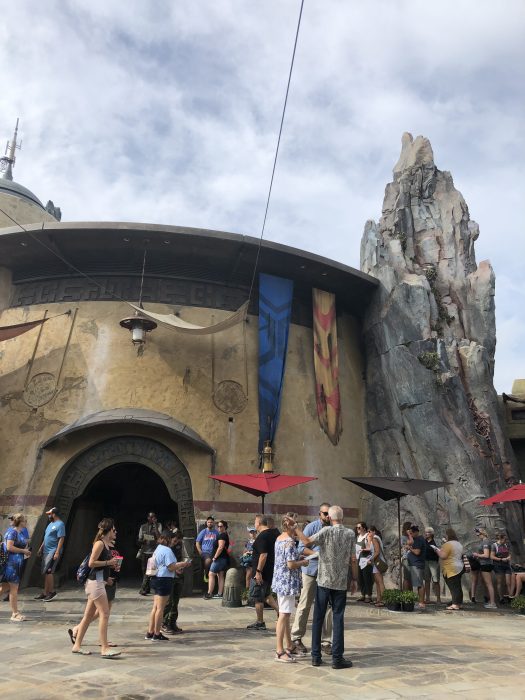 One difference I noticed between Galaxy's Edge here at Walt Disney World and Galaxy's Edge in Disneyland was that there's a lot more options for shade put up throughout the Walt Disney World version. No matter what you are doing, if you have the option to get in the shade, try to do that.
4. Bring Heat Gear.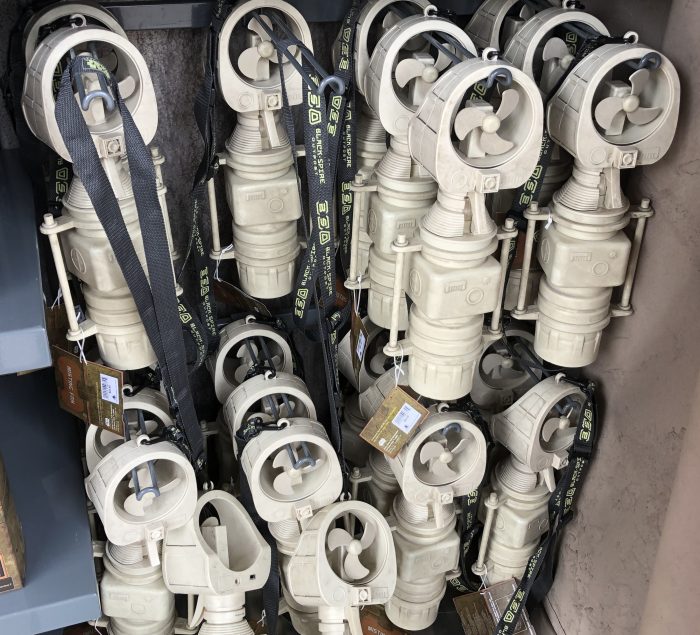 Sunscreen is an obvious must, but hats, comfortable clothing, and cooling towels are also useful to have on hand to help beat the heat. And yes, those little misting fans for sale everywhere in Galaxy's Edge will also help with those steamy Florida afternoons.
5. Follow Directions of Cast Members.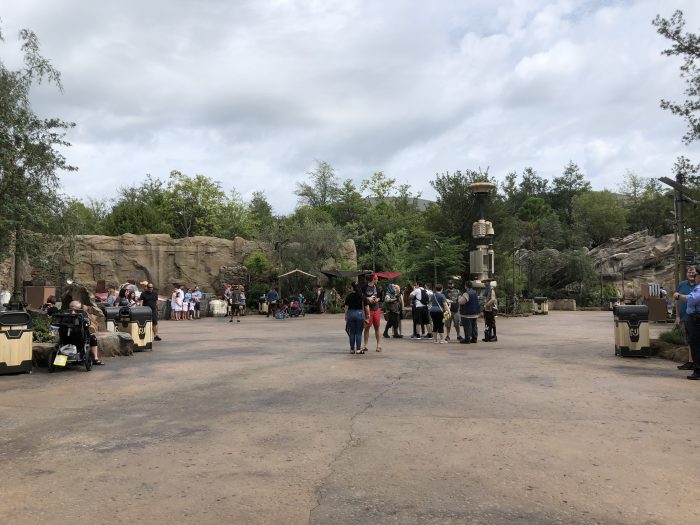 Severe weather can strike with very little signal from the skies itself. If Cast Members direct you to seek shelter, understand that they're looking out for you. Dangerous lightning and heavy downpours are common this time of year. There's many places in Galaxy's Edge where I would not want to be during a thunderstorm because you are the one object in a very open space.
6. Know Your Limits.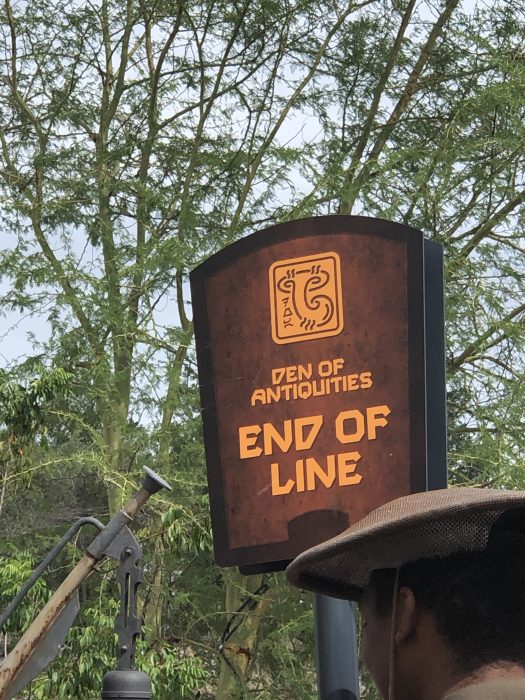 The weather in Florida can take it out of anyone–sometimes you just have to know when to say when. Galaxy's Edge isn't going anywhere. If you find that you're not feeling well, there's nothing wrong with leaving and finding a place to sit down and get some rest. (A good option in my view is to leave through the Grand Avenue entrance for a showing of MuppetVision, but how you get some rest in a/c is up to you.)
By following these steps and using some common sense, you can have a safe and healthy time underneath those Bright Suns of Batuu.