Hollywood & Vine Character Breakfast: What the Doc Ordered
Part of our day-to-day in-park research includes revisiting restaurants to ensure our dining reviews are up to date.  Recently Chrissy from our in-parks team tried out the Hollywood & Vine Disney Junior Play n' Dine Breakfast at Disney's Hollywood Studios.
Hollywood & Vine Setting and Atmosphere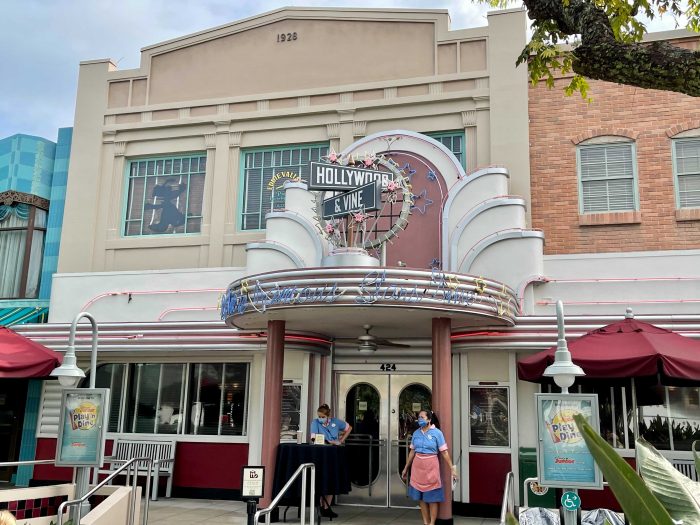 Located near Echo Lake, just off Hollywood Boulevard, it can almost be easy to miss Hollywood & Vine when compared to the more flashy nearby 50s Prime Time Cafe. Inside and out, the style is 1930s-style diner with lots of chrome, black and white tile, and muted pastel colors. Decor inside gives subtle nods to the golden age of Hollywood.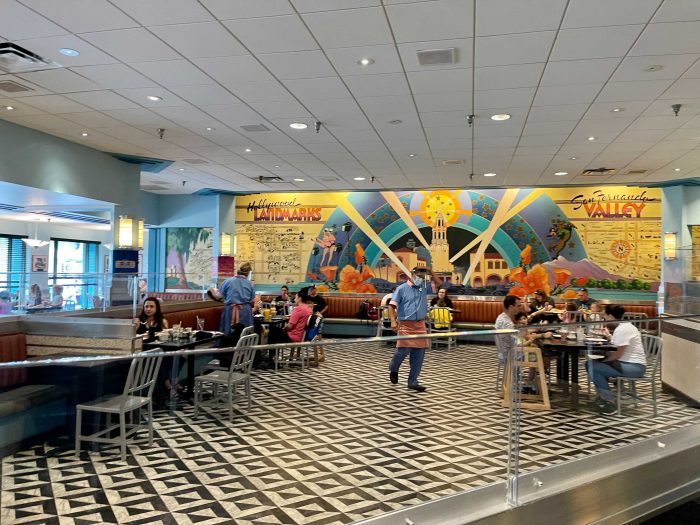 The real "decor" that most families will care about are the character appearances. Currently with COVID precautionary measures still in place, characters do not come to do regular meet and greets, but they do wander through the restaurant for socially distanced selfies and interaction. Instead of autographs, you receive a souvenir autograph card from all of the characters.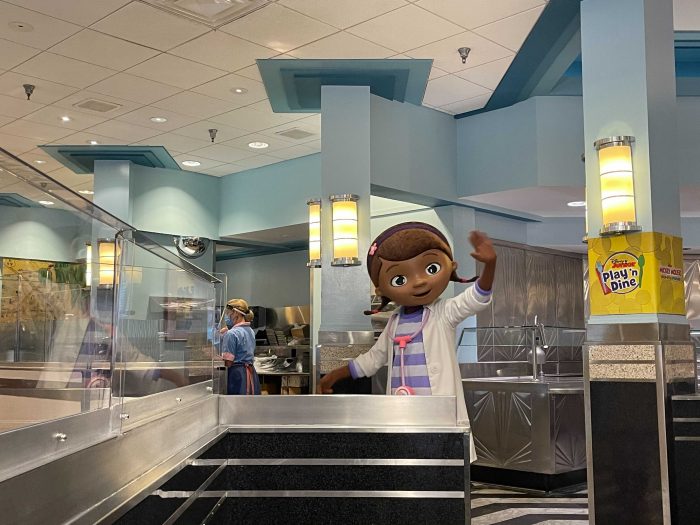 Hollywood & Vine Character Breakfast Menu
In the past, this location was a buffet, but with COVID precautionary measures, food is now brought to the table family style. Prices are $42 for adults and $27 for children ages 3-9 (tax and gratuity not included). The menu includes a Pastry Basket to share, choice of entree (including everything from pancakes or French toast to an omelet and plant-based offerings), and non-alcoholic beverages. Kids entrees include things like scrambled eggs, cereal, and Mickey waffles, plus sides like bacon or fruit.
Our Dining Experience at Hollywood & Vine
First and foremost, if you're not a Disney Junior fan, this probably isn't the restaurant for you. The food is good, but not worth the price you're paying — you're really paying for the character experience.
Speaking of characters, on our visit we had greetings from Doc McStuffins, Fancy Nancy, and Goofy. Each one brought a lot of personality and fun. Vampirina typically makes breakfast appearances, but we didn't see her during our visit.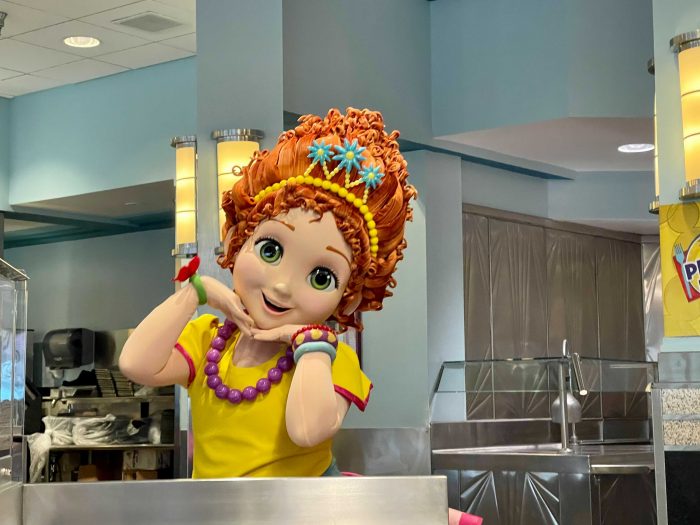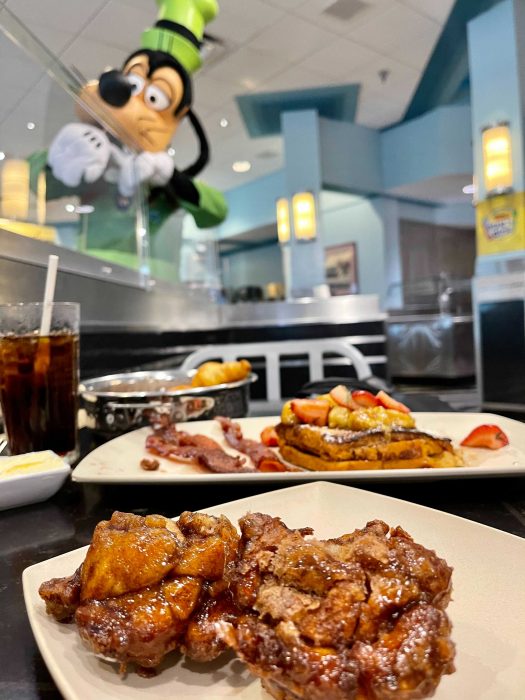 For the entree, Chrissy ordered the Hazelnut-Spread Stuffed French Toast, which was described as French toast with  hazelnut spread, bananas, and caramel banana foster syrup. It also came with a choice of bacon or sausage. Chrissy's order also had strawberries on top as well.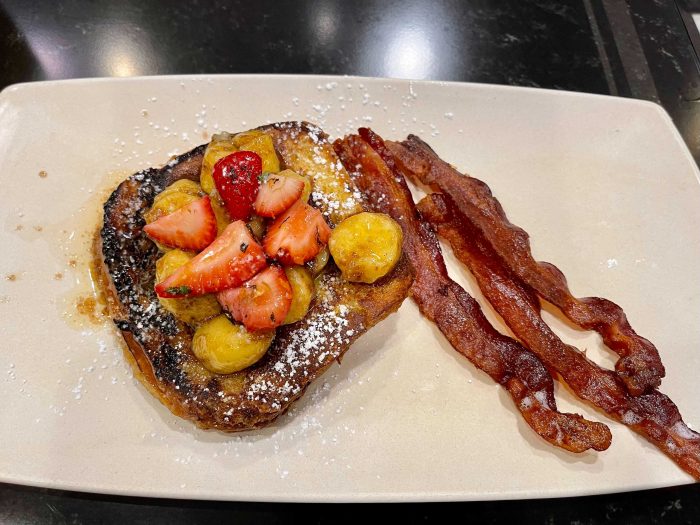 This is not a dish for someone who isn't a fan of sugary sugar sweetness. You'll even notice that there was powdered sugar sprinkled on top, just to make sure you knew that you that this was going to be a very sweet entree. The flavors went well together and it was delicious, but it felt like dessert for breakfast.
As tasty as it was, the real highlight of the meal was the caramel monkey bread that came with the pastry basket. It was everything that you'd desire from really good monkey bread — crispy outside, chewy inside, sweet and easily able to be pulled apart. And yes, since it is all you can eat, they'll just keep bringing it until you finally give up the good fight.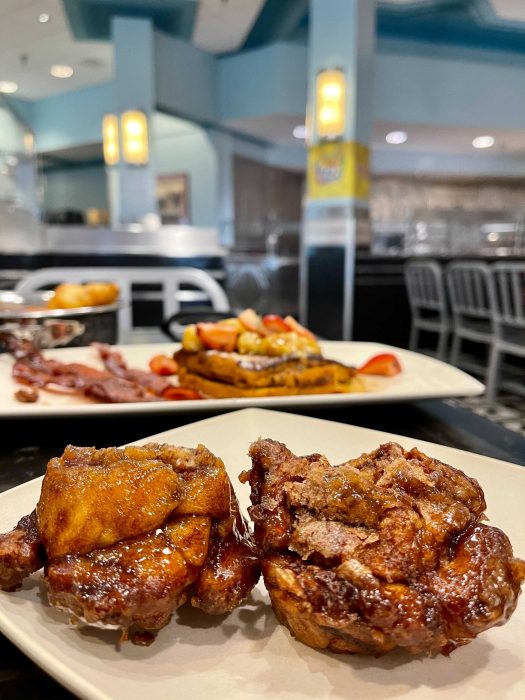 Hollywood & Vine Ratings
Hollywood & Vine has earned a 76% thumbs-up rating from our readers, placing it at 79 of 105 table service restaurants at Walt Disney World. Although the meal is a lot of fun, and the food is good, the value isn't there unless you have a child who really loves Disney Junior characters.
Hollywood & Vine  offers discounts to Annual Passholders (10%) at breakfast, DVC (10%) all day, and to those who still have Tables In Wonderland (20%, plus 18% gratuity).
Have you dined at Hollywood & Vine before? Are your kids fans of these Disney Junior characters or are there others you'd like to see? Let us know what you think in the comments.