Hotwire: Half Off Yacht – Without Sinking!
Time to float another set of Hotwire deals your way: How does Yacht Club for $249 per night sound?
Last night a nice drop of deals showed up for mid-August, and it is a beauty – in fact, more than 50% off Disney's current 25% off discount! That's a lotta percent signs!
We mentioned in our last Coronado Springs post, A Towering Deal, that Hotwire has mostly fixed their systems and many more HotRate and non-hidden resort deals are appearing again. However, the "mostly" still applies, so there may be a few catches for you to see and/or book these Yacht Club deals.
Also, because Hotwire seems to be changing what deals appear every 38 seconds lately, let's make this quick so you can get searching before these deals head off into the sunset. Below are a couple of tips to help you spot the Yacht:
I was only able to get these Yacht Club deals to appear on the app – not the desktop browser at all.
Just like the current Coronado Springs drop August 14th seems to be a magical day. I HAD to start my search on that exact date to get any of the Yacht Club deals to appear.
When I did, I was able to see them all the way to August 28th! (If you do book that many days in a row, the price drops down to $244.)
From reports I've received and seen online regarding Hotwire deals, your nautical mileage may vary. I have had people tell me about booking some great deals that just never show up for me. As I've mentioned before: one tactic that might help to tease out more deals is to clear the cached data on your apps, or on the iOS app just delete it and reinstall. I have had that work more than a few times now when my search results were bare.
What To Look For
On Hotwire, Yacht Club is a 4-star, 4.5-guest rated resort. There are 2 other resorts with this rating: Beach Club Villas and Boardwalk Inn. I'm going to to out on a limb here and say you will never see Beach Club Villas at a price in the mid $200s. But, let's assume I'm wrong and that might happen one day. You can use some other clues in the listing to help identify which one the deal is for.
THE EASIEST METHOD EVER
If you see a HotRate deal you find interesting – scroll down in the search results and look for a non-hidden deal for a resort with the same star and guest ratings. (Sometimes both deals will show a review count as well – but usually not on Disney resort deals.) Then, compare the crossed out "full price" listed on the hidden deal to the price on the non-hidden deal: it should be off by $1. (Very rarely it might be off by $2.)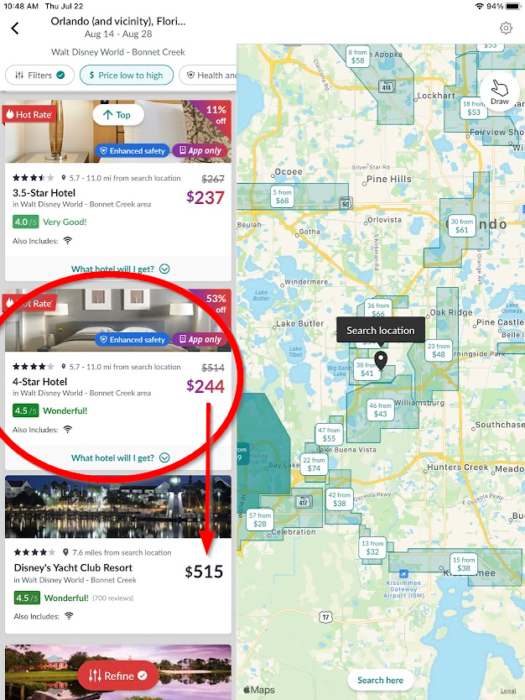 I've  modified that image above so that both the hidden and non-hidden deals are next to each other – but yep, that sure looks Yacht Clubby to me.
Sub-Amenities
When you still need more clues to give you confidence in your deal identification, try using sub-amenities. When you click on the deal you'll get another page with various info: you may see generic review counts, snippets from guest reviews for the resort, and a list of sub-amenity ratings. You can try comparing each of these to those listed on the resorts Hotwire page (see links I added in paragraph above.)
The review count comparisons are more useful with non-Disney resorts, since the hidden deals will often tell you the exact number which you can also compare to the non-hidden deal.
The review snippets are less useful: the hidden deals tend to have very generic text that doesn't offer any clues and don't match any you can find on the resort page reviews. Also, some are red herrings: Coronado Springs hidden deals have snippets mentioning "Manila Bay" – which isn't a thing.
But, sub-amenities are real data you can sink your anchor into.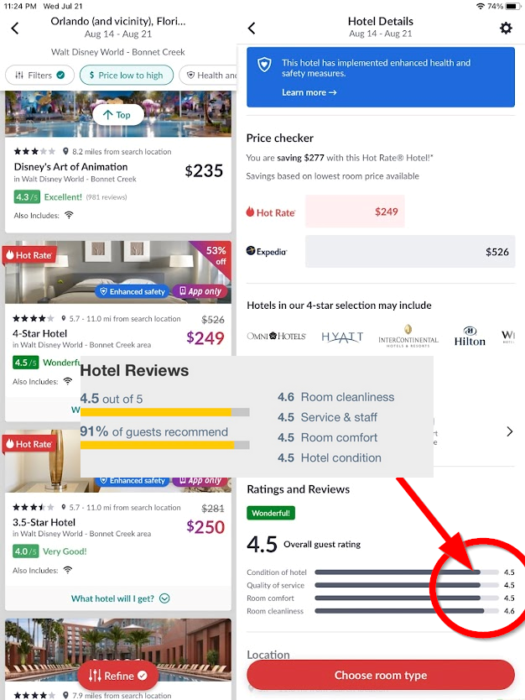 In the example above I have overlayed a capture of the sub-amenities from Hotwire's Yacht Club page – looks like a pretty good match up. (Just note that sometimes the review counts and ratings on the deal can be slightly out of sync with the resort pages if something changed recently. They are still usually just off by .1 or so on a single item.)
If you look at the Beach Club Villas listing, the sub-amenities are clearly different. But, in this instance at this time: Boardwalk happens to have exactly the same star and guest ratings AND the same sub-amenities! (That's pretty rare in the land of hidden deals.)
So, you can use another trick: the old Draw technique. In the app, zoom in on the map to the resort you suspect, click the Draw button then make a circle around the resort. If you are correct, the search results should change to show just the resort you suspect.
Here's a short video to help you get a feel for using Draw.
Wrap Up Info
Some last items before the calendar of deals: Room descriptions are your friend.
You'll likely find that these Yacht Club deals are Water View rooms – this is one example where it pays to read the room descriptions (which you should always do). Always nice to know what kind of room you might get!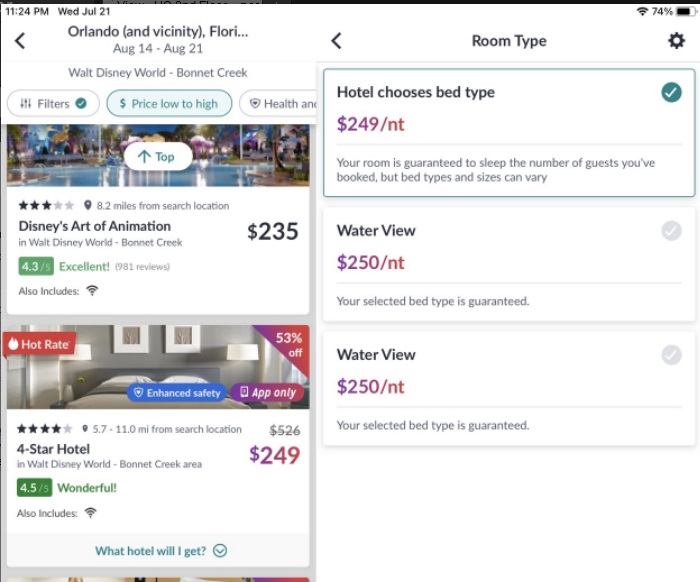 When we look at the all-in price of these deals to Disney's current 25% off price – Wowza, is all I can say. (In addition to the approximately 11,000 words above this line.)

Calendar of Deals
The calendar below is a visual of the Yacht Club deals I was able to see on Hotwire – just remember I had to start my search window on August 14th or I didn't get ANY deals. You might have different results.
Also remember: These are not the only deals out there right now – there are definitely Coronado, Pop Century, as well as some other resort deals out there all the way until the end of the year. BUT – be wary of the ones marked 11% off or so. After the hidden deal fees are added in, they usually do not save you any money. Always Do The Math. 🙂
Take a look through my recent blog posts for some more info on the deals we wrote about.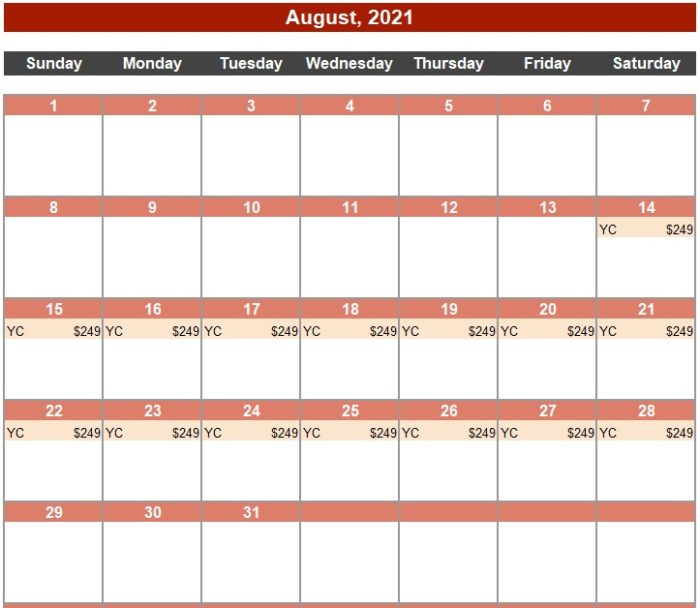 If you've booked any of these terrific Yacht Club deals, have any questions, or just are a fan of bad nautical puns, let us know in the comments!