How The Disney Wish Differs from Other Disney Cruise Line Ships
Disney Cruise Line's newest ship, the Disney Wish, has finally made its debut! Even though its maiden voyage isn't scheduled until July 14, the newest addition to the fleet has been undergoing previews offering first looks at its new slate of dining, entertainment, and accommodations on board.
The Wish is Disney Cruise Line's fifth ship and now joins the ranks of the Disney Fantasy, the Disney Dream, the Disney Wonder, and the Disney Magic.
However, unlike its predecessors, the Wish is a Triton-class ship boasting 15 decks and a capacity of 5,555 guests and has been described as a fairytale castle on the sea.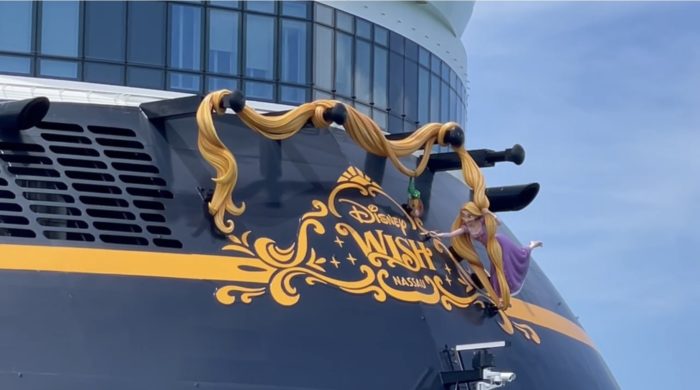 But just how different is the Disney Wish in comparison to the other ships in the Disney Cruise Line fleet?
Of course, there's a ton to cover onboard; but for today's post, we're focusing on how the Disney Wish is offering new experiences in its dining, staterooms, atrium, and its themed entertainment for onboard guests.
A New Kind of Atrium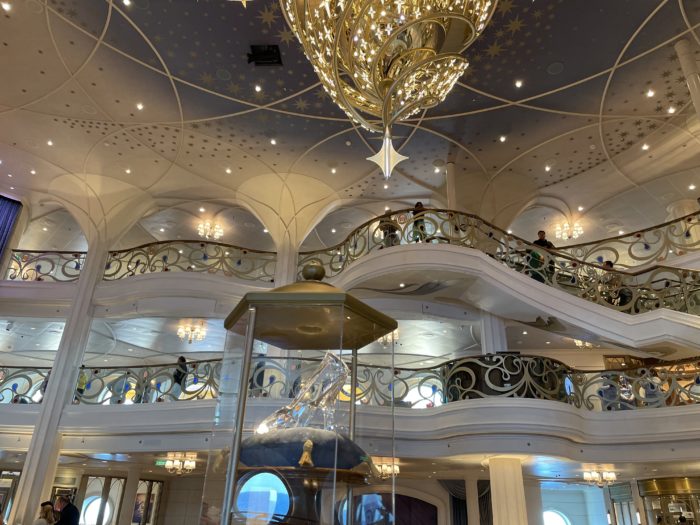 The heart of all Disney Cruise Line ships is the atrium. This is where guests usually enter the ship for the first time and contains the showpiece chandelier, the grand staircase, and the ship's iconic statue which, on the Dinsey Wish, is Cinderella.
As opposed to other Disney Cruise ships, the Wish's fairytale-inspired atrium is known as the Grand Hall and houses an actual stage. Plus, its signature chandelier is designed for a special performance of its own.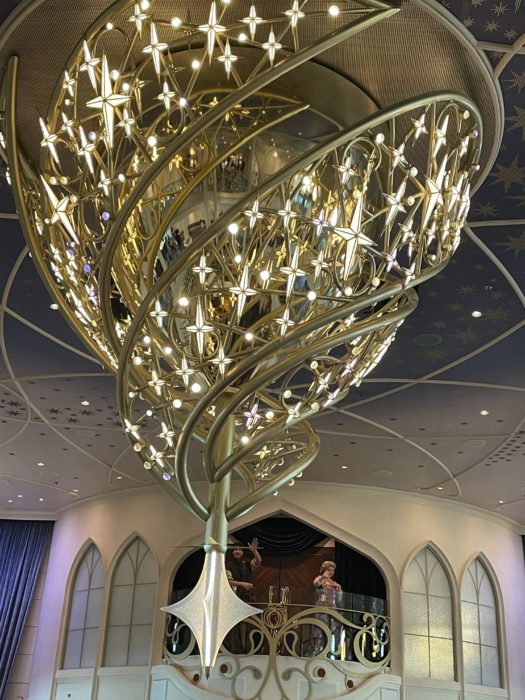 Fun Fact: The Grand Hall is home to several fun Cinderella details, including her lost glass slipper, as well as Jaq, Gus, and Lucifer.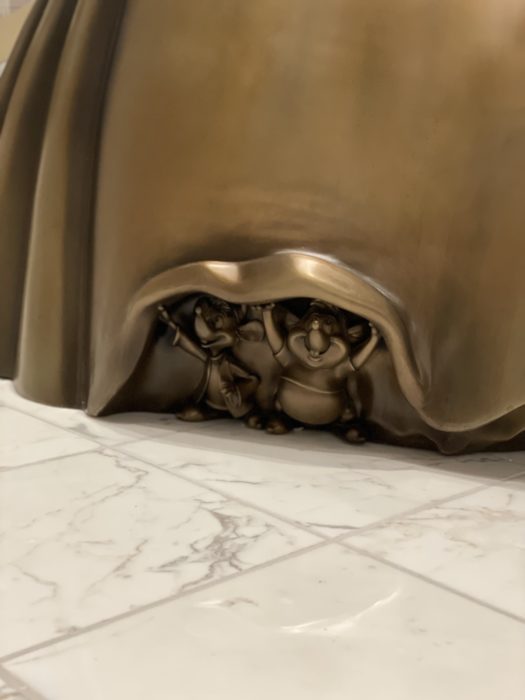 New Themed Dining Experiences
Marceline Market
Instead of Cabanas, the Wish's buffet and/or food hall is known as Marceline Market; and as the name would suggest, is inspired by Walt Disney's childhood hometown. Even though the tropical, island vibes have been swapped for a semi-modern, farmer's market motif, the layout is largely the same as Cabanas.
Each of Marceline Market's ten food stalls offers a different menu ranging from International flavors to seafood to kid-friendly items to desserts.
While each stall has been described as having Disney character "shopkeepers" from Zootopia and Beauty and the Beast and so on, you wouldn't know it unless you were looking for it. The real ties to the films and characters are in the signage and shelves scattered throughout the space, and they're subtle.
Mickey & Friends Festival of Foods
On Deck 11, guests will find five outdoor, walk-up food stalls offering your typical poolside fare and that unlimited ice cream.
Mickey's Smokestack Barbecue, Donald's Cantina, Daisy's Pizza Pies, Goofy's Grill, and Sweet Minnie's Ice Cream are all grouped together in a circular fashion and have a more cohesive design than the food stalls aboard Disney's other ships.
Arendelle: A Frozen Dining Adventure
For families with Frozen fans, the Arendelle: A Frozen Dining Adventure is literally a wish come true and would probably break both parents and Disney's reservation service if it was offered in the parks.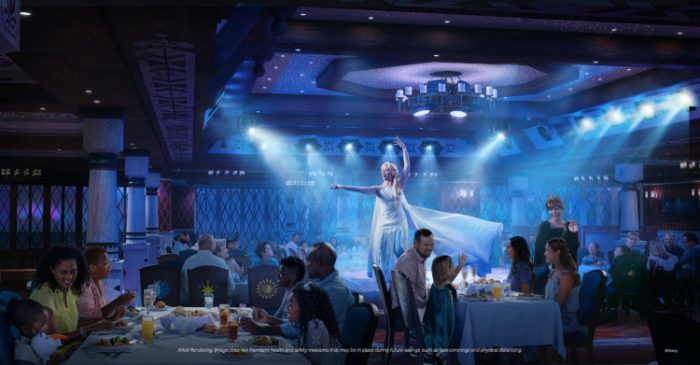 Every inch of the dining room looks and feels as if you've been dropped into the world of the Frozen films, and it's both dinner theater and a character meal wrapped into one. Think of it as Rapunzel's Royal Table aboard the Disney Magic, but more.
Tables circle a center stage where Wandering Oaken plays host. In addition to incredibly talented singers and musicians, Elsa, Anna, Kristoff, Olaf, and Oaken perform songs from the Frozen franchise; and in between, the characters visit guests at their tables as they enjoy a Nordic-inspired menu.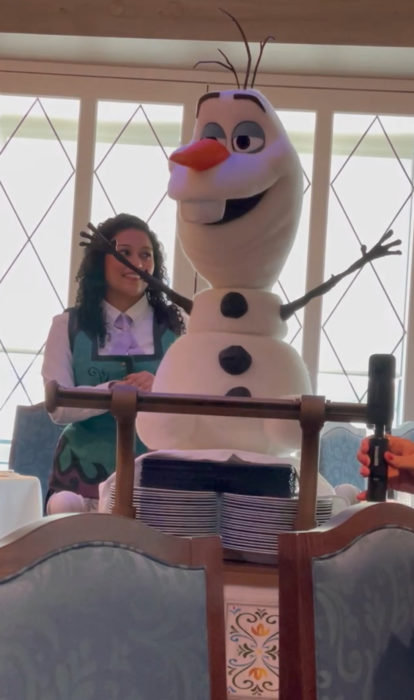 It's worth noting that Olaf isn't a walk-around character here but rather an elaborate puppet who is carted throughout the dining room on a table.
For those who don't have kids or who are looking forward to relaxation and conversation at dinner, Arendelle isn't for you. It's a constant blizzard of activity and definitely loud.
Also, parents should be warned that not all views are created equal at Arendelle. While some tables are right up next to the stage, others are spaced a considerable distance away.
1923
If you were to blend Disney Animation history with the Hollywood Brown Derby from Disney's Hollywood Studios, 1923 aboard the Disney Wish is exactly what you would get.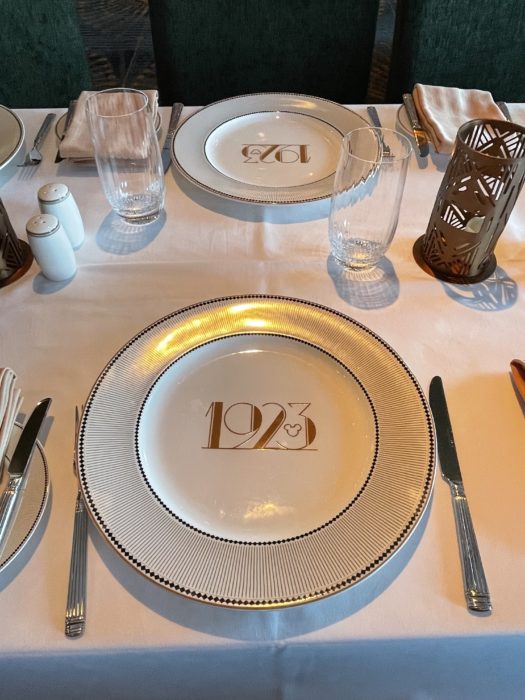 Expect dark, polished woods, glass cases filled with artwork and props from Disney films, and burgundy and gold hues.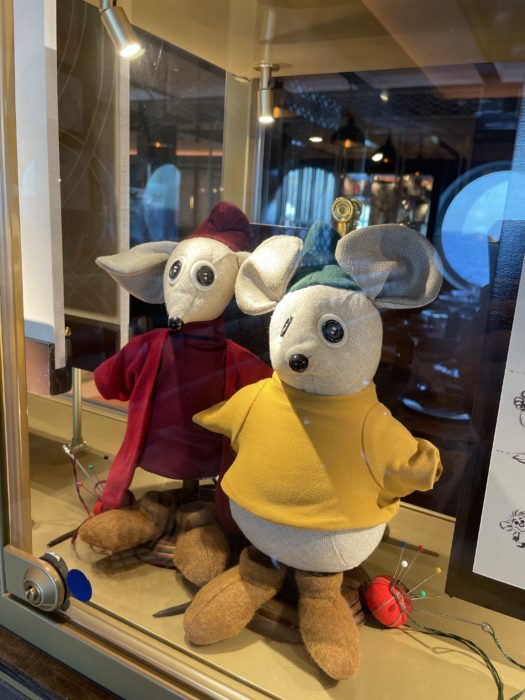 Basically, this is the restaurant for the adults on board who tolerated Arendelle and aren't into the action-packed nature of Worlds of Marvel. It's classy, upscale, and offers California-inspired fine dining.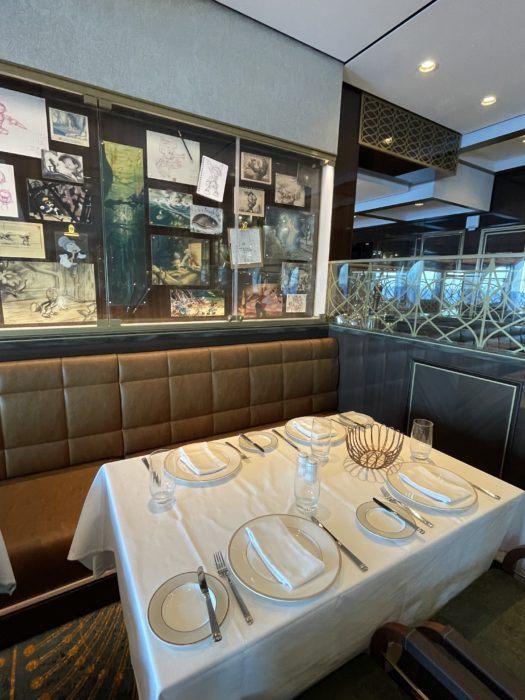 But unlike other restaurants on the Disney Cruise Line and in the parks, 1923 is actually two completely separate dining rooms with one named after Walt Disney and the other after Roy Disney; and you don't know which one you may get.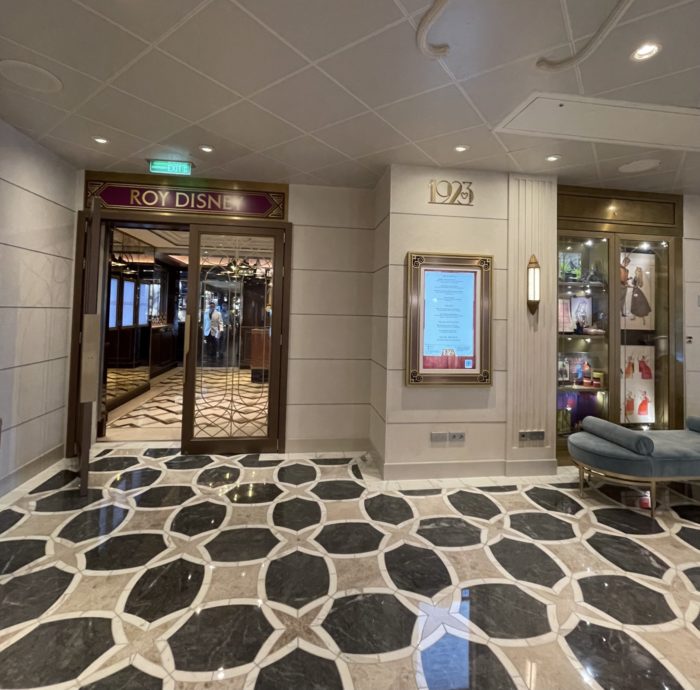 However, apart from what's displayed on the wall and inside those glass cases, the layout is the same and both offer porthole views of the sea outside.
Worlds of Marvel
Instead of Animator's Palate, the Disney Wish has Worlds of Marvel which is a dining experience themed after the Marvel Cinematic Universe and stars the ever-hilarious Paul Rudd as Ant-Man and Evangeline Lilly as the Wasp.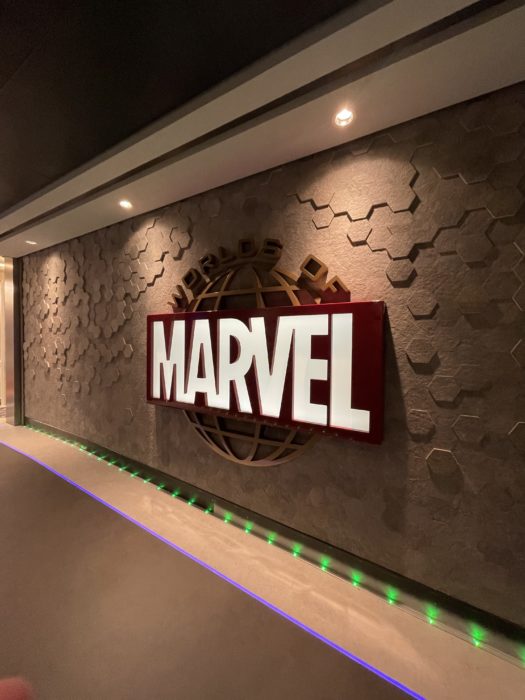 The restaurant is modern, techy, and decked out with Iron Man-inspired "Stark-itecture," but it's also filled with large screens that showcase characters and scenes from Marvel Studios' expansive library of films.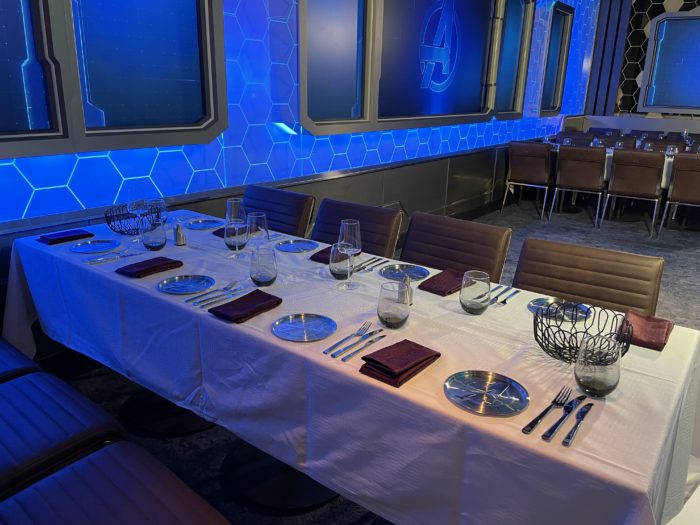 The story of the Worlds of Marvel is that Ant-Man and the Wasp are showcasing new tech on behalf of the Avengers, particularly their new Quantum Cores which are on each table of the restaurant. During the presentation (and in true Disney fashion!), things go wrong and other Avengers arrive to save the day.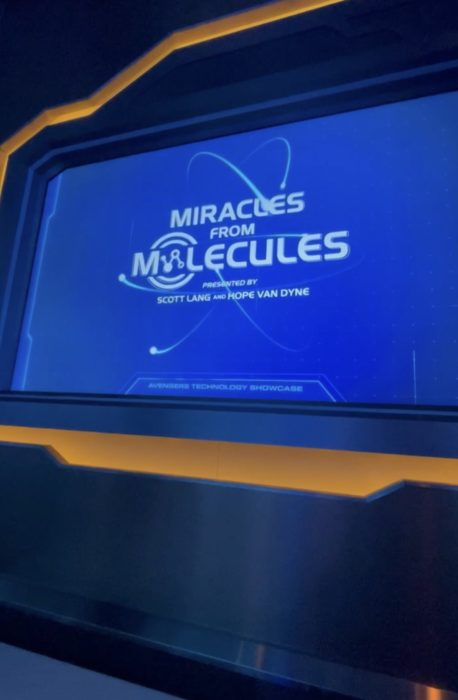 (Disney history buffs are sure to appreciate the Miracles from Molecules reference. If you know, you know.)
Ant-Man and the Wasp briefly appear as walk-around characters, but they only stop and pose instead of meeting with each table. Also, guests can participate in the action by activating their Quantum Cores which create an impressive effect throughout the dining room.
Worlds of Marvel isn't as intense as Arendelle, and even those who don't know Iron Man from Spider-Man can still follow the story. The menu here is also a fun one in that it's so varied and themed after locations from within the Marvel Universe.
While both adults and kids will enjoy this restaurant, it's unique for Disney Cruise Line in that it's geared toward one particular fandom and will appeal to teens and young adults the most.
Note: Yes, the Wish also has Enchante, PALO, and an assortment of bars and lounges. But for the sake of this article and its length, we're sticking with the dining offerings that are included and available to all. 
Fairytale-Inspired Upgraded Staterooms
Veteran cruisers know that Disney Cruise Line offers a variety of accommodations worthy of an article all its own. But for this particular article, we're keeping it simple by comparing Deluxe Family Oceanview Staterooms with Verandahs on both the Disney Wish and the Disney Dream (2011).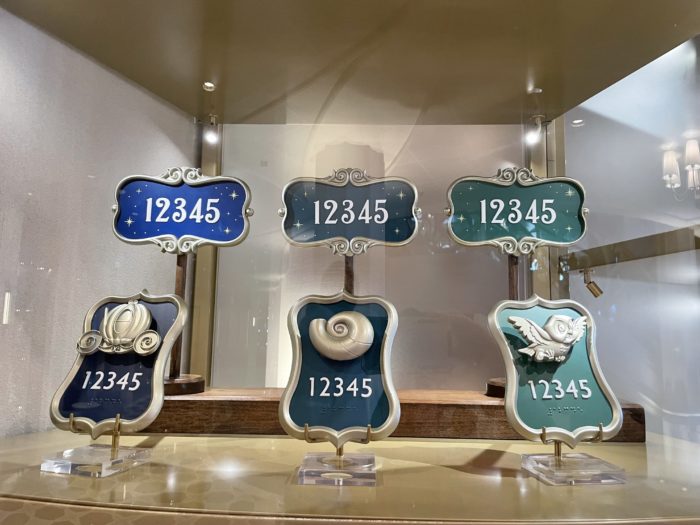 Deluxe Family Oceanview Stateroom with Verandah Aboard the Dream
Aboard the Disney Dream, most cabins within this stateroom category offer the following:
299 sq. ft. including the verandah
1 queen bed, 1 single sleeper sofa, 1 pull-down wall bed, 1 upper-berth pull-down bed (in some)
22″ LCD flat-screen TV on swivel arm
Refrigerator
Split bathroom
The staterooms also feature a nautical red, blue, and white color palette and dark wood accents.
Deluxe Family Oceanview Stateroom with a Verandah Aboard the Disney Wish
Aboard the Disney Wish, most cabins within this stateroom category offer the following:
284 sq. ft. including the verandah
1 queen bed, 1 single convertible sofa, 1 upper-berth single pull-down bed, 1 single wall pull-down bed (for rooms sleeping 5)
43″ LCD flat-screen TV (no swivel)
Drawer refrigerator

located under the desk/dresser space across from the sofa

Split bathroom
Even though this category of staterooms on the Disney Wish's are smaller, the updated furnishings and light and airy design help make up for it, as well as the larger TVs which were LONG overdue. However, the fact that it doesn't swivel may be a bit of a problem for kiddos using those pull-down beds.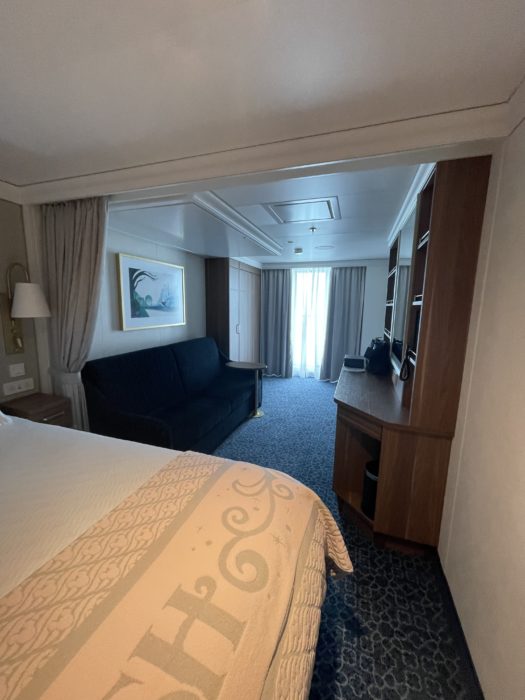 The theme of the room is in-step with the Grand Hall via the light wood accents, cool pastels, and artwork inspired by Frozen, Moana, Cinderella, and more. Also, a special Fairy Godmother detail can be found when the upper-berth bed is pulled down!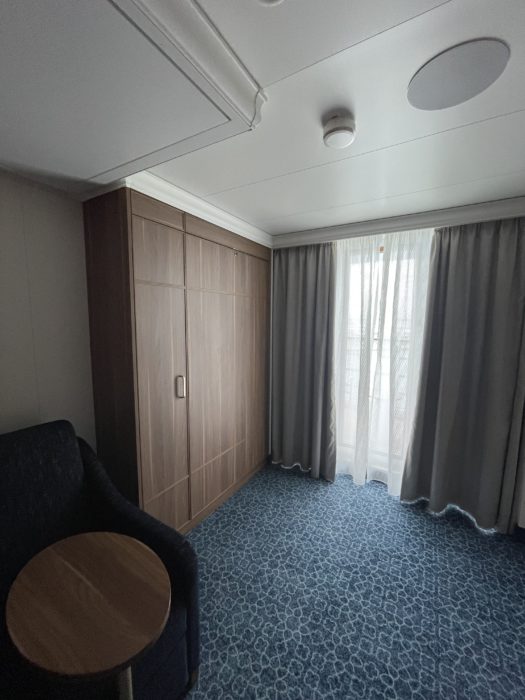 Other Changes & Firsts Aboard the Disney Wish
Upper Decks
As the Disney Wish is larger than the Dream and Fantasy and the first new Disney Cruise in a decade, Disney has reconfigured the layout of its upper decks.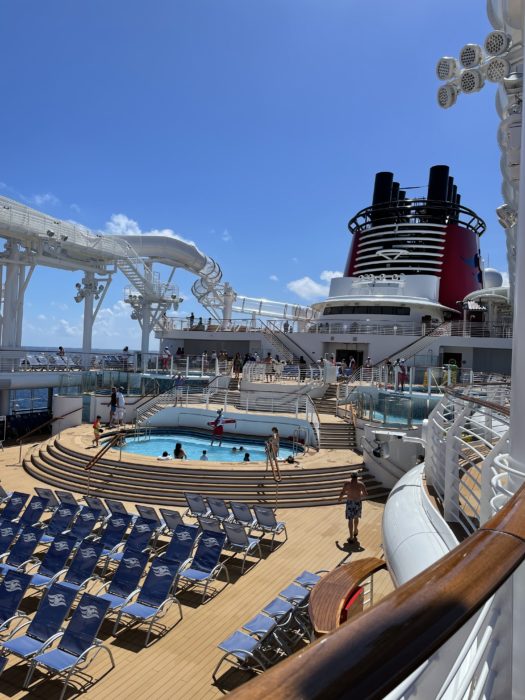 Aboard the Wish, the adult-only Quiet Cove occupies considerable real estate on the back of the ship with an infinity pool, whirlpool spas, both covered and non-covered seating, and various views.
The Disney Cruise Line coffee shop, Cove Cafe, is here as well, but this time it has a subtle Moana-theme and (surprisingly) no bakery case.
Senses Spa has been reimagined as well and now has a dedicated outdoor space in addition to its classic Rainforest experience.
The Funnel Vision screen on Deck 11 looks bigger than it does on other ships.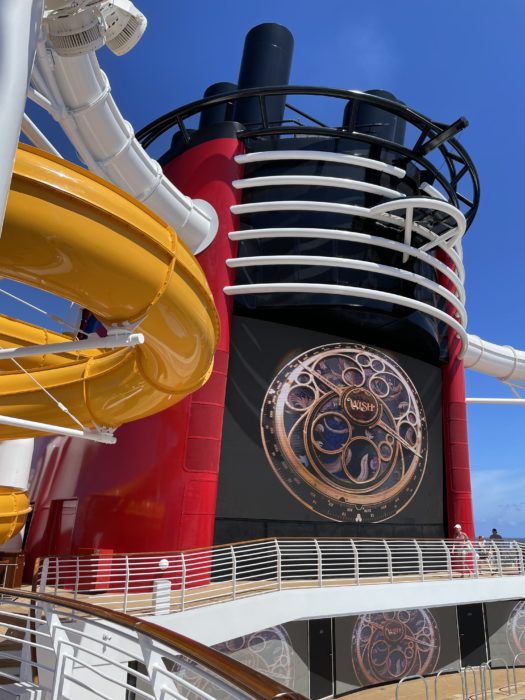 Also, there are more pools than ever but organized in such a way that they don't dominate the space as much as the Wish's predecessors. However, since the ship has yet to welcome its full capacity, it's hard to know just how well the layout will work.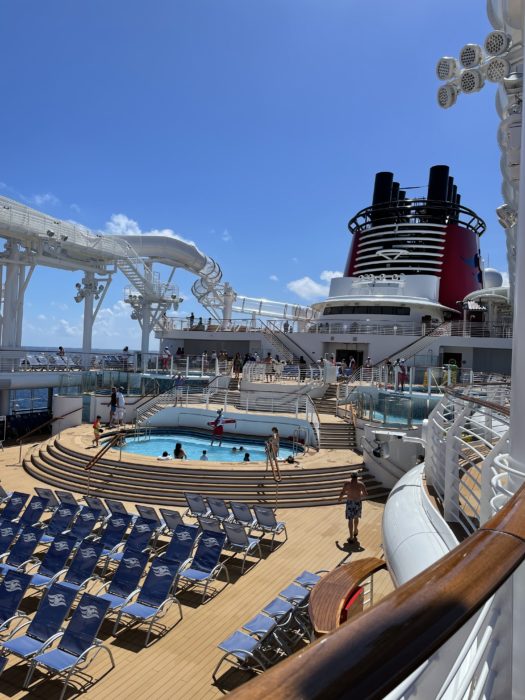 In fact, the Wish is home to seven family pools and a play area that's spread out over three levels, plus a pool completely dedicated to Quiet Cove.
The Wish also has a kid-friendly slide, a double-looping family water slide, and the next generation of the AquaDuck which is known as the AquaMouse.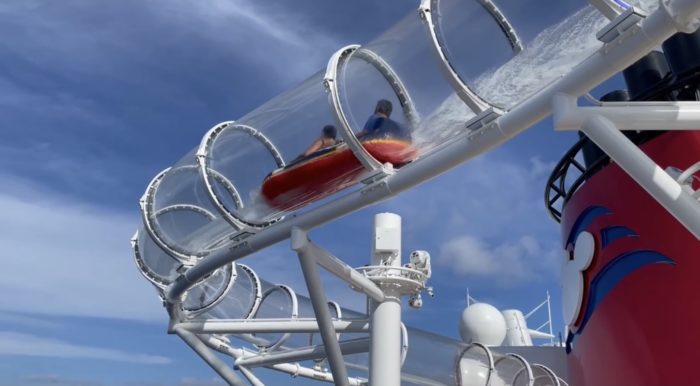 Marketed as the first Disney attraction at sea, the AquaMouse is a water coaster but contains enclosed show scenes along in addition to sky-high views of the ocean and the ship. It's worth noting that it's definitely higher up than the Fantasy or the Dream's AquaDuck. Also, there are two different cartoons that guests will see during the ride that vary by day.
More Concierge Level Staterooms & Suites
For cruisers looking for even more luxury onboard, the Wish nearly doubled the number of concierge-level rooms offering a whopping seventy-six, as well as seven forward-facing suites over the bridge, four royal suites themed after Sleeping Beauty, and the Wish Tower Suite housed inside of the forward funnel.
Character & Cinematic Throughlines
Like all Disney experiences, characters and stories are the focus of the Disney Wish. However, in keeping with the times, this new ship is leaning more into Star Wars and Marvel than past ships in the fleet.
While it's true that Disney Cruise Line ships have offered Star Wars and Marvel-themed areas in the past, the Wish takes these fan-favorite franchises to new levels with room to grow.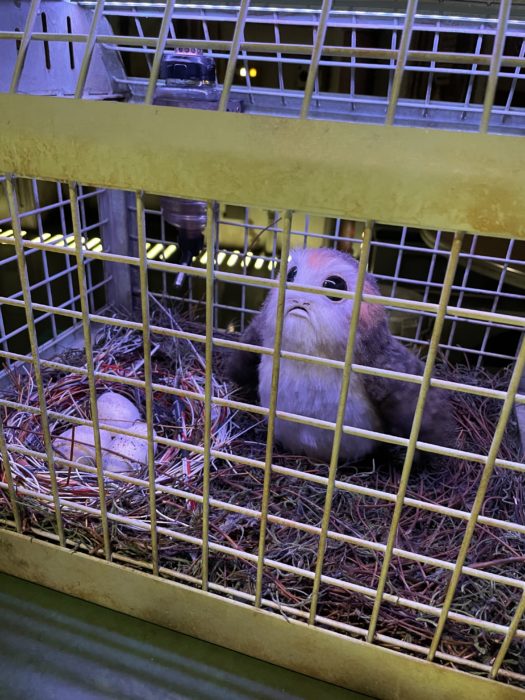 Star Wars: Cargo Bay (which features a lifelike Porg audio-animatronic) and the MCU-themed Superhero Academy at the Oceaneer Club are, according to Imagineering, designed to evolve with new films and television series in the future while also appealing to adults during open houses and select times.
Tip: For Disney Park die-hards, the Oceaneer Club has a TON of theme park and Imagineering Easter eggs. We're talking Journey Into Imagination with Figment, Muppet*Vision 3D, Expedition Everest, and more.
But when the kids are geeking out at Star Wars: Cargo Bay and Superhero Academy on Deck 2, their parents can do the same at Hyperspace Lounge and Worlds of Marvel respectively.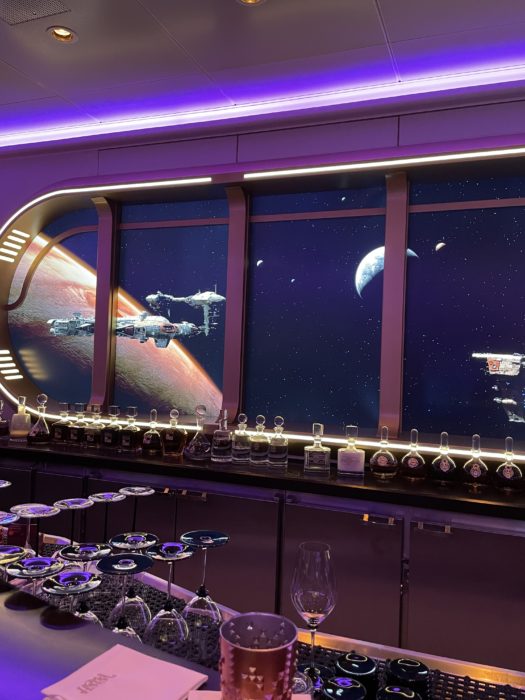 Hyperspace Lounge is like an upscale, Solo: A Star Wars Story-themed version of Oga's Cantina. But it's just as small, if not smaller. (Whoever at Disney or Lucasfilm is insisting on cramming Star Wars nerds into small spaces and limiting how long they can be there must belong to the Dark Side. Just sayin'.)
Tip: Put your name on the wait-list ASAP or check it out during a show. This one will be hard to get into on a whim.
Hyperspace Lounge is pretty much a Star Wars overlay of the Skyline lounge from the Disney Dream and Fantasy. But it's worth noting that the screen and visuals are incredibly cinematic, packed with Star Wars (and Star Tours!) Easter eggs, and unlike Galaxy's Edge at Disney World, highlight planets and ships from ALL eras within the Star Wars Universe.
At the same time, the lounge is also expected to welcome families during the day with specialty non-alcoholic drinks, including one themed after Grogu from The Mandalorian on Disney+!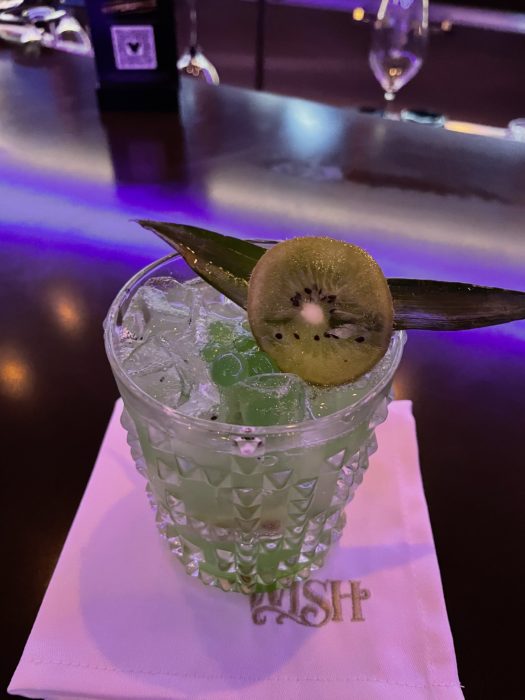 Still, these Marvel and Star Wars experiences aren't the only examples of how Disney is presenting the same IP to all age groups aboard the Wish.
While young guests can check out Belle's Library at the Oceaneer Club, older guests can have their own Beauty and the Beast experience at The Rose lounge, Enchante, and the Cogsworth-themed take on Palo.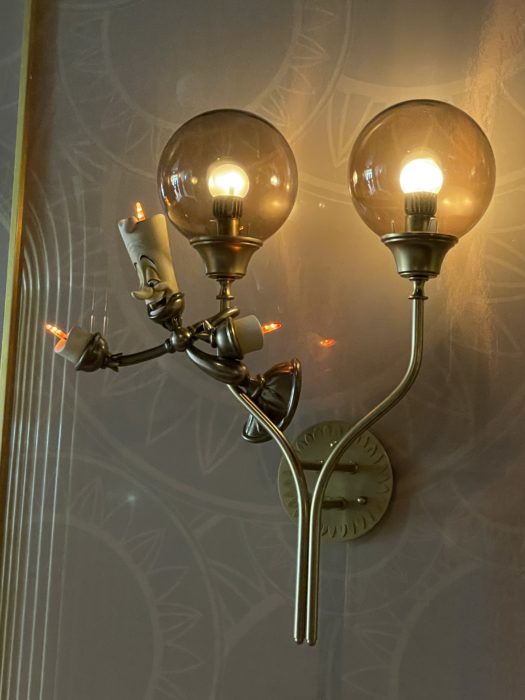 Another instance of this trend in terms of service as opposed to a property is Bibbidi Bobbidi Boutique. For guests who have now outgrown that kid-friendly cruise activity, the Wish now has debuted its Untangled Salon and Hook's Barbery for kids at heart.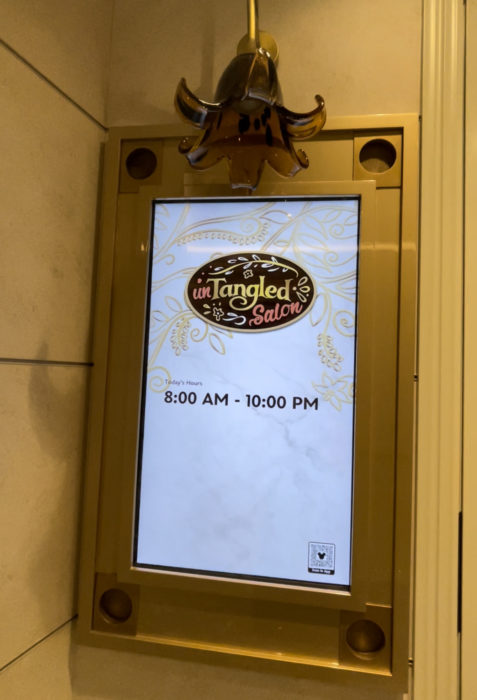 Just How Different is the Disney Wish?
So does the Disney Wish feel like a Disney Cruise. YES. One-hundred percent. But as promised, the Wish is a whole new class of ship both in size, design, and offerings.
It will be interesting to see how Disney's new ideas resonate with seasoned Disney Cruise Line pros and where the Wish's dining and entertainment will rank with among the rest of the fleet in the months to come!
For those interesting in booking a cruise aboard the Disney Wish, our TouringPlans Travel Agents (who also happen to be expert cruise pros) can help! Quotes are free and no obligation.
Are you planning on sailing aboard the Disney Wish? What are you most looking forward to on this new ship? Let us know in the comments!