How the Pandemic Changed Universal Orlando
In March 2020 Universal Orlando Resort closed due to the start of the COVID-19 pandemic. All the theme parks, hotels, restaurants, and stores shut down for over two months. Once the resort began a phased reopening in May we noticed many operational changes due to health and safety protocols. In this article we are consolidating the health and safety protocols implemented by Universal Orlando Resort in 2020, reopening reports, permanent changes due to the pandemic, and modified operations still in effect.
This article first published January 13, 2023.
Closure & Reopening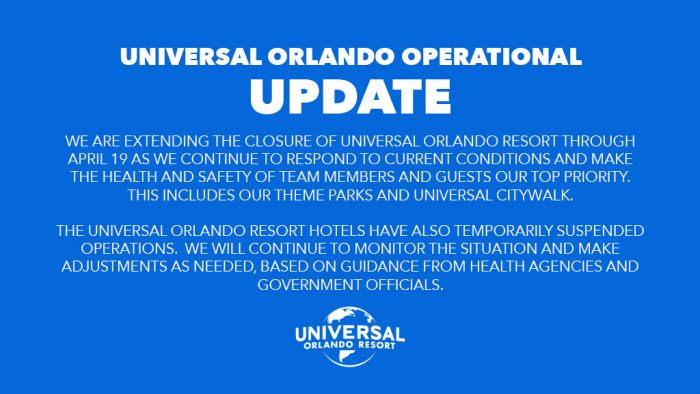 Universal Orlando announced on March 12, 2020, that the resort would close due to the spreading of SARS-CoV-2 aka COVID-19. The parks, hotels, and CityWalk closed to all guests on March 15, 2020.The resort remained closed for two months with guests returning on May 14, 2020. At first CityWalk's restaurants and shops only reopened, the theme parks and resorts began reopening on June 5.
Initial Precautions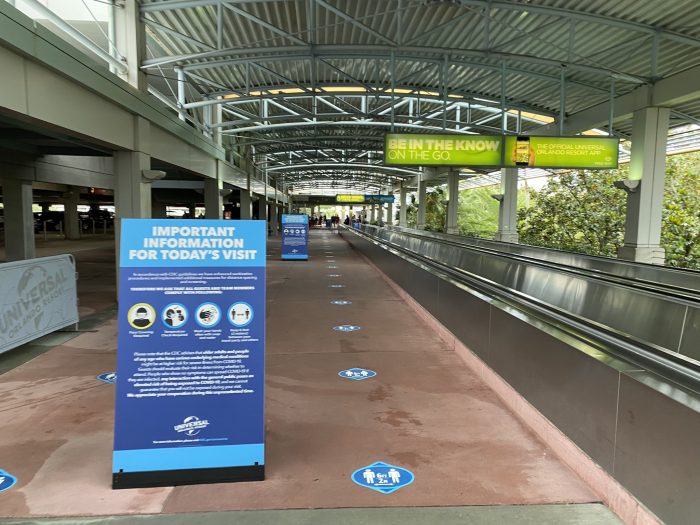 Universal was the first major property to reopen during the pandemic.
Every operational aspect of the parks changed upon reopening:
Face masks are to be worn at all times, indoors and outdoors
Six feet of distancing between parties
Temperature checks at hotels and before entering CityWalk
Hand washing and sanitizer stations installed throughout the parks
Hand sanitizer is dispensed to guests before riding all attractions
Plexiglass barriers at locations where guests and Team Members interact where possible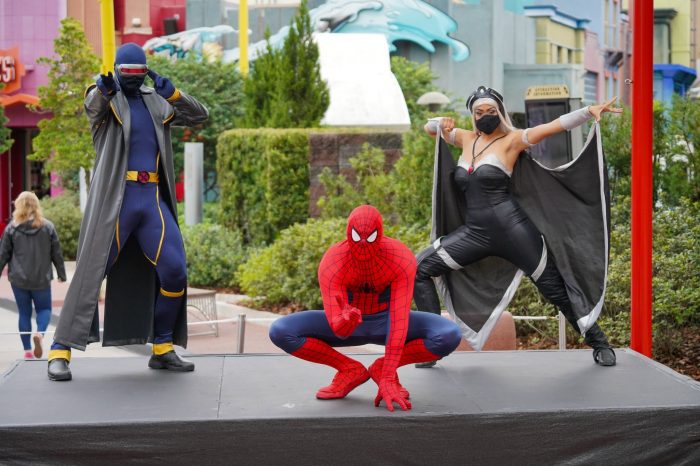 Socially distanced character meet and greets, such as groups of characters on stages.
Parades were discontinued for stage shows featuring the characters in the parade.
Shows with audience participation had that segment removed or altered.
All play areas closed
Virtual Line was used for select attractions with long queues
Alternating rows and seating on attractions and shows to maintain distancing
Ollivander's went to a reservations-only system with one party only at a time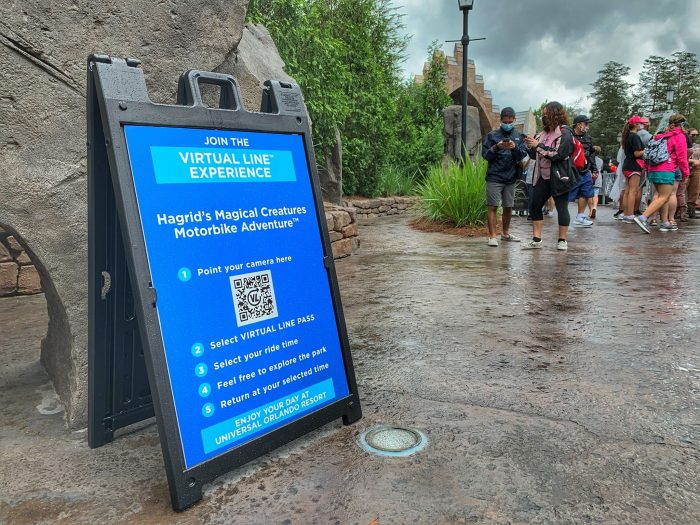 Hotels reduced seating areas in the lobby, food court, and around the pool
One party per elevator policy
Hotel arcades and play areas were closed
Rooms left empty for 24 hours between parties
Reduced room cleaning
TV remote covered in plastic and hand sanitizer offered as part of toiletries
Mobile ordering replaced counter ordering at counter service restaurants
Several restaurants closed or only offered outdoor seating
Spas and special events were canceled at the resorts
Touring Plans covered the reopening of Universal Orlando with a reopening report (Blog: Observations from Reopening at Universal Orlando Resort) and feet on the ground trip report (Blog: Universal Orlando: Feels Safe, Great Value)
Universal initially opened all attractions in the resort but several quickly went to seasonal operations, like A Day in the Park with Barney and Fast & Furious: Supercharged.  Supercharged returned, Barney closed for good. Volcano Bay shut its doors two days a week until closing for two months in early 2021. Finally, some hotels seasonally closed in fall 2020 till summer 2021.
Halloween Horror Nights fans got a trick in 2020 when that year's event was canceled. Many of the houses were mothballed for 2021 but two were opened for daytime guests in a seasonal Halloween offering (Blog: Universal Orlando Resort Halloween 2020 Event Review & Touring Advice). Holidays at Universal Orlando debuted in a modified state without the parade, Grichmas show, and concerts. Instead, Universal got festive with a holiday tree scavenger hunt and indoor walkthrough of the Macy balloons and Christmas parade floats.
Road to a New Normal – Current Precautions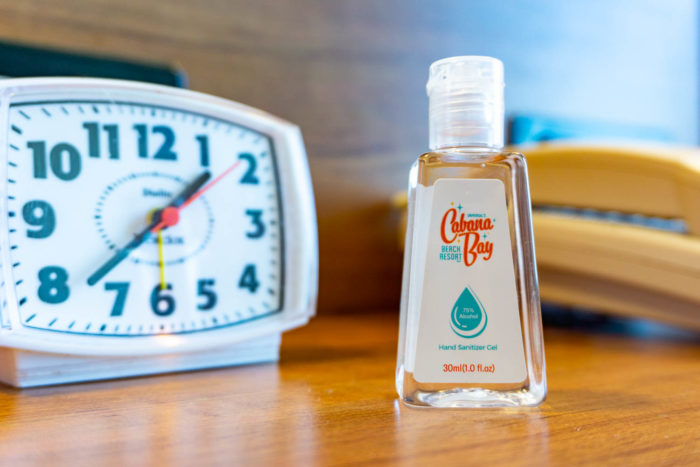 Universal began lifting some precautions  as vaccines rolled out to the general population in spring 2021. By mid-2021 most safeguards were removed including required outdoor masking, distancing in queue lines, and temperature checks. At the time of writing all COVID precautions are lifted with only the following items remaining:
Hand sanitation stations inside the park
Hotel TV remotes in plastic bags and hand sanitizer as part of toiletries
QR codes replacing physical menus at restaurants
Audience participation in some shows remains absent
Permanent Changes and Closures
The COVID closure rocked the entertainment industry and caused several permanent changes at Universal. The following changes occurred during the 2020 closures or shortly after reopening.
Blue Man Group in CityWalk closed permanently (Blog: Blue Man Group at Universal Orlando Has Closed)
Universal Dining Plan sales are suspended
The Groove and Red Coconut Club bars closed. The Groove turned into Universal's Great Movie Escape and Red Coconut Club is now a seasonal-themed bar and lounge.
Mobile Dining remains and is now a primary way to order food at counter service locations
A Day in the Park with Barney in Universal Studios Florida permanently closed
Do you miss real menus and Blue Man Group (are you Derek Burgan)? Leave your thoughts in the comments below!