Magic Kingdom Snacks Offering the Most Bang for Your Buck
Now that 2022 Walt Disney World Resort vacation packages are available to book, we're getting some insight into what Disney has planned for future vacations during these uncertain times.
It appears Disney will still require park pass reservations for park entry into 2022, and Disney Dining packages will continue to be unavailable. Yes, you read that right. No Disney Dining Plan or Free Dining Plan Offers for 2022.
But there are ways to save money when dining at Disney outside the Dining Plan. For many families and individuals, Disney Dining Plans actually cost more than dining out of pocket. The secret is knowing where to go for your snacks and meals; and as always, we've done the legwork for you.
Today I'm breaking down the Magic Kingdom snacks that offer the most bang for your buck! Keep in mind, this list is based on what's available in the park right now.
Sunshine Tree Terrace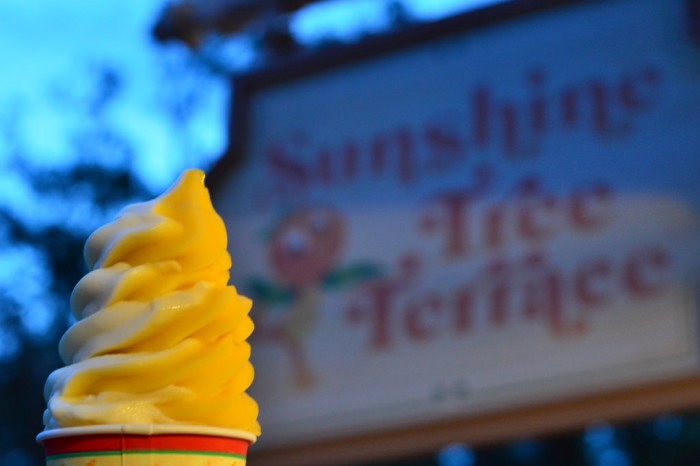 Home of the famous Orange Bird, Adventureland's Sunshine Tree Terrace is a walk-up window with a slightly confusing menu that's totally worth the hassle.
Sunshine Tree Terrace's signature treat is the Citrus Swirl, a blend of frozen orange juice and vanilla soft service and priced at $4.99. This often gets confused with the location's Dole Whip orange cup which is orange soft-serve as opposed to frozen orange juice.
In my book, the Citrus Swirl is the way to go at Sunshine Tree Terrace and is a worthy contender to the Dole Whip.
Recently, Sunshine Tree Terrace has expanded its menu with fried potstickers and the I Lava You Float of Strawberry Fanta, Passion Fruit flavor, Dole Whip Orange, and popping candy.
Aloha Isle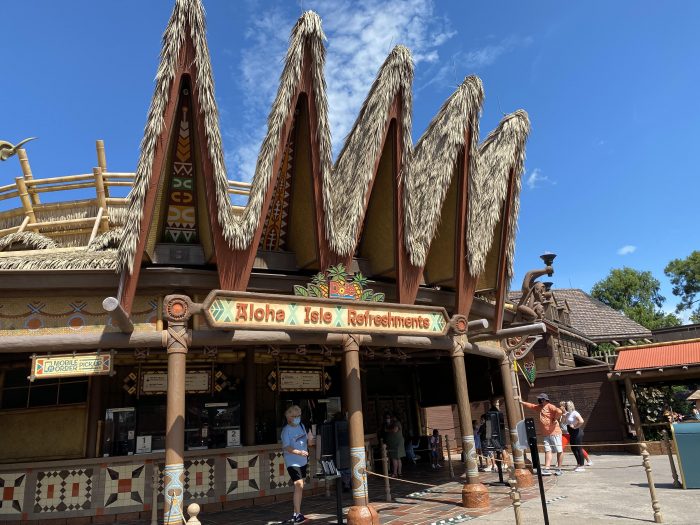 An iconic Adventureland locale, Aloha Isle is the traditional home of the classic Pineapple Dole Whip for $4.99 and the Pineapple Float for $5.99; and yes, both treats live up to the hype.
After all, if you're going to have a treat at Disney World, might as well make it one that's iconic, right?
In recent years, Aloha Isle has come to offer other flavors such as Coconut and Raspberry. But don't be intimidated by the long lines, and don't make the mistake of waiting in one. Aloha Isle offers Mobile Order!
Westward Ho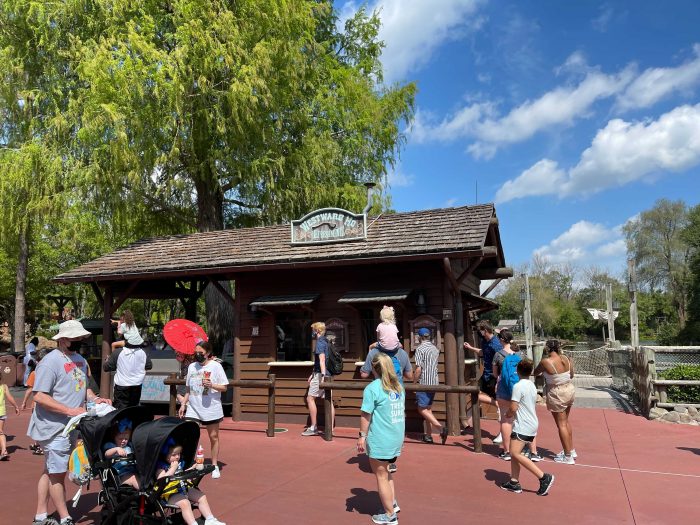 In addition to the PeopleMover and Columbia Harbour House, Casey's Corner has yet to reopen at the Magic Kingdom.
However, Main Street, U.S.A.'s famous corn dog nuggets have found a temporary home at Frontierland's Westward Ho. It's the perfect savory snack and can even serve as a meal for kids. Plus, it only costs $6.99.
Sleepy Hollow Refreshments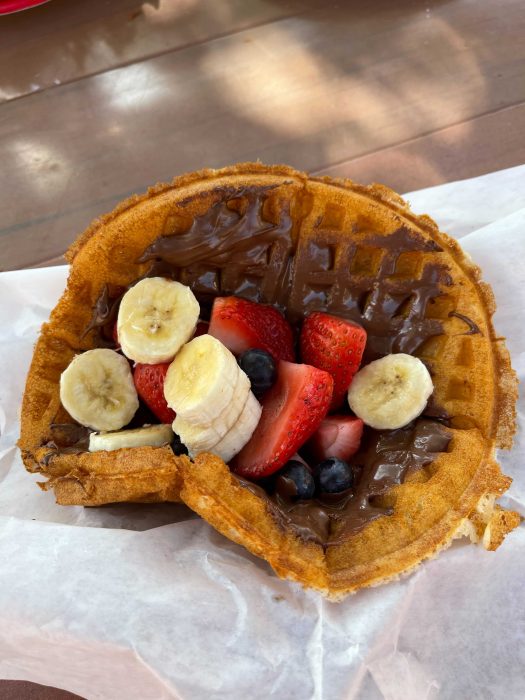 Liberty Square's Sleepy Hollow Refreshments is famous for its variety of waffle sandwiches, with the best values being the sweet options. Guests have their choice of a fresh fruit waffle sandwich with chocolate-hazelnut spread (basically Nutella) for $8.29, a Mickey-shaped waffle with strawberries and whipped cream for $6.79, or a plain Mickey Waffle sprinkled with powdered sugar for $5.79.
These are super popular and surprisingly filling! Be prepared for a line during busy days.
Gaston's Tavern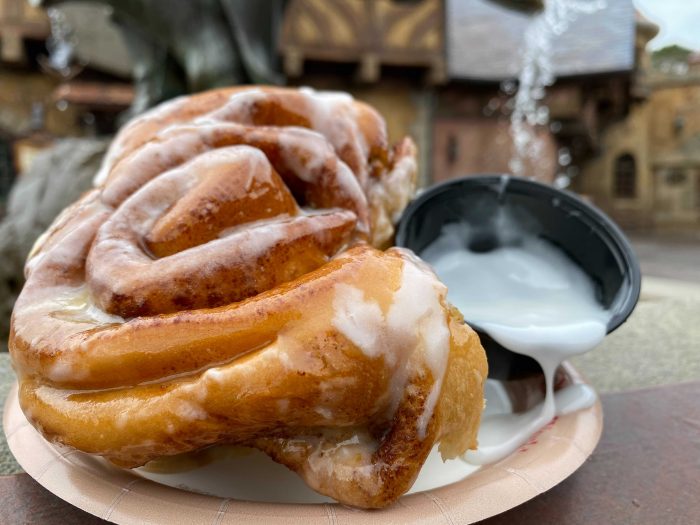 Gaston's Tavern in Fantasyland may not have much to offer in terms of variety, but its few items are definitely worth checking out!
For starters, Gaston's warm cinnamon roll is massive, easily shareable, and only costs $5.99.
In addition, since its neighboring eatery Be Our Guest is so popular but operating under limited capacity, Beauty and the Beast fans can still sample the Gray Stuff with Gaston's Tavern's Be Our Guest Cupcake for $5.49.
The Lunching Pad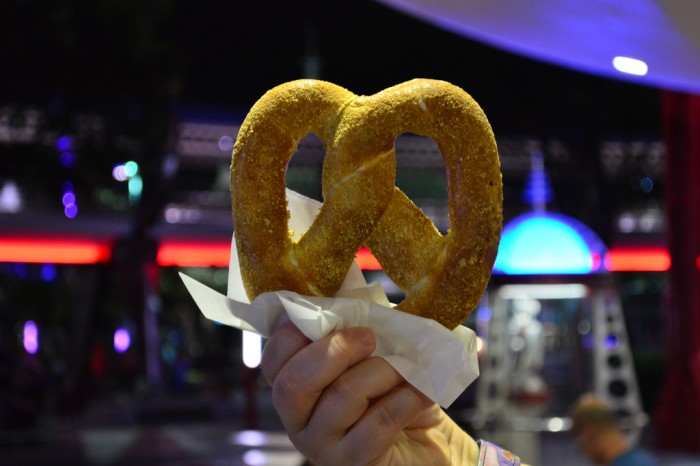 Some may prefer the Instagramable Cheshire Cafe Cat Tail for $5.49; but just as we all learned from Beauty and the Beast, beauty if found within. And in this case, that beauty is sweet cream cheese.
The Lunching Pad at Tomorrowland serves up hearty, warm stuffed pretzels filled with sweet cream cheese priced at $6.79. Call it an unpopular opinion, but these pretzels are better than those that are Mickey-shaped. Change my mind.
Also, take note that The Lunching Pad offers the convenience of Mobile Order!
Those are a few Magic Kingdom snacks that offer the most bang for your buck. But what Magic Kingdom snacks do you consider to be the best use of your dining budget? Let us know in the comments!