Make this Mermaid Cupcake Part of Your World
Disney does a fantastic job making cupcakes that are stunningly beautiful. Sometimes Disney makes cupcakes that taste good, too. It's not often that you get both at the same time, but over at Art of Animation, there's a cupcake that does both.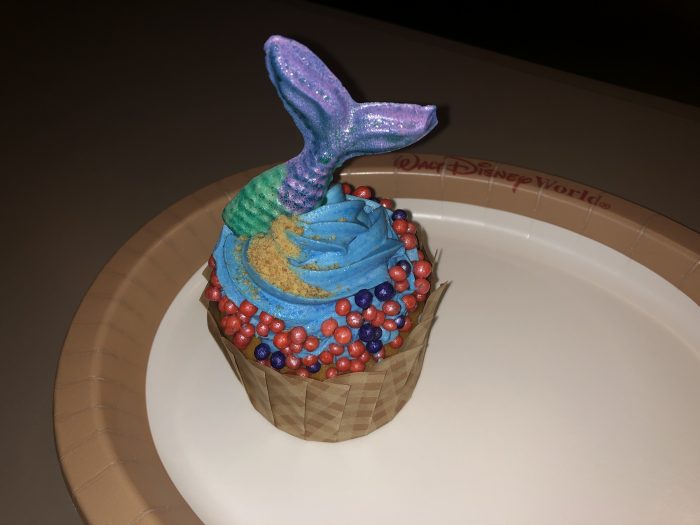 The Magical Mermaid Tail Cupcake is available at Landscape of Flavors (the food court for Disney's Art of Animation resort) for $5.99. When I asked the person behind the counter what flavor it was, he wasn't sure–maybe cotton candy or something? When I asked a young girl in line who said she had one before what it tasted like, she said that it tasted like mermaid. (I think that was a very fishy response…) The cupcake comes with fluffy whipped frosting surrounded by crispy rice pearls and a dusting of graham cracker "sand". The mermaid tail itself is white chocolate. Unwrapping the cupcake, we found a vanilla cupcake.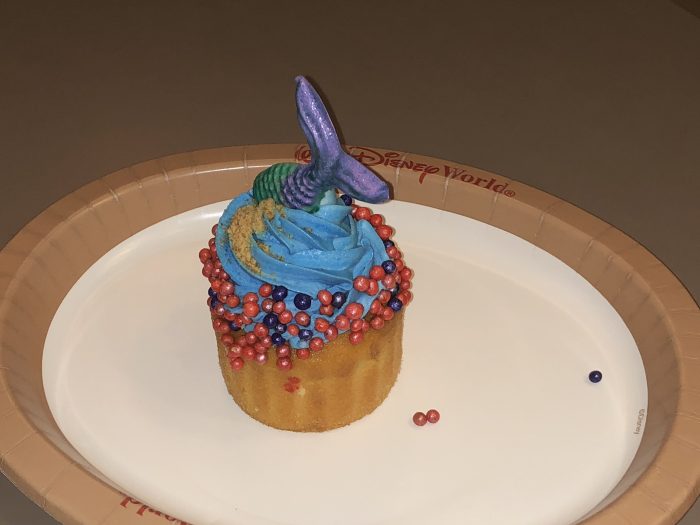 When we ordered one, there were none in the case, and so ours was taken directly out of refrigeration, which made it very easy to pull off all the frosting when trying to pull out the white chocolate tail.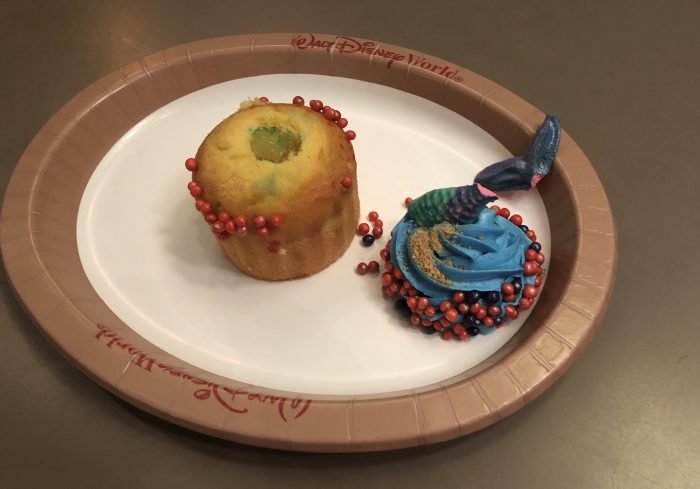 Cutting into it, the surprise filling is….PINEAPPLE.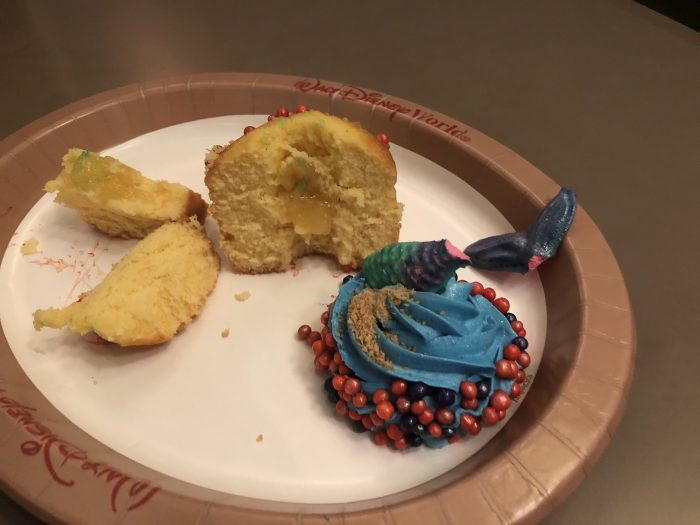 Overall, the cake was moist, the filling had a delightful flavor (with chunks of pineapple in it). Even better for the picky eater among us who wasn't a fan of pineapple, there wasn't a lot of filling, and so it was easy to cut around the filling to have plain cupcake, much like cutting an apple away from the core.
The crunch of the rice pearls was also a highlight of this cupcake, and even with the hefty price tag, this is one I would consider ordering again. For me, I'd prefer more pineapple, but for everyone else at the table, it was just the right combination of cake, frosting, filling, and decoration.
What do you think of this cupcake? Do the flavors sound like one you'd enjoy? Let us know in the comments.