Mama Della's Ristorante – Universal Orlando's Best Kept Secret
What if I told you Universal's highest-rated restaurant isn't in a theme park or CityWalk? It is also an Italian restaurant. Mama Della's Ristorante at Portofino Bay serves classic Italian dishes in a homey setting. In this article, we will cover all you need to know before eating at this hidden gem.
Quick Glance
Location: Loews Portofino Bay Resort
Cuisine: Rustic Italian
Service: Full table
Price: $23-$45 per entree
Touring Plans Rating: Four stars, 95% reader approval
Seating: Indoor tables and booths
Location – Portofino Bay Resort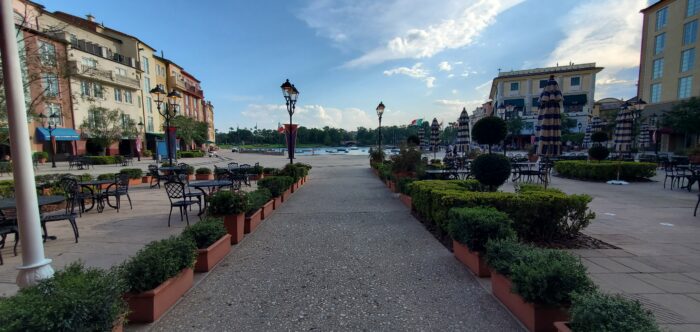 Mama Della's is located at Loews Portofino Bay Resort, Universal Orlando's flagship resort. Themed to the Italian port city of Portofino, the resort hugs a manmade lake that replicates the iconic city plaza harbor full of boats and tourists. Relax with a cup of coffee, stroll the shops, enjoy some gelato, or receive a massage at the only spa on Universal property – it's all here at Portofino Bay.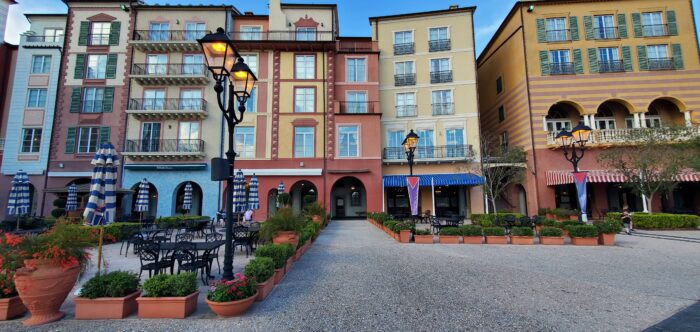 Mama Della's is located at the back center of the plaza behind the blue awning. The main restaurant is on the second floor and offers views of the water, but if a meal with a view is what you are looking for consider Bice, also located at the hotel.
Atmosphere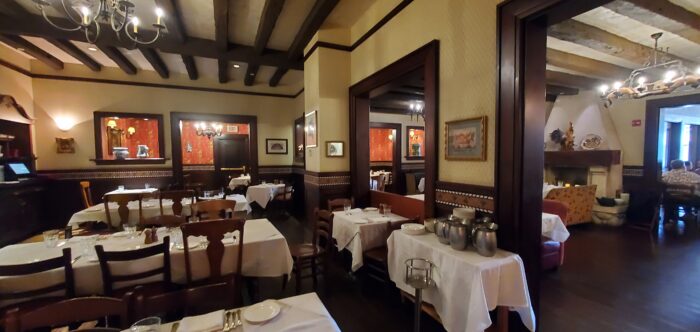 If you have ever eaten in an Italian household during a holiday then you know what to expect at Mama Della's. Mama has opened the house so the dining area brings back memories of Christmas dinners of yore with mismatched chairs at tables in rooms throughout her house. Shelves are filled with knickknacks befitting a nonna while walls are dotted with family photos and large paintings.
The decor reminds me of Christmas dinner at my grandmother's – cozy, warm, and loud. Musicians play famous Italian songs tableside on select nights to add to the homespun charm.
Food
Mama Della specializes in rustic Italian with a specialty in seafood; my grandmother would approve since this matches what would be found in and around Portofino, Italy. Our reviewer states, "It's easily the best food at a restaurant we've eaten at on property! Big portions and all the seafood was incredible."
Service starts with the traditional bread service with oil and butter. Appetizers are also available but were not ordered on this trip.
Mama Della's offers a large range of wines and alcohol for adults. Red wines are the specialty with several dozen bottles on the menu but there is a wide selection of white wines to match the cuisine. Champagne and sparkling wines are also available by bottle and glass. Craft cocktails focus on Italian ingredients and presentations like sangria, a gin and soda with basil, and an Aperol spritz. Bottles and a rotating list of draft beers are also available along with non-alcoholic soft drinks.
But pasta, oh there is so much pasta. Just like Grandma would have wanted the servings are generous with or reviewer noting the portion size. The seafood was a hit with the pan-seared branzino being a standout. The lasagna was described as mild and creamy and the shrimp in the Salmon & Shrimp was large enough to be a lobster tail. The rigatoni bolognese is a stone-cold classic and joins other famous dishes like fettuccine alfredo and spaghetti and meatballs. Adventurous and safe eaters alike will find something for themselves on this menu.
If you managed to save room for dessert (or a quick cup of coffee) Mama Della offers an arrangement of Italian desserts. At the time of writing the menu consisted of a tiramisu, chocolate-dipped cannoli, cheesecake, gelato, and sorbet.
Gluten-free options and other dietary modifications are available, mention to your server
The Opinion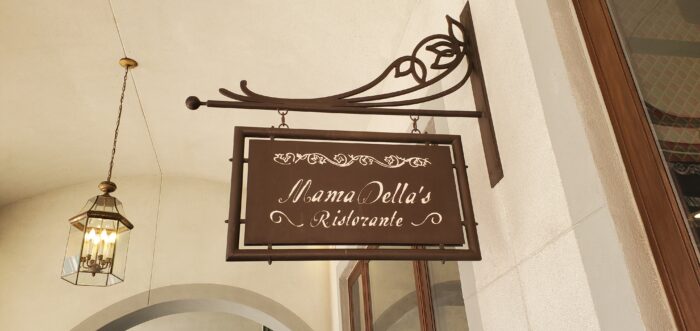 Mama Della's is a hit and the single best-hidden gem at Universal Orlando. Our readers and reviewers love it for the welcoming atmosphere and service, delicious food, and good portion sizes. Downsides include the noise of the dining room, especially when musicians start playing, but complaints are rare.
We loved everything. Recommend that place to anyone. Super high quality. – Touring Plans Reviewer
Touring Tips
Mama Della's is only open for dinner starting at 5:00 pm and reservations book quickly on weekends. We advise placing a reservation no later than two weeks out for the weekend and on holiday periods. For weekday reservations we suggest booking 48 hours before your trip, but many day-of reservations are usually available online.