8 Must Try New Food Items at Disneyland Resort
Heads up! Disneyland Resort introduced a ton of new entrees, drinks, and desserts to it collection of quick service restaurants over the last few weeks. In this post we're going to highlight some of the best new must try food items from Disneyland and Disney California Adventure.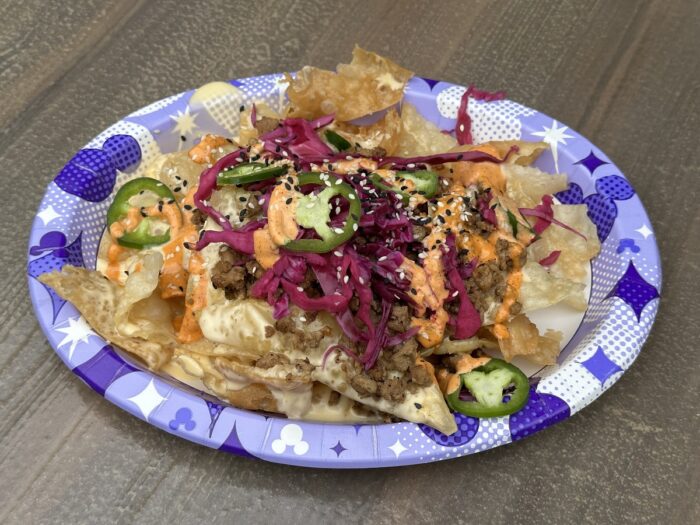 Pork Wonton Nachos – Lucky Fortune Cookery – $10.49
We consider Lucky Fortune Cookery in Disney California Adventure to be a hidden gem. It's not the best or most inventive food in the world, but every dish is filling and a decent value (when compared to other overpriced theme park food). New to the menu is the Pork Wonton Nachos, with crispy Wonton Chips topped with Cheese Sauce, Hoisin-glazed Pork, spicy Aïoli and Pickled Cabbage. This was great and different from the standard nachos served elsewhere. We especially enjoyed how the pork was seasoned.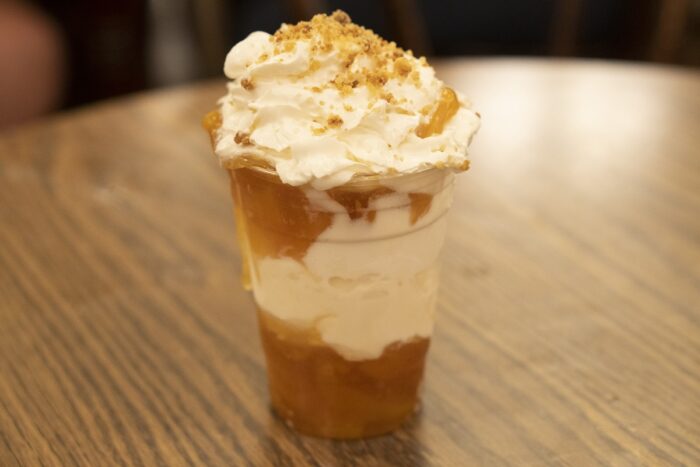 Peach Cobbler Sundae – The Golden Horseshoe – $8.49
Over in Disneyland, The Golden Horseshoe has received a new dessert. The Peach Cobbler Sundae may look simple, with just Peach Ice Cream topped with Warm Cooked Peaches and Crumble Topping, but wow is it fantastic. The best part is obviously the warm peaches, which makes it feel like you're drinking a piece of warm peach pie à la mode. As you can see they do not skimp on the peaches either. Also. they could have just went with normal vanilla ice cream like almost every other ice cream desserts in the park, but they went to the next level and included peach ice cream.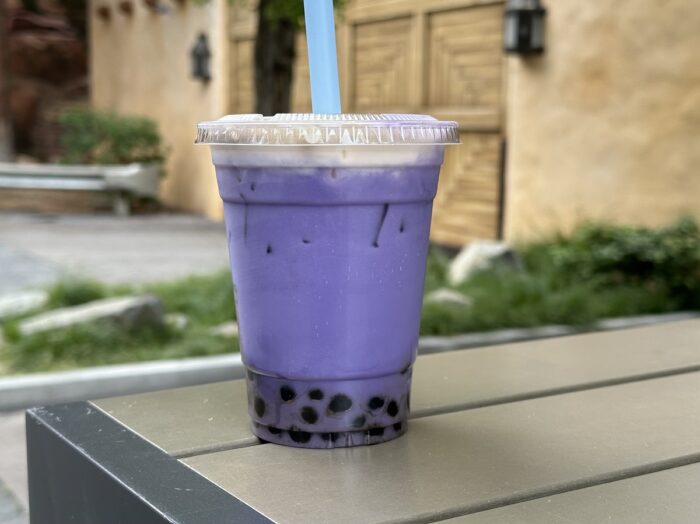 Ube Milk Tea – Lucky Fortune Cookery – $6.49
Back to Disney California Adventure and Lucky Fortune Cookery. I'm happy to report that Disneyland Resort has finally figured out a way to make a excellent boba drink. In the past Disney's boba drinks have been either too sweet with not enough flavor, or have included some of the worst boba balls on earth. Not anymore, the boba in the Ube Milk Tea is soft and perfectly chewy. Plus the ube flavor along with the tiramisu foam is heavenly. I'm a bit of a boba fanatic and I indulge in a cup at least once a week, so to finally have a delicious boba drink in the park is great news.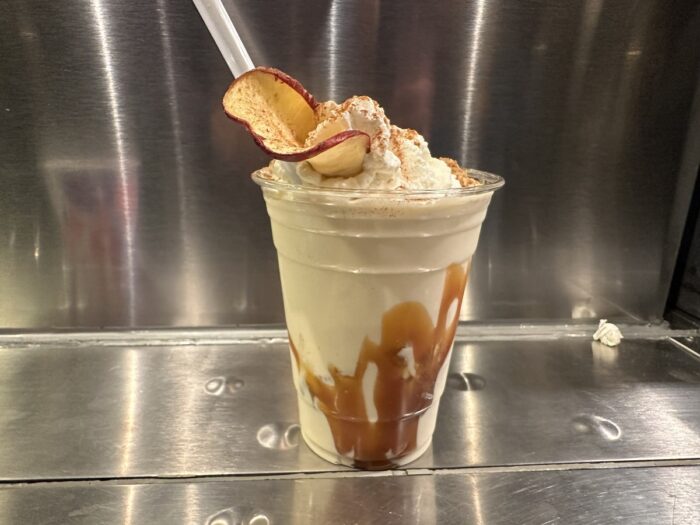 Apple Crumble Ice Cream Parfait – Smokejumpers Grill – $9.99
Smokejumpers Grill in DCA has a history of great shakes and ice cream drinks, including peach cobbler and s'mores shakes. The streak is continued with the Apple Crumble Ice Cream Parfait. It's a cinnamon shake layered with apple pie filling, granola crumble and caramel, and topped with whipped cream. I foolishly agreed to share this with my girlfriend and it was so good we fought over every bite. The the cinnamon shake was delicious and the granola crumble gave it a satisfying crunch. We'll definitely be getting this one again, and we wont make the mistake of sharing next time.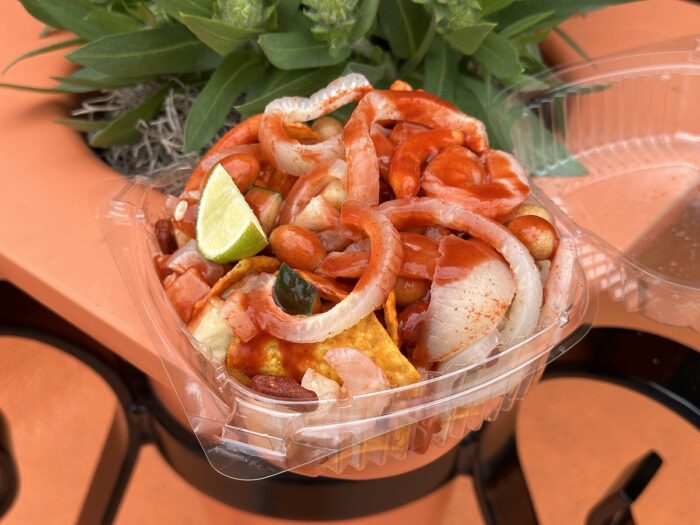 Loaded Street Chips – Cozy Cone Motel – $12.49
Growing up in Southern California I've always heard this referred to as "tostilocos," but Disney calls them "Loaded Street Chips." No matter what you call it, damn is it good, and unlike almost anything else in the park. It's Doritos topped with shrimp, cucumbers, jicama, japanese peanuts, chamoy, cueritos, tamarind candy and a lime. It may sound odd for those unfamiliar but I can assure you it's a hell of a combo.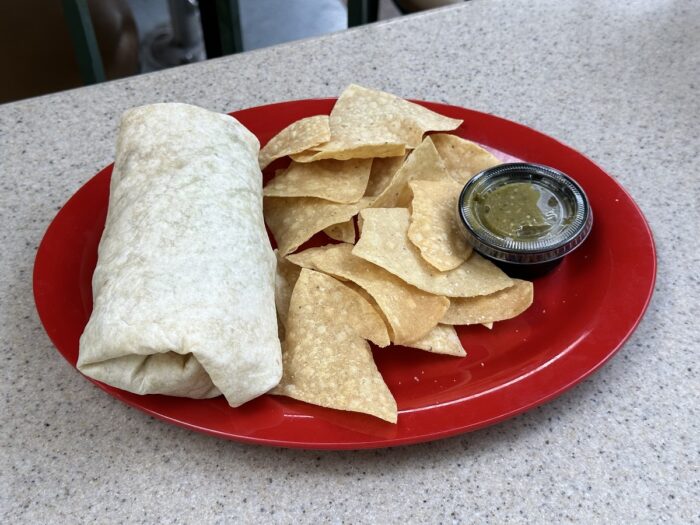 Loaded Burrito – Paradise Garden Grill – $13.99
Now we have a couple of items from the completely new menu at Paradise Garden Grill. First up is the Loaded Burrito made with a flour tortilla, fries, carne asada, cheddar-jack cheese, avocado spread, chipotle crema, pico de gallo and tomatillo salsa, and served with tortilla chips and salsa. Most Mexican food places call this kind of burrito a "California Burrito," so if you've had one of those you'll be familiar. Similar to what I said about the food Lucky Fortune, this isn't going to be the best burrito you've ever had, but it's a solid choice if you're in DCA and find yourself craving a tortilla-wrapped bundle of goodness.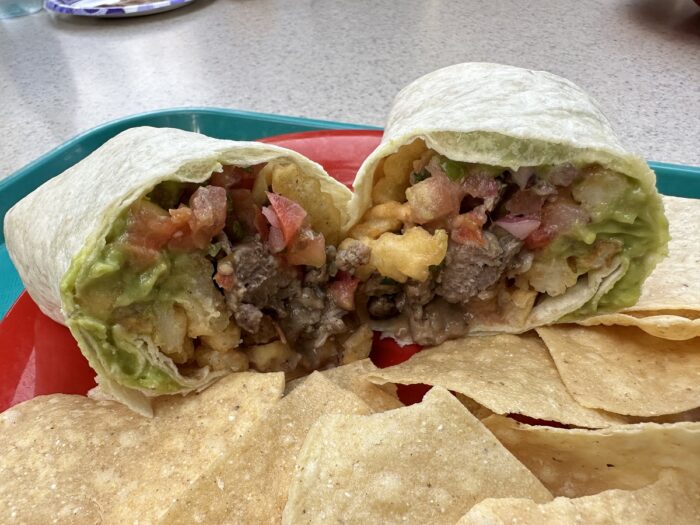 Here's a cross section so you can see the inside. By the way, the asada was perfectly tender and flavored.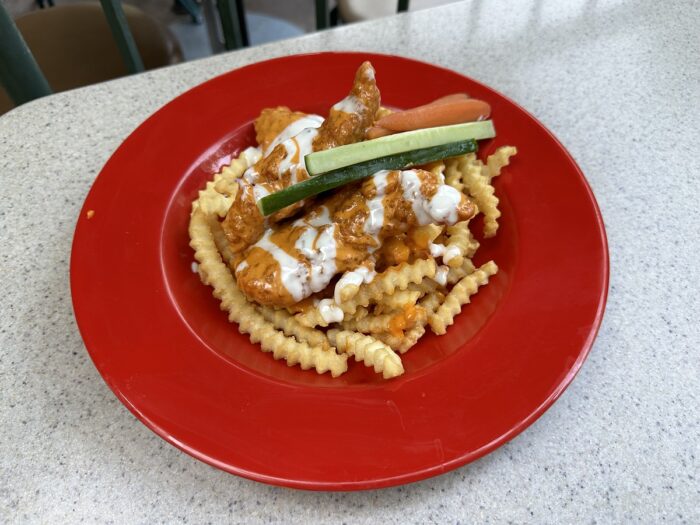 Buffalo Chicken Tenders – Paradise Garden Grill – $13.99
Look, I get it. Sometimes you don't want anything fancy. You may just want a big plate of fries and buffalo-soaked chicken tenders and that's totally fine. This dish was good and hearty, and you have to love crinkle cut fries. The tenders and fries are also topped with cheese sauce, carrots, cucumbers, and ranch & blue cheese dressing. I'm not sure I'd want a belly full of buffalo and blue cheese sauce swirling around in my stomach on a hot summer day, but to each their own.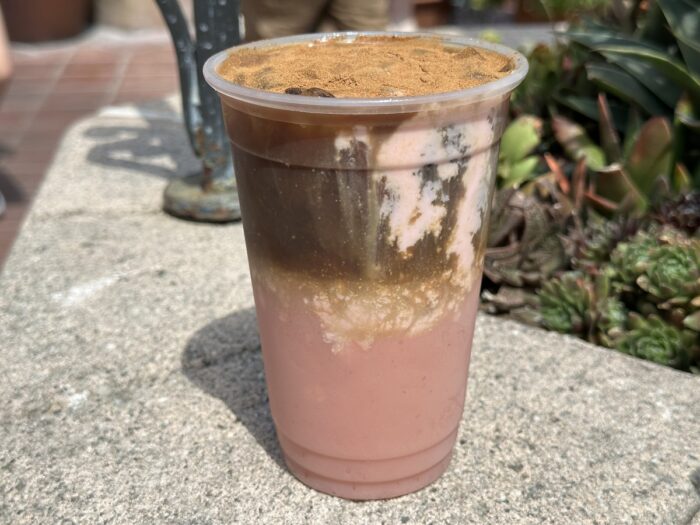 Strawberry Horchata Cold Brew – Rancho del Zocalo Restaurante – $6.49
Wrapping up the list with the strawberry horchata cold brew from Rancho del Zocalo in Disneyland. I'll start off by saying I'm not a coffee person at all, but I am a big fan of horchata. Thankfully (for my sake) the delicious strawberry horchata and generous helping of cinnamon overpowered any coffee flavor. Also, I don't consume a lot of caffeine in my daily life so this left me completely wired.
Plan your perfect Disneyland visit. Check out our Disneyland Crowd Calendar, which rates every day of the year on a scale of 1 to 10 so you can see how busy Disneyland and DCA will be during your visit. Also check out our Disneyland Touring Plans. These itineraries can show you how to beat the crowds and spend less time in line at your favorite rides. Our Touring Plans can also be personalized! All of our tools are used by hundreds of thousands of visitors each year and are constantly being updated by our in-park team of researchers and data scientists.
See anything on the list you want to try? Is there anything new in the parks I should try? Let me know in the comments.